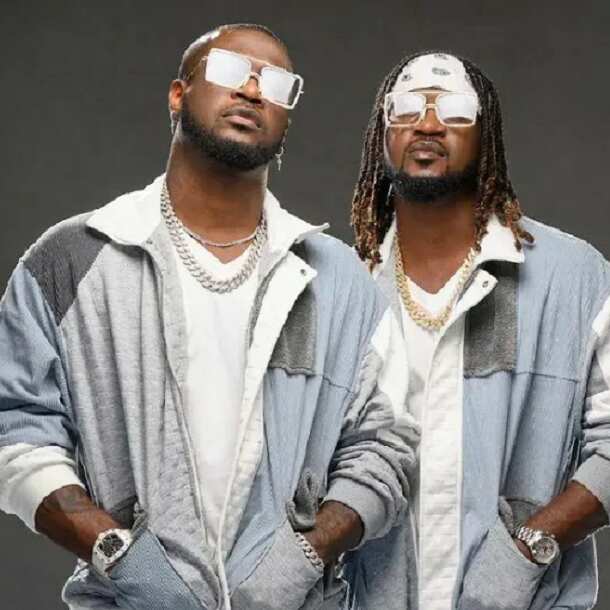 P-Square
Name: Peter and Paul Okoye
Birthdate: November 18, 1981
Birthplace: Anambra
Career Timeline
They formed an a cappella quartet called MMMPP (M Clef a.k.a. Itemoh, Michael, Melvin, Peter and Paul) and began break dancing in 1997, forming the group Smooth Criminals. They later dropped M Clef from the group MMMPP which was eventually shortened to MMPP.
In 1999, Peter and Paul returned to music school to develop their skills on the keyboard, drums, bass and rhythm guitar. They composed soundtracks for movies such as Tobi, Mama Sunday, Moment of Bitterness and Evas River, as well as applied to the University of Abuja to study Business Administration.
The Smooth Criminals crooners disbanded when its members left to various other universities. Subsequently, Peter and Paul formed their own group, called Double P, P&P, and Da Pees, until they eventually settled for P Square. They were managed by Bayo Odusami aka Howie T.
P-Square won the Grab Da Mic competition in 2001, and as a result, Benson & Hedges sponsored their debut album, Last Nite, which was released under the Timbuk2 music label. P-Square was also nominated for the Kora Awards as Most Promising African Group three months after their debut album. They went on to win the Amen Award for Best R&B Group in 2003.
Get Squared, their second album was released in 2005 under their label, Square Records. TJoe Enterprises marketed the album across Nigeria while they were still managed by Howie T of Adrot Nigeria Limited. The video for the second album remained at the top of the MTV Base chart for four weeks.
Game Over, their best-selling album to date, was released late in 2007 and sold eight million copies worldwide. Danger, P-Square's fourth studio album was released in 2009.
In 2010, P-Square were named the Artist of the Year at the Kora Awards in Ouagadougou, Burkina-Faso
In December 2011, they signed a record deal with Akon's Konvict Muzik label.
In May 2012, P-Square signed a record distribution deal with Universal Music South Africa.
The duo disbanded in 2016, supposedly over a disagreement about the role of their manager.
On 17 November 2021, the duo ended their long time feud reconciled, and dropped two singles.
Relationship Timeline
Peter Okoye got engaged to his longtime girlfriend Titilola Loretta Omotayo after seven years of dating. The couple has a son named Cameron and a daughter named Aliona.
Paul got married to Anita (nee Isama) in 2014 and the marriage is blessed with three children. The children's names are Andre, twins, Nadia and Nathan. In 2022, the couple parted ways, and the singer is currently dating a young influencer and content creator, Ifeoma Ivy.
Tours
P-Square has performed with artists such as Ginuwine, Sean Paul, and Akon.
Net Worth
The duo P-Square is one of the wealthiest musicians in Nigeria with an estimated net worth of N62.25 billion ($150m).In January 2014, the Okoye brothers bought mansions next door to one another in Atlanta. Peter also owns a sports betting company.
Albums
Last Nite (2003)
Get Squared (2005)
Game Over (2007)
Danger (2009)
The Invasion (2011)
Double Trouble (2014)
Top 10 songs
Do Me
Bizzy Body
Personally
Alingo
No One Like You
Chop My Money
Ifunnanya
Roll It
Temptation
Omoge Mi