May 29 Inauguration: Removal of Fuel Subsidy and Other Things Tinubu Promises Nigerians
During his nationwide campaign, the President-elect, Asiwaju Bola Tinubu, seeking votes to win the Saturday, February 25 election, made some promises to Nigeria as contained in his manifesto tagged "Renewed hope: Action Plan for a Better Nigeria."
In the 80-page manifesto, Tinubu promised that if elected President, he would phase out fuel subsidy, tackle the forex crisis, create jobs, and improve national security, among others.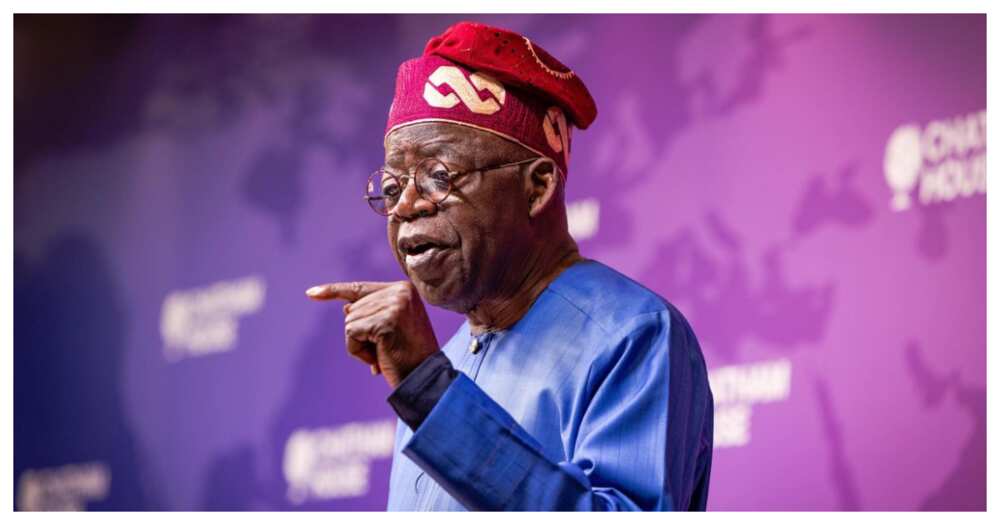 In this article, Legit.ng highlights some of the policy programmes of the incoming Tinubu's administration.
Tinubu promises to end fuel subsidy
The President-elect, in his 80-page manifesto, promised to phase out fuel subsidy and use the fund for targeted infrastructural projects like road construction, public transportation subsidies, education and healthcare
He said:
"We shall phase out the fuel subsidy yet maintain the underlying social contract between government and the people. We do this by dedicating the money that would have been used on the subsidy to fund targeted infrastructural, agricultural, and social welfare programmes ranging from road construction to boreholes, public transportation subsidies, and education and healthcare funding programmes."
Recall that Tinubu was a big player in the anti-fuel subsidy protests in January 2012 during former President Goodluck Jonathan's administration.
How Tinubu plans to tackle Forex crisis
Tinubu's policy plan to tackle the forex crisis affecting the economy focuses on working with the Central Bank and the financial sector to review the exchange rate regime.
According to the document, Tinubu said the pressure on the naira is compounded by an ineffective regime of multiple, somewhat arbitrary, exchange rates
The document noted that the foreign exchange rate dip is primarily due to global supply and production shortfalls, Nigeria's diminished levels of oil production, and the modest capacity of the manufacturing sector to expand production.
"To ensure that exchange rate policy harmonises with our goals of optimal growth and job creation driven by industrial, agricultural and infrastructural expansion, we will work with the Central Bank and the financial sector to carefully review and better optimise the exchange rate regime. Our economic policies shall be guided by our desire for a stronger, more stable Naira founded upon a vibrant and productive real economy."
Tinubu's plan for security
Revealing his plan to tackle the insecurity in Nigeria, Tinubu promised to establish a highly trained and disciplined anti-terrorist squad and establish a Critical Infrastructure Protection (CIP) Plan to prevent attacks on vital national infrastructure.
The document also explained that the police would be repositioned to deliver on its primary duties of community policing and maintaining law and order through crime fighting and prevention.
"Military units will be better equipped with tactical communications gear and new vehicles to give them a greater communications and mobility advantage over criminals, bandits and terrorists."
Education: Tinubu promises to recruit more teachers amid other plans
Speaking at the British Royal Institute in London, United Kingdom, Tinubu promised to recruit more teachers and also give student loans as part of efforts to develop the education sector and also build the youth capacity.
"Youths are the greatest asset of tomorrow," Tinubu said in Chatham House
While fielding questions from participants Chatham House, the former Lagos state governor said:
"The education system is to change. We would overhaul it and tinker with some areas with the philosophy that no one would be left behind. There will be student loans for all. We are going to reform the Almajiri system, We are equally going to build more schools, recruit more teachers and train them."
How Tinubu plans to address electricity crisis
The incoming Tinubu's administration promised to end estimated billing by ensuring that all Nigerian homes and businesses connected to the national grid are meter-connected and support local manufacturing of prepaid meters.
According to the "Renewed Hope" manifesto, Tinubu's administration plans to build on the National Mass Metering Programme (NMMP) and the Meter Asset Provider Scheme (MAPS) initiated by President Muhammadu Buhari. The intention is to ensure that new connections to the national grid will not be permitted unless a meter has been installed.
The President-elect also promised that his administration would mandate the distribution companies (DisCos) to charge cost-reflective tariffs for power supply.
Revenue sharing formula: Tinubu's plan
Tinubu said the existing revenue-sharing formula among the three tiers of government is problematic because the federal level enjoys too much powers and resources, hence, his plan to review the sharing formula.
Under the existing arrangement, the federal government takes 52.68 per cent of the revenue shared, states get 26.72 per cent and local governments get 20.60 per cent.
He argued that "state governments are closer to the people and must be more responsive to local needs and aspirations."
Proffering a solution, he said:
" Embark on a review of the federation revenue allocation system to recalibrate the division of funds amongst the three tiers of Government: Federal, State and Local.
"More funds should be allocated to the States and Local Governments so that they can better address local concerns and fulfil their expanded constitutional obligations to the people."
Tinubu's plan for budgeting
Tinubu promised to change the present budget design, which focuses largely on the dollar value of projected oil receipts to the detriment of other sectors of the economy.
"Budgeting custom bases our annual budget and fiscal policies largely on the dollar value of projected oil receipts, not only does this practice artificially restricts the Federal Government's fiscal latitude, it also attracts the Nation's attention towards a single source of fiscal receipt to the detriment of others".
Achieving a budget that promotes growth and job creation, Tinubu said:
"To achieve optimal growth in the long term we must wean ourselves from this limitation. A more efficient fiscal methodology would be to base our budgeting on the projected level of government spending which optimises growth and jobs without causing unacceptable inflation."
Manufacturing
The President-elect said he would make Nigeria create and manufacture most of the things it requires and discouraged reliance on imported goods.
"Importation of non-essential products will be discouraged through policy measures including luxury taxes, higher tariffs, and higher processing fees."
Speaking on his national industrial plan, Tinubu added that in the North West and North East, he would create new industrial hubs to focus on textiles.
"In the South East and South-South, a new hub and dry port will focus investment on labour-intensive manufacturing.
"In the South West, fine quality sand will be turned into the highest-quality glass items.
"I'll assemble competent men, women, young people to build Nigeria": Tinubu assures in powerful message
Meanwhile, Legit.ng had reported that Nigeria's president-elect, Bola Tinubu, has assured that he will assemble the best brains once he assumes office on May 29, 2023.
In a statement he signed personally, Tinubu said his cabinet members will consist of competent men, women and young people who will be committed to building the nation.
Source: Legit.ng