May 29: Why Tinubu must deliver? Political pundits speak as expectations heighten
Nigerians are full of high expectations from the incoming President Asiwaju Bola Ahmed Tinubu
On Monday, May 29, Tinubu will be sworn in as the 16th President of the Federal Republic of Nigeria
Tinubu is however faced with the task of unifying Nigerians and bringing back the country on track from its ruins over the past 8 years
FCT, Abuja - Less than 24 hours to the historic inauguration and swear-in of the president-elect, Asiwaju Bola Ahmed Tinubu, on Monday, May 29, Nigerians are full of expectations following the woeful run of the outgoing administration.
Tinubu's success in Lagos, from human capacity building to economic management and infrastructural development, has been chiefly used as a point of reference to give credence to his ability as the most qualified political figure to actualise the potential of Nigeria.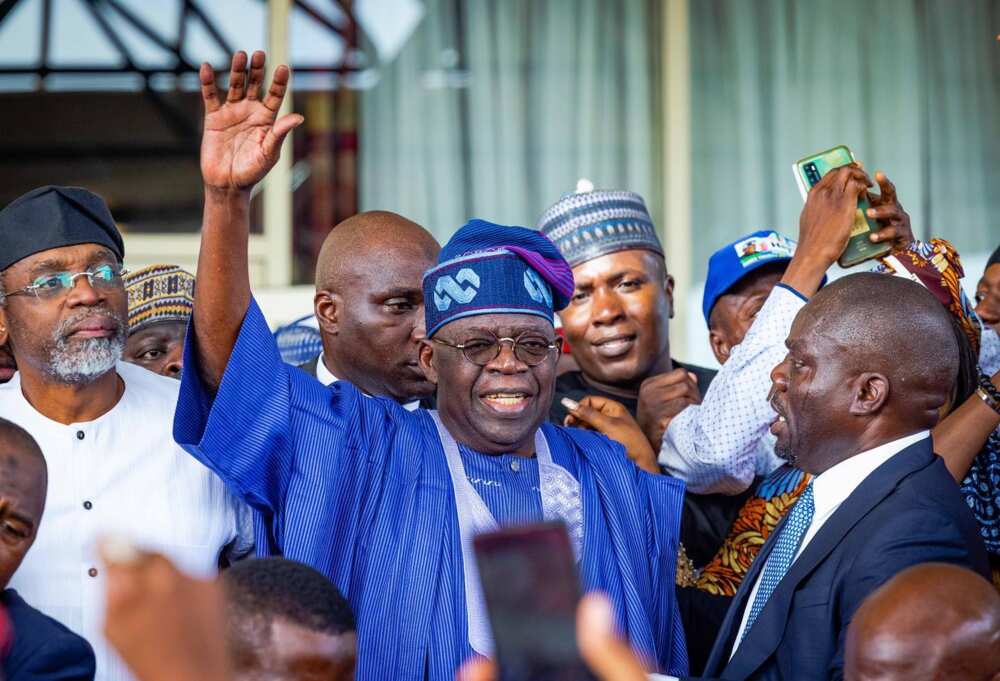 No wonder former Kenyan leader Uhuru Kenyatta said Tinubu must hit the ground running for Nigeria to take its rightful place globally.
Speaking to Legit.ng in a chat, Dr Abubakar Sani, a public affairs analyst and senior special assistant to the former army chief, Tukur Yusufu Buratai, said the incoming government has much to prove to Nigerians.
PAY ATTENTION: Share your outstanding story with our editors! Please reach us through info@corp.legit.ng!
Dr Sani said he is optimistic that Tinubu would deliver based on his antecedent but must hit the ground running to save Nigeria from its past ruins.
He said:
"I am optimistic that Bola Ahmed has the capacity and capability to lead this country. What is important is to have a blueprint or strategy and then assemble a good team that can translate that blueprint into reality.
"I believe Tinubu is good in that; he knows how to identify good brains and assemble them into a formidable team."
He, however, urged Tinubu to prioritise issues like affordable housing, jobs for the average citizen to earn a living and security.
He said Nigerians have suffered for far too long, and their expectations and yearnings are still yet to be met.
Dr Sani said:
"Human security is critical to the survival of all Nigerians at this moment. This incoming government must show results if it really wants to earn the confidence of Nigerians."
May 29 inauguration: Tinubu must avoid being a sectional President - Moshood Isah
Similarly, renowned political analyst and former communications officer of YIAGA Africa, Moshood Isah, said Tinubu understands the nitty-gritty of what he's getting himself into.
He told Legit.ng that Tinubu has the task of building goodwill amongst Nigerians due to the controversy surrounding his legitimacy as the president-elect.
He said:
"The incoming President is responsible for first building goodwill and uniting the nation due to the legitimacy crisis surrounding his Presidency, which has divided the country like never before."
Isah noted that Tinubu must also act as the custodian of the law who would uphold and elevate the rule of law to the fullest to prove that he is a leader for all Nigerians rather than some sections of the country.
He stated that experience has revealed that the success and failure of any administration largely depend on the handlers of the President, popularly known as the Presidency and, by extension, the ministers.
Isah said:
"A key Performance Index must be developed and enforced for all appointees to ensure they function optimally.
"He must kick off by immediately implementing policies and appointing people that will enable him to fulfil his promises to Nigerians."
Tinubu is expected to be sworn in on Monday, May 29, as the 16th President of the Federal Republic of Nigeria at Eagle Square Abuja.
It will also solidify and fulfil his famous statement when he said being the President of Nigeria has always been his "lifelong ambition."
May 29 Inauguration: Shettima Speaks on Islamisation of Nigeria
In another development, Nigerians have been urged not to fret over the notion that the country will be Islamised by the incoming government.
The vice president-elect made this known on Saturday, May 27, in Abuja at the inauguration lecture of the president-elect Bola Tinubu.
He revealed that his principal has longed displayed inclusivity in his home by marrying a pastor.
Source: Legit.ng