May 29 Handover: How Banditry, CBN Naira Redesign Policy, Twitter Ban, Medical Trips Tainted Buhari's Legacies
President Muhammadu Buhari will step down on Monday, May 29, and hand over to Bola Ahmed Tinubu
The former military ruler rode on a wave of optimism to become president in 2015; however, his eight-year tenure has left many disappointed
There have been gains in tackling Boko Haram, but a sister menace, banditry, reared its ugly head
FCT, Abuja - President Muhammadu Buhari hands over power to Bola Ahmed Tinubu in just four days, and like his predecessors, he is leaving legacies to Nigerians.
Certainly, there will be good footprints, just as the bad impressions will also linger.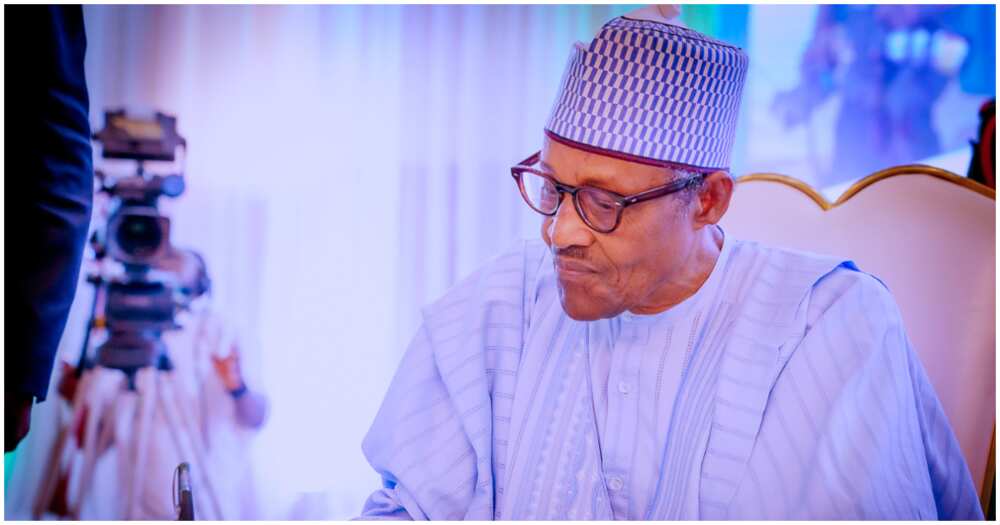 The president himself seems aware of the full-blown disenchantment with his leadership, thus the reason he sent a plea to Nigerians in April 2023 over the inconveniences his eight-year administration might have caused.
Speaking when he hosted some guests at the final Sallah homage held at the Presidential Villa, Abuja, at the time, the 80-year-old had said:
PAY ATTENTION: Share your outstanding story with our editors! Please reach us through info@corp.legit.ng!
"All those that I have hurt, I ask that they pardon me. I remain grateful to Nigerians, who voted for me in 2015 and 2019, without any monetary incentive, with some trooping to the campaigns, and receptions in states just to catch a glimpse.
"I think it is a good coincidence for me to say goodbye to you, and thank you for tolerating me for almost eight years."
Yes, Buhari will be remembered for the famed N-Power scheme, for taking a 50% pay cut, but some of the negatives in his administration cannot be overlooked, because they are significant.
Legit.ng takes a look at some of the low-downs associated with the Buhari administration.
How bandits terrorised Nigerians under Buhari government
Muhammadu Buhari, a retired Nigerian army major general, attained democratic power thanks largely to his electoral promise to clear the Boko Haram terrorist group in northern Nigeria, but a greater headache in the form of "bandits" confronted him.
"Bandits" is the catchall phrase for criminal gangs masterminding frequent bouts of abduction, maiming, sexual violence and killings of citizens across vast swaths of northern Nigeria.
Bar the purported religious standpoint of Boko Haram, bandits and elements of the terror organisation are one and the same.
While the Global Terrorism Index (GTI) didn't list them in its last report, available data show that bandits are as deadly as Boko Haram and its splinter, ISWAP.
With kidnap-for-ransom their trademark, some of their most prominent bloodsucking leaders still live their life, despite perceptible pointer to their whereabouts: we've seen different media personalities accessing them for interviews.
Dollar to Naira exchange rate
When Buhari was campaigning in 2015, he bemoaned the value of the Nigerian naira, which was around N230 to one United States (US) dollar at the time.
Fast forward to 2023, the value of the dollar has continued to rise against naira. As we speak, 1 dollar to naira is selling at double the amount it sold when Buhari groaned.
In case you missed it, Legit.ng reported recently that the naira's exchange rate against the dollar during President Buhari's eight-year tenure declined significantly.
The naira weakened by 57.26% and 37.58% in the official and black markets.
When President Buhari assumed office in 2015, data from the Central Bank of Nigeria (CBN)'s official window indicated that the naira exchanged at N197 against the US dollar. However, it has since weakened by N264 or 57.26% to N461 per dollar as of Tuesday, May 16, 2023.
Buhari and foreign medical treatments
Legit.ng also reported earlier this month (May) that Buhari's wife, Aisha, said there is no need for the president or his family to travel abroad for treatment.
Mrs Buhari's statement comes against the backdrop of the inauguration of a new medical facility valued at N21 billion at the presidential wing of the State House Medical Centre, Abuja.
Interestingly, the inauguration was done by her husband, President Buhari, on Friday, May 19.
This is a president who spent at least 225 days on medical trips, a leader who treats his teeth and gums in the United Kingdom (UK). If a president who lives off citizens' money can always run abroad for minor medical cases, he needs to remember the millions of common Nigerians who can't afford to fly for medical attention of any sort.
Although it is not clear how much has been spent on the president's medical check-ups, the Buhari administration has earmarked at least N33.3bn for the State House medical infrastructure in the past eight years.
A breakdown of budget documents for the period under review revealed that general "medical expenses" gulped N308.26m.
However, the document did not reveal how much the administration spent on the President and Vice-President's medical treatments and check-ups in the past eight years.
Meanwhile, the President has embarked on at least 84 trips visiting over 40 countries in the past seven years.
These include trips for medical check-ups, regional and global summits, high-level meetings, condolence and state visits, among others.
Within that period, the Presidency earmarked N50.75bn for the Presidential Air Fleet.
It is clear that Buhari doesn't trust Nigeria's health care system, but how then do we show seriousness about development?
President Buhari's border closure policy
It would be recalled that in 2020, President Buhari ordered the closure of the country's land borders which was heavily criticised by stakeholders.
Buhari, however, said although Nigerians criticised the move, it has yielded positive results, and it is being appreciated.
The President stated this on Tuesday, May 23, in Abuja while commissioning the new customs headquarters.
Twitter ban
From 5 June 2021 to 13 January 2022, the Buhari government officially banned Twitter, which restricted it from operating in the country.
Lai Mohammed, Minister of Information, Culture and Tourism, announced a suspension of the social media platform.
Twitter was no longer welcome in Nigeria, and more disgruntled Nigerians sprang up.
The FG lifted the ban on January 12, 2022, and Buhari began tweeting again on May 2, 2021.
CBN Naira redesign policy
In October 2022, President Buhari approved the (Central Bank of Nigeria's) request to redesign the Nigerian currency notes – and phase out the old naira notes by the end of January 2023. He later gave an extension till Friday, February 10.
As military head of state in the 80s, Buhari had redesigned the naira too.
A Supreme Court ruling that suspended the deadline preceded the expiration of the notice issued by the CBN to commercial banks to stop receiving the old naira notes.
Businesses, commercial services and individuals were hard-hit by the implementation of the naira redesign policy. There was a shortage of cash, which culminated in violent protests and attacks on banks by individuals in different parts of Nigeria.
May 29 handover: What I'll miss as Nigeria's president, Buhari speaks
Earlier, Legit.ng reported that President Buhari said he would miss the good people he worked with during his tenure in office.
Buhari's spokesman, Femi Adesina confirmed that the President stated this in London in his weekly article titled 'The Good in Goodbye.'
Source: Legit.ng