Report Shows Naira Lost Half Its Value Against US Dollar Under President Buhari
The Nigerian naira experienced a significant decline against the US dollar during President Buhari's tenure
This is according to a new report that shows the naira weakened by 57.26% and 37.58% in official and black markets, respectively
The findings paint a grim picture despite several policies from the Central Bank of Nigeria
The Nigerian naira's exchange rate against the United States dollar during President Muhammadu Buhari's eight-year tenure declined significantly.
BusinesDay reports that the naira weakened by 57.26% and 37.58% in the official and black markets.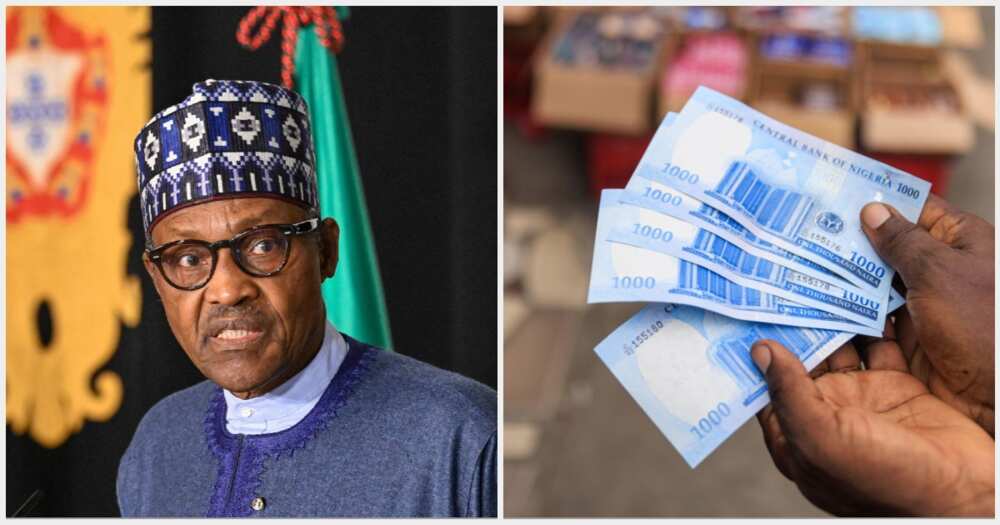 Naira to dollar exchange rate
When President Buhari assumed office in 2015, data from the Central Bank of Nigeria's official window indicated that the naira exchanged at N197/$ against the US dollar.
However, since then, it has weakened by N264 or 57.26% to N461 per dollar as of Tuesday, May 16, 2023.
The situation is even worse in the black foreign exchange market.
In 2016, the naira was exchanged at N465 to a dollar on the black market, but currently, it trades at N745 per dollar.
CBN's forex policies under President Muhammdu Buhari to help stabilise the naira
Restriction on Importers: On June 23, 2015, the CBN implemented a restriction that prevented importers of 41 items (later increased to 44 items) from accessing foreign exchange (FX).
Limit on Naira-Denominated Cards Abroad: In 2015, the CBN introduced an FX policy that limited the usage of naira-denominated cards abroad to $300.0 per person per day. Recently, some banks reduced this limit to $20 or suspended using these cards for international spending.
Elimination of Commission on Retail FX Transactions: In 2019, the CBN eliminated commission charges on retail FX transactions related to invisible services like business travel allowance, personal travel allowance, medical expenses, and school fees.
Selling Rate and Intervention Frequency: The CBN decreased the selling rate of FX to Bureaux de Change (BDC) operators and increased the frequency of interventions in other windows to enhance access and availability of FX for end-users.
Bilateral Currency Swap Agreement: On April 27, 2018, the CBN signed a three-year bilateral currency swap agreement worth $2.5 billion with the Peoples Bank of China. This agreement aimed to reduce FX demand pressure and facilitate investment.
Post-No-Debit Status: In September 2020, the CBN mandated lenders to place a Post-No-Debit status on the accounts of entities participating in the parallel market.
Discontinuation of FX Sale to BDC Operators: In July 2021, the CBN discontinued the sale of foreign currencies to BDC operators in Nigeria. Additionally, they suspended the applications for and issuance of new licenses for BDC operations.
Naira starts the week with massive fall against dollar
Meanwhile, Nigeria's CBN has another headache as Naira lost a considerable chunk of its value recovered at the black market last week.
Legit.ng revealed that Many Nigerians who went to the black market to get FX were surprised by the sudden change as Naira exchanged to the dollar above N750.
Experts have reacted to the current state of the market while speaking on the impact on Nigerians and companies.
Source: Legit.ng