Finance, Healthcare for Veterans: 5 Things Entertainment Industry Stands to Benefit From Tinubu's Presidency
As the entire country prepares for the official handing over and inauguration of the President-elect Asiwaju Bola Ahmed Tinubu, come May 29, 2023, a glimmer of what life would be like under the city for the entertainment industry was put on display recently.
For eight during President Muhammadu Buhari's administration, there was no such thing called an Inauguration concert at any point.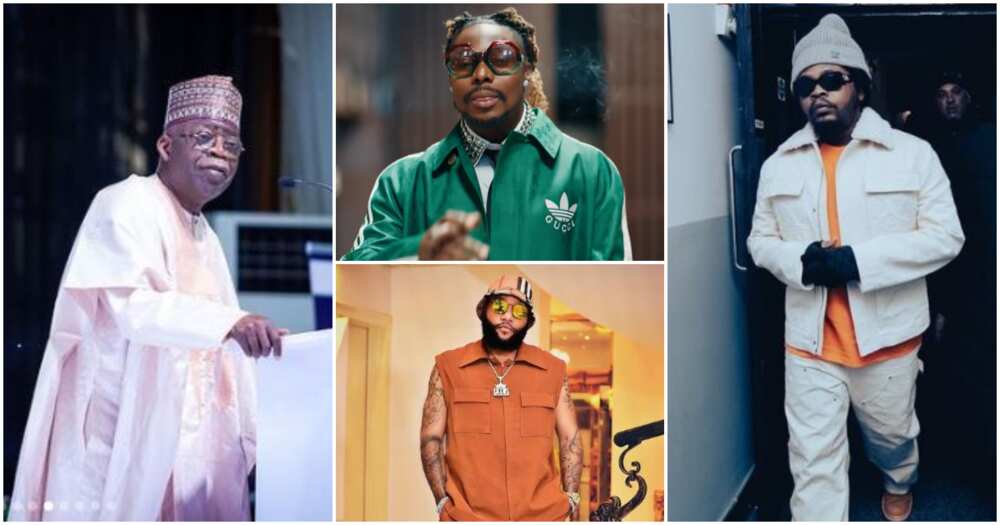 The Inauguration concert held in Abuja on Thursday, May 25, 2023, barely five days before the official swearing-in ceremony of the Bola Ahmed Tinubu presidency, is a signal of what's to come and how the incoming administration intends to relate to the youths through the entertainment industry.
Also, it is a sign of its understanding of the importance of the entertainment industry and the need to invest in it to help boost its already tremendous growth.
Below are five salient things that Nollywood and the music industry stand to benefit from a Bola Ahmed Tinubu presidency.
1. Financial support:
The entertainment industry has for years constantly lampooned the Nigerian government for not providing enough financial support for it to fund some of its biggest projects.
It is no longer news that many credits the success of the Nigerian music industry as privately driven by the youths, creativity and their desire to succeed.
But with Bola Ahmed Tinubu, Nigeria's first proper city, the country finally has someone that understands the strategic importance of the entertainment industry and what it could be for the country if its capacity were fully explored.
Many Nigerian entertainers over the years have numerous testimonials of how he has supported them individually and what he had done for the industry as a whole; from 9ice, Konga, to generation singers like Fireboy DML and Asake, they all have great things to say about the president-elect.
Legit.ng to confirm one of the many support Asiwaju had offered to many entertainers in the past, we spoke to veteran singer Konga, and this is what he had to say:
"Asiwaju is a proper Cityboy; he grew up in Isale Eko and knew the entertainment industry's value. He has supported many singers and actors and helped them in many ways that can't be quantified. When I was sick and needed support, I reached out to him; he moved mountains for me."
2. Fewer business restrictions:
President-elect Asiwaju Bola Ahmed Tinubu is a proper businessman and a capitalist who understands the metrics of providing a constructive enabling environment for businesses to succeed.
Expect more foreign investments and more welfarist policies for young Nigerians. Love it or not, the Nigerian creativity industry is set to see a growth boom that will push it into a new frontier.
3. Healthcare and retirement plans for veterans practitioners
For decades there has been constant noise, criticism and calls in the media for a retirement/healthcare plan for entertainment industry practitioners.
These calls are coming because of the many veterans that go through callous times after they retire or are hit by unforeseen circumstances, including health issues.
Tinubu has constantly been at the forefront of this call, and recently the Lagos state government revealed that it had created a healthcare plan for veterans.
Yoruba actor Adewale Adeoye better known as Elesho, also spoke with us and shared his experience using the Lagos Healthcare plan for veteran Nollywood practitioners.
He spoke in Yoruba, and these are the translation of his comments.
Elesho said:
"I'm a beneficiary of the healthcare, and I have been using it for a while now; it is a significant development. In our industry, we don't have a retirement, so things like these are a great relief for veterans to help them live a long and healthy life."
Expect the Asiwaju administration to implement this at a grand scale.
4. Repositioning of the country's image globally
Many might underrate Asiwaju's influence locally, but his international connections are extensive and expect it to come to full fledge over the next four years of his administration if not eight years.
The better the image of the country, the more respect that creates within the comity of nations, and this means our cultural values would be exported just like Afrobeat is currently making waves globally.
5. Nightlife, tourism and hospitality boom:
Expect a significant boom within the hospitality industry for the nightlife crooners like clubs, hotels and party riders.
My advice is to position yourself for this windfall because the raft finance these industries would witness would be a significant market to tap into and use to create wealth.
Videos surface as Timaya, Asake, others perform for a huge crowd
Meanwhile, Legit.ng for many people, the Renewed Hope Concert was one for the books, courtesy of the stars who made it a memorable night.
From the thrilling sounds of Asake and Fireboy's Bandana hit track to Timaya's cheeky performance of As E Dey Sweet Us, music fans in attendance were left ecstatic.
Despite the seemingly mass animosity that has trailed the incoming government, a surprising number of Nigerian music stars performed at the event.
Source: Legit.ng