May 29 Handover: Policies, Actions, Quotes President Muhammadu Buhari Will Be Remembered For
FCT, Abuja - In five days, President Muhammadu Buhari would exit office as the 15th president of Nigeria.
As with any government, he made policies, some unfavourable, others beneficial.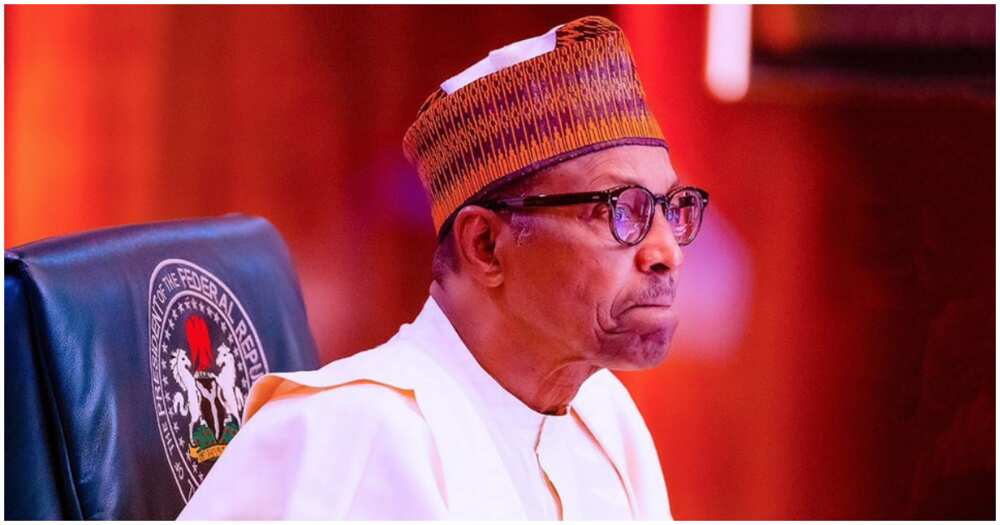 His predecessor, Goodluck Jonathan, took serious heat during his time as Nigeria's leader, same with President Buhari, who was not spared.
As the curtain draws on a two-year term fulfilled by a man who pursued the presidency for 12 years, Legit.ng examines policies, actions and utterances that Buhari will be remembered for.
Policies Buhari will be remembered for
N-Power scheme by Buhari's government
PAY ATTENTION: Share your outstanding story with our editors! Please reach us through info@corp.legit.ng!
The graduate category of the N-Power scheme is one of the most prominent post-tertiary job programmes in Africa.
According to Nigerian authorities, the initiative targets Nigerians between the ages of 18 and 35 "to acquire and develop life-long skills for becoming change-makers in their communities."
Created in June 2016, the Muhammadu Buhari government also considers the N-Power scheme a community-sourced solution to Nigeria's under-developed public services like education, healthcare, and civic engagement.
Currently in its third phase (Batch C), beneficiaries of the N-Power scheme pocket N30,000 monthly.
Rebranding NNPC
President Buhari, in July 2022, unveiled the Nigerian National Petroleum Company Limited, officially changing the oil firm from a wholly state-run entity to a commercial oil company, limited by shares.
As a result of the transformation (after 45 years), NNPC Limited is currently managed as a private energy enterprise – unlike the former government organisation.
The new NNPC elicited mixed reactions from stakeholders at the time.
For example, Dr Maurice Ibe, a financial and oil and gas industry expert, said the NNPC has to make itself functional.
Ibe said, according to Daily Trust:
"They have to make themselves functional, effective and efficient. It is no longer the NNPC of yesteryears whereby you are just wasting government money.
"If they operate efficiently, it means Nigeria will gain, with the federal government still maintaining a substantial share in the company."
Another expert, Paul Alaje, said despite the unveiling of the new firm, petrol subsidy payments will linger.
Alaje stated:
"Although the new NNPC is no longer a government organisation but a commercial one, the impact may not really be felt except the PIA comes onboard."
Meanwhile, some of the actions President Buhari will be remembered for include:
Delayed ministerial appointments
When he came on board in 2015, President Muhammadu Buhari was slow to constitute his cabinet.
After six months, Buhari finally named his cabinet, swearing in 36 ministers at a ceremony in the FCT, Abuja. The months-long delay caused concern, mainly among opposition elements.
Buhari himself took charge of the Ministry of Petroleum, a role the main opposition, the Peoples Democratic Party (PDP), said in 2022 he failed "woefully".
Naira redesign controversy
In October 2022, Buhari approved the Central Bank of Nigeria's) request to redesign the Nigerian currency notes – and phase out the old naira notes by the end of January 2023. He later gave an extension till Friday, February 10.
As military head of state in the 80s, Buhari had redesigned the naira too.
A Supreme Court ruling that suspended the deadline preceded the expiration of the notice issued by the CBN to commercial banks to stop receiving the old naira notes.
Businesses, commercial services and individuals were hard-hit by the implementation of the naira redesign policy. There was a shortage of cash, which culminated in violent protests and attacks on banks by individuals in different parts of Nigeria.
Also, some of the utterances the president will be remembered for are:
"Lazy Nigerian Youths"
In April 2018, President Buhari came under fire for describing young Nigerians as "lazy Nigerian youths".
The statement elicited angry reactions from eminent citizens and groups across the country. During a business conference in London, the United Kingdom (UK), Buhari was quoted to have said that the youths "do nothing" and want everything for "free" in the oil-rich country.
"A lot of them (Nigerian youths) haven't been to school and they are claiming, you know, that Nigeria has been an oil-producing country therefore they should sit and do nothing and get housing, health care, education, free," Buhari allegedly said.
"I didn't know IGP disobeyed me", Buhari
Earlier in the same year, Buhari came under attacks, particularly from Nigerians on social media, after he told the people in Benue that he was unaware that then-IGP Ibrahim Idris flouted his order to remain in Benue state until peace was restored.
Shortly after 73 persons were killed in January 2018 following clashes between farmers and herdsmen, Buhari asked Idris to relocate to Benue.
But when he visited the state subsequently, the president was told that Idris did not spend up to 24 hours in the state.
"I have forgiven President Buhari," says Ortom
In other news, Legit.ng earlier reported that Benue state governor, Samuel Ortom, said he had nothing against President Buhari despite their heated relationship that lasted over two tenures due to the insecurity in his state.
Ortom opened up on this development on Wednesday, May 24, during a live telecast on Arise TV's breakfast program, 'The Morning Show.'
Source: Legit.ng