Election 2023: Iyabo Ojo, Adunni Ade, 7 Other Celebs Who Got Into Ugly Fights Over Tinubu and Peter Obi
The February 25 presidential election birthed drama, call outs and several videos on social media
Some Nigerian celebrities took it upon themselves to be the voice of conscience, while others fought for their colleagues that campaigned for politicians
British-Nigerian soft actress Adunni Ade shocked everyone with her classy and subtly petty reply to Kudi Alagbo
The February 25 presidential election saw different shades and forms of drama from Nigerian celebrities.
While some people chose the day and following days to fight everyone who didn't join their campaign, others chose to be the conscience of actors paid to campaign for politicians.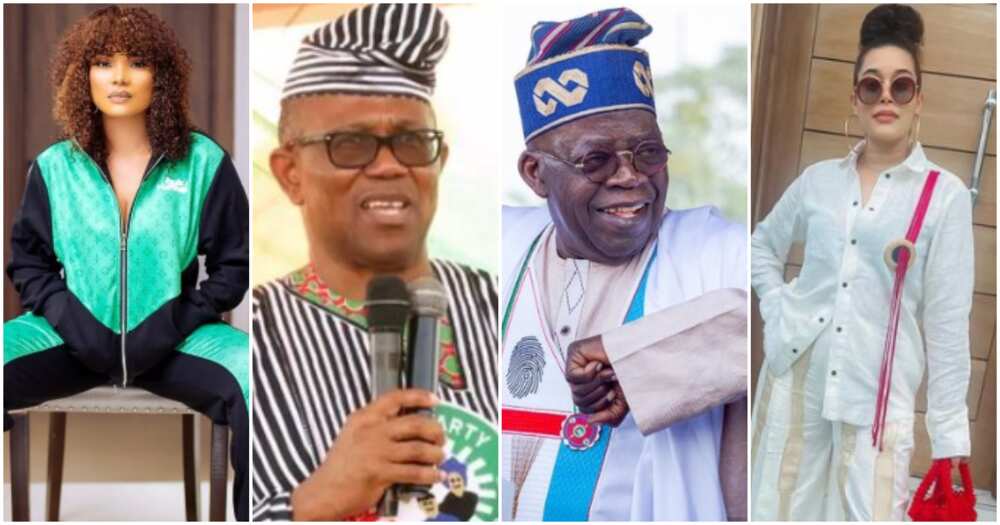 The period was also a perfect opportunity for some people to mock others for their actions years ago.
Nigerians predicted their home would be on fire after the husband of a popular actress threw her under the bus.
Legit.ng brings you a list of celebrity dramas that have gone down since February 25 with hopes of more to come.
1. Lege calls out Iyabo Ojo for supporting Obi instead of Tinubu
Iyabo won the hearts of many when she declared her support for Peter Obi instead of Asiwaju Bola Tinubu, like most of her colleagues.
On election day, the actress wore her bonnet and joined Nigerians to demand fairness online and shade her colleagues who collected money to campaign for the All Progressives Congress (APC).
Lege called Iyabo out for not being reasonable in her dealings even if she didn't support the ruling party.
Like that wasn't enough, he also reminded the mum of two of the favours she got from MC Oluomo, a staunch supporter of Tinubu.
As expected, with her response, Iyabo and her bonnet gave Lege fire for fire.
2. Dayo Amusa curses netizens for calling her a barren woman
Dayo Amusa started her day with a post shading a particular person for not supporting MC Oluomo's candidate despite all he has done for them.
A lot of Nigerians traced the drag to Iyabo Ojo, and the actress affirmed that Amusa cannot refer to her with that kind of post.
Clearly for Tinubu, Amusa's post did not go down well with Nigerians, as they insulted her and trolled her for her childlessness.
The actress, in another video, bitterly cursed everyone who made fun of her condition.
3. Kudi Alagbo drags Adunni Ade for calling out their colleagues
Kudi Alagbo was unhappy that her colleague Adunni Ade revealed the amount some actors got for campaigning for a politician.
Dragging Adunni for filth, Kudi mocked the actress for not having chairs in her former Oko Oba residence before moving to the Island.
Known for her subtle and calm nature, the British-Nigerian actress shared a throwback video of her old house with her chairs in view.
Like that wasn't enough, she also recently shared a video showing off the large sitting room and furniture in her new house.
4. Bukky Adekogbe calls out Adunni Ade for shading their colleagues
Yoruba actress Bukky Adekogbe Raji better known as Aminatu Papapa tackled Adunni Ade for shading a sect of actors.
Aminatu Papapa went live on Instagram and asked Adunni why she was upset over their support for Tinubu.
She also alleged that Adunni recently aborted a baby for a married man, a statement that made the mum of two vow to sue her colleague and make her pay.
5. Georgina Onuoha drag Chioma Akpotha for crying at polling unit
Nollywood actress Georgina Chigozie Onuoha criticised her colleague Chioma Akpotha, expressing her satisfaction over the vandalism and attack Chioma faced at her polling unit.
Chioma had taken to social media on her Instagram live, crying and shouting as her polling unit was destroyed.
Georgina decided to go down memory lane, recalling how during the 2019 general election, Chioma had asked her not to post the rigging and violence because it could harm her brand.
Akpotha is yet to reply, and if she eventually does, another drama will take over social media.
6. Kolawole Ajeyemi throws wife Toyin Abraham under the bus
Since Toyin made it known that she is a Tinubu supporter, Nigerians have camped on her social media pages cursing and insulting her.
To the surprise of many, the actress' husband Kolawole Ajeyemei revealed he was not in support of her campaign and urged Nigerians to leave his kids out of their heavy curses.
Not one to cower under pressure, shortly after her man threw her under the bus, the actress put up another post informing trolls of why their curses will not work on her.
Mercy Johnson dances, celebrates with hubby as he wins House of Reps election
Nollywood's Mercy Johnson and her husband Prince Odi Okojie did not campaign in vain to the people of Esan in Edo state.
The politician contested to represent the constituency at the House of Representatives on the platform of the All Progressives Congress (APC) and won.
A dutiful wife who supported and campaigned for her husband, Mercy took to Instagram to celebrate with a post.
Source: Legit.ng