"Finish Them With Class": Adunni Ade Continues Taunting Kudi Alagbo, Shares Video of Furnished Beautiful Home
Actress Adunni Ade has decided to fight her colleague Kudi Alagbo with class and poise
Kudi had dragged the actress for daring to call out actors that got paid for campaigning for a particular politician
Trying to paint her colleague as poor, Kudi claimed that Adunni didn't have chairs in her former rented apartment
After replying with a throwback video of her previous home, the British-Nigerian actress has also shared a video of her current home
Adunni Ade is not letting her colleague Kudi Alagbo off her hook easily after she tried to ridicule her on social media.
For exposing how much some of their colleagues got for campaigning for a politician, Kudi went on her IG live and lampooned Adunni.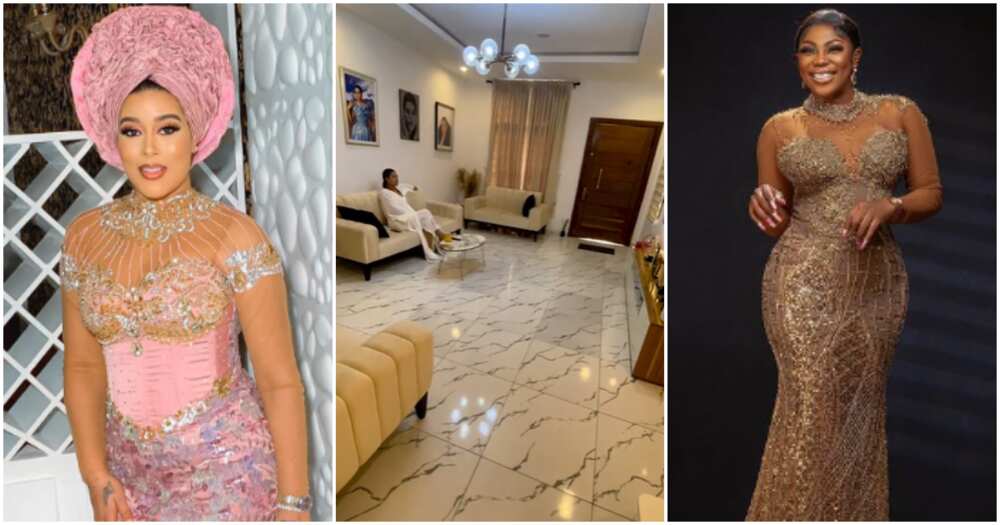 She added that the mum of two did not have chairs in her previous apartment before moving to the Island.
After sharing a video of her old home to debunk Kudi's claim, Adunni also shared a video of the living room of her new apartment.
The space looked classy, simple, and tasteful as the actress expressed in her voiceover that she was waiting in her rented apartment like everyone else to hear the presidential election result.
She wrote:
"God bless Nigeria "
Watch the video below:
Reactions to Adunni's video
blessingjessicaobasi:
"I Loveeetttt!!!!"
deelahs_kitchen:
"It's the "rented home" for me oo."
ejiroorits:
"I love this woman she sure knows how to reply her enemies."
__justrichardz:
"But Na chair I dey see for this sitting room ........ Abi Na eye dey pain me."
ogddebby:
"Una Don go find trouble for where una no suppose near, finish them with class ojare."
balogun.olayinka:
"Bless up pretty. Your rented apartment looks dashing."
dadaboyehiz:
"Showing off the couch I hate you."
afrovirtues:
"It's the subtle pettiness for me."
haleemah__x:
"Adunni decided to choose a little bit of classy vawulence this morning ❤️"
diaryofafashionlover7:
"Energy."
Adunni Ade shows off chairs from old apartment
Kudi Alagbo dragged her fellow actress, Adunni Ade, for coming out to express strong reservations against colleagues who were paid peanuts to campaign for politicians in the 2023 elections.
Bashing the mum of two, Alagbo claimed that the fair-skinned actress acts high and mighty even though she didn't have chairs in her former house.
Replying to the claim, Adunni took a trip down memory lane and gave netizens a sneak peek of what her old Oko Oba apartment used to look like.
Source: Legit.ng