"I Am Glad Chioma Akpotha Was Attacked": Georgina Onuoha Trolls Colleague's Activism at Polling Unit
Nollywood actress Georgina Onuoha chastised Chioma Akpotha for complaining about the interference with voting that took place in her polling unit
Chioma had gone online to complain about how thugs attacked while they were voting on Saturday, February 25
Georgina decided to go down memory lane, recalling how during the 2019 general election, Chioma had asked her not to post the rigging and violence because it could harm her brand
Nollywood actress Georgina Chigozie Onuoha criticised her colleague Chioma Akpotha, expressing her satisfaction over the vandalism and attack Chioma faced at her polling unit.
Georgina said in a lengthy Instagram post that many celebrities are corrupt and only want their stomach infrastructure.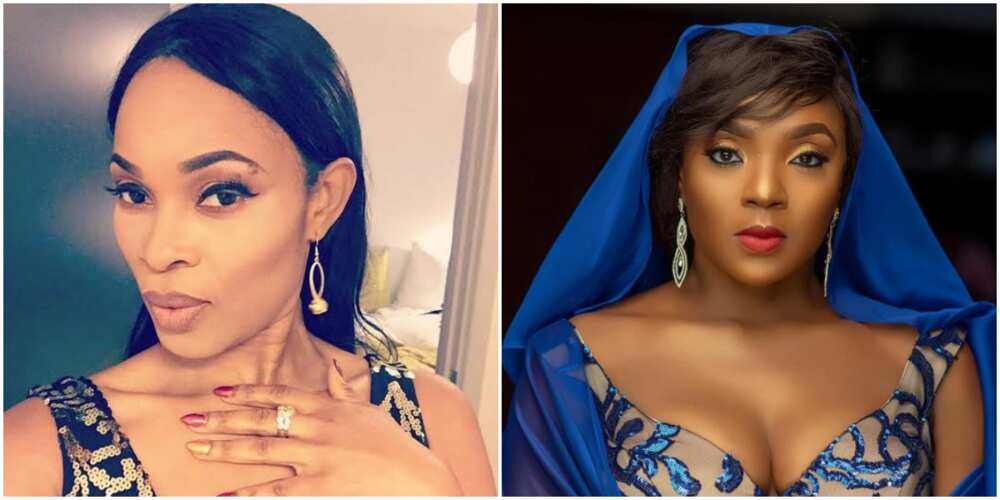 Recall that Chioma had gone live on her verified Instagram account while thugs scattered ballot boxes at her polling unit, calling for increased security or military action.
In her statement, Georgina berated her colleague, noting that she was screaming for help at the top of her lungs.
Georgina's words in parts:
"You do not only show bravery or compassion or empathy only when it affects you directly. So this is Chioma screaming at the top of her lungs. I hope she is safe. I wish her well, and I pray her vote counts.
"That being said, this same person, Chioma, had the temerity 4 years ago to tell me that my post would create riots and that the election was safe and free."
Georgina said there were various videos of thugs attacking people and carting away ballot boxes and while she was posting these updates, Chioma told her to stop.
She added:
"While I was posting those updates, Chioma Chukwu felt the need to tell me to stop. That I have a brand to protect and that I should say the election was peaceful.
"She will never forget my responses to her and she unfollowed me and I blocked her as well. It is incumbent to end friendships with people who lack or sell their integrity and dignity for a few personal gains. I cut you off."
See her post below:
Nigerians react to Georgina's claims
lauraahamnonu:
"While i respect you not supporting what she suggested to you years ago it is still unecessary for you to use this moment to publicly disrespect her and call her names. She deserves to have this moment for her bravery today so let her. She obviously has grown from 4 years ago. People make mistakes, no one is perfect. What matters is that we grow and try to be better every day and Chioma has clearly growm since 4 years ago. You should just encourge her bravery and growth as a former friend at least. Even if you still hold a grudge you should tallk to her privately after all she did speak to you privately 4 years ago according to you. No need to disrespect her in public like this. Its very unecessary."
asoebiafrica:
"People are allowed to evolve dear. At a time people are standing together, how exactly is all this shalaye necessary?"
mrs_oyinboss:
"She held this beef for 4years? was this even necessary?"
perky_ijidola:
"All this epistle to discount her effort of yesterday? No way! 4 years after, she's doing the right thing and right now only a positive vibe is entertained."
nurse_eyekay:
"She has seen shege banza so she had to reconsider. We understand her reason. Thanks for the reminder."
Omoni Oboli queries INEC
Legit.ng also reported that Omoni Oboli was still in her polling centre until the next day to ensure their voting results were successfully inputted in INEC's portal.
Nollywood star was among the first to arrive at her polling unit on election day and was among the few people who waited to oversee that INEC officials inputted the appropriate numbers.
Omoni shared a video of herself hanging around her voting centre during the wee hours to call out INEC officials over their server delay.
Source: Legit.ng