Kimberly Anne Scott bio: where is Eminem's ex-wife now?
Many people are probably familiar with the legendary rapper, Eminem, but what about his ex-wife Kimberly Anne Scott? The couple had a strained relationship, which led to their separation, not once, but twice.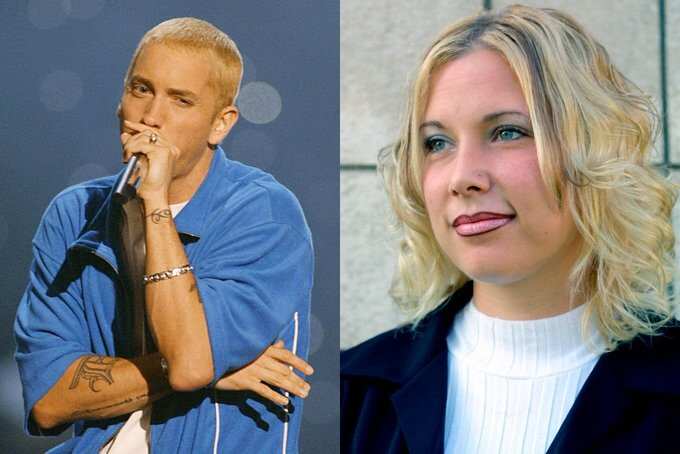 What exactly happened between the two? Is Kim Mathers still in touch with the famous musician?
Kim is an American writer who has written several children's books and puzzles. She is also a freelance illustrator who has earned quite a lot of money through her career.
Profile summary
Full name: Kimberly Anne Scott
Birthday: Jan 9, 1975
Birthplace: Warren, Michigan, USA
Nationality: American
Birth sign: Capricorn
Ethnicity: Caucasian, white
Religion: Christianity
Profession: Illustrator, writer
Current Residence: Detroit, Michigan
Biography
Kimberly Ann Scott Mathers was born on Jan 9, 1975, in Warren to Kathleen and Casimer Sluck. She had a twin sister called Dawn Scott. The siblings grew up in Michigan but faced a lot of challenges during their childhood. Dawn passed away from consuming prohibited substances in 2016, aged 41.
Kim Scott Mathers revealed she got abused by her step-father when she was young. The former Eminem wife decided to run away from home alongside her twin sister. They moved to a youth home on the outskirts of Detroit back in 1998.
Height and body measurements
How tall is the American writer? Kimberly Scott's height is 1.78 m. She weighs 62 kgs, has brown hair and blue eyes. Her bra size is 33B, and her body measurements are 34-29-37.
Who is Eminem?
Eminem is a familiar name in many parts of the world and does not need much introduction. He was born on Oct 17, 1972, in Missouri, USA, as Marshall Bruce Mathers III., and is three years older than Kim.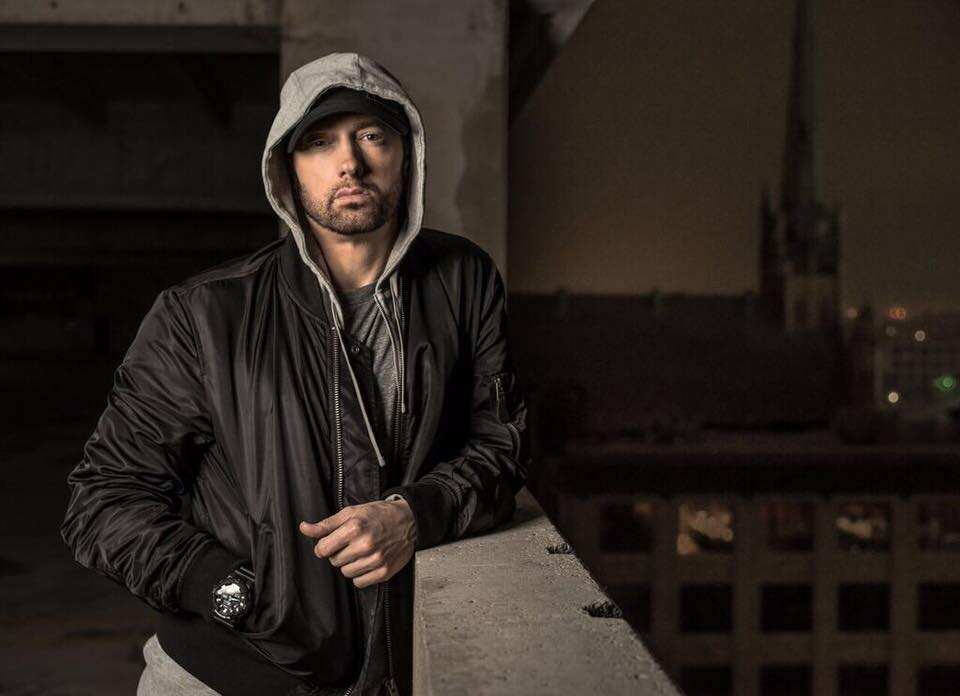 The rapper grew up in poverty and got continuously neglected, abused, and bullied. Through hard work and dedication, he has achieved success in his career. Eminem has garnered 15 Grammys throughout his career, and he also earned an Oscar for his original song Lose Yourself for the movie 8 Mile.
If you are wondering how Kim Scott Eminem came to know each other, they first met at a house party where she saw him singing. Kim was 13, while Eminem, 15. After knowing each other for quite some time, Eminem invited Kim to live with him at his mother's house.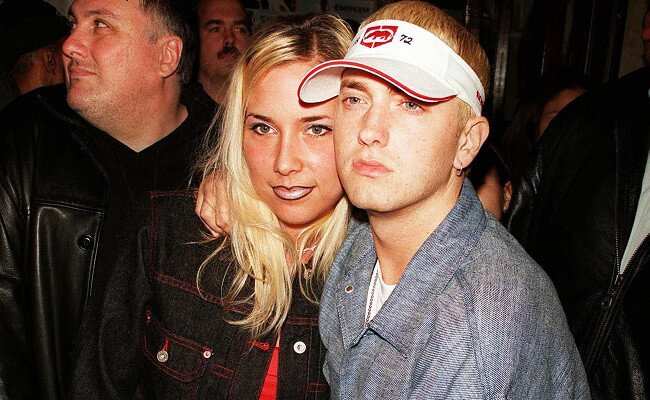 Eminem and Kim wedding
Kimberly gave birth to their daughter, Hailie Jade, on Dec 25, 1995, while still living at Eminem's home. The two had an on-and-off relationship forcing Kim to move out with Hailie. They later reconciled and got married in 1999.
Eminem Kim divorce
Kimberly Scott Eminem marriage had many problems that made them hate each other. The rapper even made songs that expressed his enormous dislike for her. In 2000, he released the track Kim that reflects his intense anger towards the mother of his daughter.
He also unveiled 97 Bonnie & Clyde in 1999, which also described his hatred towards Kim Mathers. Then, Eminem's wife was caught kissing a mutual friend of her husband.
The man was a fellow rapper, John Guerra. The incident enraged Eminem, and he attacked Guerra, who later filed a lawsuit.
Kim's husband was sentenced to two years of probation. After two years of marriage, the couple decided to cut ties. Eminem referenced the incident in his track, The Kiss, from the 2002 album, 'The Eminem Show.'
What happened to Kim?
Kim started taking prohibited substances after splitting with the father of her daughter. She also was accused of using prohibited substances and was arrested in 2001.
She was, however, not convicted. The writer also dated Eric Harter and gave birth to their beautiful daughter, Whitney.
Harter is an American tattoo artist. They were together for almost a year before separating. However, the artist has not received the chance to meet his daughter due to legal issues.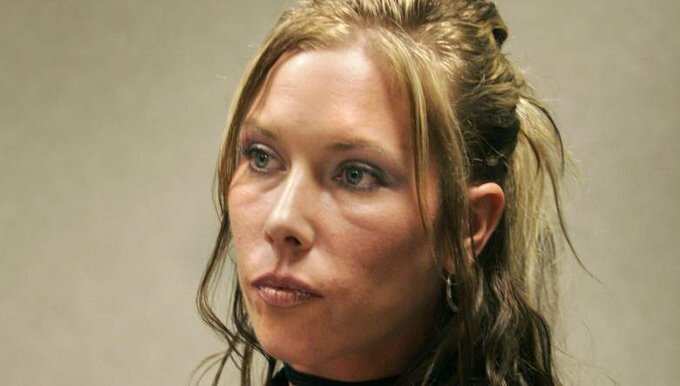 Kim got charged with felony possession and two driving violations back in 2013 and was later released in 2006. Kim and Eminem got back together for the second time, but not for long. After three months, they filed for another divorce.
Eminem and Kim children
The pair has one child together. They also adopted Dawn Scott's child, Alaina, and Whitney. Eminem takes care of the three kids. He also stays with his younger half-brother, Nathan.
Alaina is the eldest, as she was born on May 3, 1993, while Whitney was born on Apr 16, 2002.
Where is Hailie Jade?
The gorgeous daughter of the two celebrities has since become an Instagram influencer. Hailie studied at Chippewa Valley High School and graduated in 2014, before proceeding to Michigan State University.
She joined the social media platform in October 2016; Hailie currently has over 1.9 million followers. The 24-year-old regularly posts her photos on Instagram. According to her career plans, she hopes to become a psychologist or an entrepreneur in the future.
Kim Mathers net worth
How much is Kim worth? She boasts of a net worth of $2 million. Her ex-husband, Eminem, has a net worth of $100 million. In 2018, he was ranked fourth alongside Drake in Forbes' list of wealthiest artists of the year after Jay-Z, Diddy, and Dr. Dre.
The freelance illustrator owns a house in Macomb Township, Michigan, United States, worth millions of dollars. In 2003, her husband bought a mansion in Rochester Hills, Michigan, valued at $4.75 million.
Eminem also created his fashion line called Shady Limited. He recently performed his song, Lose Yourself, at the 92nd Academy Awards that took place at the Dolby Theatre in Los Angeles.
Is Eminem married?
After divorcing Kim twice, the talented rapper has not married again. However, in 2018, he was rumored to be dating rapper Nicki Minaj. The two gave hints of their relationship to fans, and even openly responded to questions about them dating on social media.
Other details about Eminem's ex wife
Here are some top facts about the talented writer.
Kim's parents parted ways when she and her sister were young. Her mother and step-father raised them.
Kim, Dawn, and Eminem all studied at Lincoln High School.
She has tried to kill herself. One scenario involved her black Cadillac Escalade and she received a fine of $900 for drunk driving.
She also attempted to take her own life by slashing her wrists after Eminem allegedly assaulted her during his Up in Smoke tour in 2001.
Kimberly Scott sued Eminem after he released the song, Kim in order for him to stop rapping about her. He was also sued by his mother, Debbie, for defaming her in various broadcast and print interviews, implying that she was an unstable prohibited substances abuser.
In 2001, the court ordered Kimberly Scott's ex-husband to pay her $1,000 a week or $52,000 annually in child support after finalizing their divorce.
Kim also has a son called Parker Scott, but there are no details about his father.
The 8 Mile movie released in 2002 told the true story of Eminem's rise from poverty to a successful rapper. It also depicted his complicated relationship with Kim.
She wrote the book, 'Mommy! There's a Snot Man Standing Next to You'. The book is about a little boy kept home from school by his mother because he has a runny nose. The boy learns what happens when he does not use a tissue to wipe his nose.
Eminem apologized to his ex-wife for the pain he had caused her in his song Bad Husband from his album 'Revival' released in 2017.
She likes listening to music, watching movies, shopping, and traveling. Her best actors are Johnny Depp and Jennifer Aniston.
What does the future hold for Kimberly Anne Scott and her ex-husband? Will they reconcile and get back together for the third time?
Source: Legit.ng