2021 in Review: Don Jazzy, Nengi, Cute Abiola and 17 Other Nigerian Celebrities Who Became Homeowners
The Nigerian entertainment industry is no doubt a thriving one especially for those who have been able to breakthrough and gain the recognition of fans.
Gone are the days when being an entertainer was regarded as a job for castaways and it is now one of the most sought after professions in the country.
The Nigerian entertainment industry has different arms such as music, movies and comedy. However, none trumps the other when it comes to relevance.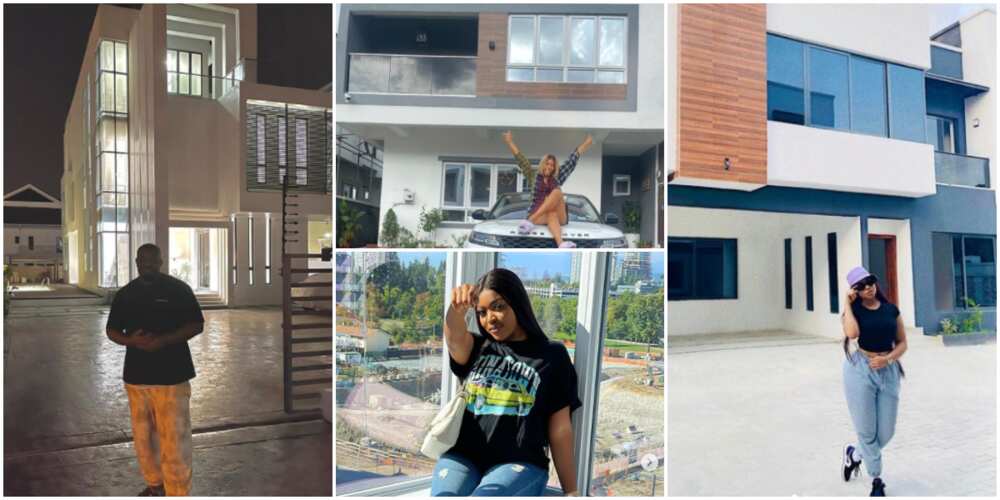 These industries have proven to be a blessing for many celebs and their success is obvious not just through the luxury lives they show off but also because of the expensive properties they have been able to acquire.
Real estate is usually described as the best form of investment a person can make and some of these celebrities have already spent fortunes on getting themselves luxury properties.
A number of these stars became home owners in year 2021 despite the economic meltdown. This goes to show that they are thriving in their careers.
Legit.ng has gathered a list of some of the Nigerian celebrities who bought houses in year 2021.
1. Qdot:
Singer Qdot got himself an impressive new house in a choice Lagos location and fans congratulated him on the feat.
2. Nengi:
This BBNaija 2020 star left many in awe after she bought herself a huge house in a highbrow Lagos area. This gave her numerous fans an additional reason to brag.
3. Etinosa Idemudia:
This Nollywood actress and comedian became a landlady after she acquired a luxury property in Lagos. She flaunted the massive building on social media.
4.Zic Saloma:
This young Nigerian comedian gave credence to claims that making skits is the new oil money after he bought himself a house shortly after he bought an expensive car.
5. Fireboy:
YBNL signee, Fireboy, has continued to step on his haters' necks with his achievements. He also became a homeowner in 2021.
6. Don Jazzy:
Sometime in February 2021, Nigerian music mogul, Don Jazzy, also added a luxury mansion to his name. His family members and well-wishers celebrated the feat online.
7. Destiny Etiko:
Popular Nollywood actress, Destiny Etiko, got herself a new house as a birthday present.
8. Zlatan Ibile:
In the year 2021, Zlatan Ibile acquired a luxury seven-bedroom mansion in the heart of Abuja.
9. Samklef:
Nigerian music producer, Samklef, became a landlord in America after acquiring his first real estate property in the country.
10. Tacha:
Controversial BBNaija 2019 star, Tacha, wasted no time in sharing the news of her new house with fans on social media.
11. Regina Askia:
Veteran Nollywood actress, Regina Askia, was very proud of her achievement after she was finally able to buy her first house abroad after many years of working hard there.
12. Onyi Alex:
This Nollywood actress acquired a multi-million naira mansion and took to social media to showcase its beautiful interior.
13. Sotayo Gaga:
Nollywood actress, Sotayo Gaga, left many of her fans and colleagues in awe after she acquired a new property in Lagos.
14. Bukola Adeeyo:
Like her other colleagues had done, this actress also showcased the beautiful interior of her new home after she acquired the luxury property.
15. DJ Cuppy:
Nigerian billionaire's daughter, DJ Cuppy, got herself a penthouse in London and she made sure the interior was done in her signature pink colour.
16. Sir Balo:
This is another Nigerian comedian whose success has continued to leave fans in awe. The popular skit maker has acquired several properties to his name including houses.
17. Comedian Egungun:
Fans started to join skit makers on social media after another comedian built himself a five-bedroom home and shared photos online.
18. Caramel Plug:
Yet another comedian made the list of Nigerian celebs who acquired houses in 2021. Ogechi Ukonu aka Caramel Plug got herself a house in Canada.
19. Cute Abiola:
This popular social media comedian also got himself a multi-million naira mansion in 2021. He shared clips from his housewarming online.
20. Mercy Eke:
BBNaija 2019 winner, Mercy Eke, is no stranger to acquiring luxury properties and she bought her second house in 2021.
Nice one.
Nigerian celebs who bought houses and cars for their parents in 2021
The measure of success for a lot of people is being able to positively impact the lives of family, friends and those around them.
Perhaps, this is why every other year comes with successful celebrities digging deep into their pockets to make some outstanding purchases for their parents.
Like the previous year, 2021 also witnessed superstars ranging from actors, comedians, reality stars among others who rewarded their family members in beautiful ways.
Some of the celebs who rewarded their parents with houses and cars include Sir Balo, Zic Saloma, Sabinus, Yemi Alade to name a few.
Source: Legit.ng