25 female anime characters every anime fan knows and loves
Many people enjoy TV shows and films with powerful and strong anime characters. These female anime characters are attractive, intelligent, and formidable. They are appealing even more to women.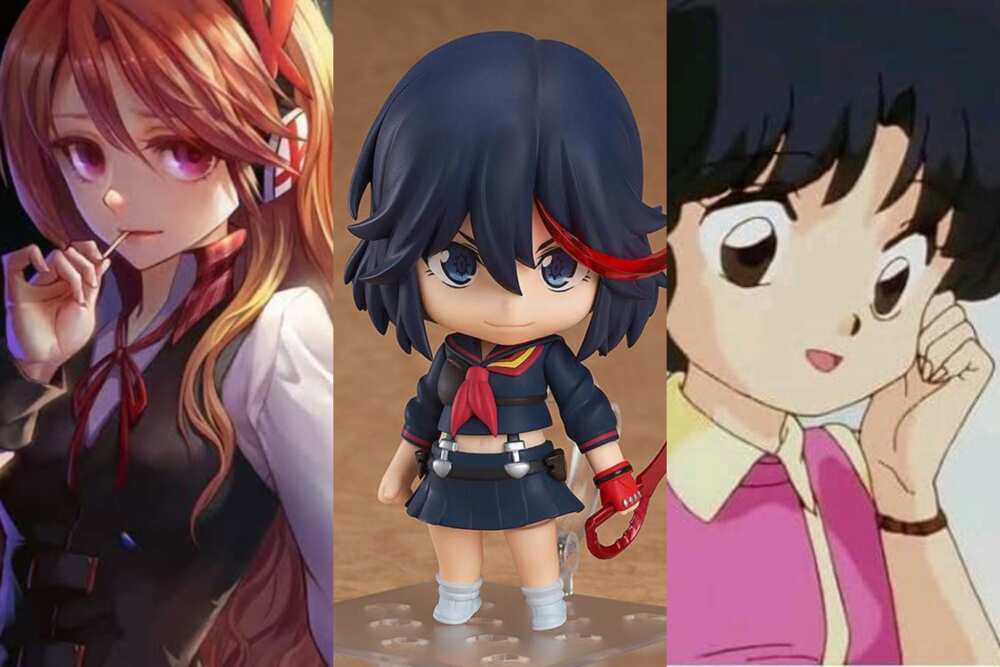 Anime female characters have risen to fame and become household names for their ferocity, mystery, humour, powers, and beauty, among other characteristics. These anime girls have become the best anime characters we know, and we love their characteristics.
Female anime characters
Female anime characters have become vital to anime and manga culture, enthralling audiences with their distinct personalities. Here are 25 popular anime characters to watch.
1. Ryuko Matoi - Kill La Kill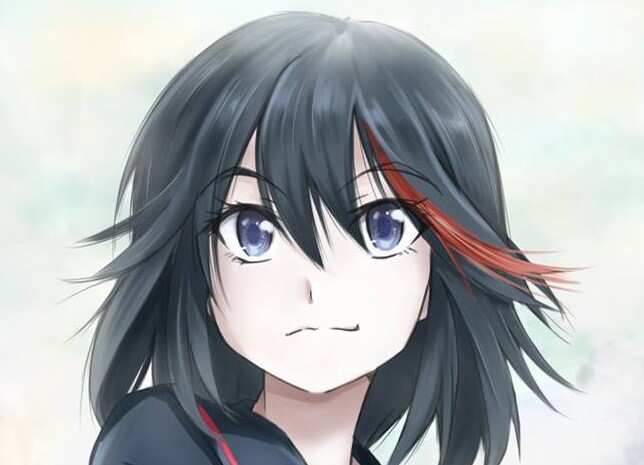 Armed with a scowl every bit as fierce as her giant sword, Ryuko Matoi is the magical girl-martial arts extravaganza protagonist.
In search of her father's murderer, Ryuko somewhat unwillingly takes up the sentient sailor uniform, using its power to challenge the Academy's student council's dictatorship.
Even if she is still mildly self-conscious of her outfit, you will not find someone more stubborn in the entirety of this erotically charged action fest.
2. Mikasa Ackerman - Attack on Titan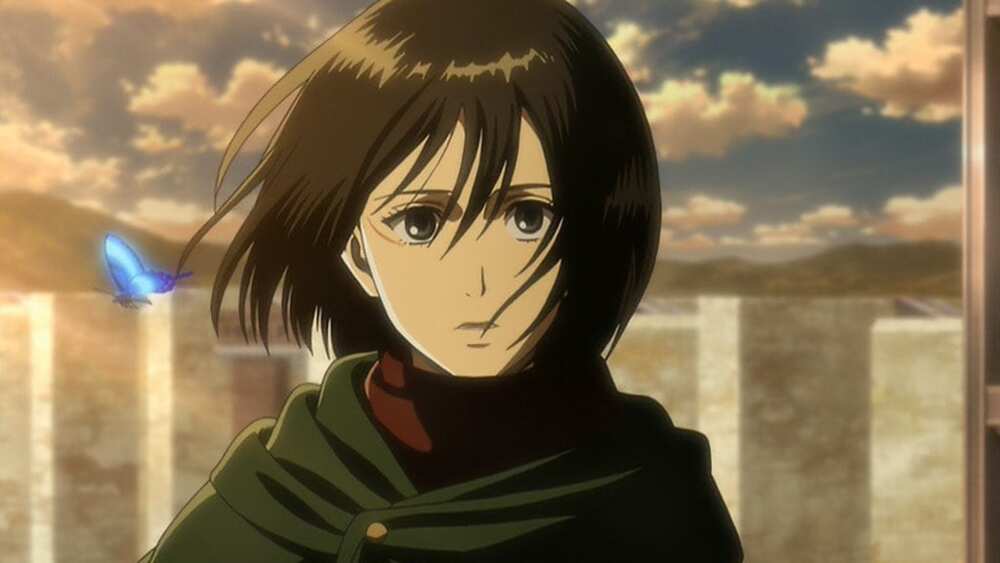 In a world long gone where gigantic humanoids roam the earth and feast on whatever they find, you have an apex predator like Mikasa Ackerman.
As a member of the Survey Corps, she doesn't just kill titans, she eviscerates them. Hailed as the strongest of the core's recruits, her ever-growing kill count is second only to Levi.
With a bloody past involving the murder of her mother, Mikasa is a terrifying and seemingly uncaring individual when it comes to her childhood friends Aaron and Armin.
She values them more than anything, to the point where she won't hesitate to fly into the thick of danger to save them.
3. Revy - Black Lagoon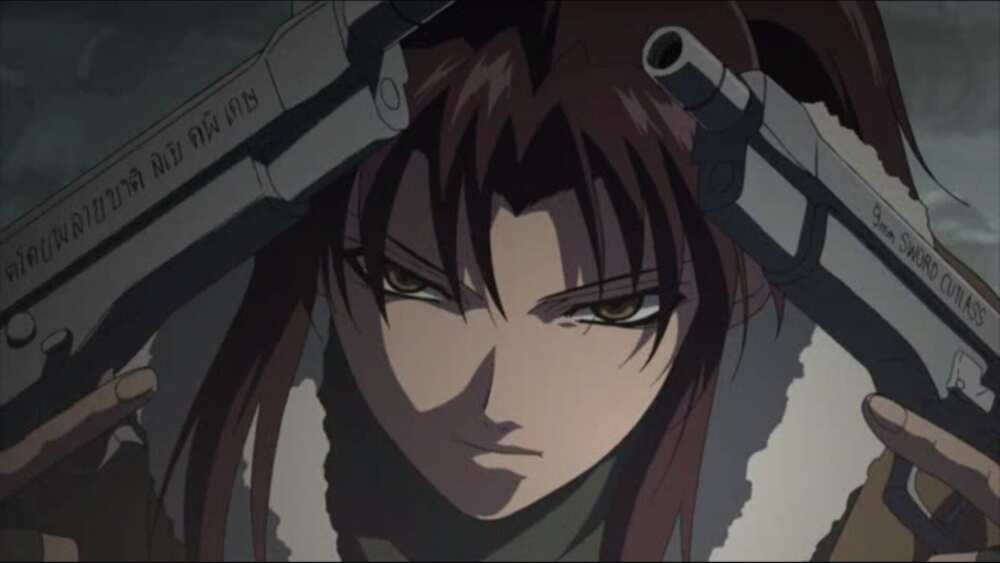 Revy is another one of the top anime girls. She is a woman of simple taste, and all she cares about is stealing, smoking, and getting wasted, not to mention shooting down anyone who gets in her way.
This sociopathic gunslinger serves as the muscle of the lagoon company. While Revy may be terrible at taking orders, she is in her element when it comes to life-or-death situations.
Revy is a foul-mouthed basketcase who would put a bullet through anyone and everyone to get what she wants.
4. Rally Vincent - Gunsmith Cats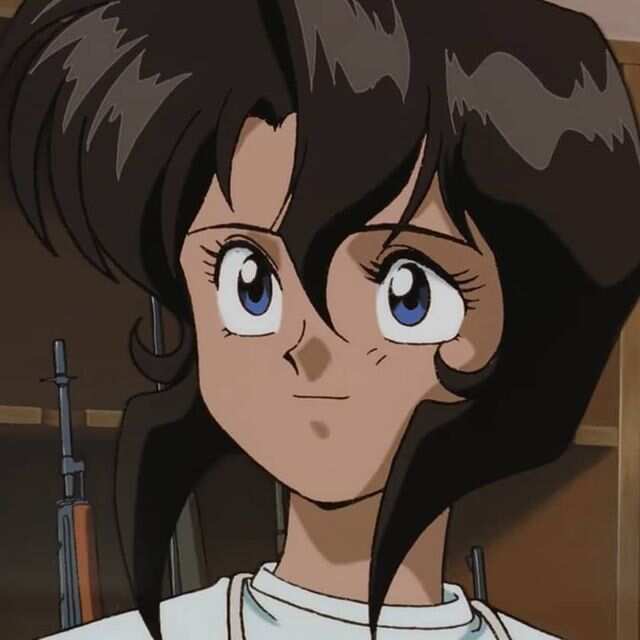 Rally Vincent is also one of the best female anime girl characters. She is an accomplished practitioner of pistolcraft and immeasurably more mentally balanced.
She is highly skilled in hand-to-hand combat, with great speed and physical agility, and is an expert but reckless driver. Although Rally Vincent does not always respect the law, she has a strong moral sense of right and wrong and is reluctant to kill unless necessary.
Vincent has an encyclopedic knowledge of firearms and their inner workings, and she frequently gets the drop on bad guys because, in addition to her excellent marksmanship, she is sharp as a tac.
5. Akane Tendo - Ranma 1/2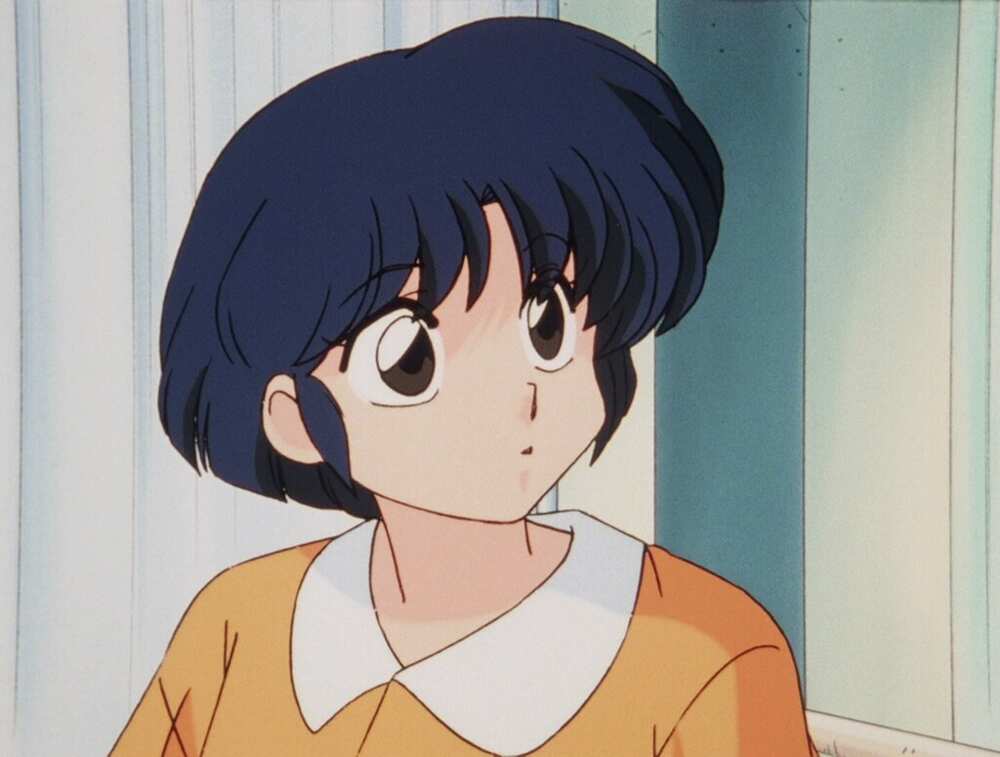 Akane Tendo is a talented and accomplished martial artist in her own right, but she is more than capable of holding her own in any fistfight.
While Akane is generally shown as compassionate and helpful towards anyone in trouble, she is also a vulnerable, stubborn, relentless, and very short-tempered girl. Despite her temper, Akane has a more prominent gentle side.
6. Touka Kirishima - Tokyo Ghoul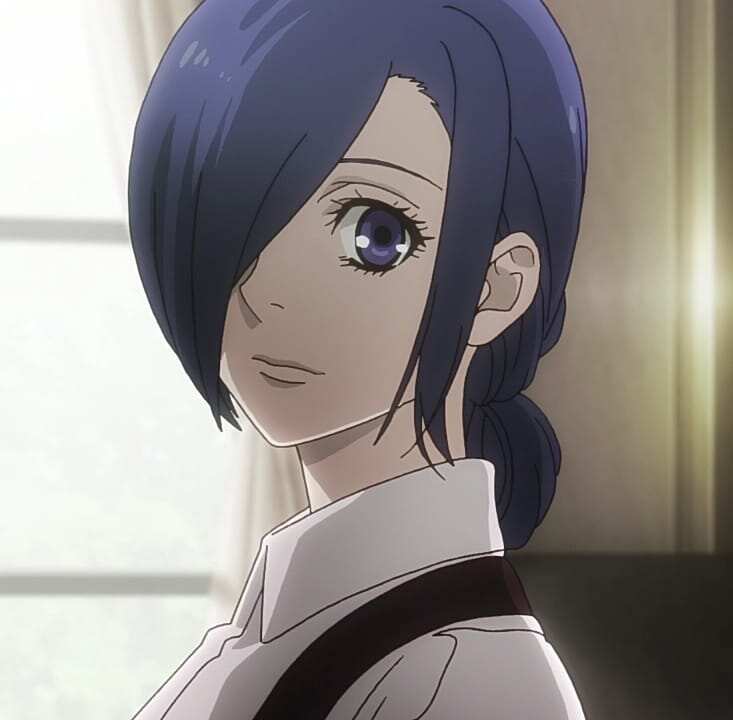 Touka started as a cold but collected individual who found shelter from her past horrors and her constant hunger for flesh in her day job at the coffee shop.
In the first season of Tokyo Ghoul, Touka shows the power of her Ukaku wing Kagune when she protects the still-naive Kaneki from the persistent Shuu Tsukiyama.
She shows just how formidable a fighter she is to face off against the much stronger Tsukiyama.
In a series where everyone seems to be on the precipice of turning into merciless monsters, humans and ghouls alike, Touka Kirishima remains one of the few fighting for the chance of peaceful life.
7. Akame - Akame ga Kill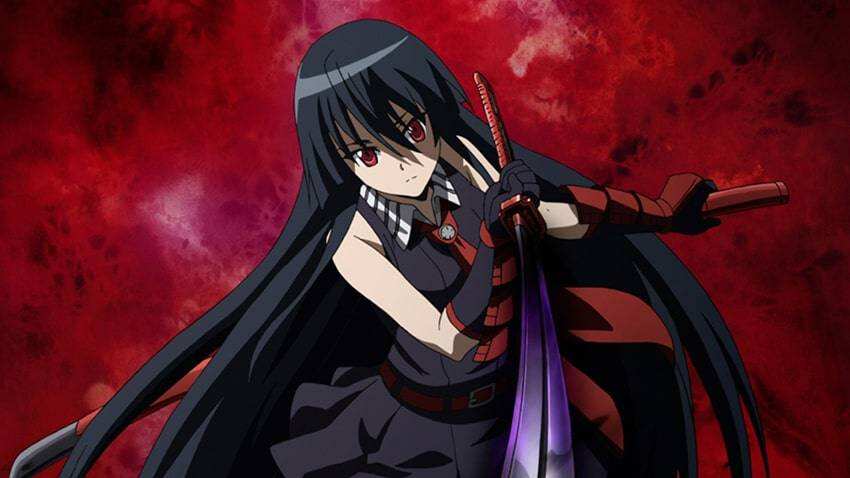 Akame, also known as Akame of the Demon Sword Murasame, is the titular heroin, alongside Tatsumi in the Akame ga Kill.
She is one of the best anime woman characters when it comes to using swords. Akame appears to be a very serious and coldhearted person, which stems from her hellish training that the Empire forced on her and her sister.
Still, it is eventually revealed that she is just socially awkward. She cares about her comrades very much and is a very strong, skilled master swordswoman who is immune to most poisons.
8. Motoko Kusanagi - Ghost in the Shell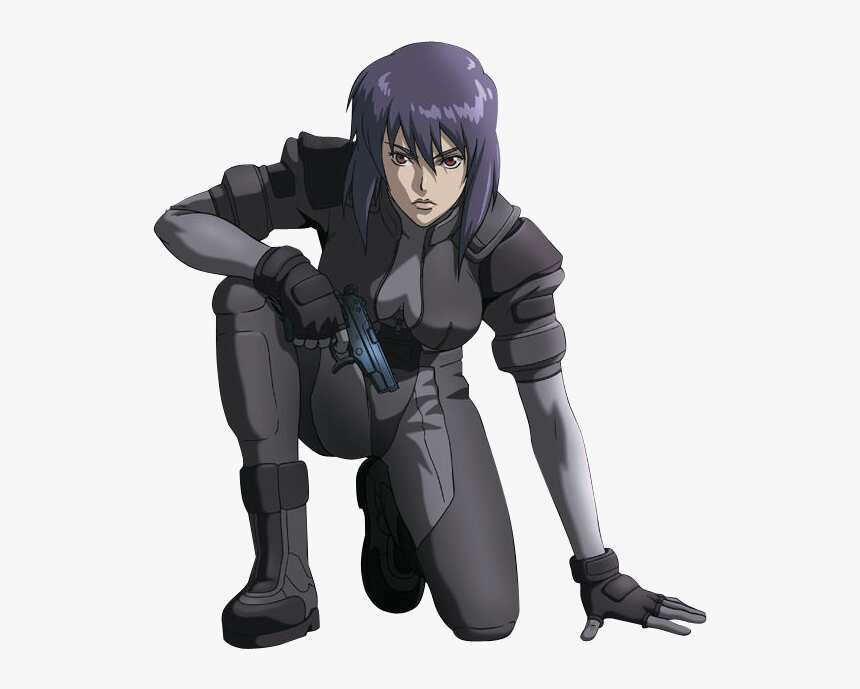 Motoko Kusanagi, also known as Major, is the main protagonist in Masamune Shirow's Ghost in the Shell manga series.
Commonly referred to as Major, she is an integral part of public security section nine, taking the lead when it comes to dangerous missions. As an augmented cybernetic human, she possesses the greatest and is a great weapon expert.
Among her many other female exploits, Motoko Kusanagi uses her wits and unfaltering poker face against ace sniper Saito in a one-on-one gunfight.
9. Erza Scarlet - Fairy Tale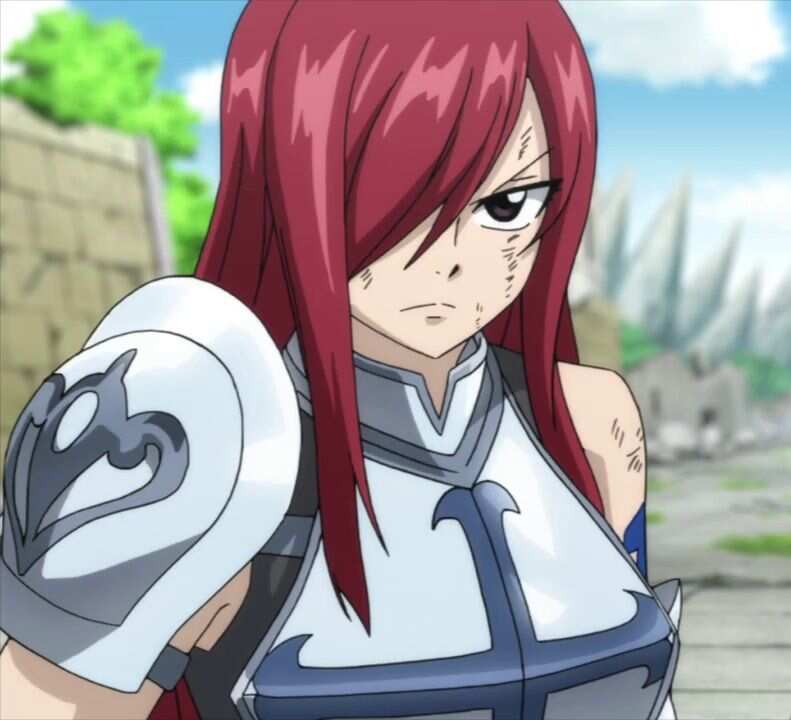 Erza Scarlet went from being a child slave to one of the strongest Mages in all the land. Forced by her possessed childhood friend to build the fearsome tower of heaven, Erza Scarlet eventually escaped her captivity, finding her way to the fairy tale guild.
From there, she rose to become an S-class Mage and a reputable fighter. With her magical ability known as reequip, she has access to a seemingly endless series of armours and weapons, each possessing devastating abilities.
Erza is so badass that she won a fight without any of her senses, and she unlocked that Nakagami armour which was said to take so much magical energy that nobody could unlock it for ten years.
10. Yoruichi Shihoin - Bleach
Yoruichi Shihoin is a fictional female in the Bleach manga series, and its adaptations created by Tite Kubo. She is intelligent and witty, holding an intimate knowledge of Soul Society and its workings, as she was the former leader of the Onmitsukidō and the second division's captain.
She is famously known as the goddess of flash. She is very playful and the fastest in all of Seoul society, allowing her to wipe out whoever and whatever she chooses quicker than they can blink. Yoruichi Shihoin knows what she got and isn't afraid to flaunt it.
11. Satsuki Kiryuuin - Kill la Kill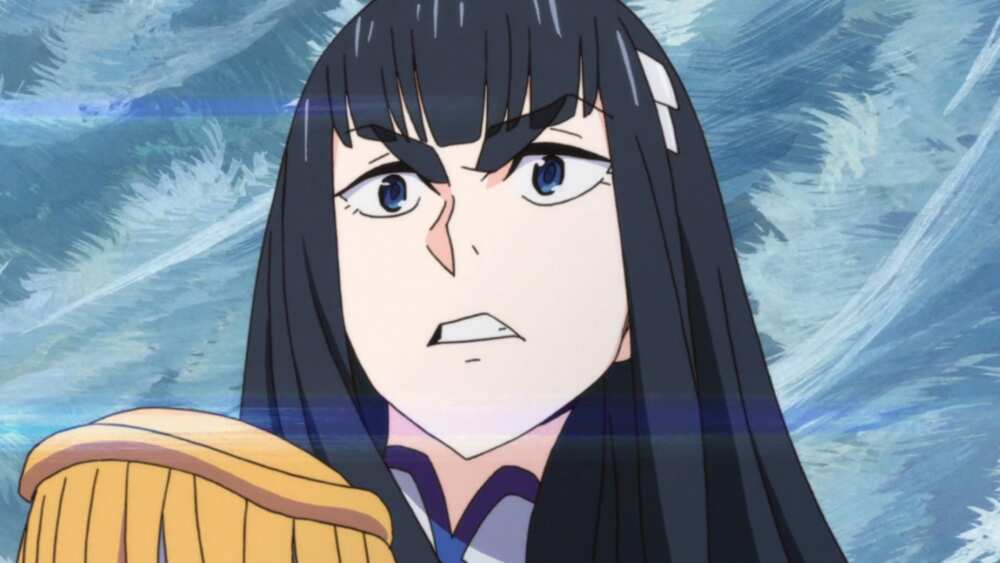 Her sword, the Bakuzan, makes Satsuki Kiryuuin incredibly proficient with Sword. The badass character is a very powerful fighter with enhanced speed, strength, reflexes, and endurance.
Her toenails can also be used as a weapon. The false toenails are made of the same material as the Bakuzan. Satsuki Kiryuuin has grown to be popular and a cool character.
12. Hikaru Minamoto - Otogi Zoshi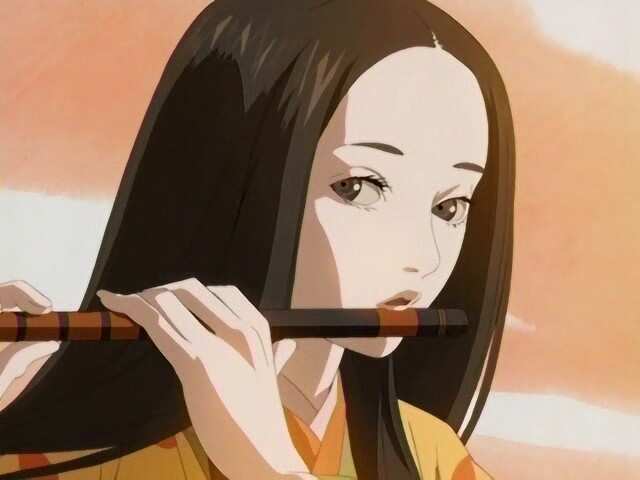 Hikaru Minamoto is one of the most badass famous anime characters. She is a highly skilled archer and a gifted swordsman.
To find the magatama of metal, wood, water, fire, and earth, Hikaru ought to impersonate her brother Raiko. Her brother is terminally ill. On the quest, she defeats many enemies. Hikaru Minamoto does it with the help of a companion.
13. Maka - Soul Eater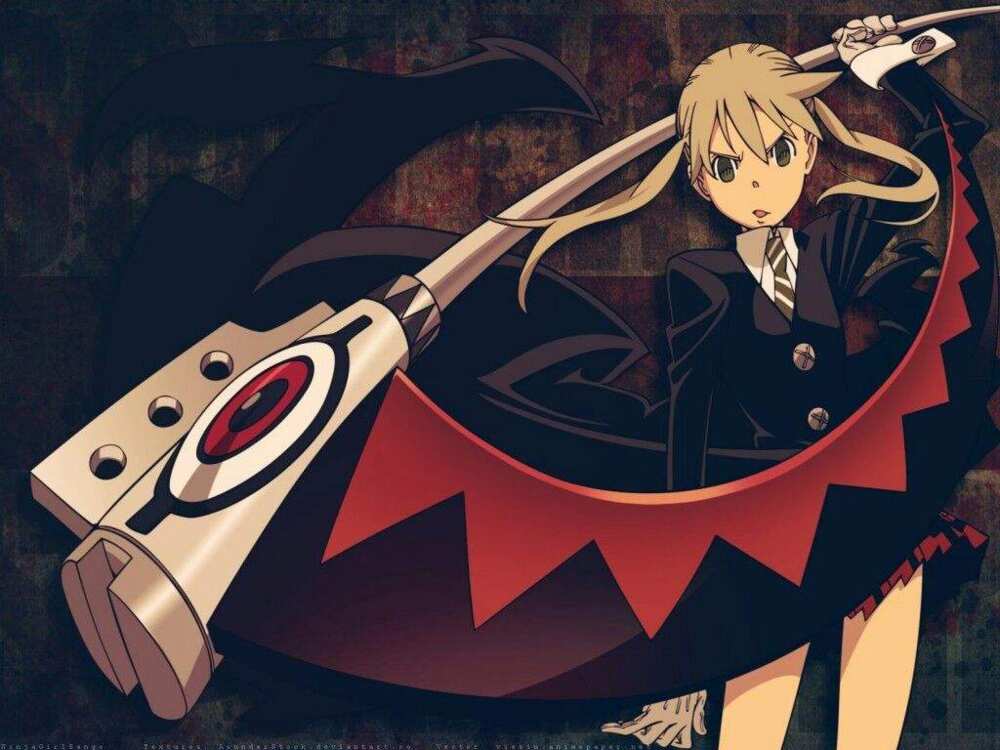 When partnered with the Demon Scythe Soul Eater, Maka Albarn is proficient with resonance attacks, including the demon-hunt witch-hunt.
The badass girl is a Scythe-Meister with so many opportunities to spin her scythe and fulfil her heart's desires. Her abilities also allow her to take flight.
14. Ran - Carried by the Wind
Wandering around Japan, looking for Meow's adventures, her friend, Ran Tsukikage, is one of the best Ronin anime girls.
She is a master with the sword, and that amazing skill makes her a cool character. She attacks with a unique one-handed sword technique.
15. Saber - Fate/Stay Night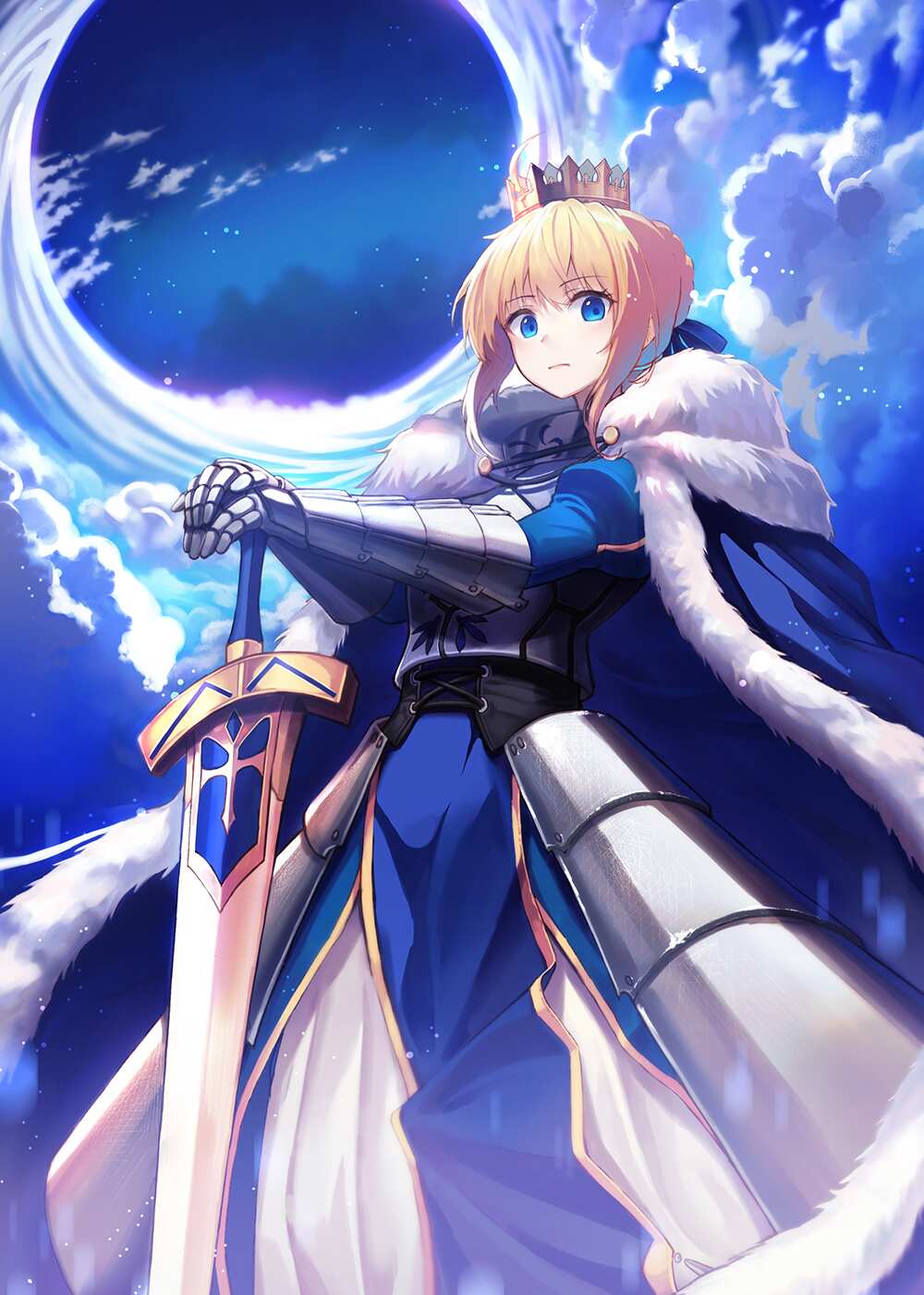 Saber is a fictional character from the Japanese visual novel and anime series Fate/Stay Night and Fate/Zero. She is a skilled swordswoman and has potent healing power.
16. Lina Inverse - Slayers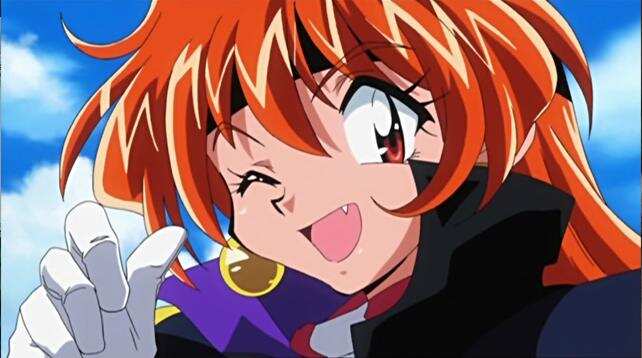 Specialized in black magic, Lina is a mighty sorceress. Lina Inverse also uses shamanistic and white magic. She can cast an extremely high-level spell. Lina Inverse's magic ability is immense.
She casts the Ragna Blade and Giga Slave spells. Everyone is afraid of this badass hot-tempered destructive sorceress.
17. Riza Hawkeye - Fullmetal Alchemist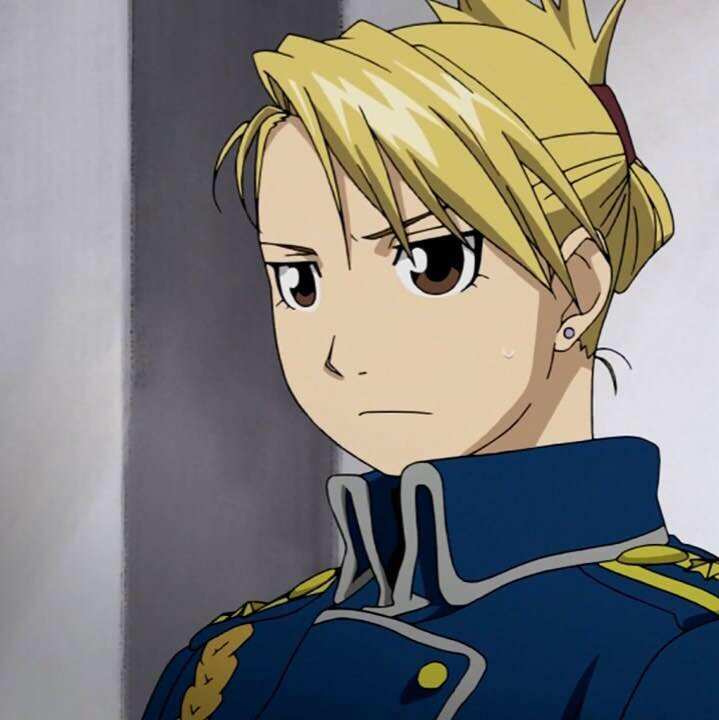 Riza Hawkeye is a fictional character from the series created by Hiromu Arakawa. She is an officer in the Amestrian State Military and an exceptional sharpshooter. Riza Hawkeye is loyal to Mustang, to whom she is a personal bodyguard. She is an asset to the team.
18. Elizabeth - Kuroshitsuji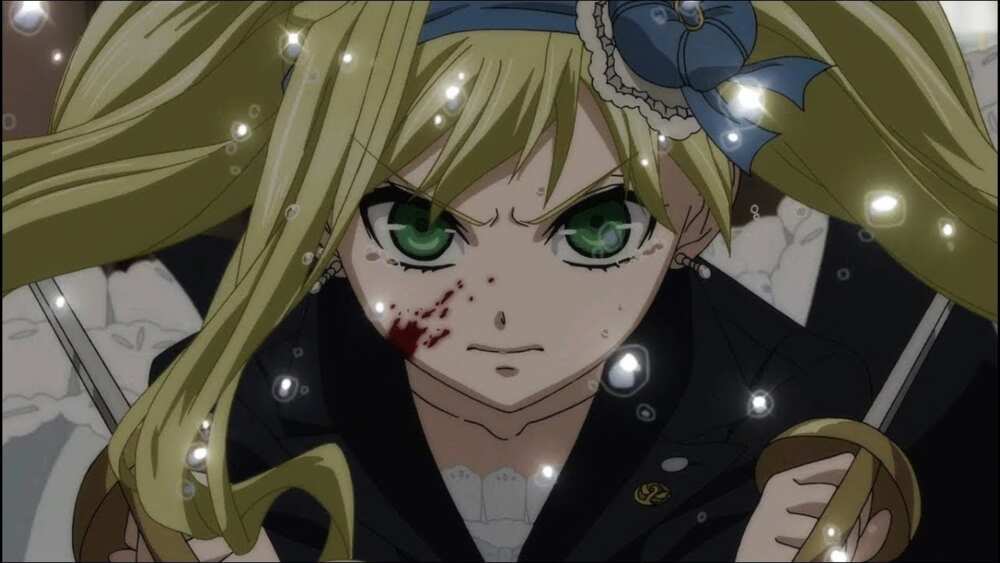 Elizabeth, a character so excessively emotional yet cute and klutzy, wasn't liked by many. In the Book of the Atlantic, Elizabeth is depicted as an expert swordswoman who is extremely skilled. She saves the life of Ciel through her mastery.
19. Sakura Haruno - Naruto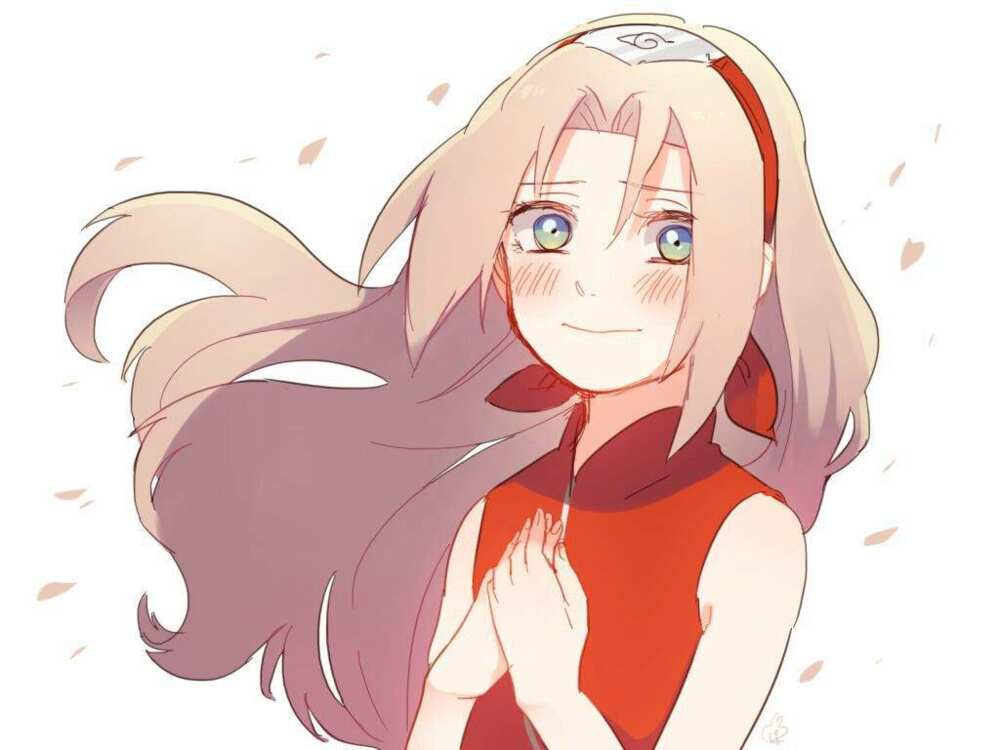 Sakura Haruno became one of the most acknowledged ninjas in her hometown of Konohagakure. By the second season of the series, the popular anime character had blossomed from a little shinobi-in-training into the best and most powerful.
She controls her inner energy force called Chakra to give her the ability to heal the wounded. She is quick-tempered, and that makes Sakura the best.
20. Homura Akemi - The Puella Magi
Her shooting skills and the magical abilities that surpass your baddie by far make her one of the most potent popular characters. Homura Akemi appears to be like any other magical girl with a cute face, ribbons, and long shiny hair, but she isn't.
21. Ruri Gokou - Oreimo
Ruri Gokou, also known as Kuroneko, has a sharp tongue and a sarcastic sense of humour and is known for her stinging comments and snarky insights, as well as her playful teasing and tender moments with her pals.
Overall, Kuroneko is a unique and memorable character known for her distinct fashion sense, sharp wit, and warm heart.
22. Miko Iino - Kaguya Sama Love Is War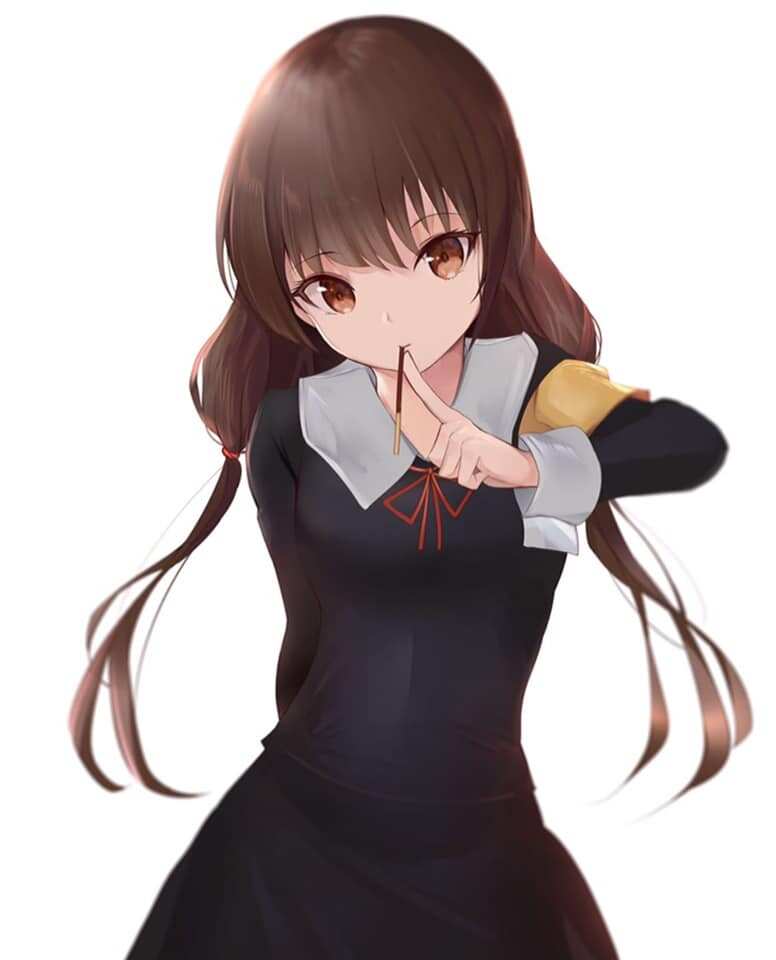 Miko is known for her strong, conservative, and traditional beliefs and morals, which frequently put her in clashes with other members of the student council. Miko Iino is also noted for her tenacity, frequently working late into the night to finish her duties as secretary and keeping a rigid schedule for herself.
23. Mako Mankanshoku - Kill La Kill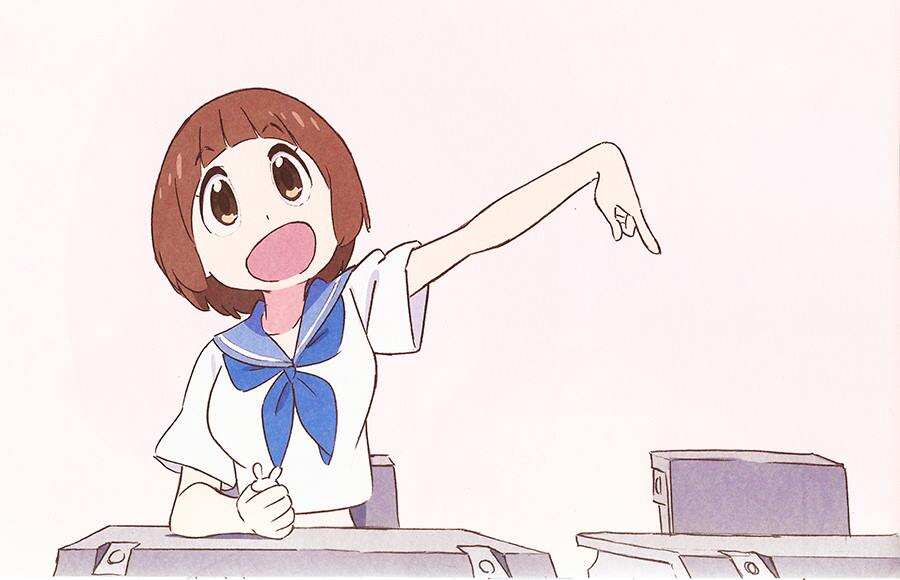 Mako is a close friend of the protagonist, Ryuko Matoi, and a second-year student at Honnouji Academy.
She is known for her enthusiastic and energetic nature, which frequently leads to her speaking her opinion without hesitation and never taking things too seriously. Mako Mankanshoku is also incredibly loyal to her friends, especially Ryuko, whom she assists in various ways throughout the series.
24. Madoka Kaname - Puella Magi Madoka Magica
Madoka is the series' protagonist and a middle school student who transforms into a magical girl. She is first depicted as a sweet and nice young lady with a deep sense of empathy and sympathy for others.
She is genuinely moved by the suffering of those around her and frequently feels powerless to intervene. When given the chance to become a magical girl herself, Kaname Madoka uses her powers to help others and create a better world.
25. Kuchiki Rukia - Bleach
Rukia is a Soul Reaper who serves as the 13th Division's lieutenant under Captain Jushiro Ukitake. She is noted for her no-nonsense demeanour and unapologetic dedication to her responsibilities as a Soul Reaper. Kuchiki Rukia is a great fighter who has studied swordsmanship and kido magic.
Who is the best female character in anime?
There are many well-developed and popular female characters in anime that are great. Some include Akane Tendo from Ranma 1/2, Rally Vincent from Gunsmith Cats and Mikasa Ackerman from Attack on Titan.
Who is the cutest anime girl?
Some of the cute anime girls in various anime series are Homura Akemi from The Puella Magi, Lina Inverse from Slayers, Saber from Fate/Stay Night and Ryuko Matoi from Kill La Kill.
What anime has a strong female?
Some of the strong female characters in anime who stole the show include Revy from Black Lagoon, Himeno from Chainsaw Man, Sasha Braus from Attack On Titan, Akame from Akame ga Kill and Motoko Kusanagi from Ghost in the Shell.
Who is the most kind-hearted anime girl?
Tohru Honda from Fruits Basket is regarded as the most compassionate anime character. She is a cheerful high school student who has overcome numerous adversities in her life, including her mother's death and living in poverty. Despite these obstacles, Tohru Honda keeps a cheerful attitude and seeks to be helpful to others.
These best female anime characters have made their mark in the world of some of the most powerful and fearless beings in existence, bringing you excitement and joy with every epic battle they participate in.
Legit.ng recently published an article on 20 iconic 90s cartoons that will instantly trigger your nostalgia. The 90s was a golden age for cartoons, with imaginative and entertaining shows.
These iconic cartoons continue to evoke nostalgia in fans even today. Some of them have reruns, which you can watch to relive the good old days.
Source: Legit.ng