50 romantic love messages for her and him
Love messages for her and him contain the warmest and most tender words of affection, kindness and care. If you find it difficult to formulate your thoughts into a beautiful and concise speech or poem, use the following love messages for your inspiration.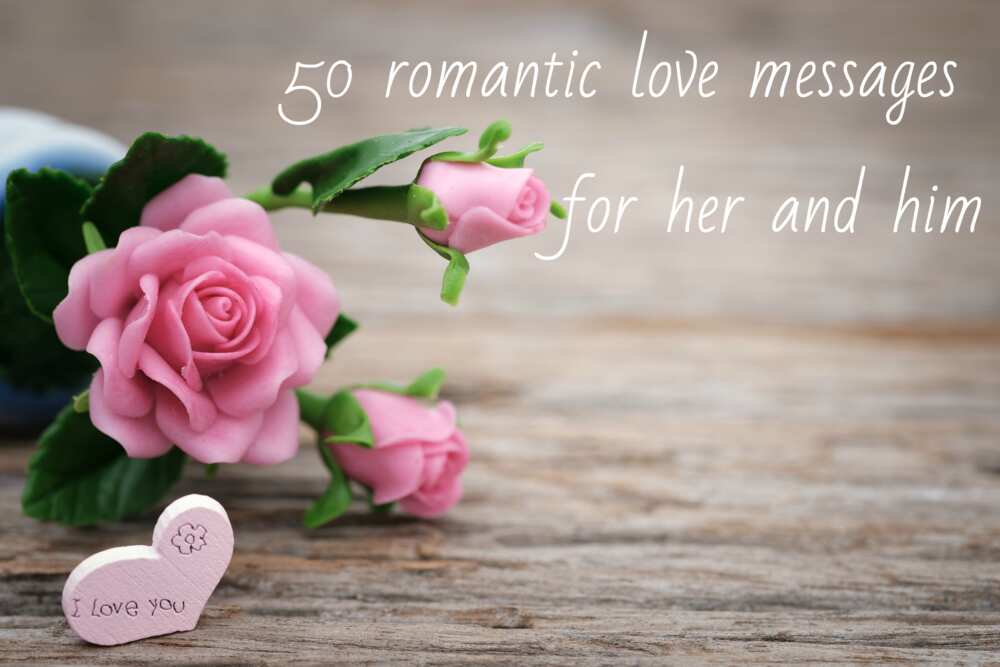 Write some kind words to your beloved one more often. There are thousands of such words in the world, but it is up to you to decide which ones are the right to use. With the help of such confessions, you can express your most intimate, cordial, open and frank dreams and fantasies. Your relationship will become more open, honest, and sincere.
Love messages for her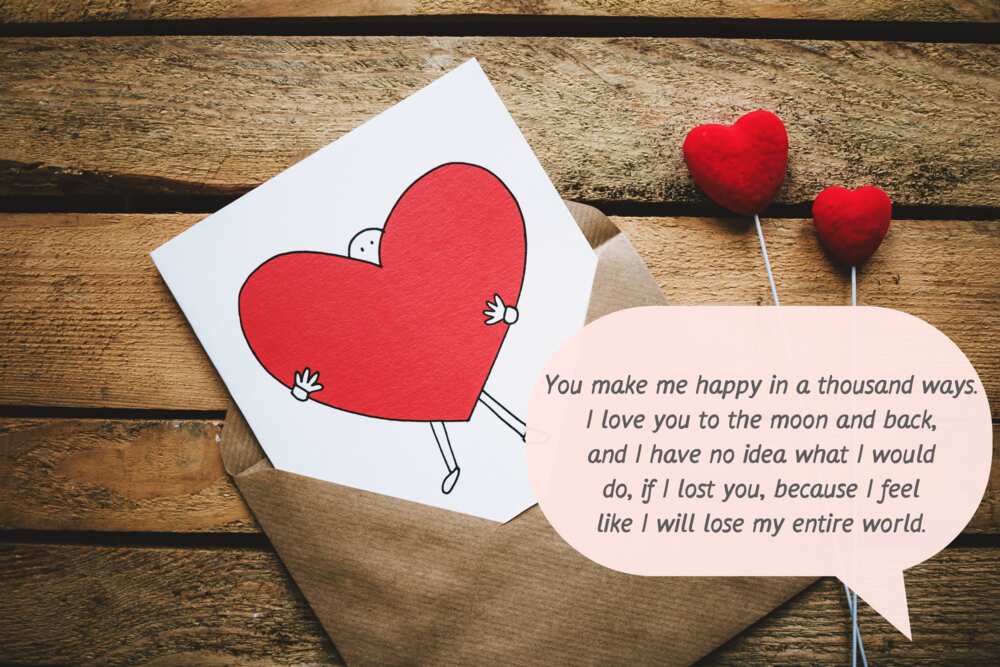 I want to smell your body, hear the silence of your thoughts. Honey, I'm sad without you.
When you finish reading this SMS, you will know that there is a girl in this world who needs you so much that she cannot even imagine her life without you.
I do not demand something supernatural. I just want you to be always by my side.
Honey, I cannot even conceive of life without you. You are my most precious pearl in the world.
You are the light of my world, the music in my heart and the first thought of my new day.
On the way to your heart, there is nothing that can stop me. I am happy with the thought that one day you will be mine forever!
I need you like air and water, without you there is no life, but emptiness.
You are more beautiful than a rose, generous and kind, and only you own me.
You are everything to me, and even more, you are the one for which I live and breathe.
You are a perfect baby. I've dreamed about you all my life!
You are the miracle created by the universe. My heart stops in admiration.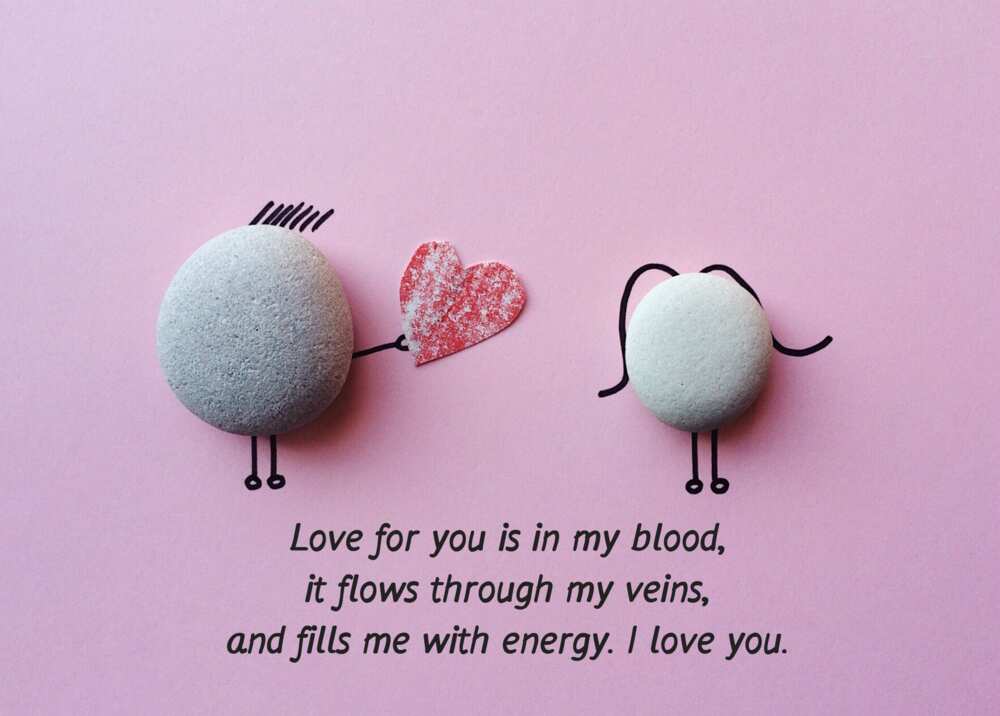 I cannot forget your insanely beautiful eyes! They pierce my heart like a fire.
No one could be ever compared with you! You are the most amazing, cute, kind and desired girl.
You are my perfection, infinitely desirable and always chic, and I am eternally yours.
There is nothing in the world more beautiful than your smile and brilliance of your eyes! I want to be with you every day of my life.
READ ALSO: How to be emotionless and stop feeling
Joy, happiness, and meaning came into my life with you. You are the essential thing in my life.
I love you the way you are. Thank you for your feelings and care, my darling.
My day without you is empty, and it makes no sense. I can't imagine my life without you.
My life is filled with happiness with you. My heart will always be yours my only one.
I can't imagine my life without you. I will make you the happiest in the world.
You are my sunshine baby. Your spiritual warmth has melted the ice in my heart.
You are just a goddess! Insanely beautiful and very gentle. Sweet kisses.
I need you every second, minute, hour, day and night. We found each other among millions, and I will never lose you!
I look forward to our next meeting to say how much I need you dear!
I want to be always with you, to protect you. You take my breath away baby.
Love messages for him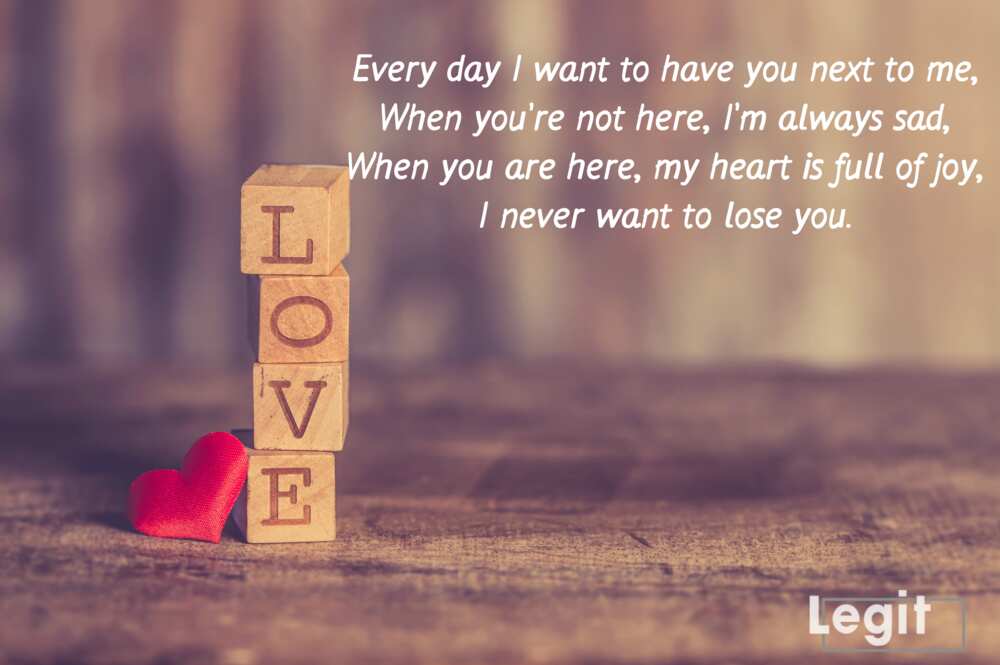 To meet such a fantastic guy is a real gift for me. You stir my soul, and now every day I dream and think about you. Please be always with me, darling!
You are the embodiment of honour and courage. I melt in your hands like a candle, igniting from insanely gentle touches. I want to endlessly enjoy your arms, feeling your warmth with my whole body.
Before meeting you, I did not believe that feelings could be more beautiful and brighter than the one described in old novels. It seems to me that I got into a fairy tale and you are a noble knight that all girls dream of!
Spending my life with you is awesome. When you are near, my heart begins to beat more often, and the soul is filled with a fantastic feeling of joy and delight. I feel like a princess, with you, because you can make life so fabulously beautiful.
My soul had found its quiet abode when you appeared in my life.
The rapid beating of my heart is a reward from above, and I am looking forward to spending the rest of our lives together!
The look of your eyes for me is like a waking dream — joyful and beautiful!
When I become thoughtful, my dreams flow to that world, where only you and I are together!
I don't need miracles, because the main magic in my life has already happened - you have appeared in it!
READ ALSO: 50 happy new month messages, wishes, prayers and quotes
There are beautiful flowers in my soul and all that happened because you gave me such feeling as love!
I am thrilled that I can kiss my favourite lips and drown in the depths of your eyes!
From early morning until late at night, my thoughts are always about you with you, my cute boy.
You are endowed with an exceptional ability to care and give your woman daily joy and feel of happiness.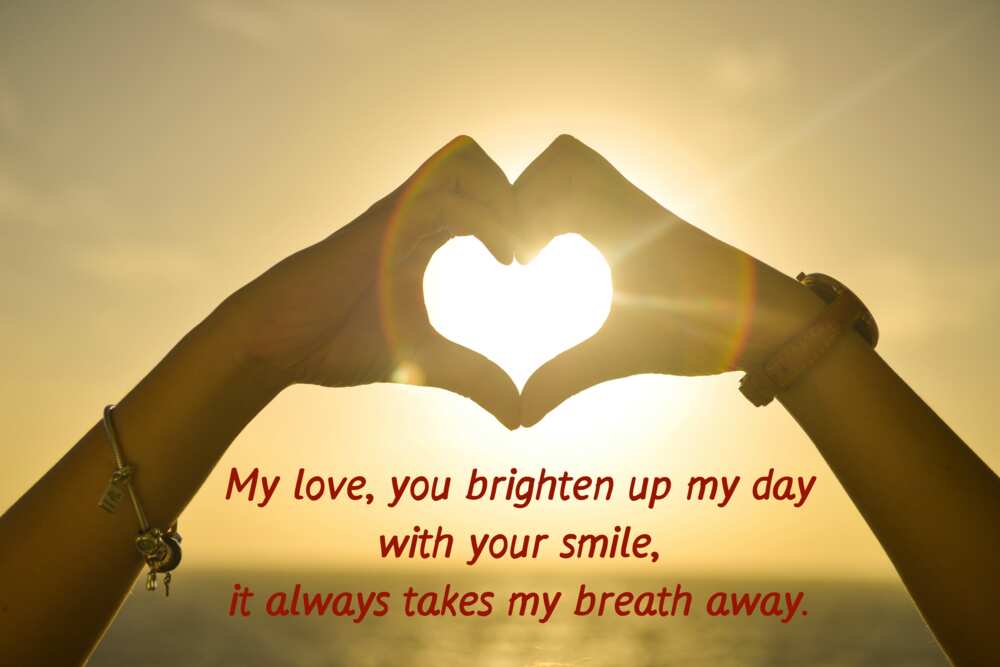 I enjoy every minute spent near you, my perfect one!
With the memory of you, I become happy as a child.
I immediately recognise your fervent laughter among all, because I hear my favourite voice with my heart!
No gold and diamonds will be enough for me to give up my care for you, my little lion!
The edge of the world is not a distance for my loving heart when its second half is far away.
You are my sweetest dream that came true, and I need you madly!
I may not be an Angel, but I fly in the sky when I look into your beautiful eyes.
Darling, you are as sweet as the taste of wild honey on your lips!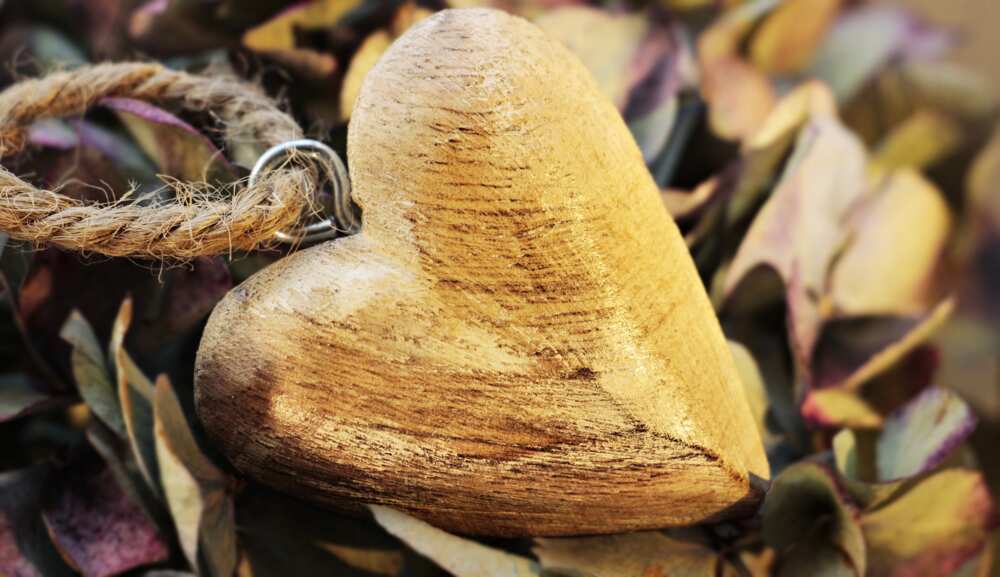 Every day, in which there you are not near me is like torture. I miss you, baby.
If you are not near me, then the tears come to my eyes. I really miss the dearest person to my heart!
I think about you every hour, remembering how happy we are together. Miss you and look forward to seeing you!
You spend so much time on your work, and I understand this, but I can't do anything with my feelings - I miss you incredibly!
What could be better than a pleasant text message received from a beloved one? Love is such a wonderful feeling! Do not hesitate, show your sweetheart how much you love her or him by sending beautiful love messages for her and him with gentle words.
READ ALSO: 50 romantic messages and love quotes for wife
Source: Legit.ng