How to watch all Barbie movies in order and where to find them
As the world of animation progresses, the Barbie movies franchise remains steadfast. It's known for its great films with exciting plot twists, life lessons, and of course, songs that will keep you humming for hours. Here is how to watch all Barbie movies in order if you are a great fan of the franchise.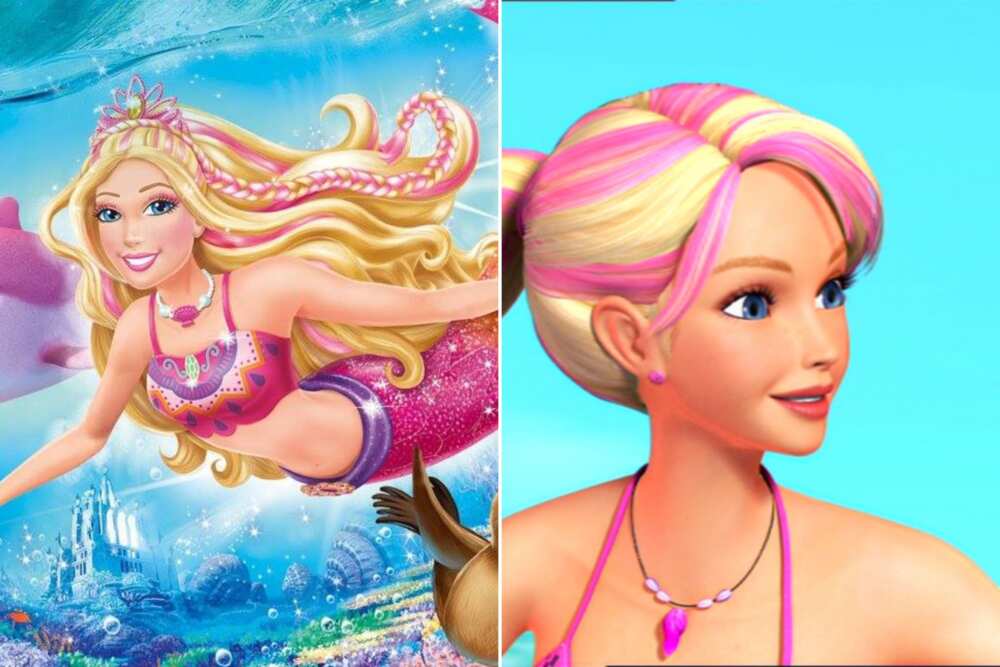 Barbie movies are a series of animated films starring the legendary doll Barbie. Most of the movies are available on popular streaming services like Netflix, Hulu, and Amazon Prime. How many Barbie movies are there? The Barbie movies franchise has a massive collection of up to 42 movies and is constantly growing with the 2023 movie receiving high rating and acclaim from fans.
List of Barbie movies in order
Since the first Barbie film was released in 2001, the franchise has become a worldwide phenomenon with a vast fan base. Barbie movies capture the essence of what the iconic toy brand represents: fun, fashion, and femininity. Below is a list of Barbie movies in order of release.
1. Barbie in the Nutcracker
Coming first on the Barbie movies list is Barbie in the Nutcracker. Barbie receives a Nutcracker as a gift from her aunt on Christmas. After Clara falls asleep, the Mouse King ambushes her, and the Nutcracker attempts to protect her but to no avail.
2. Barbie as Rapunzel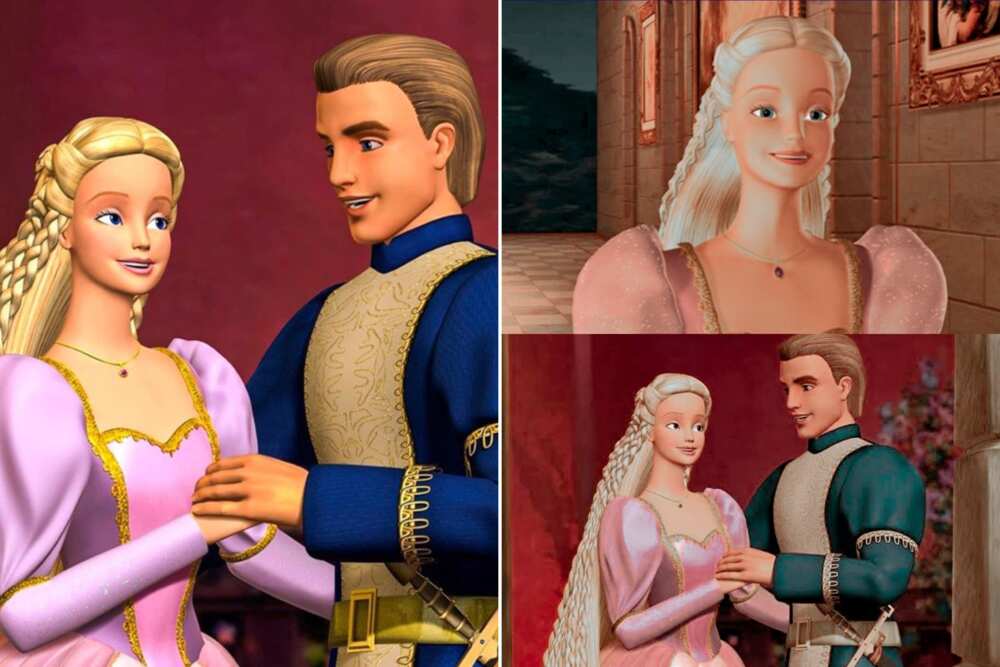 Rapunzel is kept imprisoned in a deep-woods tower by her oppressive stepmother Gothel, who treats her more as a slave. As Rapunzel yearns for freedom, her dream finally comes true when she finds a magical paintbrush.
3. Barbie of Swan Lake
Odette is swept away into the Enchanted Forest when she follows a majestic unicorn. When there, she discovers a magical crystal that unveils her mission; to save the forest from the wicked wizard, Rothbart.
4. Barbie as the Princess and the Pauper
Anneliese, a fair-haired princess, and Erika, a darker-haired pauper. Their paths intertwine when the tyrannical Preminger captures Anneliese, and Erika has to masquerade as her to rescue her.
5. Barbie: Fairytopia
The other Fairytopians constantly tease Elina, a fairy without wings. However, her fortunes quickly change when she starts on an adventurous trip to find Guardian Fairy Azura in order to preserve her beloved home.
6. Barbie and the Magic of Pegasus
As Princess Annika, Barbie has been granted three days to rescue her regal parents, who the wicked wizard, Wenlock, has petrified, after she refused his marriage offer.
7. The Barbie Diaries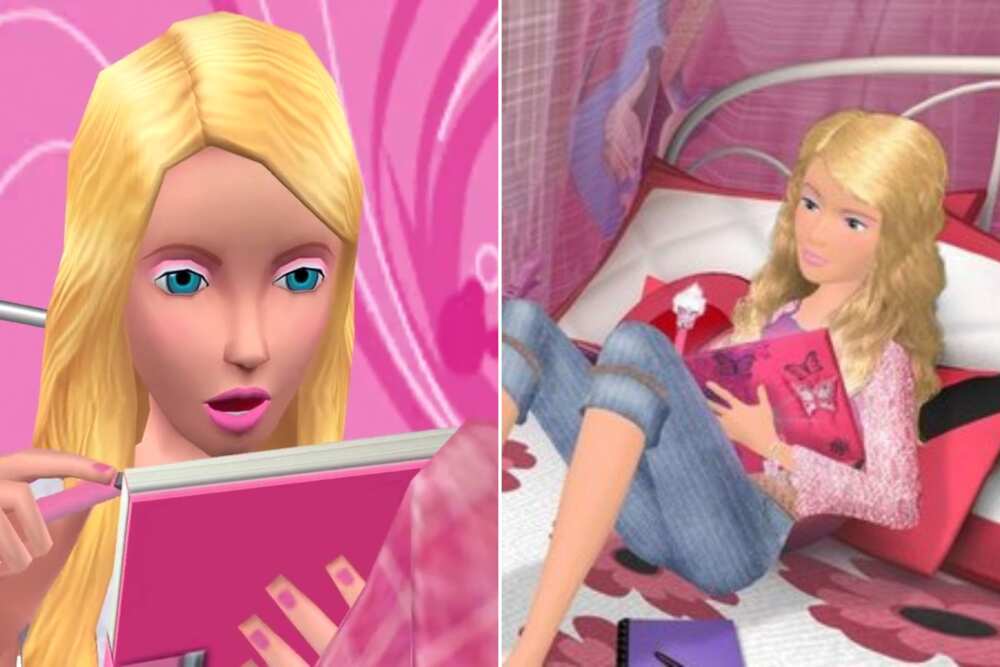 Barbie experiences the usual teenage trials, such as first loves and gossip. However, the dramatic twist occurs when Barbie receives a magical bracelet that begins to manifest the words from her diary.
8. Barbie Fairytopia: Mermaidia
Elina embarks on a perilous journey to Mermaidia to rescue her dear friend, Prince Nalu. Sacrificing her wings, Elina battles her way to her destination to save Nalu.
9. Barbie in the 12 Dancing Princesses
Genevieve and her eleven sisters travel to a mysterious realm where their dreams become a reality. Afterwards, the princesses reunite and do all they can to safeguard their father's kingdom and his life.
10. Barbie Fairytopia: Magic of the Rainbow
Barbie and other fairy apprentices take part in the annual "Flight of Spring". Unfortunately, the wicked Laverna interrupts the Flight of Spring.
11. Barbie as the Island Princess
Rosella, the Island Princess, became shipwrecked and found herself marooned on a deserted isle of creatures. After a while, Rosella is located by humans.
12. Barbie Mariposa and Her Butterfly Fairy Friends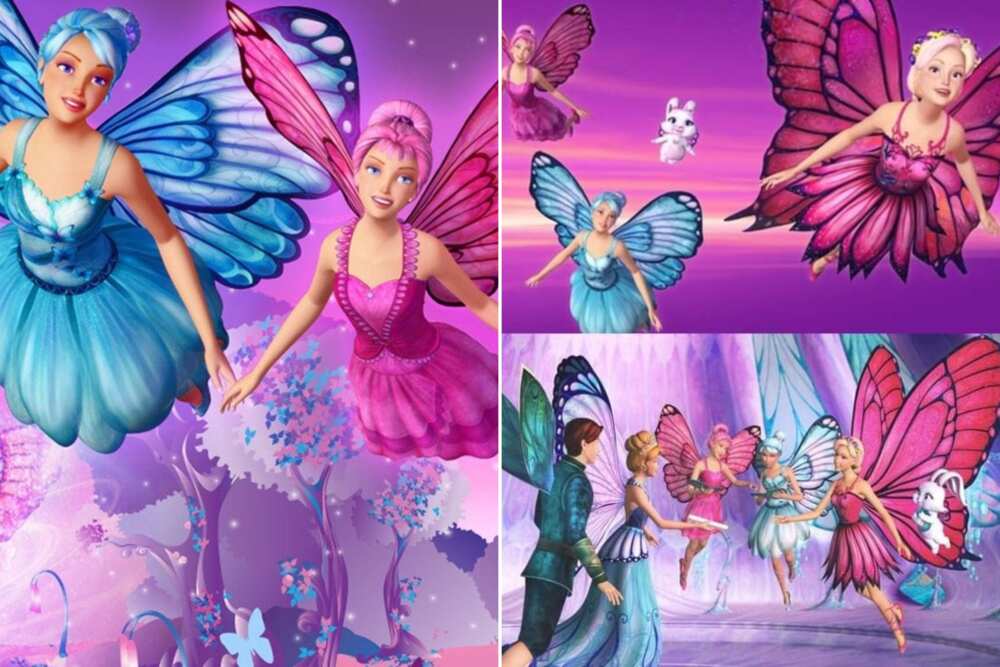 Mariposa, a butterfly fairy, is intrigued by Flutterfield's domain. When the wicked fairy Henna poisons the queen, the kingdom is imperiled.
13. Barbie & the Diamond Castle
Princess Liana (Barbie) and Princess Alexa (Teresa) embark on an intrepid quest to find the enigmatic diamond castle to save their companion held prisoner in an enchanted mirror.
14. Barbie in A Christmas Carol
Barbie is a diva with an aversion to Christmas, disregarding the wishes of her childhood friend to treat people with kindness during the season.
15. Barbie Presents: Thumbelina
When Thumbelina and her two friends are forced to move to a fancy apartment in the city, they learn of a plan to annihilate their beloved home. With her deep knowledge of the land, Thumbelina embarks on a mission to protect the environment.
16. Barbie and the Three Musketeers
Barbie wishes to be a female musketeer. To her surprise, she discovers three other young females who have the same dream, and they band together to make it a reality.
17. Barbie in A Mermaid Tale
Merliah is surprised to find out she is half-mermaid. She meets many new friends, mermaids, and a dolphin in her adventures.
18. Barbie: A Fashion Fairytale
Barbie embarked on a journey to Paris to visit her Aunt Millicent, who planned to shut down her fashion house. Barbie chose to take matters into her own hands and try to salvage the business.
19. Barbie: A Fairy Secret
Barbie discovers that among her fashionista pals are fairies. Ken's kidnapping by fairies sparks a race to save him from an arranged marriage with a fairy princess and possibly exile to the fairy realm.
20. Barbie: Princess Charm School
Barbie takes the role of Blair Willows, an unprivileged but gentle girl from Gardenia. She gets admitted into the exclusive Princess Charm School, where she discovers she is the long-lost princess of the realm.
21. Barbie: A Perfect Christmas
On their way to see their Aunt Millie in New York, Barbie and her sisters, Stacie, Skipper, and Chelsea, are diverted by a snowstorm and forced to land in a Minnesota town.
22. Barbie in A Mermaid Tale 2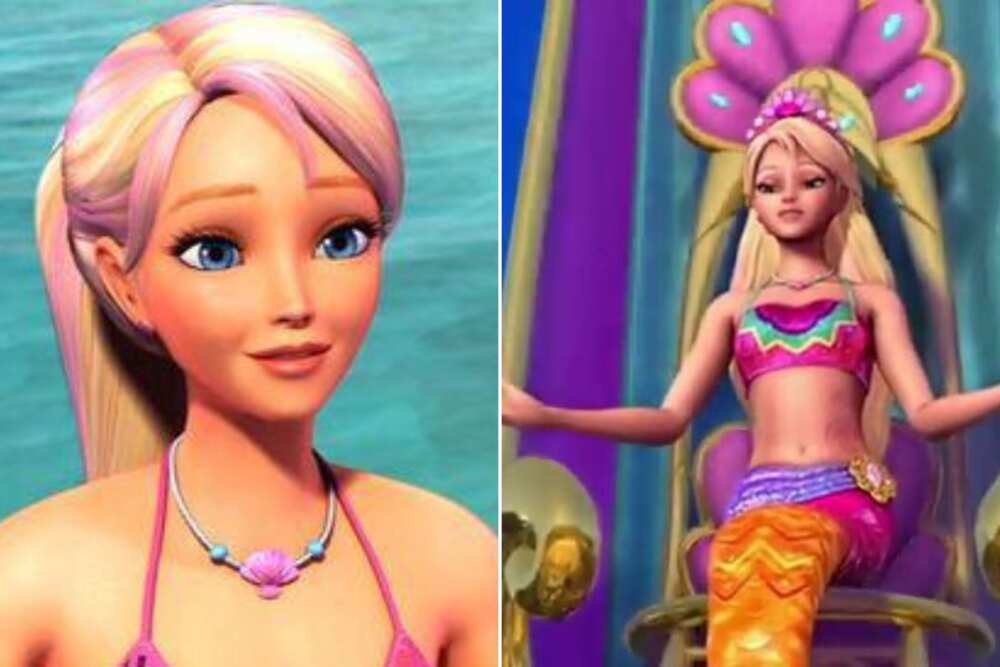 Merliah Summers travels to Australia for a major surfing competition. With her Aunty Eris in pursuit of dethroning her mother, Merliah is challenged to win the competition and safeguard her kingdom.
23. Barbie: The Princess & the Popstar
Princess Maribella befriends her favourite celebrity, Keria. Fueled by the notion of understanding each other better, the two decide to magically swap lives.
24. Barbie in the Pink Shoes
Barbie assumes the identity of a petite ballet dancer called Kristyn, who, with her confidant Hayley, is magically taken to an enchanting world of ballet when she puts on a pair of shiny pink slippers.
25. Barbie: Mariposa & the Fairy Princess
Mariposa, the royal Ambassador of Flutterfield, arrives to Shimmervale to try to reconcile the two enemies. On her way home, she encounters a wicked fairy who is on a quest to destroy the fairyland.
26. Barbie & Her Sisters in a Pony Tale
Barbie and her sisters, Stacie, Chelsea, and Skipper, decided to visit their Aunt Marlene in the Swiss Alps, who runs a horseback riding academy. What begins as a rocky start turns into a truly magical experience.
27. Barbie: The Pearl Princess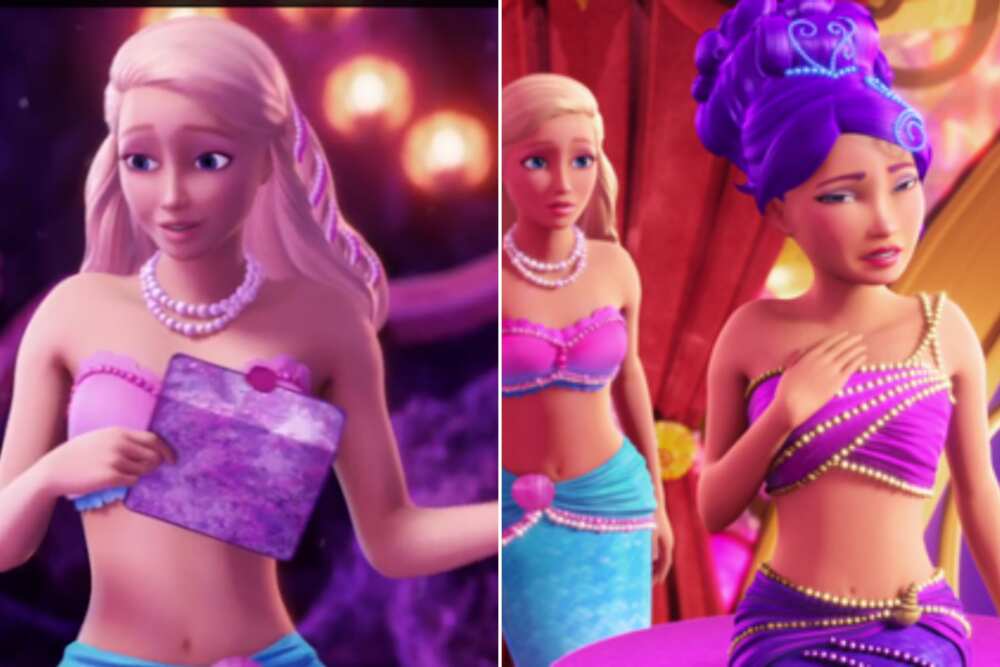 At the Royal Ball, Lumina discovers that she is the kingdom's rightful heir. Possessing the power to manipulate pearls, she can make them dance and change colours.
28. Barbie and the Secret Door
Barbie's leisurely reading led her to a secret door in the royal garden. Now, as the protector of the land beyond the secret door, she must defend it from Malucia's malicious scheme to take its magical power.
29. Barbie in Princess Power
Princess Kara of Windemere is granted extraordinary powers after being kissed by a supernatural butterfly, allowing her to soar across the sky and save those in need.
30. Barbie in Rock' N Royals
The destinies of Princess Courtney and rock star Erika Juno are intertwined when their lives are suddenly exchanged. Now, both must experience unfamiliar environments.
31. Barbie & Her Sisters in The Great Puppy Adventure
The four sisters travel back to their hometown of Willows to explore their grandmother's attic. Amidst their findings, the quartet comes across a treasure map, prompting a hunt for the sought-after treasure.
32. Barbie: Spy Squad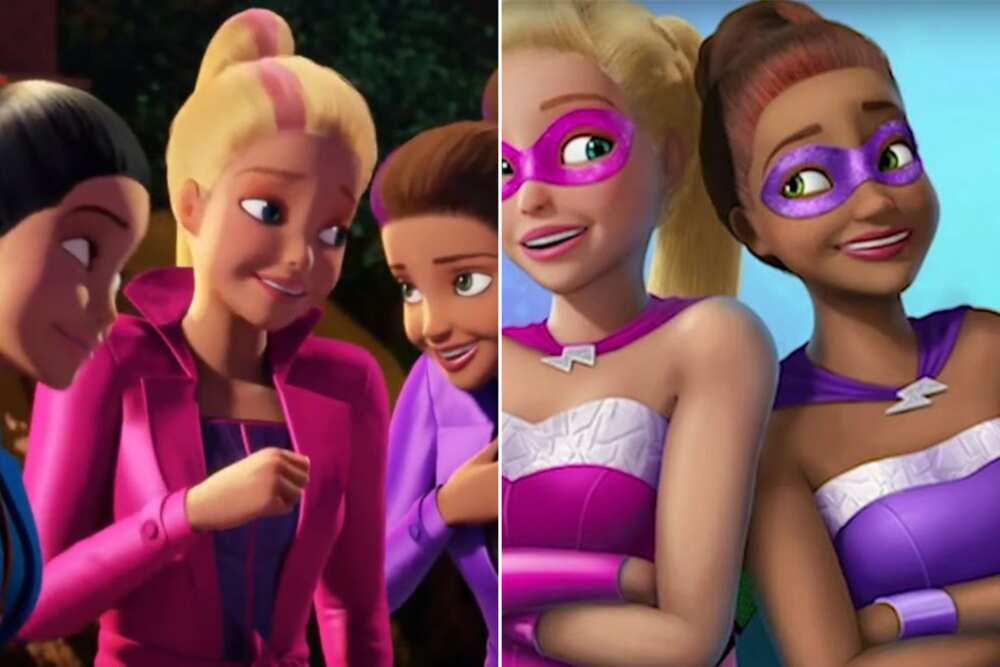 Barbie has been recruited to find the mysterious cat burglar behind a spate of robberies, transforming into a secret agent to help in the investigation.
33. Barbie: Star Light Adventure
As a cosmic princess in a distant universe, Barbie is joined on her journey by her cuddly pet. But when the celestial stars begin to fade, she finds herself in a new world and embarks on an adventure to bring them back.
34. Barbie & Her Sisters in A Puppy Chase
Barbie and her sisters take their pooches on a journey to a balmy island, where Chelsea is due to partake in a dance contest.
35. Barbie: Video Game Hero
In the game, Barbie encountered Princess Bella, with whom she quickly became friends, along with Cutie, a cloud-shaped pet. Together, they bravely fought to conquer every level.
36. Barbie: Dolphin Magic
Reunited with her sisters, Barbie, Ken and the quartet travel to the coral reef, where Ken is researching dolphins. There, the friends encounter an incredibly rare rainbow dolphin that visits annually.
37. Barbie: Princess Adventure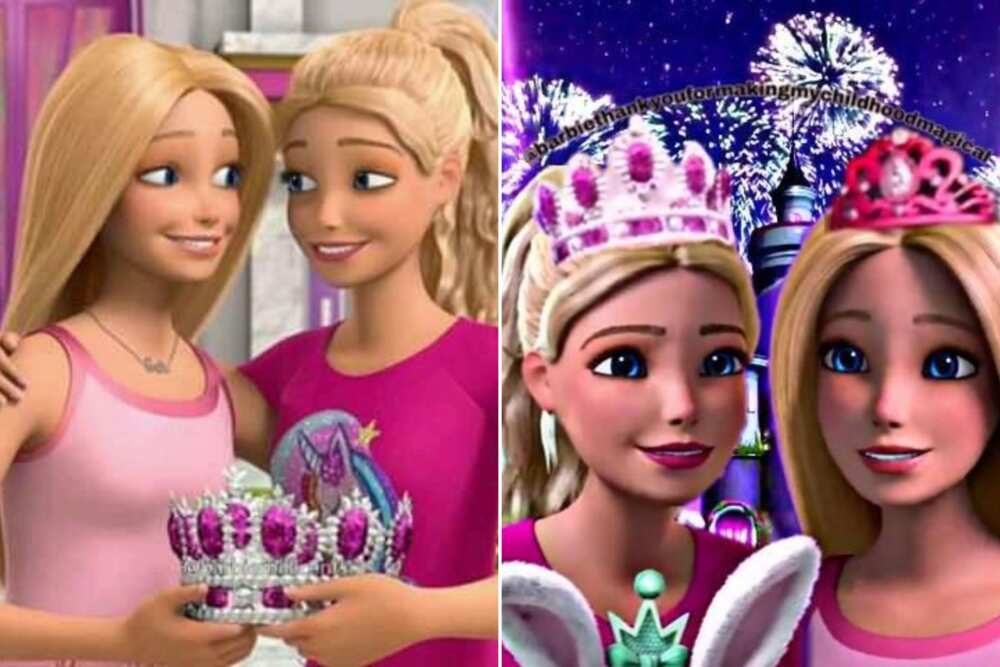 Upon Barbie's visit to the nation of Floravia, she quickly realizes that her dear friend, Princess Amelia, lives an exceptionally disciplined life. The two concoct a plan for the Princess to enjoy a week of autonomy before her crowning as queen.
38. Barbie & Chelsea: The Lost Birthday
The Roberts family boarded a cruise to honour Chelsea's 7th birthday, but after they crossed the International Date Line, she realized that her special day had been lost.
39. Barbie: Big City, Big Dreams
During her visit to New York City to attend a performing arts program, Barbie is fortunate to have the opportunity to meet another Barbie from Brooklyn, and the two immediately bond and become the best of friends.
40. Barbie: Mermaid Power
Barbie, her siblings Skipper, Stacie, Chelsea, and her pal Brooklyn Barbie have all been magically transformed into mermaids to battle it out in the mysterious underwater realm of Pacifica.
41. Barbie: Epic Road Trip
Barbie and her Brooklyn-based companion go on an American odyssey with Skipper and Ken; however, the mission is fraught with unexpected outcomes.
42. Barbie: Skipper and the Big Babysitting Adventure
Skipper, Barbie's younger sister, accepts a large responsibility when she agrees to babysit a number of children for the first time. Barbie and her friends go for their vacation, leaving Skipper in charge of her younger siblings as well as several neighbourhood children.
Watching all the Barbie movies in order can be a magical journey for children and adults alike. These movies bring to life imaginative storylines. With the convenience of streaming platforms such as Netflix and Amazon Prime.
Legit.ng recently published an article listing the top 30 best vampire anime shows and movies to add to your watchlist. Several vampire anime shows and movies have been released over the years.
Even though some might be old, they have been outstanding due to their unique storylines that captivate TV shows and movie enthusiasts.
Source: Legit.ng