53 meaningful sister tattoos to commemorate your relationship
It is a blessing to have a sister because you can always count on them no matter what you go through in life. As you grow old, you share a lot in life, and the experiences enhance family love and strengthen sisterhood bonds. Having sister tattoos is one of the many ways to show appreciation and commitment to your relationship. There are numerous sister tattoo ideas you can opt for to commemorate your bond.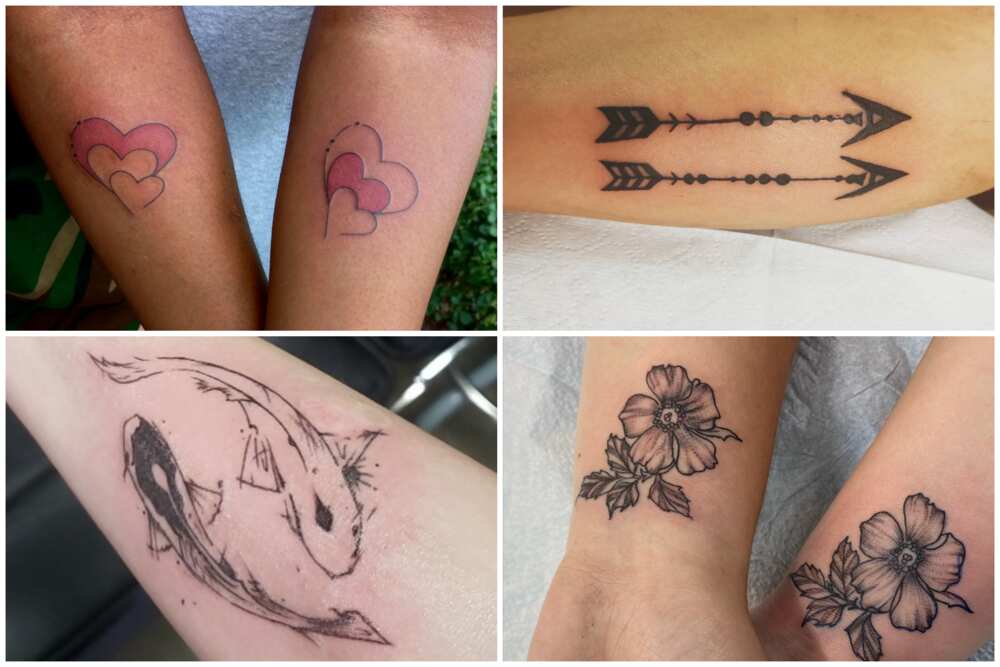 Tattoos are symbolic; having one demonstrates your dedication to a particular cause. If you want to show how much you love your sister, having sister tattoos would be one of the best option. Interestingly, your tattoo choices are unlimited as you can choose from the numerous sister tattoo ideas available.
Meaningful sister tattoos
Sister tattoos have different meanings, and you can pick the one you want, depending on the nature of your relationship with your sister. Besides relationships, tattoos can be used to remember dates and events with special meanings, such as birthdays and other significant anniversaries.
Matching sister tattoos
Matching tattoos for sisters are not only beautiful, but they show the togetherness of sisters. The tattoos are even more appealing when imprinted on the same part of the body where they are visible, for instance, on the legs, arms, or neck. Here are tattoo ideas for sisters you can consider.
Hearts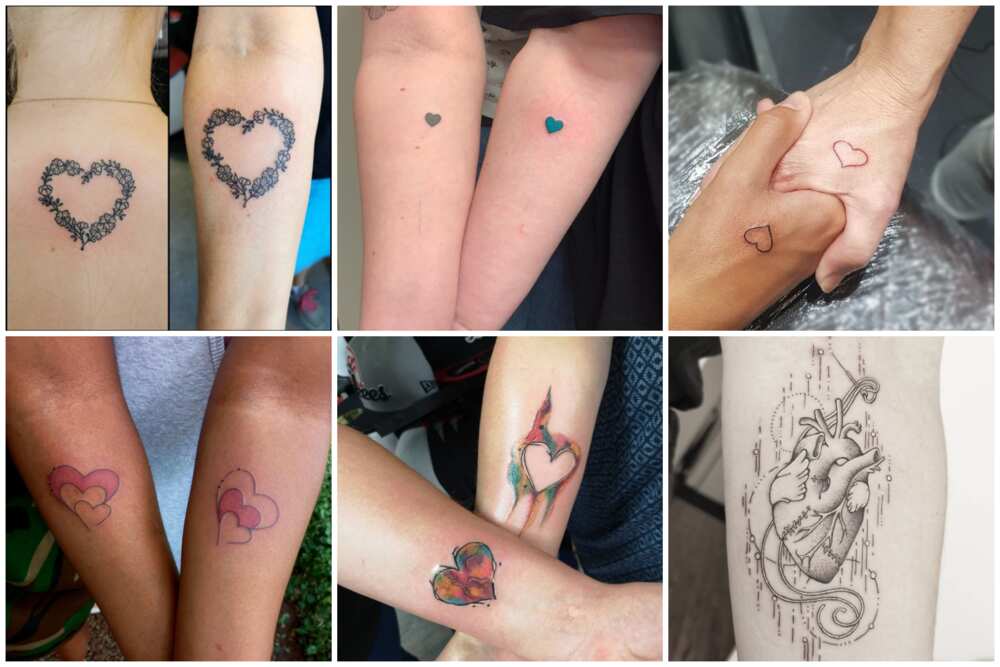 If you want to show how your sister is valuable to you, a heart tattoo is perfect, as the heart is a vital organ in the human body. It is a common symbol of love and one of the best classic designs to show appreciation for your sibling. Even though it is a popular imprint, it still stands out for marking special relationships.
Blue heart tattoos show the individual is free-spirited, which is a good choice for sisters willing to follow their hearts and intuitions. The inside heart tattoo stands for great love, inner peace, and commitment to the relationship. Other sister tattoo designs include an outline heart, double heart, fingerprint heart, and heart with heartbeats.
Arrow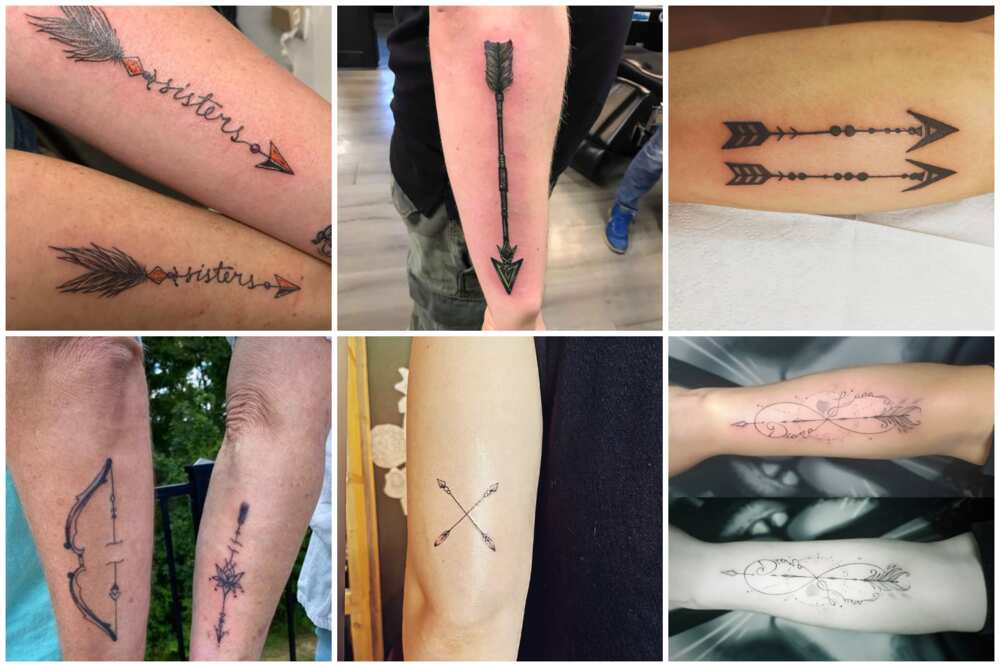 As sisters, you may have to pass through a lot together, and you might not want to forget such good or bad memories. You can have the memories preserved by imprinting arrow tattoos which have multiple meanings depending on their designs, but for sisterhood, they depict life journeys, responsibilities, and alliances.
These matching tattoos can be simple, while others can incorporate additional features to add meaning. The varieties of arrow tattoos include single arrow, downward pointing arrow, feathered arrow, and crossed arrow.
Koi fish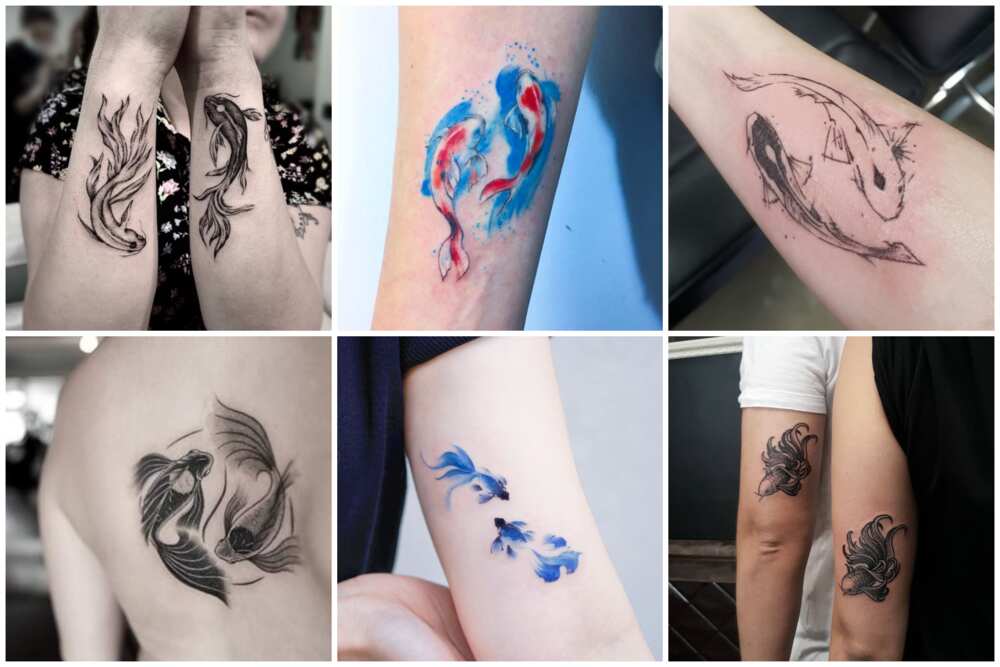 Generally, the Koi fish tattoo symbolises endurance, strength, and good fortune, but depending on the details and designs, it may have different meanings. For sisters wanting to appreciate their bond, this tattoo has multiple suitable designs they can choose from. You may incorporate details such as flowers, colours, a dragon, and a sword to have a fitting symbol to define your sisterhood relationship.
The types of Koi fish tattoos for sisters are red Koi fish, Lotus and Koi fish, watercolour Koi fish, abstract Koi fish, and Ying Yang Koi fish.
Cute sister tattoos
Cute tattoos can also define the loving relationship between sisters. Such imprints do not have to be complicated and are adorable as they are. They can be anything, such as favourite pets, cartoon characters, or a place holding memorable moments from your childhood. Below are cute sister-matching tattoos ideas you can ink on your skin.
Animals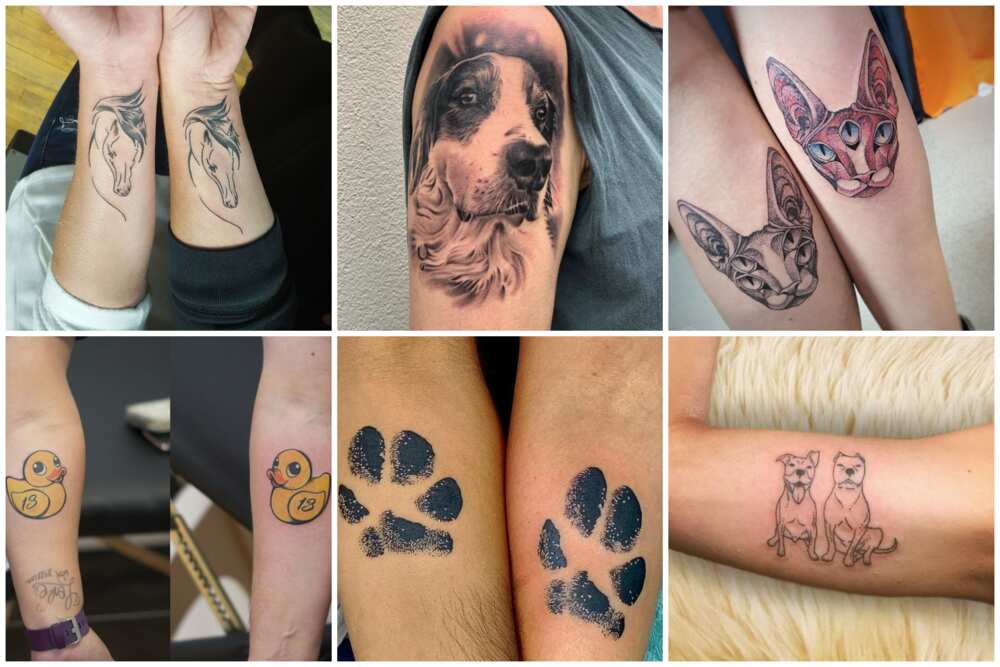 If you grew up loving pets and still adore the animals, you can have them as tattoos. Pet tattoos for sisters demonstrate their loyalty, protection and unconditional love for each other. They are beautiful, and you would want to display them openly for all to see. You can choose animals you love, such as a dog, cat, rabbit, horse, duck, or cattle.
Some of the best pet sisters' bond tattoos you can opt for are paw prints, pet silhouettes, two dogs, and two cats. Besides sister love, wearing a pet tattoo shows you love and care about animals.
Cartoons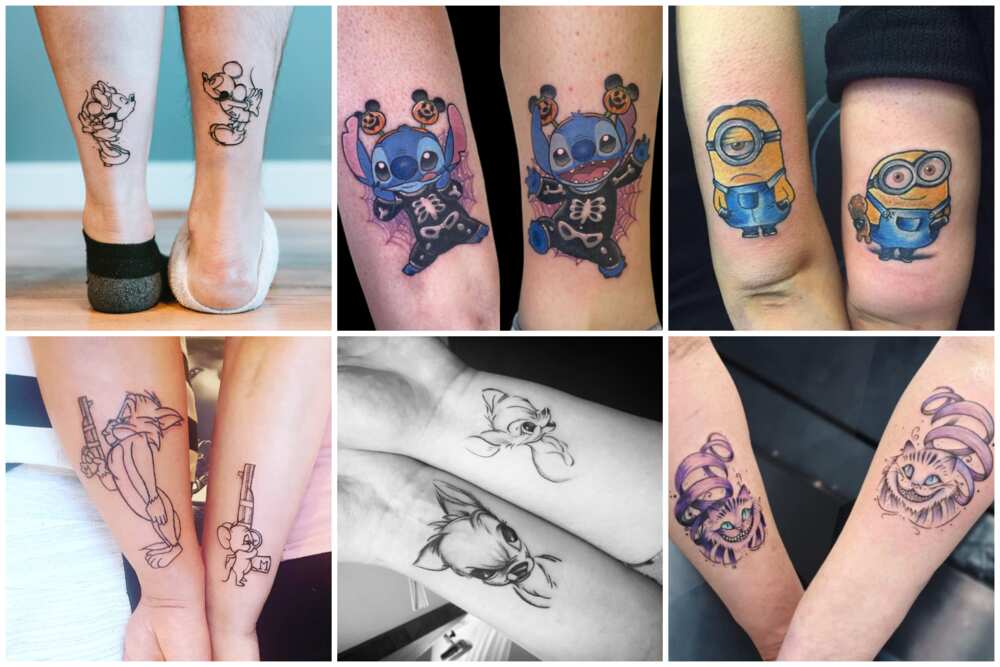 Watching cartoon movies is most people's favourite pastime activity when they are young. It is one of the best moments you shared with your sister, and both of you had your favourite cartoon characters. The cartoon characters are good for sister tattoos if you want to remember the bond you have shared since childhood.
Different cartoon-inspired tattoos are available to commemorate your relationship as sisters, and among them are Disney, Stitch And Toothless, Minions, Tom and Jerry, Bambi, and Cheshire Cat.
Flowers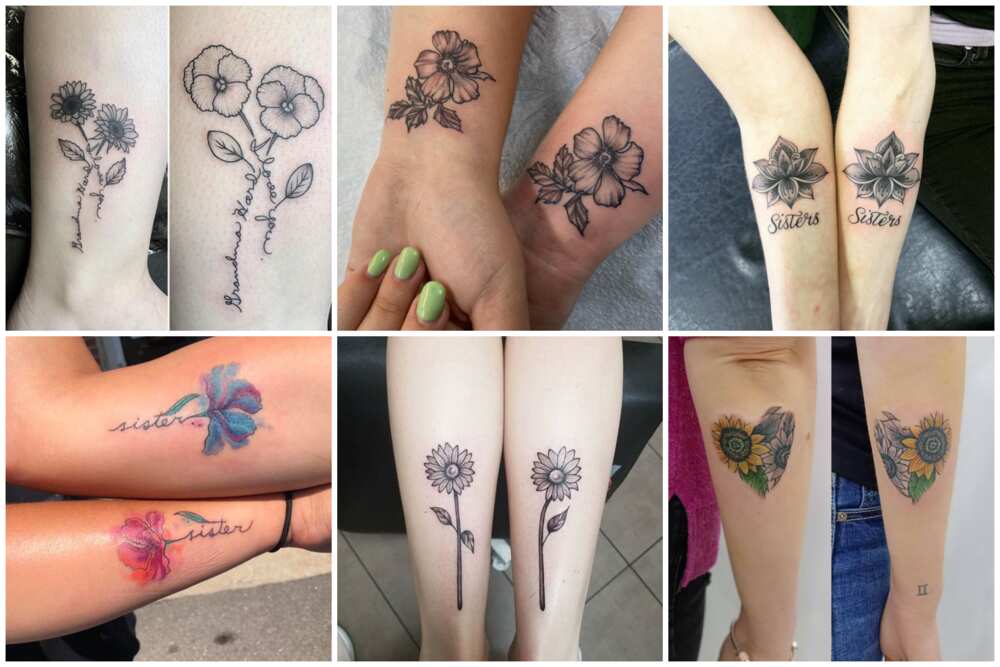 Flower tattoos are also another perfect representation of the relationship between sisters. As diverse as sister relationships can be, multiple flowers have different meanings to suit each relationship. They symbolise beauty, transformation, happiness, good luck, resilience, and loyalty.
A flower tattoo for sisters can be a rose flower, lotus, hibiscus, and orchid. You can add colour to the flowers to modify the meanings of the flowers. For instance, a pink rose tattoo would be a good choice as it represents femininity and elegance.
Unique cool sister tattoos
Many tattoo designs are overly used, and a unique and rare tattoo design will do if you want to represent the special relationship between you and your sister. A unique tattoo does not have to be complicated; even a simple one without many details will serve the purpose. These suggestions of unique sister tattoo ideas are a great choice.
Names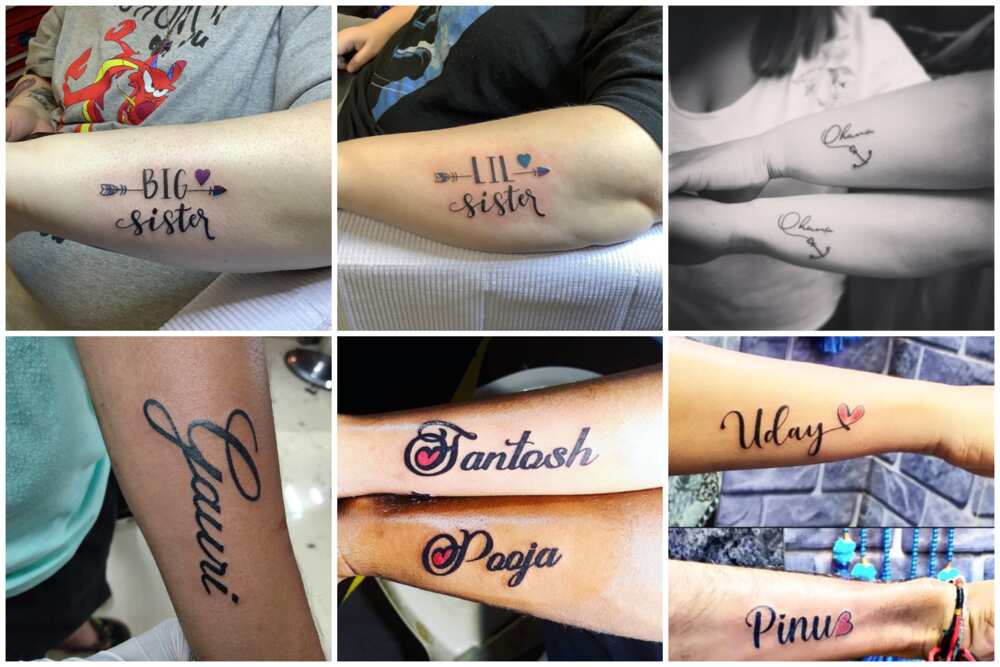 Names are unique identities and, thus, are special tattoos. Nothing can be as touching as having your sister's name tattooed on your body. It is a permanent imprint reminding you of your relationship. Initially, name tattoos were common among the military, but nowadays, people have embraced them to honour their loved ones.
The name tattoos can be decorated using different font styles, such as calligraphy. Furthermore, names can be combined with special dates, such as birthdays or any other anniversary for your sister's relationship.
Astrology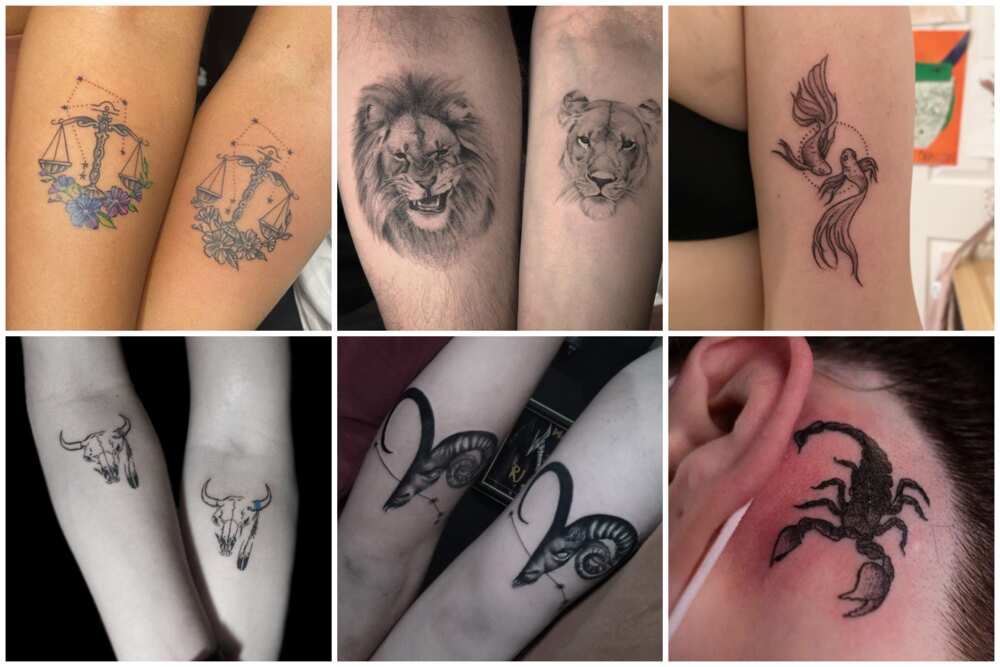 How about using an astrological symbol to appreciate the bond between you and your sister? Zodiac signs have different meanings that can define someone's personality. The signs are also appropriate for sister tattoos as you appreciate who she is, considering her character. For instance, a Taurus tattoo for your sister shows she is down-to-earth, reliable, and loyal.
Other astrological tattoo ideas include Pisces, Libra, and Gemini. You can also incorporate the moon and galaxy components, such as the sun.
Antique jewellery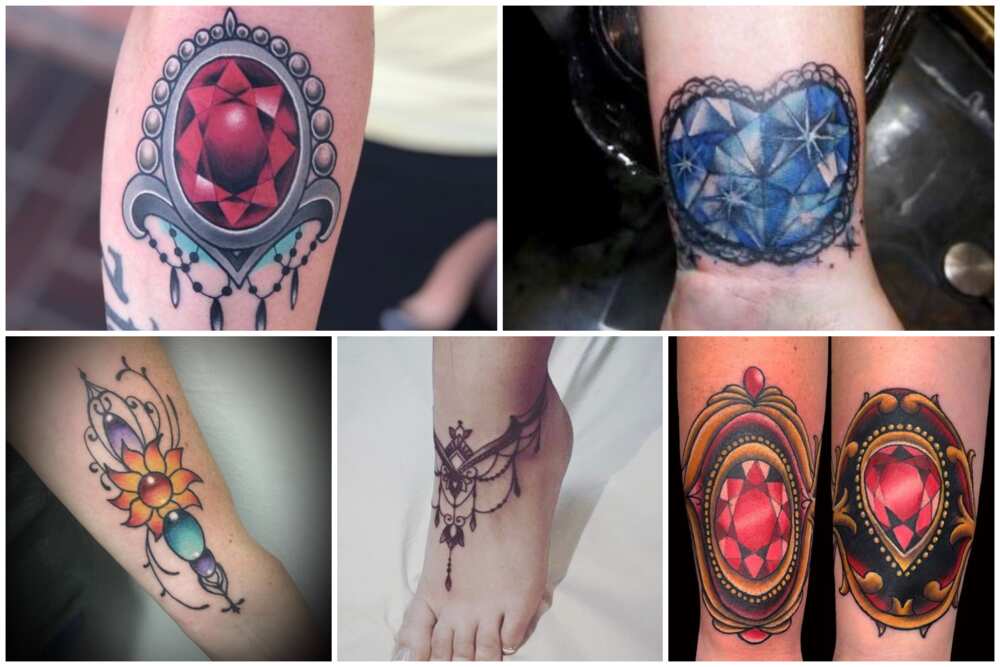 Jewellery symbol is an excellent tattoo idea, especially if you have one received from your sister. Any piece of jewellery is special not only for the material it is made from but for what it means for your relationship. Interestingly, the jewellery tattoos can be imprinted where the jewellery would have been on your body. You can have them on your wrist, neck, ankle and other body parts.
Sister bonds are one of the strongest since the relationship begins in childhood. A tattoo can best commemorate this relationship, especially if it is permanent. Numerous tattoo ideas are available, but the most suitable for sister tattoos should be meaningful and represent your special connection. The above suggestions are a perfect starting point for your selection.
Legit.ng recently published braided hairstyles for black women. Women love being trendy and stylish, and their hair is one of the many things they give a lot of attention to. Braided hairstyles seem an in-thing, and many black women would want to have them.
Even though braided hairstyles are lovely, it is advisable to pick the style which suits you best. Therefore, you can go through this article to know the trendy braided hairstyles available and select the one you want.
Source: Legit.ng