100 Christian tattoos: religious ink ideas for men and women
There are few decorative pieces as conspicuous as tattoos. Getting a design inked on your skin is a great way to send a message to those you meet instantly. Depending on their designs, religious people can use Christian tattoos to express their faith.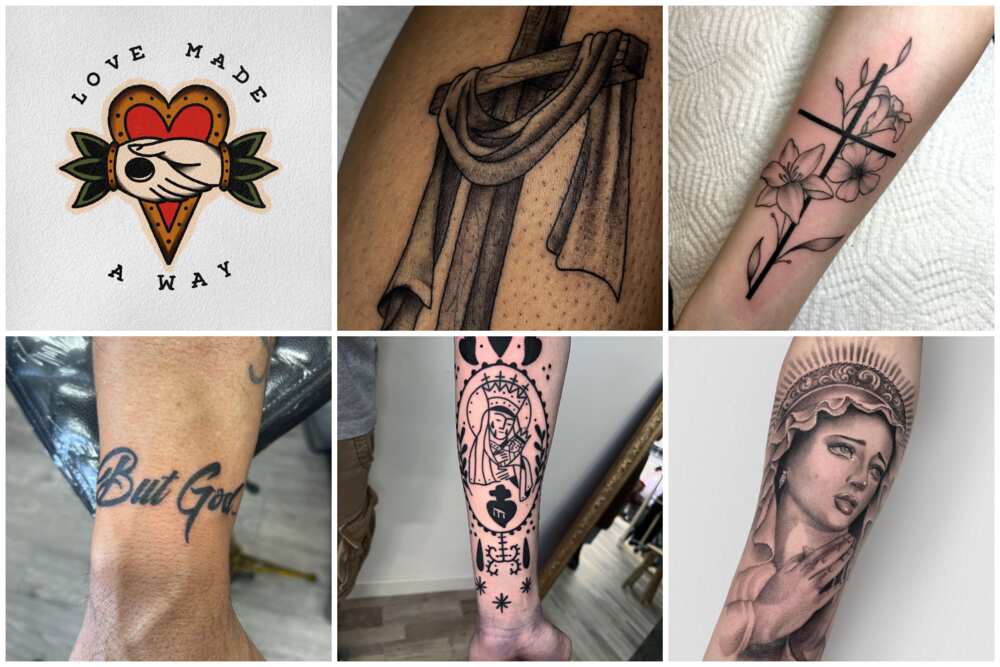 Tattoos are sometimes a controversial topic in the religious community. Some Christians believe it is sinful to get ink on one's skin because of Leviticus 19:28. Others believe that tattoos are not inherently evil; it is their message that matters. Either way, ink has become common for people of all creeds to express themselves.
Christian tattoos for men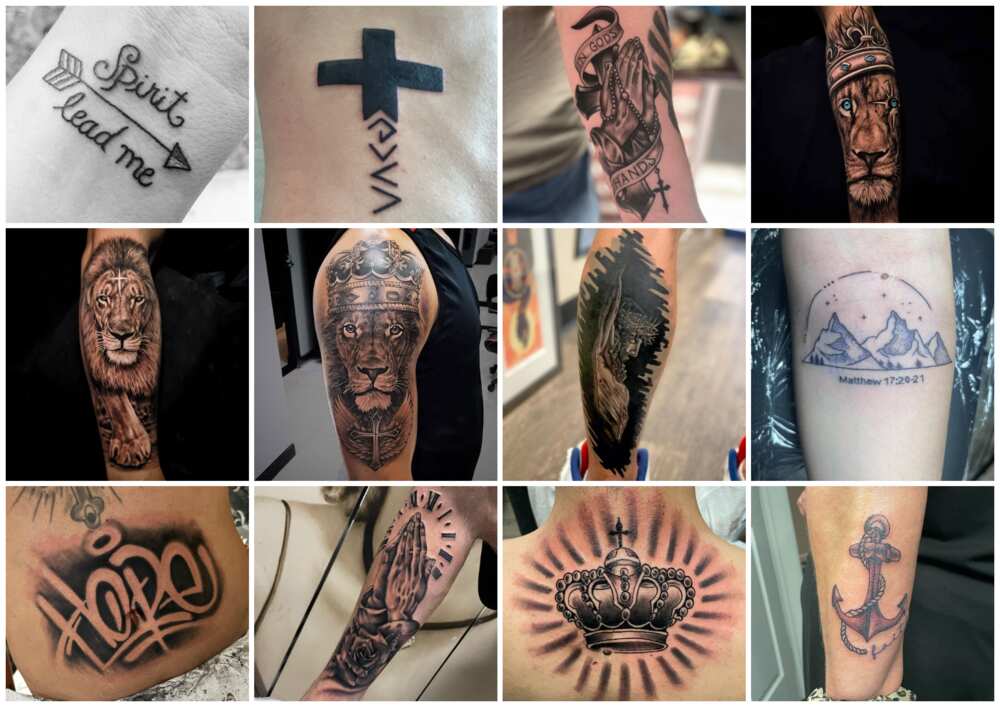 Big ink designs with heavy shading take a long time to complete and are quite painful. Therefore, bigger, more complex and more detailed designs are often associated with men. Here are some big and elaborate religious tattoos for men.
Christian tattoos for women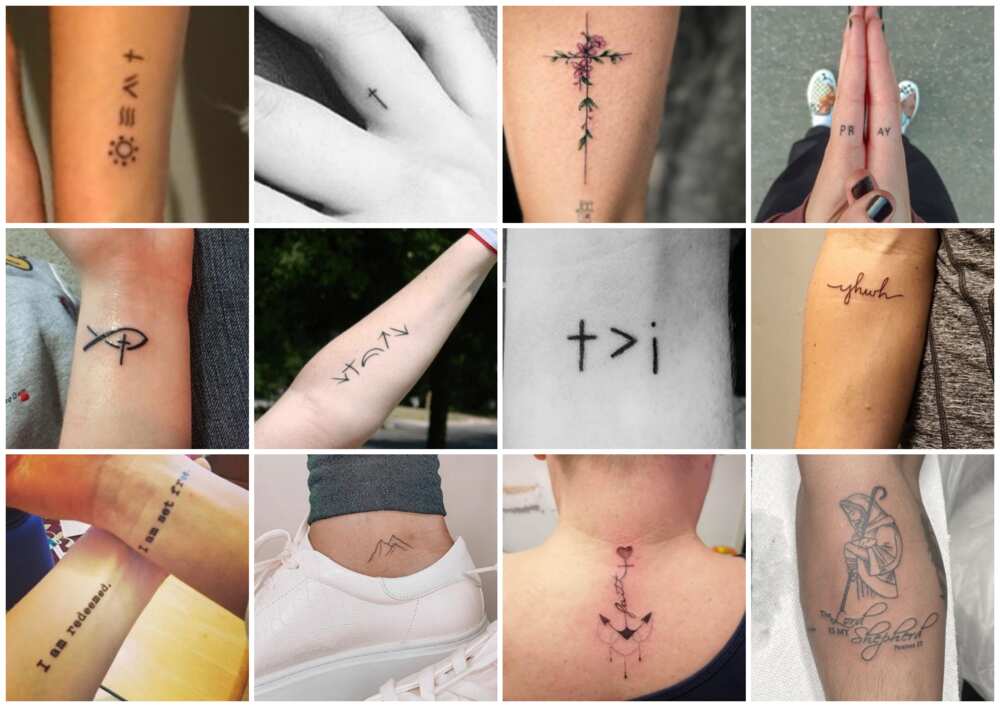 Ladies typically tend to go for simpler, smaller ink designs. You could choose your favourite Bible verse or religious message and give it a visual representation. Your ink can also be an affirmation, a reminder that you are a daughter of Zion, loved by God. Whichever way you choose to go, these Christian tattoo ideas are great for women who prefer to communicate their faith without much pomp.
Tiny Christian tattoos with meaning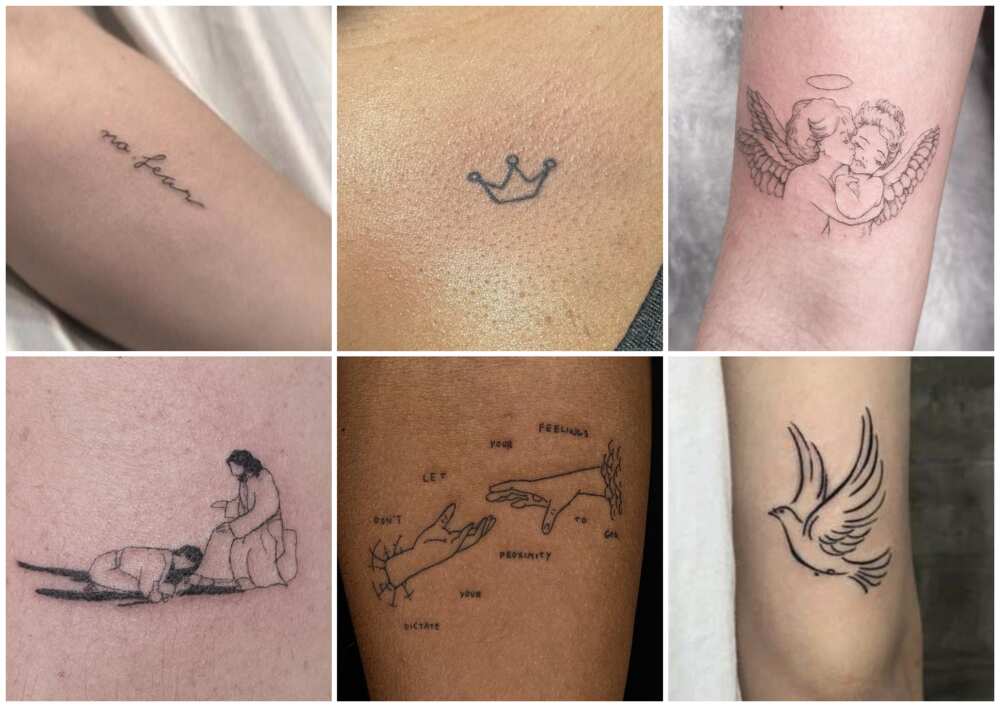 The beauty of a tattoo is that it is a form of self-expression. As such, you can choose images you like and dictate what they mean to you. However, self-expression via ink doesn't necessarily have to result in a big design. These dainty designs may not be loud and conspicuous, but they still speak the message of your faith with flair.
Biblical tattoo ideas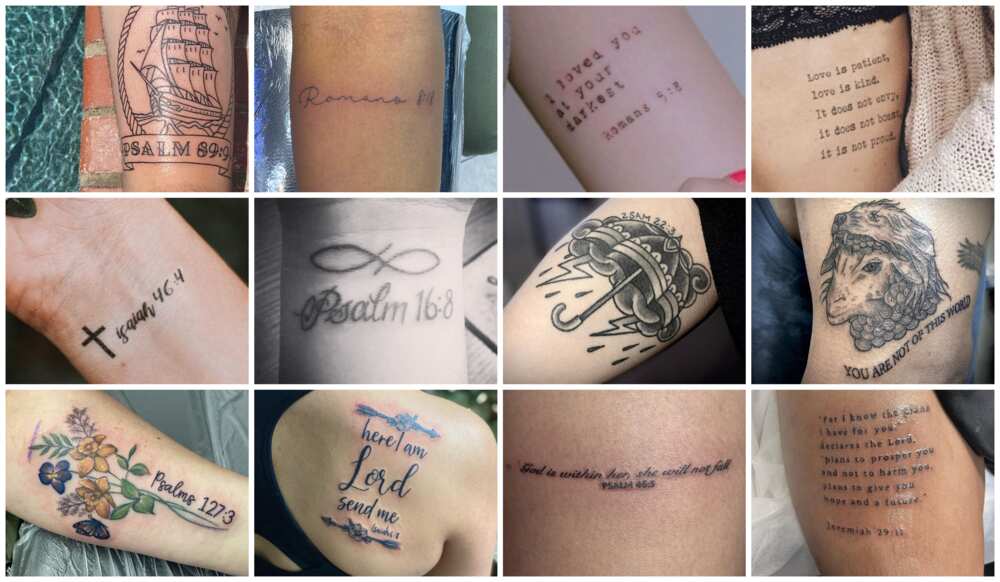 The Bible is the Christian community's primary source of teachings and knowledge. Many Biblical references will resonate with believers enough to warrant a permanent spot on their skin. Like in these designs, you can choose a meaningful Bible verse or passage that speaks to you and have it inked on your body.
Religious tattoos with meaning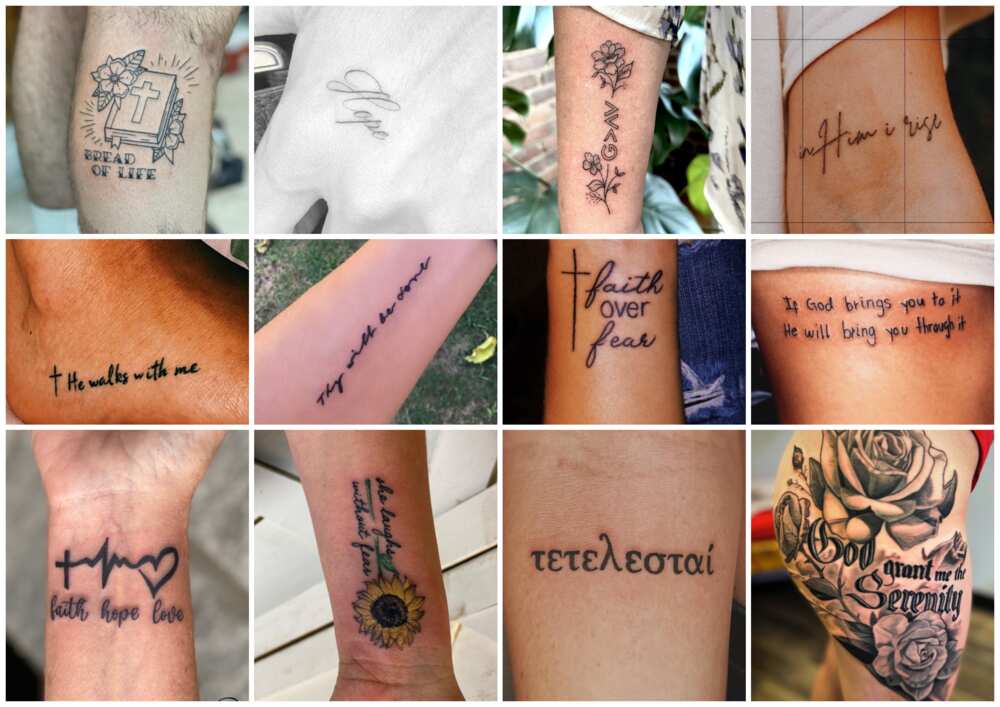 Biblical tattoos don't always have to be Bible verses and images. You could ink your skin with a message that resonates and reminds you to stay steadfast in your faith. These designs contain quotes and phrases loved among the Christian community for encouragement.
Jesus tattoo ideas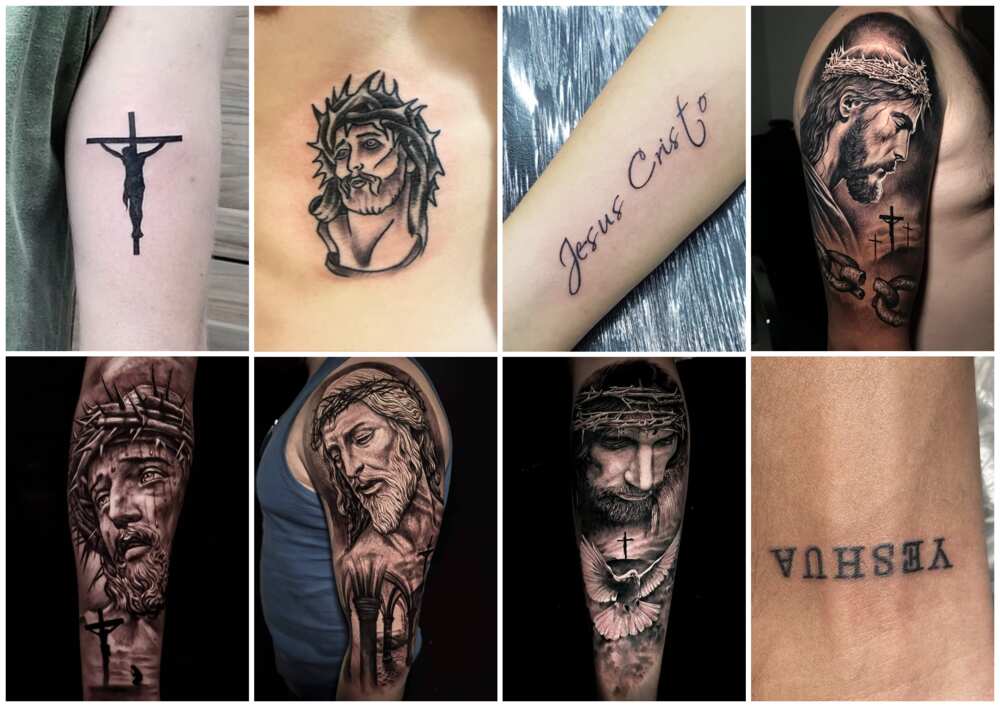 Jesus is the foundation and the cornerstone of the Christian faith. As such, there is no better symbol of solid faith than an image of Christ himself. You can choose to have a portrait of Jesus or a depiction of a specific event in his life that is meaningful to you. Although many of these designs depict his crucifixion and death, you could opt for his birth, baptism or transfiguration instead.
Cross tattoo designs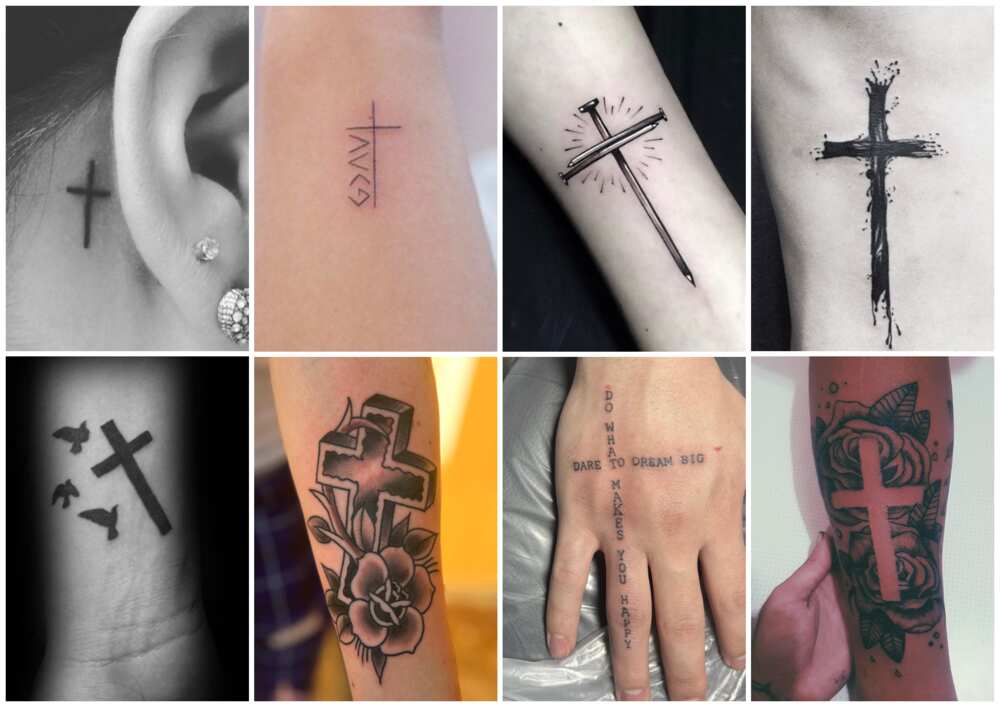 Aside from Christ himself, the cross is the most recognisable and enduring symbol of the Christian faith. It is self-explanatory and will let people know your faith when they meet you. Furthermore, the cross is versatile and can be depicted in many different sizes and styles, customised to your preferences.
While you can tweak your cross design to whatever message you choose, there are also some universal cross combinations in the Church. For example, a cross entwined with roses can symbolise the sacrifice of Jesus and his resurrection. The rose, a classic symbol of beauty, combined with the cross, highlights the beauty of the sacrifice Jesus made on the cross. Similarly, a cross and some eggs can represent the Easter holiday, a celebration of Jesus' sacrifice.
Biblical character tattoos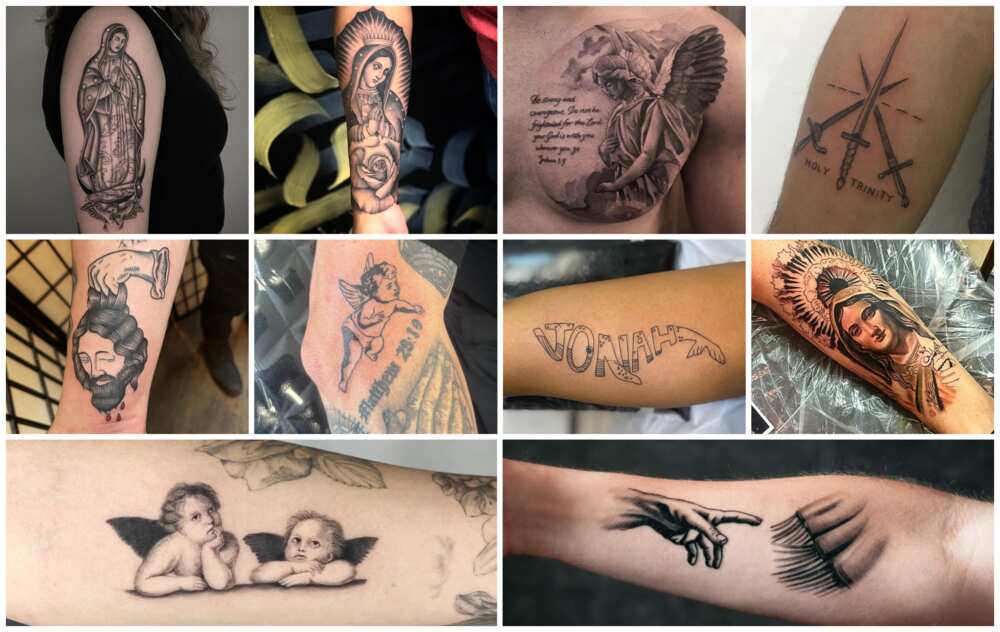 While Jesus is the foundation of the Christian faith, many other characters are in the Bible. The other Biblical characters are complex and flawed, each teaching believers a different lesson. You could get ink that reminds you of the Biblical character you most identify with.
While technically not a Biblical character, the Holy Trinity is a vital tenet of Catholicism. This recognisable trio is a symbol of enduring holiness. These designs show religious identities that are easily identifiable and often looked up to, like angels and Mary, the mother of Jesus.
Other Christian tattoo designs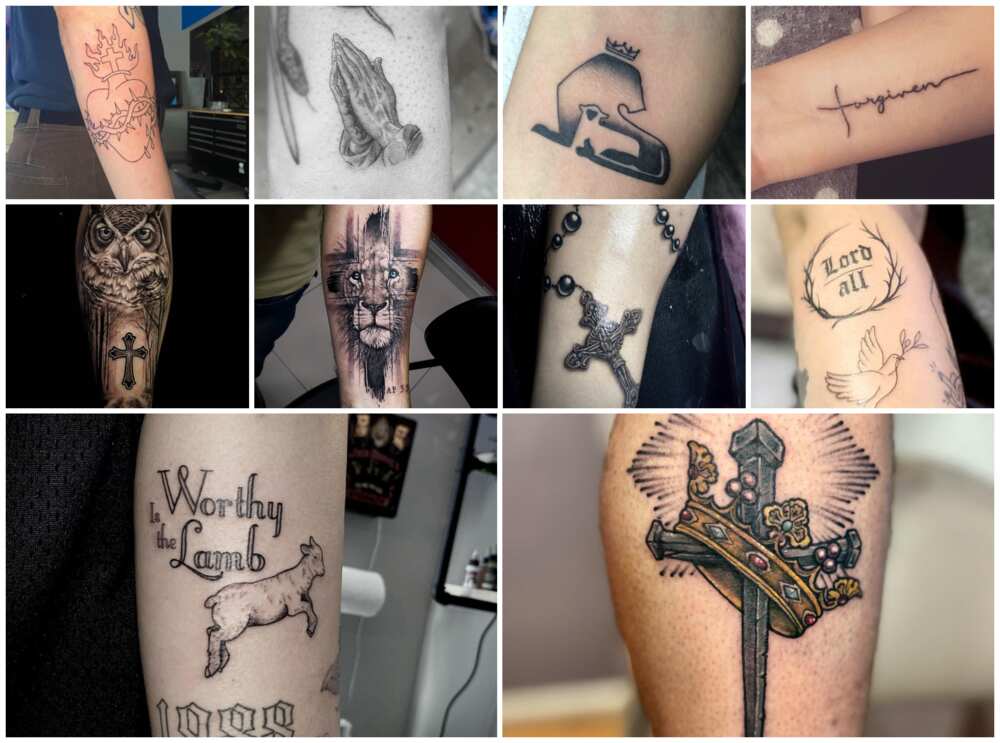 The Christian faith is filled with symbolism, which can vary between denominations. For instance, the rosary features heavily among Catholics. On the other hand, the lamb is recognised by most Christian denominations as a representation of Jesus as a sacrificial offering.
Other references come from Bible verses and different names of God and Jesus as per the Bible. A lion can be a religious symbol, as Jesus is also called the Lion of Judah. Similarly, a crown represents royalty, an acknowledgement of Jesus and the King of Kings, above all other gods and goddesses. Praying hands would be a reminder to pray, and a heart on fire can show a believer's unending devotion to their faith.
Religious tattoos of Christian imagery and paintings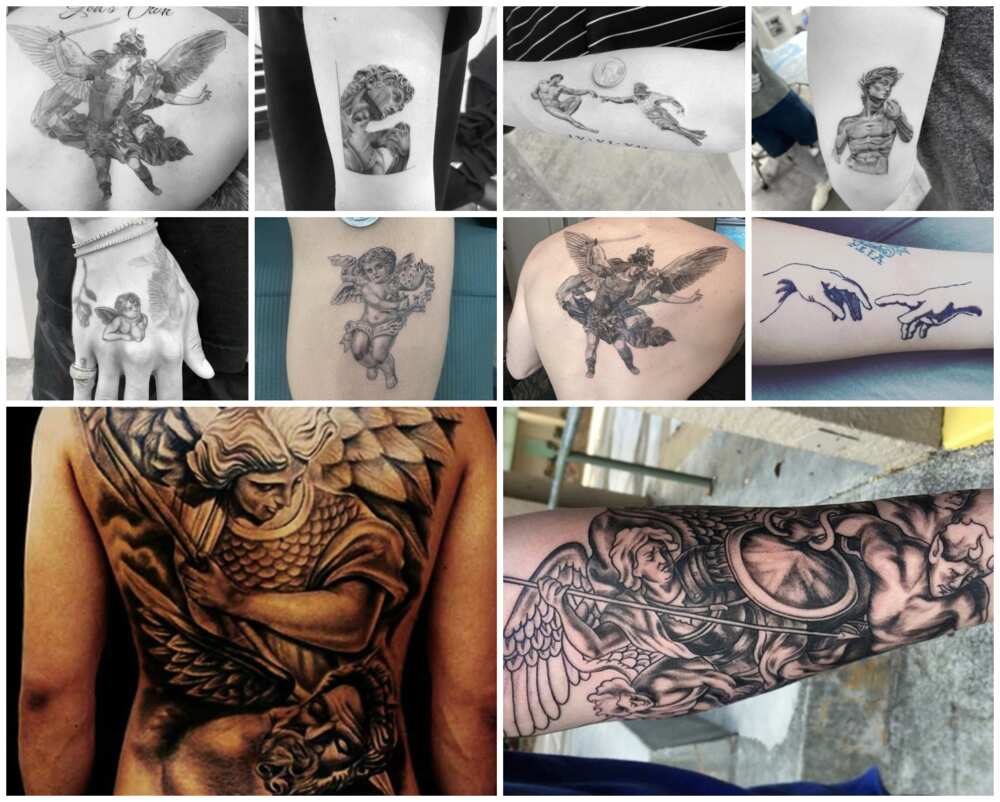 The Christian church has its roots in Rome, particularly in an era filled with visual artists. As such, numerous
and sculptures have come to be associated with the faith, regardless of whether they originate directly from the Bible.
One such example is the Statue of David. Sculpted in the early 1500s by the Italian artist Michelangelo, the sculpture has great religious significance. It represents David in the Bible, who defeated Goliath with just a sling and a stone.
The early Church also had many other artists create intricate representations of momentous Biblical incidences. There are paintings depicting Jesus fighting and defeating the devil, images of angels, and the famous Creation of Adam painting. These ink designs are perfect for the believer who is also an art and history buff.
Can Christians have tattoos?
Tattoos are a controversial topic in Christian circles. There are varying beliefs on whether believers can have them. While they are mentioned in the Bible, the interpretation of the verse and the purpose of the ink have often been left to personal choice.
What does the Bible say about tattoos?
The verse that is often quoted regarding inking is Leviticus 19:28. The verse says, "Ye shall not make any cuttings in your flesh for the dead, nor print any marks upon you". Some adherents have stuck closer to the Hebrew prohibitions, believing that the verse prohibits inking one's skin.
Some followers believe that the verse is meant to prohibit traditional mourning practices in which tattooing was included. Instead, they think ink is permissible as long as it does not express mourning.
What does the cross tattoo mean?
The cross is one of the most important symbols used in Christianity. It is the tool Jesus submitted to when he sacrificed his life for humanity. As such, the cross is a symbol of faith in Jesus and hope for the life to come.
Religious people often use Christian tattoos to showcase their faith. They also serve as a reminder, permanent and visible on the skin, of what they believe in and live for. The ink designs above are great ideas to inspire a Christian's next tatt.
Legit.ng recently published an article about the benefits of forgiveness in the Bible. Forgiveness means pardoning those who have hurt or wronged you and letting go of the offence they caused you. It means not holding a grudge or harbouring ill feelings towards others, regardless of what they did to you.
Forgiveness is not always easy. Sometimes people do truly heinous things to you, and it may be hard to let go, especially if you don't understand their reasons. However, forgiveness is a Biblical command. It is not a favour you do to the other person; it is something God asks Christians to do.
Source: Legit.ng