50+ meaningful father-daughter tattoos to commemorate your bond
Daughters have a special connection with their fathers, and while there are ways of expressing the relationship, having father-daughter tattoos seems the best. Besides the connection, tattoos are beautiful artwork and having them will help you stand out. If you are thinking of the best tattoos to share with your family member, here are some ideas that will impress you.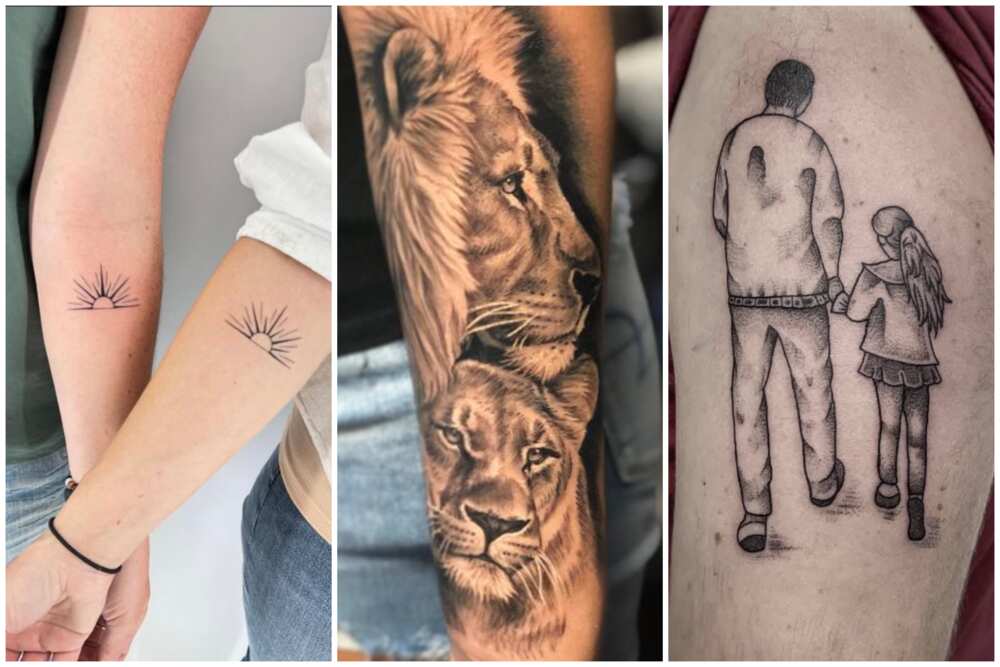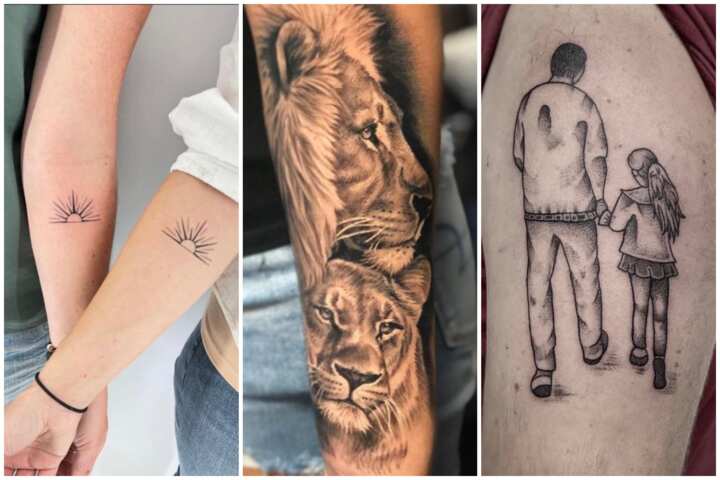 Father-daughter tattoos are a permanent mark that symbolises the love between the two. Many suggestions exist for such a tattoo design, but a unique one is the best. If you want a tattoo to commemorate the bond between a father and a daughter, the suggestions will serve you best.
Meaningful father-daughter tattoos
Tattoos are not only for aesthetics, but some of them have meanings that connect people. For fathers and daughters who share a special bond, having such tattoos is a perfect way to show their togetherness, and it also serves as a reminder of special events in their lives.
Matching father-daughter tattoos
Matching tattoos signify the profound relationship between a dad and her daughter. You can opt for any of these cute matching tattoo ideas.
Silhouettes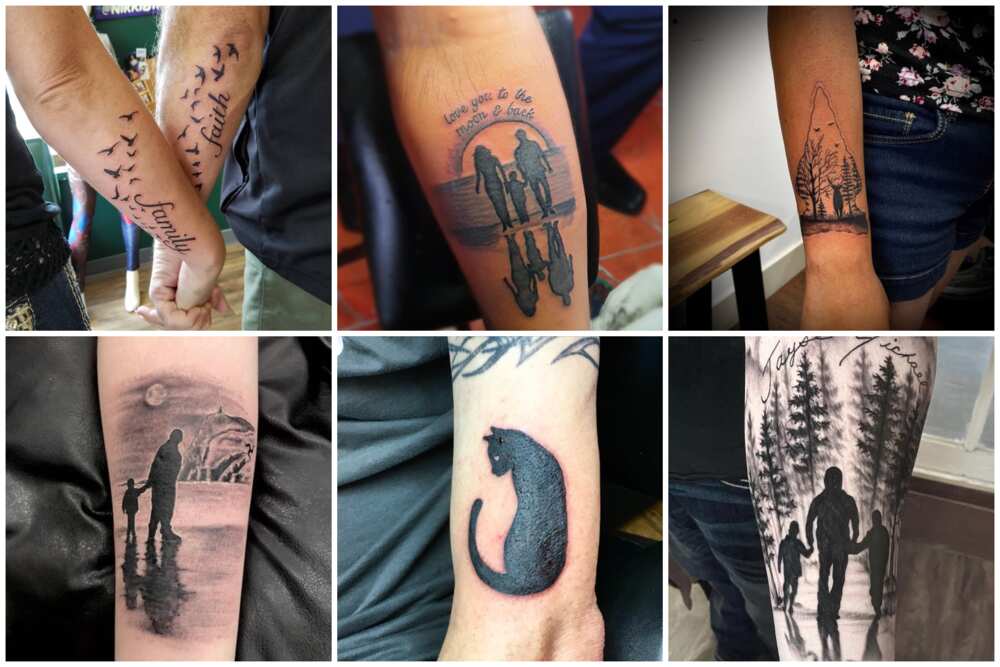 Silhouette tattoos are unique and beautiful, and a father can share them with his daughter. These shadowy illustrations can be drawn from a picture if you do not intend to have the exact image imprinted on your skin.
The silhouette tattoos may include flying birds, mountains, holding hands, flowers, animals, father-daughter pictures, and nature.
Musical symbols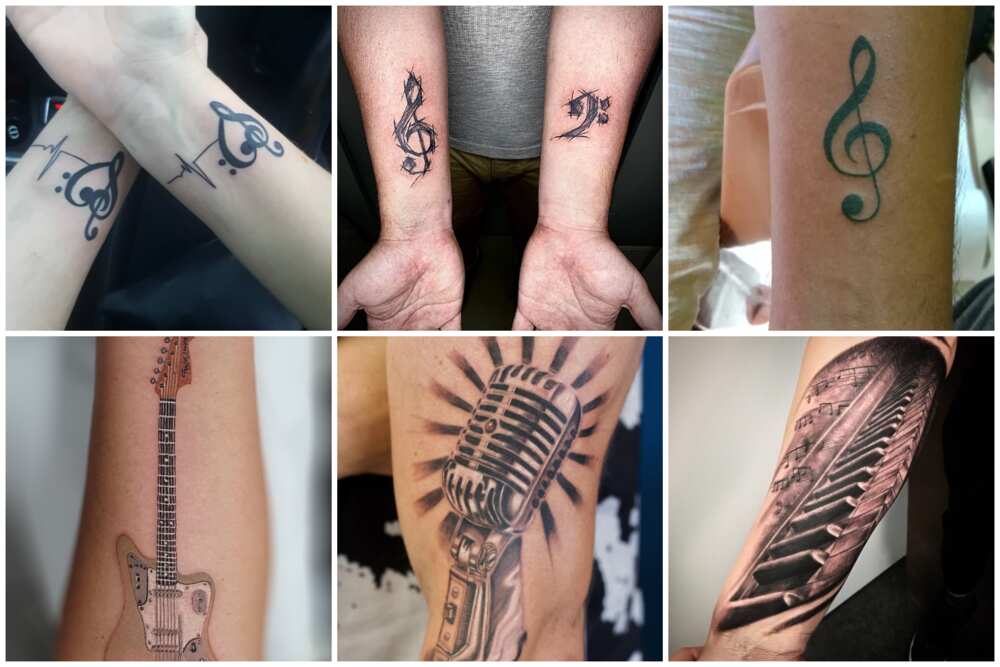 How else can a dad and daughter represent their love for music than having a musical sign tattoo? Songs bring people together and sometimes remind you of special occasions in the past. If you share the love for music, you can have a musical sign tattoo as a reminder.
Numerous musical symbols or instruments can be suitable for tattoos, depending on what you like. It can be a symbol, such as a treble, or an instrument, such as a piano or guitar.
Cute father-daughter tattoos
While a tattoo can commemorate the bond between a father and a daughter, it can also enhance one's looks. These father-daughter tattoo ideas are great and admirable, and you can display them on your body.
Pictures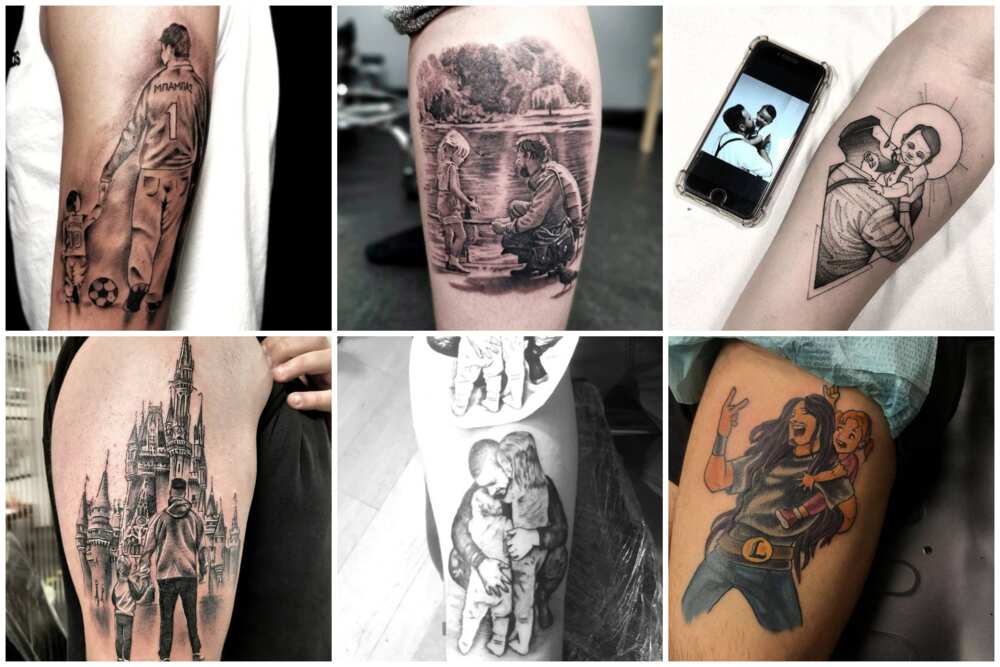 Pictures remind fathers and daughters of memorable moments over the years. They show how the love between the two has grown over time. Pictures hold memories; if you have a special photo with your father, you can turn it into a tattoo. With the picture tattoo, you will surely have it longer than the image on paper.
With modern tattoo technologies that embrace colouring, your special picture can be imprinted on your skin with details, making it an exact resemblance. Alternatively, you can use the photo as inspiration for a cartoony ink.
Animals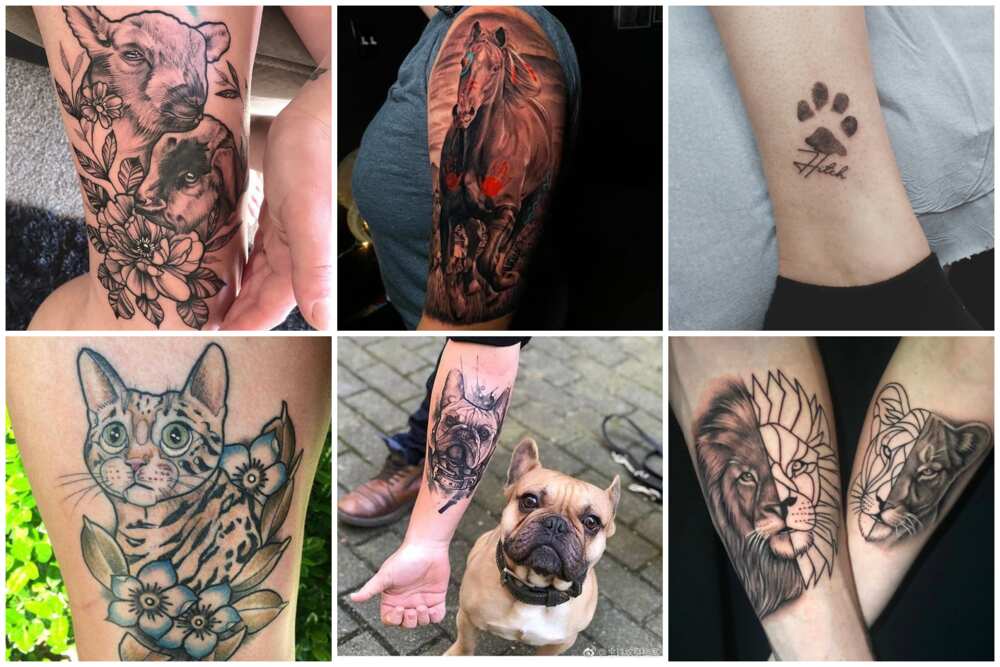 Part of a father-daughter relationship can also be defined by love for animals, especially pets. Pets help strengthen dads' bonds with their daughters as they play with them. Besides pets, other animals can be significant to the relationship and be used as tattoo symbols.
You can choose the image of your pet cat, dog, or any other domestic animal you both love to use as a tattoo. If you want something less expansive, you can always just have the paw prints, as they are small and cute.
Cartoons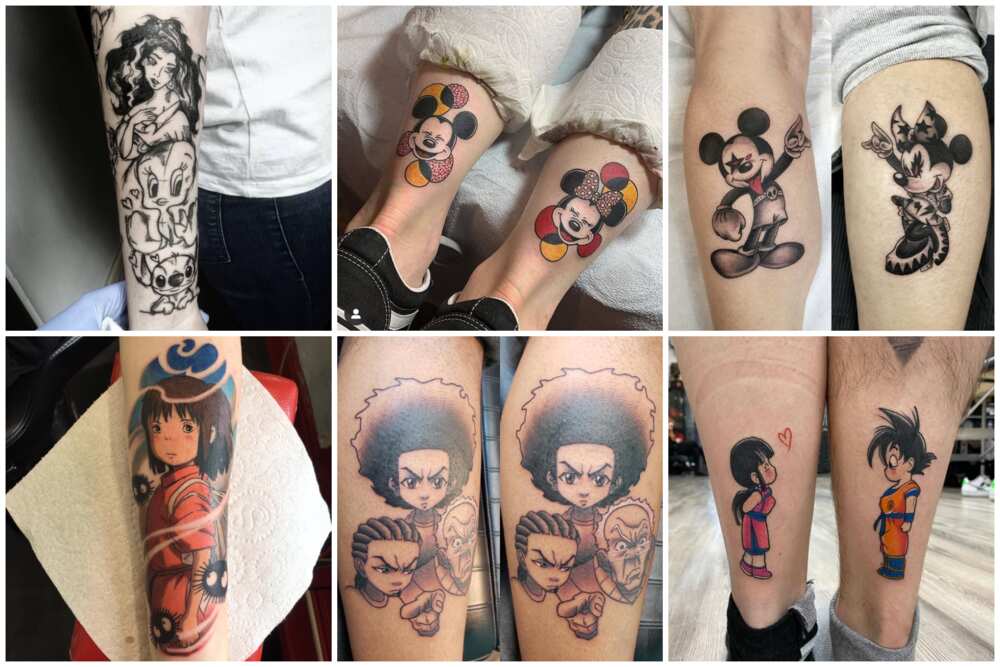 Sometimes, cartoons form the best moments shared between a father and a daughter. Growing up watching cartoon characters, you tend to have a special connection with them, even in adulthood. Cartoon tattoos are cool and unique and can be shared by a father and daughter who would want to forget their anime-watching days.
For instance, you can opt for an imprint of a Disney character, Batman, Mickey Mouse, or Tom and Jerry. It can be some obscure thing barely anyone has seen, or a popular movie/show from your childhood, as long as it holds meaning for the both of you.
Unique father-daughter tattoos
If you want a unique father and daughter tattoo, you must choose a design that is out of the norm. There are many overly used designs, but these are quite rare and will make you stand out when showing your special relationship.
Dates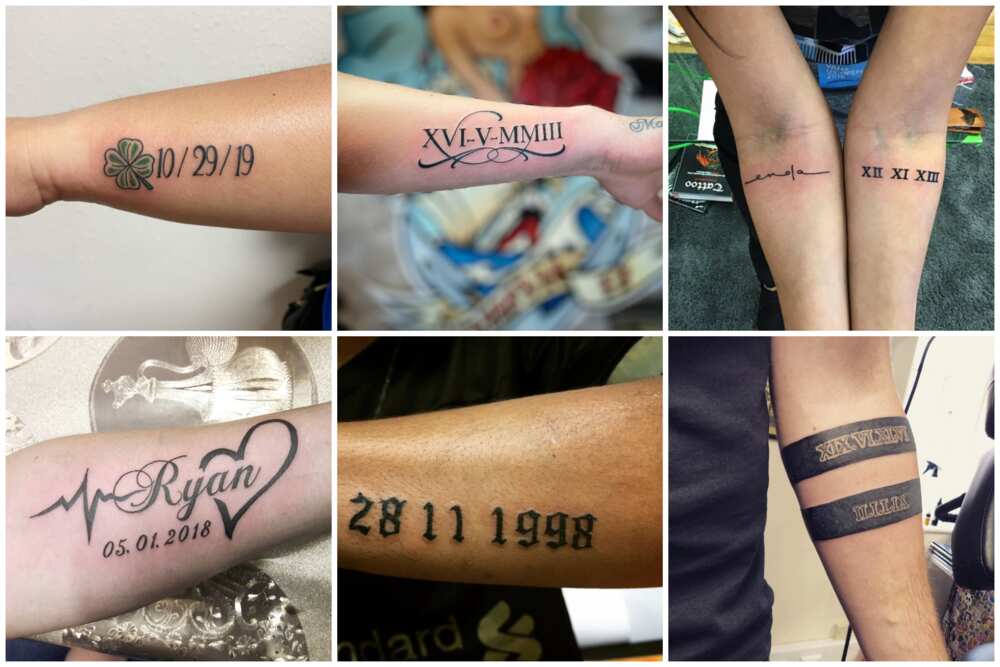 Life is made of events, some of which you would not want to forget. For that reason, specific dates of events have special meanings, especially if you have a lot to remember as a father and daughter. It is easy to forget the dates of the events, but if you have them as tattoos, you can remember them as long as you live.
What special dates might you want to remember? It can be a birthday, graduation date, wedding of a loved one, or any other anniversary.
Quotes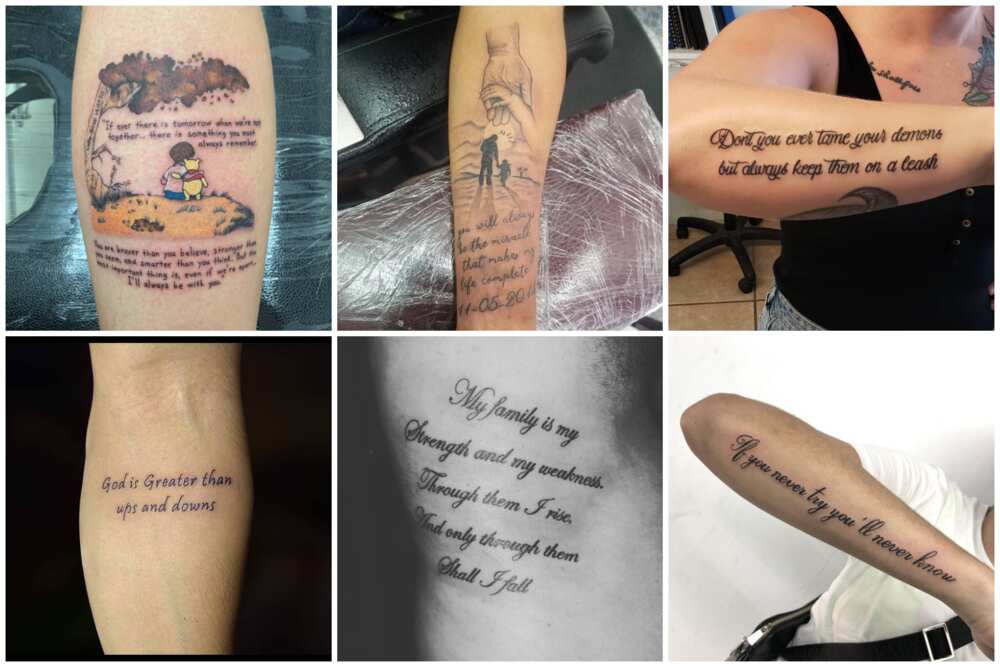 Are there quotes that hold much meaning to you as a father and daughter? They can be inspirational quotes from your favourite books or family quotes you can relate to. When you have the quotes imprinted on your skin, you will never forget them.
You can have the same quote imprinted on your bodies, or you can have a part of a quote engraved on one person and the other part that completes the quote imprinted on the other person.
Outlines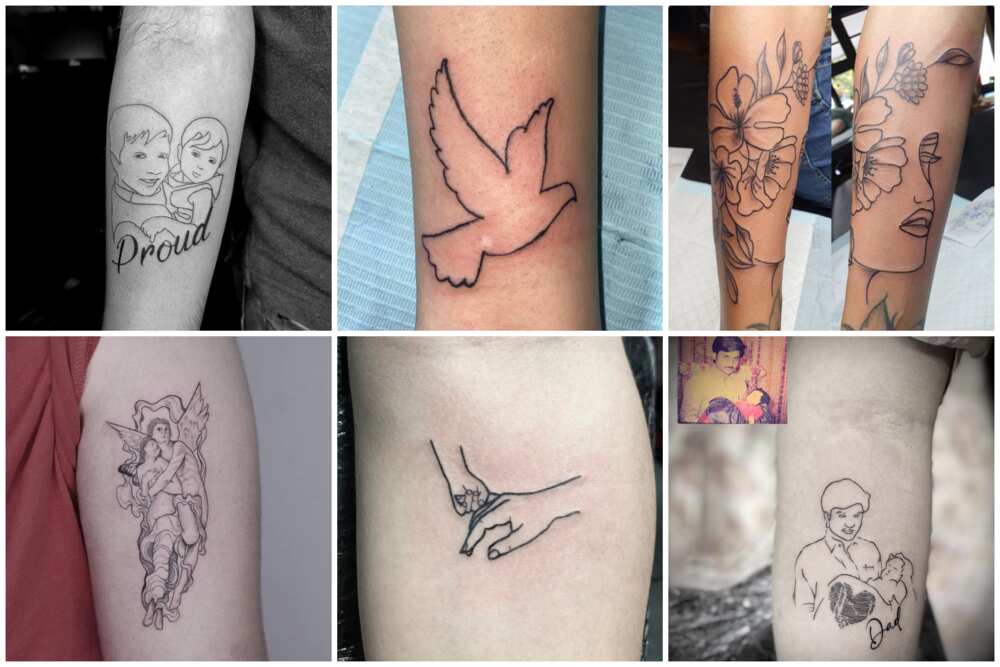 Most tattoos are known to have complex designs, but if you are looking for something stylish and simple, outline tattoos are the best option. They have minimal details, yet they express a lot. This is appropriate for father and daughter who want to express a simple idea with the least sophistication.
You can pick multiple variations of outline tattoos depending on your preferences. For instance, you can go for an outline of a flower, image, or animal.
Names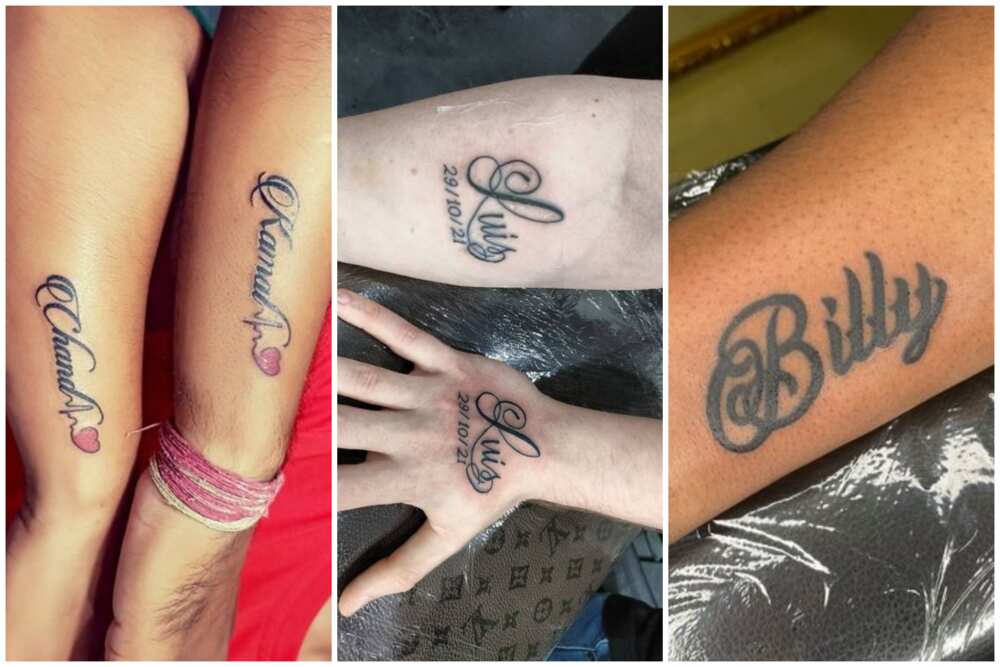 How best can a father and daughter show their love for each other than having their names inked on their skin? Names have meanings, and having someone's name tattooed on your skin, shows how important they are to you. If it is a permanent mark, you will never forget about them.
You can have each other's full names tattooed on visible parts of your bodies. Alternatively, you can have your favourite nicknames instead of full names.
If you want the best father-daughter tattoos, the above suggestions will help you start your selection. They are simple and unique, and most importantly, they represent the special bond that the two share.
Legit.ng recently published beautiful love names for your child. If you are looking for a name that means love, you will be surprised to find many such names.
Naming your newborn can be challenging, and as a parent, it is one of your first responsibilities. Many names mean the same as love, and here is a compilation you can choose from for naming your child.
Source: Legit.ng