50+ meaningful family tattoo ideas to commemorate your bond
Family is the most important unit in life as they give support and unconditional love. It is, therefore, important to honour loved ones and to keep them close. One of the best ways to do this is to get a body art that can remind you of them. These meaningful family tattoo ideas will help express the bond you share.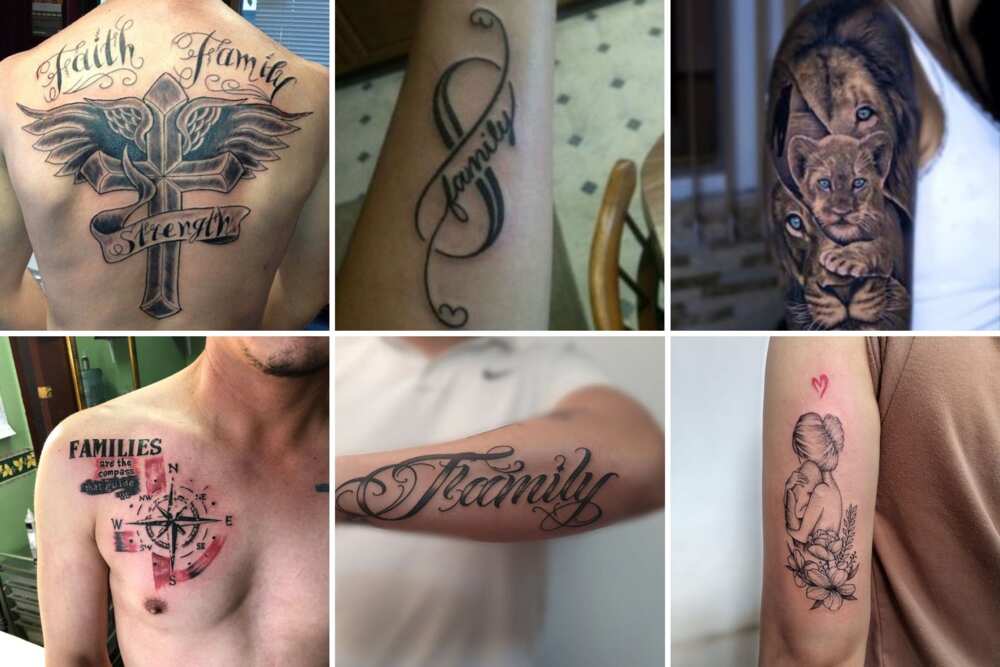 A family tattoo is an excellent symbol of the members' love and commitment to each other. It is a permanent reminder that east or west home is best and home is where family is. A family body ink shows you love them and carry them wherever you go. Here is a list of meaningful family tattoo symbols you can get to honour them.
Family tattoo ideas
Getting body ink as a family is one way to commemorate your love and show your bond for each other. Below are different body ink ideas you and your family members can settle for.
Meaningful family tattoos
Meaningful tattoos are artwork that represents an important event or person. Here are amazing, meaningful body ink ideas for families.
Photorealism family tattoo design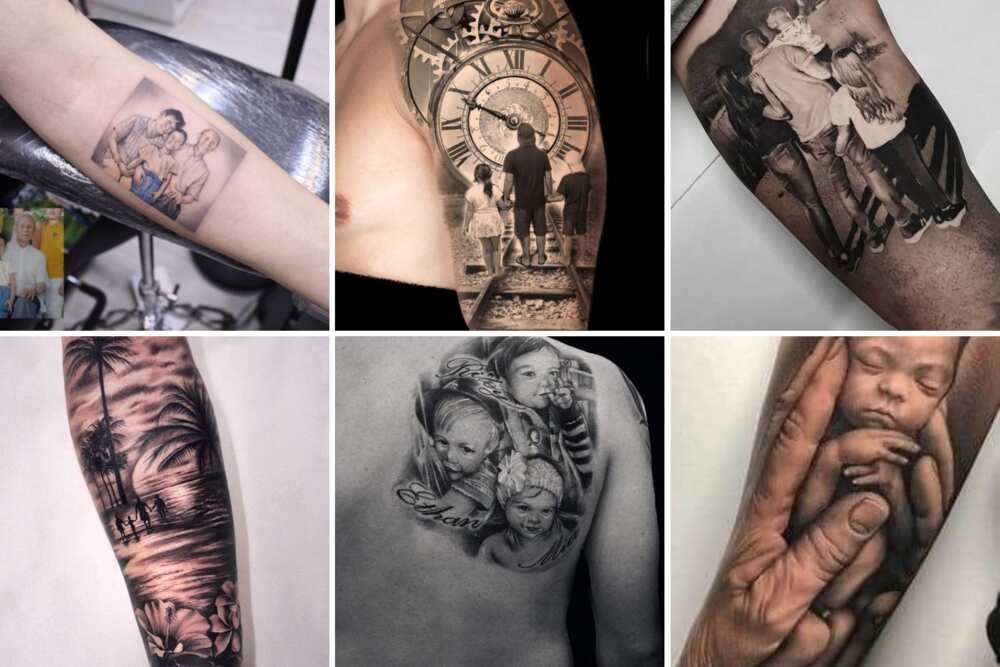 This design is one of the most famous ink symbols. It is where a photo of loved ones is replicated as body ink. It could be father and son or daughter or the whole family together. It could be all the family members or even part of the members.
Animal symbols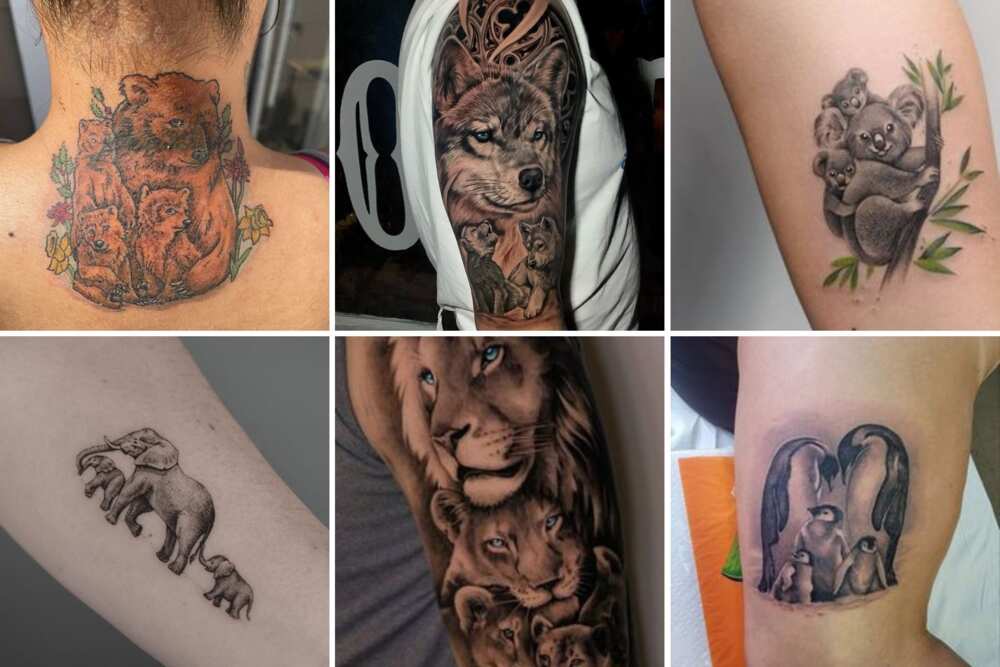 Animals are a great inspiration when it comes to getting a tat. Just like humans, they have families, and most of the time, they hang out in groups of families. There are numerous animals to choose from, such as elephants, lions, and bears. Most of these animals are symbolling. For example, a wolf pack represent spiritual protection and people who stick together. Everyone has their wolf pack, and the best is family.
Minimalist family tattoos
body ink does not have to be complicated in design, but it can be simple and minimal. Below are examples of minimalist designs you can choose for your ones.
Important date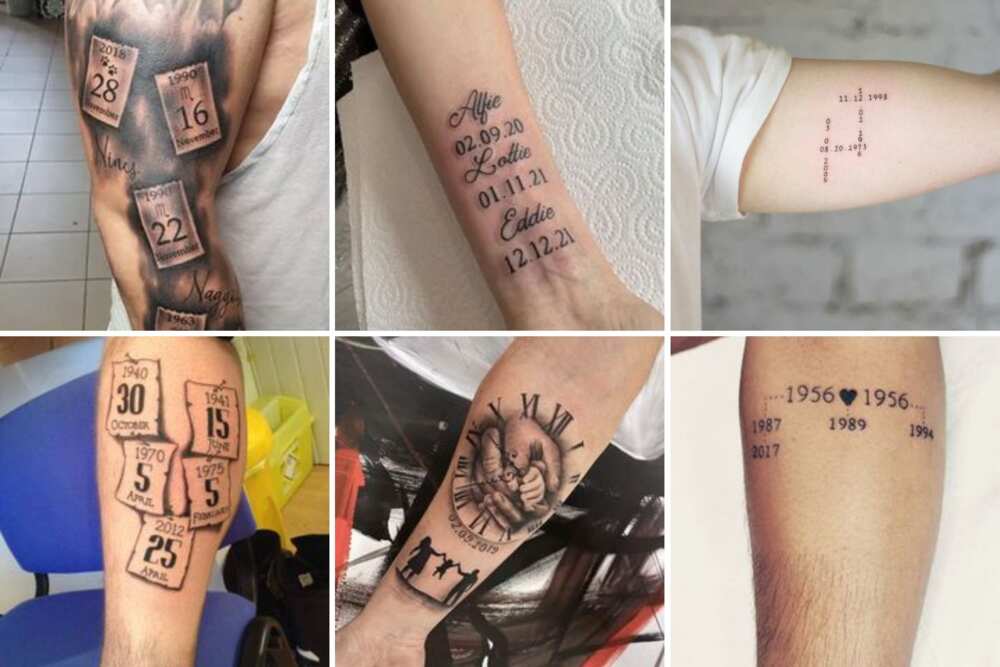 This is another minimalistic design where parents can ink their kids' important dates. This could be adorned with meaningful symbols such as a heart sign. You can pick a colour of your choice to make it stand out.
Initials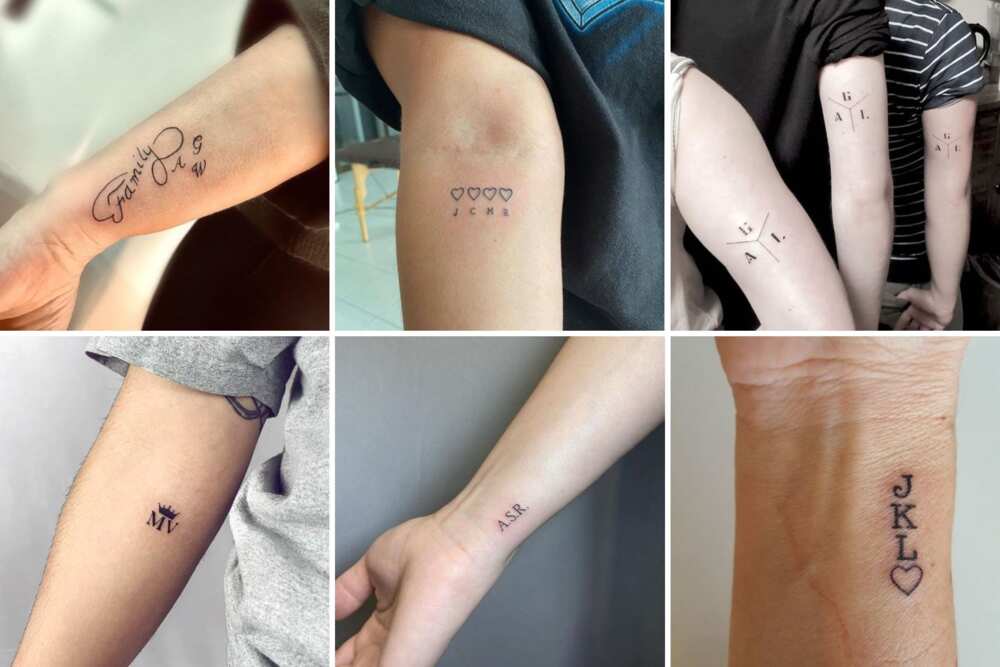 Initials are among the simple minimalist tattoo ideas and an excellent design for loved ones. The initials should be unique to your family and can represent the family members' names. You can choose small initials or old visible initials in a colour of your choice.
Family tattoos for men
Men who love their families will have body inks symbolic of the family. It is one way they express their commitment and bond with the people they love. They are not afraid to experiment on different parts of the body. Here are a few meaningful family tattoos for guys.
Chest designs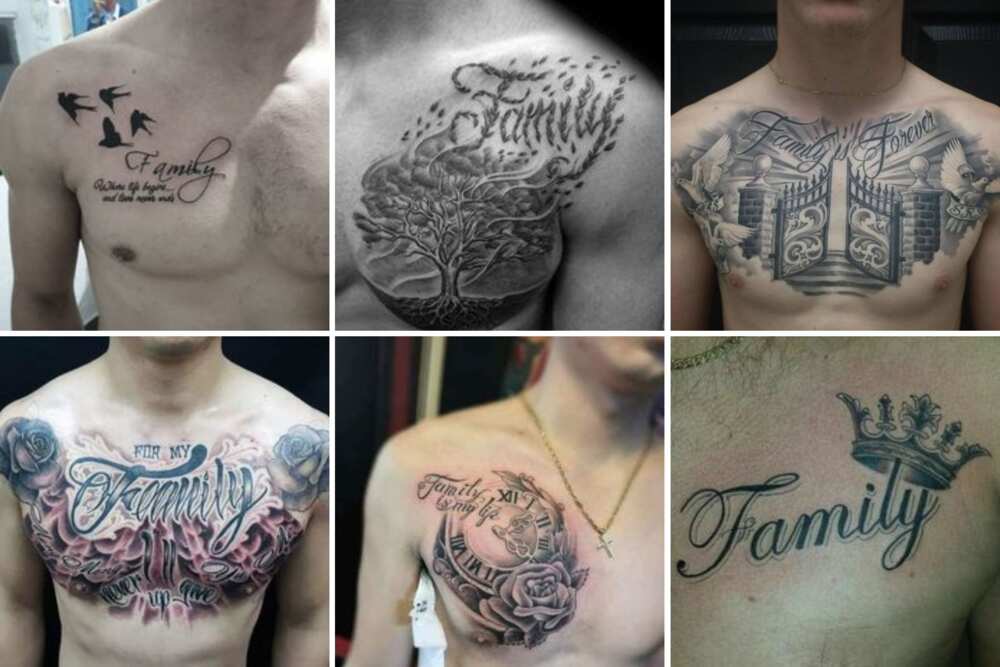 Men are known to be open to inking any part of their bodies. One of the popular places they love to ink is their chest. Being the widest part of the body, one can get big body inks representing your loved ones. Here are a few styles you can rock on your chest if you are a guy.
Leg designs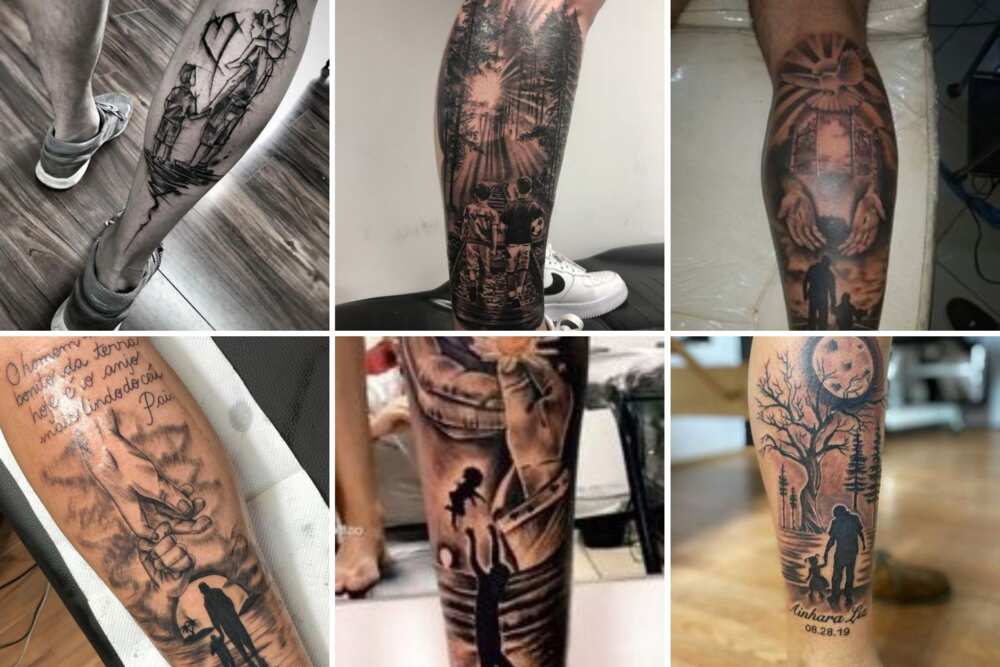 The legs can be a good spot to ink a tattoo. Most guys love getting tattoos on their legs, either in front, side or even behind. The body ink can be seen when wearing shorts. Use a nice colour that complements your skin tone for visibility purposes.
Family tattoos for women
Women are fond of getting their families inked on their skin to celebrate and honour them. Below are different body inks women can commemorate their loved ones.
Hand designs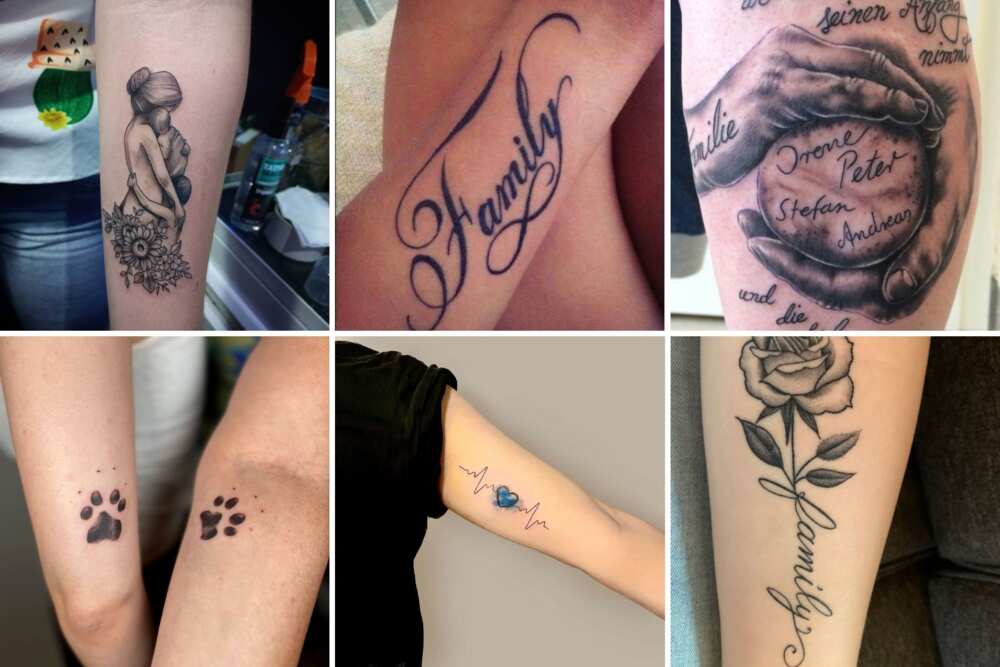 One of the most popular tattoo places is the arms. This is a good place to get them in, as you can show them off with short sleeves. You can use family-themed body ink to remember the love you share with your loved ones. Things like a heartbeat, paws, a flower, a mother and her child, hands and the word family would look great.
Matching family tattoo ideas
Most family members like to get matching body inks. This is not only cute, but it's a sign of unity. Below are our designs for matching body inks.
Nature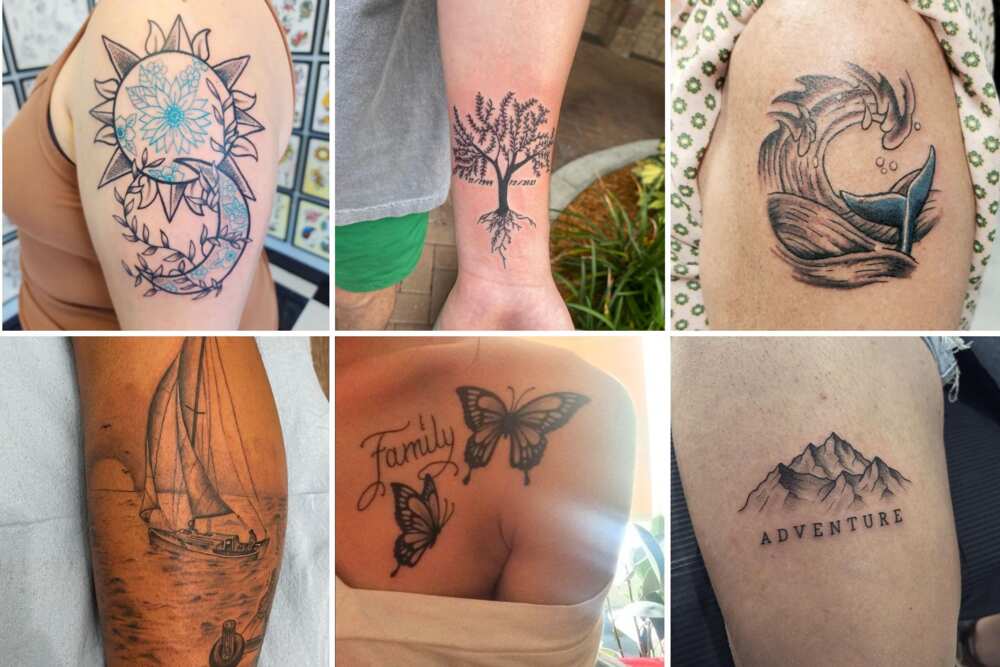 This is a symbolic design for those who love nature. The symbol is a fashionable design ink to match your loved ones. This design includes stars, the moon, the sun, mountains, gemstones, water and other natural things. You can add the name family to give more meaning.
Symbolic tattoos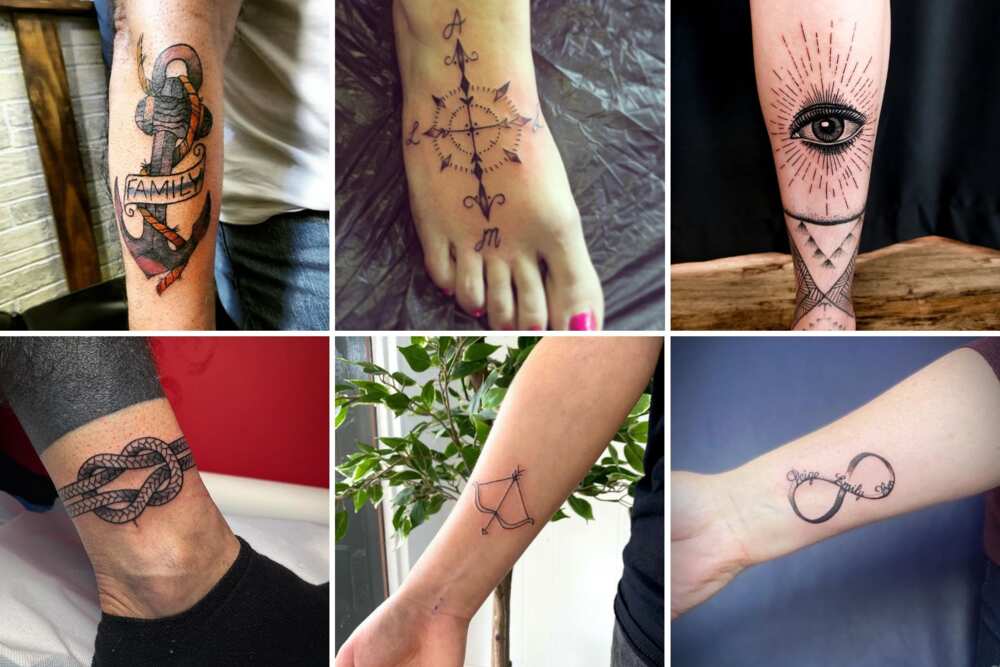 Symbolic body ink is represented by objects that symbolize something. For example, an arrow means conflict or peace, while a triquetra symbolizes the union of God. The anchor symbolizes safety and grounding, while the infinity tattoo denotes eternal love. The evil eye symbolizes protection from bad luck, while a compass directs you. It is the perfect design for matching ink symbols for loved ones.
Good family tattoo ideas
Having a family that is a good idea as it keeps everyone bonded. Here are some good ideas you can borrow for your family ink art.
Inspirational quote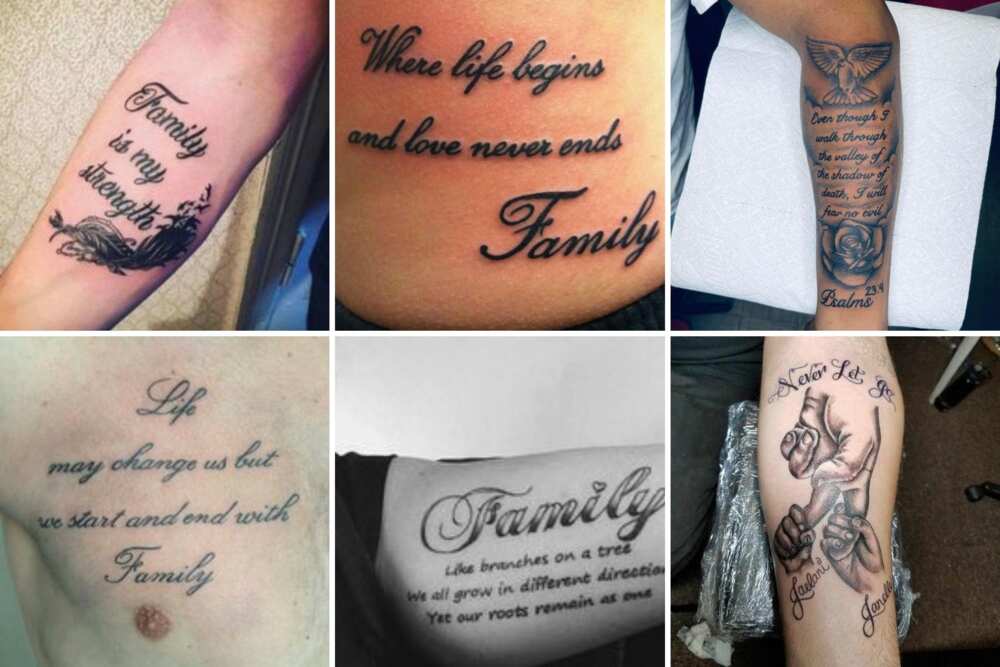 There are numerous famous quotes about a family that you can use as an ink design. It could be a long quote or a short one. Religious people could also borrow from their religious books, such as a verse from the bible. A line from a song or poem that resonates with loved ones can be cool too.
Musical symbol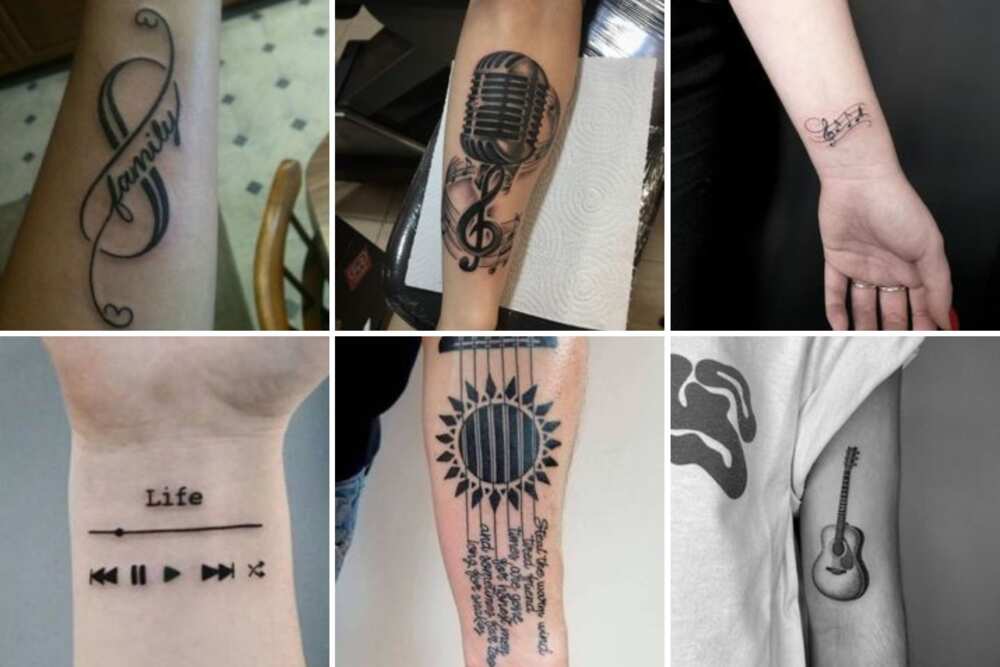 The musical designs offer a way of expression for families that love music. The musical instrument can be inked on each family member. Everyone can have the same or different instruments depending on what they like. The tattoo can also be a music not or any other symbol representing music.
A family is a unit of love and commitment; getting tattoos is one way to honour these relationships. Body inks are permanent reminders of what is important, so choose wisely. The above are meaningful family tattoo ideas to commemorate your family ties.
Legit.ng recently published an article about forearm tattoos. These ink symbols are artwork that honours something or someone. You can ink various body parts, and the forearm is a great area. Forearm tattoos for women come in different styles, colours and subjects.
Getting a tattoo is a good way to express yourself and showcase what you are into. Women are fond of showing off their tats; the forearm is one common place they ink. Here the tattoos are visible to inspire others. These are some amazing forearm tattoos for women you can use.
Source: Legit.ng