40+ back tattoos for women that will definitely turn heads
The trend of body art has evolved over the years, with tattoos becoming increasingly popular amongst both men and women. And for ladies seeking a bold and stunning look, nothing screams confidence and empowerment like a striking back tattoo. These pieces are particularly desirable for women as they allow for maximum visibility while still providing the option to cover up when necessary.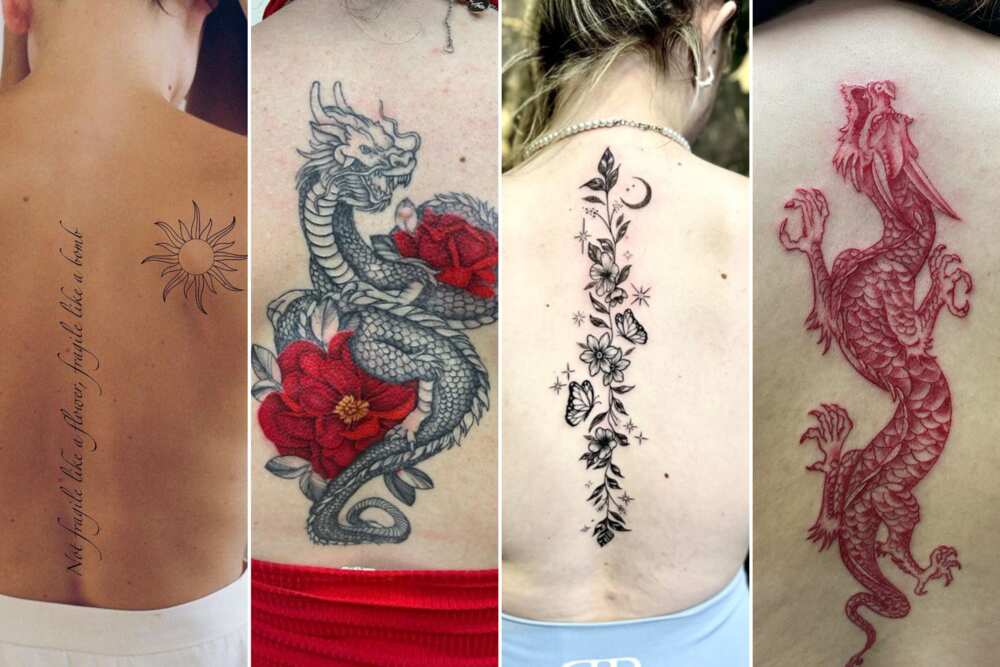 Back tattoos range from delicate, minimalist designs to bold and intricate art. Floral patterns, mandalas, and animal-inspired motifs are popular styles that have made their way onto the backs of many women. A full-back piece with a vibrant colour scheme or a tribal-inspired pattern may be the way for a more dramatic look.
Cool back tattoos for women
If you are considering getting a new tattoo, check out these 40+ designs for women that will turn heads. They include:
Lower back tattoos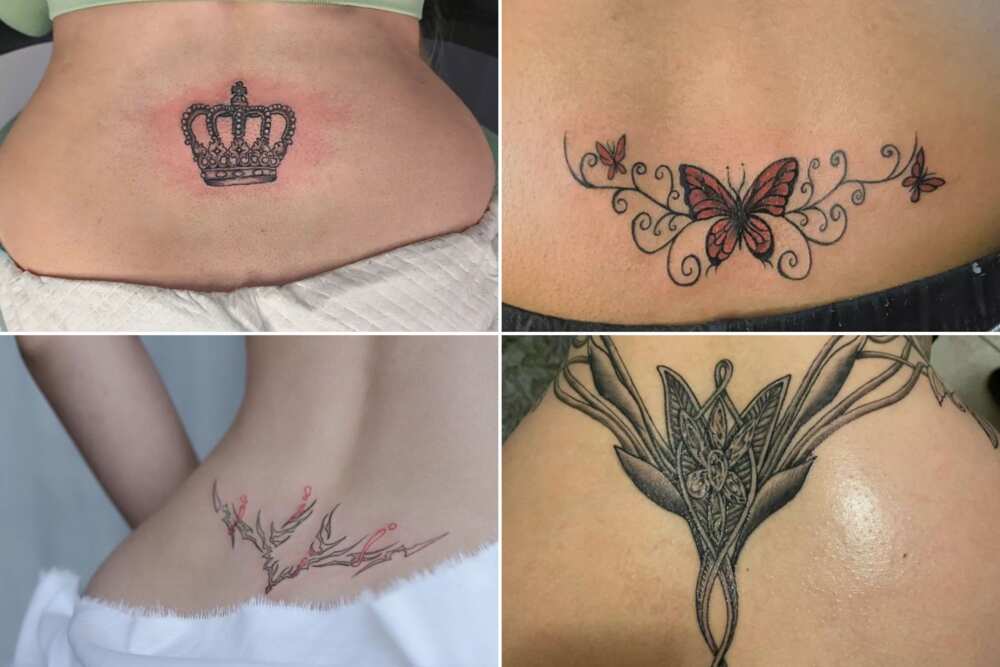 Lower back tattoos, commonly known as "tramp stamps," have gained notoriety over the years for symbolizing rebelliousness and promiscuity. While most people get these tattoos for these reasons; others choose to decorate their lower backs with meaningful artwork.
Whether it's a small butterfly or an intricate tribal design, lower-back tattoos can add a touch of beauty. In addition to the aesthetic appeal of lower back tattoos, there are also practical benefits.
However, for individuals who work in professional environments where tattoos are not typically accepted, lower back tattoos are easily covered by clothing.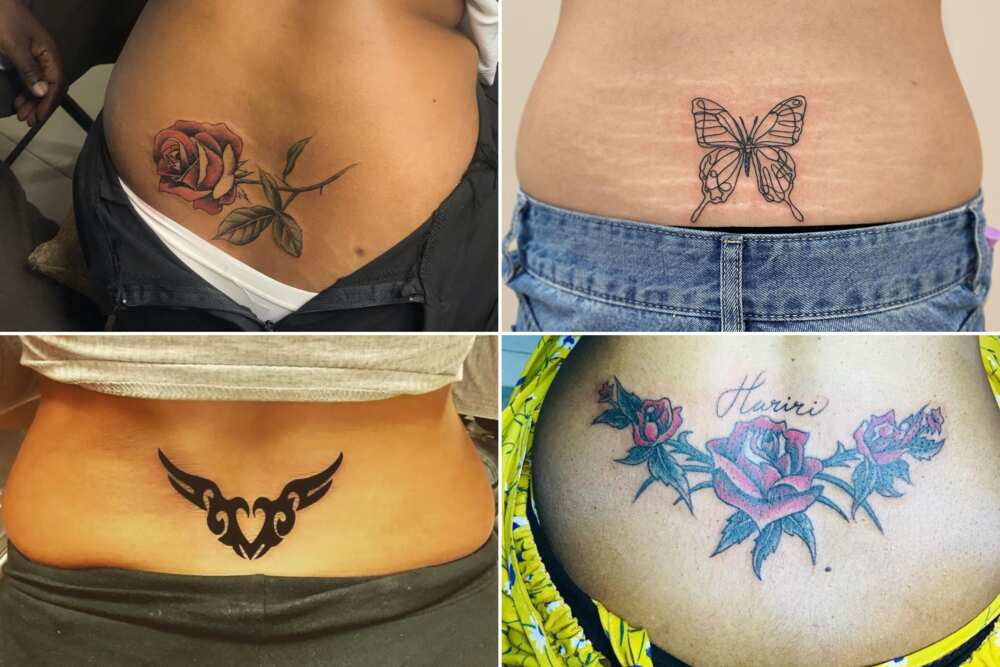 Furthermore, it is an option for those who may not be ready to commit to a more visible placement, such as on the arm or neck.
While lower back tattoos have had a somewhat negative reputation in the past, they have evolved into a unique and personal way for individuals to express themselves through art.
Upper-back tattoo girls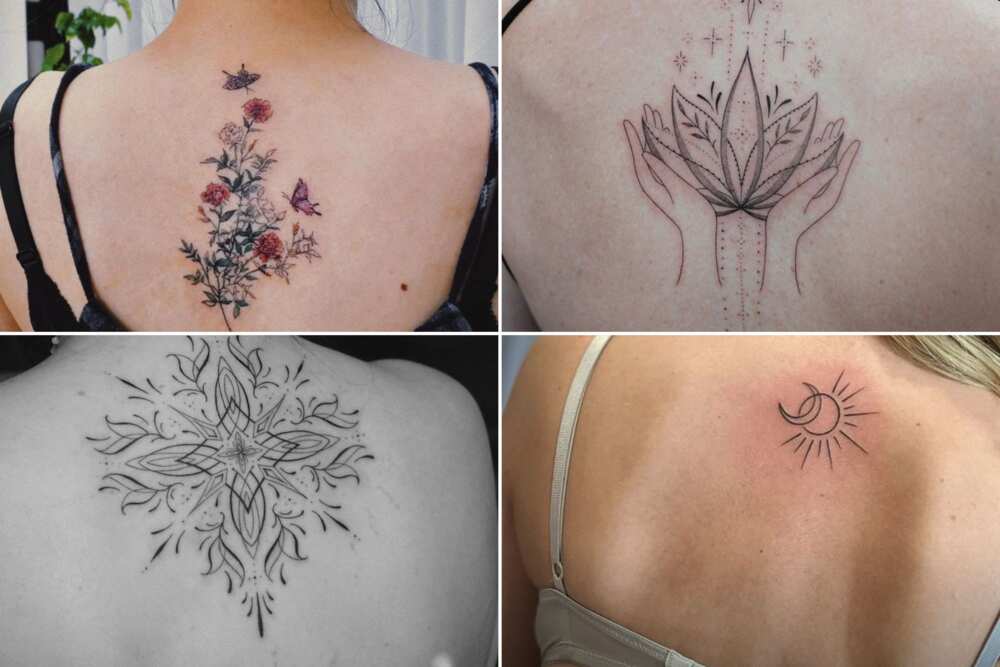 Upper-back tattoos have always been a popular choice for girls, mainly because of their versatility. A tattoo on the upper back can easily be hidden under clothing for those who want to keep it private, or it can be displayed for the world to see.
This location provides plenty of space for large and intricate designs, making it the perfect spot for expressing creativity and personal style.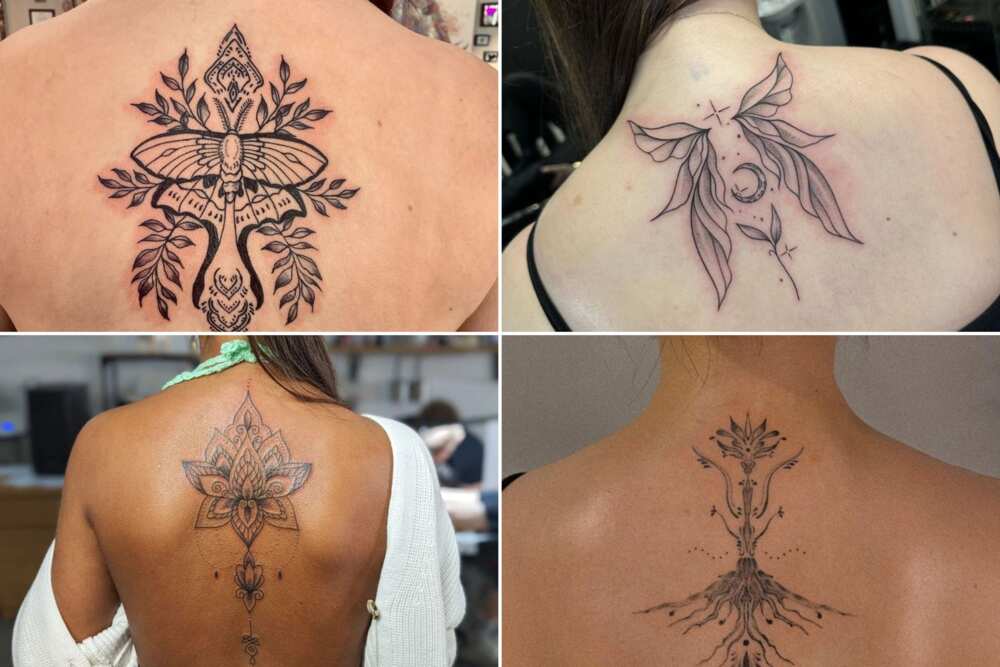 The mandala design is one of the most popular types of upper back tattoos for girls. The mandala is a symbol of spirituality and harmony, and it makes for a beautiful and meaningful tattoo.
Other popular designs for upper back tattoos include birds, butterflies, and flowers. These tattoos are perfect for those who want something delicate and feminine.
Whatever design you choose, an upper back tattoo is a beautiful and timeless way to express your personality and style.
Large back tattoo ideas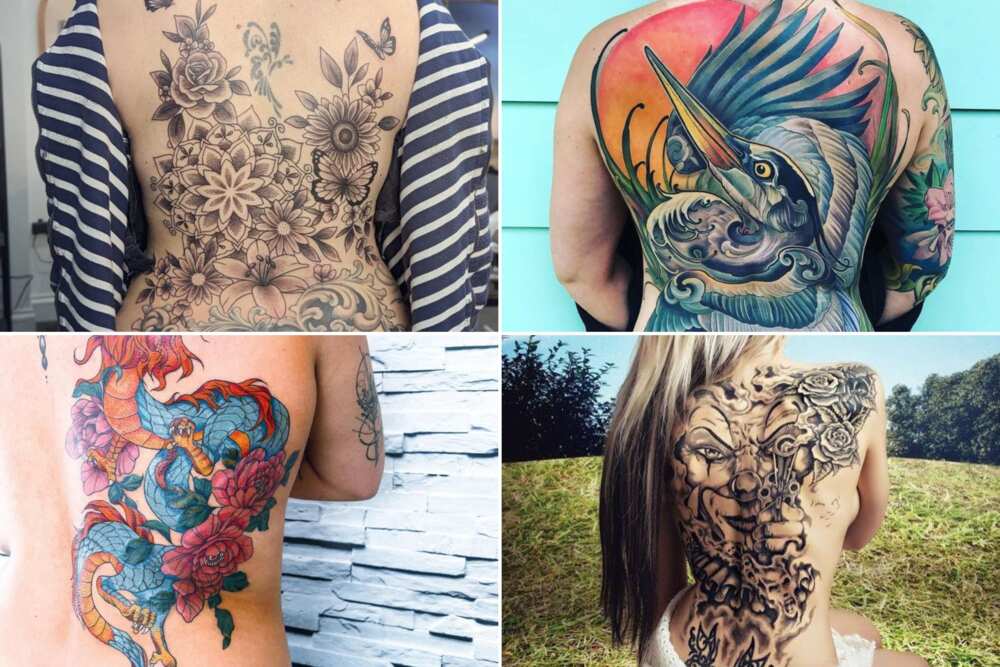 Women have an edge regarding tattoos since they have more canvas. Countless designs can work well on a women's backs. From bold tribal designs to intricate floral patterns, the choices are endless.
A great back tattoo can highlight the curves and contours of a woman's back, creating a mesmerizing, sensual, powerful, and beautiful look.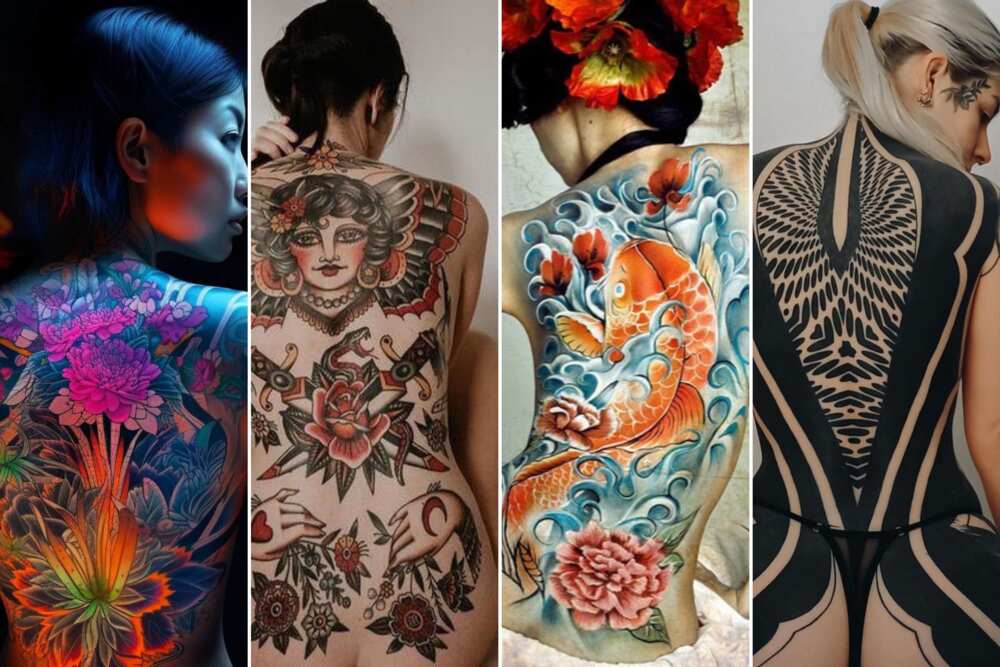 When thinking about large back tattoo ideas, the key is to go for a design proportionate to the size of the back. One popular design is the cherry blossom tattoo.
The flowing nature of the petals creates a beautiful visual impact on the back while remaining soft and feminine. Whether it's a quote, a piece of art, or something symbolic, there is a perfect tattoo for every woman out there.
Minimalistic back tattoo
Minimalistic back tattoos have become trendy for individuals who want to adorn their bodies with simple and elegant designs.
Unlike other intricate and complicated tattoo styles, minimalistic tattoos use minimalist lines, shapes, and patterns, providing a clean and sleek appearance on the skin.
One popular design for minimalistic back tattoos is a small line or dot work tattoo placed strategically along the spine.
The subtle placement of these designs adds a touch of sophistication, making them perfect for individuals who want a discreet yet trendy tattoo.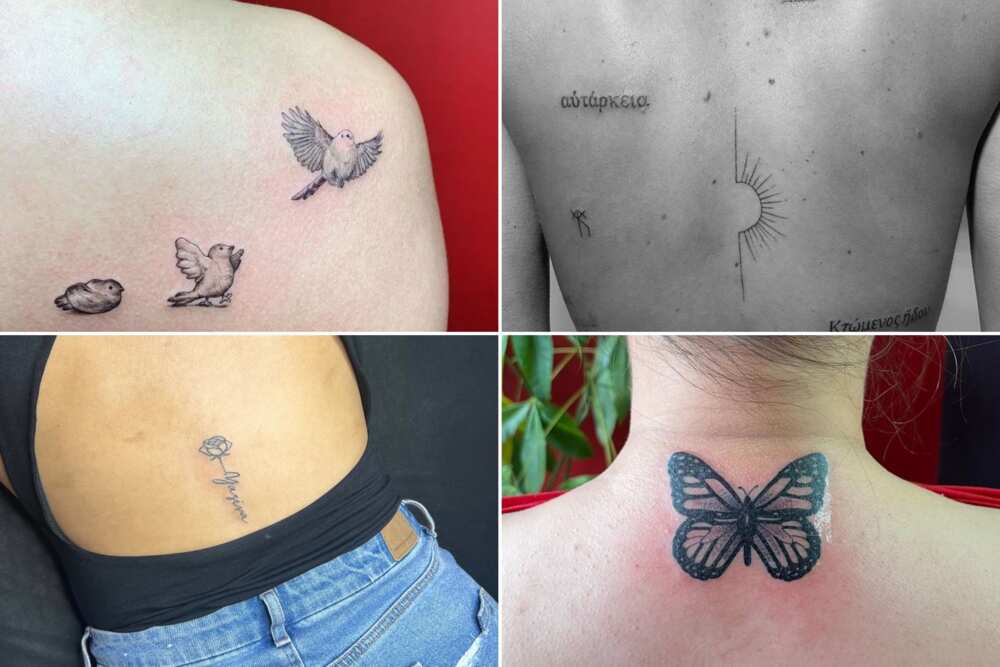 Another common minimalistic tattoo design is the geometric shapes or simple lettering, which looks especially striking against bare skin.
With its subtle elegance and chic appearance, it's no wonder why minimalistic back tattoos have become a popular choice for body art enthusiasts worldwide.
Simple and unique back tattoos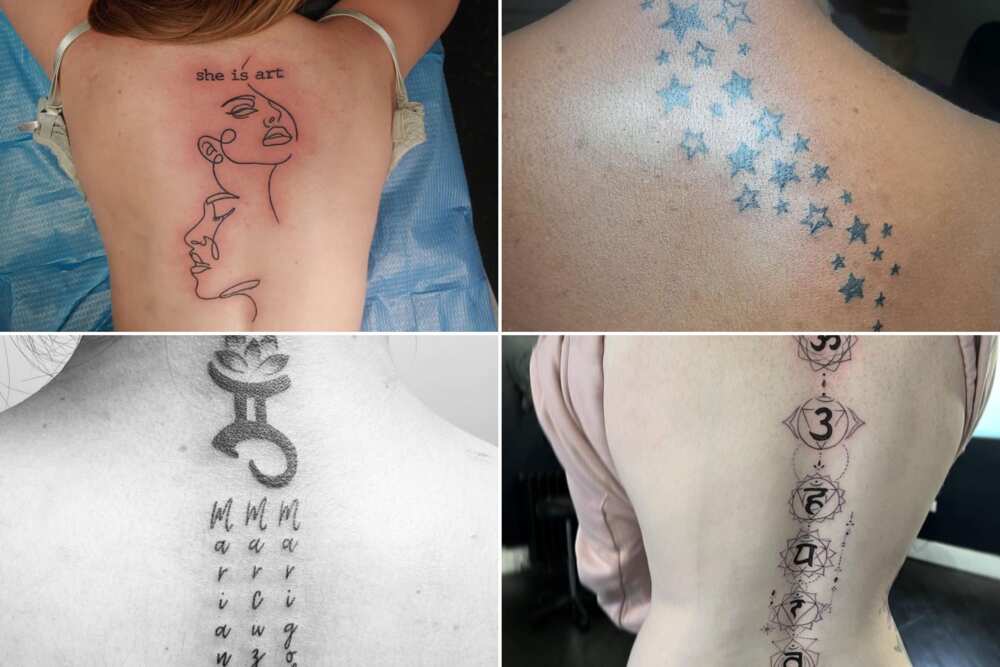 Standing out from the crowd is the ultimate goal of any tattoo enthusiast. But simplicity and uniqueness go together when getting a back tattoo.
The back offers a wide area for such tattoo designs, allowing endless possibilities to create something unique and easy to recognize.
Some simple back tattoo designs that never go out of style include an infinity symbol, a quote, or a minimalist animal design. For example, a small infinity symbol tattoo on the back is a great way to signify everlasting love or friendship.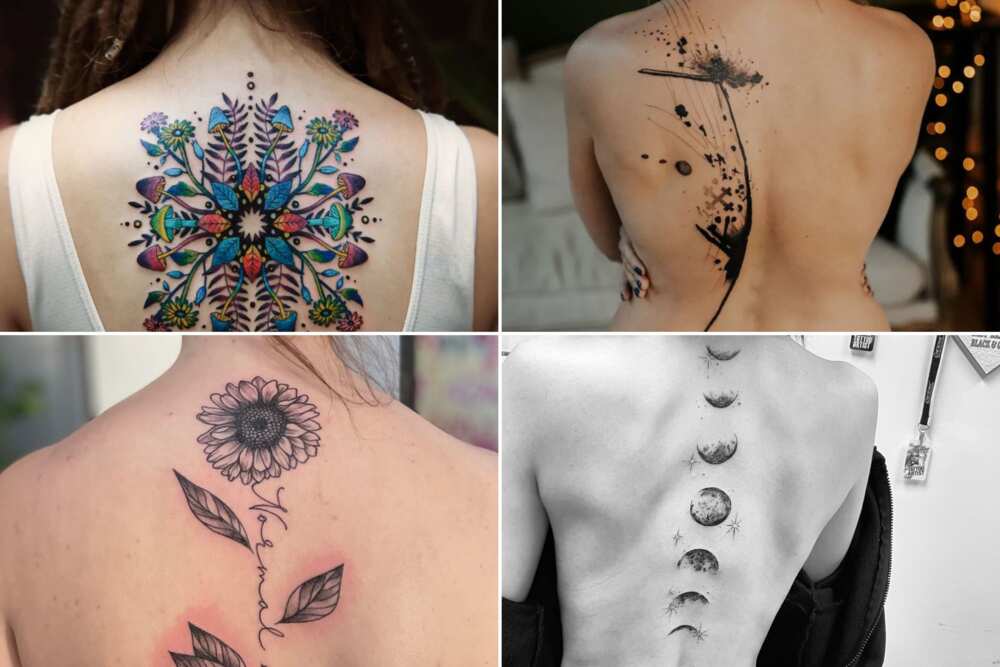 The design possibilities are endless, and it is up to you to decide what resonates with you the most. Remember that a back tattoo reflects your personality, and it should be something you can be proud of for years to come.
Flower back tattoo ideas for women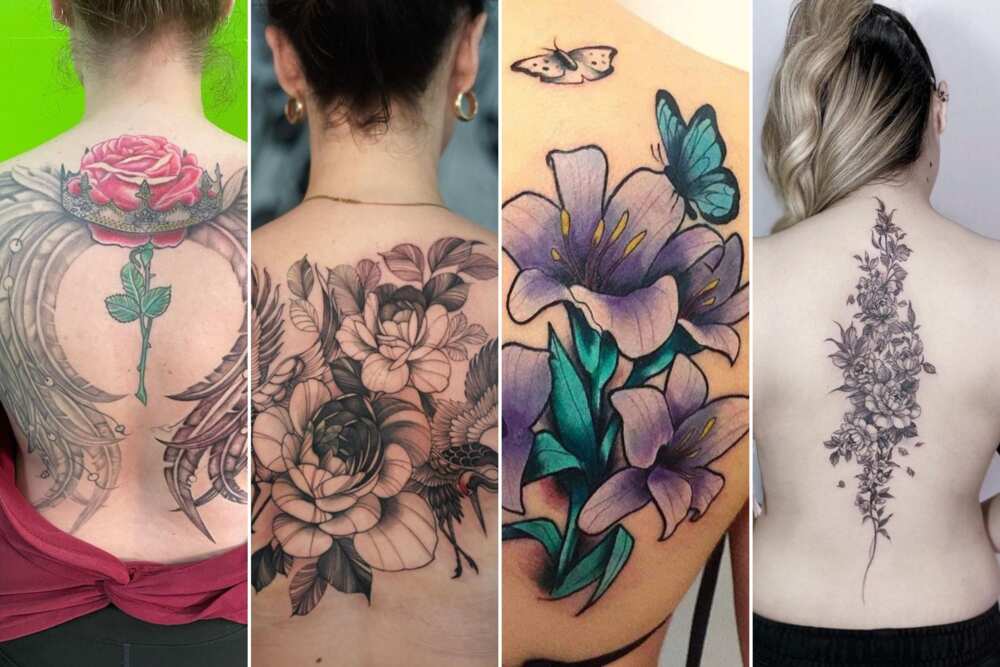 The back is a perfect spot for showcasing large and intricate designs depicting nature's beauty and fragility. The versatility of flowers as tattoo subjects allows women to experiment with different styles, colours, and sizes to express their personalities and individuality.
Some popular flower back tattoo ideas for women include roses, lotuses, sunflowers, peonies, cherry blossoms, and hibiscus. These flowers have significant meanings, making them ideal for expressing emotions such as love, beauty, power, and strength.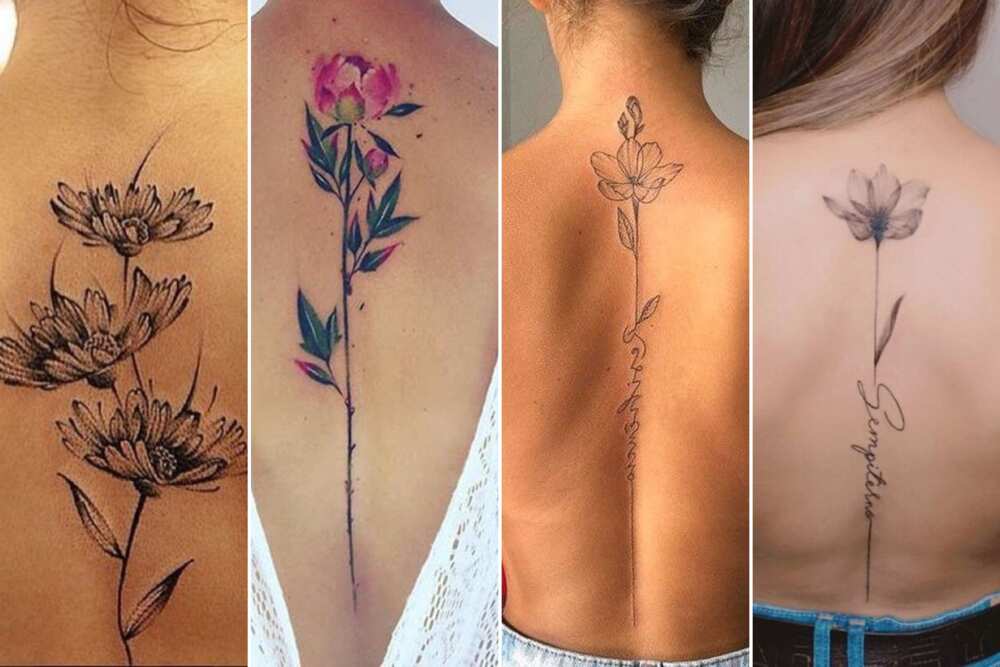 A rose tattoo could signify love, while a lotus tattoo could symbolize spirituality and enlightenment. Hibiscus, on the other hand, represents passion and creativity. Whatever design they choose, flower back tattoos for women remain a timeless choice that never goes out of style.
Animal and plant back tattoos for women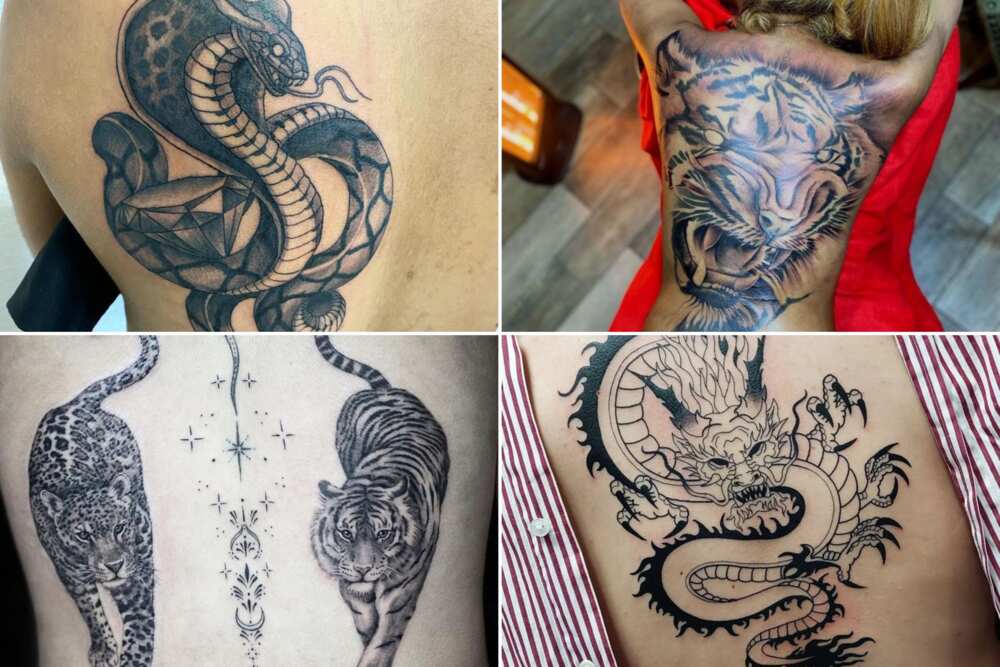 The possibilities are endless for women looking for an animal-inspired back tattoo. From majestic elephants to sleek panthers, there is no shortage of creatures.
Animal tattoos are often chosen to represent personal traits, characteristics, or values, making them an excellent way for women to express their unique identity. One popular option for women is the butterfly tattoo, which symbolizes transformation, freedom, and femininity.
These tattoos can range in size from small and delicate to large and intricate and can be placed anywhere on the back, from the shoulder blades to the lower back.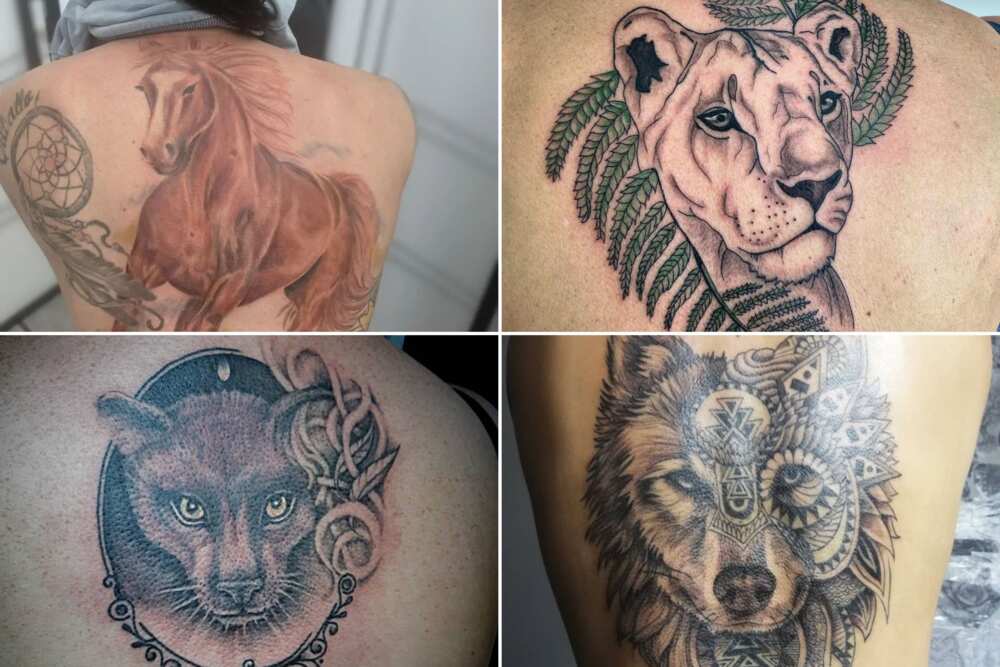 Another option is the wolf tattoo, often chosen for its fierce and independent nature. These tattoos can be highly detailed and depict the animal in various poses, from howling at the moon to stalking through the forest.
Coloured back tattoo ideas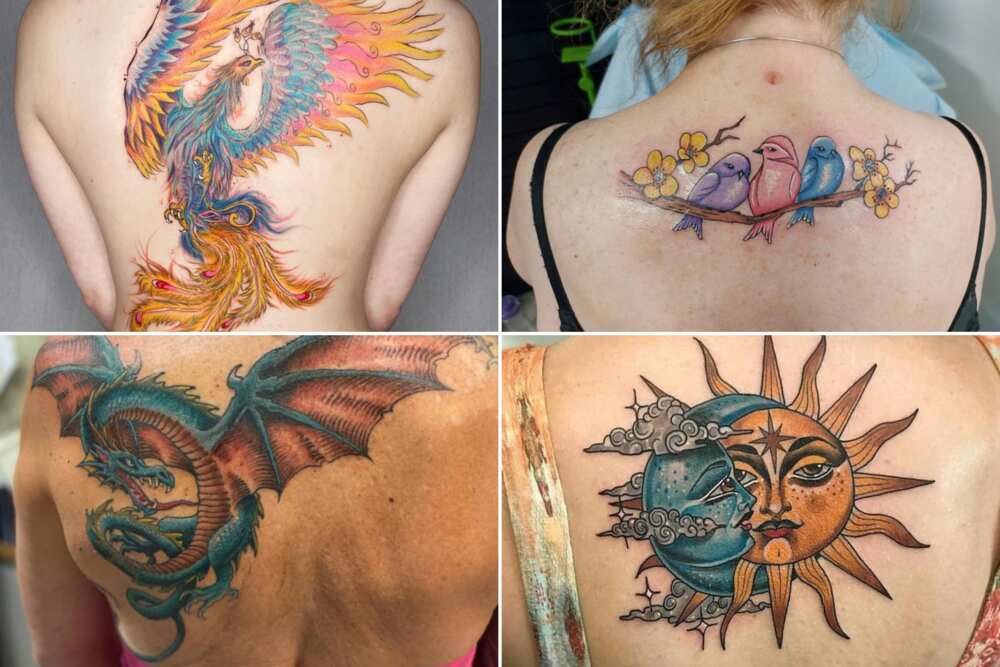 Are you tired of traditional black ink tattoos? Add a pop of colour to your ink with a coloured back tattoo. There are countless ideas to choose from when adding colour to your favourite tattoos.
You could choose a full-colour design, such as a vibrant landscape or intricate floral design, or opt for a more subtle look by adding pops of colour to a black ink design.
One popular option for coloured back tattoos is the watercolour style. This technique uses vibrant colours to create a fluid, almost ethereal design.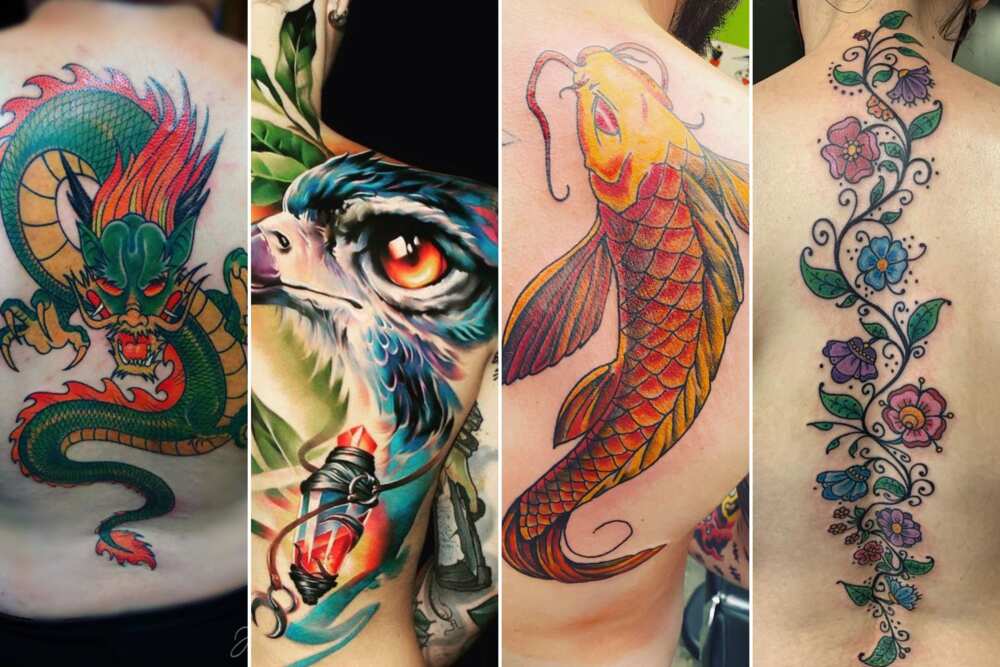 From a delicate cherry blossom tree to an intricate abstract design, a watercolour tattoo will make a statement. With endless colour combinations and design possibilities, the options for a coloured back tattoo are only limited by your imagination.
Women's back tattoo ideas are a bold statement of individuality and creativity. With so many styles and designs available, the options for personal expression are endless. From small, delicate designs to full-back masterpieces, women can make a statement with tatts.
Legit.ng recently published an article about Y2K fashion and how to wear outfits with style. This was a prominent fashion trend in the late 1990s and early 2000s. Any fashion fan will tell you that fashion and style constantly evolve with new trends.
Typically, the fashion cycle takes a decade or two to return. Y2K fashion, which was popular in the late 1990s and early 2000s, has made a comeback. Check out this post to learn about fashion and how to rock in it anytime.
Source: Legit.ng