50 best hobbies for men of all ages to add some meaning to life
Engaging in activities beyond work helps men to achieve balance and prevent burnout. That is why hobbies for men are essential as they contribute to their overall well-being, personal fulfilment, and a balanced lifestyle. Check out some of the best hobbies for men shared in this article to engage in when bored.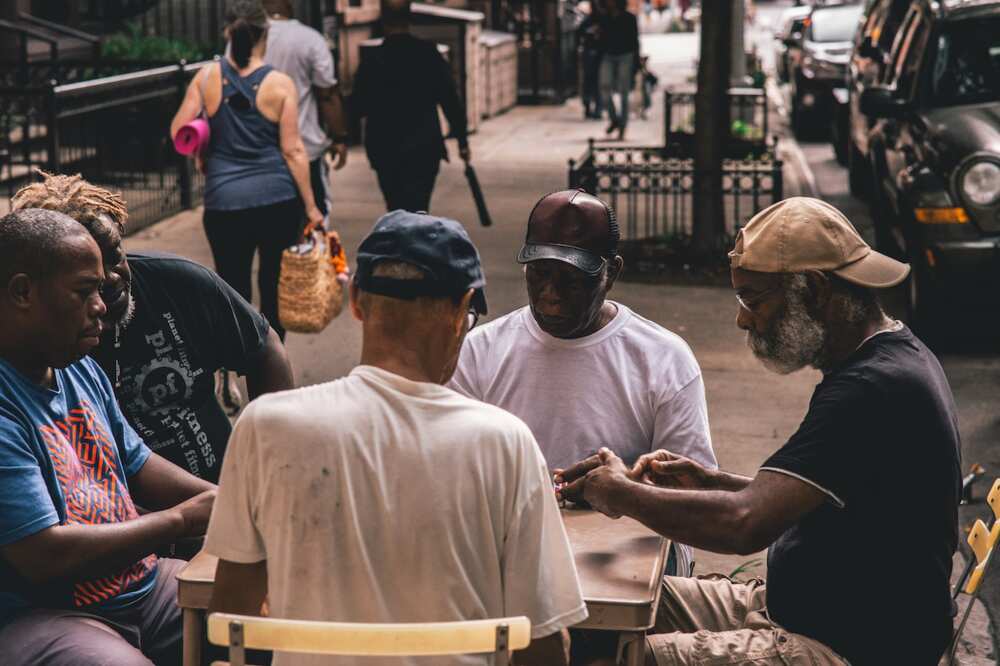 Many individuals engage in sedentary activities, spending a significant amount of time just sitting down. Why not try out something exciting and thrilling? These hobbies for men will help you bravely face your fears and grow as an individual.
50 best hobbies for men
Still curious about what to do when bored? Get inspiration from the list of cool hobbies for men shared below to add meaning to your life.
Hobbies for men in their 20s
Hobbies for guys in their 20s depend on individual preferences. Some of the new activities you can explore include:
1. Travel
Go somewhere you've wanted to. You can visit different countries, go to the beach, desert, and try need foods.
2. Learn an instrument
You can dedicate your time to learn playing any musical instrument if you are a fan of music. It can be a saxophone, guitar, ukulele, French horn or any other that interests you. Playing an instrument is a perfect way of expressing yourself through music and improving cognitive skills.
3. Bushcraft
If you are looking for outdoor hobbies for men, bushcraft should be on top of your list. This hobby will help you develop survival skills and self-reliance in outdoor settings.
4. Chess
Playing chess will boost your way of thinking and reading your opponent because it is a complex game. You can do so with friends. This hobby attracts those who enjoy the thrill of uncertainty and have a competitive spirit.
5. Learn to dance
The good thing about dancing is that everyone can learn the skill with practice. You can watch online tutorials on YouTube or join a local dance club to get the skills. Learning how to dance is fun and will also help you keep fit.
6. Learn a new language
When in your twenties, your mind is still active and grappling with learning a new language will be much easier. Doing so will open doors to new cultures, people, and personal and professional growth opportunities.
7. Learning a digital skill
Learning a new digital skill can be rewarding in the long run as it has the potential to earn you money. Examples of digital skills you can try are video editing, coding, digital marketing, copywriting and graphic design.
8. Rock climbing
This is yet one of the top hobbies men in their 20s can try. You can take the opportunity to spend time with friends or make new ones as you head out to the mountains.
9. Yoga
Yoga provides a holistic approach to physical and mental well-being. It is an excellent way of relaxing after a stressful day. Practising yoga occasionally will also improve your overall physical fitness, develop body awareness, and cultivate mental clarity.
10. Play video games
Playing video games is one of the male hobbies that is not limited by age. Doing so will not only be fun, but it will connect older generations with younger ones.
Hobbies for men in their 30s
Are you stuck finding good hobbies for men in their 30s? You need activities that stimulate your mind, spark creativity, and keep your body engaged.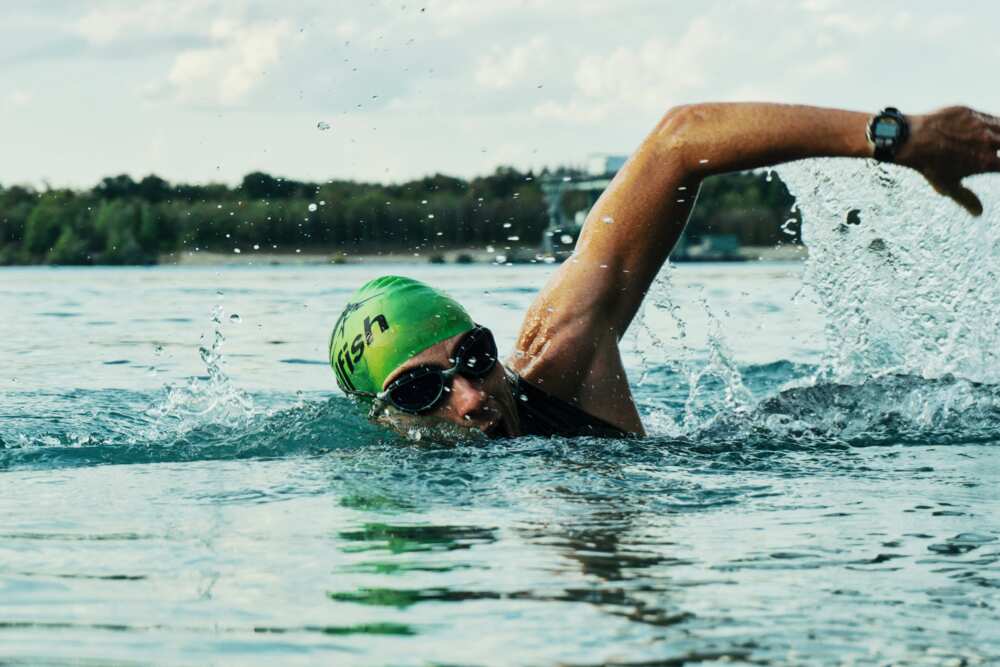 11. Retro gaming
Who says hobbies for men have to be serious? Try something fun like retro gaming. It involves an enjoyable revisit of classic video games and gaming systems from the past.
12. Swimming
Another invigorating and refreshing hobby for men in their 30s is swimming. Besides feeling refreshed and building muscular strength and endurance, there are other benefits as well.
13. Flying
Learning to fly a plane or helicopter is a thrilling hobby you should try in your 30s. It allows you to develop aeronautical skills, navigate through air, and embrace a lifelong passion for aviation.
14. Strategic Board Games
Strategic Board Games have been one of the top hobbies for men for centuries. The games challenges you to think critically, plan ahead, and exercise tactical prowess.
15. Home renovation
Most men in their 30s own their first home or are thinking of owning one. Learning how to do simple home renovation allows you to learn practical skills such as carpentry, painting, and plumbing.
16. Drawing
Drawing is one of the best indoor hobbies for men. However, you can do it anywhere, with only paper and a pencil. It is an excellent way of unleashing your imagination and artistic skills.
17. Ceramics
Ceramics and pottery combine the creativity of sculpture with the practicality of craft. Using a pottery wheel, you can use your skills to create your bowls, plates, vases, and more.
18. Jogging
If you want a health-focused hobby that will keep you fit, consider jogging occasionally. This is because the older you get, the more you need to consider taking care of yourself health-wise.
19. Golfing
Playing golf as a hobby is a great way to focus or blow off some steam mentally. It also offers a chance to socialize with fellow golfers, network, and build connections.
20. Model crafting
Spend your pastime combining all the fun of building and painting in one. The leisure activity will teach you all about precision, patience, and fine motor skills while constructing complex models from scratch-building.
Hobbies for men over 40
The following are examples of creative hobbies men over 40 can engage in. Although some require talent, with practice, anyone can get good at them.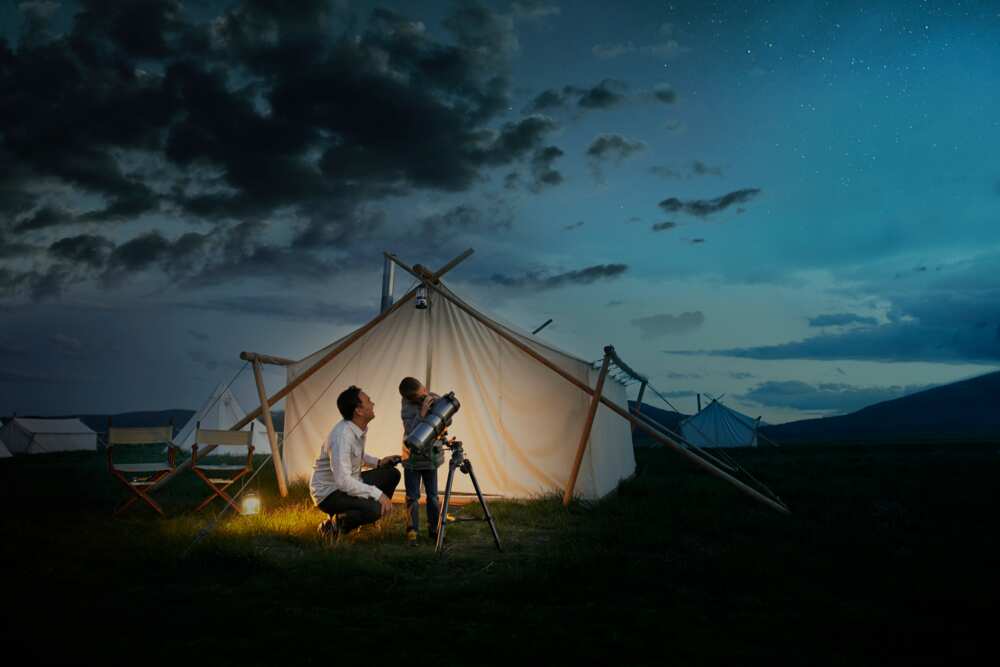 21. Landscaping
If you love working on the farm, you can design a section of your back- or front yard to enhance its overall aesthetic appeal. There are plenty of online tutorials on how to achieve different landscaping techniques.
22. Weightlifting
It is never too late to get in shape and enjoy doing it. Taking weightlifting in your 40s can be more challenging than in your 30s and 20s, but with work and discipline, you can get it done at any age.
23. Master some magic tricks
Learning a few card tricks or simple sleights of hand can be a great way to add energy to a party. All you need to do is master basic illusions that you can break out anytime.
24. Write a book
If you have an idea for a book, there is no reason not to write it. You can write anything from fiction, spy novel, poetry, or opinion books.
25. Biking
Engaging in biking activities will keep your muscles strong, and you will get to enjoy the outdoors. Improve your stamina by making it a habit to cycle alone or with friends.
26. Engine repair
Once you learn the basics of repairing small engines, you will never look back. Learning to fix everything from cars, lawnmowers, and golf carts will make you an invaluable asset.
27. Become an astronomy buff
Learn to read the night sky by studying some major constellations. You can also buy a telescope and enjoy watching the vastness of the stars.
28. Leatherwork
You don't have to take those worn-out shoes to the repair shop. Learn basic leatherwork by teaching yourself how to stitch, stamp, or add rivets.
29. Archery
Taking up archery as a hobby will help you develop concentration, hand-eye coordination, and mental clarity. It is a fun way of passing time with friends in the field.
30. Beekeeping
Beekeeping is one of the most engaging and rewarding hobbies for connecting with nature. It teaches you about the fascinating life of bees and helps develop practical skills in hive management, honey harvesting and other bee products.
Hobbies for men over 50
What are the hobbies of a 50-year-old man? Men over 50 should opt for activities that are friendly to their bodies. Check out the list of fun hobbies men over 50 can indulge in.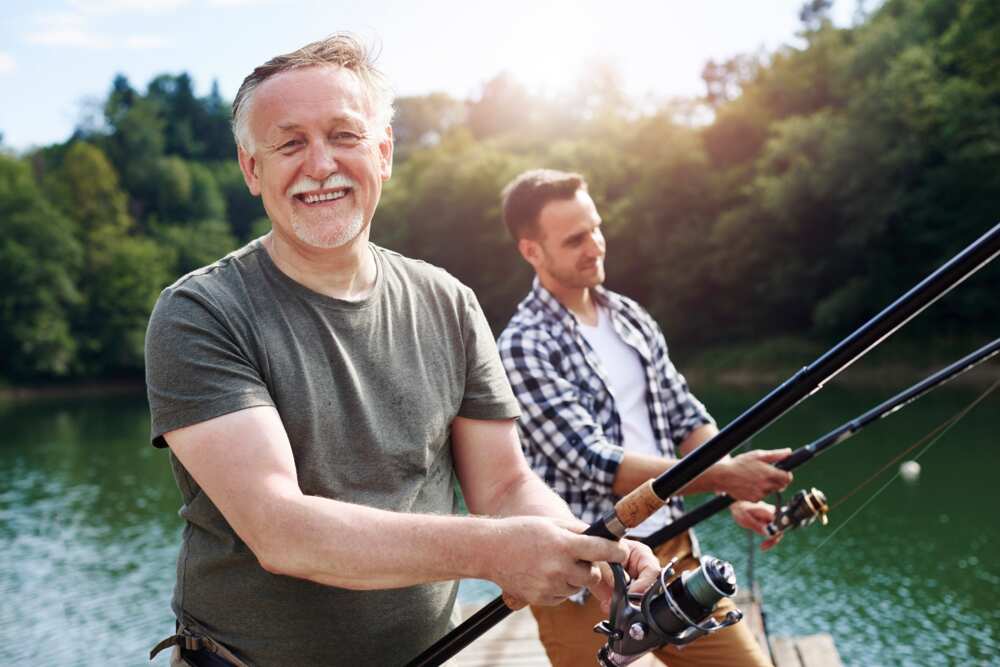 31. Tai Chi
Indulge in the martial art to refresh yourself physically, mentally, and spiritually. You also get to learn self-defence mechanisms.
32. Fishing
You can enjoy the great outdoors either alone or with friends. By adapting it as your leisure activity, you will experience new parts of your country and explore fresh rivers and lakes to get that big catch.
33. Flying drones
You need something relaxing and entertaining now that you are in your 50s. That is where flying drones comes in. You can also use your drone to capture stunning aerial footage or photographs.
34. Painting
To start, you need essential tools such as an easel, stool, and a palette. For inspiration, you can look for community classes from art supply stores or local colleges.
35. Winemaking
Learn how to properly store wine, make it using various fermentation techniques and craft wines that suit your personal preferences.
36. Metalworking
Get to use an arc welder to shape steal into unique sculptures, designs, or even working parts. You will learn practical welding, forging, casting, or machining skills, depending on the area you prefer to focus on.
37. Rum tasting
This hobby best suits men who have a passion for the drink. You will also learn about the history and cultural significance of rum and develop a palate for the tastiest spirit around.
38. Lego
Lego offers men a world of creative building and imaginative play. You can take an artistic bent and craft unique sculptures or build structures that withstand heavyweight and high winds.
39. Gardening
Gardening is one of the cheap hobbies for men in their 50s to try out. By shaping hedges and pulling weeds, re-potting plants, or creating paths, the hobby fosters a sense of responsibility and appreciation for the environment.
40. Woodworking
Why not try carving something out of a massive block of wood? Working with wood is a craft and art that creates a tangible connection between you and the wood. Once you master the skill, you can create enduring pieces that reflect your creativity and craftsmanship.
Hobbies for men over 60
Wondering which hobbies to try out when you are in your 60s or beyond? Have a look at the compilation shared below.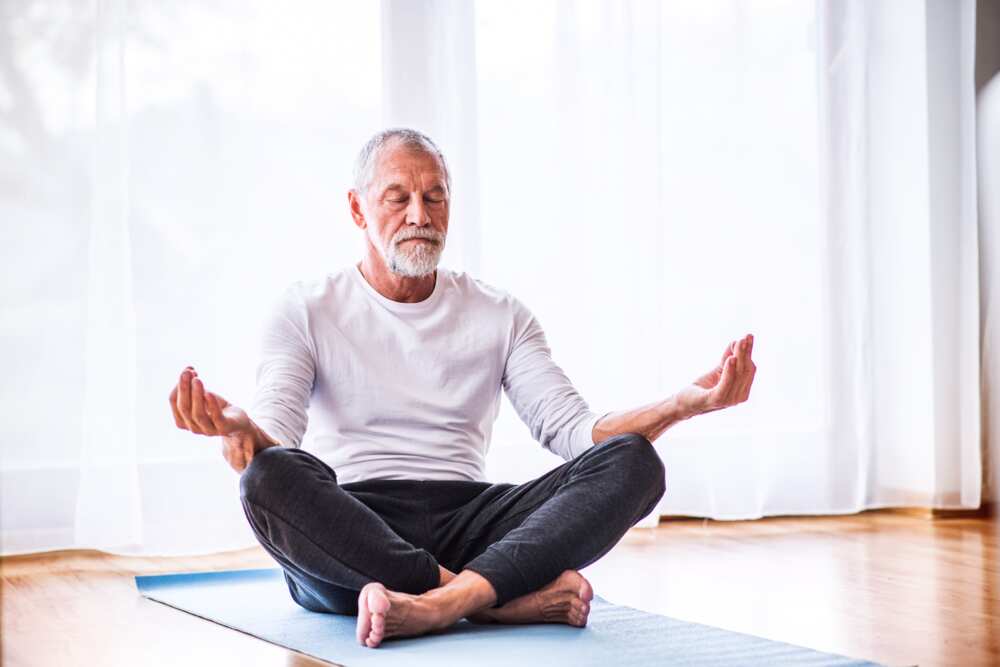 41. Solving puzzles
This one is a mentally stimulating and engaging pursuit for older men. You can play sudoku, jigsaw puzzles, or brain teasers.
42. Walking
Walking the dog, walking around the neighbourhood, or walking indoors at malls and museums
43. Join a community choir
This pastime is a great one in combatting loneliness or feeling isolated, which the majority of older people find challenging to deal with.
44. Jewellery-making
Men of all ages can do the hobby. It will allow you to explore your artistic side and create unique, personalized jewellery pieces.
45. Acting or theatre
Participating in community theatre or taking acting classes can be fun and engaging to explore your creative side and connect with others.
46. Cooking
Exploring new recipes, experimenting in the kitchen, and creating delicious meals can be a fulfilling and enjoyable hobby.
47. Meditate
Learning to meditate for men over their 60s is essential for many reasons. Among the most prominent reasons are cultivating mindfulness, reducing stress, and improving overall well-being.
48. Volunteer
Being generous with your time is a sure-fire way to improve your happiness. You can do so by helping the homeless, assisting at an animal shelter and doing other acts of generosity.
49. Scuba diving
It involves exploring the underwater world. Scuba diving promotes physical wellness by involving swimming and navigating aquatic environments.
50. Birdwatching
Spend your free time watching a variety of birds. It will connect you with nature as you develop a deeper understanding of their ecology.
Hobbies for men are supposed to be fun and stress-free. Hopefully, you will find something for yourself to keep you chirpy.
Legit.ng recently published an interesting piece about the coldest states in the US. The temperature in the US cold areas drops from zero to negative 30 degrees Celsius during winter. Most of the coldest states are located in the northern part of the country.
The USA is hot in the south and cold in the north. If you are planning to visit these areas, this list of the coldest states in America can be helpful.
Source: Legit.ng