50+ cool braided hairstyles for black women to try in 2023
Many hairstylists specialize in cool braid hairstyles for kids and adults. The best thing about these hairstyles is their versatility. You can attend a function, go to the office, or anywhere else with your cute hairstyle. Check out some of the cool braided hairstyles for black women to try out.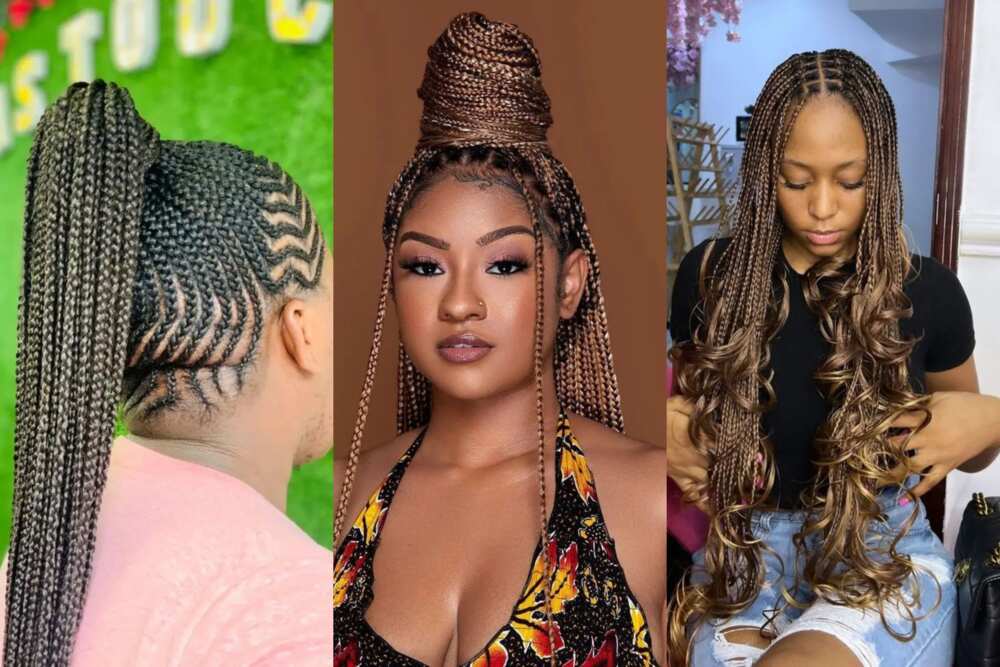 Braid hairstyles range from cornrows; faux locs to Ghanaian styles. They are integral to black culture's past, present, and future. Are braids in style in 2023? Yes, they are and will always be, regardless of the year. African braids hairstyles are simply timeless!
Cool braided hairstyles for black women
Women from around the world have worn braided hair for various occasions. Some wear them, while others prefer more intricate patterns and styling. Besides aesthetics, some hairstyles can protect your hair from damage and help you grow your hair longer and thicker.
What are popular braids in 2023? From these trendy braids hairstyles pictures, you can select your favourite and get options when you need to change your look.
1. Big and cute cornrows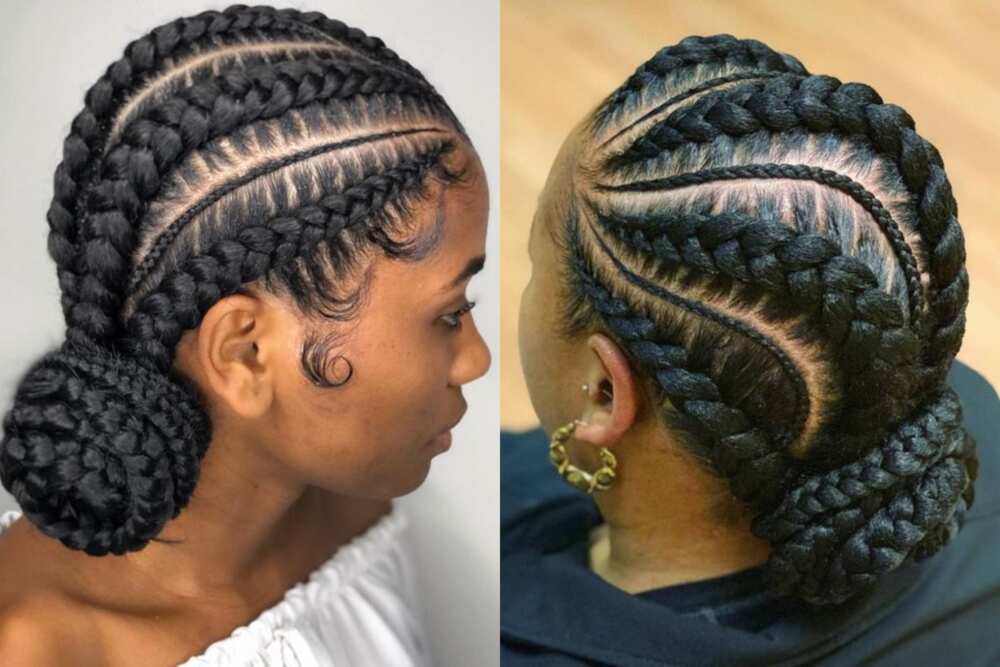 Front-to-back cornrow braids for black women are the most common way of styling hair in Africa. Some may consider it traditional, but it never goes out of style. Front-to-back cornrows are one of the best braids hairstyles for kids, especially if made thinner for school. Adults can make them thicker and bigger as they desire a trendy and stylish look.
2. Short box braid style
The best thing about short box braids hairstyles is the ease of styling and maintenance. You do not need a scrunchie to style them. Besides, you can play around with the extension colours for that elegant look.
3. Faux locs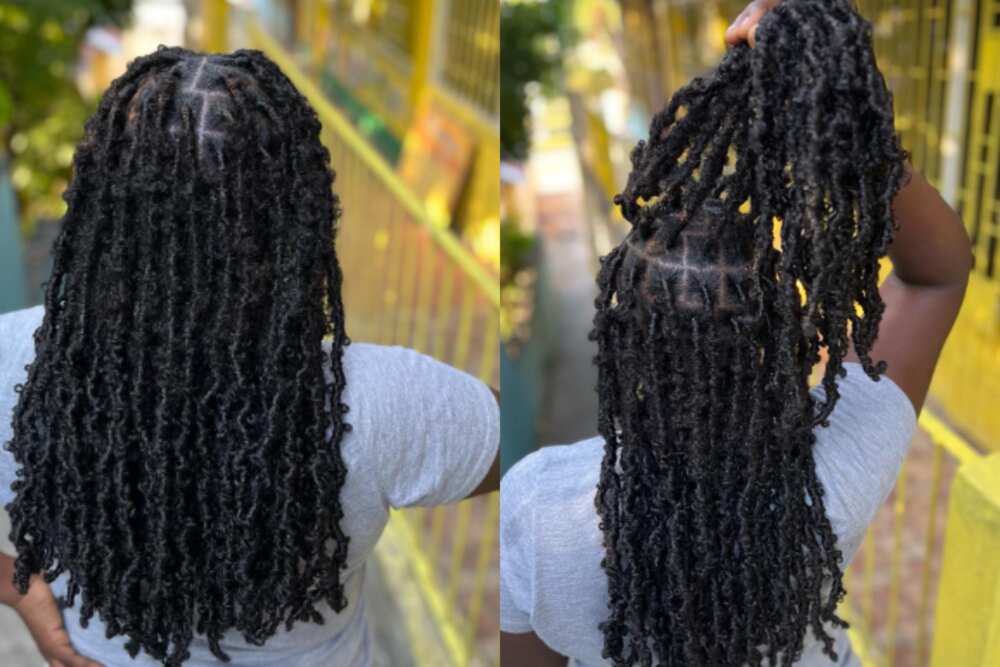 Faux locs hairstyles have been trending for a while now and are unlikely to go out of fashion. You will love how easy it is to maintain your faux locs because the ends are sealed to prevent fraying. This style is also ideal for any workplace or event.
4. Stylish invisible locs
The distinguishing feature of invisible locs is the open and wavy ends. This hairstyle is gorgeous and best for women who love long and bulky hair. The extensions also come in various colours for women who prefer coloured hair.
5. Authentic Fulani style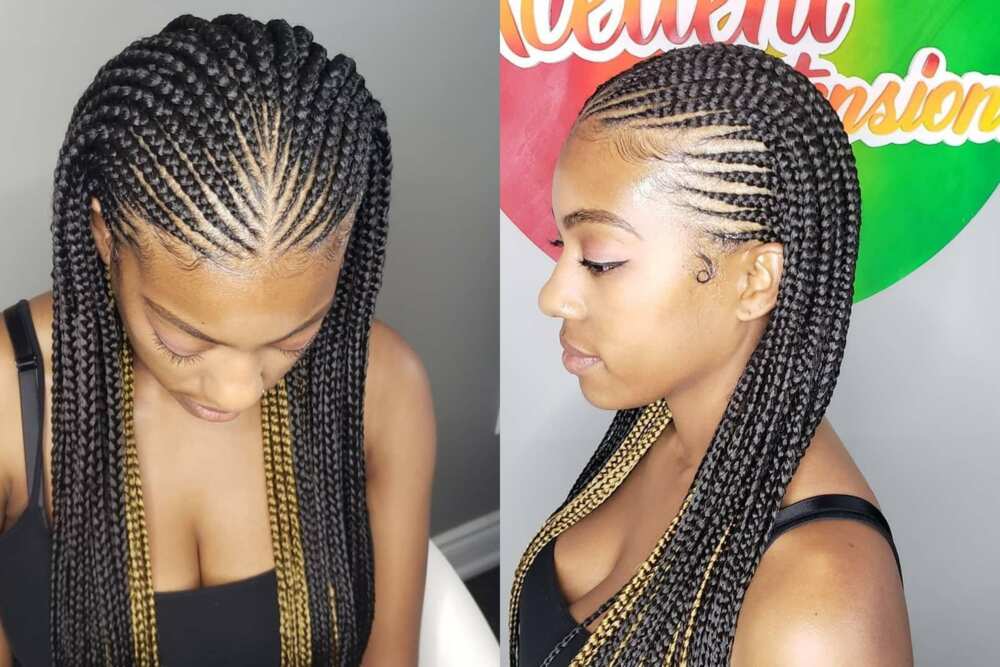 Did you know that Fulani braids are usually plaited flat onto the scalp, have a cornrow that runs down the centre of the head and is often decorated with beads or cowrie shells? Alicia Keys is known for her love for this style.
6. Long Senegalese twists
Gone are the days when natural braid styles had to be made of three strands intertwined in a specific order. Senegalese twist hairstyles are here to stay because they are stylish and fit for the modern and classy woman. You can have your twists done in your favourite hair colour, and they are easy to style.
7. Cornrow bun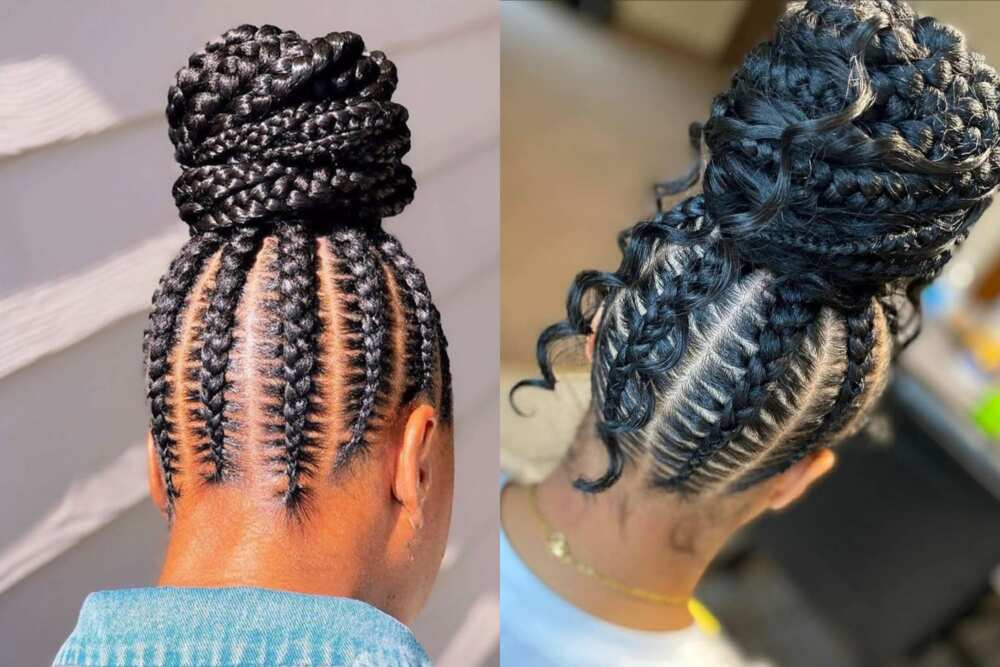 The cornrow bun is one of the most common hairstyles because it requires minimal maintenance and styling. It is ideal for the office or any lady who does not like hair falling over her face. The cornrows can be made thick or thin.
8. Afro updo with braids
Who said you cannot mix two styles in one? With this updo, you can rock your mane in an afro and still enjoy the cool braided look. This style is ideal for the holidays, and Christmas is around the corner. You have to try this!
9. Thick and wavy Ghana braids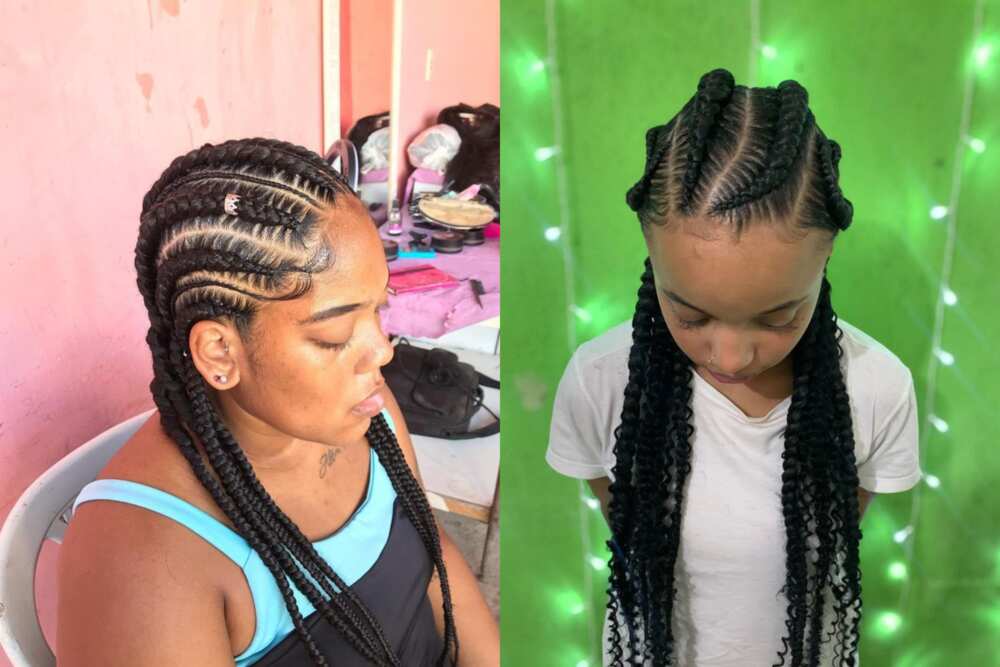 This is a great variation of the traditional natural cornrow hairstyles that start at the top of the head downwards. The twisted and wavy style makes them look more classy and ideal for the fashionable working-class woman.
10. Bantu knots
These spiralled knots are an interesting style and are ideal for a vacation in a hot or humid area. The style keeps hair off your face and is a good choice because it is categorized as protective. It can be done on natural hair or with hair extensions.
11. Feed in braids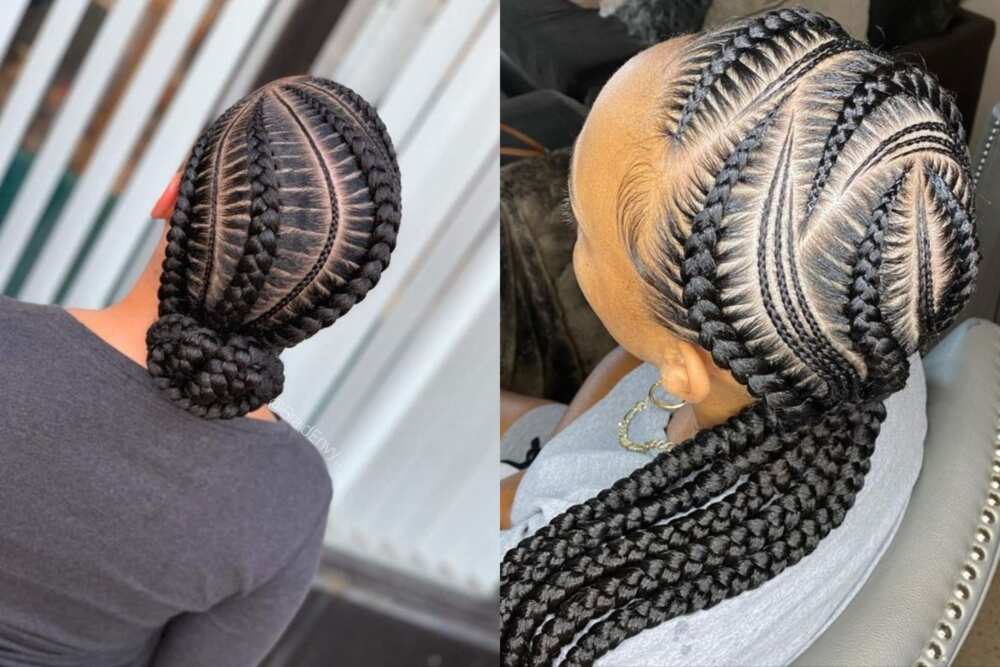 Feed-in refers to a knotless style of doing hair that protects your edges from damage. Synthetic extensions are added to the natural hair beyond the start of your hairline to create an illusion of naturally thick braids.
12. The ombre look
The ombre look plays around with the shade of hair extensions, which gradually graduate from the darkest shade to the lightest. It is the in-thing in 2023, especially among females in their teen and early adulthood years.
13. Cornrows with curls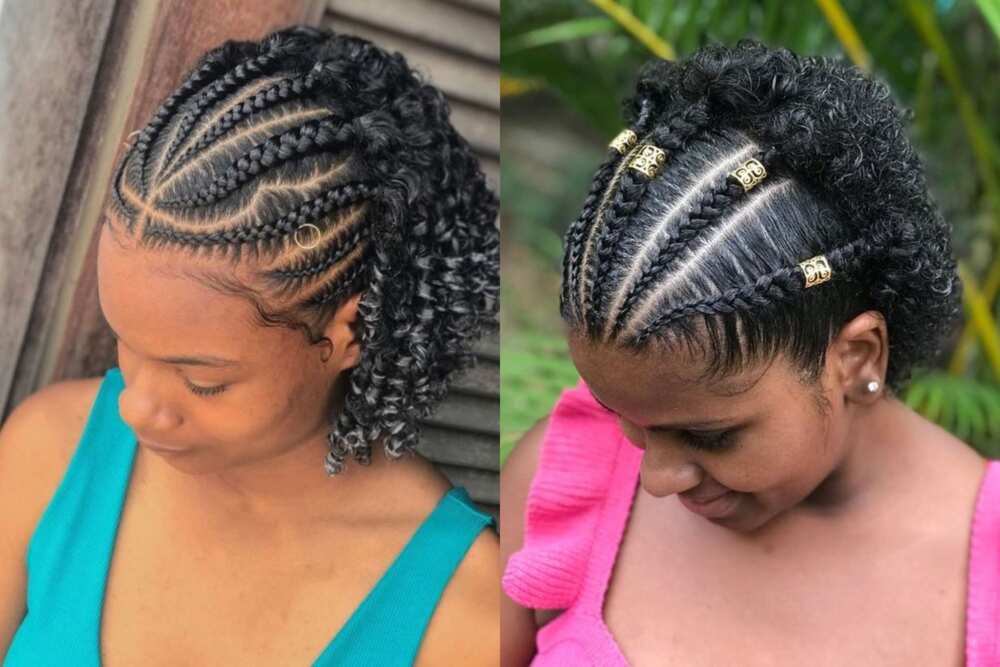 Who said that you cannot combine cornrows with curls? A good stylist can help you combine the two to create a stunning look. This is a versatile style that can be adjusted to suit the shape of your face. The curls can also be made using natural hair or curly extensions.
14. Zigzag cornrows
These are a great variation of traditional cornrows. Instead of hair being in straight lines, it is sectioned in a zigzag manner. The result is fantastic; both men and women can wear these cornrows.
15. Ghana stitch braids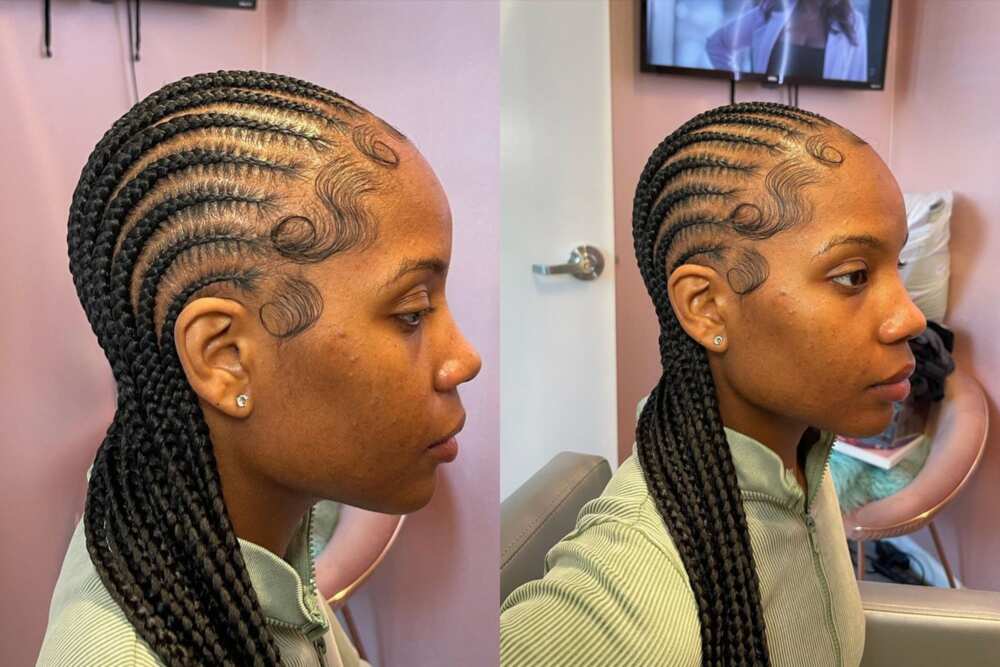 This design is achieved using the stitch-in-braiding technique, where hair is divided into thin or thick horizontal lines before the cornrows are done. It creates a beautiful stitch-like pattern that is eye-catching.
16. Chic super-jumbo cornrows
Are you tired of regular thin or medium-size cornrows? Very thick ones are a great and welcome change. Beware! You will require many more extensions to achieve this look, and they may feel a little heavier than usual.
17. The snaky look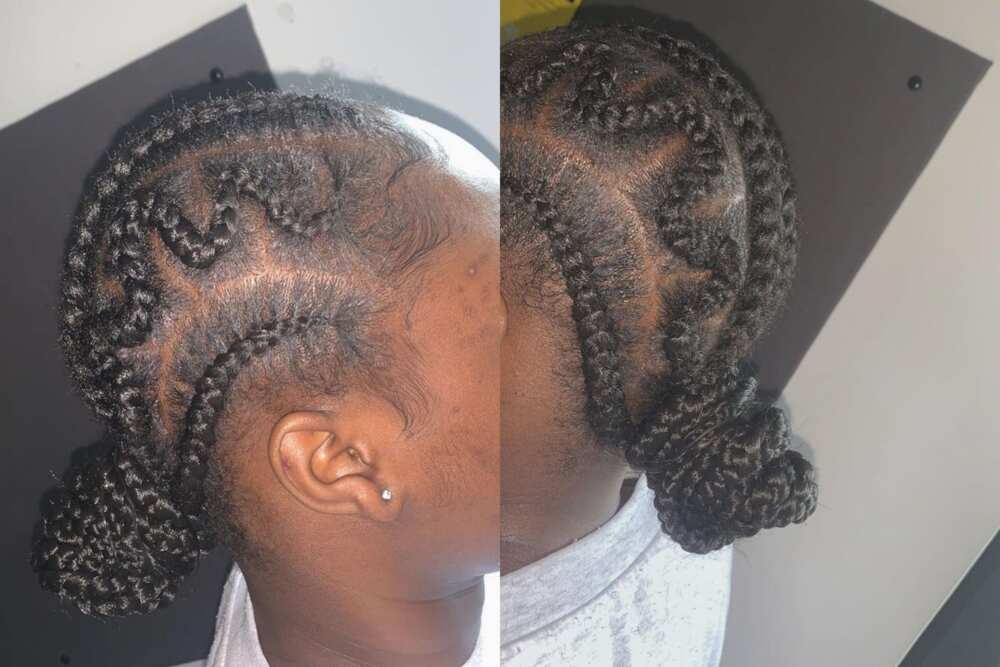 This intricate design requires patience and expertise to create. It resembles a meandering snake hence the name.
18. Chunky and gorgeous
This look is ideal for people who love wearing braids but hate undoing them. Hair is sectioned into several large sections using a larger-than-normal amount of extensions to make each one thick. Although this look is gorgeous, it tends to unravel or become shaggy after a short period.
19. Mohawk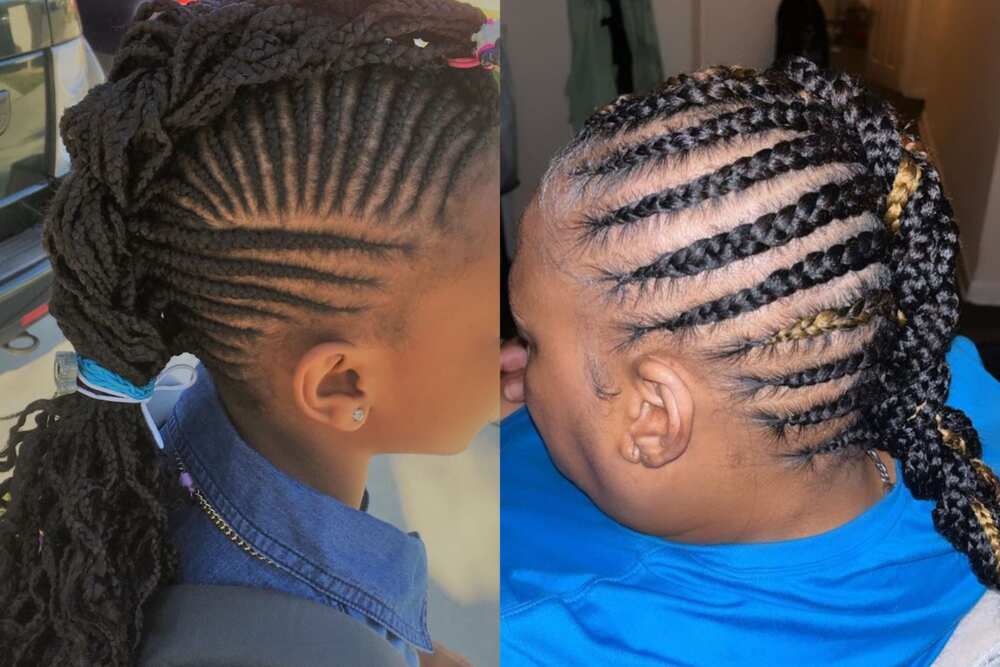 Yes, you can rock your mohawk in 2023! This look never goes out of fashion and is ideal for the bold and daring woman.
20. Loopy Ghana cornrows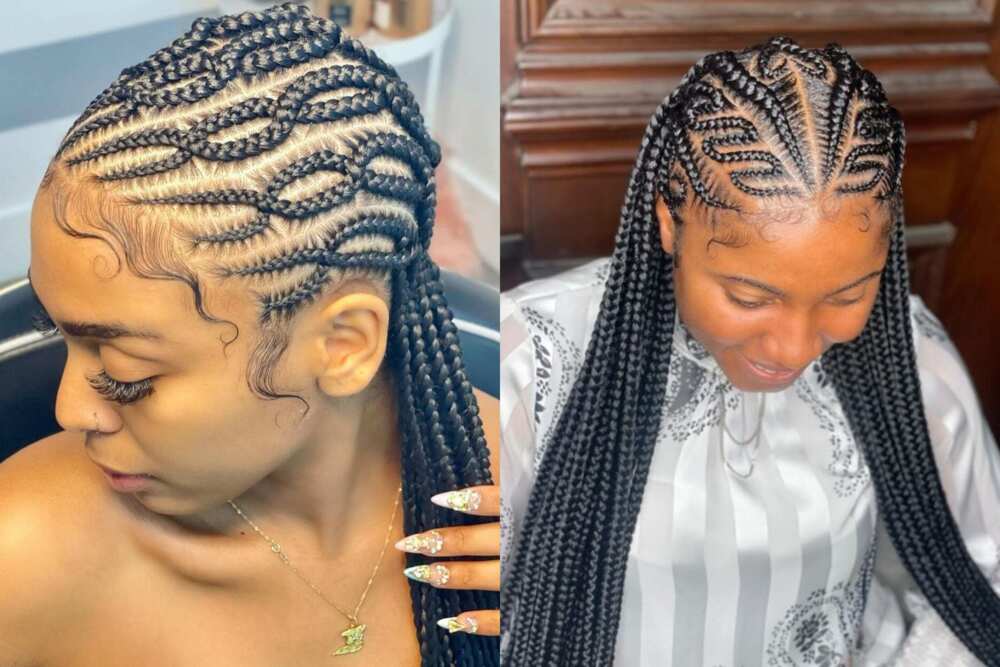 Getting looped cornrows will make your friends envy you. This look is for the modern, trendy woman unafraid of trying new things.
21. Extra long braids
Extra long braids create a magnificent look ideal for social gatherings or other events. The ends can either be tied into a bun or left hanging, depending on your preference.
22. The bob style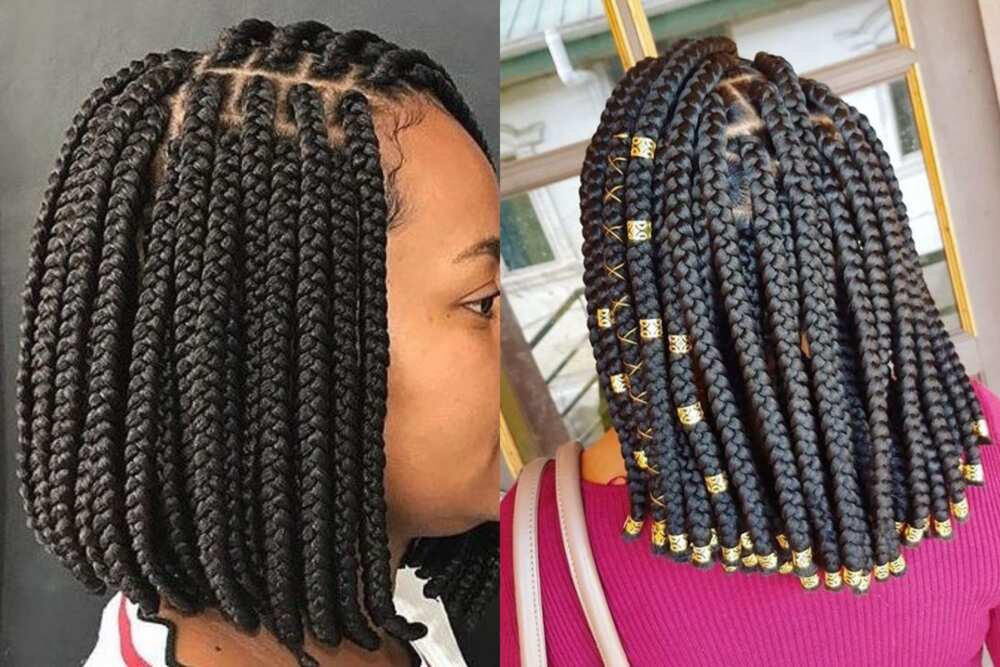 This African hairstyle is fantastic. It is important to know the shape of your face before styling your hair. You can use various coloured braids or simply black ones.
23. Medium length with curls
You can go for this style that is simple and elegant. The curls add more beauty, and the shoulder-length braids are just ideal for any given occasion.
24. Braids with beads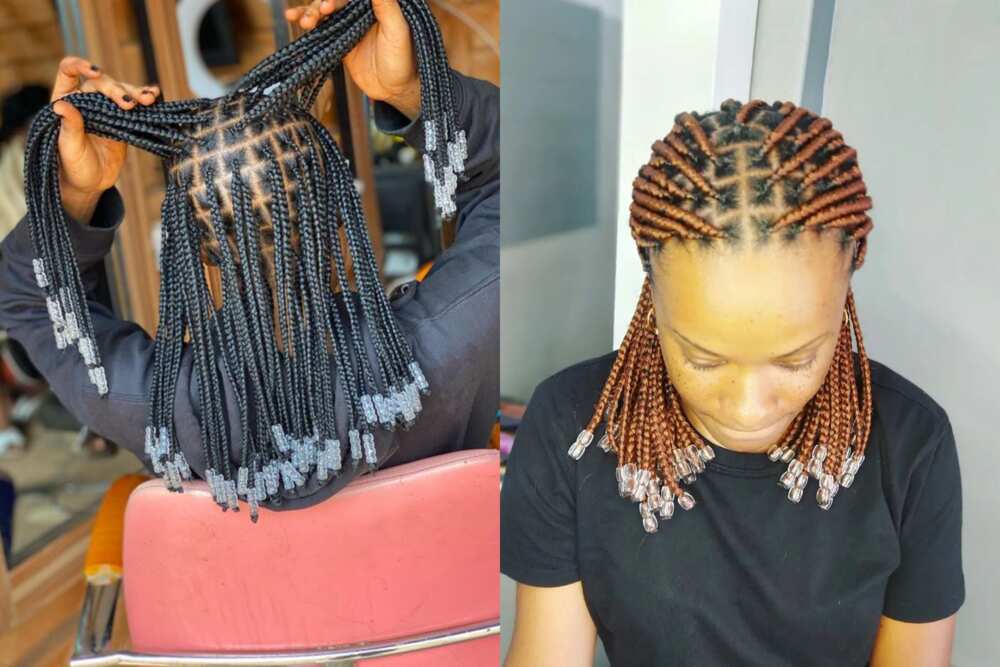 For a more subtle look, try black braids with clear beads. They provide a stylish and girly appearance, while the clear beads add a touch of sparkle to the style.
25. Thin cornrows
This is a great alternative to the medium and thick cornrows that many African women wear. Thin cornrows are best for women with long natural hair because extensions tend to thicken the braids.
26. The rainbow look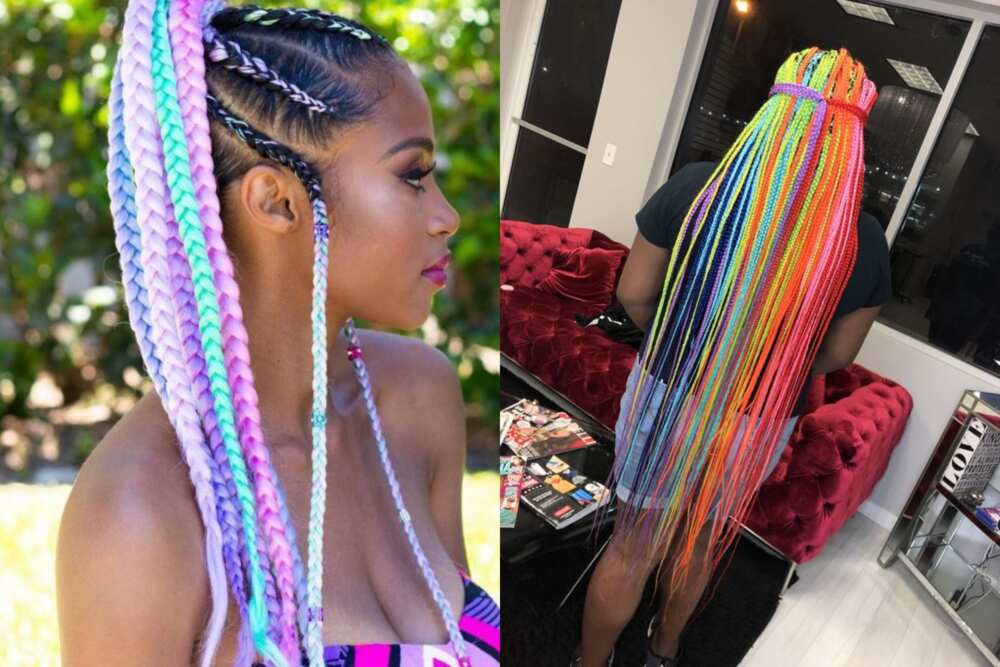 This look will make heads turn wherever you go. It particularly appeals to young girls and teenagers who like trying new things and keeping up with trends.
27. Microtwists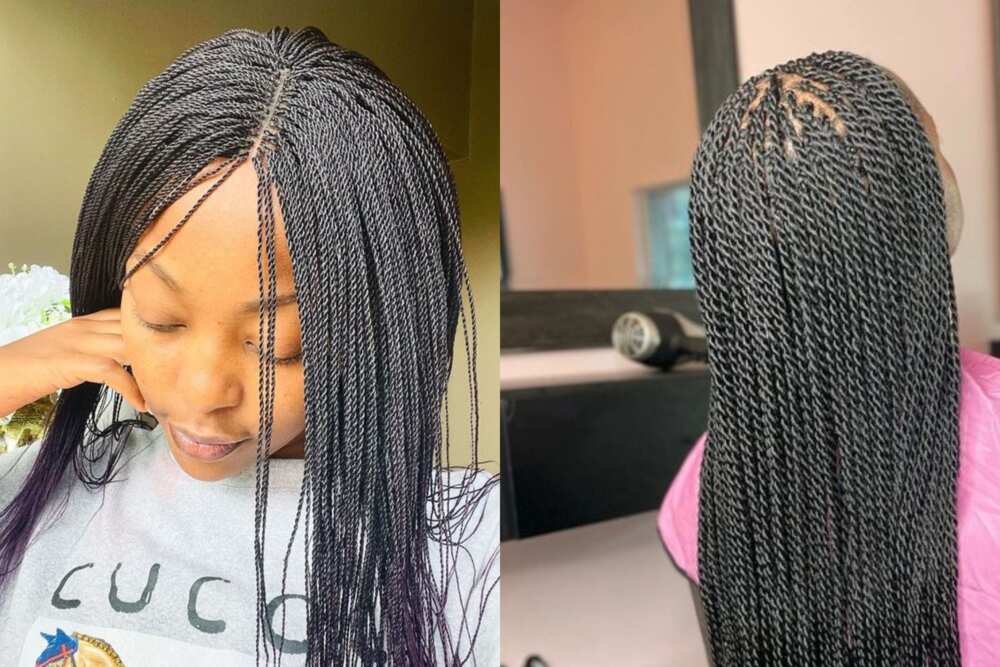 This is a Senegalese style, also known as rope style. The hair is divided into small sections, and thin extensions are added to achieve this look. You will spend a few more hours at the salon for this look.
28. Curly twists
Curly twists are similar to micro-twists, only that curly hair extensions are used and done in medium sizes. You can always choose different-coloured hair extensions, depending on your preference. This is one of the short braid styles that can serve you for a while without getting damaged.
29. Jumbo Senegalese twists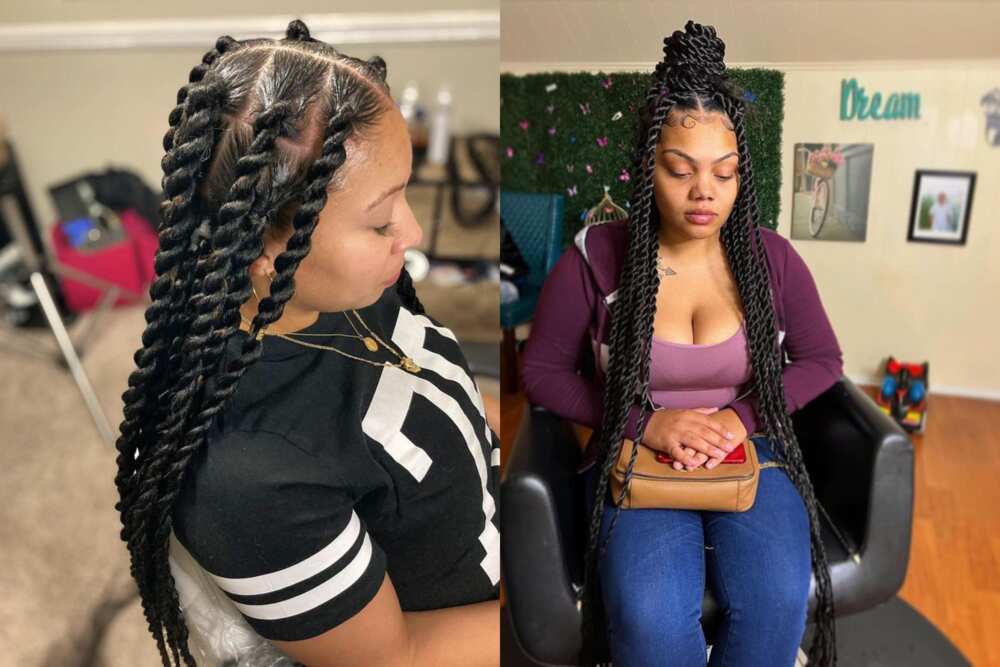 Senegalese twists can also be done in jumbo size. You will need more extensions like any other jumbo style, but the result is to die for.
30. Bold black
This is another bold style for a person who loves to command attention. The addition of metal beads makes the style more visible hence worth paying attention to.
31. Cornrows enclosed by headband braid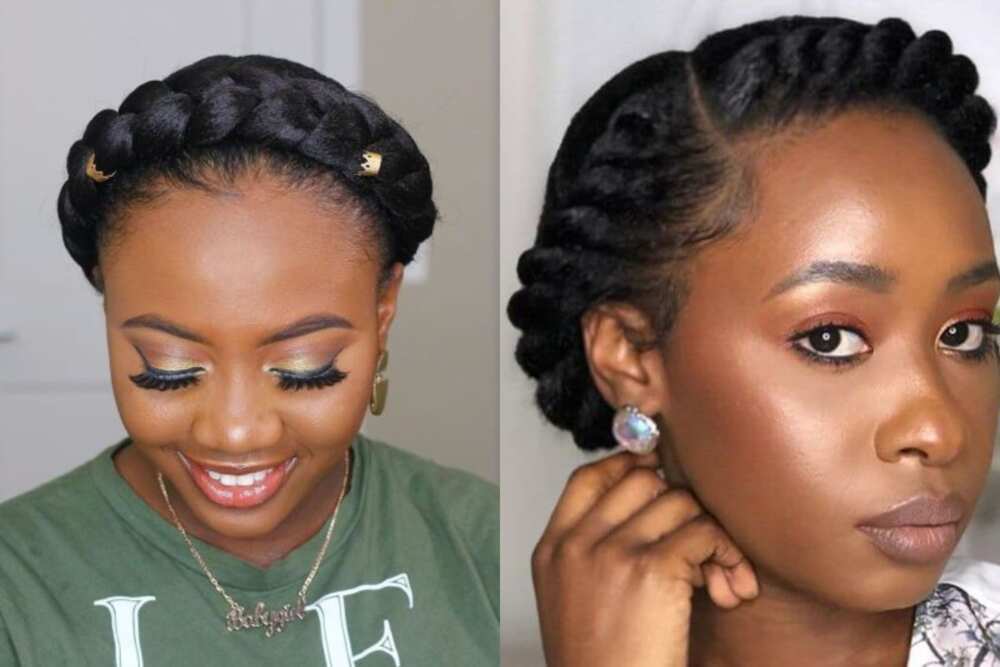 This fun protective style tucks away your edges and protects them from breakage. The large headband calls for attention. This look is a must-try before the end of 2023.
32. Criss-cross goddess braids
When looking for a fuss-free hairstyle that gives your hair a much-needed break or an ideal style for beach getaways, criss-cross goddess braids fit the bill. They're simple to do and easy to undo and don't take up too much time.
33. Dynamic side-swept cornrows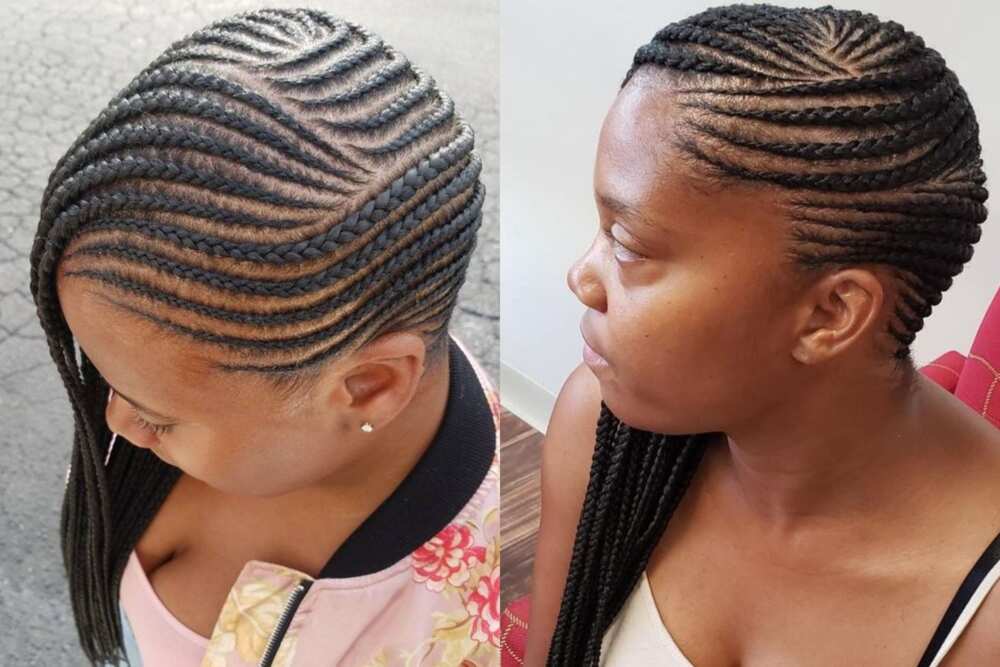 African adore the fashion of dynamic side-swept cornrows as they serve the purpose of shielding their hair. When the braids are braided, they can remain untouched and untamed for multiple weeks.
34. Side swept with a heart
This is a simple look where the cornrows are done in a side-swept design. It's an easy and simple style to maintain.
35. Asymmetrical goddess braids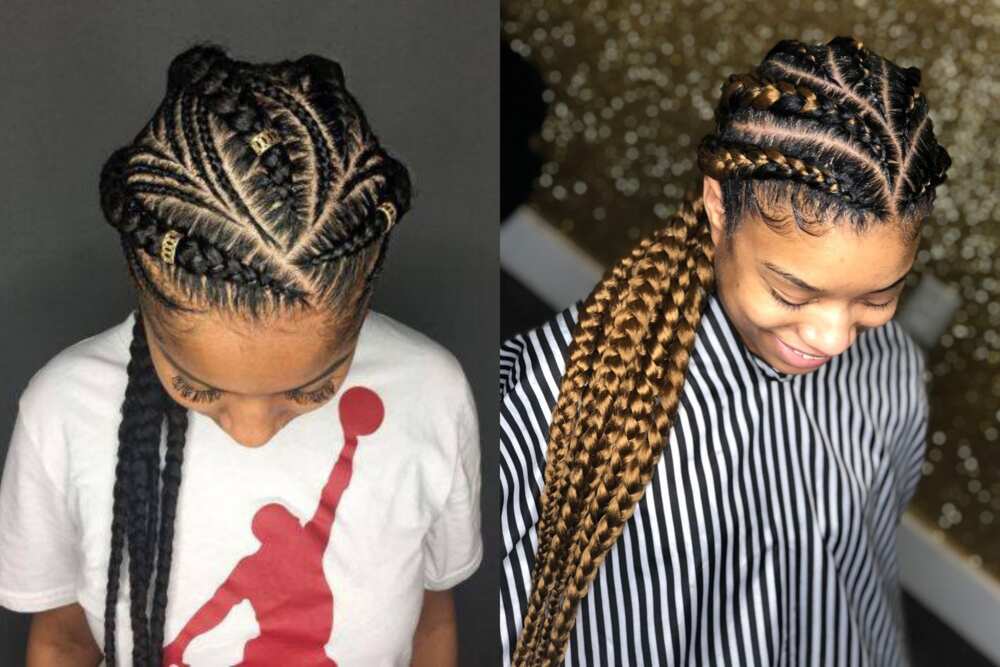 Give texture and dimension to your braid hairstyle by mixing different-sized plaits. By combining thicker and thinner braids, your look is anything but predictable - and far more exciting than the typical plait!
36. Neatly braided cornrow
The braided cornrow is an attractive yet practical hairstyle. Whether you go for a down-do or the glamorous design pictured above, this sleek style suits everyone and any situation.
37. Symmetrical feed-in braids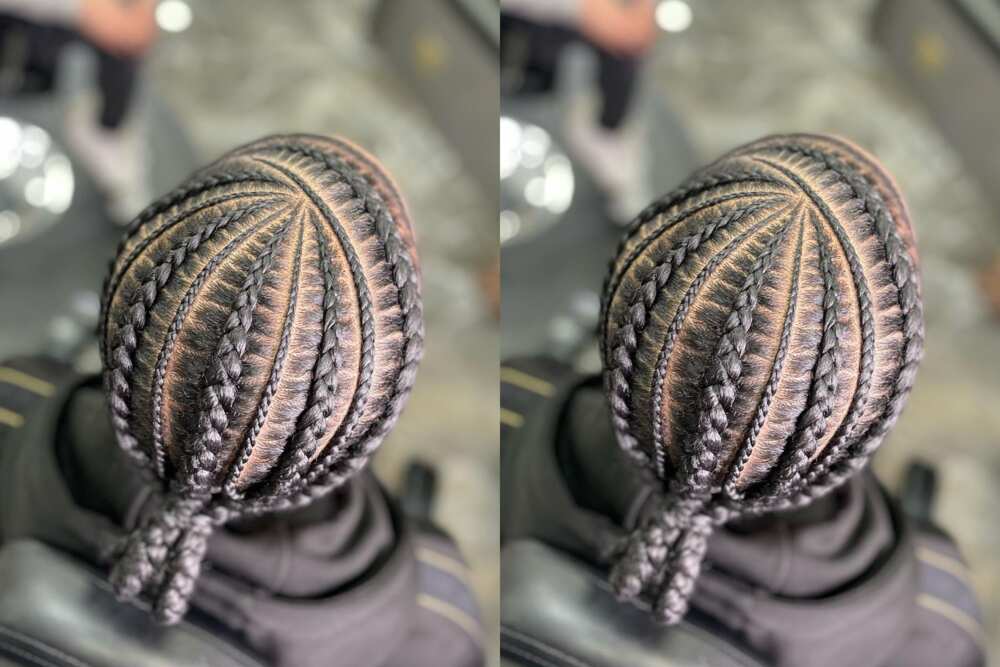 Cornrow braiding can look neater and more natural with the feed-in technique, creating a flattened point along the hairline with less bulk and tension, safeguarding the delicate edges. This styling is easily achieved at any African hair salon.
38. Braided ponytail
Plaiting hair offers many opportunities to create captivating protective styles, yet the heaviness of single braids can sometimes prove tiresome. To avoid placing too much strain on your edges, why not try chic African ponytail braids instead?
39. Elegant braided black updo braids
Elevate your cornrow ponytail with a tiered bun for an attractive, contemporary look. This alternative to the traditional bun will add interest to your hairstyle.
40. Jumbo braids
Give yourself a more creative and bold look by experimenting with various braid styles instead of opting for the normal look. This way, you can flaunt your edginess without compromising on the length of your hair.
41. Cornrows going back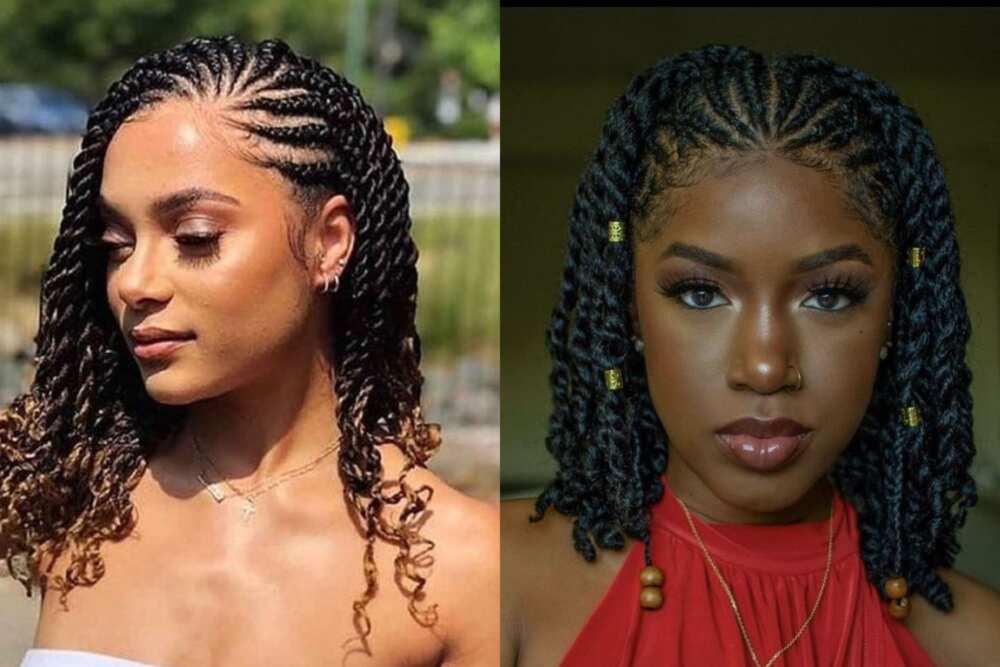 A popular method to make any style stand out is alternating between big and small cornrows. Additionally, having curved sections in the front gives the look an added aesthetic. Moreover, the convenience of allowing the braids to fall back is why this hairstyle is a clear favourite.
42. Two-braids
Achieve a signature look by adorning your hair with plenty of braids into just two lines. Begin by braiding two small lines on the sides, then combine them into two voluminous braids.
43. Half-updo with long freely-hanging braids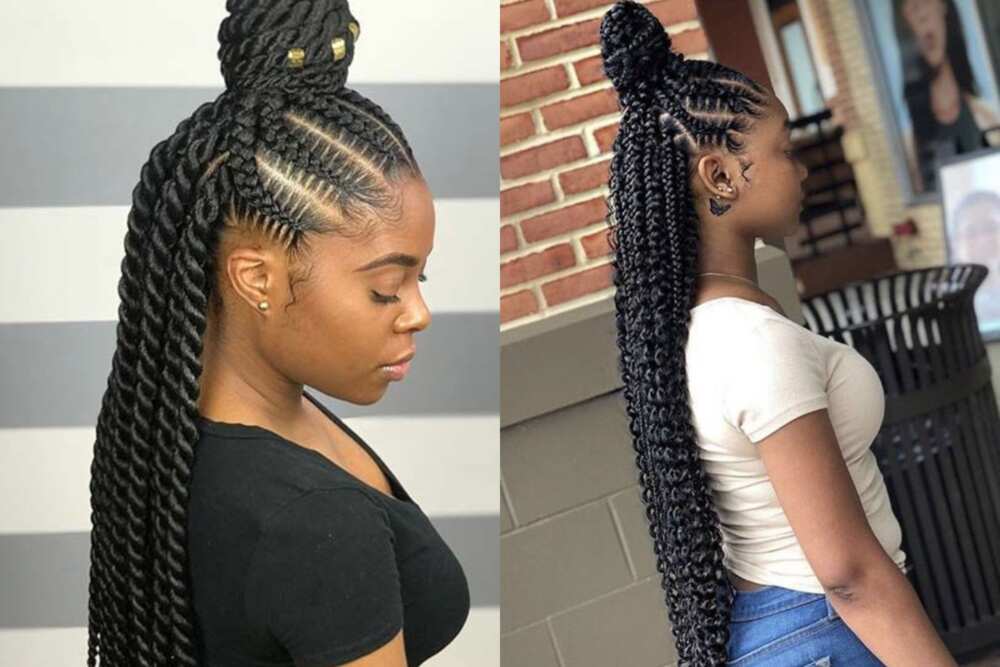 During the warmer months, African American women typically choose long-braided Ghana weaving hairstyles. If you want to spruce up your look, consider a half-updo style that provides a flattering volume at the crown.
44. Blonde braids
This hairstyle is a creative and thought-provoking design. The loss curls further refine the overall appearance.
45. Perfect bold-coloured braids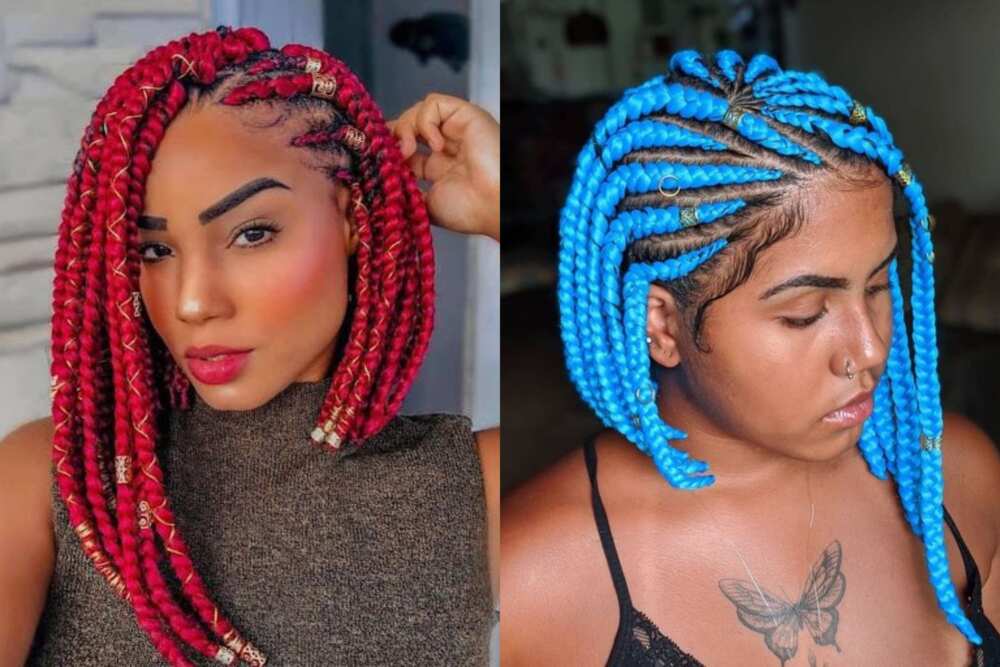 Looking to give your hair a break while maintaining the length? Braids are the perfect style to try. Bob braids are easy to take care of and keep your hair off your face, so you don't have to worry about dealing with pesky strands as you go about your day.
46. Chunky white and black
Chunky braids are fashionable for African-American hair due to their thicker structure. Furthermore, there are various ways to switch up the style - from plaiting it down the back to styling it into a classic bun.
47. Curly bob braids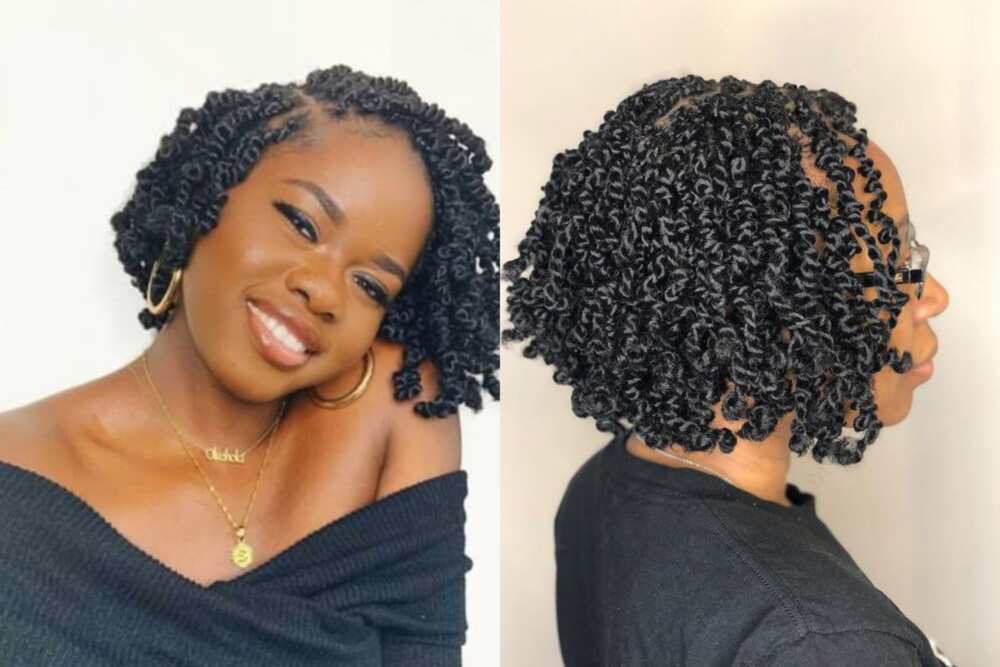 For a simple yet elegant look, try curly braids styled as a bob. It gives a more mature look with a touch of modern flair.
48. Crochet butterfly locs
Crochet butterfly locs provide an easy alternative to the style you want. Plus, you have various styling choices to go for.
49. Heart-styled braids
Instead of having the normal laid-back lines, you can decide to style a section into a heat shape as shown above. You can do it on both sides.
50. Cornrows with a high pony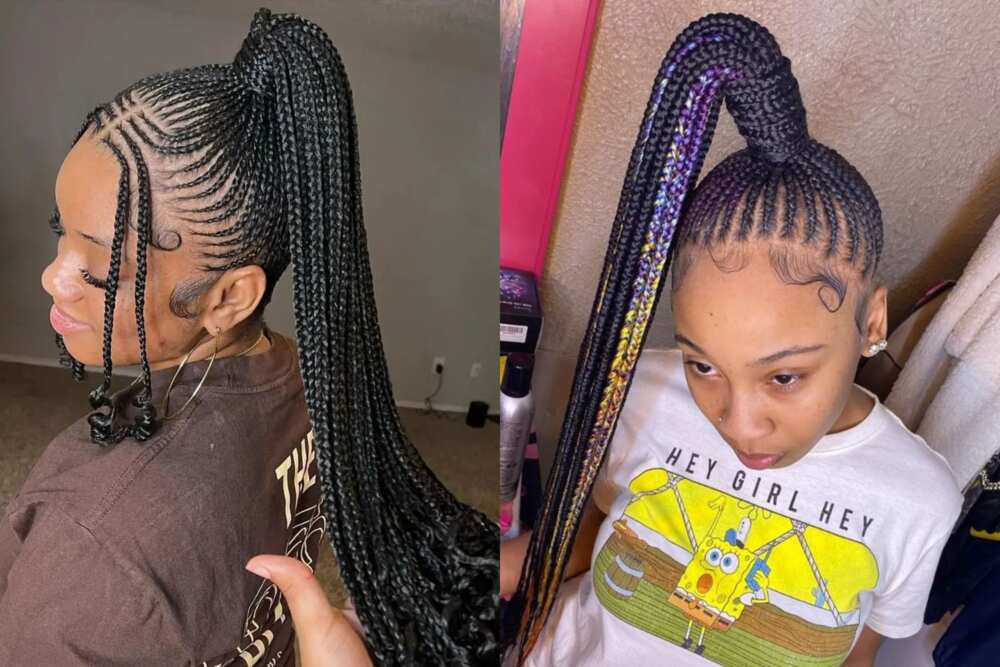 For those on the go, a high pony provides an effortlessly chic style with little effort for the morning routine. Whether for work or leisure, it offers a comfortable, stylish look with no fuss.
51. Feed-in bun with Ghana braids
Revamp your style by transforming your Ghana braids into stylish bun. With their luxurious thickness, Ghana braids can produce a voluminous, eye-catching bun that is perfect for special occasions and work days.
52. Fancy updo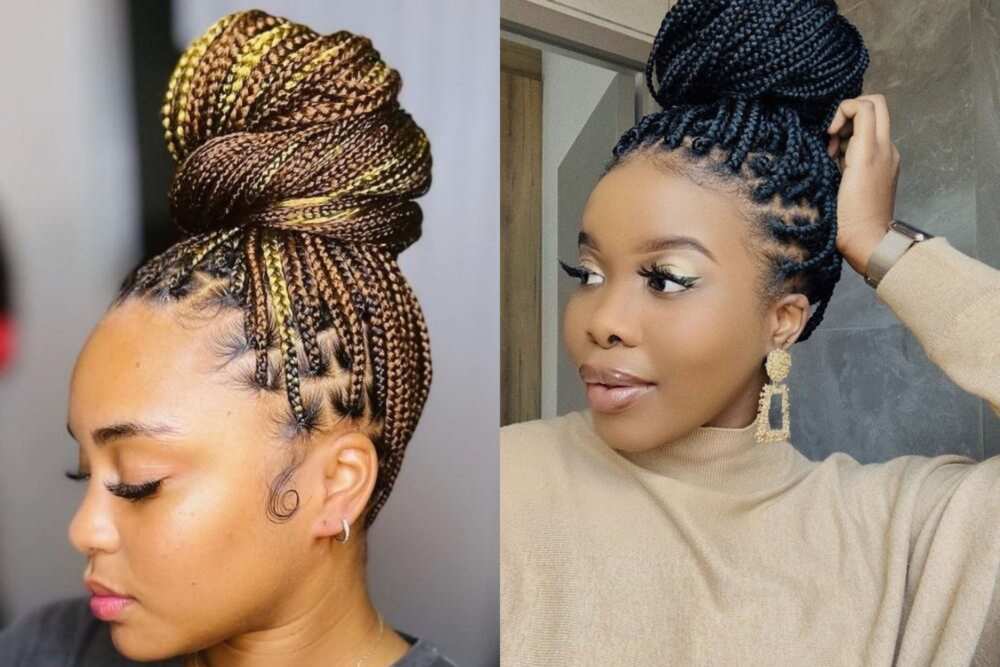 Updos are synonymous with an air of sophistication, and this twisted style utilizes texture to make the look even more unique and unexpected. Perfect for women with natural hair who desire protection and an elegant aesthetic.
African women have worn braided hairstyles for years. These styles are attractive and versatile. You can rock in any of the above styles for any occasion.
Legit.ng recently published an article about the richest musicians in Africa. These accomplished artists are known for producing high-quality music and putting their best foot forward in their music careers.
They rake in significant amounts of money from royalties, brand endorsements, music production, and other businesses. They are proof that the entertainment industry in Africa pays well if one is hardworking and committed.
Source: Legit.ng