50 meaningful mother-son tattoos to commemorate your bond
A mother is a special parent to a child as she is the first contact they have before birth. The relationship is special between a mother and her son, and there are various ways to show this bond. Getting meaningful tattoos is one way to show love and connection. These are meaningful mother-son tattoos to commemorate your bond.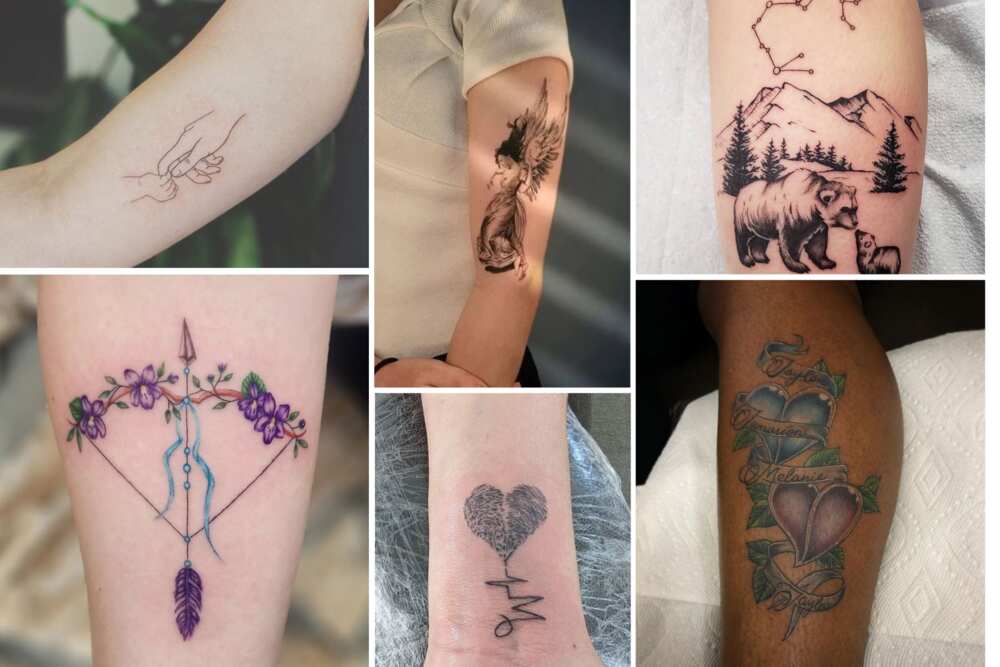 One of the strongest relationships is between a mother and her son. It is, therefore, a great idea to commemorate it. What better way than to get a tattoo that is meaningful as a reminder of the bond? From matching to minimalist tattoos, here are some great ideas you and your son can present to your tattoo artist.
50 meaningful mother-son tattoos
Tattoos are a great and cool fashion statement that has been popular for centuries. They are even cooler when they have a meaning behind them to commemorate a special relationship. Here are meaningful mother-son tattoos.
1. Music notes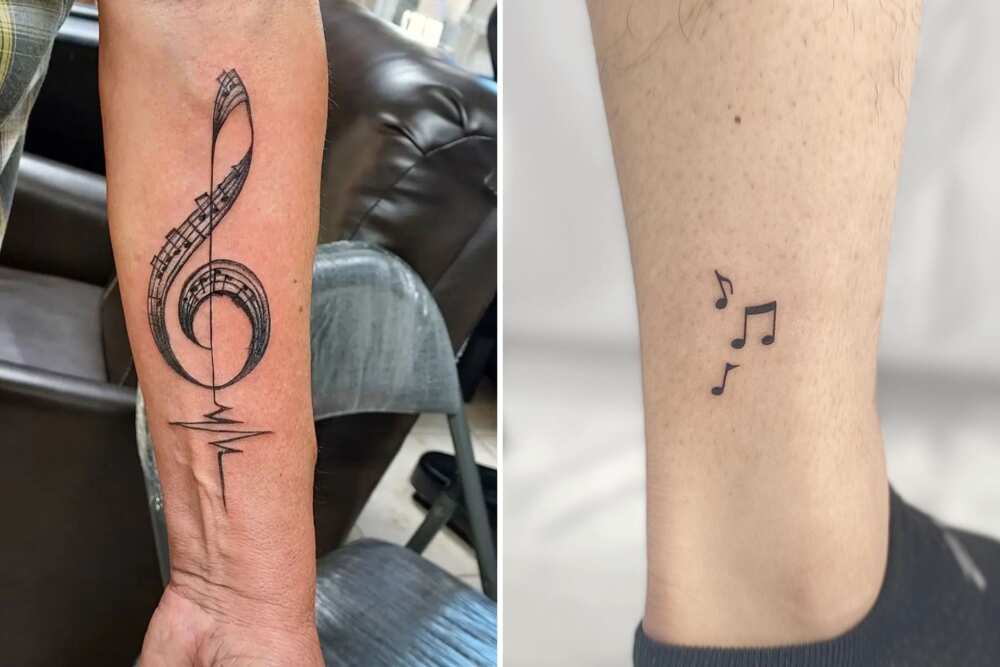 Music notes are great artwork for mother and son tattoos, especially for music lovers and musicians. Get this design inked, as it is simple and cute.
2. Anchor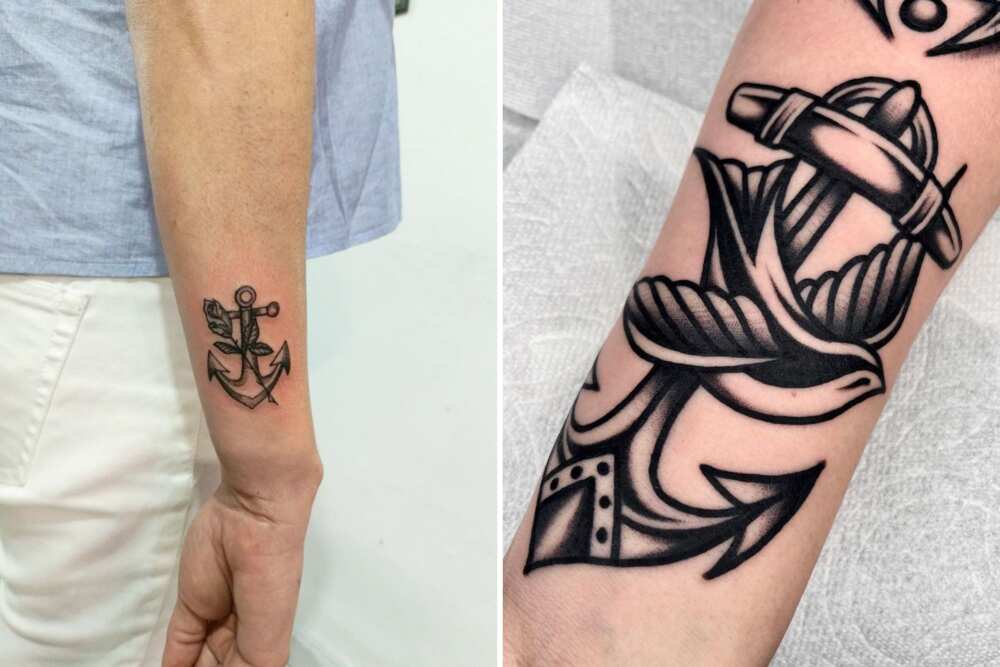 An anchor symbolises stability and safety, synonymous with a mother-son relationship. Get a pair of anchor tattoos as proof that you are each other's safety net.
3. Flower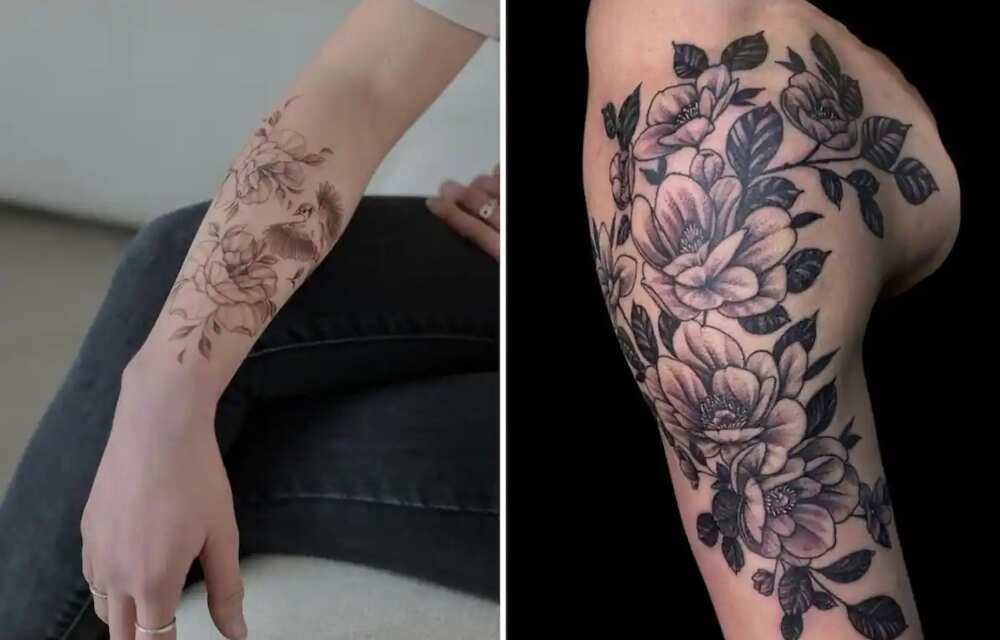 Flowers symbolise purity and beauty, which can be attributed to a mother-and-son relationship. You can choose this eye-catching design and ink both of your names to complete the flower tattoo.
4. Heart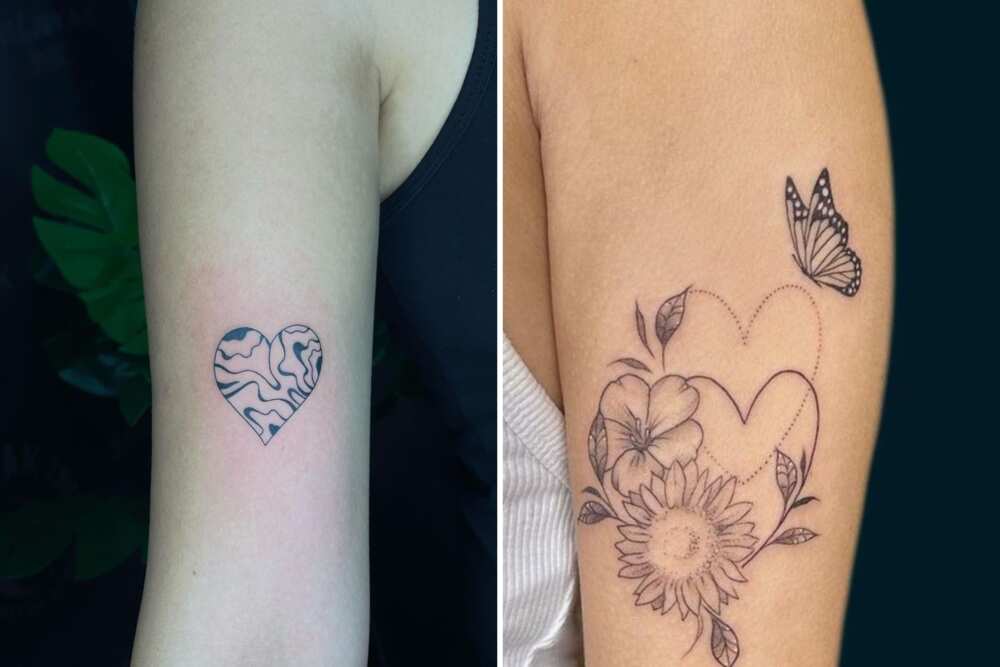 A heart represents love, and no matter the distance, a mother's heart is always connected to her son's. It is a simple yet powerful design which is a big statement of love for each other.
5. Sun and moon
These symbols are great mother-son tattoo ideas for spiritual people and believers of the supernatural. They represent power and nature.
6. Fingerprint heart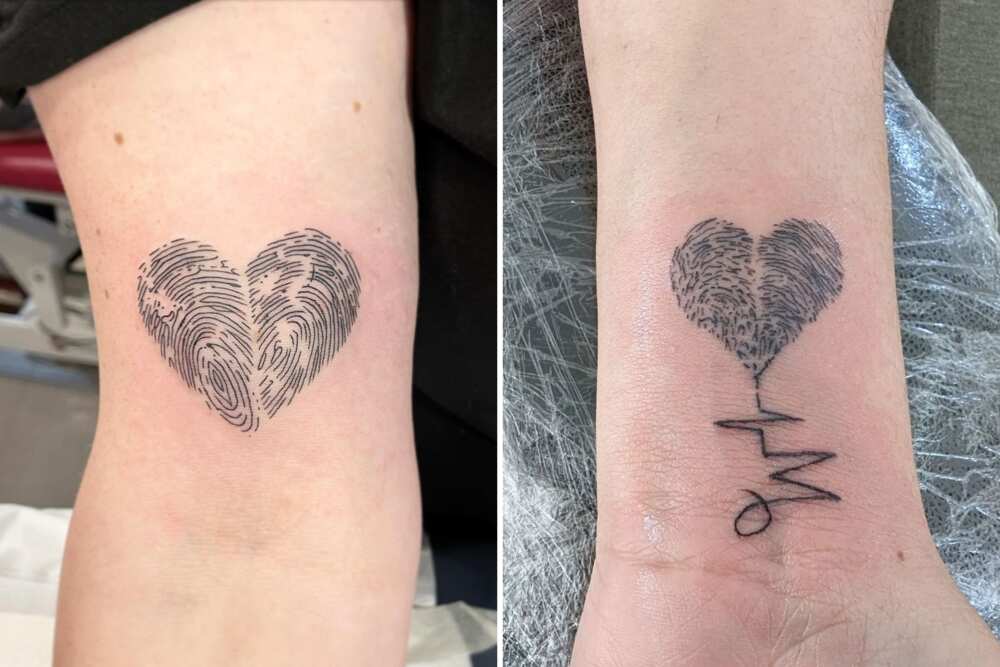 This cute, sweet, tiny tattoo pattern honours the love between a mother and son. You can get this small yet adorable ink on your arms, ankle or neck to flaunt your bond.
7. Heart and ribbon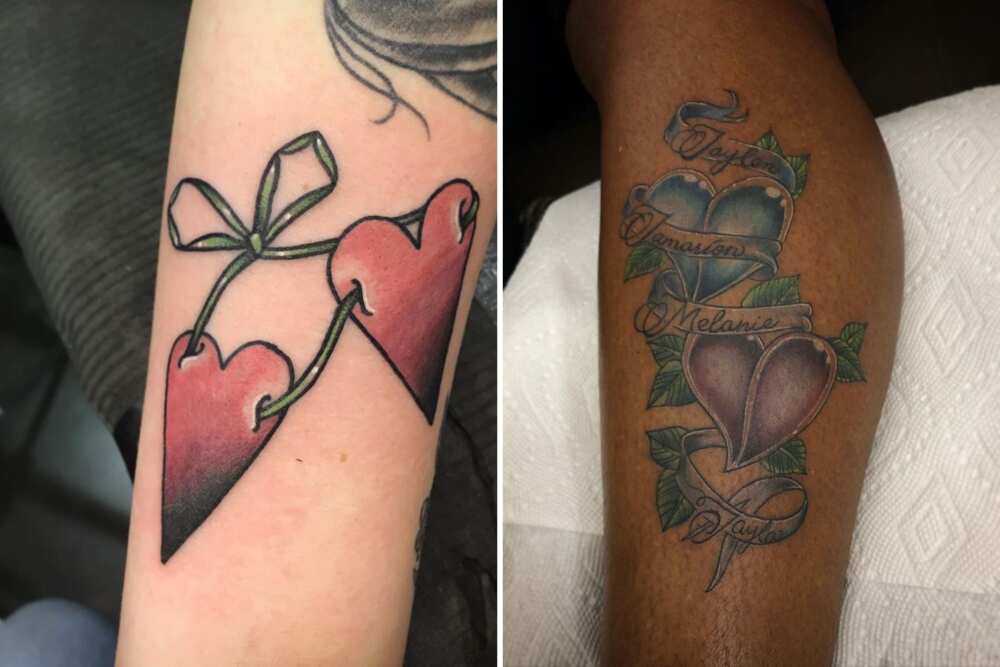 This is a design that symbolises love and adoration for your loved one. A mother and son can get this design as matching tattoos with the names of each other.
8. Mama and baby bear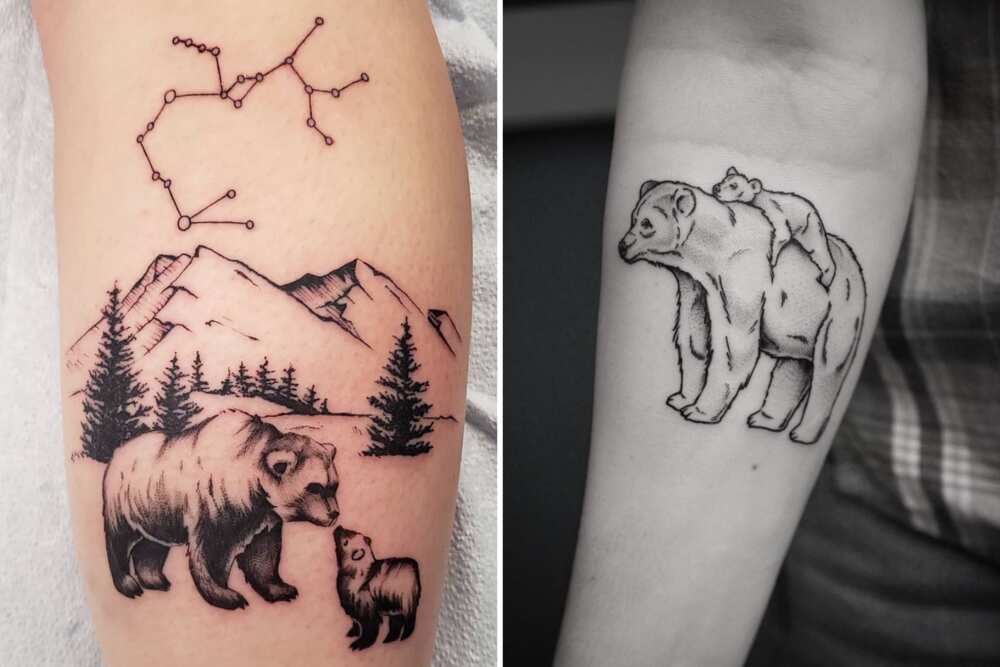 Mama bear is known to protect her offspring from danger, and it is one of the symbolic mother and son tattoo ideas. It shows strength and affection between a parent and a child.
9. Triquetra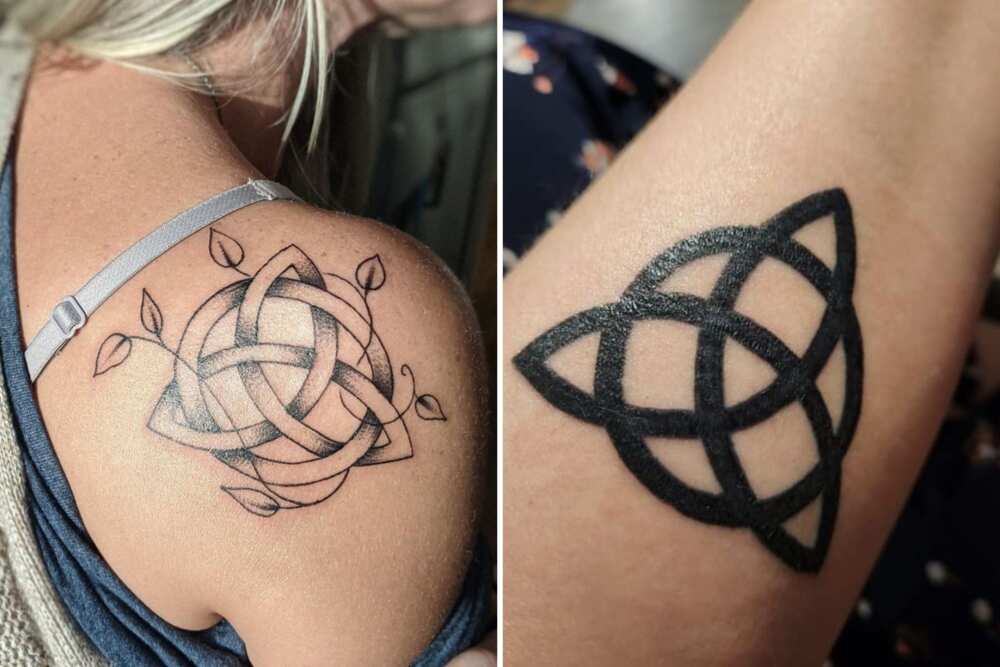 The triquetra, also known as the trinity knot, is a classic design symbolising the eternal circle of life and death. It also means a union of God's love suitable for the spiritual mother and son duo.
10. Four-leaf clover
This is a symbol of love, hope and good luck and it is among the most beautiful mom and son tattoos. It is for those who think they are lucky to have each other.
11. Snowflake tattoo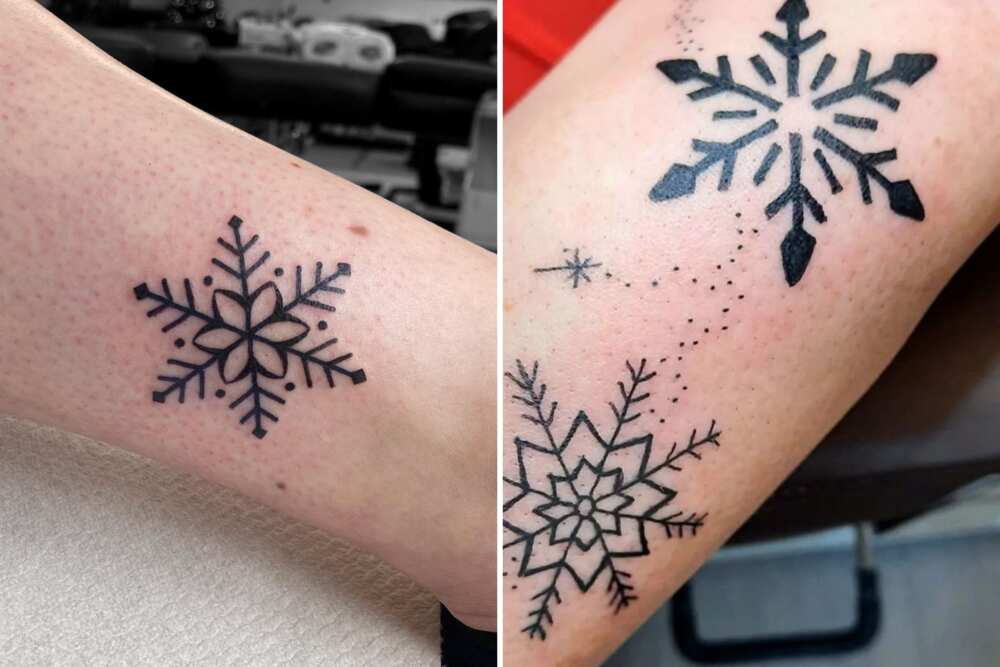 A snowflake tattoo could mean purity, beauty, uniqueness, gentleness, and knowledge. These qualities are shared between a mother and son, making it a great tattoo idea.
12. Roman numerals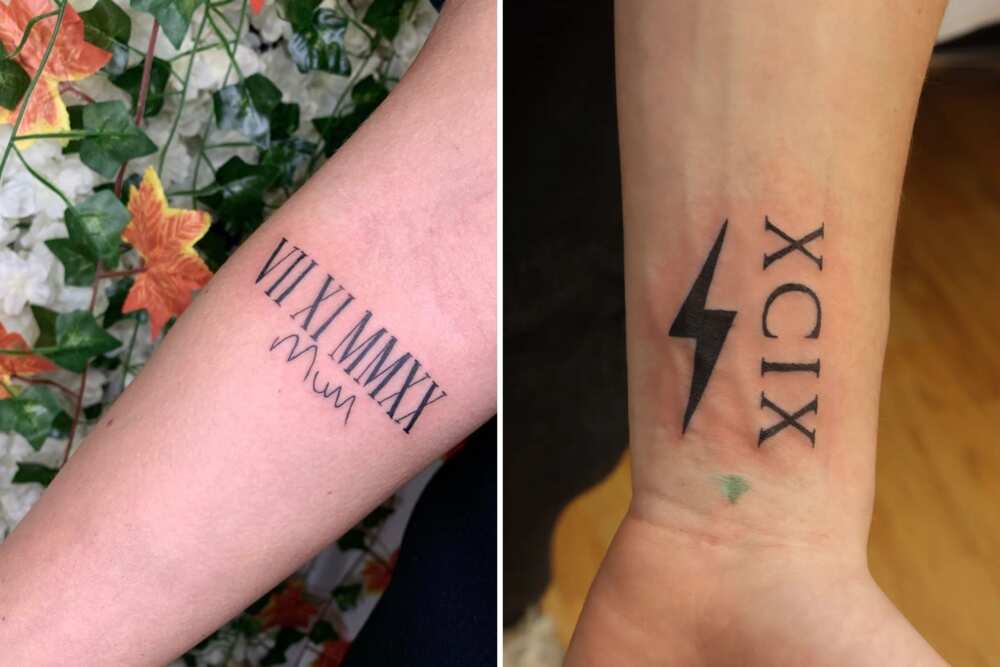 Roman numerals are fantastic if you are looking for an aesthetic tattoo design. Ditch those regular numbers for a unique ink, such as an important date or a lucky number in Roman numerals.
13. Rock on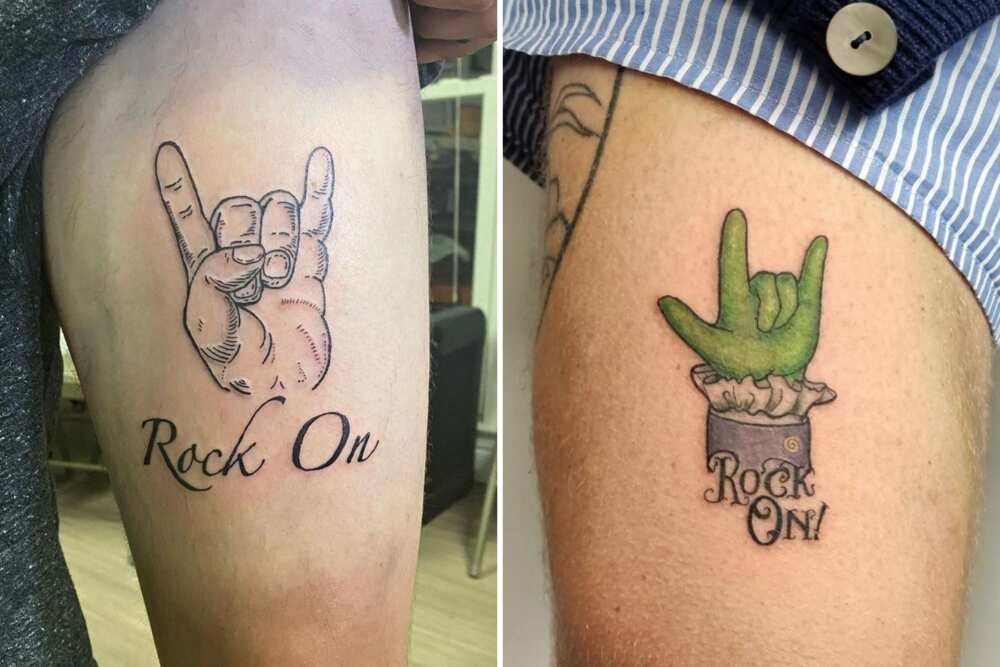 It is said that whether young or old, you should never forget to rock and roll. This is one of the great mother and son tattoo designs with an affinity for each other, and rock.
14. Forever tattoo
A love between mother and son is forever, so this tattoo is an obvious expression. This tattoo has several variations, such as the word 'forever' with infinity, a heart, or the word in a unique font.
15. Palm tree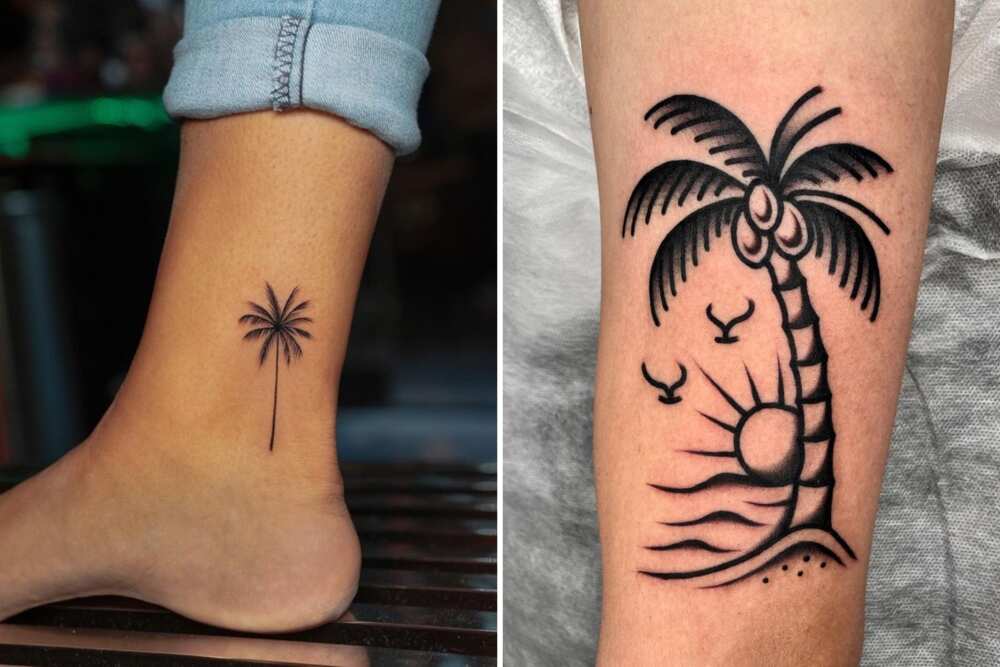 A palm tree symbolises immortality and eternity, an excellent representation of the bond between a mommy and her son. Make it small or big, and you can have it on your legs, arms, chest, and neck.
16. Day and night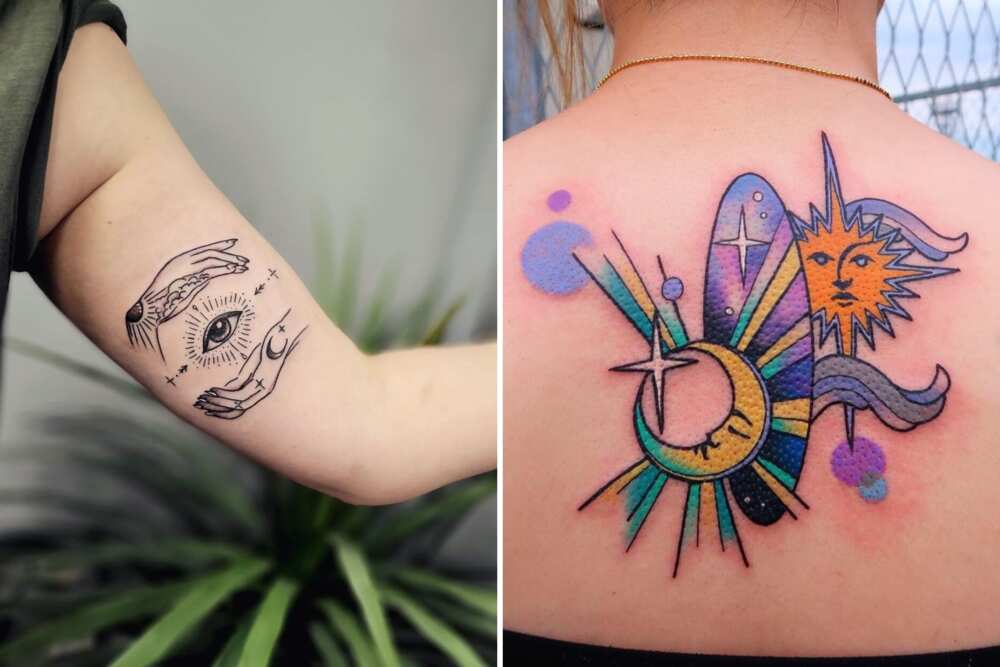 The day and night symbols are excellent reminders of your need to continue exploring the world. As a mother and son, travelling together is one way to bond and have fun.
17. Bow and arrow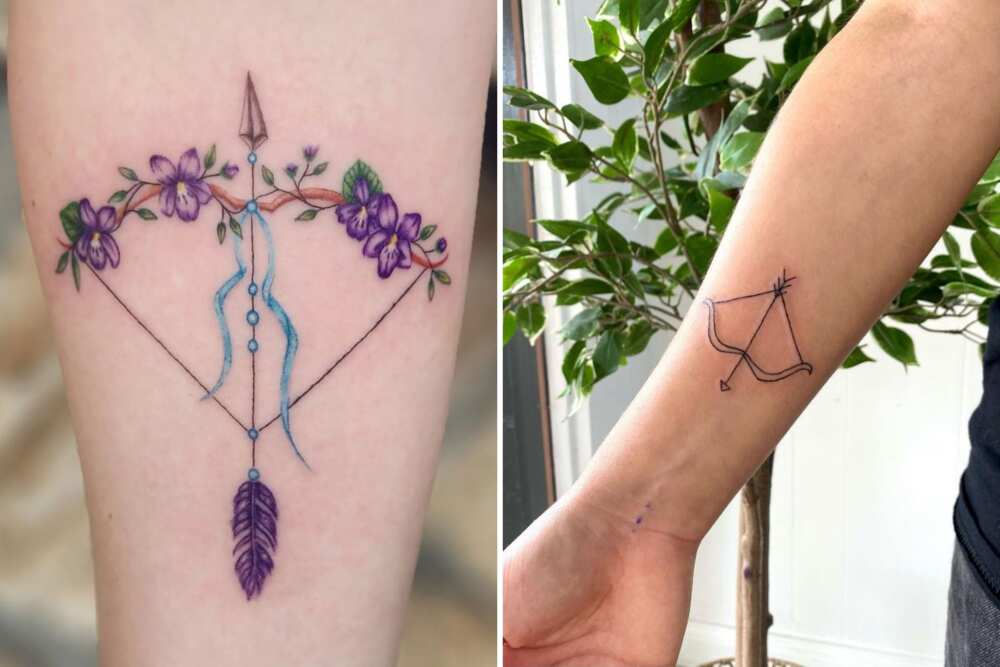 This classic symbol of power and strength describes a mother-son relationship well. The design can also give a sense of direction to both of them.
18. Feather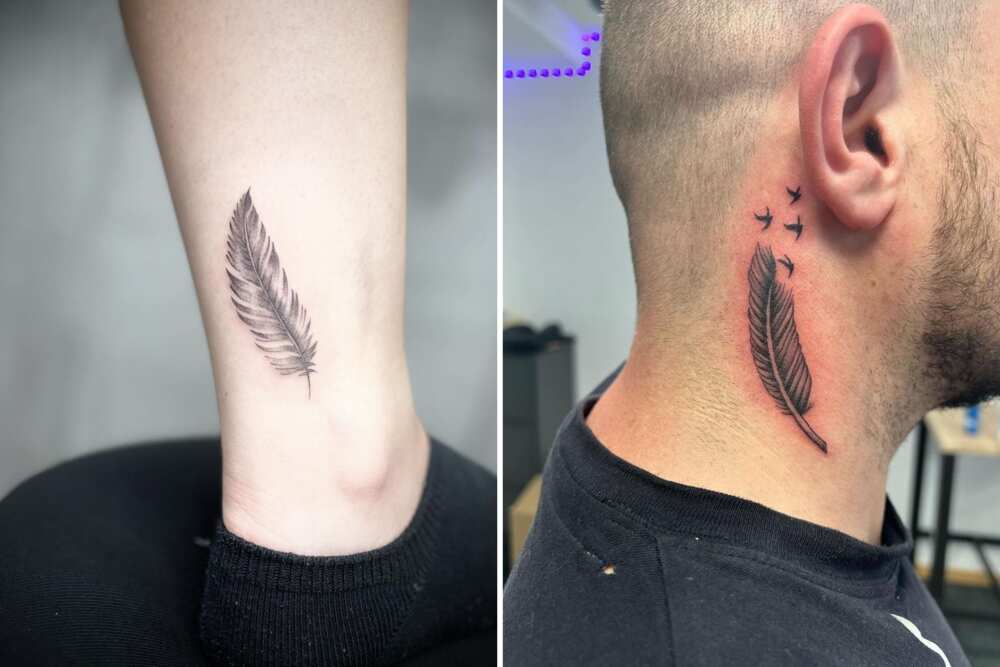 Feathers are a symbol of faith, power, strength and freedom, qualities that are important in a mother-son relationship. A feather is simple, and can be done on the arms, neck or ankle.
19. To infinity and beyond
You may have heard these powerful words, which signify a love that is forever. This is one of the great mother and son matching tattoos to convey their love from the first day to eternity.
20. The heartbeat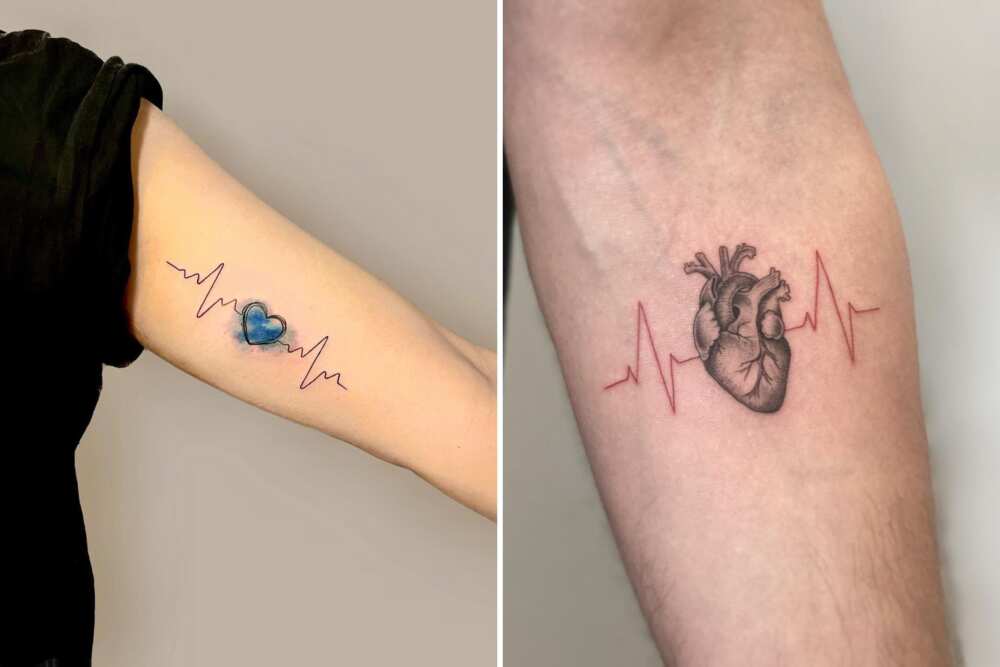 The first heartbeat of a child is connected to a mother, and it changes her life. This design is a reminder that no matter the distance, you belong together.
21. Sailboat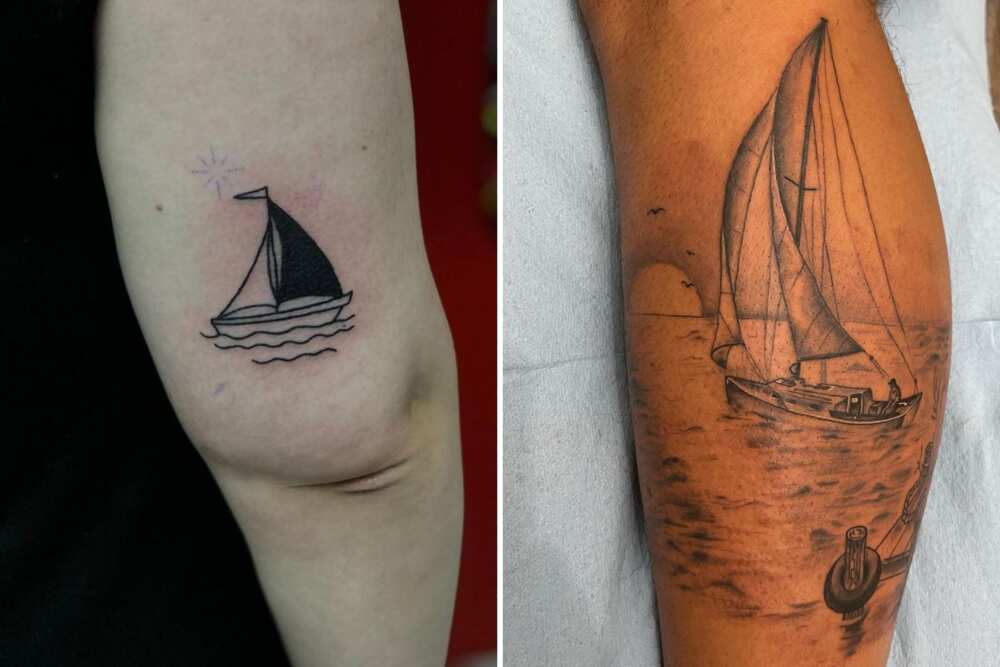 This is a great design that symbolises surviving under challenging situations. A mother and son stick together and motivate each other through hard times.
22. Guitar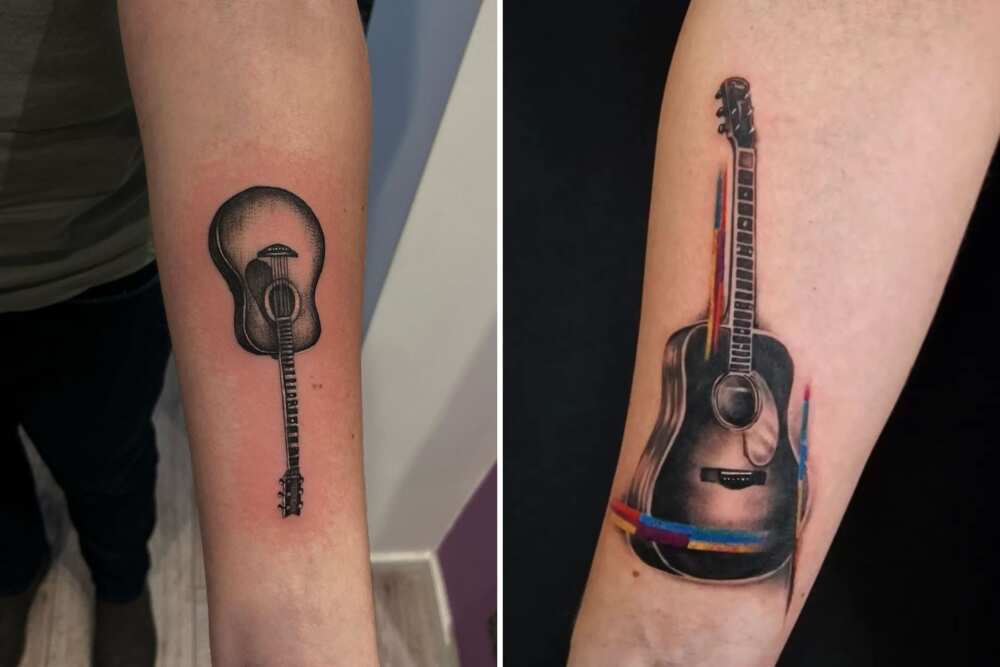 A guitar is a good idea for music lovers or instrumentalists. The guitar symbol is a modern design that will look cool on a mom and her son.
23. Compass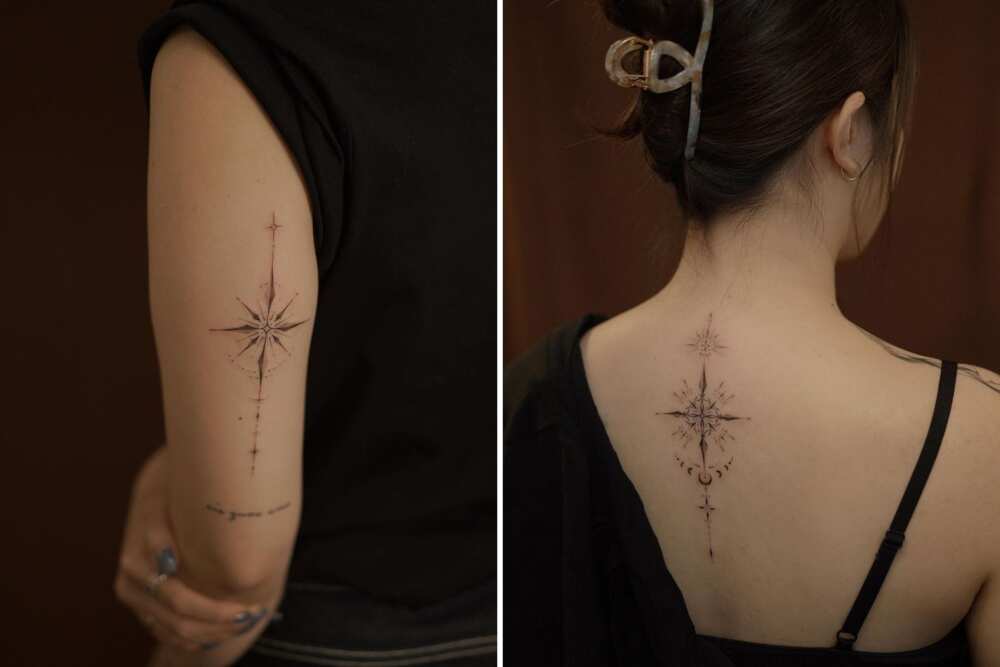 A compass is a navigational tool symbolising direction, safety, protection, and guidance. It is one of the appropriate meaningful mom and son tattoos.
24. Lotus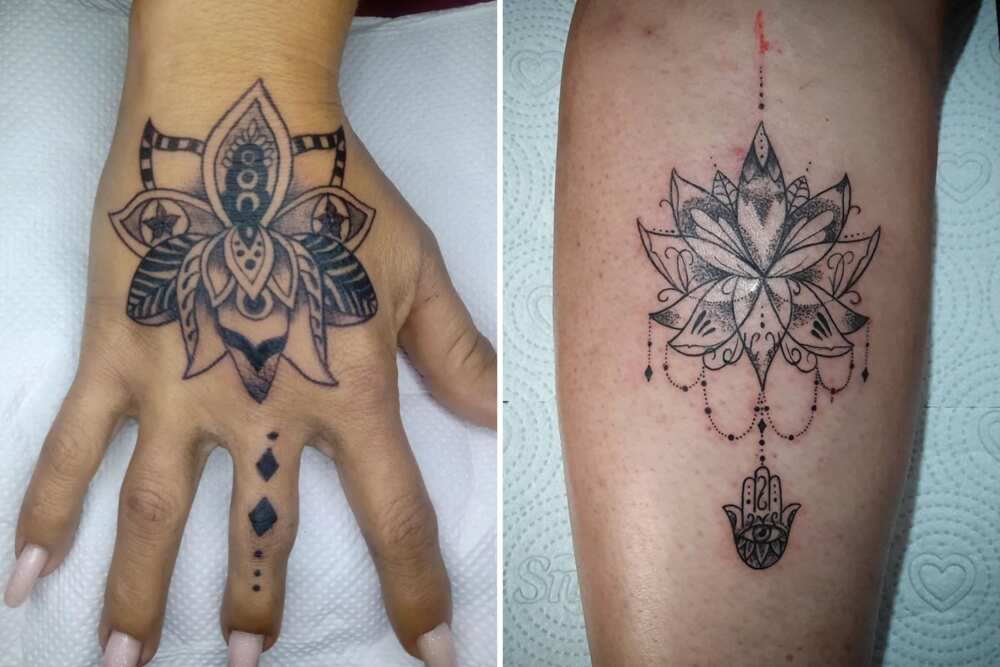 Lotus is a sign of strength and beauty, just as the relationship between a mother and son. The duo can get this as a matching design.
25. Cross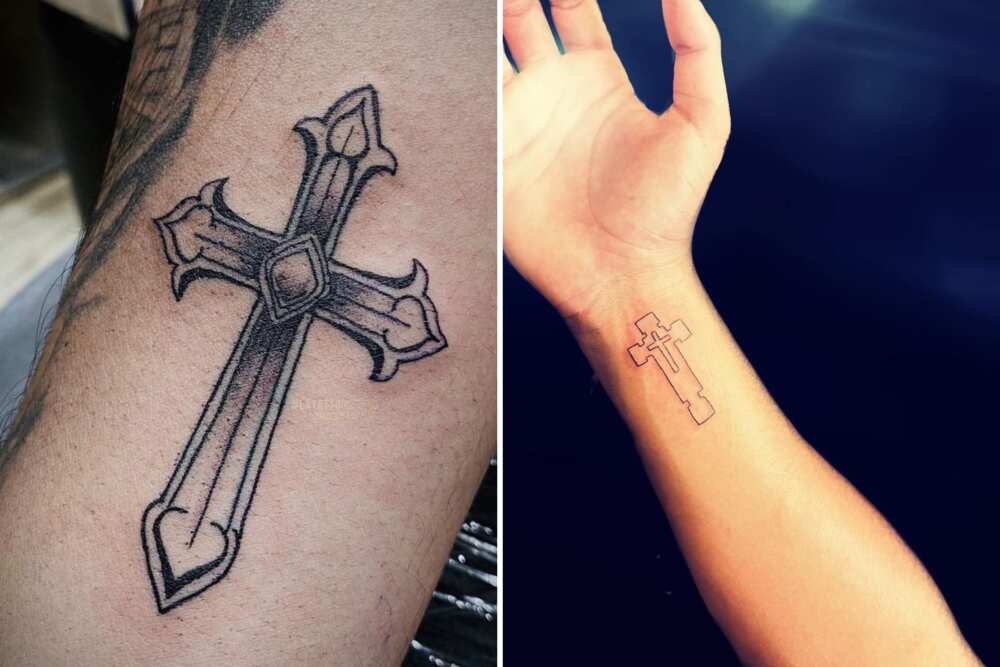 A cross is a spiritual symbol in the Christian religion and is used for protection. Crosses can vary in style and design, from simple to complex.
26. Unicorn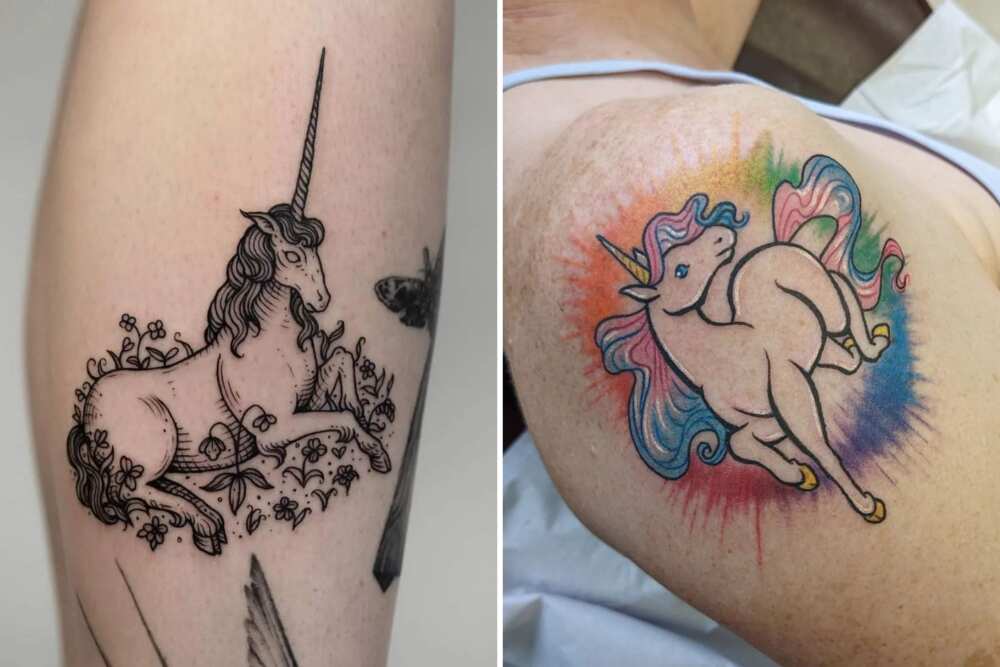 A unicorn is a symbol of magic, fantasy and power. It is a cool design to indicate how magical and powerful a mother-son bond is.
27. Hope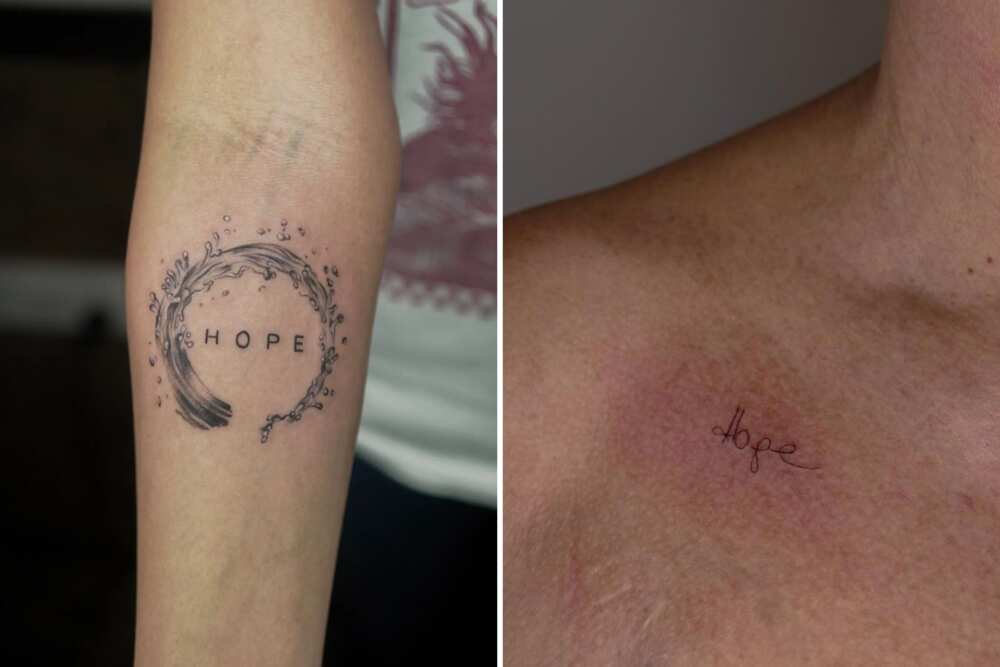 Hope is a symbol of balance and optimism that is important in life. It is one of the best mother-son tattoos. It can be a word or word combined with a symbol.
28. A true gem
A mother and son see each other as true gems, so precious to each other. There are numerous pretty coloured gemstones one can choose as ink designs.
29. Holding hands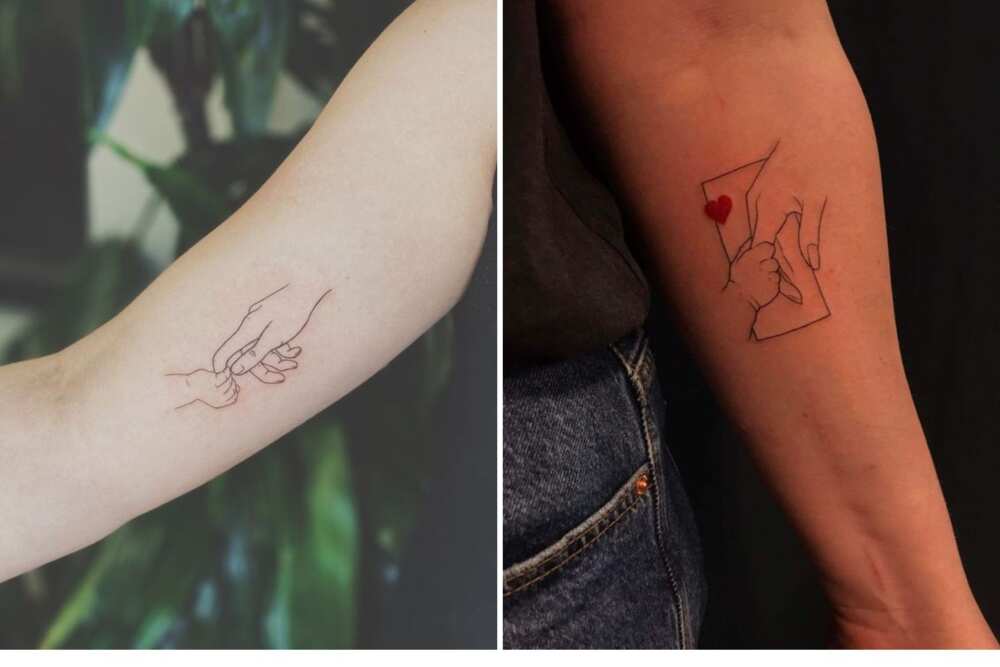 A mother and son holding hands is one of the popular ink designs. This tattoo denotes the warm love and strength between a mother and son.
30. Faith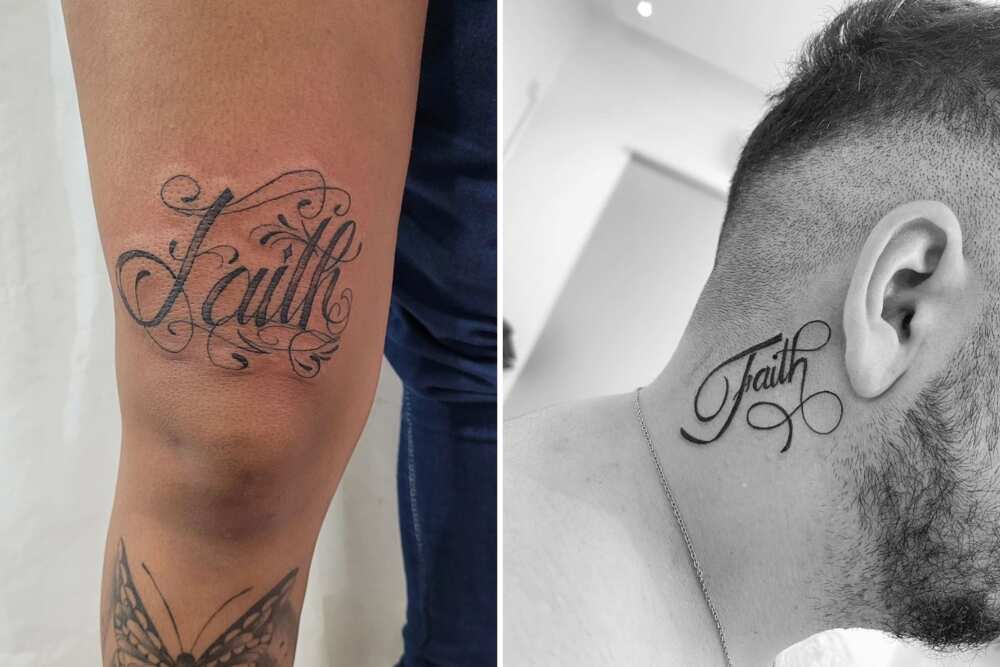 Faith is a sign of positivity and an unshakeable belief in God. The word 'faith' inked in a cool font is one of the suitable matching tattoos for mom and son.
31. Friendship knot
A friendship knot is one of the modern tattoos symbolising true friendship. A mother and son have a strong friendship bond, making this a great ink idea.
32. Diamond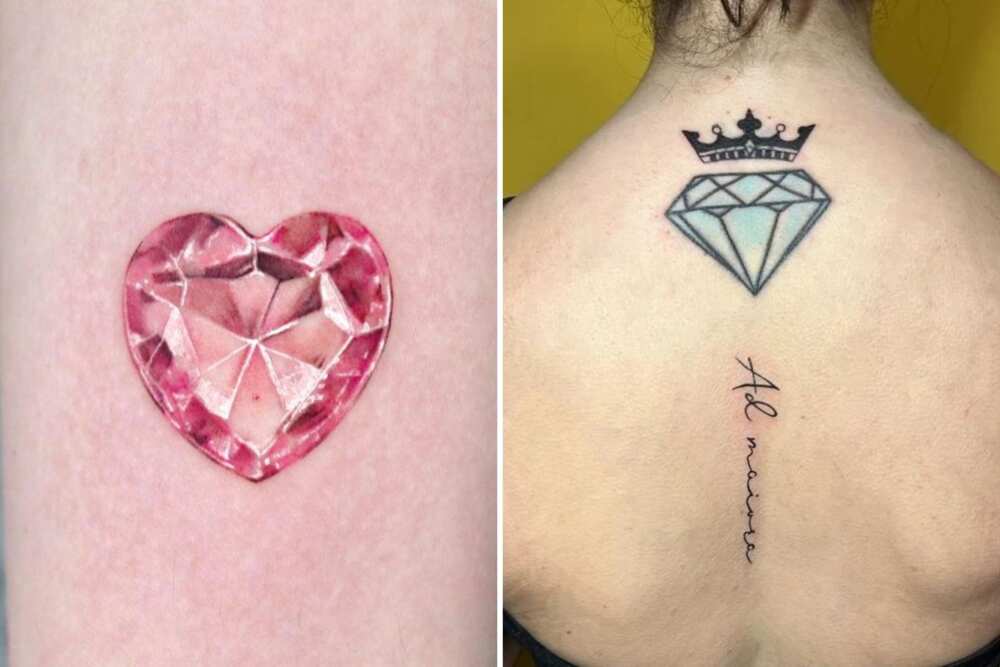 Diamond is a symbol of strength and makes a good tattoo for a mom and son. Get this small and simple design to flaunt your strong relationship.
33. Paw print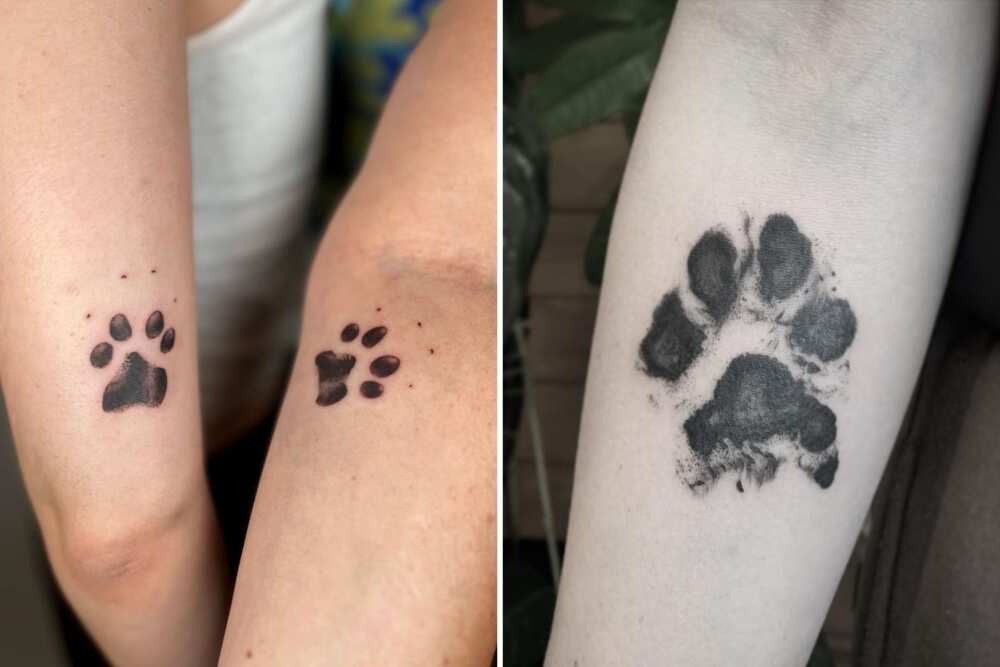 A paw print is an excellent design for matching ink style if you are both lovers of animals. The design is great if the paws are for a family pet both of you love.
34. Maple leaf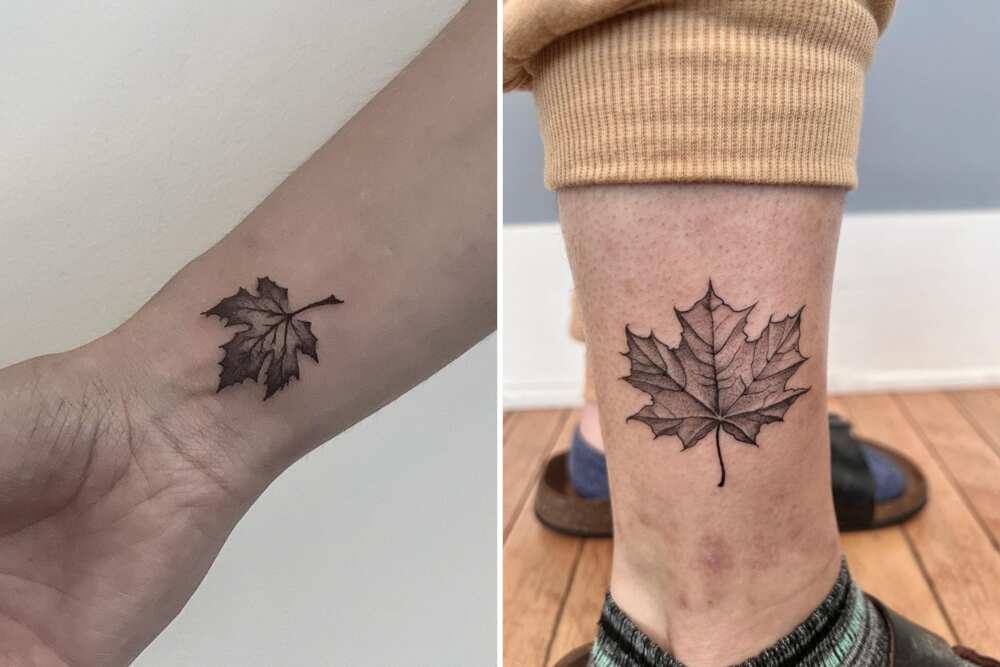 This leaf is a great design for a mother-son matching tattoo, representing strength and endurance. A mother-son relationship endures a lot in life, hence a great tattoo for that.
35. Paper plane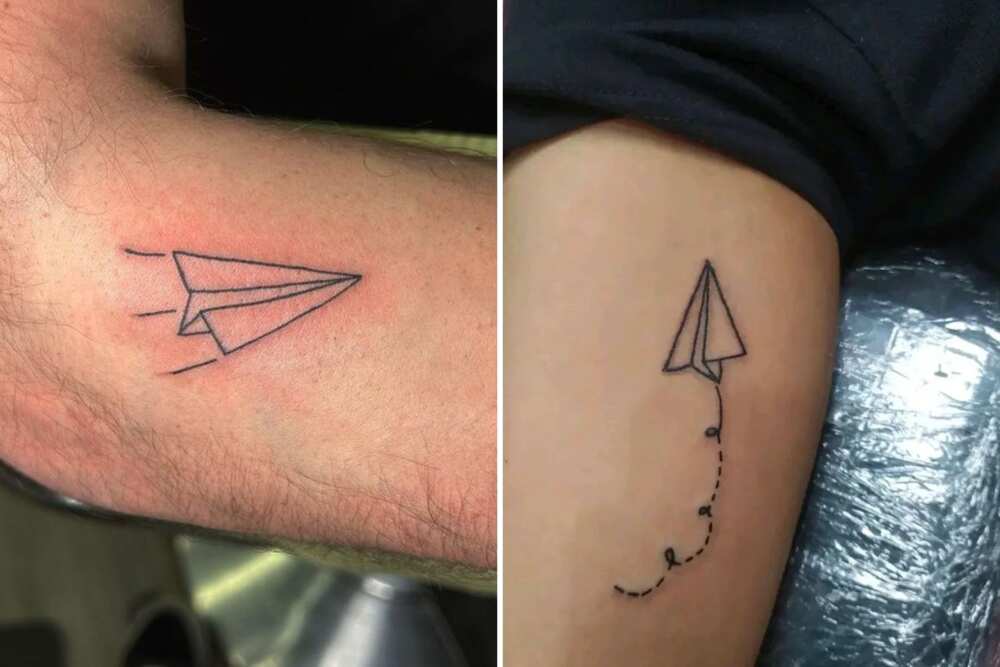 A simple paper plane tattoo represents a happy, carefree life. It is a great reminder of when a mom and her son flew paper planes.
36. Guardian angel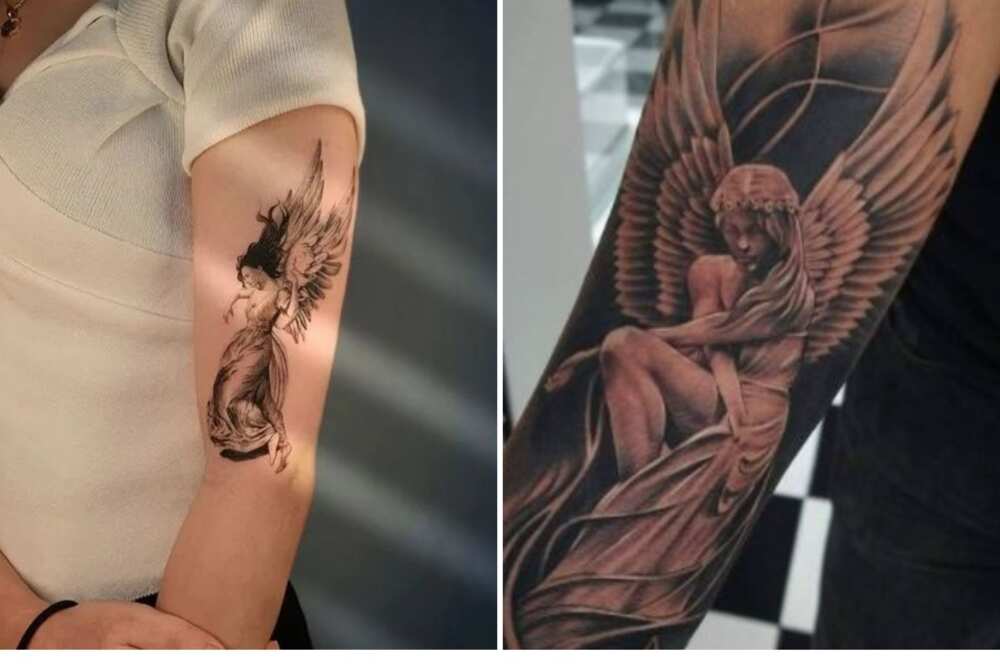 This is a great tattoo if you are looking for something meaningful. A mom and son can always know someone is watching over them wherever they are.
37. Unalome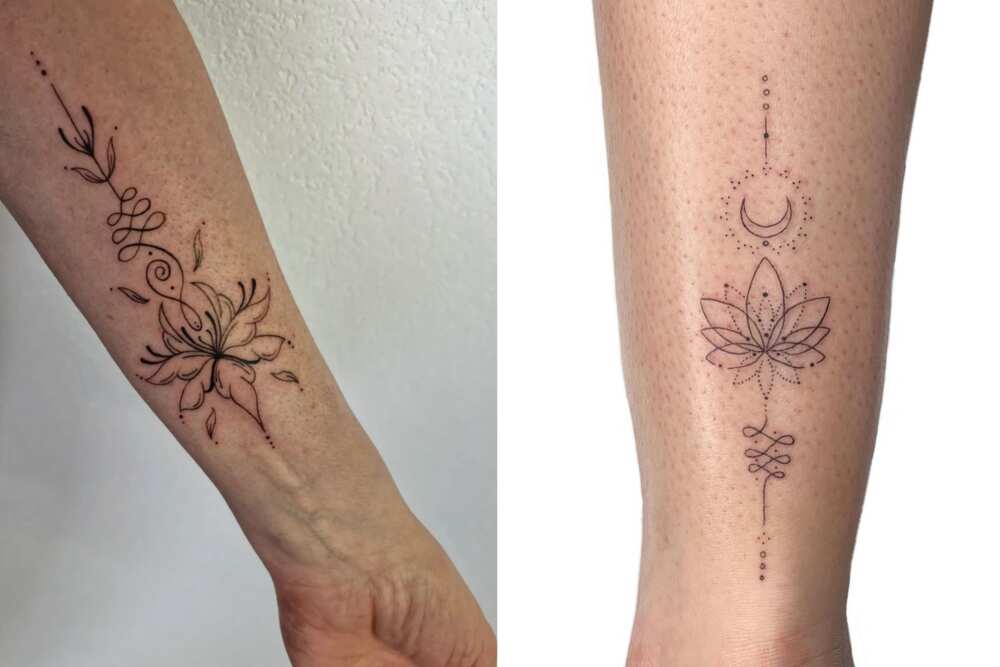 This is a Buddhist symbol of peace that leads to enlightenment. It is a spiritual tattoo that mother and son could get to symbolise they are each other's peace.
38. Water drops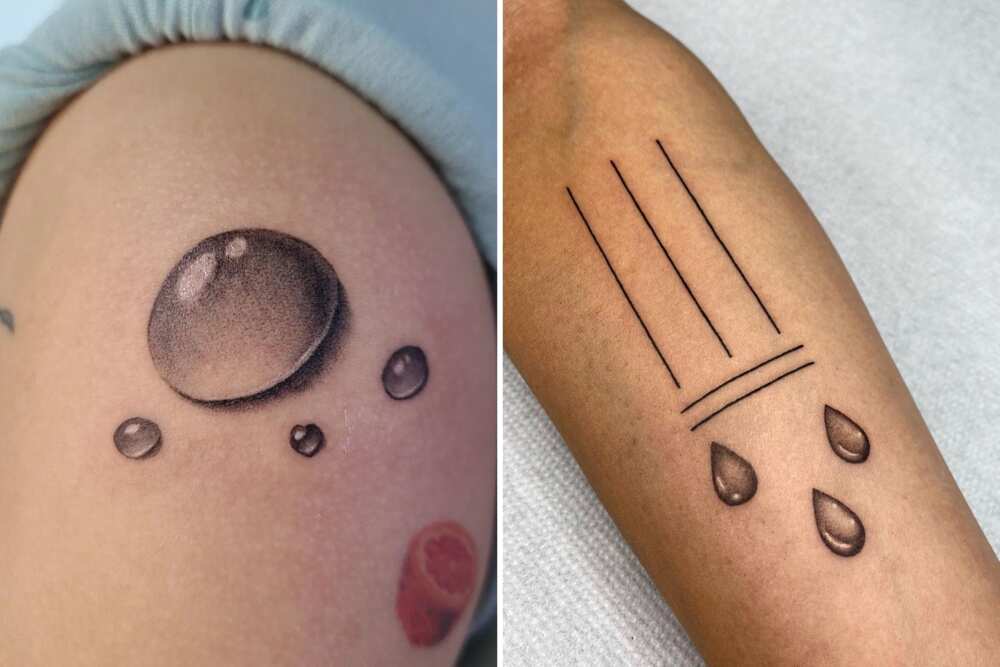 Water is a universal sign of beauty, fertility, purity and life. These qualities make up a mother and son relationship, hence one of the best minimalist tattoo ideas.
39. Butterfly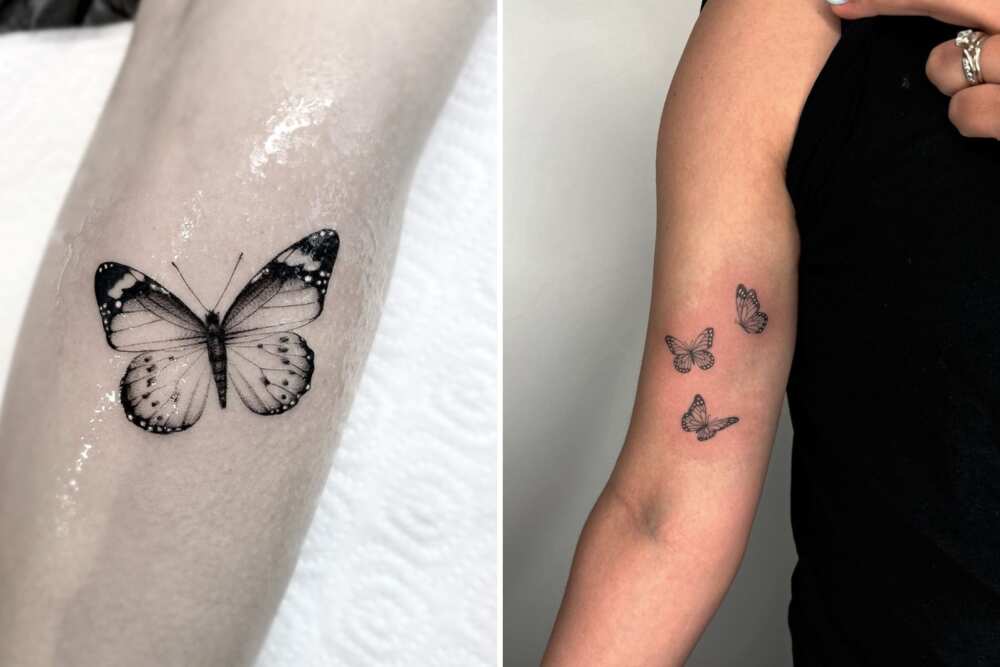 Butterflies symbolise a new birth which can be a great idea for a tattoo design. It could be one butterfly or several tiny butterflies.
40. Waves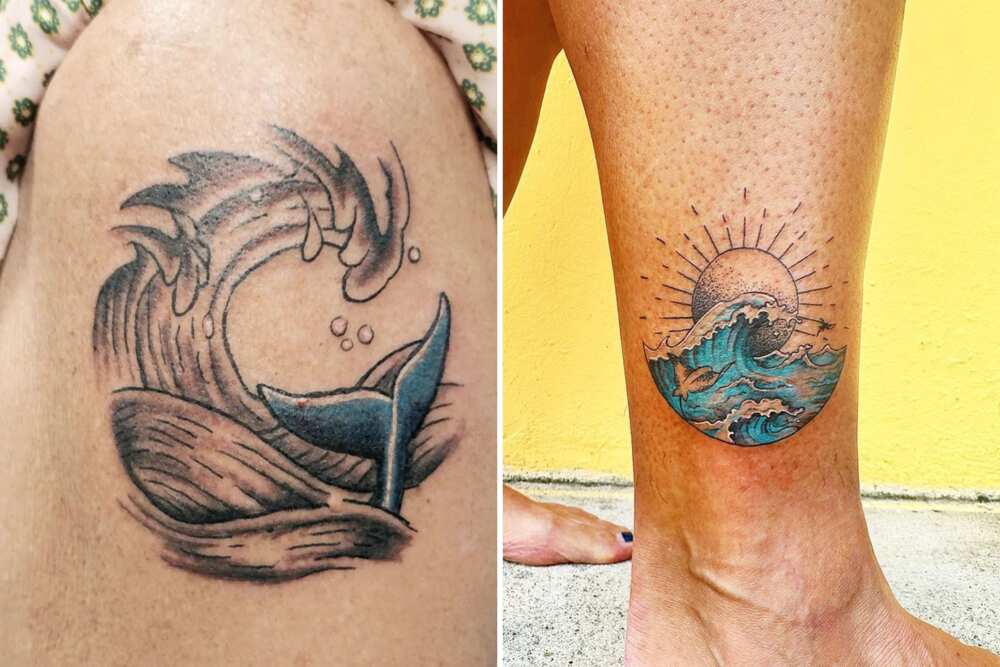 Waves are symbolic and represent various things, such as nature, soul, strength and independence. A wave ink design suits this relationship since it stands on all elements above.
41. Mountains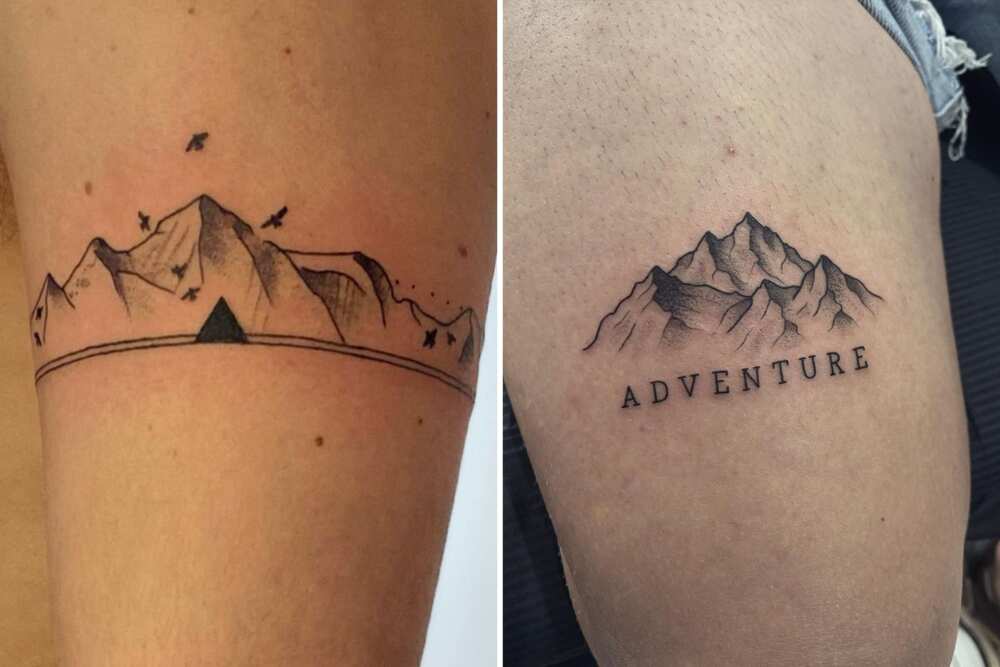 Having a mountain inked on your body is a great symbol of nature and overcoming obstacles. A mom and son are each other's strength and endurance, so this is a tattoo for keeps.
42. Star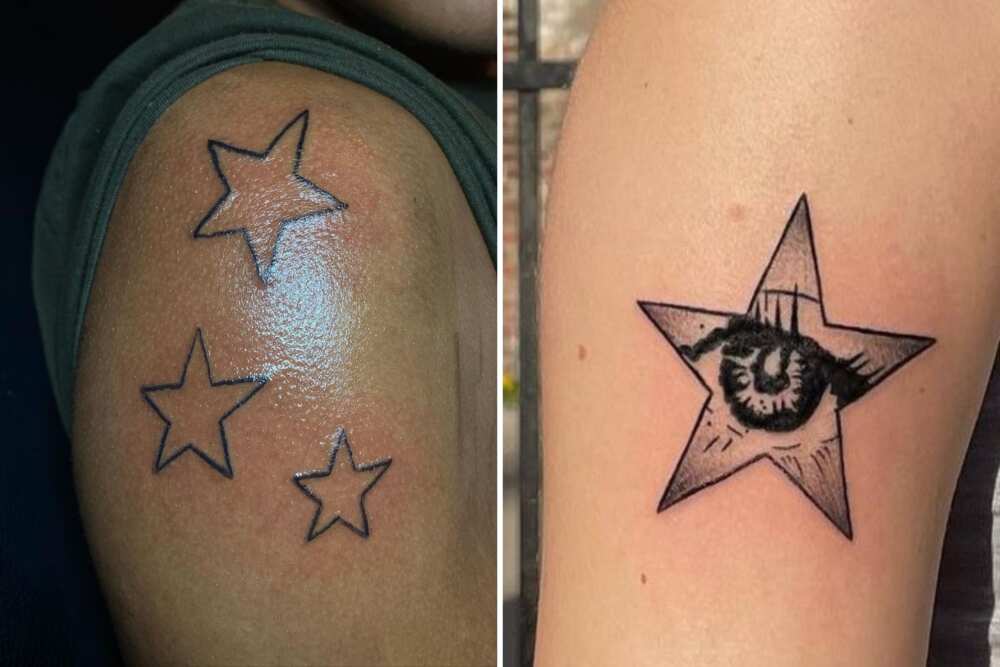 A star is a great idea for a tattoo and is a sign of good luck. You can find different star patterns, such as scattered stars or just one star that will look great.
43. Mother and son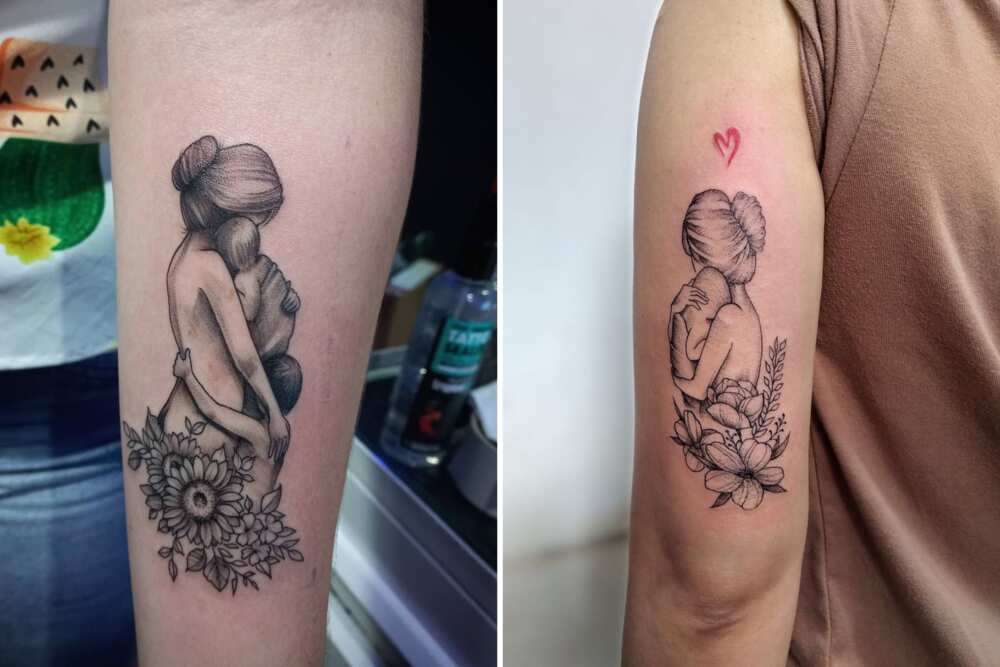 This is one of the minimalist tattoo designs that outline a mom holding a baby. It is simple yet symbolic, representing the love and bond between the two.
44. Tree of life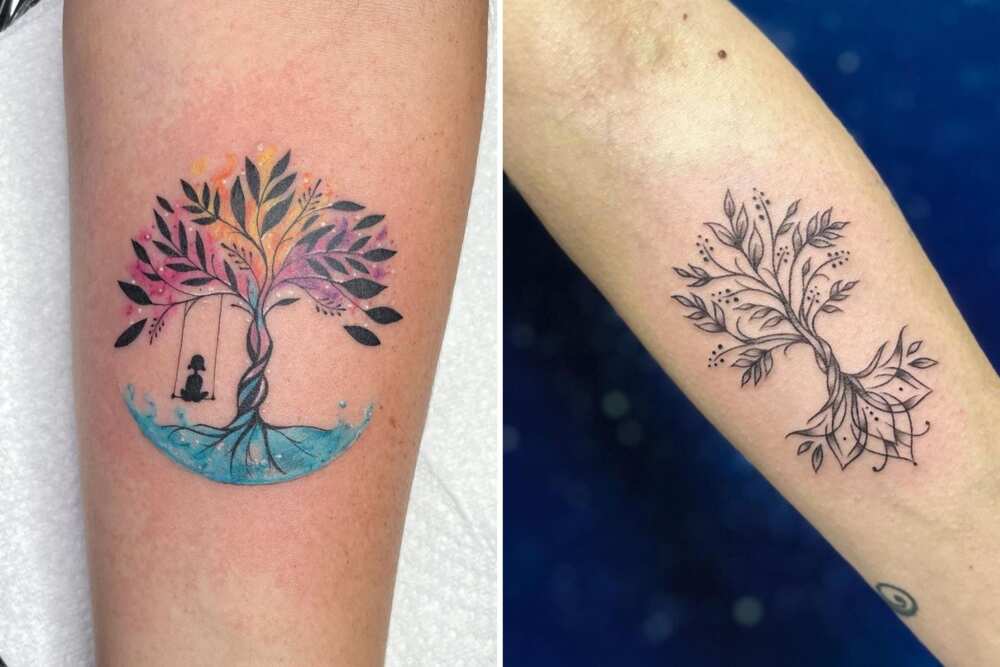 The tree of life is symbolic as it means continuous growth and connectivity. This is perfectly represents the mom and son relationship.
45. Name initials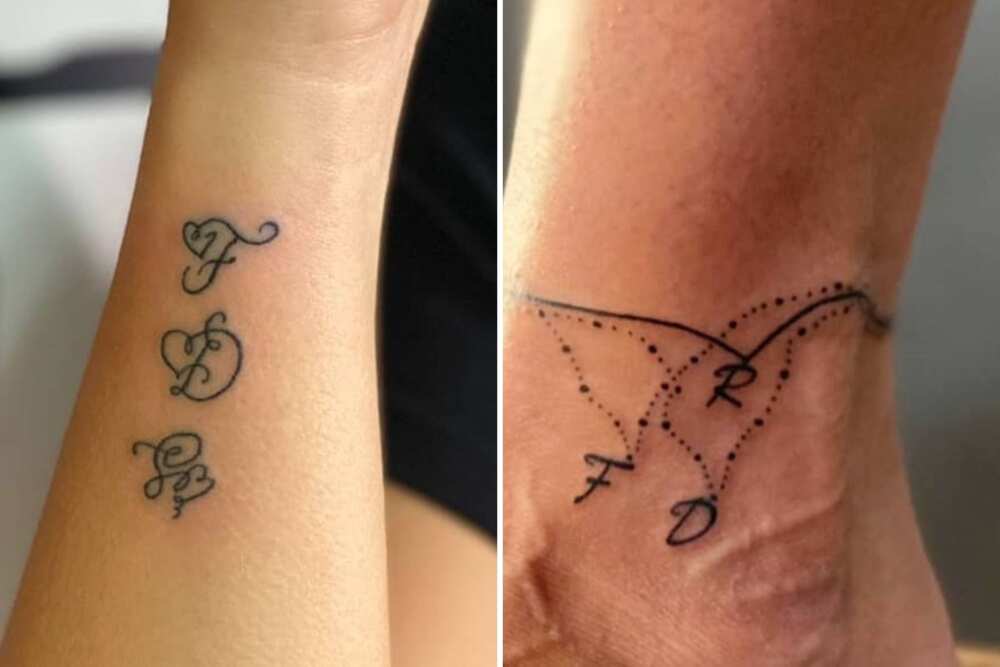 Getting each other's name initials is a true expression of love. You can choose a suitable colour and unique calligraphy.
46. A special picture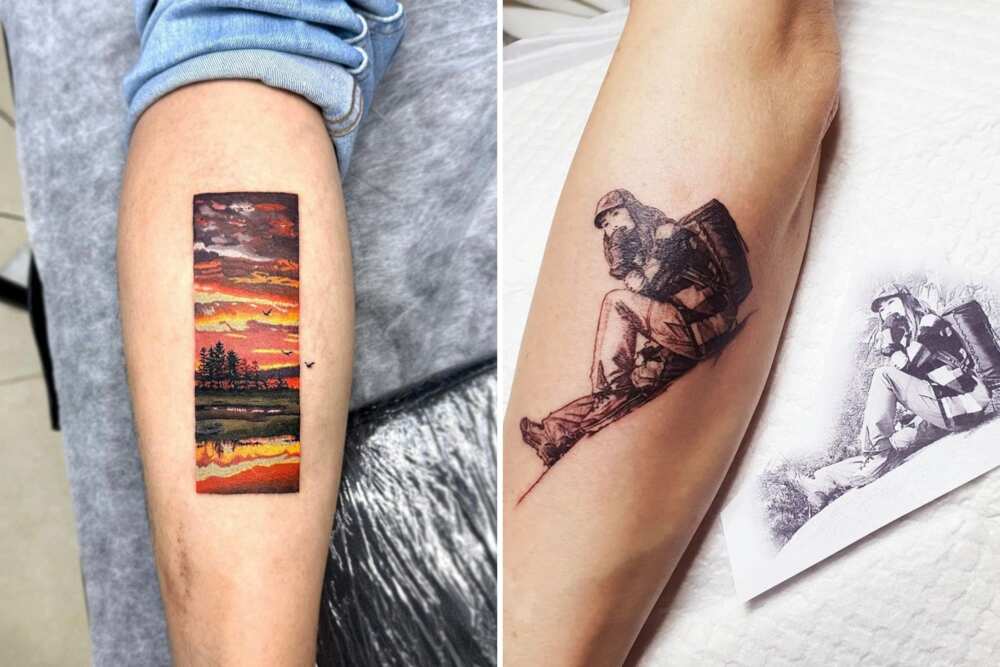 This needs some digging of special photos to be inked on your arms, ankles, neck or any other place. They are sentimental as they represent something meaningful.
47. Evil eye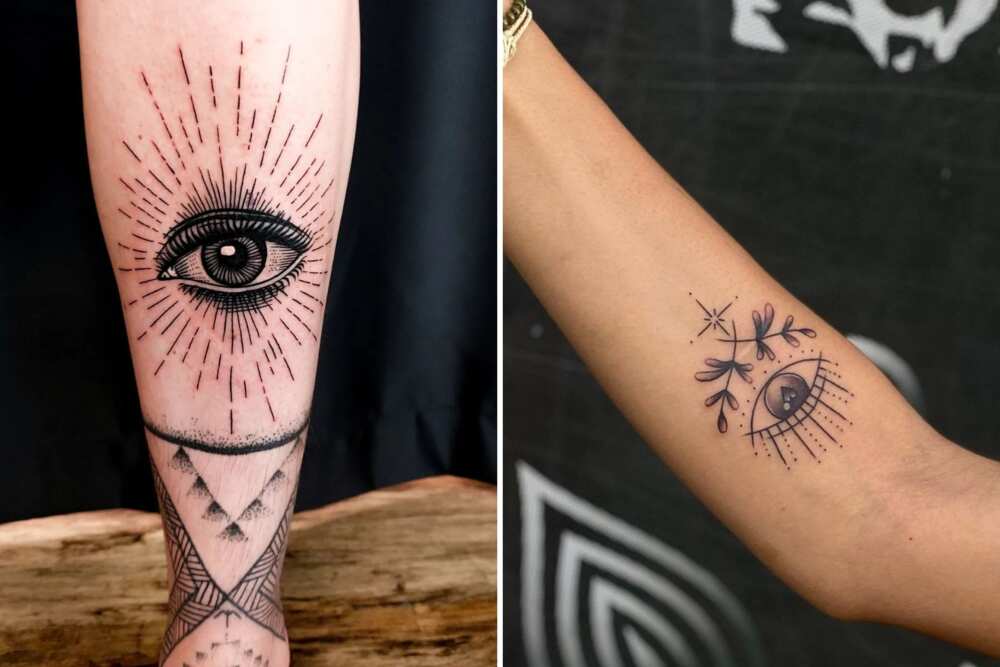 The evil eye is symbolic of a bad luck shield. Get matching evil eye tattoos and protect your loved one from bad luck.
48. I love you quote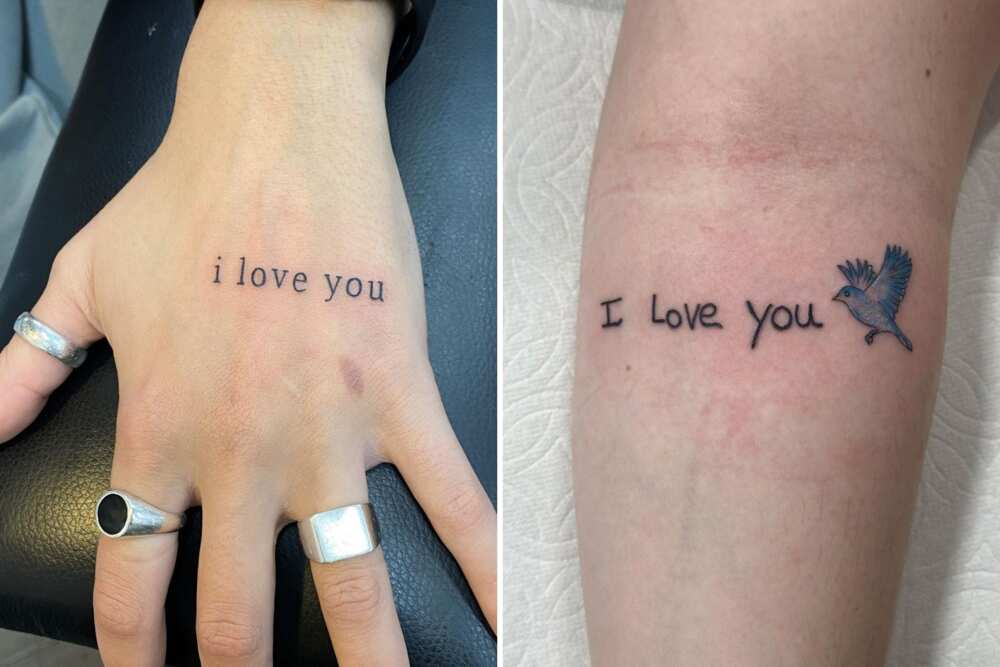 This quote is meant for couples but it could represent other relationships as well. It can also symbolise the unconditional love between a mom and her child.
49. The creation of Adam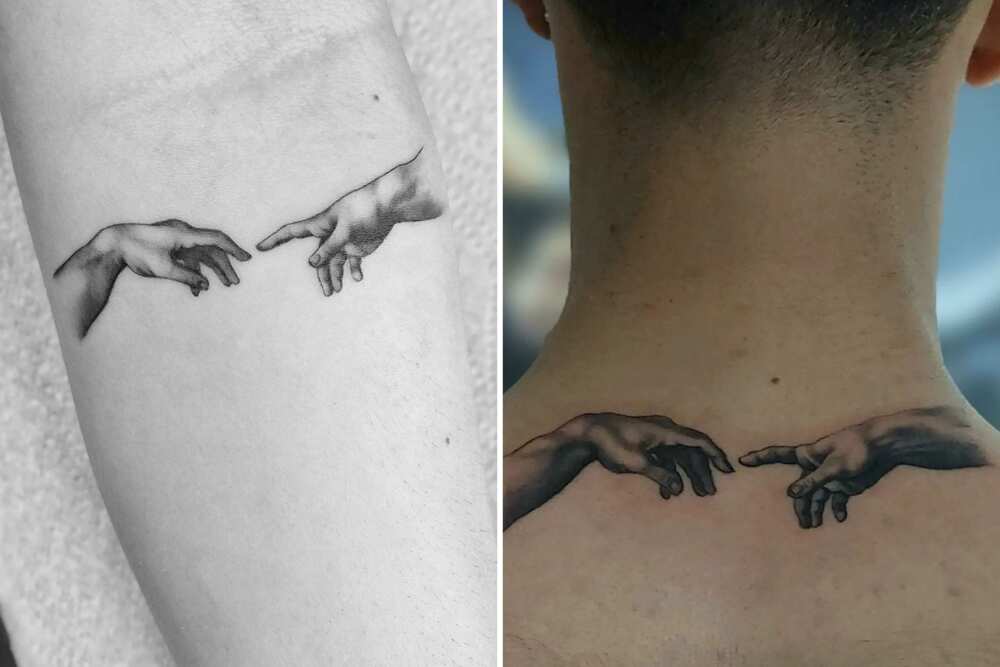 This is an artistic design that is inspired by Michelangelo's painting and is an excellent idea for a mother and son ink. It symbolises the strength of a mother and pays tribute to the new birth.
50. Stand by me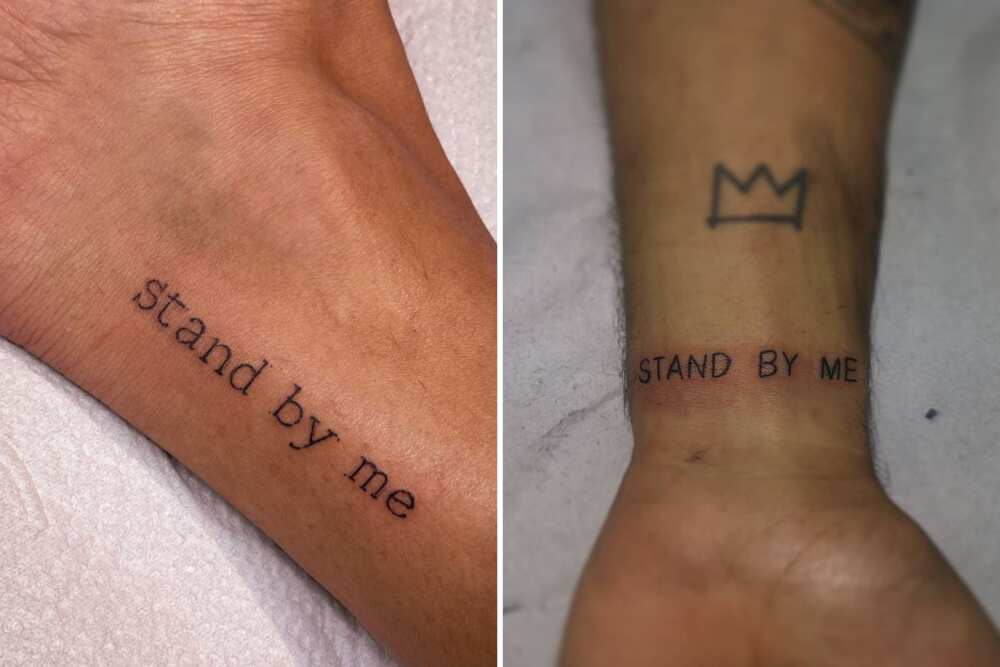 This impressive tattoo shows a mother and her son's loyalty and support. It is simply the words "Stand by me."
Mothers and sons share a beautiful and unique relationship. One way to celebrate and cherish this relationship is to get tattoos that would mean something to both. The above are meaningful mother-son tattoos to commemorate this relationship.
Legit.ng recently published a post about African tribal tattoos. The African culture has embraced tattoos as a form of expression, identification and spiritual reasons. These are some of the African tribal tattoos that are great for men and women.
Various African tribal tattoos carry significant cultural messages from different generations. They honour the African culture and are a form of art. Here are meaningful African tribal tattoos to help you express your African roots.
Source: Legit.ng