Derik Beeston's biography: who is Sarah Beeston's husband?
Derik Beeston is a famous YouTuber and social media personality from the United States. His YouTube channel, The Beeston Fam, is known for pranks, challenges, vlogs, and Q&A videos. Beeston includes his wife and kids in most of his videos, something that attracts many to his channel. Fans love seeing his young family happy. This article unveils how Derik met his wife, their wedding, his YouTube career, and more details about him.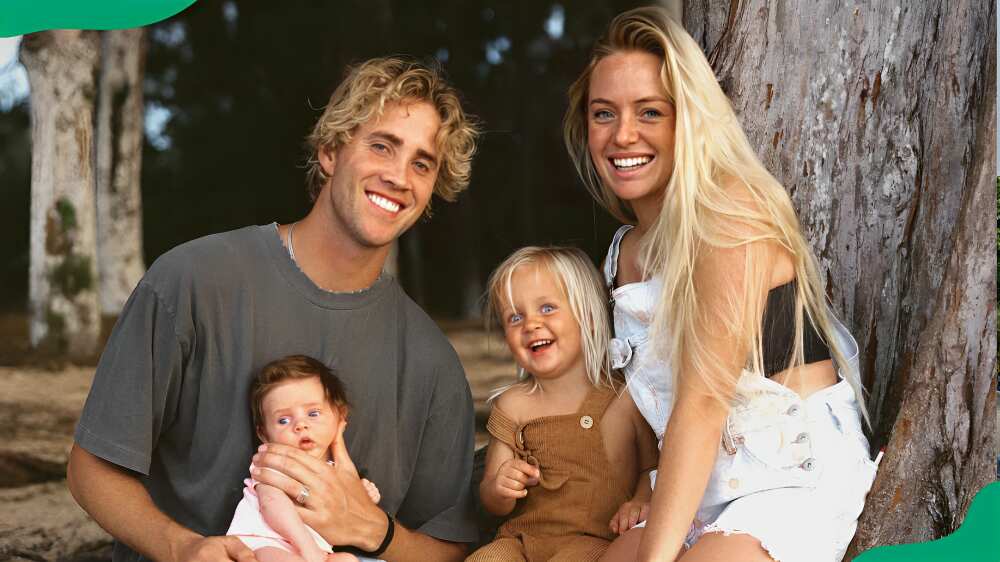 Derik Beeston's YouTube channel has made him famous across the United States of America. He shares captivating, unique content that keeps many glued to their screens. The YouTuber has also expanded his online career to TikTok, Facebook, and Instagram.
Profile summary
| | |
| --- | --- |
| Full name | Derik Jacob Beeston |
| Gender | Male |
| Date of birth | 22 September 1995 |
| Age | 28 years old (as of 2023) |
| Zodiac sign | Virgo |
| Place of birth | Utah, USA |
| Current residence | Oahu, Hawaii, USA |
| Nationality | American |
| Ethnicity | Caucasian |
| Religion | Christianity |
| Sexuality | Straight |
| Height in feet | 6'3" (190 cm) |
| Eye color | Blue |
| Hair color | Blond |
| Parents | Michelle and Joe Beeston |
| Siblings | 2 |
| Relationship status | Married |
| Wife | Sarah Beeston |
| Children | Jack Beeston and Sunny Marie Beeston |
| Education | Lehi High School |
| Profession | YouTuber, social media influencer |
| Net worth | $2 million |
Who is Derik Beeston?
Derik Beeston is an American YouTuber and social media personality. He shares family vlogs, challenges, and prank videos on his channel.
When is Derik Beeston's birthday?
The YouTuber was born in 1995 and celebrates his birthday on 22 September.
How old is Derik Beeston?
Derik Beeston's age is 28 years old as of 2023.
Where is Derik Beeston from?
The YouTuber was born and raised in Utah, USA. He is an American citizen of white ethnicity.
Derik Beeston's family
Derik Beeston's parents, Michelle and Joe, featured in one of his YouTube videos in 2021.
Who are Derik Beeston's siblings?
Derik Beeston's brother, Tanner, is a YouTuber and social media influencer. Meanwhile, their sister Larissa works in the beauty industry.
Who is Derik Beeston's twin?
Derik Beeston does not have a twin. Fans always mistake him and his older brother, Tanner, for twins because of their striking resemblance.
Who is older, Tanner or Derik Beeston?
Tanner is two years and a few months older than Derik Beeston. He was born on 27 June 1993, while Derik was born on 22 September 1995.
Derik Beeston's sister-in-law
His sister-in-law Lauren Beeston (Tanner Beeston's wife) is a YouTuber. She made Tanner famous by featuring him on her YouTube channel.
What does Derik Beeston do for a living?
Derik co-runs his YouTube channel, The Beeston Fam, with his wife, Sarah. They launched the channel on 2 November 2019 and have consistently entertained fans with pranks, challenges, family vlogs, and lifestyle videos.
Most videos about their lives get a positive reception from the audience. One of the most trending ones was the November 2020 video of Sarah going into labor/delivering their firstborn. The other was in the spring of 2022, when they moved out of Hawaii.
Besides creating content for YouTube, Derik Beeston engaged with fans on his Instagram page, @derikbeeston, TikTok account, @derikbeeston, and Facebook page, @BeestonFam.
What is Derik Beeston's net worth?
His net worth is allegedly $2 million. Derik Beeston's primary source of income is his YouTube content.
Who is Derik Beeston's wife?
Derik Beeston's wife is Sarah Beeston. She is an American YouTuber and TikTok star. They met while hiking with mutual friends. A year later, they had a private wedding on 17 June 2016.
The couple shared their exciting love story on The Unplanned Podcast on 1 March 2021. They went to neighboring high schools but never met in high school. Also, Derek's cousin was match-making Sarah with his other cousin. After high school, mutual friends invited them to hike with about 12 people.
Sarah's friend was invited. So, she asked Sarah to accompany her as a wingperson. A guy this friend liked was also going to attend the hike. Meanwhile, the guy who invited Derik to the hike as a wingman was into Sarah.
While hiking, Sarah's friend began to like Derik instead of the guy she was into. Meanwhile, Derik and Sarah didn't like or talk to each other during the hike.
They only interacted when she hit her knee on a rock and was shivering. Derik stretched out his hand to help her, but she ignored him. He was not into dating because he was going through a tough time emotionally, and her boyfriend was away on a church mission.
Three days after the hike, Derik's friend, who was into Sarah, invited him to a campfire. Derik hit it off with Sarah when collecting sticks together. After the campfire, Derik and his friend discussed their feelings for her.
Derik did not pursue her because he believed she was a perfect match for his friend. However, he noticed Sarah had accidentally left her purse in his car and had to give it back to her.
Sarah was not dating anyone when she and Derik began dating. She was 19, and he was 20 when they married. They were so young that during their honeymoon, an Uber driver thought they were siblings on a family vacation.
Who are the Beeston family on YouTube?
The Beeston family comprises Derik Beeston, his wife Sarah, and their son Jack and daughter Sunny Marie. Jack Beeston was born on 16 October 2020, while Sunny Marie Beeston was born on 7 December 2022.
Derik and Sarah named their daughter Marie in honor of Sarah's older sister, Amanda Marie Clifford, who passed away. They also nicknamed their son "tiny Gordon Ramsay" because he was born with a lot of spiky hair on his head. The boy takes after Derik and Sarah's vibrant blonde looks.
Where does Derik Beeston live?
The YouTuber lives with his wife, son, and daughter in Oahu, Hawaii, United States.
Why did the Beestons move to Hawaii?
Sarah and Derik Beeston quit their jobs and moved to Oahu in Hawaii to be full-time content creators. The couple documented their experience in a series of YouTube videos. Derik Beeston's brother, Tanner, and his wife, Lauren, live in Oahu too.
When was Derik Beeston's accident?
Derik was 14 when he survived a fatal face-flat fall down a 30-foot cliff in St. George, Utah, on 4 April 2010. He underwent multiple face reconstruction surgeries to put his face back in shape.
The YouTuber shared the near-death experience in one of his YouTube videos. He still battles some health challenges because of the accident.
Facts about Derik Beeston
He was on anxiety medical treatment his entire high school days.
Meeting and having Sarah in his life helped him overcome anxiety and sadness.
Derik loves his children and does not mind putting them on social media.
He loves going to the beach and surfing in the sea.
Derik Beeston is a popular YouTuber and social media influencer. He has a significant following on various social media platforms, especially YouTube and TikTok. Many love how he uses his life experiences as teachable moments others can learn from.
Legit.ng published Jayla Walton's biography. She is an American actress, model, and social media influencer. Most people know her as the sister of American actor Javon Walton. Additionally, Jayla is also famous for appearing in the film 1-800-Hot-Nite.
Jayla started being a TikTok content creator in August 2018. She posts lip-syncs, comedy skits, and dance videos. The actress also posts modeling photos on Instagram.
Source: Legit.ng