Eve Schiff biography: Husband, children, parents, maiden name
Eve Schiff is the wife to the Democrat lawyer and U.S. Representative for California's 28th congressional district, Adam Bennett. The former tennis player now works as a volunteer and has been at her husband's side throughout his political career.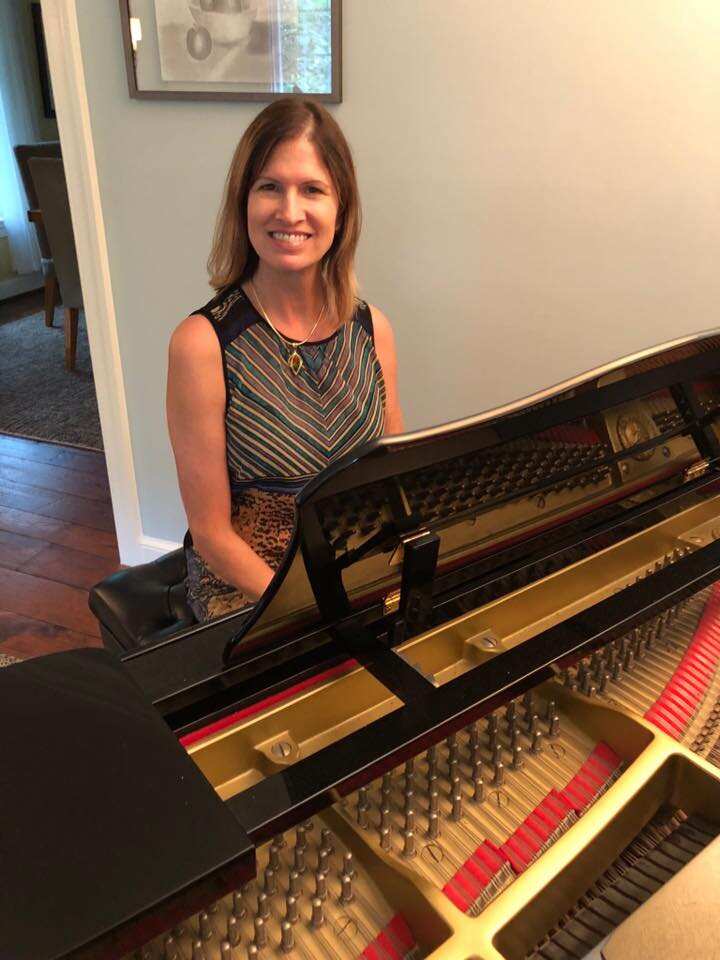 Is Adam Schiff married? Yes, he is, and his wife's name is Eve.
This Eve Schiff bio will give you an insight into who Adam's wife is: her parents, children, maiden name, and more.
Profile summary
Full name: Eve Sanderson Schiff
Date of birth: 12th December 1962
Age: 57 years old
Place of birth: Burbank, California
Zodiac sign: Sagittarius
Nationality: American
Ethnicity: Caucasian
Spouse: Adam Schiff
Height: 5 ft 4 in
Weight: 56 kgs
Eye colour: Black
Hair colour: Dark Brown
Profession: Social Worker
Religion: Catholic
Eve Schiff bio
Who is Adam Schiff wife? Her name is Eve.
Eve Schiff maiden name is Sanderson. However, the congressman's wife does not use this name since she took her husband's last name after they were married.
She was born in 1962 in Burbank, C.A, and she is currently 57 years old.
How old is Adam Schiff? He is 60 years old. The Democrat was born on 22nd June to 1960 to Edward, a salesman, and Sherrill Ann in Framingham, Massachusetts.
Unlike her husband's family, not much information exists about Eve Schiff parents.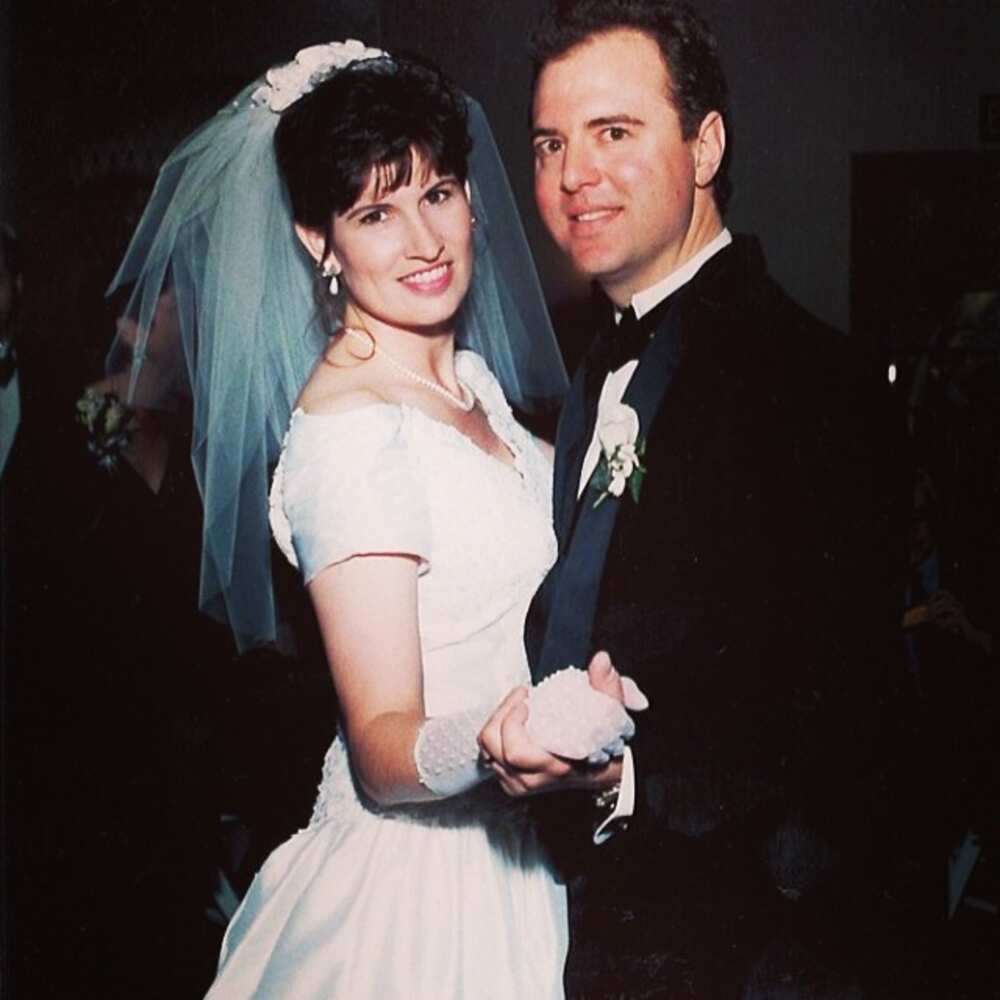 However, her mother, Marion Sanderson, was an artist. Unfortunately, Marion passed away sometime in the mid-2000s.
In 2016, through his official Facebook page, Adam Schiff fondly remembered Marion and his late mother (who passed on after a battle with Alzheimer's) via a mother's day post.
Growing up, Sanderson attended Torrey Pines High School where she graduated in 1980. She later proceeded to join the University of California (USC) in Santa Barbara, C.A.
At USC, Eve graduated with a Literature and Sociology degree. Before having children, Eve Sanderson was a fantastic tennis player. Today, she still plays the sport, and her husband has stated that she encourages him to keep fit.
Married life
How and when did Adam and Eve Schiff meet? The lovebirds met in 1990 at a tennis court in Marina Del Rey.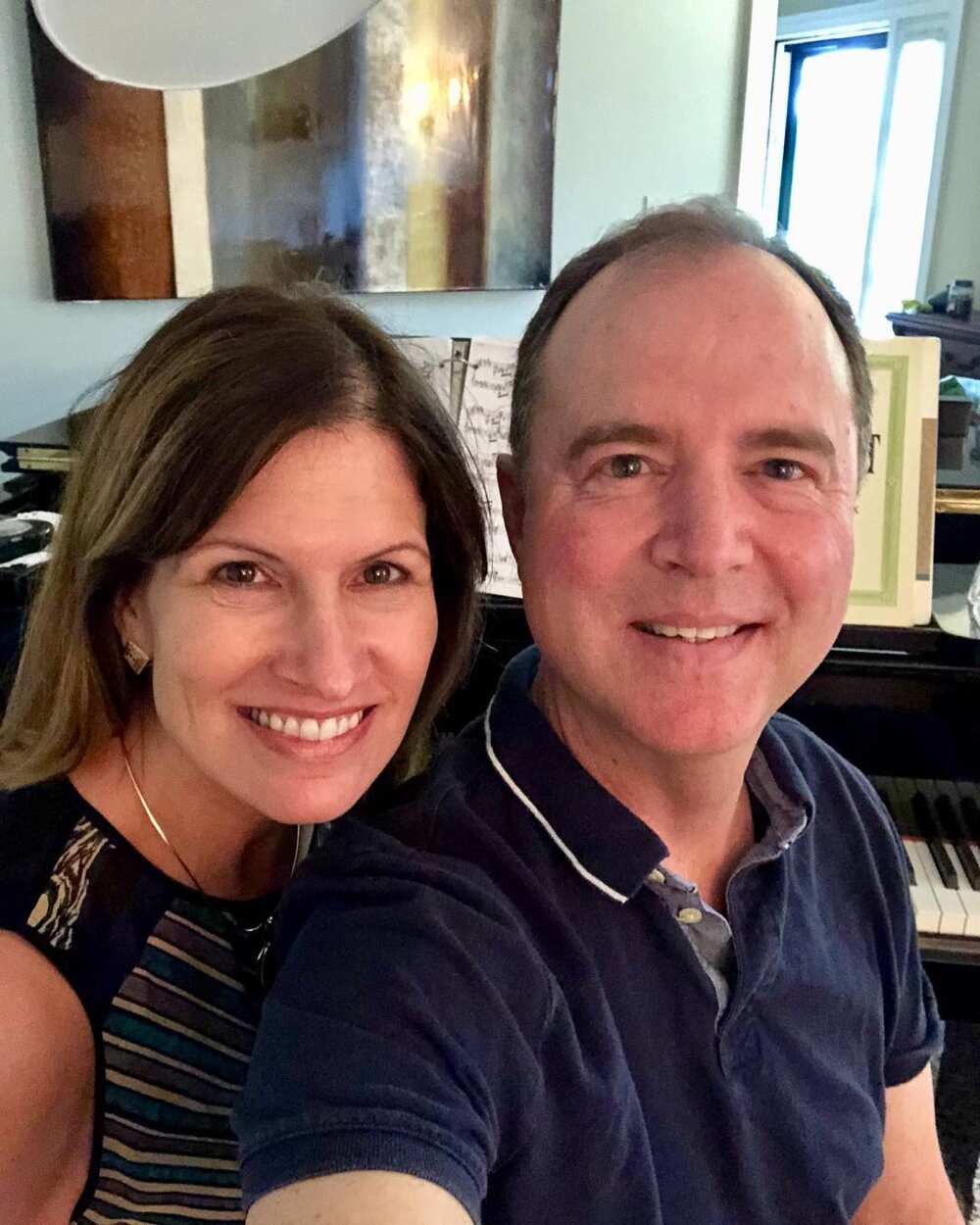 Their mutual friend had planned a double tennis match and invited them both. According to the congressman, he believes that his friend introduced them to each other so he could make 'Adam and Eve' jokes at their expense.
After dating for about five years, the couple finally tied the knot on 19th February 1995.
Adam and Eve Schiff's children
Due to the couple's name being the same as those of the first people in the Bible, most people often made jokes that if they were to have children, they ought to name them Cain and Abel.
After three years of marriage, Adam Schiff wife gave birth to their first child. Alexa Marion was born on 12th July 1998 and is almost 22 years old.
In 2016, her father revealed that his daughter would be attending the private Northwestern University in Evanston, Illinois, as a pre-med student.
Elijah Schiff was born four years later in July 2002, and his middle name is Harris. Harris is currently in high school.
Quick facts about congressman's wife and her family
Her husband is two years older than her.
Eve was raised as a Catholic and her husband is a Jew. Despite the difference in religion, they seem to live harmoniously together and celebrate both Christian and Jewish holidays.
Their children, Lexi and Eli, have been raised in the Jewish faith and traditions like their father. The family has been worshiping at the Temple Beth Ami since 2010.
While she has one degree from the University of California, her husband has three from two different universities. The first two were from Stanford University where was a pre-med and Political Science student. After graduation, he proceeded to Harvard University, where he graduated with a Law degree in 1985.
What is Eve Schiff net worth?
While the value of her assets is unknown, her husband's net worth is $2 million as of 2020.
Unlike her husband, Eve Schiff is not on social media, nor does she spend a lot of her time in the public eye. She seems to be quite content with supporting her husband's political aspirations, raising their children, and doing volunteer work.
Source: Legit.ng