Inspirational teacher quotes and sayings
Educators are extraordinary people in the lives of most people. They shape, change and influence the lives of their students by sharing their knowledge and experiences. A good educator is one who understands the needs of their students. They adapt their material for the student's benefit. Educators and instructors are often under-appreciated. These teacher quotes remind us to appreciate their role on earth.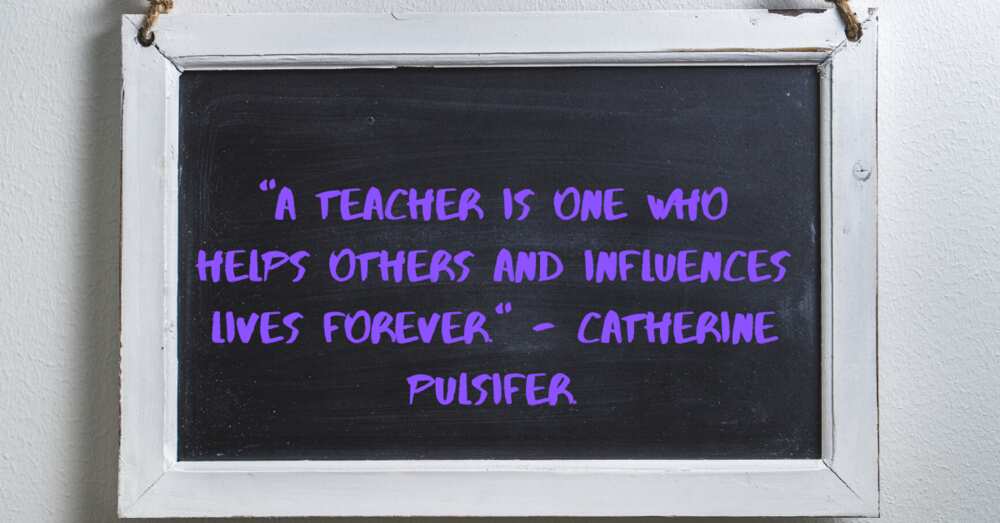 Educators impact on the lives of both young and old students. They encourage young children to explore their interests and to exploit their potential. Without them, people would not get a good education. Like everyone else, an educator experiences challenges in their career. These teacher quotes encourage and motivate them to become better and dedicated instructors and trainers.
Inspirational teacher quotes and sayings
Are you looking for the best teacher quotes? Here are some of the best ones to inspire, motivate and revitalise these professionals.
Inspirational quotes for teachers
Most trainers and instructors can attest to the fact that they often experience an energy drain. Sometimes, they are not at their best. They require encouragement and inspiration when their days are long and tough. Some of the top inspirational quotes about teachers are;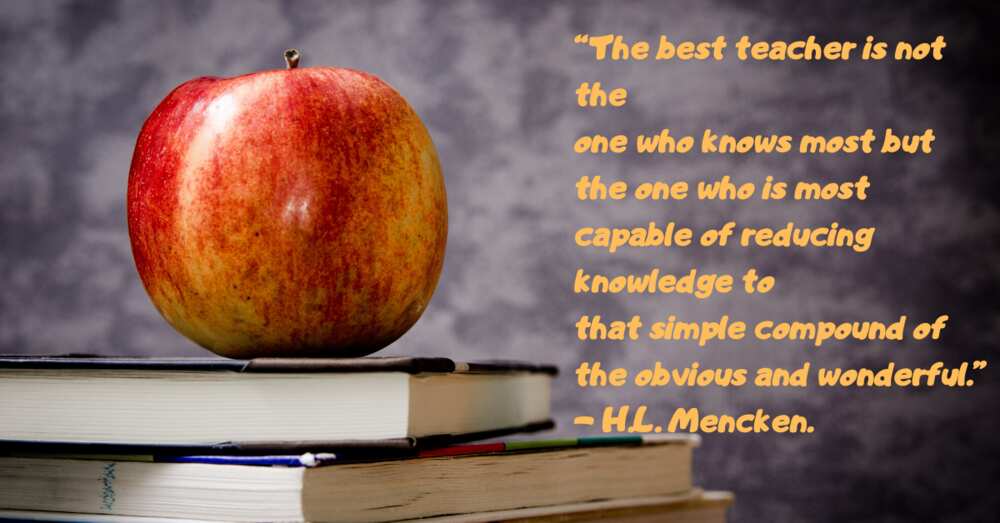 "What is a teacher? I'll tell you: it isn't someone who teaches something, but someone who inspires the student to give of her best in order to discover what she already knows."- Paulo Coelho.
An educator has plenty of information and knowledge. Beyond sharing what they know with their students, they can inspire them to achieve their potential.
Every educator should aspire to be great in their career. They should understand the needs of each learner and show their dedication towards the improvement of each student.
"The best teacher is not the one who knows most but the one who is most capable of reducing knowledge to that simple compound of the obvious and wonderful." - H.L. Mencken.
Excellent educators make learning easy for learners. They can do this by lowering themselves to the level of the learners and being patient with them. It is necessary for them to understand the unique needs of each student.
"Educating the mind without educating the heart is no education at all." – Aristotle.
An educator should go beyond issuing facts to the learners. They should touch their hearts.
"A teacher is one who helps others and influences lives forever." - Catherine Pulsifer.
All educators must always be aware that they impact the lives of their students beyond their school years. They must ask themselves whether or not they have made a positive mark in the lives of each of the learners.
"A teacher is never a giver of truth - he is a guide, a pointer to the truth that each student must find for himself. A good teacher is merely a catalyst." - Bruce Lee.
An excellent trainer patiently allows each student to discover the truth about the world. They must allow the learner to find and express their beliefs and convictions instead of forcing them to believe in what the educator thinks is true.
Short quotes for teachers
Sometimes, all it takes is a quick quote to remind an instructor or trainer about their importance in the lives of many people. Some of the top short quotes are;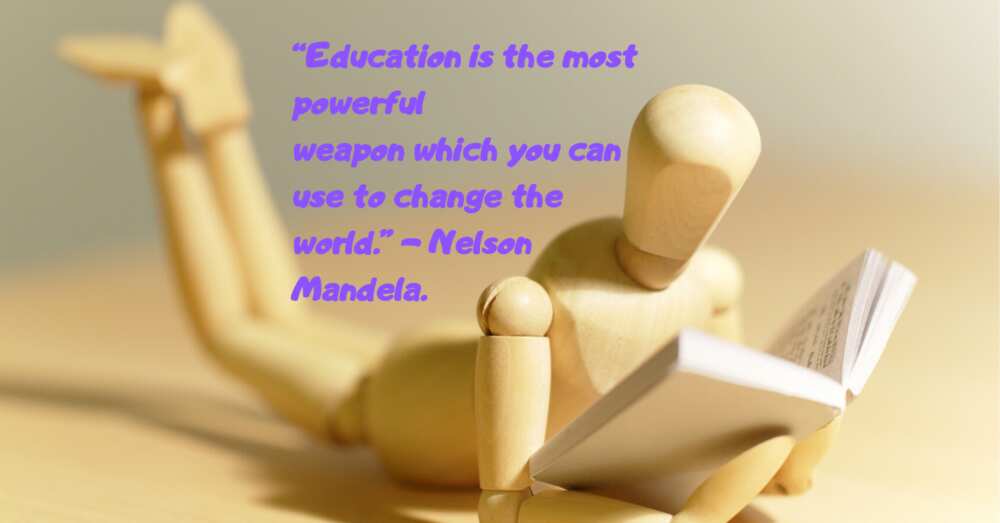 "A teacher affects eternity; he can never tell where his influence stops." - Henry Adams.
"The job of an educator is to teach students to see vitality in themselves" - Joseph Campbell.
"The true teacher defends his pupils against his own personal influence." - Amos Bronson Alcott.
"Education is the kindling of a flame, not the filling of a vessel." – Socrates.
"Education is the most powerful weapon which you can use to change the world." - Nelson Mandela.
Teaching quotes for reflection
As a professional, it is necessary to have some alone time to evaluate one's character and performance. These quotes assist educators in reflecting and coming up with techniques to become better in their career;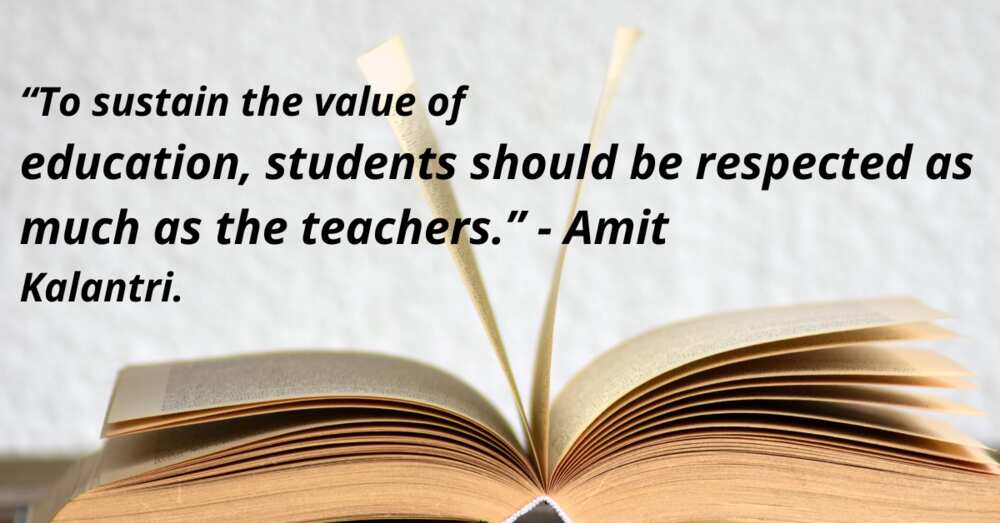 "Do not train a child to learn by force or harshness; but direct them to it by what amuses their minds, so that you may be better able to discover with accuracy the peculiar bent of the genius of each." – Plato.
Learners achieve more when the learning process is made fun and the learning atmosphere is conducive.
"Teachers have three loves: love of learning, love of learners, and the love of bringing the first two loves together." - Scott Hayden.
An instructor who loves their students is more successful in their career.
"A teacher who loves learning earns the right and the ability to help others learn." - Ruth Beechick.
Teachers should always invest in acquiring more knowledge and skills. They should also be willing to share the new skills and knowledge with their students.
"For a teacher to be productive and effective in the process of teaching, compassion, or a kind heart, is the most crucial quality." - Dalai Lama XIV.
A trainer with a good heart has a more positive impact on the lives of their students.
"To sustain the value of education, students should be respected as much as the teachers." - Amit Kalantri.
Respect is a two-way lane.
"Teach the ignorant as much as you can; society is culpable in not providing a free education for all, and it must answer for the night which it produces. If the soul is left in darkness sins will be committed. The guilty one is not he who commits the sin, but he who causes the darkness." - Victor Hugo.
An educator must always be a source of light for the learners.
Teachers quotes about their responsibility
Who is a responsible educator? It is one who knows their call of duty and goes beyond it. These quotes remind us of the responsibilities of trainers;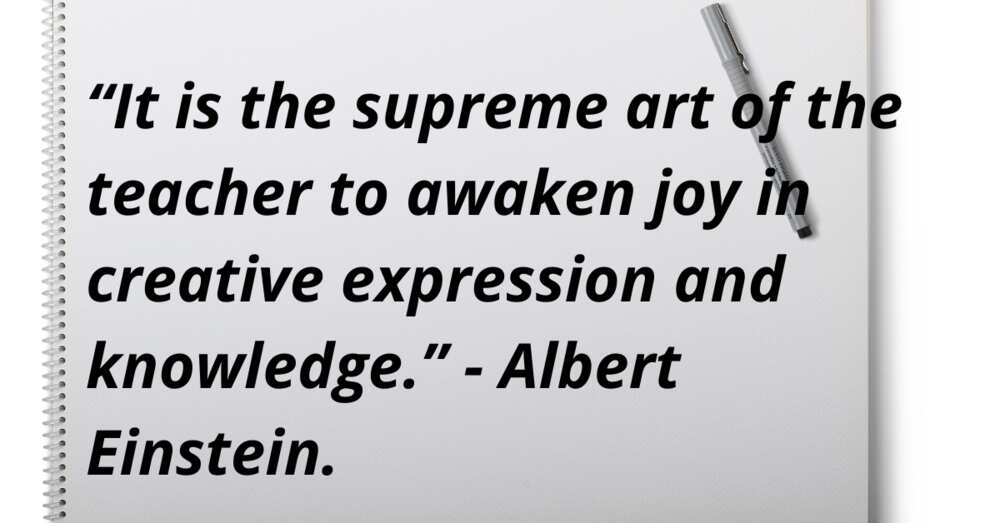 "It is the supreme art of the teacher to awaken joy in creative expression and knowledge." - Albert Einstein.
An educator who allows each learner to express their creativity achieves more.
"Teachers, like doctors, do not have to search for meaning in their work. That's one of the best parts of the job: We know that what we do matters, and having a purpose in life is related to higher levels of happiness." - Paul Murphy.
An instructor who fails to capture the attention of a learner does not achieve much.
"So what does a good teacher do? Create tension - but just the right amount." - Donald Norman.
A little tension between an instructor and a student is necessary for a learner to fully exploit their learning potential.
"I'm a good teacher and am great at observation and picking out what's wrong and fixing it." - Abby Lee Miller.
A good instructor must use both their instinct and observation skills to solve any problems that the learners face.
"The job of an educator is to teach students to see vitality in themselves." - Joseph Campbell.
Each student is gifted in their unique way, and the trainer should assist them in discovering their gift.
Teacher appreciation quotes
Do you have an educator whom you would love to appreciate? You can do so using these thank you teacher quotes;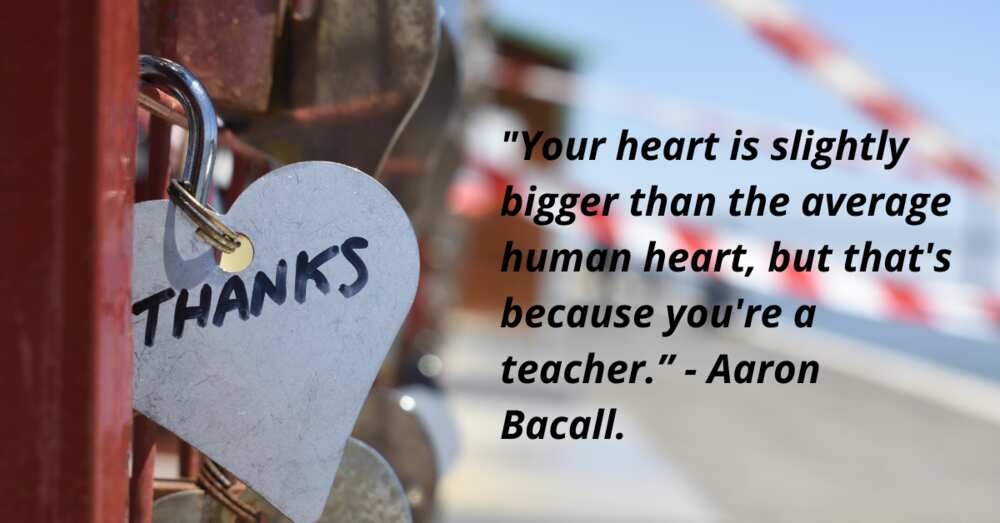 "A hundred years from now, it will not matter what kind of car I drove, what kind of house I lived in, how much money I had in the bank ... but the world may be a better place because I made a difference in the life of a child." Forest Witcraft.
An educator must look beyond the material gains of their job. Their focus should be on each learner.
"Because my teacher believed in me, I never gave up. Now I am flying towards my dreams." - Heidi McDonald.
A trainer who believes in their students helps them to become successful in life.
"Your arms were always open when I needed a hug. Your heart understood when I needed a friend. Your gentle eyes were stern when I needed a lesson. Your strength and love has guided me and gave me wings to fly." - Sarah Malin.
This is a reminder that an instructor or tutor should always understand each learner.
"I am indebted to my father for living, but to my teacher for living well." - Alexander the Great.
An instructor who lives well inspires their learners to become great people in life.
"Your heart is slightly bigger than the average human heart, but that's because you're a teacher." - Aaron Bacall.
It takes special grace to be a successful tutor.
"Whoever first coined the phrase 'you're the wind beneath my wings' most assuredly was reflecting on the sublime influence of a very special teacher." - Frank Trujillo.
A great educator pushes each learner to soar high, not just in academics, but also in their talents and gifts.
Quotes about being an ideal tutor
Every educator desires to be the best version of themselves. This desire may be achieved through a teacher quote that can also serve as a mantra in their career. Some of the best quotes about being an ideal instructor are;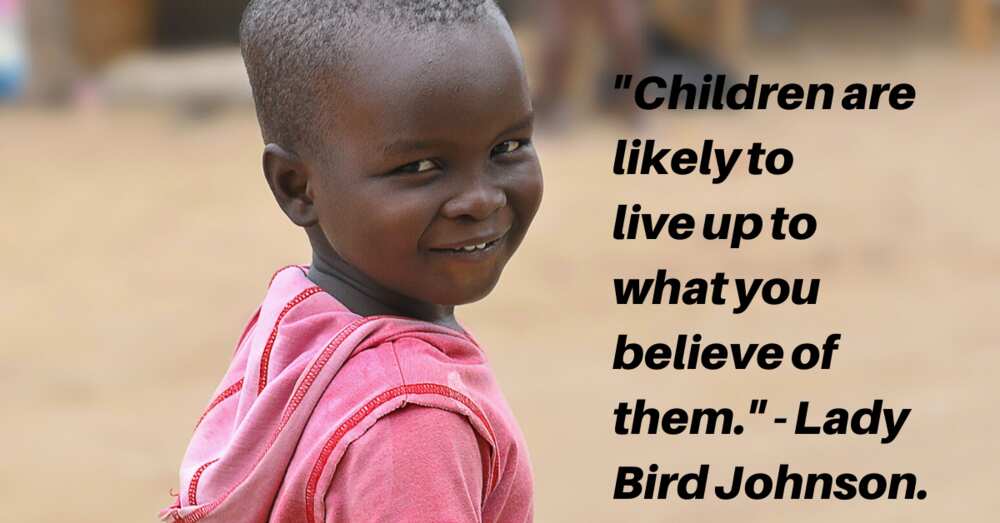 "Ideal teachers are those who use themselves as bridges over which they invite their students to cross, then having facilitated their crossing, joyfully collapse, encouraging them to create bridges of their own." - Nikos Kazantzakis.
An excellent trainer is one who allows each learner to prosper, even when it means going out of their way.
"When we strive to become better teachers than we are, everyone in our classroom becomes better too." - Robert John Meehan.
A good tutor is a role model for their students.
"The great trainer is not the man who supplies the most facts, but the one in whose presence we become different people." - Ralph Waldo Emerson.
A good educator creates a learning atmosphere where each learner can be their authentic selves.
"Students don't care how much you know until they know how much you care." - John C. Maxwell.
A tutor who cares about the welfare of the learners captures their hearts forever.
"Teaching is not just a job. It is a human service, and it must be thought of as a mission." - Dr. Ralph Tyler.
Good educators know that they are providing service to humanity in their careers.
"Children are likely to live up to what you believe of them." - Lady Bird Johnson.
Excellent tutors should believe in each child so that they can believe in themselves as well.
Quotes that challenge educators
It is not uncommon for educators, and other professionals as well, to lose their mojo because of the repetitive nature of their work. When this happens, a challenging quote may be all it takes to strategise and reset their minds.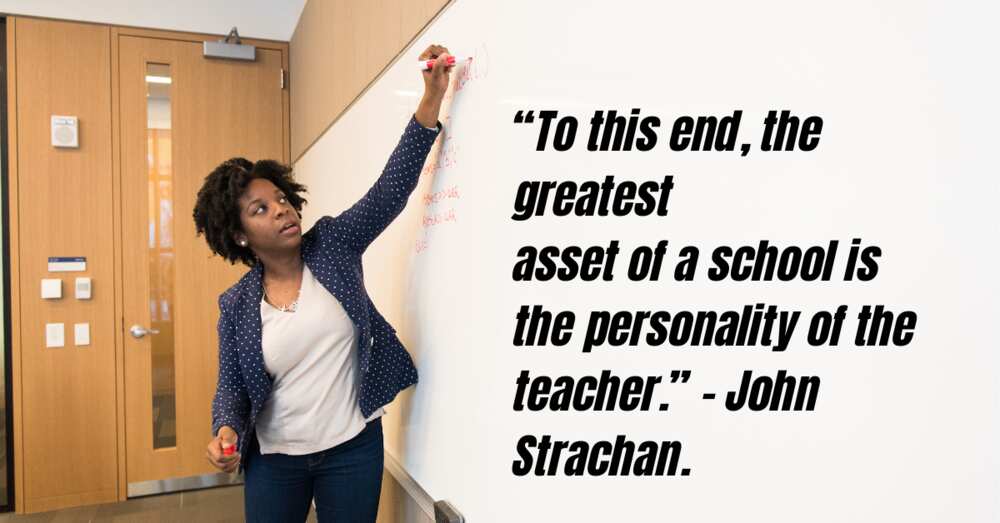 "The teacher who is indeed wise does not bid you to enter the house of his wisdom but rather leads you to the threshold of your mind." - Kahlil Gibran.
Each mind is unique and should be assisted to exploit the uniqueness within.
"Teaching our kids to become intelligent citizens is one of life's most esteemed callings." - Steve Fadie.
Educators have the noble role of creating honest and intelligent citizens in each country.
"Having been an educator for so many years I know that all a good teacher can do is set a context, raise questions or enter into a kind of a dialogic relationship with their students." - Godfrey Reggio.
Allowing learners to talk and express themselves creates a good relationship between an instructor and the learner.
"They may forget what you said, but they will not forget how you made them feel." - Carl Buechner.
All educators must never forget that their students have feelings that matter.
"It's the teacher that makes the difference, not the classroom." - Michael Morpurgo.
Learning can take place in any location.
"To this end, the greatest asset of a school is the personality of the teacher." - John Strachan.
A tutor with a good personality has a positive influence on the lives of their students.
Quotes about an educator's influence
Numerous people in the world today can attest to the fact that their tutors and lecturers had a special role in their lives. They influenced and impacted their lives. Some of the quotes that depict this influence are;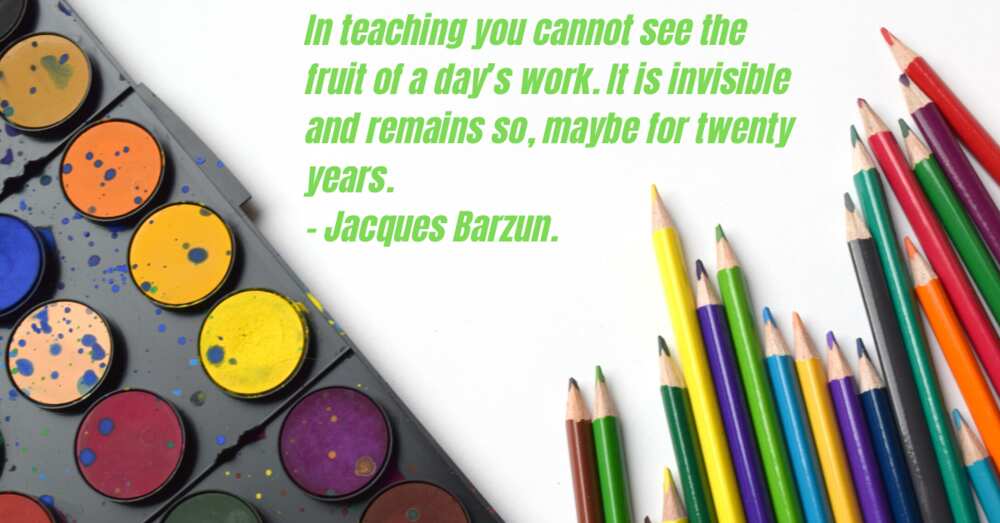 "In teaching, you cannot see the fruit of a day's work. It is invisible and remains so, maybe for twenty years." - Jacques Barzun.
Each day, a good instructor has a chance to better the life of a learner, even if the results may manifest in the future.
"Gradually, I got used to the silence and darkness that surrounded me and forgot that it had ever been different, until she came - my teacher - who was to set my spirit free." - Helen Keller.
These quotes remind educators who deal with differently-abled students that they have the power to transform their lives for the better.
Educating others is not limited to the classroom. Educators are multi-purpose.
"Teachers are people who start things they never see finished, and for which they never get thanks until it is too late." - Max Forman.
How often does a tutor get thanked? Not very often. Nonetheless, they do a splendid job.
"The art of teaching is the art of assisting discovery." - Mark Van Doren.
Becoming a successful educator
What distinguishes a successful tutor from all other tutors? Most educators want to be successful in their careers. To achieve this success, they must step out of their comfort zone and assist each student to exploit their potential both in academics and extra-curricular activities. These quotes describe who a successful educator is;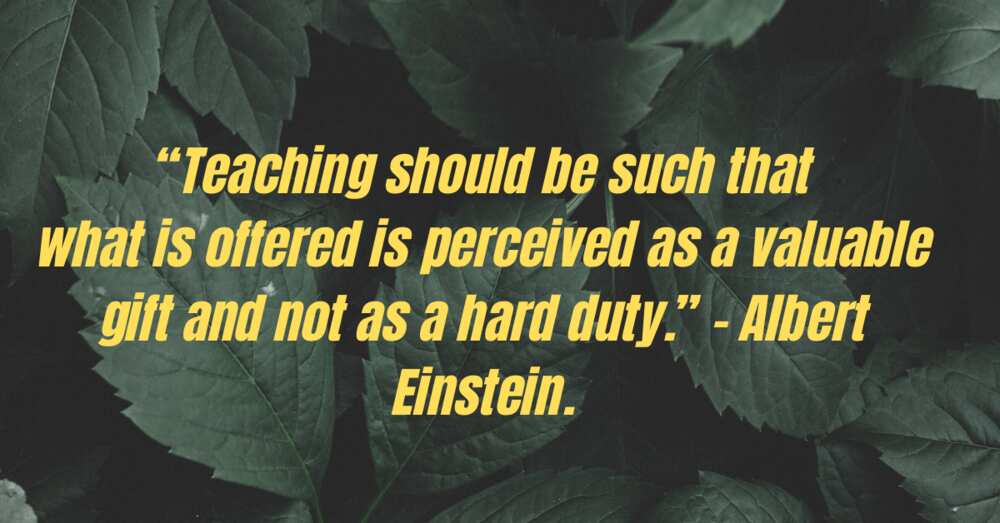 "Successful teaching is about shaping the information flow so that the student experiences it - moment by moment - at the right level of difficulty." - Fiona McPherson.
A good tutor understands the level of understanding of the students and makes sure that they tailor-make the content to match the needs of an individual learner. When this is done, the student gains more, and they create a good relationship with the tutor.
"The difference between more effective teachers and their less effective colleagues is not what they know. It is what they do." - Todd Whitaker.
Actions always speak louder than words. Each successful tutor knows that students, especially the younger ones, learn best through imitation. The instructors must, therefore, be good role models for the learners.
Every day is a chance for a good trainer to learn something new. The learning is not limited to the course content. It could be a life lesson that is worth sharing with the students.
"Good teaching must be slow enough so that it is not confusing, and fast enough so that it is not boring." - Sidney J. Harris.
Keeping the right pace when delivering content is an educator's responsibility. We all know that tutor who was boring and made us sleep in class. You do not want to be that lecturer, do you?
"Teaching should be such that what is offered is perceived as a valuable gift and not as a hard duty." - Albert Einstein.
Learning should be fun, and each tutor should make it so. When it is made fun, it becomes easier for the learner to understand the concepts they thought were hard. Fun learning also encourages the student to love their school days.
"The test of a good teacher is not how many questions he can ask his pupils that they will answer readily, but how many questions he inspires them to ask which he finds it hard to answer." - Alice Wellington Rollins.
A good trainer should be ready to be challenged by the students.
Funny teacher quotes
Without a bit of play and laughter, educators can also become dull. No student wants a dull trainer. These teacher quotes funny remind us that they too need a bit of cheer in their lives. Some of the most humorous quotes about educators are;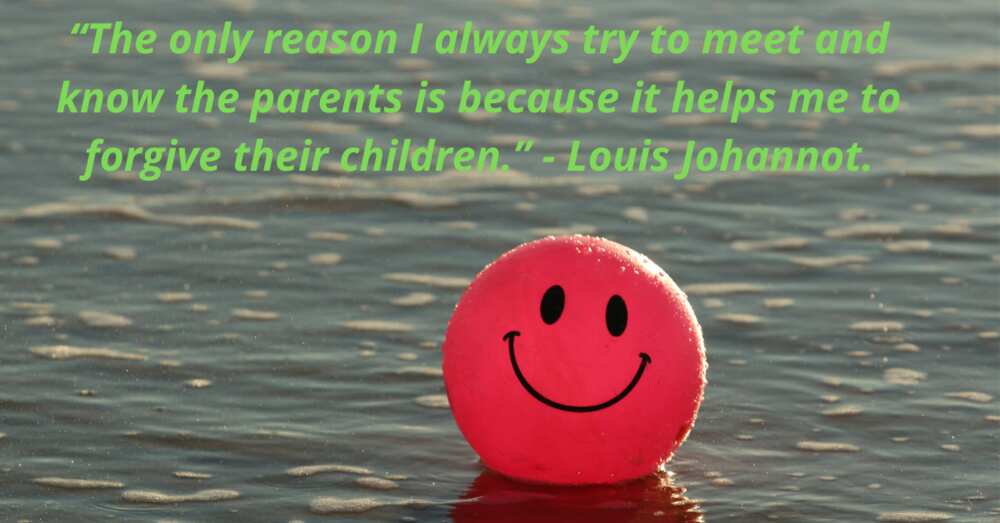 "A cross-eyed teacher can keep twice the number of children in order than any other because the pupils do not know who she's looking at." - John R. Kemble.
"If you think your teacher is tough, wait until you get a boss. He doesn't have tenure." - Bill Gates.
This is a good life lesson for both students and their educators. Most students think that life in school is difficult and boring. However, more lies ahead after school. This quote reminds all learners that they should appreciate the many chances that their instructors give them. At the workplace, not many chances are allowed. One gets fired when they mess up repeatedly.
"Being a new teacher is like trying to fly an airplane while building it." - Rick Smith.
Every seasoned tutor was once a novice in their careers. They can attest to the fact that their first few classes were confusing for them. They were not sure whether to put on a strict demeanour or otherwise. It took time before they found their footing.
Life is too short to be grumpy all the time. All educators should enjoy the light moments that come by as they are educating their students.
"I like a teacher that gives you something to take home to think about besides homework." - Lily Tomlin.
Homework is good and necessary, but an excellent trainer must show their students how to think outside the box. Only then will they exploit their potential both in academics and in their lives.
"The only reason I always try to meet and know the parents is because it helps me to forgive their children." - Louis Johannot.
A good educator must have a forgiving heart. However, forgiveness is sometimes hard. A tutor needs a little help to forgive and forget. The help comes in the form of laughter.
Top teacher sayings
Students are often affected by the quality of their trainers and instructors. Who is a good educator? It is one who can develop and maintain good relationships with the students. They are caring, patient and understanding. They also engage the students in the learning processes and are dedicated to their noble job. Sayings about educators remind them about this duty. Some of the best sayings about educators are;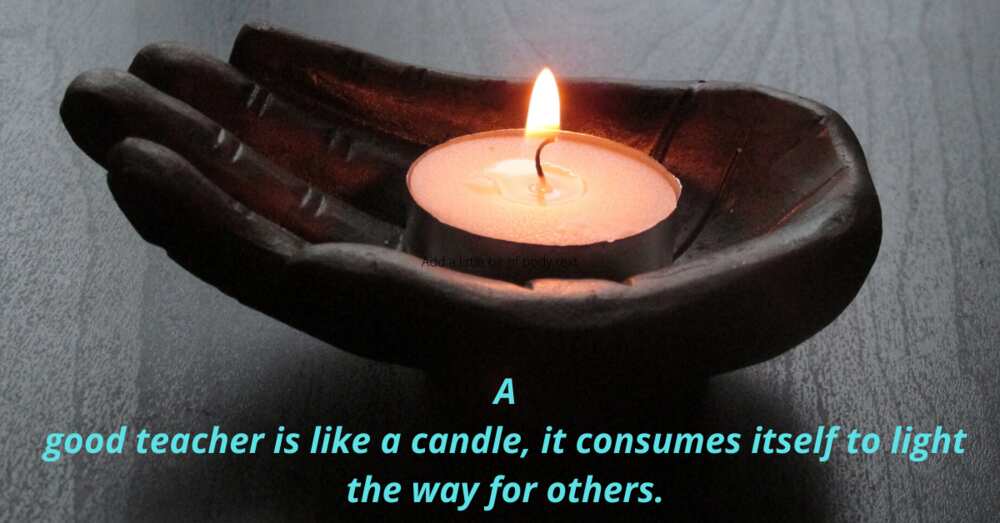 It takes a big heart to help shape little minds.
Treat your students the way you want to be treated.
Do not confine your children to your own learning, for they were born in another time (Chinese proverb).
The best teachers teach from the heart, not from the book.
If you are planning for a year, sow rice; if you are planning for a decade, plant trees; if you are planning for a lifetime, educate people (Chinese proverb).
Teaching is the one profession that creates all other professions.
A good education can change anyone; a good teacher can change everything.
Teachers encourage minds to think, hands to create, and hearts to love.
Great teachers empathise with kids, respect them, and believe that each one has something special that can be built upon.
The best teachers are those who tell you where to look, but don't tell you what you see.
The day you're willing to veer off the lesson plan, follow a kid's lead, and learn with your students is the day you really become a teacher.
Better than a thousand days of diligent study is one day with a great teacher (Japanese proverb)
Funny teacher sayings
Like any other career, an educator has both good days and bad days. The bad days can be made better through funny sayings. While these sayings may just be for laughs, they also serve unique purposes. They remind the educator that their job is noble, and that they should go out of their way to ensure that each student acquires a good education. Some of the top sayings that are funny are;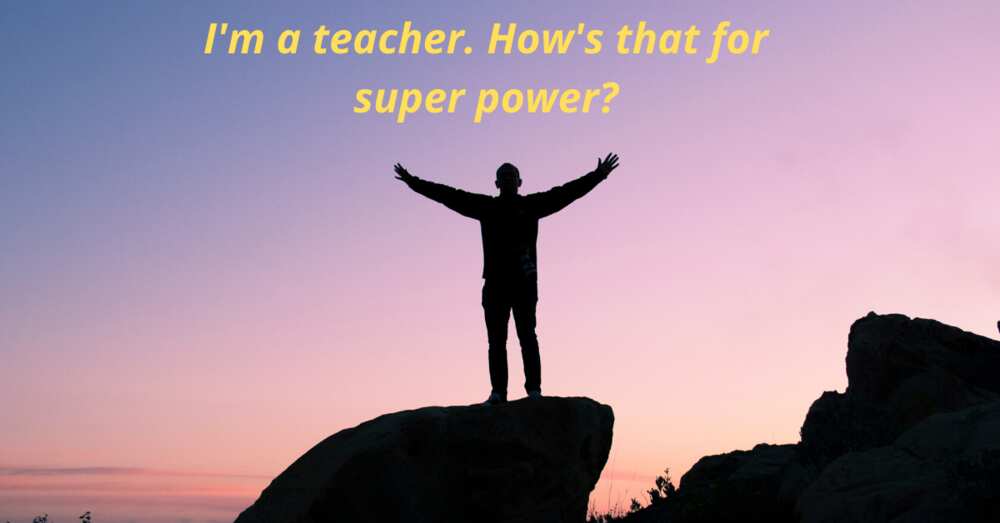 As long as teachers give tests, there will always be prayer in schools.
A professor is someone who talks in someone else's sleep.
Teachers are like road signs because even when they tell you what to do, you still get lost.
Cheers to all of the teachers who give out pencils every single day know that they'll never get them back.
By choosing to be a teacher, you have entered an emotionally dangerous profession.
Are you an educator? Do you have a particular instructor that you would love to inspire, motivate or make happy? The above teacher quotes will meet this need. They will brighten the day and lighten the mood of an educator who makes a difference in the lives of their students.
Source: Legit