20 best John Wooden quotes to make each day your masterpiece
John Wooden was a legendary basketball player who later became the head coach at the University of California, Los Angeles. Wooden was the first person to be inducted into the Basketball Hall of Fame as both a player and as a coach. This is one of the many accomplishments that defined his career. Apart from his successes, the coach was famous for his famous John Wooden quotes that still inspire many people to date.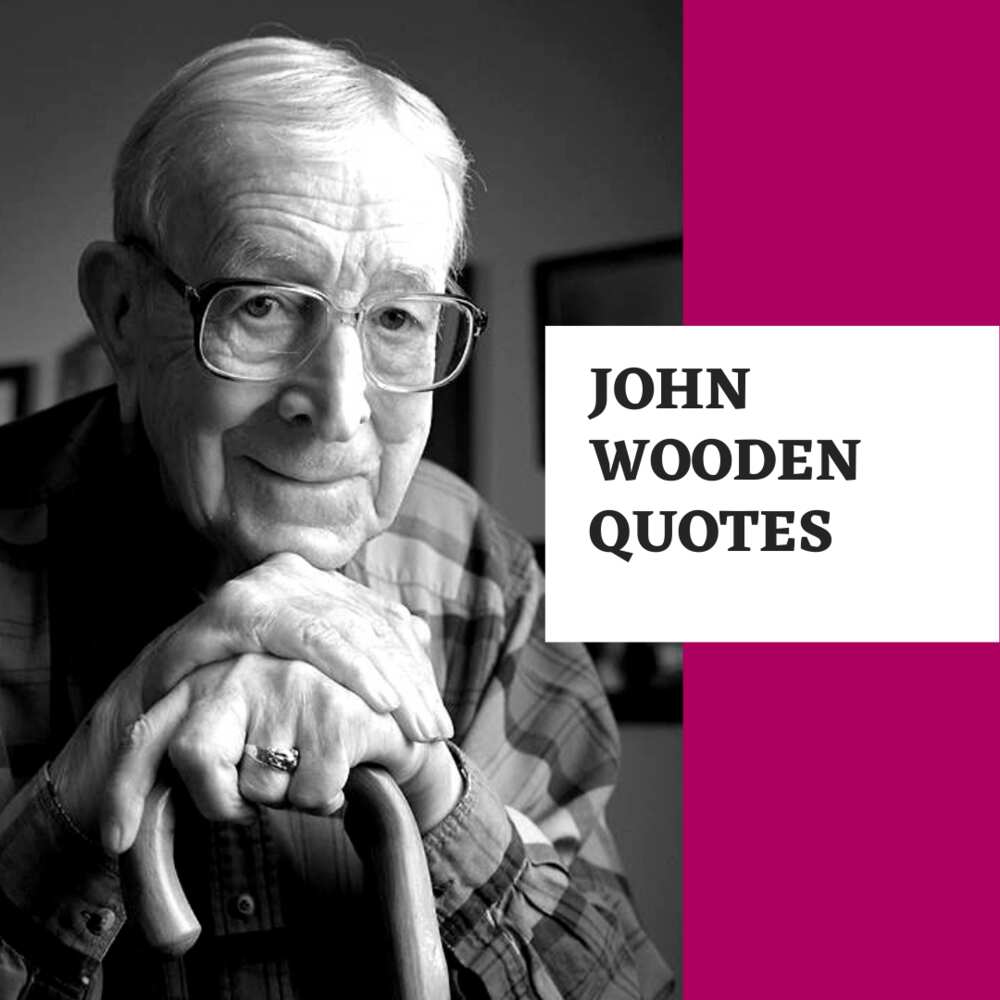 Quotes by John Wooden clearly describe why the coach was quite successful in his career. The man, who was born on October 14, 1910, went to Martinsville High School, Purdue University, and Indiana State Teachers College.
At Purdue University, he earned three straight All-America selections as a guard and was named team captain as a junior. Before we get carried away by the man's accomplishments, let us list some of the best quotes from John Wooden.
Best John Wooden quotes
Do you wish to be inspired by the coach's wise words? Take a look at some of his most famous quotes.
John Wooden leadership quotes
Here are some of John's famous words that every leader should live by:
We must be challenged to improve, and adversity is the challenger.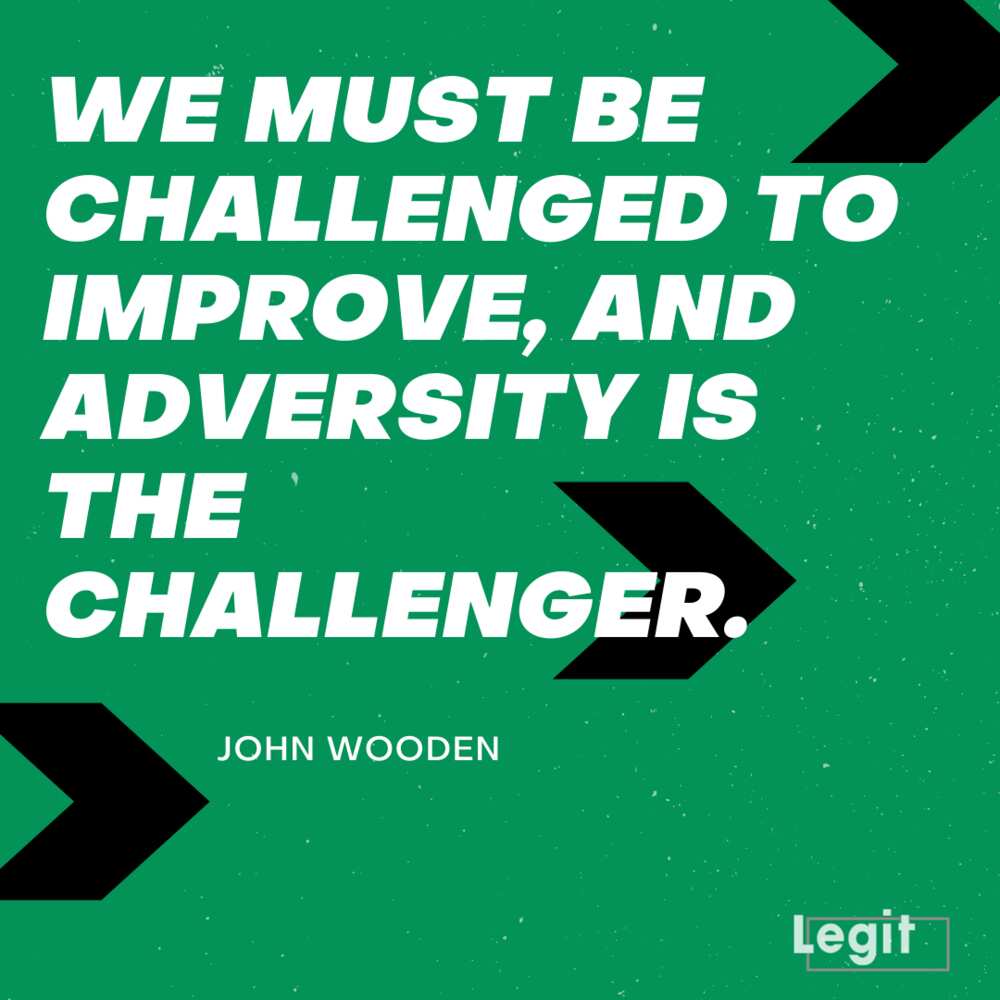 Act quickly, but don't hurry.
You can make mistakes, but you're not a failure until you start blaming others for those mistakes.
If you spend too much time learning the tricks of the trade, you may not learn the trade.
While you can't control what happens to you, you can control how you react.
People want to believe you are sincerely interested in them as a person. Not just for what they can do for you.
When you improve a little each day, eventually big things occur.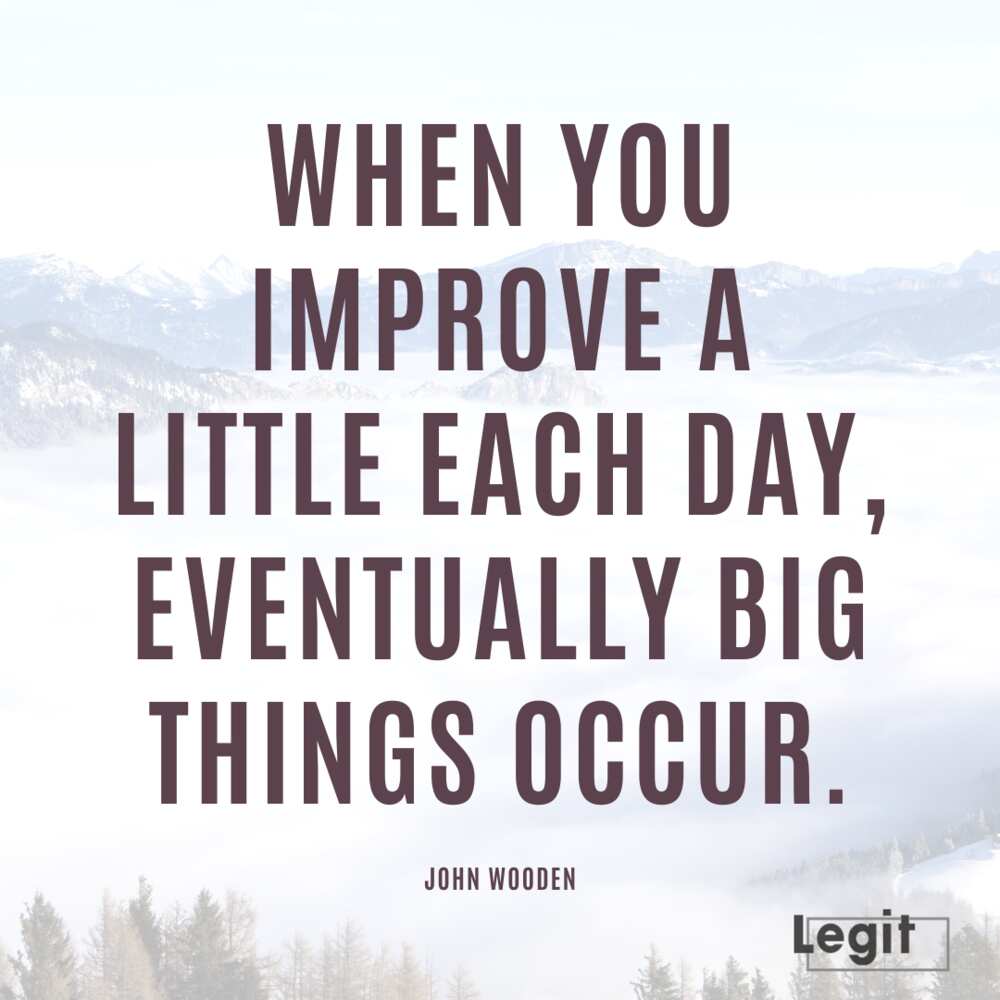 Apply yourself every day to just becoming a little bit better.
A leader's most powerful ally is his or her own example.
Without proper self-evaluation, failure is inevitable.
Progress comes slowly but steadily if you are patient and prepare diligently.
Mix idealism with realism and add hard work.
Balance means keeping things in proper perspective.
When the opportunity arises, it is too late to prepare.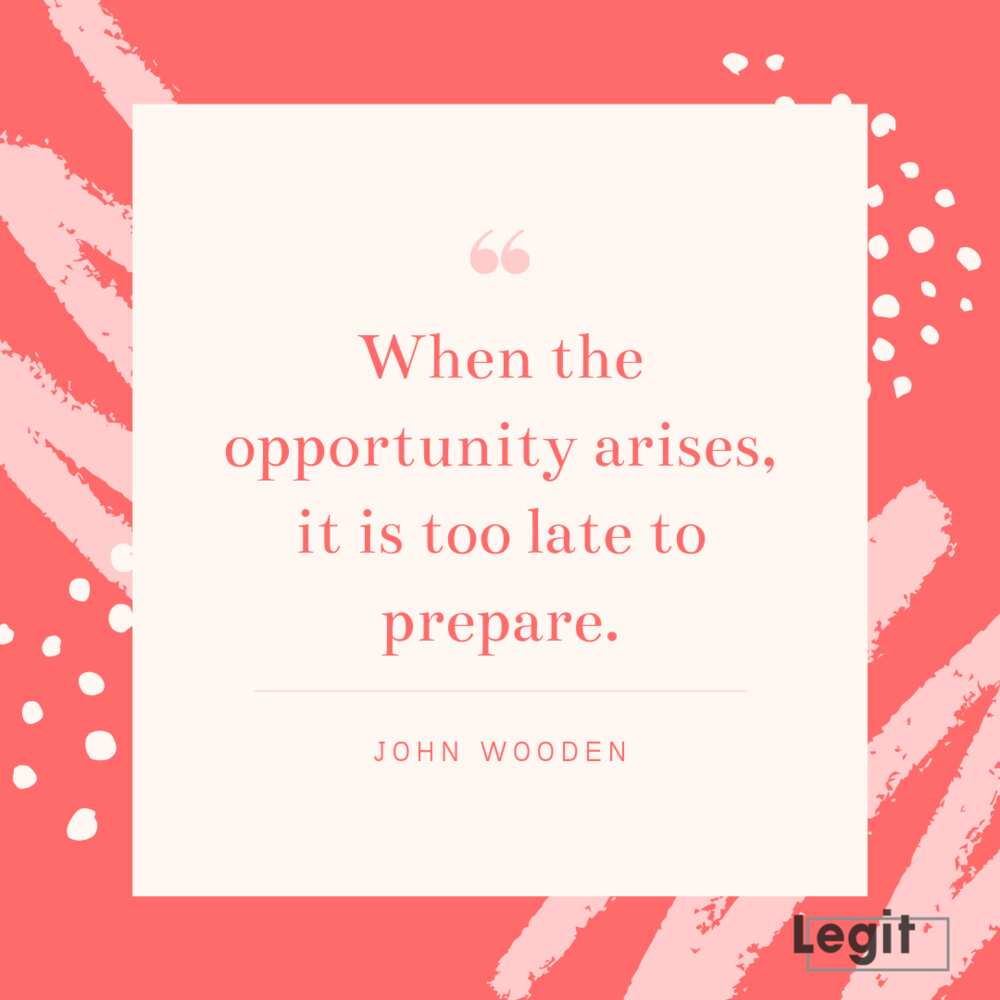 You will find that success and attention to details, the smallest details, usually go hand in hand.
Being a role model is the most powerful form of educating.
Fairness is giving all people the treatment they earn and deserve. It doesn't mean treating everyone alike. That's unfair, because everyone doesn't earn the same treatment.
Focus all your effort on what is in your power to control.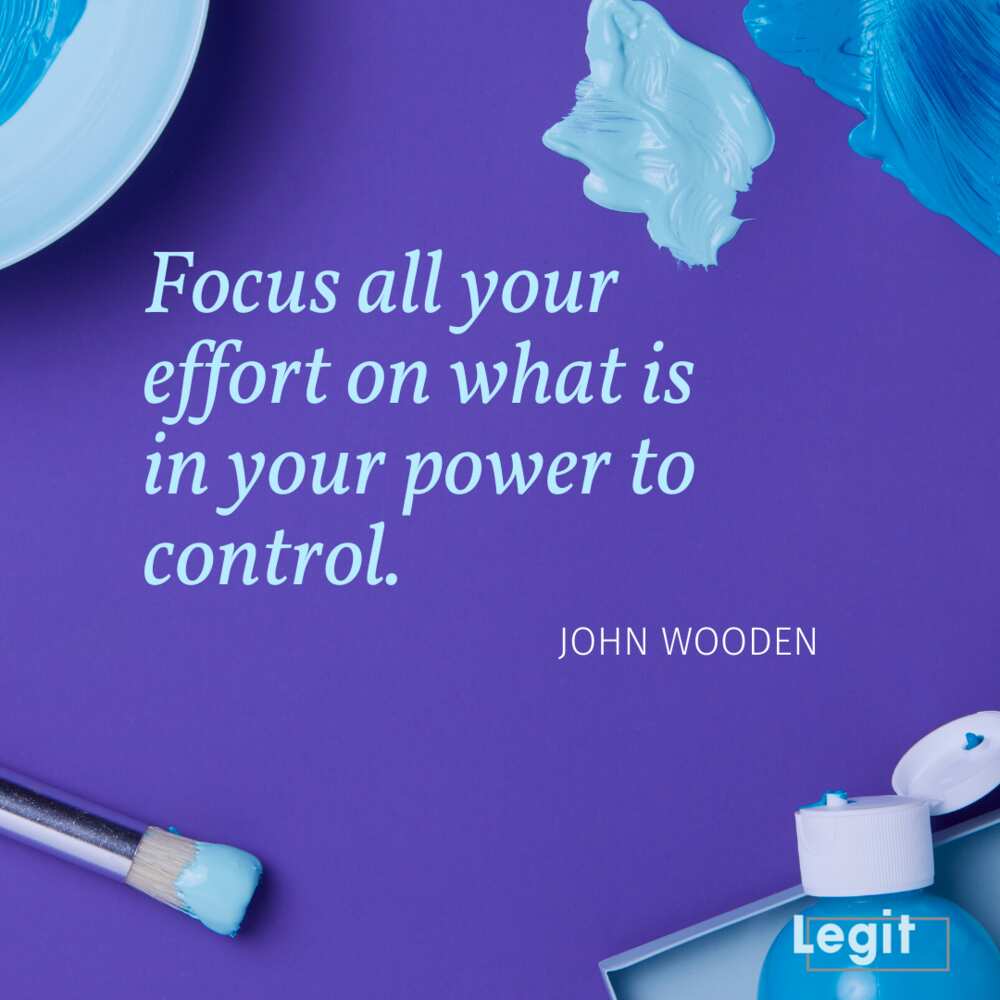 You can never make up for a lost day… Don't think you can make up for it by working twice as hard tomorrow. If you have it within your power to work twice as hard, why aren't you doing it now?
Other John Wooden inspirational quotes
Here are some more quotes from John Wooden that will inspire you to achieve greater things in life:
Be true to yourself. Make each day a masterpiece. Help others. Drink deeply from good books. Make friendship a fine art. Build a shelter against a rainy day.
Adversity is the state in which man most easily becomes acquainted with himself, being especially free of admirers then.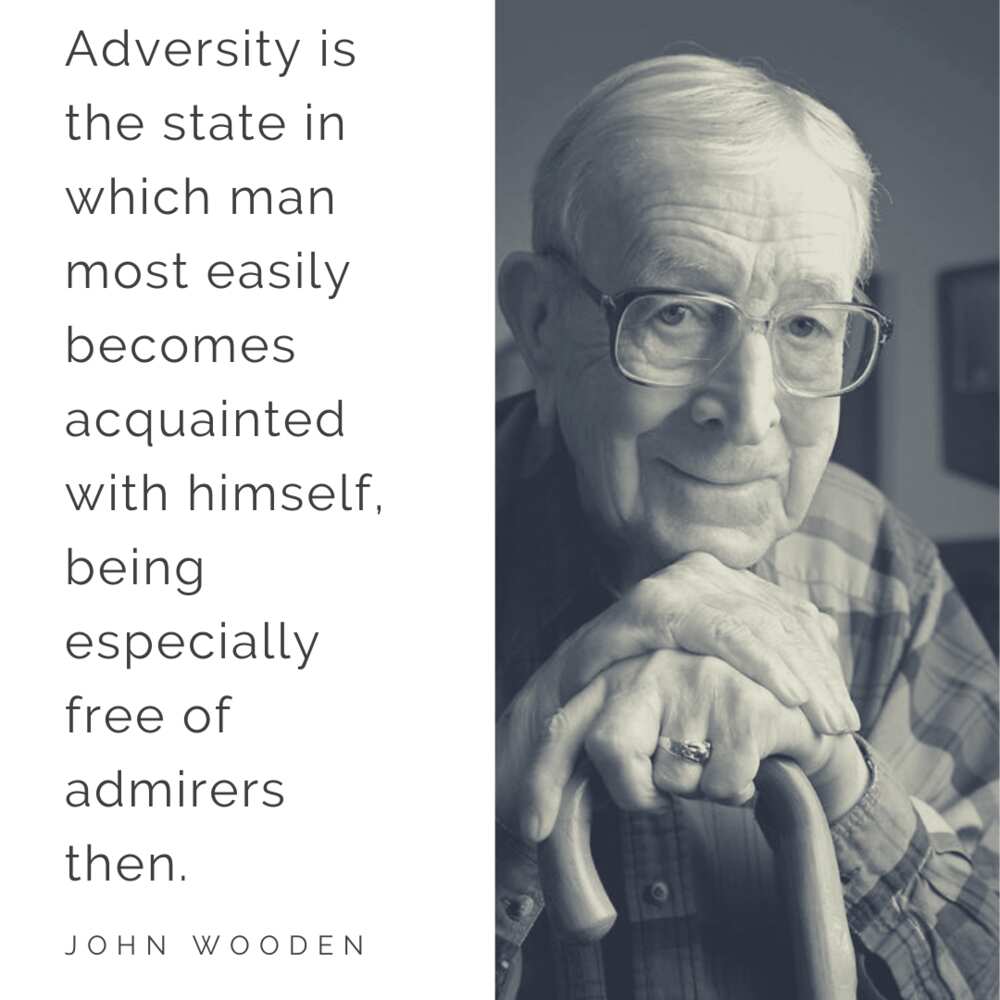 I'd rather have a lot of talent and a little experience than a lot of experience and a little talent.
I'd be satisfied just coaching in high school. I turned down a number of colleges when I was teaching in South Bend, Indiana, before I went into the service. I honestly believe that if I hadn't enlisted in the service, I would never have left high school teaching. I'm sure I would have never left.
I'm no wizard, and I don't like being thought of in that light at all. I think of a wizard as being some sort of magician or something, doing something on the sly or something, and I don't want to be thought of in that way.
In the end, it's about the teaching, and what I always loved about coaching was the practices. Not the games, not the tournaments, not the alumni stuff. But teaching the players during practice was what coaching was all about to me.
You can't live a perfect day without doing something for someone who will never be able to repay you.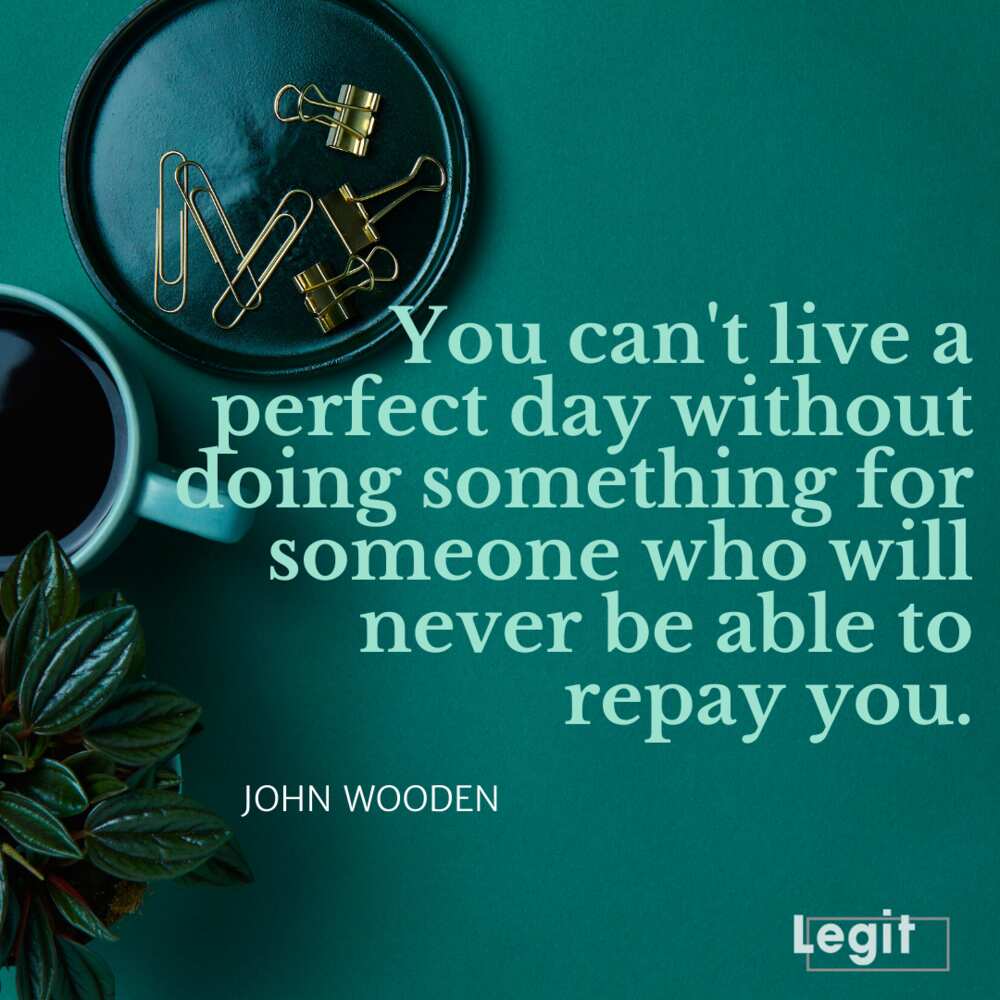 Interesting Q&A section about John Wooden
Here are answers to the most commonly asked questions about the coach.
1. Why was John Wooden a good coach?
Coach Wooden was a good coach because of the following reasons:
He was very good at selecting players.
He knew how to motivate each person to fulfill his role on the team.
Wooden was great at fitting the game to his players and not vice versa.
Coach John Wooden developed his players not only as athletes but as people as well.
2. When did Wooden retire?
John Wooden retired in 1975.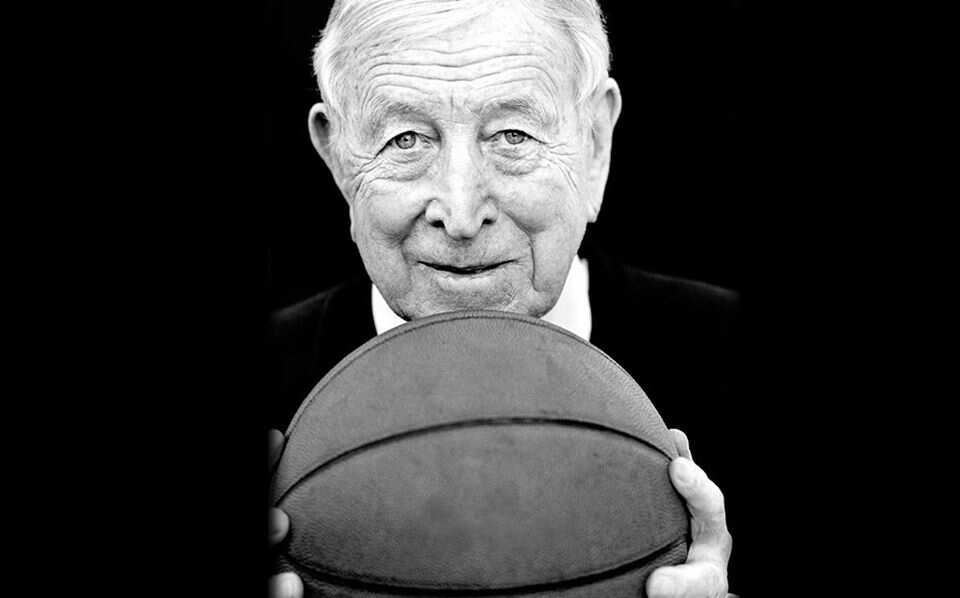 3. What year did John Wooden die?
The coach died on June 4, 2010, in Los Angeles, California. He died of natural causes. At the time of his death, John was four months shy of his 100th birthday.
4. What is John Wooden coaching philosophy?
John believed that basketball is a simple game, and as such, it should not be complicated. His philosophy of success in basketball included three factors:
Conditioning
Fundamentals (basic technique, exercised properly under pressure)
Teamwork
Some of the famous John Wooden quotes that echo this philosophy include:
Success is peace of mind which is a direct result of self-satisfaction in knowing you did your best to become the best that you are capable of becoming.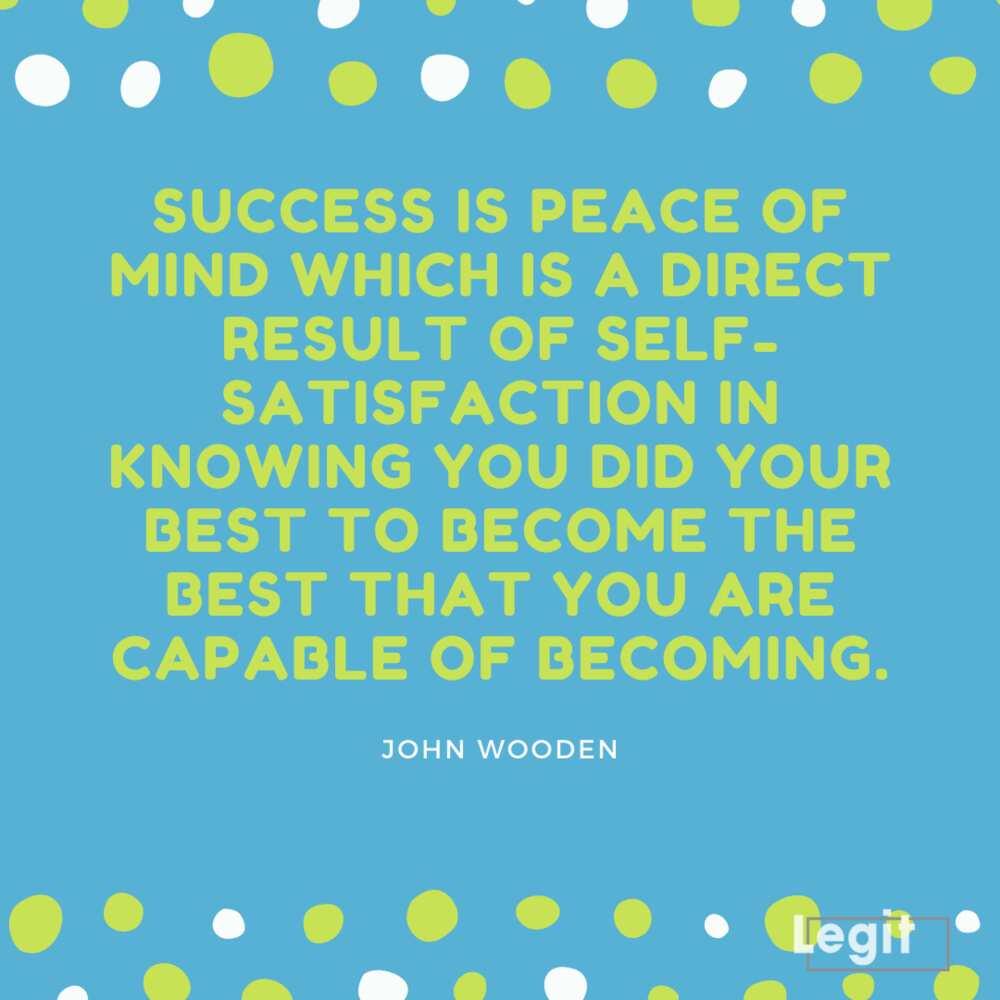 You can fool everyone else, but in the final analysis, only you know whether you goofed off or not. You know if you took the shortcut, the easy way out or cheated. No one else does. I know that I look back with regret on some things that seemed to be success to others.
Essentially, I was always more of a practice coach than a game coach. This is because of my conviction that a player who practices well, plays well.
I'm not a believer in meetings or so-called chalk talks or blackboard drills. I believe in learning by repetition to the point that everything becomes automatic.
One of my constant reminders was, "End practice on a happy note." I wanted the boys to want to come out to practice, and I wanted them to get a certain amount of pleasure out of basketball. It's a game. It should be fun.
I think the coach's job is to prepare players to play and then let them do it. Failure to prepare is preparing to fail. And the preparation process has to take place before the game, with any needed adjustments made during time-out and at half time.
You must set an example. Your players must know that you care for them more than just as athletes.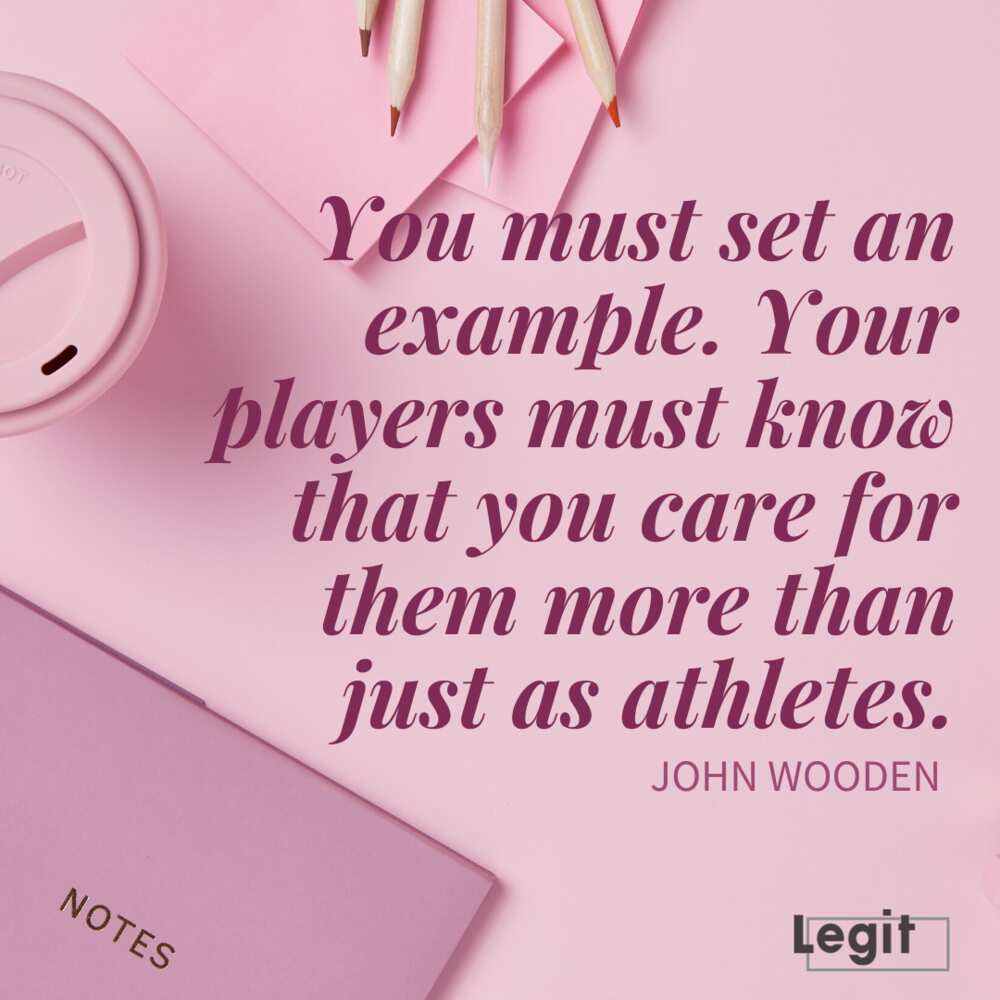 John Wooden books
Some of the most famous Coach John Wooden quotes are obtained from his books. The coach wrote over 20 books. They include:
Wooden on Leadership
Wooden: A Lifetime of Observations and Reflections On and Off the Court
Coach Wooden's Pyramid of Success: Building Blocks for a Better Life
They Call Me Coach
The Essential Wooden
Inch and Miles: The Journey to Success
The Pyramid of Success: Championship Philosophies and Techniques on Winning John Wooden
My Personal Best: Life Lessons from an All-American Journey
A Game Plan for Life: The Power of Mentoring
Coach Wooden's Leadership Game Plan for Success: 12 Lessons for Extraordinary Performance and Personal Excellence
The Wooden-Sharman Method: A Guide to Winning Basketball
Fiesta (Inch and Miles)
The White House Inc. Employee Handbook: A Staffer's Guide to Success, Profit and Eternal Salvation Inside George W. Bush's Executive Branch - This John Wooden book was written by the coach and other authors like John DeVore and Andrew Bradley.
Wooden: A Lifetime of Observations and Reflections on and Off the Court
PowerTalk!: The Decision that Ensures Your Success (Powertalk Professional)
Heroes of Beesville
Adventure Underground
Soul Food: Wisdom and Inspiration to Feed Your Spirit
Coach Wooden One-on-One: Inspiring Conversations on Purpose, Passion and the Pursuit of Success
Practical Modern Basketball
Be Quick - but Don't Hurry: Finding Success in the Teachings of a Lifetime
The Wisdom of Wooden: My Century on and off the Court
John Wooden's UCLA Offense
These John Wooden quotes prove how great the man was. Indeed, his legacy will live on forever.
Source: Legit.ng