Samsung Galaxy A70 specs, review, price
Samsung Galaxy A70 is pretty new, considering that it was announced in March 2019. The great phone has lived up to its expectations, with a good number of users claiming that it is indeed exactly what it promises to be.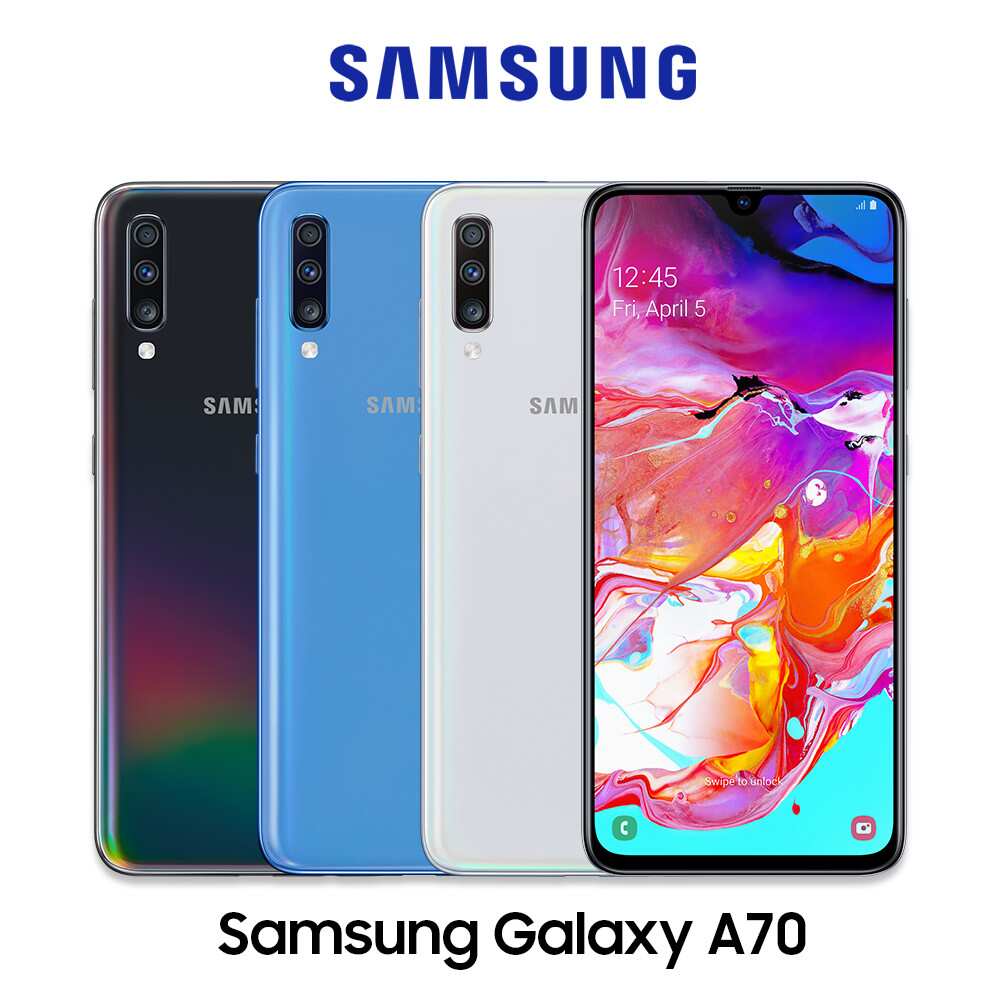 Like every great phone, Samsung Galaxy A70 has been tested and found to be good. Having been around for a few months now, the reviews and feedback have been amazing. Here is a guide on everything you ought to know about the phone.
Introduction
The Samsung Galaxy A70 is a brilliant phone that comes with certain enhancements when compared to its predecessors. In fact, it raises the bar within the A series, putting competitors on their heels, especially if you look at what A40 and A50 did.
You will love the fact that it comes with an Octa-core processor, a 6.7-inch screen size and a resolution of 1080 x 2400 pixels. It enters the series of other Galaxies that are packed with trendy features and AMOLED screens.
The A70 can be seen as a build-up of the balanced mid-range A50. It comes with an enlarged AMOLED screen and better processing power due to its high-end chipset. The camera set on the back keeps up with the wide/ultra-wide/depth theme. The steal remains to be the 32MP on the main snapper which allows for 4K videos.
The price is also affordable for a phone of its kind. According to phonecorridor.com, it costs between 125,000 Naira to 130,000 Naira, which translates to about 370 US dollars. This is also a figure confirmed by Jumia Nigeria and also by gadgetstripe.com.
This Samsung beauty is loved for a few reasons that are highlighted below:
It comes in different colours namely Coral, Blue, Black, and White
Has enough space – internal memory of 128GB, RAM size of 6 or 8 GB and a dedicated memory slot of up to 1TB
Has an octa-core (Dual 2.0GHz + Hexa 1.7GHz) processor
Has an excellent battery life
Light in weight
Fast charging option
Excellent multimedia consumption
Samsung Galaxy A70 overview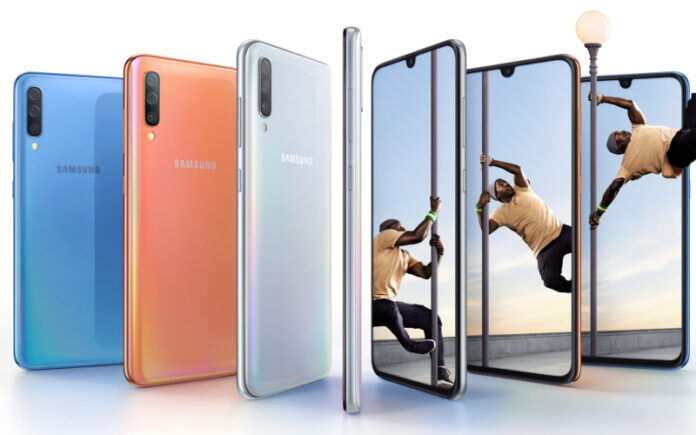 It is advisable to take into consideration a number of things before settling for a specific gadget. It is only by looking at crucial features and making necessary comparisons that you are able to make a sound decision. Check the pros and cons of this Galaxy model.
The good
The phone has a bright, powerful, and large Super AMOLED diplay
It comes with a 3.5mm jack and an FM radio
It exhibits excellent battery life and also has the USB-PD fast charging option
You can always rely and depend on its performance
It offers a consistently great camera experience in daylight
You are assured of very nice selfies
Comes with the face unlock feature
The bad
It has been said to register unimpressive low-light camera performance since it does not have a night mode
It comes with no electronic video stabilization
Samsung Galaxy A70 specs
The following are summarized Samsung Galaxy A70 specifications that will make it easy for you to know what it is all about at a glance.
Body: Its body size is 164.3 x 76.7 x 7.9 mm. It is a 3D Glasstic back with plastic frame.
Screen: Has a 6.7" Super AMOLED screen whose spects are 1080x2400px resolution, 393 ppi.
Chipset: The Snapdragon 675 chipset: octa-core (2x2.0 GHz Kryo 460 Gold & 6x1.7 GHz Kryo 460 Silver); Adreno 612 GPU makes it powerful.
Memory: Enough memory considering the 6/8GB RAM, 128GB built-in storage; microSD slot
OS: Sufficient operating system - Android 9 Pie; Samsung One UI
Main camera: You will love its camera specs - Primary: 32MP, f/1.7, PDAF; Secondary: 8MP, f/2.2, 12mm ultra-wide, fixed focus; Depth camera: 5MP f/2.2; LED flash; 1080p@30 video recording.
Selfie camera: Perfect 32MP f/2.0, 1080p video
Battery: Long battery life because of its 4,500mAh and 25W fast charging
Connectivity: It is a Dual-SIM; LTE Cat.12 (600Mbps) download / Cat.6 upload (50Mbps), Wi-Fi a/b/g/n, GPS; Bluetooth 5.0, A2DP, LE, USB-C 2.0.
Music: You can be sure that you are on the right track as far as sound is concerned with the under-display fingerprint reader, down-firing loudspeaker, and 3.5mm audio port features.
Samsung Galaxy A70 hardware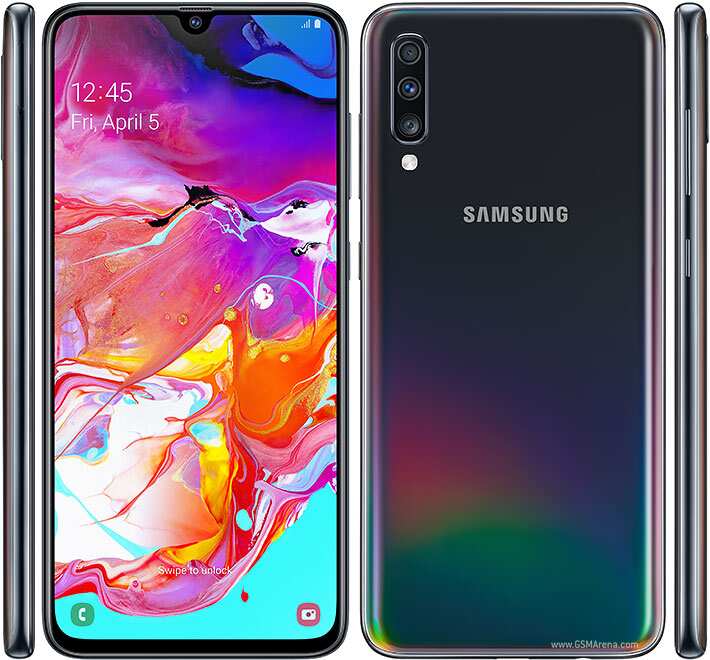 It is important to check out the beauty of the phone as you will be carrying it around. You want to make sure that is worth showing off.
Design
The Galaxy A70 is one of the biggest Galaxies seen around. It is just as big as the expected notch-less Galaxy A80. Its size is not surprising, considering the fact that it has been built around the 6.7" Super AMOLED screen. It has a dewdrop-shaped notch of a similar size like the Galaxy S10+ 5G as well as Galaxy A80.
However, that is as far as the premium comparison goes. The fact that it is an A series means that most of the material choice is not premium. The back is made of Samsung's 3D Glasstic, a shiny plastic material with a plastic frame. Nevertheless, it is still very attractive and can easily be mistaken for glass.
Its amazing front has a screen with bezels that are just as thin as those found on the iPhone XS. The notch has a 32MP selfie camera and an earpiece grill above it, though this is almost not noticed.
You may be happy that it does not come with the edge curves that most recent Galaxy S phones have. After all, a lot of curves tamper with the phone's grip. Like the A50 and A80, the A70 comes with an optical under-display fingerprint scanner.
The fingerprint scanner easy to reach since its sensor is towards the bottom. What's more, it may take a second but the accuracy is on point. With an acceptable speed, you can be sure that your phone will light up and take you to the home screen just by sensory recognition.
The phone's back is great due to the colour-shifting paint. You are likely to see either blue, green or purple depending on the angle with which you view. Sometimes you can get a gradient of all the three.
You may have noticed that the phone looks prettier and thinner thanks to the rear glass bending towards the long edges. With no sharp transitions to the frame, the overall grip is generally good. This is further enhanced by the fact that the plastic has an additional component to the paint which makes it sticky.
Its triple camera setup at the back humps by 1mm or less. This is what makes the phone not to wobble when placed on a flat surface. The top snapper is a 5MP depth sensor, with the main camera being 32MP and the last one 8MP for the ultra-wide-angle shooter. The single LED flash is outside this setup.
The sides of the phone are also fully loaded with the left side having a tri-card slot, while the right side has the power and volume buttons. The speaker grille and audio jack are on the bottom end.
Despite being large, it is not overweight. The A70 measures 164.3 x 76.7 x 7.9 mm. This translates to being 6mm taller and 2mm wider compared to the Galaxy A50. It also weighs 183g – which is 17g heavier than the A50.
Even so, it remains very light. You have to, however, make do with the fact that it may be large and not easily pocketed. This may be the price you have to pay to enjoy its other features. The device is more of an immersive friendly type. You can settle for the curves making it appear smaller in your hands.
Display
Like all A series phones, the A70 comes with an AMOLED screen. However, the only difference with the others is that it a large one, 6.7" to be precise. It also has cool panels and its screen remains to be the biggest we have seen this year. In fact, it can only be compared to the likes of premium A80's and S10+ 5G's.
It has the Infinity-U panel, meaning that it comes with a U-shaped cutout on top of the selfie camera. The screen is of super high quality even without the notch. The brightness measurements are also quite impressive.
It has about 407 nits of maximum brightness when used in manual mode. This can go up to about 607 nits when in auto-brightness, where the ambient light sensor is left exposed to some bright light. On the lower end, it has a minimum brightness of 1.8 nits which is quite impressive.
The phone's display can successfully and accurately reproduce different colour spaces based on the content in question. The selected mode of display also affects the colours. Natural mode is accurate to sRGB with an average DeltaE of 1.8, whereas Vivid is true to DCI-P3 colour spaces with 3.9 as the average DeltaE.
Processor, storage and performance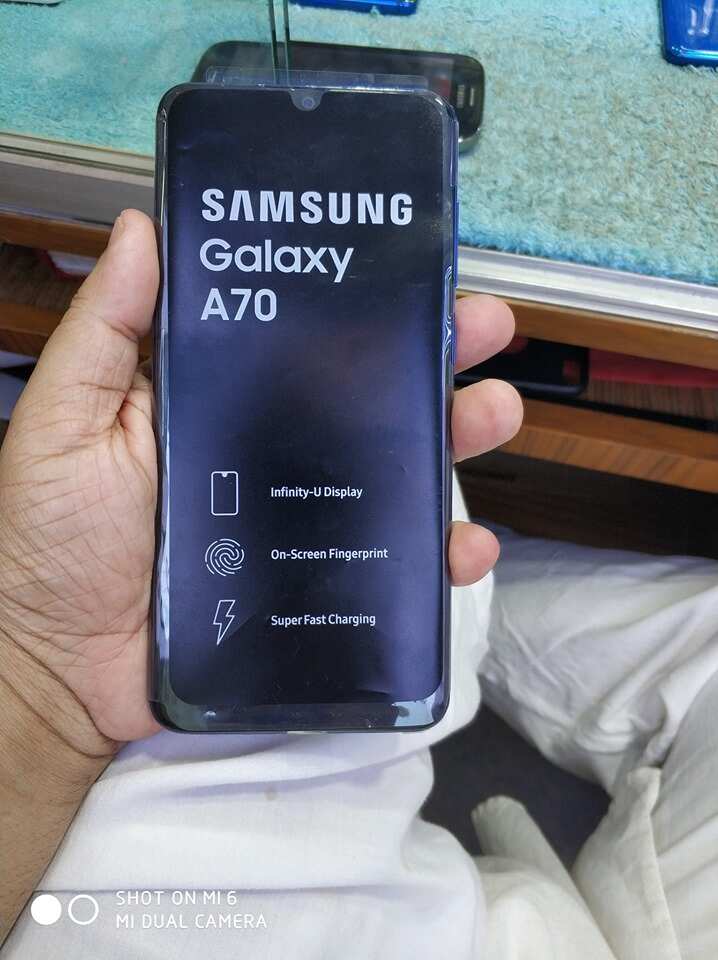 As the third smartphone to be powered by the Qualcomm's Snapdragon 675 chipset, you can be sure that it offers excellent performance. It comes with a SoC which has an octa-core CPU with 2x Kryo 460 Gold cores (Cortex-A76 derivative) clocked at 2.0 GHz and 6x Kryo 460 Silver cores (Cortex-A55 derivative) ticking at 1.7 GHz.
Its GPU is Adreno 612. The manufacturing of the SoC is on the cost-efficient 11nm node. Even though the Snapdragon 675 has two high-performance A76-derived cores, it is still ahead of the competition as most use A73 cores.
The amazing single core is built on the basis of a multi-core performance. Snapdragon 675 gives all the necessary processing superiority, especially when compared to Galaxy A50's Exynos 9610.
The GPU scores of 612 GPU are not bad but they are also not as impressive as Exynos 9610's Mali GPU. This means that it is 15% less capable, thus making A50 great at gaming on a comparative basis.
So, is Samsung A70 good for gaming? Yes, it is, just not as good as A50. However, there is no serious need for concern since the 15% difference is not much and will hardly be noticed in real life.
Battery
The A70 has improved battery life as it comes with a large 4,500mAh battery, an improvement from the 4,000mAh cell of the A50 phone. It supports 25W fast charging because of the USB power delivery. It also comes with a provided charger that replenishes 42% of depleted battery in just 30 minutes.
It has excellent performance with results such as 13+ hours being recorded when on use with Wi-Fi web browsing script. The same performance was witnessed when it went on for 17+ hours of looping videos in airplane mode.
For 3G talk time, it can last for a day and a half. All of these impressive results for a battery are worth noting. It also has excellent standby performance with a rating of over 103h.
Speaker and call quality
The phone comes with a single speaker at the bottom. It has excellent loudness but the sound quality is a bit on the average scale, even though it is still better than in A50. It may require a bit more work to get to the current expected clean and rich sound scale.
When gauging the audio quality, the A70 does quite well. When connected to an active external amplifier, it delivered accurate and perfect output. However, when using headphones, a different result is realized.
An intermodulation distortion, as well as an average amount of stereo crosstalk, was experienced. Loudness was also on average for both instances.
Software
The crucial bit of any phone is its software as it is the basic component. Here is how the A70 rates.
OS and features
Galaxy A70 boasts of the brand new One UI based on Google's Android Pie which premiered on Galaxy S10 phones. Living up to its expectations, it comes with packs of heavy customizations, not to mention the tons of both old and new features.
However, they are presented in a manner that is simple and clean. Anyone that has used Samsung UX will have an easy time navigating, but you will have to get over the seemingly uncomfortable revamps.
It comes with tasteful colours and a lot of other inclusions geared towards making the user have a better one-handed use experience. For instance, all the system menus are on the half bottom of the screen. This includes the toggle and drop-down menus. This way, they will always be within reach.
However, it appears as though Samsung forgot about app folders opening in full screen thus requiring the use of both hands. The Google gesture-based features are also implemented in such a way that they work as conventional buttons.
When you swipe from bottom to left you get the recent apps menu while from bottom-right takes you a step back. The home button remains as a single swap in the middle. However, the gesture features require a bit of improvement.
The Always On Display mode (AOD) redeems the previous shortcomings. It comes with plenty of options except the wallpaper and brightness setting only. However, you can play around with clock styles, font colours, and notification displays when the AOD is shown.
The general setting is also revamped. It is now compact and some of the settings have been shifted. Other enhancements include 3 power modes namely the optimized, medium power-saving and finally the maximum power-saving mode.
Generally, despite not having attained perfection, the one-handed operation from Samsung is headed in the right direction. The idea is likely to give users a pleasant experience and comfort.
Camera, video and image quality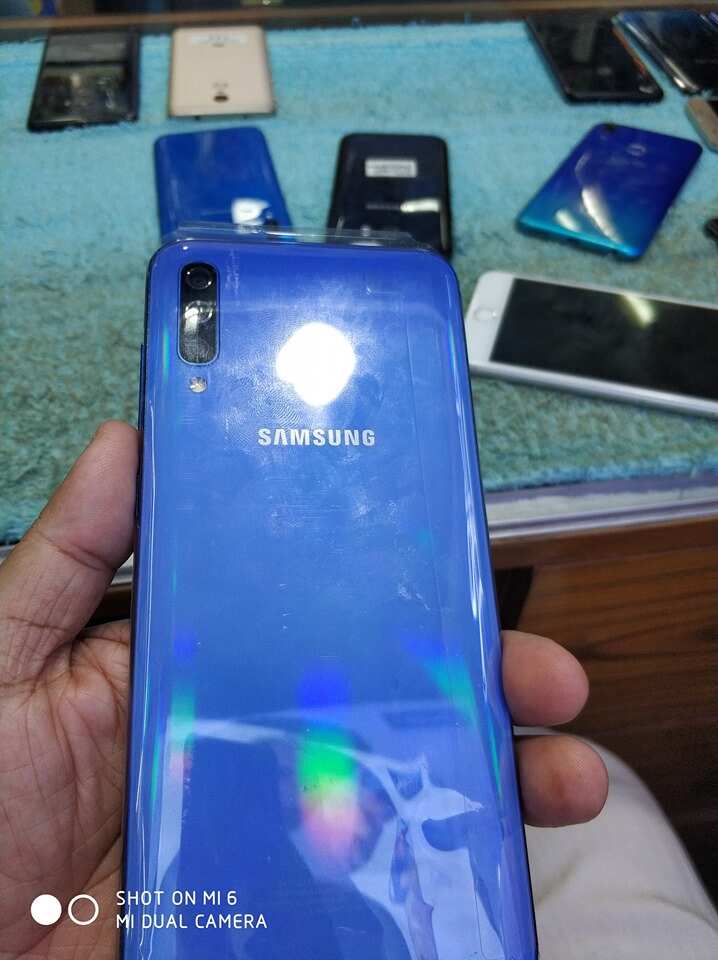 Like the A50 before it, this Samsung A70 comes with 3 back cameras with sensors. The primary camera is a 32MP f/1.7 snapper that comes with a PDAF. It is joined by a familiar 8MP fixed-focus, f/2.2 ultra-wide and the last cam, a 5MP, which has a fixed-focus and f/2.2 depth sensor. It also comes with a single LED flash.
5MP – This is a standalone camera used for live focus
32MP primary shooter – Comes with a resolution sensor located behind a fast f/1.7 lens. It has a focal length of 26mm
8MP sensor – Located behind an f/2.2 aperture lens that comes with the ability to delivers a 120-degree field of view
The camera app comes with numerous icons but it is pretty much what you will find in most Samsung phones. You also get several options to use, including the live focus which occurs naturally.
Alternatively, you can go for the Pro mode, although there is not much pro material there. If you decide to use it, then consider choosing only the ISO (in the 100-800 range), with exposure compensation (-2/+2EV in 0.1EV steps), and white balance (it presets, but has no light temperature).
On matters of image quality, Galaxy A70 has a default shoot in 12MP. You can, however, change the settings from 3:4 which corresponds to 12MP to 3: 4H to mean 32MP. However, you should remember that on 32MP, you cannot use the Auto HDR and neither can you use HDR. You may also have to wait for a second or two to take the shot.
For high-res images, (not default) you may have to settle with good pictures even though they may not meet your expectation of the 32MP. The photos appear soft but the processing tries to sharpen them. Away from the downsides, the colours are on point and very accurate. The contrast and dynamic range are both good, even without HDR.
The phone saves all 12MP photos by default using its pixel binning. The shots on this one are also faster to capture. They are not very impressive but are sharp and capture enough details. You can choose to use the Auto HDR which is turned on by default. In this case, you get clear images with even exposure.
Also, the blown highlights will be saved. Unless you are going for distorted images, avoid the ultra-wide 8MP camera since there is no distortion correction. However, this is not a big deal since its essence is to have pics fit into 4:3. Pixel quality is not very good but the contrast and colours compensate for it.
Even with the lows and highs of the 3 cameras on the A70, there is a big bummer in the fact that it has no night mode. This may mean that you need to stay away from pics at night.
So how good is the Samsung A70? At this point, the idea of the phone's excellence should set in. To seal the deal though, a few comments from users would come in handy.
Reviews
Are you one of those that asks 'Does Samsung A70 have Face Unlock?' Are there specific things that make a phone worth your time? Well, if you are like many other people, then you definitely want to buy a device that gives you value for money. You may want to know what you will sacrifice in place of others since perfection is farfetched when it comes to smartphones.
The best way to narrow down, of course after you have scrutinized features, is to check out what other people are saying about the device you are interested in. Here is a summary of what other users think about the Samsung A70 on YouTube. You need a comprehensive Samsung Galaxy A70 review to decide whether it is for you or not.
Matthew Lemmers: I own the iPhone X and love it, but it is incredibly difficult to deny that the mid-range devices these days are equally as fast and do just the same things for half the price.
tZuc Wizard: I just signed a 2 year contract for this phone and right before I left the store it fell from the box on its screen , the screen was scratched and the display did not work anymore. Had to pay 100£ for them to replace it with a new one.
Mahmoud Ebada: if you mention the gpu stability and overall stability you will find that 10% A50 gpu will reduce quick while the A70 keeping the performance as much as possible. It's the snapdragon rule
crispie production: I am definitely buying this phone because I need a good camera and a big screen and a better battery for my YouTube video
Facu AF: It still amazes me how some mid-rangers have more or better features than contemporary flagships. For example, faster charging, USB-C, bigger batteries, front flash, etc
For a mid-range phone, there is no doubt that a lot of people are loving it.
Verdict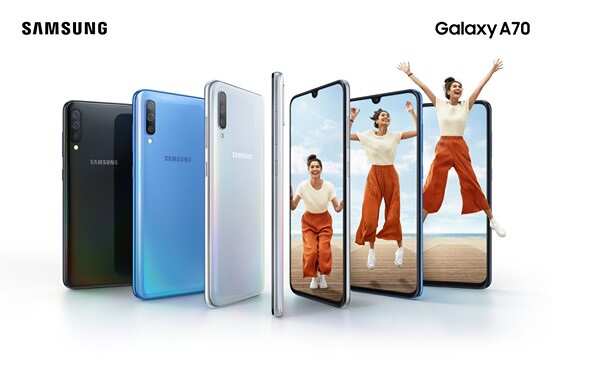 With the Samsung Galaxy A70 price explained above, and in most places in the world selling it at a price of €400, then this is a phone anyone should go for.
With all the Samsung Galaxy A70 features already discussed, the bottom line would be that it is a fantastic phone for its price range. You may be getting exactly what flagship phones offer and this time at nearly half the price or less.
Comparatively, the A70 can be equated to the Xiaomi Mi Max 3 which may be slightly better if you factor in price and screen specs. You may want to check it out as long as you are comfortable with it being over a year old, and the fact that it has a feeble chipset that makes it impossible to match Samsung A70's camera experience. However, for a price of €120 less, it could be a great alternative.
You cannot forget the Galaxy A80 with the same AMOLED screen size but without the notch. Its primary camera comes with a motorized pop-up that serves as a selfie shooter when it rotates. It has also been upgraded to offer the new Snapdragon 730 chipset. With such great additions, the cost will definitely be on the higher side.
If you can get to the near-flagship price of €600, then well and good. You may also consider the Vivo V15 Pro, which comes with an uninterrupted 6.4" AMOLED. Unfortunately, it is limited in the market. Closing the list of alternatives is the Samsung Galaxy A50 which is €90 less and offers the same experience but on a 6.4" Super AMOLED which is smaller than the one on A70.
By now, questions on the performance and Samsung Galaxy A70 accessories have been addressed. At this juncture, what remains is for you to decide if Samsung Galaxy A70 is within your range in terms of affordability. In addition to that, there are always numerous alternatives one can go for. In the end, the A70 is a great steal that is worth investing in.
Source: Legit.ng