Xiaomi Mi Mix Alpha specs, review, price, release date
It turns out that the long wait for the launch of Xiaomi Mi Mix Alpha was worth it in the long run. The phone is not only spectacular physically, but it also comes loaded with features that are to die for. One thing is for sure, it is one of the few unique phones that even experts in the industry vouch for.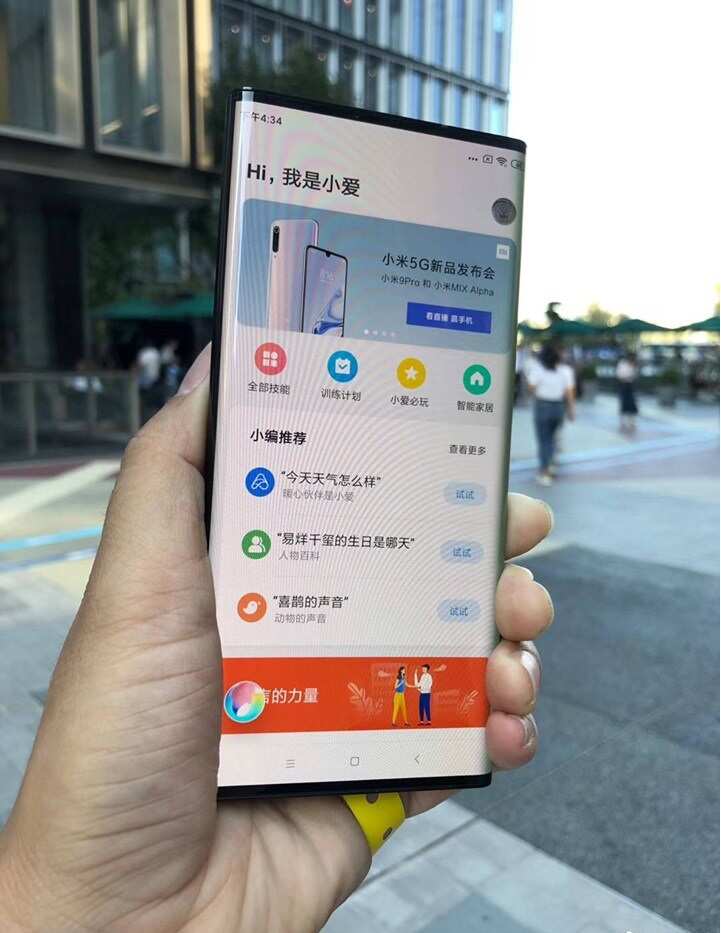 This fabulous phone has not been heard of for long, considering that it was launched in September 2019 and is expected to be released in December. Even so, the phone's review has been overwhelmingly great as fans think that it comes with excellent features. Here are all the interesting details and specs you need to know about this new gadget from Xiaomi.
Introduction
This is the first gadget from Xiaomi with a flexible or foldable display. It was launched on 24th September 2019. The Xiaomi Mi Mix Alpha release date has been slotted for December 2019.
It comes with several great features including a 7.92 inch flexible AMOLED display, a 12GB RAM as well as a 512GB UFS 3.0 internal storage. The device runs on Android 10 and comes with a 4050mAh battery to power it efficiently.
So far, the phone is loved for the following reasons:
It is a beautiful gadget
Comes with a flexible display
It is a 5G phone
According to mobile57.com, the phone goes for the price of 946,400 NGN in Nigeria.
Xiaomi Mi Mix Alpha overview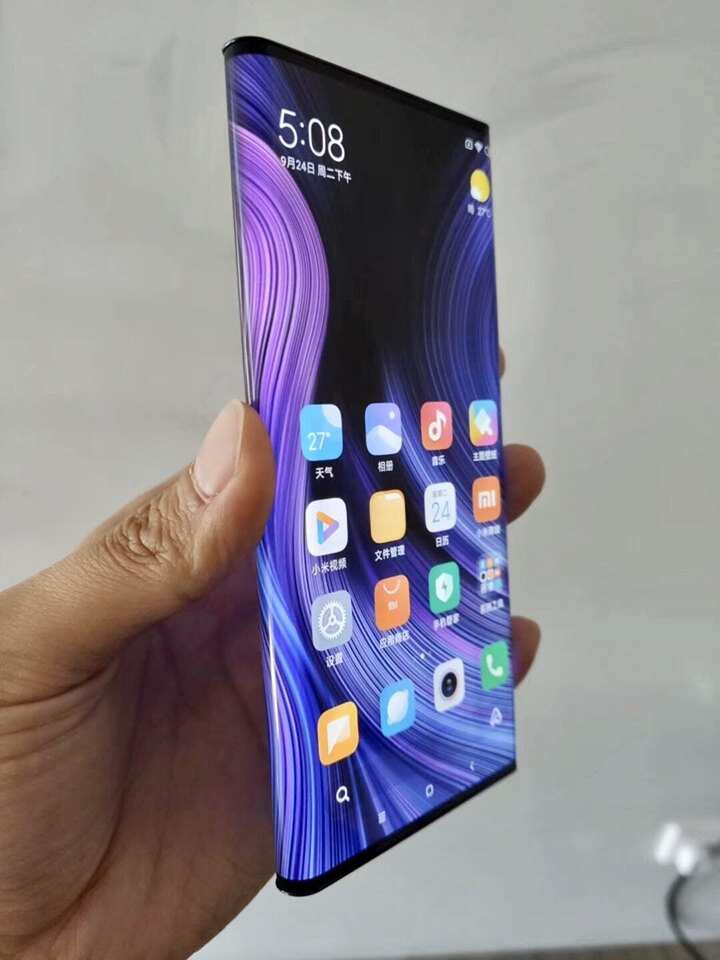 It is reasonable to check out all features that make a gadget stand out before rushing to invest your hard-earned cash in purchasing it. This means that you must factor in the pros and cons before making any decisions. Here are some of the things that stand out in this phone:
The good
Here are a few reasons why this phone is a great buy.
Excellent and flexible display
Latest OS - Android 10; MIUI 11, It has Qualcomm SDM855 Snapdragon 855+ (7 nm)
Enough memory - Internal memory of 512GB 12GB RAM, UFS3.0
Reasonable battery life
Offers fast charging option
Powerful CPU - Octa-core (1×2.96 GHz Kryo 485 & 3×2.42 GHz Kryo 485 & 4×1.8 GHz Kryo 485
Has a fingerprint sensor under display
The bad
Apart from the great features to expect, you need to know about the downsides that you may need to compromise on if you really want to have this phone.
Only comes in one colour hence no variety
Does not have an FM radio
Has a non-removable battery
Does not have a 3.5 mm jack
It does not have an infrared sensor
Does not have an expandable memory card slot
Xiaomi Mi Mix Alpha specs
Here are all the important general specifications of this new phone that you need to know at a glance.
Release date: 24th September 2019
Form factor: Touchscreen
Dimensions (mm): 154.4 x 72.3 x 10.4 mm (6.08 x 2.85 x 0.41 in)
Weight (g): 241.00
Battery capacity (mAh): 4050
Charging: Fast charging
Colours: Black
Resolution: 2088x2250 pixels
CPU: Octa-core (1x2.96 GHz Kryo 485 & 3x2.42 GHz Kryo 485 & 4x1.8 GHz Kryo 485)
Chipset: Qualcomm Snapdragon 855+
OS: Android 10; MIUI 11
Xiaomi Mi Mix Alpha hardware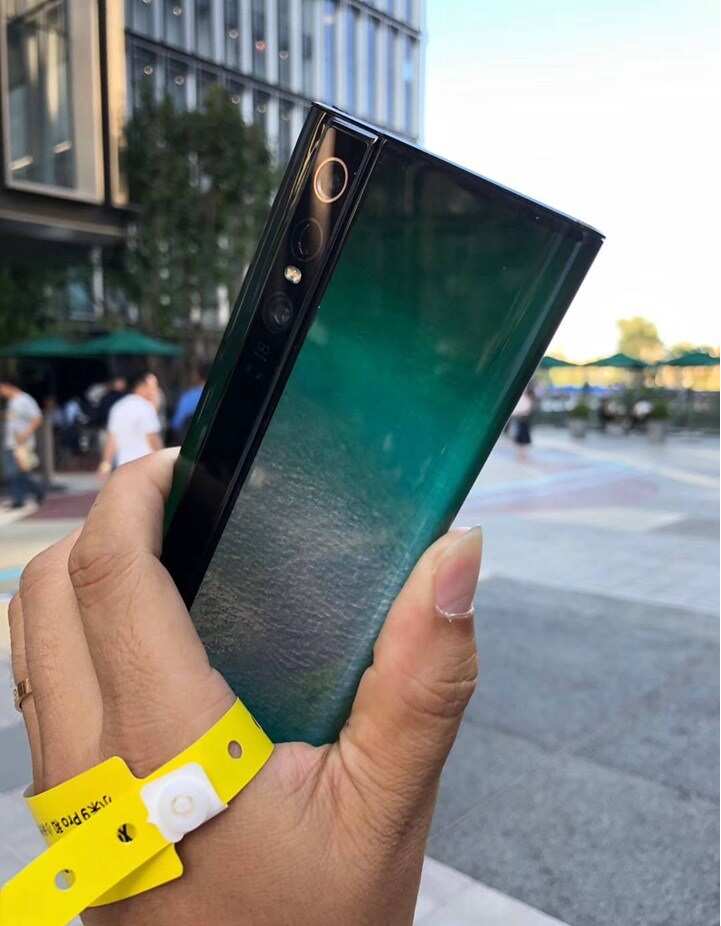 Check out hardware components for this phone.
Design
The phone comes with a curved display wrapping around almost the entire device, making it a first of its kind. Apart from the small vertical strip housing the camera at the back, the display appears to have surrounded the entire phone. It is possible that this phone ushers a new era of all screen 4D surround display.
Apart from the display, the phone comes surrounded by a very strong but lightweight Titanium frame. The vertical strip housing the camera is made of a black precision ceramic material. The triple cameras at the back also come protected from any form of scratching. Apart from housing the cameras, the vertical strip also houses the phone's antennas as well as its connectivity modules for both Wi-Fi and 5G.
Far from the excellent materials used in its construction, the phone is generally made with excellent design solutions for design-related challenges. For instance, instead of adding buttons on the side, the company chose to go with pressure-sensitive sides that work just as well.
Display
There is a good reason why this phone will cost you more than many other phones would. It comes with a Snapdragon 855+ chipset and excellent storage comprising of 12 GB RAM and 512 GB ROM. Its battery is a 4,050 nano silicone cathode power cell with 40W wired fast-charging. Even with the already mentioned features, the phone still has more.
The exciting part about it all is its display that goes all around the phone making it stand out. According to the company, it is this design that allows for the screen to body ratio of 180%. It even beats the Mate X foldable phone. The only difference is that with the Alpha, it is not possible to unwrap and get a continuous panel.
The phone's panel has 2.15 mm thick bezels on both the top and bottom. It also has a camera strip on its back, not forgetting the lenses which are protected by a sapphire glass. It comes with pressure-sensitive edges. Although it does not have a speaker because of the ultrasonic proximity sensor, it still has audio due to the advanced Display Acoustic Technology. It also comes with palm rejection technology.
The backside of the display has AI algorithms that detect Mi Home app use and that can be used when calling a cab and which can also come in handy whenever you need to pull up a flight itinerary.
You can now enjoy backside selfies thanks to the 108 megapixels. The main camera has a huge 1/1.33" type sensor and Tetracell technology. This works in outputting 27MP pixel-binned shots.
Looking at how sleek the phone is, one may easily assume that it is fragile. However, what they may not know is Xiaomi went out of its way to protect it by using a frame that is an aerospace-grade alloy. The phone's back strip is ceramic with a sapphire glass protection.
Processor storage and performance
While not much of the processor details were revealed during the launch, it is known that the Snapdragon 855+ processor with 5G dual SIM support will be used. In addition to that, the phone comes with 12GB RAM as well as a 512GB of UFS 3.0 storage.
Battery
It is also true that the battery is not a large one as it stands at 4050mAh. However, it supports 40W fast charging the same way the Mi 9 Pro 5G does.
Xiaomi Mi Mix Alpha software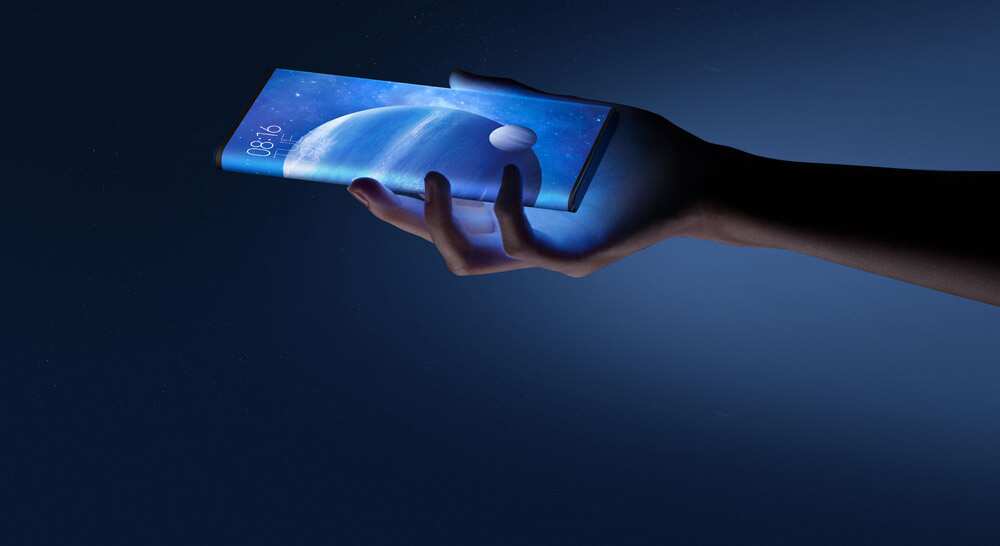 The internal working of a phone is majorly dependent on the software it has. Here are some of the software highlights that the new phone will come with.
OS and features
The phone comes with a powerful Android 10; MIUI 11 for its operating system. In addition to this, it has a CPU Octa-core 1×2.96 GHz Kryo 485 & 3×2.42 GHz Kryo 485 & 4×1.8 GHz Kryo 485. Apart from this, it has a GPU Adreno 640 and a Qualcomm SDM855 Snapdragon 855+ (7 nm) chipset.
Camera, video, and image quality
The Xiaomi Mi Mix Alpha camera features a 100MP+ resolution camera sensor. This is because of the Samsung ISOCELL Bright HMX 108MP camera sensor at the device's back. It is not surprising that the sensor will be appearing on this new Xiaomi phone since it was created in collaboration with Samsung.
The primary camera, a 108MP, has a 1/1.33″ sensor. Its setup capacity has an output of 12032 x 9024-pixel resolution which makes images extremely detailed even with 8X cropping.
The phone has 2 more sensors completing the triple camera. These are the 12MP telephoto camera which comes with 2X optical zoom as well as a 20MP ultra-wide-angle camera lens with 117° FOV. It is this setup that also supports and makes 1.5cm macro photography possible. In addition to the already mentioned features, other setup features include a Laser focus, a four-axis OIS, as well as a flicker sensor.
While the first set of photos from the camera look extremely detailed, we have to wait until the official release to know the quality of the real pictures. This phone has no selfie camera because it really does not need one. For your selfies, turn the phone and use the rear camera.
Reviews
The release of the Mi Mix Alpha is an anticipated one as fans cannot wait to put their hands on it. While there may be a few concerns here and there, the majority of the comments about it have been positive. Here are some of people's sampled views on YouTube.
Infinity Games: In future. Samsung adding new features. Xiaomi adding new features. Apple adding more price.
Yaboii_cobie: Mate 30: waterfall display. Xiaomi: welcome to the ocean
Arpan D'Rozario: Xiaomi: we make cheap budget phones also Xiaomi: we make the world's most expensive phone.
Portgas D. Ace: I want to see if this phone passes jerryrigeverything's durability test.
Happy Boy: Ok Xiaomi get ready to be banned from Google n android
Osas twitch: Xiaomi: Our next Smartphone will have a 4D Surrounded Display and 5g and a 108mp Cam. In the Apple headquarters: Here's the Darkmode
Mkeonine: The only people saying 'looks doesn't matter' are iPhone 11 pro owners. Let's get real here.
MonsieurWatcher: Repairer: OK to fix the screen it'll cost 3 thousand dollars. Owner: But that's the price of the whole phone. Repairer: Yes.
Well, users agree that apart from the looks, which matter to those that are accustomed to high-end products, this phone is extremely expensive and definitely out of reach for many. It is not surprising that it will be limited to China when released. This, therefore, means that to own one, you will need to pay so much more to have it shipped from China. The big question to ask yourself would be whether it is worth it or if you would rather settle for a cheaper alternative and forego the fancy look.
Verdict
The Mi Mix Alpha appears to be priced differently. According to gadgetstripe.com, it will go for N995,000 or an equivalent $2974 when it is available for mass purchase later in December 2019. It should also be noted that the Xiaomi Mi Mix Alpha price may keep changing with time.
Most of Xiaomi Mi Mix Alpha features are exceptional and make it a phone of its own kind in the market. However, the bottom line remains that this phone is not within the range of most people. It even becomes more difficult to get it when it will be finally released since it will be limited to China.
To grab one for yourself, you have to decide whether or not you will be willing to spend thousands of dollars on it. So, the major concern would be where to buy Xiaomi Mi Mix Alpha. To address this, gizmochina.com reveals that the phone has been listed for purchase in China but the possibility of people buying it is very limited because of the high cost.
In the end, if you can afford it and you are a person who minds about a gadget's looks, the Xiaomi Mi Mix Alpha would be a great buy.
Source: Legit.ng