Samsung S20 Ultra specs, review, price, release date
In a world of rapidly advancing technology, Samsung has proved its dominance in the mobile device market. The Samsung S20 Ultra offers 5GB internet speed, 108 MP camera, and large storage. It is the last of the three phones in the S20 series and has the best features of all. Here is a breakdown of its specifications and price.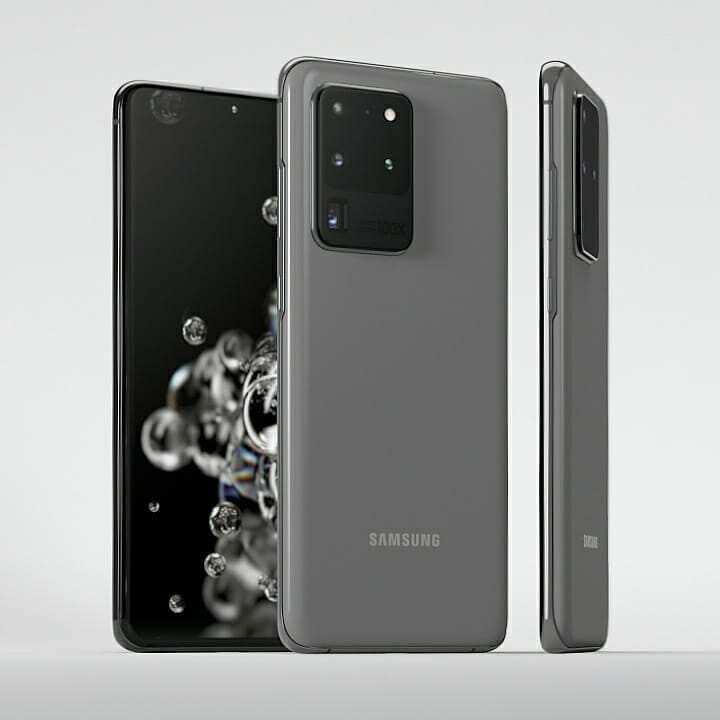 The Samsung S20 Ultra price is yet to be revealed. However, it is likely to be higher than that of its predecessor, the Samsung S20 Plus, which is currently being sold at $1498. The higher price is justified because the S20 Ultra has a better camera and a larger screen. The projected Samsung S20 Ultra release date is 6th March 2020.
Overview
Samsung's latest release showcases the company's high tech capabilities, but there are a few disadvantages that come with it.
Advantages
It has a screen refresh rate of 120Hz
Has a big capacity battery
Has one of the best cameras in the market at the moment
Disadvantages
Lacks the 3.5mm jack, thus cannot support wired headphones
Comes with 5G connectivity, which is still underdeveloped in some countries
The phone is quite huge and might feel bulky to some users
Samsung S20 Ultra specs
The achieve the best design, Samsung went a step further to introduce new features. The following are specifications of the new Samsung S20 Ultra.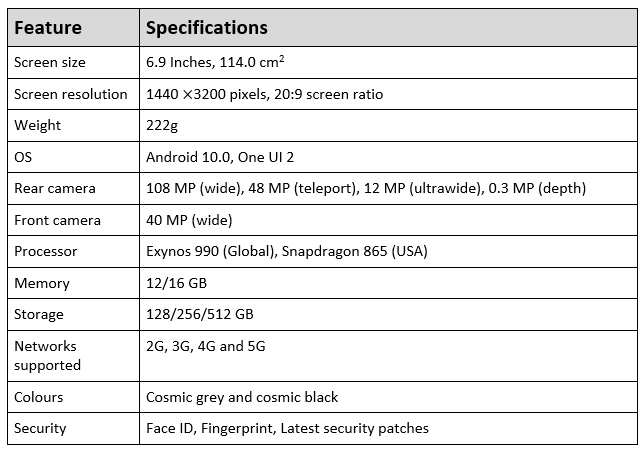 Hardware
The S2O Ultra stands out for being the company's biggest phone to date. Here is a detailed analysis of the phone's hardware.
Design
It has a spectacular design compared to S20 and S20+. It is made up of an aluminum frame and a Gorilla Corning 6 glass front and back body. It supports an ultrasonic under-display fingerprint sensor. Just like other Android phones, the power and volume buttons are positioned on the right.
The camera protrudes from the back while the front camera is minimized to a small notch. It is water-resistant and can last in up to 1.5 meters of water for 30 minutes. The Samsung S20 Ultra colors are Cosmic Grey and Black.
Display
Samsung S20 Ultra size is suited for gaming and cinema experience. The bezels are far pushed, and it also lacks a notch. Its AMOLED feature supports high resolution and a refresh rate of 120Hz, giving a pleasant viewing experience. It is made up of Gorilla Corning 6 glass, giving the phone's screen durability.
The phone is elegant, simple, and very classy. The 6.9 inch supports 16 million bright colors, but it may be too large to be handled comfortably.
Processor, storage, and performance
The Samsung S20 Ultra details a powerful Exynos 990 chipset responsible for the handset's performance. It is also powered by 12/16 GB of memory for high performance when playing games or streaming heavily without lags. Samsung S20 Ultra is equipped with 128/256/512 GB of internal storage.
Battery
The makers of this phone went all out when it came to power storage. It has an inbuilt battery of 5000mAh. This comes with a powerful, fast battery charger of 45W which charges the phone to 100% in 74 minutes.
That is not all: it also has a fast Qi/PMA wireless charging system of 15W. This will enable the phone to store more power over a rather long period. With this type of phone, one does not need to worry much about draining the battery power.
Just like its predecessors, this phone has Wireless Powershare capabilities that turn it into a charger for compatible devices.
Speaker and call quality
The new model S20 Ultra is equipped with stereo speakers tuned by AKG to provide quality sound. However, it lacks the classic 3.5mm jack for one to connect its own headphones, forcing users to buy the wireless earbuds. Video call features have also been improved for quality calls.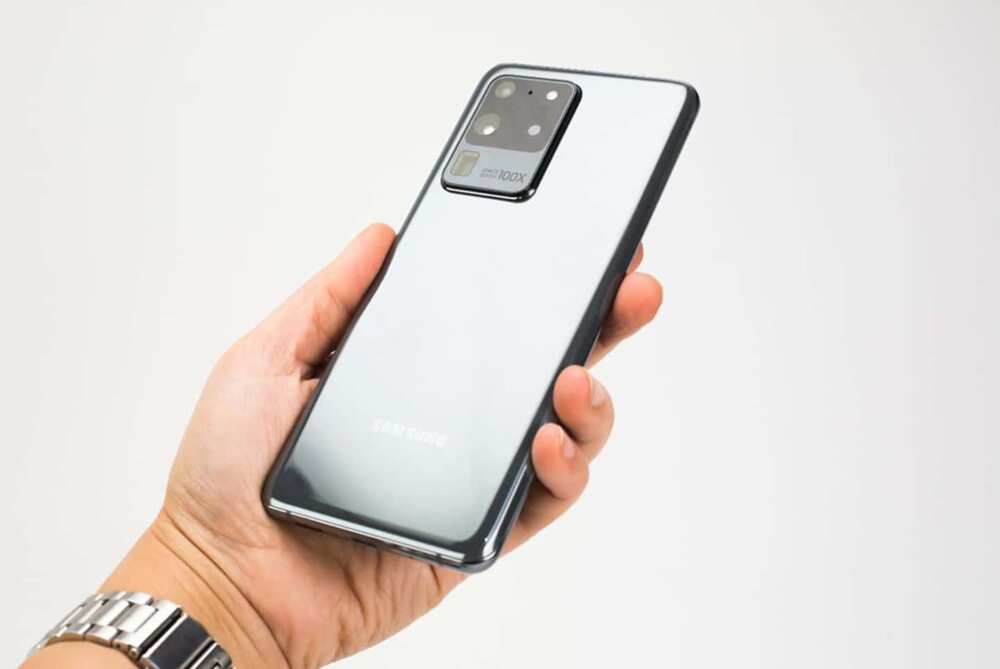 Software
Samsung S20 Ultra has ANT+ to work with wireless devices, and Samsung DeX to support the desktop experience. In addition, Bixby has been further improved to support more voice commands and process natural languages.
OS and features
The Samsung handset is powered by the latest Android 10.0 operating system with enhanced features like Artificial Intelligence to improve smart memory usage and performance. It is also backed up by One UI 2 OS to provide first-class user interaction with the device. It also supports face ID and fingerprint security.
Camera, video and image quality
S20 Ultra camera is one of its best features which has the potential of making it a top camera phone. It has a 108 MP sensor at the back supported by a 48 MP teleport sensor! This enables the mobile to zoom an image up to an incredible 100 times.
The camera also supports up to 8K of video recording plus added smart features. The front sensor is a 48 MP camera that enables one to take beautiful selfies and to use face unlock security features.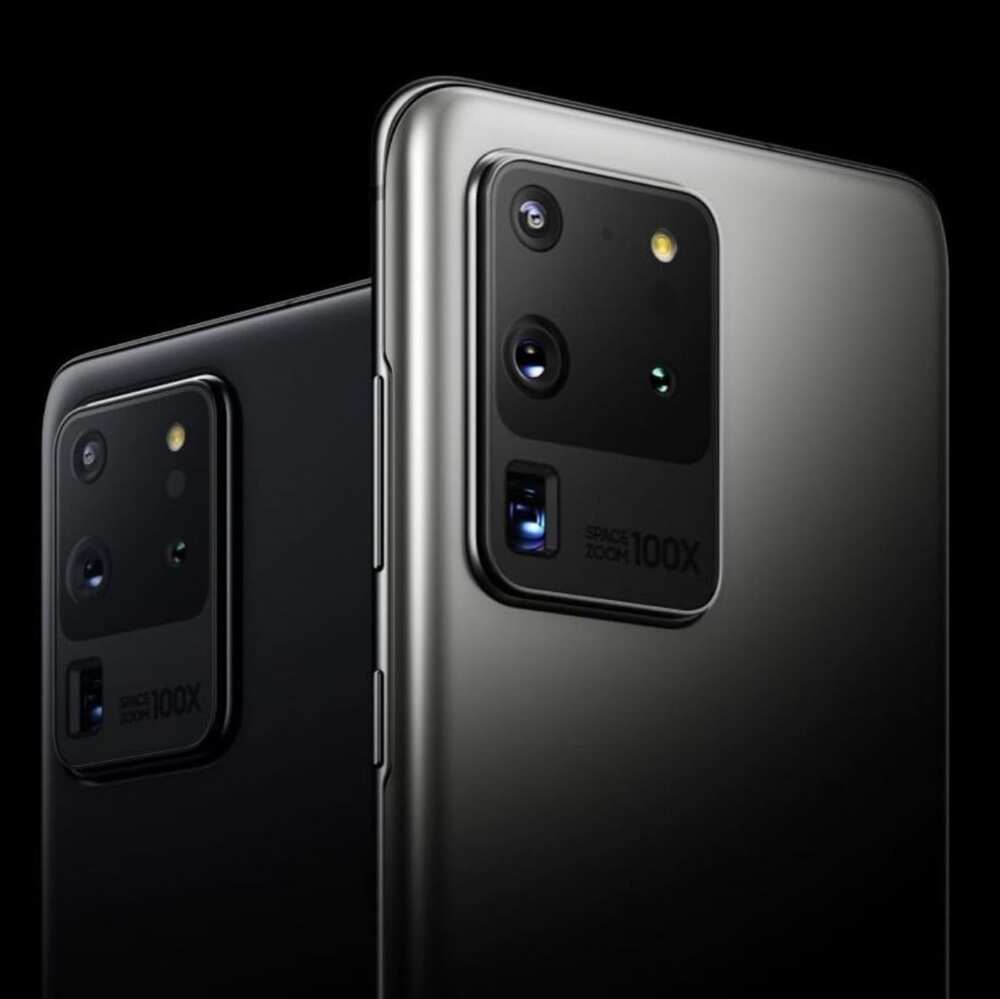 Samsung S20 Ultra review
The negative reviews from several critics generally center on the phone's price and size. The positive reviews focus on the mobile's camera power, the screen refresh rate, and 5G connectivity. Here are a few comments from YouTube:
Juraj Vitko: I was going to complain that Samsung didn't give us enough to complain about this year, but they didn't leave us disappointed.
Binh Nguyen: The Samsung Galaxy S20 Ultra had a lot of great features that are worth the price and it not ugly it's a man's phone. Said S20Ultra cost $1,500 and it lasts for 5 years. so each year cost $300, each month is $25, and each day in a month cost .83 cent. so it a good deal I'm going to buy the Samsung Galaxy S20 Ul.
Lost Buddha: No ultra-wide lens? Why do phones have to be so big? I want all the hardware but in a 5,5" screen.
Verdict
The Samsung S20 Ultra stands out for the incredible quality of its camera. It has over the top specs and an amazing processor that is fast, not to mention its 5G internet speed capability.
Overall, the Samsung S20 Ultra is a technically impressive gadget. Such great qualities do not come cheap, hence the high price tag on this phone.
Source: Legit.ng