Samsung Galaxy A90 5G specs, review, price
5G was regarded as futuristic technology a few years back, but it is currently a reality. Samsung recently announced the release of the Samsung Galaxy A90 5G, enthralling many tech lovers in the process. The South Korean manufacturers have used most of the specs found in some of the best smartphones on the market with a few additions to create a 5G-enabled device. You can now enjoy faster browsing with this mobile device as well as super-fast download speeds.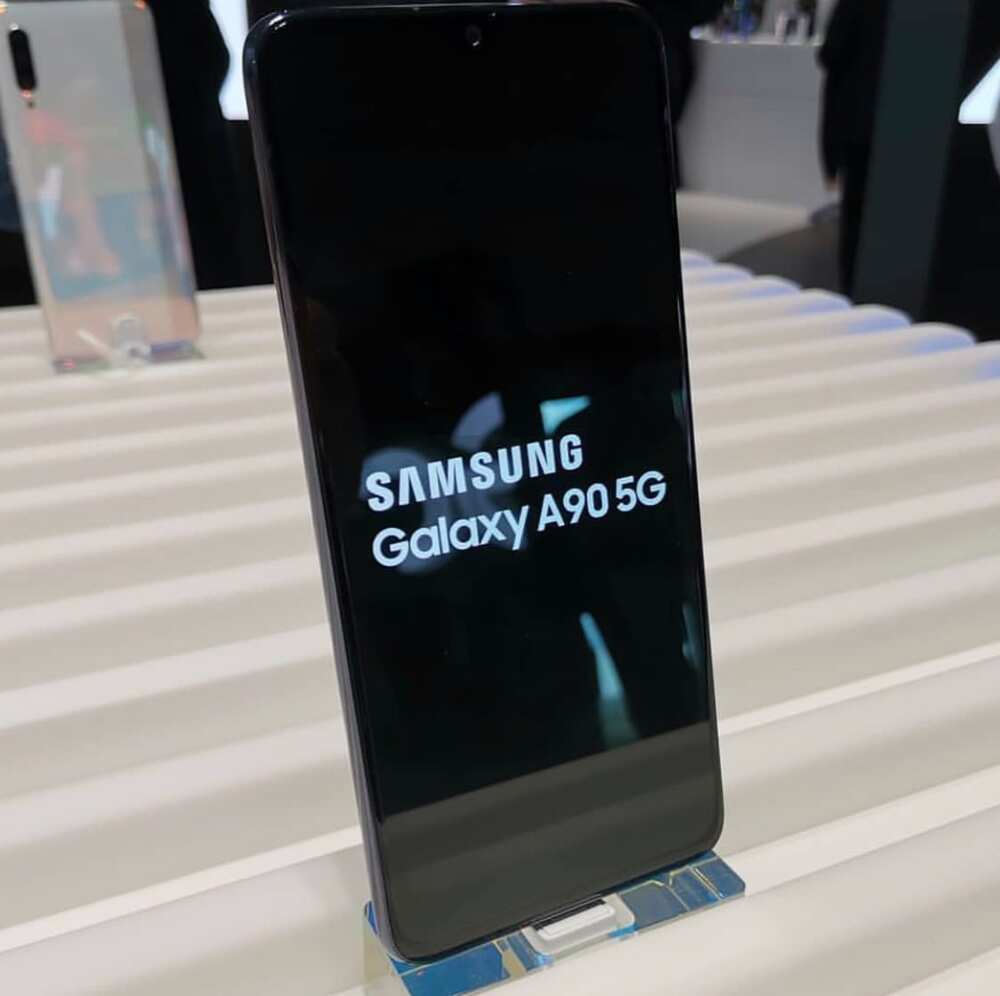 With a 5G device, you can enjoy internet speeds 100 times faster than those exhibited by their 4G counterparts. The Samsung A90 has a larger screen compared to its predecessors, which can be understood, considering the improved connectivity. According to the official manufacturer's website, the Samsung Galaxy A90 5G price is £669. Some of the improved features when it comes to the phone include a Snapdragon 855 chipset as well as 6GB or 8GB RAM.
The phone was released in September 2019 as the third of the company's 5G devices.
A brief Samsung Galaxy A90 5G overview
What stands out about this phone?
Pros
5G network support
Lasting battery
Classy design
25W super-fast charging
Large and vibrant display
Triple rear camera.
Cons
Only available in black and white
No wireless charging
Samsung Galaxy A90 5G specs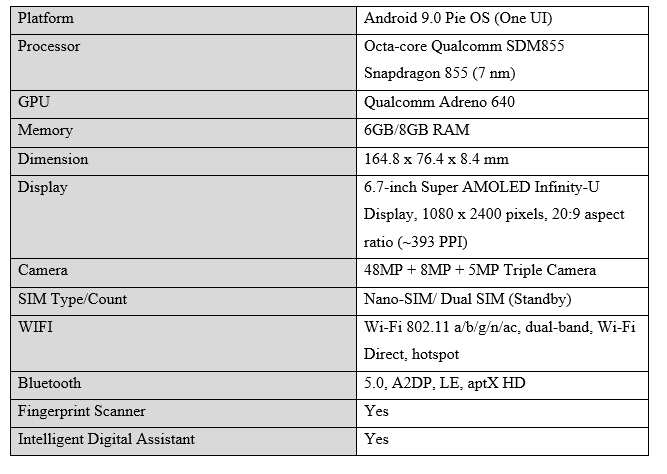 Hardware
What about the phone's hardware?
Design
As far as hardware goes, the most captivating thing is the phone's design. Before Sept 3, 2019, the Samsung Galaxy A90 5G release date; there were a lot of expectations regarding the aesthetic appeal it would have on its users. After its release, a lot of Samsung users were quick to notice the resemblance between the A90 and the other phones on the company's A-series collection.
However, the Samsung A90 is a little classier and looks more appealing compared to its counterparts. Its front has a 6.7-inch bezel-less screen with carefully laid out spaces for the earpiece and front camera. The fact that the screen takes up roughly 86% of the total front space makes surfing the internet or video recording a thrilling affair.
The back is also appealing and seems well planned out from the careful cut-out triple cameras to the LED flash opening. The Samsung A90 also has an on-screen fingerprint scanner. The in-display sensor technology introduced by Samsung to make this possible is nothing short of a master stroke and helps maintain a special aesthetic appeal while adding to the overall design of this phone.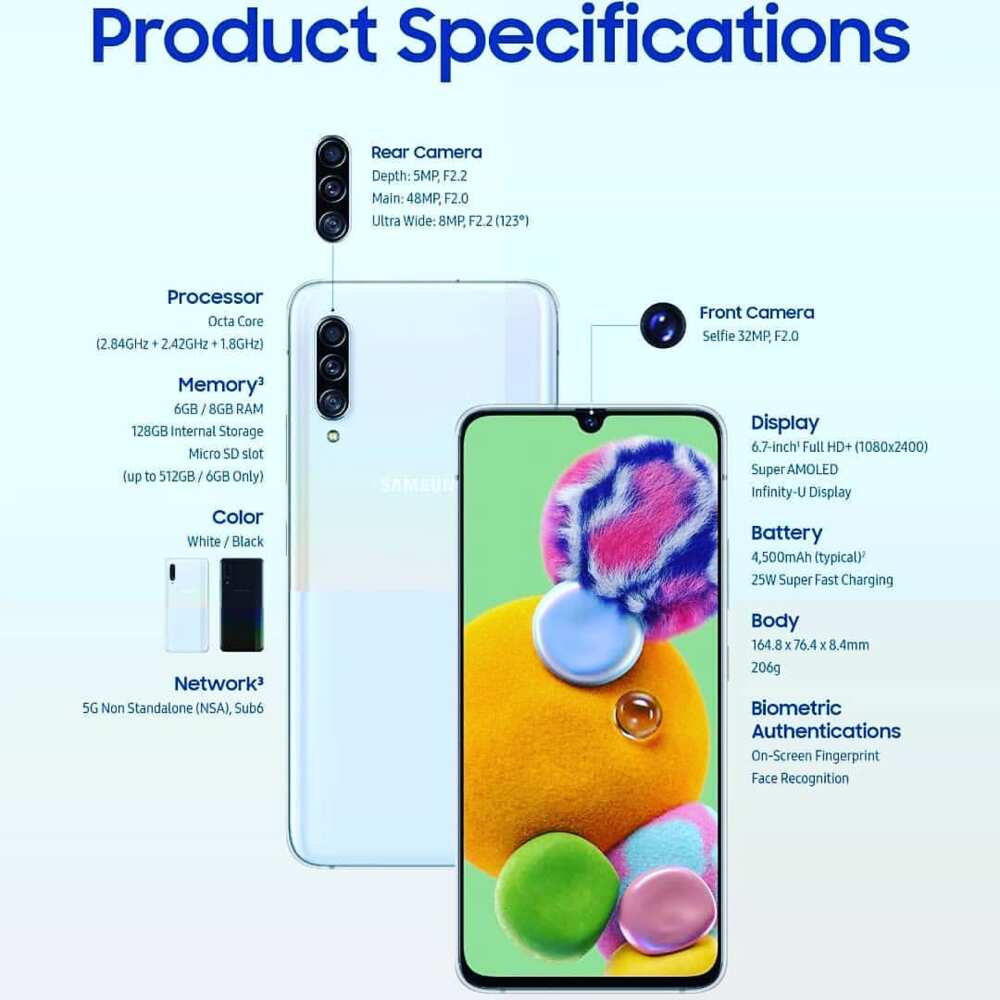 Display
The Samsung Galaxy A90 5G details discussed above regarding the phone's front design shows how big the display is on this new device. The phone has a 6.7-inch screen that comes fitted with AMOLED technology, which plays a vital role in ensuring all colors appear more vibrant. The capacitive touchscreen is also highly sensitive, making typing and scrolling easier. The Samsung A90's screen also has a slightly larger aspect ratio (20:9) compared to most phones on the market as well as -86.1% screen-to-body ratio.
You can enable the always-on display option to keep your phone's screen on or switch it off at will. As far as brightness and contrast are concerned, you can set them to your preferred levels at will, but the default settings for the same are also an option. To prevent your screen from shattering or cracking, be sure to use a screen guard.
Processor, storage and overall performance
A phone's biggest and perhaps most important feature is its processor. A processor is what determines the speed at which you can operate your device as well as the types of apps your device can handle. Not to mention, processors also have a huge role to play when it comes to internet use seeing as the faster they are, the more real-time your surfing or gaming experience will be. A large RAM is also required alongside a state-of-the-art processor.
An Octa-core Qualcomm SDM855 Snapdragon 855 (7 nm) powers the phone and is considered the latest mobile chipset backed by 6GB or 8GB of RAM. While the internal memory is significantly larger than the one found on most phones, you can also attach a micro SD card with a storage capacity of up to 128GB. Seeing the phone's chipset runs on a 7nm processor, the Samsung A90 is not only faster, but also helps improve battery management. With this kind of chipset, RAM, and internal storage space found on the Samsung A90, you can download even large apps and navigate through them with ease.
Add its 5G network connectivity, and you can play any game online with zero glitches or downtime.
The Samsung Galaxy A90 5g battery life and fast charging
As far as the battery life on the A90 is concerned, Samsung outdid itself in that department. A lot of people are afraid of purchasing Samsung phones due to their low battery life, but an increase in battery capacity can solve that problem. This issue has been addressed in some of the latest Samsung devices, including the A90 which has a 4500mAh non-removable Li-Po battery. With such a battery, you can browse the internet, play games, or talk to your family and friends for extended periods.
Since the phone will be using a 5G connection and a powerful chipset, Samsung also added a 25W fast-charging feature. As such, you can recharge your phone over a short period and get back to whatever it is you enjoy doing on your new Samsung A90. Unfortunately, the Samsung Galaxy A90 does not support wireless charging. However, an upgraded version of the same, maybe in the near future, might come with this feature, which is already available on many mobile devices lately.
Speaker and call quality
The Samsung Galaxy A90 comes equipped with music and video players as well as a radio. It also has a loudspeaker and a 3.5mm jack for stereo or mono head or earphones. While all these might be features found on most mobile devices presently, not many of them have active noise cancellation or a dedicated mic. Both of these features are available on this phone, making sure the quality of your conversations remains high throughout.
The Samsung A90 also comes with the Dolby Atmos feature, which makes the music or movie experience even more enjoyable thanks to superior sound quality.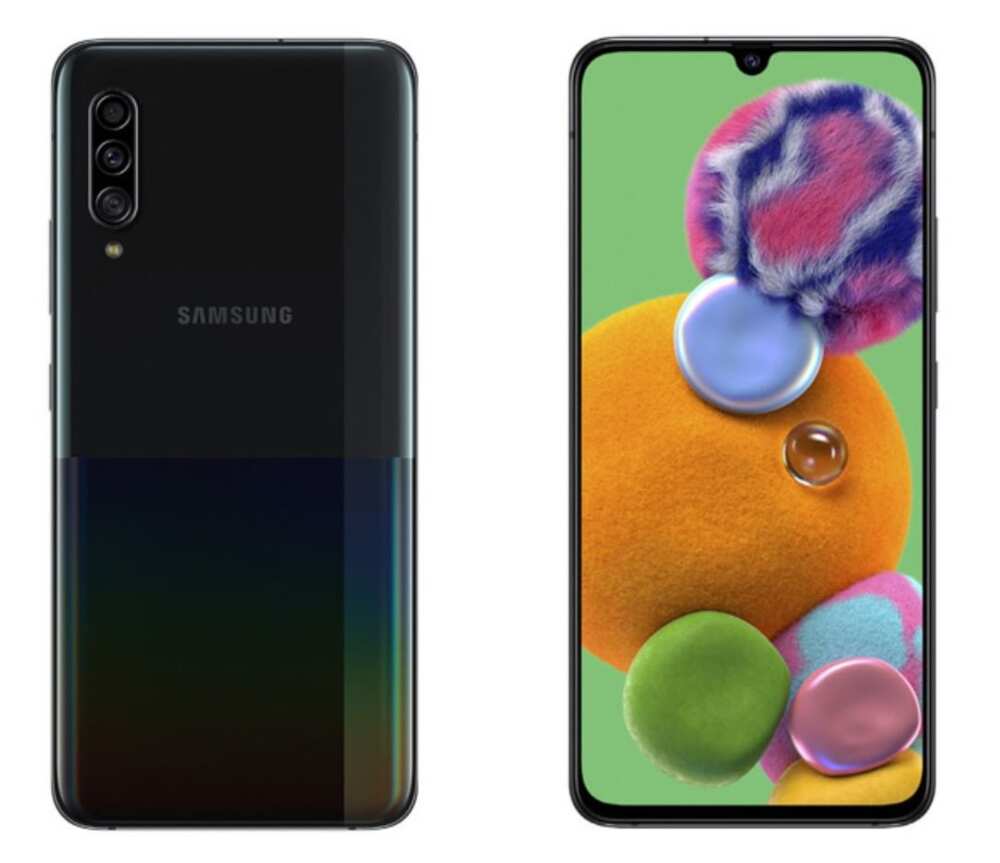 Software
Is its software impressive? Take a look:
Operating System and features
The Samsung A90 runs with the help of the Android 9.0 Pie Operating System, which is adapted onto the One UI currently used by Samsung on all its flagship products. The operating system might soon change to Android 10, but the 9.0 version is just as remarkable. The operating system has more pros than cons seeing it is arguably the most widespread operating system.
Due to this reliable operating system, the phone can support state-of-the-art features such as light sensors, fingerprint sensors, a digital compass, and an accelerometer, to mention a few. However, unlike in most phones, the A90 has an on-screen fingerprint sensor. It also has a face unlock and an intelligent digital assistant, which comes in handy when navigating the web or getting familiar with the new phone.
Camera, video, and image quality
The Samsung Galaxy A90 5G camera options can present a bit of a challenge to new users, but once you understand their roles, the rest becomes easy. The phone comes with a triple-lens rear camera (48-megapixel primary lens, an 8-megapixel ultra-wide lens, and a 5-megapixel depth-sensing lens) and a 32-megapixel front camera. The phone's cameras are similar to the ones found on Note 10 and Note 10 Plus with the only difference being their placement on all three devices.
All in all, a 48-megapixel rear camera is a photo and video enthusiast's dream. The performance of the camera does not seem to change day or night as long as there is adequate light when taking pictures at night. If not so, you can always use the flash feature to boost your image quality.
Reviews
Ali Azhar: "This is the best phone Samsung first time lunching mid-range phone."
Impressed: "Based on our first impressions, the Samsung Galaxy A90 5G is a lovely device and one we'd seriously recommend someone looking for a 5G smartphone should absolutely consider."
Not bad: "I mean for a mid-ranger with an sdd 855 and 5g with a price below £700 it's not pretty bad. The 393 PPI screen is livable with; blacks are ok (I have the a70)."
Verdict
The phone is arguably one of the best 5G-enabled devices currently on the market. At such a price, it is also a bargain considering its predecessors, the Samsung Galaxy S10 5G and the Galaxy Note 10+ 5G, were pricier on their release. This gadget has more features and uses the latest technological advancements to get an edge over its competitors. It also has better features and is worth the price, considering 5G technology is somewhat new in most parts of the globe.
Features such as more substantial battery life, fast charging, larger RAM and storage capacity as well as a state-of-the-art chipset are admirable and make the Samsung A90 a worthy buy. However, the company should make some changes regarding the available colors and upgrade to Android 10 for a better user experience.
Source: Legit.ng