Samsung S20 Plus specs, review, price, release date
The Samsung S20 Plus is the second release in a series of three new S20 phones. It has 5G internet connection, four new and improved rear cameras, and an extra sensor. This phone stands out for having a 6.7-inch edge to edge screen that immerses the user in a high definition browsing and viewing experience.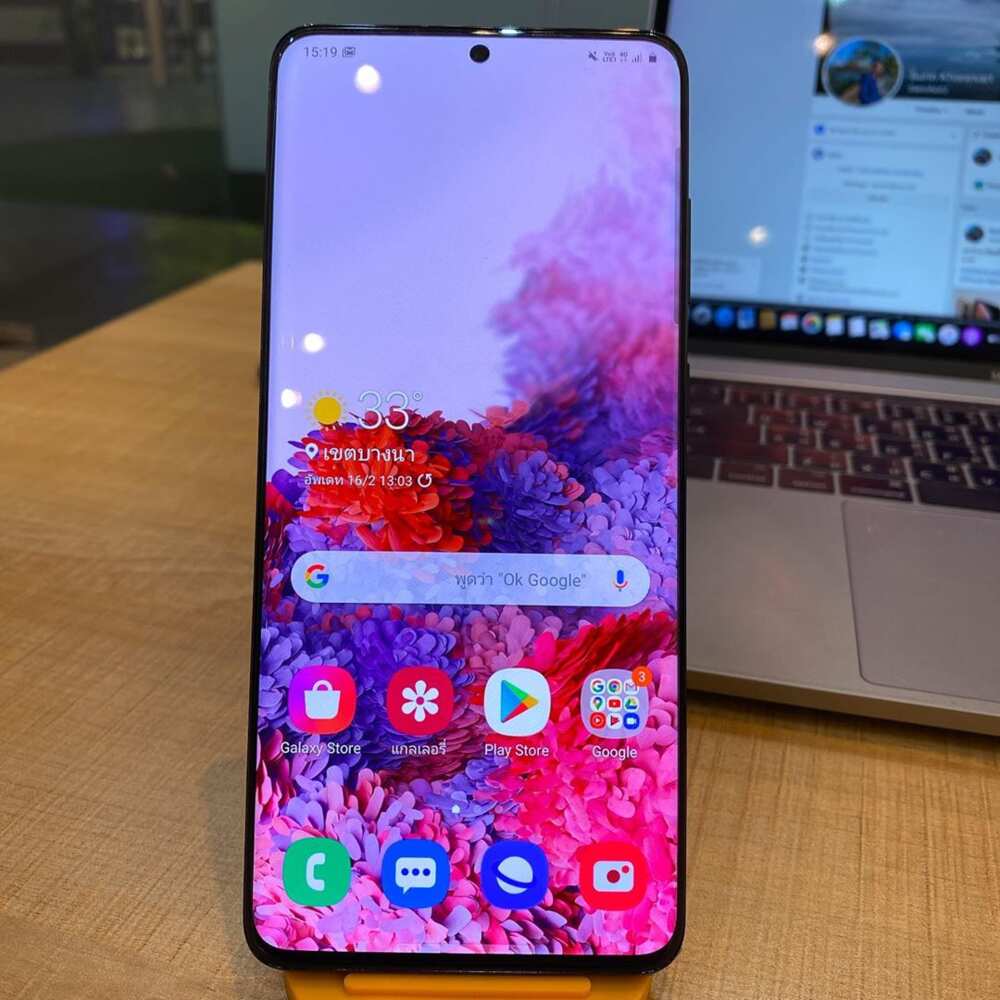 Although it was already launched earlier this month, the Samsung S20 Plus release date is 6th March 2020. It will be released first in the US, and reach other countries soon after. The initial Samsung S20 Plus price will be about N432,000. This makes it one of the most expensive Android phones in the market at the moment. Do the Samsung S20 Plus features meet the target market's expectations?
Overview
There is plenty to rave about when reviewing this handset. There are also a few areas worthy of criticism.
The good
It has a 4500mAh battery capacity
It has 5G connectivity
Has a 120 Hz screen with a high refresh rate
Has a stunning duo feature that allows you to chat with up to 8 people all at once
The bad
The 120Hz screen refresh rate and maximum screen resolution cannot run simultaneously
Samsung S20 Plus specifications
This phone comes with amazing features. If you love phones with a big screen, large storage, and fast processing speed, then the S20+ is for you.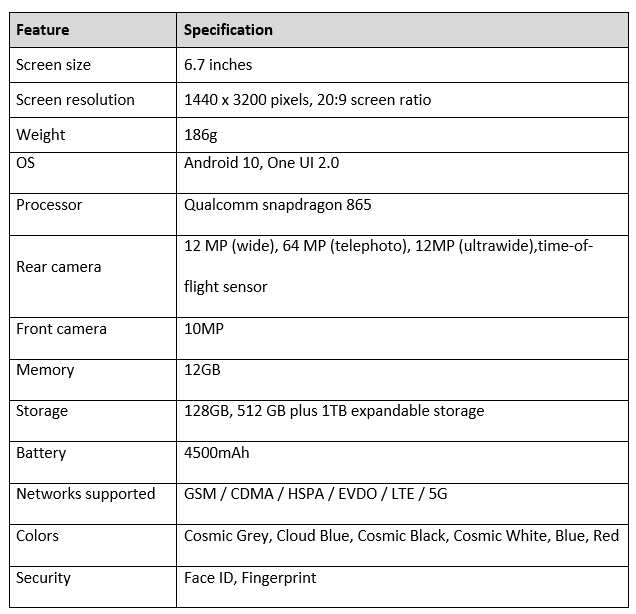 Hardware
Here is a detailed look at the device's hardware features:
Design
Samsung has leveled up in terms of design. The S20+ fits in the palm of one's hand but has a broader hump than previous designs. This makes it look proportional. It is waterproof, thus can stand last for 30 minutes in water that is 1.5m deep.
The device has an ultrasonic fingerprint sensor that is inserted into the screen. This sensor can detect the 3D ridges and valley of your prints, providing added security. The S20 Plus is also multi-layered, which prevents chipping.
Display
It has a display size of 6.7 inches. The world-leading certification company, SGS, has awarded Samsung S20+ display Eye Care Certification due to its abilities to minimize the effect of blue light.
It has a 120Hz panel which smoothens motion twice as much as the typical phone. Scrolling and refreshing the feed on this phone is faster. The panel's touch sampling rate is 240Hz, which translates into more screen sensitivity and an overall responsive handset.
The high refresh rate comes with one condition - the phone is only used on full HD (1080p). It can only be used while the screen is at a lower resolution and any attempts to change to 1440p are futile.
Considering that other devices that have 120Hz refresh rate can be used at 1440p resolution, this is a let down for lovers of this brand.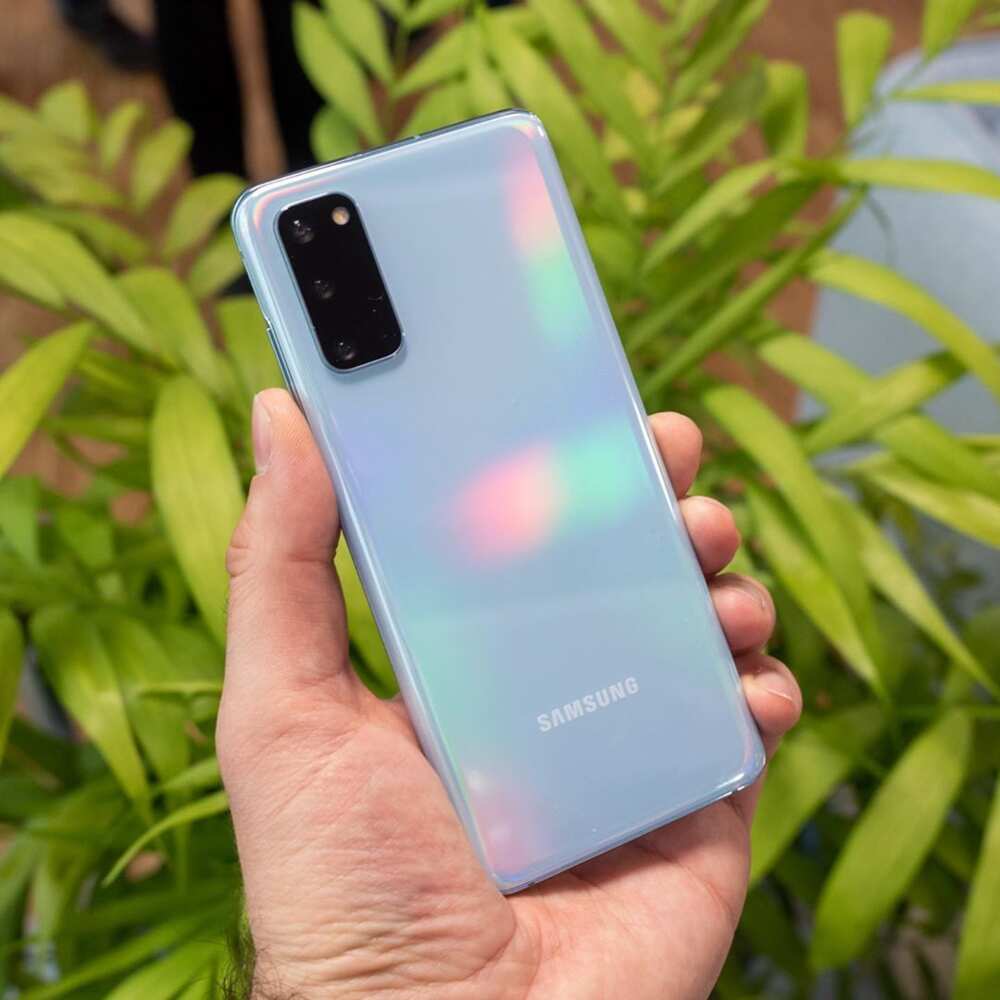 Processor, storage, and performance
This handset has a powerful performance capacity due to the company's flagship Snapdragon 865 processor. The massive storage capacity supports effortless performance. It has a RAM of 12GB. It also has an internal storage of 512GB, which can be expanded to 1218GB at a fee of $5.
The best part about this gadget's large memory capacity is that you can save three apps of your choice on the RAM. The apps stored in this section open faster and run effortlessly. Most phones do not have an allowance for app storage in the RAM.
Samsung S20 Plus battery life
It has a battery capacity of 4500mAh. This can last a day or more if you disable some top features. It has the fast wireless charging feature that allows you to charge your Galaxy Buds + and other Qi-charging devices by just placing them at the back of your phone.
Speaker and call quality
Just like the S10 series, the S20s have clear speakers and crisp call quality. The Galaxy Bud+ flagship Bluetooth earphones that can be bought separately enhance the sound for calls and music as well.
The Galaxy Bud+ has an external microphone that helps in noise reduction during a call. It is also fitted with three mics for clear voice capture. Samsung's partnership with Spotify has bred new music-streaming services.
Through this feature, you can easily launch music from the buds without even touching your phone. The Galaxy Bud Plus is well equipped to provide a balanced and clear sound just the way it should be heard.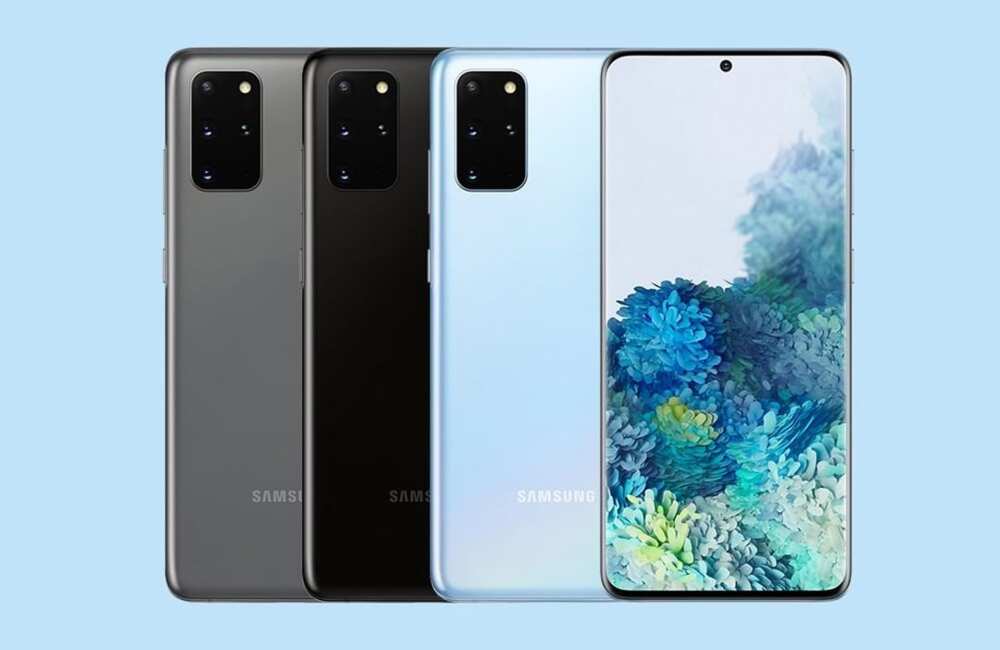 Software
Now that we are well-versed with the phone's hardware let us take a look at its software features.
Operating System and features
The S20+ runs on Android 10. It has a unique feature called the time of flight, which gives the cameras more accurate sensing capabilities. This is a feature that translates the length of light from the object to the camera into distance information.
Another unique thing about S20 Plus is that it supports both sub-6 and mmWave technologies. The latter is essential for compatibility with 5G networks. The sub-6 is just a spectrum below 6GHz. It provides a better range but a low speed compared to high mmWave frequency.
Being one of the first smartphones with 5G networking capability, the S20 seems to be well worth the price. It remains to be seen whether the network will prove a challenge in various countries that are yet to achieve the required connectivity.
Samsung S20 Plus camera, video and image quality
The S20+ has a front camera with 10MP and a dual pixel AF. It has four other cameras at the rear. 12MP ultra-wide camera, 12MP wide-angle camera, 64MP telephoto camera, and a depth vision camera as the fourth one. The phone can zoom to 3x the object and has a powerful resolution zoom of up to 30x.
Photography has just been given a new fresh look with the Samsung S20 Plus. The phone allows you to take high-quality photos, zoom and crop part of the image without distorting its quality. It offers a stunning 8K video recording. This high resolution allows you to shoot videos like a pro.
Samsung S20 Plus review
Here are a few Samsung S20+ review comments from social media platforms:
Verdict
Samsung S20 Plus has much more to offer, just as its name suggests. From a sturdy glass and metal build to a highly sensitive screen and four cameras, the handset seems to have everything users need. It also has a bigger battery compared to other models; no wonder its starting price is $1,999. The S20, S20 Ultra, and S20 Plus all come within the same price range.
Source: Legit.ng