Xiaomi Redmi 8A release date, specs, review, price
Xiaomi Redmi 8A has been in the market for quite some time now, considering the fact that it was released in September 2019. Fans have had many positive things to say about the gadget so far. It comes with features that are not only functional but those that make the phone a great purchase if you consider value for money.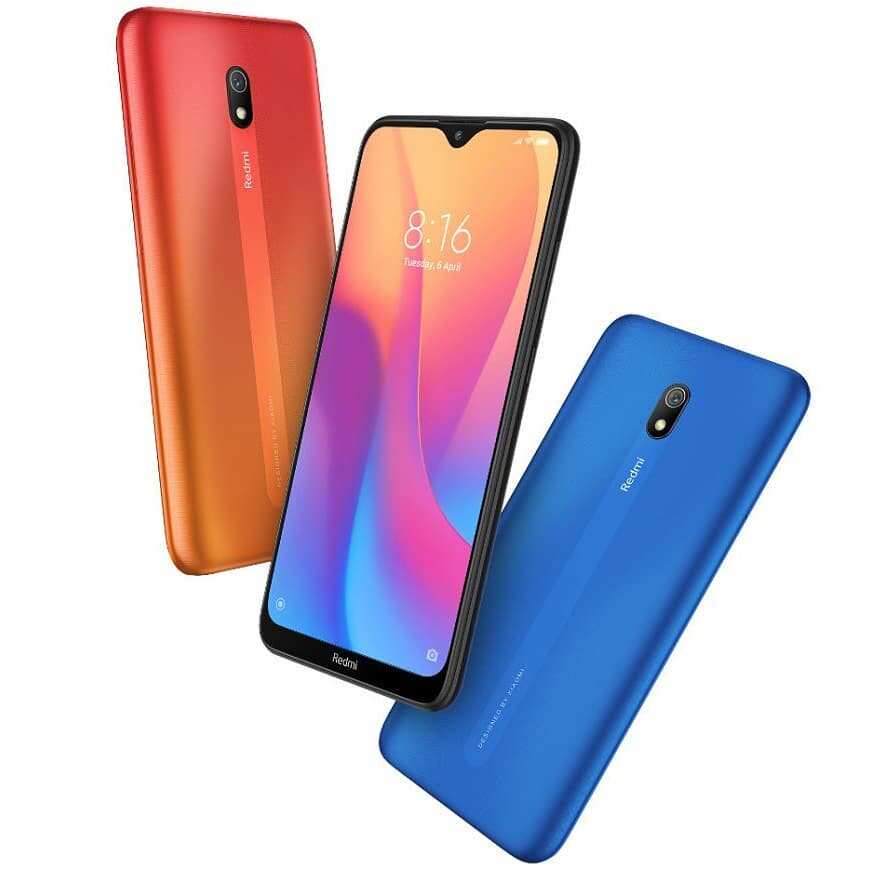 This phone comes packed with a lot of great features that you are likely to approve of. Here are all the details you need to know before considering to buy it.
Introduction
Xiaomi Redmi 8A release date was in September 2019. This is a great purchase for users who enjoy uninterrupted gaming and browsing. If you mind quality, then this would be a great smartphone to settle for. It comes with a 5000mAh battery that allows users to browse for 24 hours. You can be sure that the user experience will be amazing.
The phone may be relatively new in the market but it is gaining a lot of attention because of the following:
It comes with massive storage capacity options. It has 2GB RAM and 32GB storage with other variants coming with 3GB RAM and 32GB. In addition to this, it comes with an expandable microSD card slot of up to 512 GB.
Supports fast charging
Supports 4G LTE
In Nigeria, the phone is fairly priced and available in both online and physical stalls. It goes for N33,500 but can go up to N35,000 depending on where you are. You can also choose to buy the phone online..
Xiaomi Redmi 8A overview
Even though the phone promises great results and its price is quite pocket-friendly, you still want to ensure that you are getting the real deal. This means that you should be on the lookout for the advantages and disadvantages of the device if any. You can then compare and decide if you are willing to compromise on anything. Here are all the useful details you may need to do your analysis.
The good
IPS display with enhanced features.
Li-Po 5000 mAh battery.
Excellent battery life.
Fair prices making it excellent for people on a budget.
The bad
It does not support fast charging
Non-removable battery
Poor camera hence poor quality photos and videos
Xiaomi Redmi 8A specs
Is there any particular Xiaomi Redmi 8A specification you are looking for? If so, then the following details will come in handy. Here are all the crucial specs at a glance.
Weight: 6.63 oz
Dimensions: 6.16 x 2.97 x 0.37 inches
Colours: Midnight Black, Ocean Blue, Sunset Red
SIM type: Dual SIM, Nano SIM
OS version: Android 9.0 (Pie); MIUI 10
Chipset: Qualcomm Snapdragon 439
CPU: Octa-core (2x1.95 GHz Cortex-A53 & 6x1.45 GHz Cortex A53)
GPU: Adreno 505
Display type: IPS LCD capacitive touchscreen, 16M colors
Screen size: 6.2 inches
Resolution: 720 x 1520 pixels
Multitouch support: Yes
RAM: 2 GB, 3GB
Internal storage: 32 GB
Memory card slot: microSD
Selfie camera: 8 MP
Main camera: 12 MP
Flash: LED
Xiaomi Redmi 8A hardware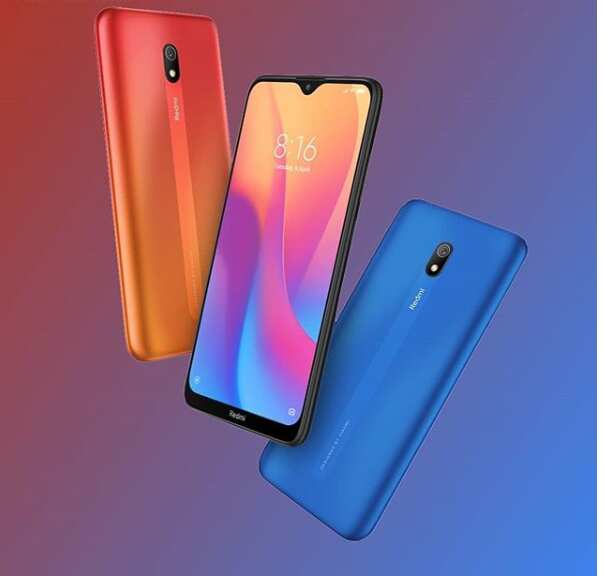 The beauty of any phone depends on its hardware composition. The following are a few that add up to form the Xiaomi Redmi 8A.
Design
The new phone's design comes with an "Aura Wave Grip" which increases its visual appeal. This was in fact very much needed, considering the fact that some of the competition in this price range offer notched screens. The new Aura Wave Grip design on the rear side comes in to ensure that there is never a problem with grip. The back is textured wich helps prevent smudges and fingerprints.
The phone comes in 3 colours too: the Sunset Red for those who love it a little loud; if you are going for a subtle look, you can settle for the Ocean Blue or choose the Midnight Black colour variant. The lightweight of the phone is made possible by the fact that it is plastic all around. It also comes with a 5,000mAh battery. It comes with no fingerprint sensor for biometric authentication. This is not a problem since it is fairly priced and certain omissions are expected.
It comes with a 6.2-inch display which gives you a better experience. You may want to adjust to the fact that the phone is slightly bigger than usual hence it will need some getting used to as it does not fit in the hand perfectly.
Display
As already mentioned before, the phone comes with a large display. The discomfort of not having it fit in one hand is something worth paying for. Its panel works at HD+ resolution. It is also shielded by a Corning Gorilla Glass 5.
Processor, storage, performance
The phone is powered by a Qualcomm Snapdragon 439 octa-core chipset just like its predecessor before it, 7A. You will also love the fact that the phone comes with a lot of space which makes it possible for you to multi-task. What's more, you can always expand the storage using the microSD.
Battery
You will not only like the Redmi 8A because of its massive battery but also because of the charging upgrades it comes with. It comes with a USB Type-C port at the bottom. The device also comes with an 18W fast charging support. The only downside is that the phone comes with a 10W charger out of the box meaning that you have to purchase the other components for fast charging. Budget phone buyers will love the fact that the phone's battery will last up to 2 days with moderate to light usage.
Speaker and call quality
The phone comes with headphone jacks. It also has a speaker grille that flanks the USB-C port. The audio output from the headphone jack is both loud and clear. However, when you use 1More Triple Driver earphones, it is possible that you will notice a slight hiss and a lack of dynamic range. Its speakers are not too loud. Music sounds muffled with little distinction between lows and mids.
Xiaomi Redmi 8A software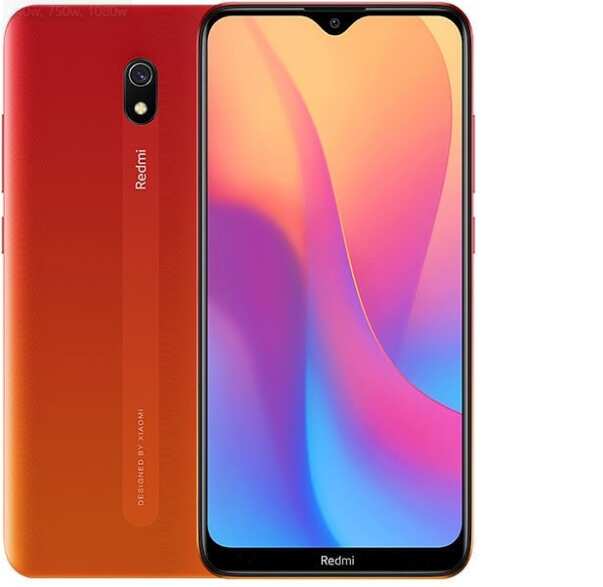 For this phone to perform relatively well, it comes with a software capacity that is worth taking note of.
OS and features
The Redmi 8A uses the Android 9.0 (Pie)OS together with Xiaomi's MIUI 10.
It is powered by a Qualcomm Snapdragon 439 octa-core chipset. While the apps take a bit longer to load, the phone is generally good as far as general usability is concerned. You may need to go for the 3GB RAM variation if you are to multitask. Otherwise, you will be stuck loading pages.
The CPU performance may be an improvement but not-so-good graphics show up when you are playing games.
Camera, video ad image quality
The phone comes with a 12MP IMX363 camera sensor similar to what is found on the Pixel 3A series. Unfortunately, this is not enough to cater for the great picture quality all great phones have. This is one area that this phone lacks.
There is a limited dynamic range even with the HDR switched on. It has a tendency of blowing out all highlights. The images come with some form of inherent softness with the phone always struggling to get the right focus even when there is excellent lighting.
Its videos max out at 1080p, 30FPS and they also show compression artifacts. However, you do not want to shoot with it in low light.
Xiaomi Redmi 8A review
Anyone who is on a budget may consider buying the Redmi 8A for its excellent price. Here are what people are saying about the gadget on YouTube.
Arab shroud: Hey bro .. just wanted to say great video man and i really really appreciate the fact that u wrote the title in english and u still speak in english even tho u r indian .. thank u man
Niks Huma !: Thanks for the gaming review. And just 2gb ram for pubg gamming.. no never!
Muthulakshmi muthukrishnan: This phone is 2bg or 3gb
James Francessco Roy: Good variant i liked the most.
Arinjoy Boral: Improve ur audio and video quality
Mathew b: U r great but please make your videography good
Verdict
With the mentioned Xiaomi Redmi 8A price, it is clear that this is an excellent phone for someone on a tight budget. You get to enjoy reasonable features that most good smartphones come with without necessarily having to pay so much for it, although you may have to compromise on a few things. However, if you are the kind of person that enjoys good quality pictures and photos then you want to consider another alternative.
It is safe to conclude that the Xiaomi Redmi 8A is a pretty moderate phone that will work for someone who uses their smartphone moderately.
Source: Legit.ng