UniAbuja portal: login, admission, profile, faculties (2020)
At UniAbuja portal, you can find all the information about faculties, submission, and courses. It is a perfectly created platform for the convenience of applicants and students. This guide will be handy whether you are an applicant or a student.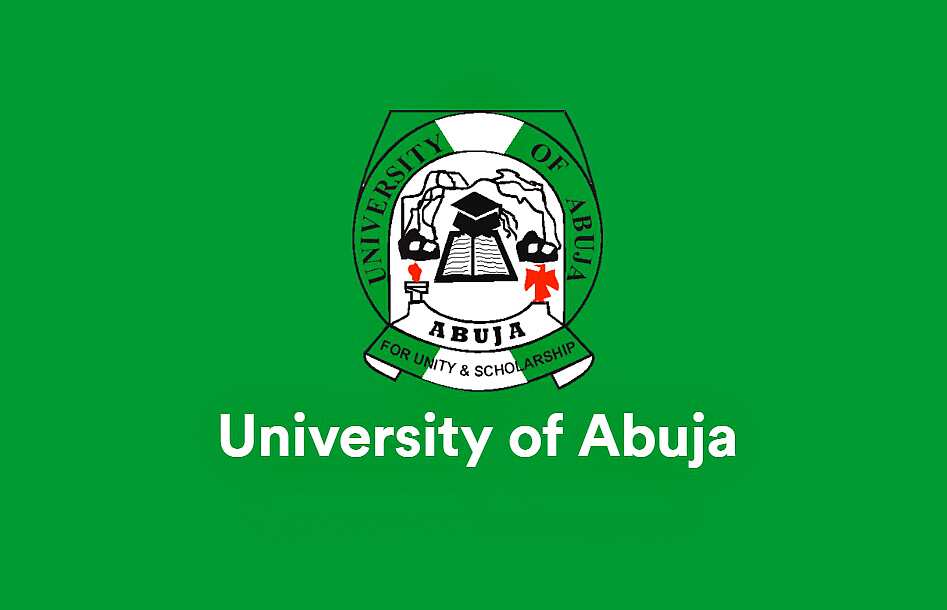 If you are searching for useful information about this portal, then this article is a must-read for you.
University of Abuja: profile
Name: University of Abuja
Acronym: UOA
Nickname: UniAbuja
Type: Public
Founded: 01.01.1988
Motto: For Unity And Scholarship
Vice-Chancellor: Professor Michael Umale Adikwu
Colours: Green and white
Location: Federal Capital Territory, Nigeria
Campus: Main Campus, Mini Campus
E-Mail: info@uniabuja.edu.ng
Social networks: Facebook, Twitter, Instagram
University of Abuja: website and UniAbuja portal
UniAbuja is an institution of higher education in Nigeria, which is located in the state's capital. It was created on January 1st, 1988, according to Decree No. 110 of 1992. Uni Abuja has two forms of education: full-time and distance one.
According to the Uni Abuja website, the main goal of this educational institution is the following:
To provide instructional, research, and public service programmes appropriate to a university of high standing that guarantees academic excellence and to operate a strong and virile distance learning component that ensures equal educational access to a large constituency.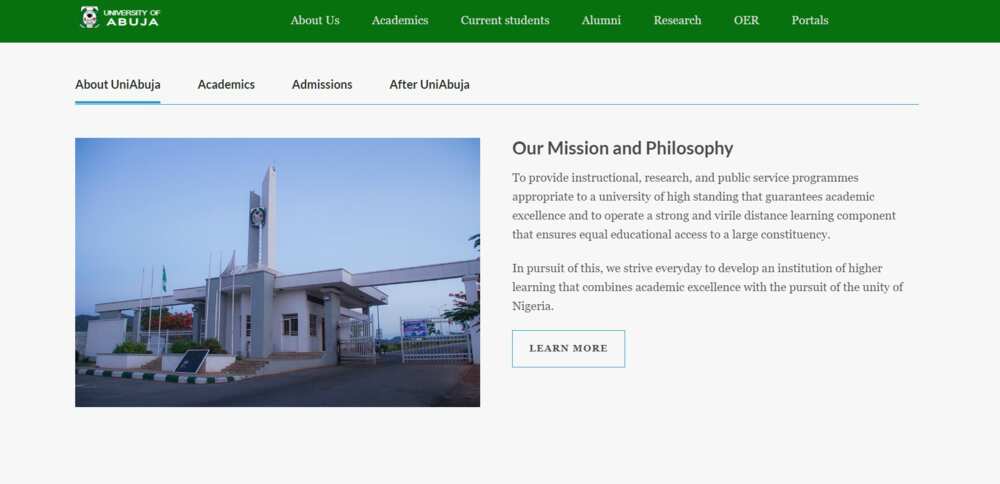 Unibuja portal offers the following faculties:
Agriculture
Arts
College of Health Sciences
Education
Management Science
READ ALSO: Top 20 universities in Nigeria
Engineering
Law
Social Science
Science
Veterinary science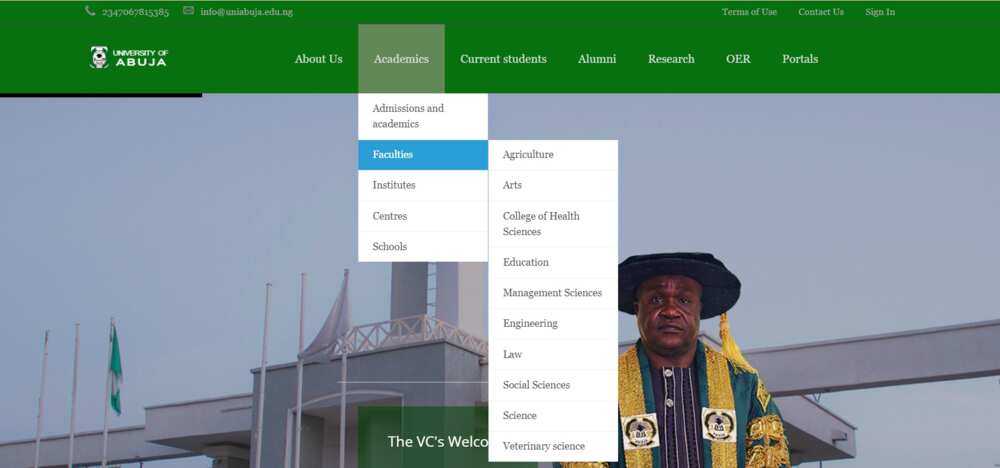 Unibuja suggests programs and courses according to officially approved higher education degrees such as pre-bachelor degrees (i.e. certificates, diplomas, associate or foundation degrees), bachelor degrees, master degrees, doctorate degrees in several areas of study.
UniAbuja admission list
If you want to apply to this university for a first degree, it is necessary to meet all faculty and departmental conditions as you can see below. You must have the following minimum skills for admission:
You must have a Senior Secondary School Certificate or alternative with credits in five subjects in two sessions. You also must have a satisfactory score in the Joint Admissions and Matriculation Examination or a Diploma, NCE. Lower credit is acceptable.
You must have two A'Level passes or alternative in three other subjects at the Senior Secondary School Certificate Examinations. You can also have Diploma or NCE. The upper credit is acceptable.
If you want to apply to such a programme, you must have examinations' certificates of the following subjects at the Secondary School namely Physics, Mathematics, Biology and Chemistry. Three credits are necessary. Check the accurate information on the official website because the requirements of some faculties may differ.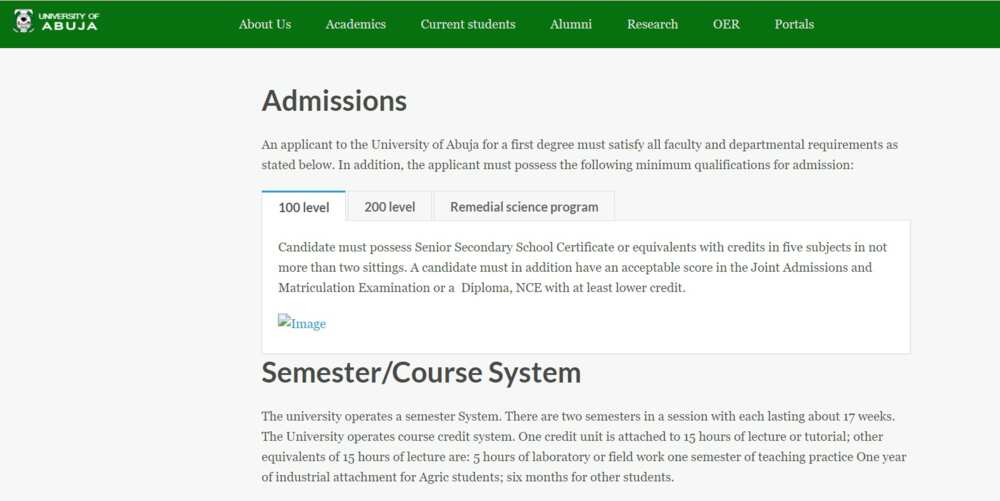 If you want to know about University of Abuja fees, you can contact the university's administration directly through the email info@uniabuja.edu.ng.
If you want to login to the portal, do not forget that your password is your last name. For example, for Kabir as the last name, the password is kabir.
Now you know almost everything about UniAbuja portal and website. Check out the official website if you still have some questions or live the comments below.
READ ALSO: Best state universities in Nigeria for Law
Source: Legit