Billie Eilish bio: age, family, songs, style, boyfriend
Billie Eilish is phenomenon on different levels. Her music is one-of-a-kind, her outfit style is unique, and her songs are unforgettable. Knowing the celebrity's background can explain a lot about her, and she has many astonishing facts to reveal.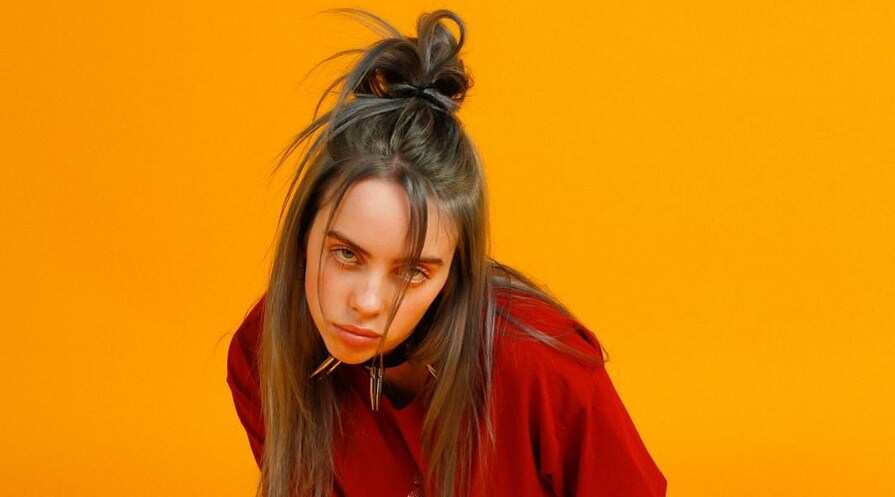 Being a young girl, the singer has managed to beat many artists in terms of uniqueness and style. She is among the few that are easily distinguished from the mass of other singers. So, what is her secret?
Billie Eilish profile summary
Full name: Billie Eilish Pirate Baird O'Connell
Date of birth: December 18, 2001
Marital Status: single
Birthplace: Los Angeles, California, USA
Ethnicity: Caucasian
Nationality: American
Profession: singer
Height: 5 ft. 4 in (163 cm)
Weight: 128 lbs. (58 kg)
Shoe size: 9 (US)
Online presence: Instagram (@wherearetheavocados), Facebook (@billieeilish), Twitter (@billieeilish)
Billie Eilish: who is she?
Billie Eilish is a rapidly rising star in the American music industry. She attracted attention to herself after the release of her first single Ocean Eyes in 2016. After this event, the singer's popularity soared as more and more people around the world discovered her unique music. The girl's tracks are not the only thing that made her famous. The singer's unparalleled outfit style and aesthetic are as popular as her songs. How old is Billie Eilish now? She is just 17 years old.
Billie Eilish bio and background
The singer was born into a family of musicians, which influenced her interests greatly. She grew up in Los Angeles, California, and this "city of dreams" could not but helped to shape the girl's free spirit and worldview.
Her full name is Billie Eilish Pirate Baird O'Connell, and the Pirate part of it is not a joke. Eilish comes from the Irish variant of the name Elizabeth, and Baird was added as a maiden name of her mother. It is still a mystery what Pirate part of the singer's name stands for and whose idea it was to include it into the official name of the girl.
READ ALSO: Young MA net worth, gender, age, brother, father, girlfriend, ex
As for Billie Eilish background in terms of ethnicity, we can track her origins back to English, Irish, Scottish, and Belgian roots. This peculiar combination of ethnical genes is the reason for the singer's exquisite appearance.
Since childhood, she obtained her education at home, being taught by her mother. Partially, the girl's parents opted for homeschooling because Billie has an auditory processing disorder — a condition that prevents her from perceiving auditory information easily. However, when the girl reached the age of 8, she joined the Los Angeles Children's Chorus. This was a crucial step that trained the young singer in performing songs and gave her some sort of formal musical education. One of Billie Eilish interviews confirms it:
It's taught me all of my technique. Everything that I use I pretty much have learned from choir.
Surrounded by family members involved in the music industry and attending a choir, the girl had little options other than to become a professional singer herself. This does not sound so dramatic if you take into account her strong voice and a natural inclination for songwriting and performing.
As her childhood was passing, the girl listened to Avril Lavigne and The Beatles. She also took an interest in acting and dancing. Thus, she participated in the creation of several homemade movies. She starred in them and then edited the footage. The girl also attended dance classes, which explains her plasticity and unique dancing moves that she showcases in her music videos.
At the early age of 11, the little star felt that performing songs by other artists was not enough for her. Thus, she began creating her own tracks. Her brother helped her a lot in this, and he continues facilitating the celebrity's songwriting:
It makes it a lot easier [to write with my brother] for a lot of reasons. We take criticism really well […] We're a team.
Billie Eilish family members
The girl has a musically talented family; thus, music has been present in her life from the very beginning. Her father is Patrick O'Connell; mother is Maggie Baird, and brother — Finneas O'Connell.
The singer's Dad, Patrick O'Connell, 61, is an American actor of the Irish descent. He is famous for such films as Iron Man (2008) and Life Inside Out (2013). He also voiced characters of Hitman (2016) and Splinter Cell (2006) video games. Apart from being a talented actor, he also plays the piano and the ukulele. His love for music sparked the interest in songwriting in his daughter. His mixtapes were the first tracks she was listening to. She confesses to Interview Magazine:
My dad used to make us mixtapes of all the stuff that he liked, which was Avril Lavigne, Linkin Park, Green Day, and a ton of the Beatles—the Beatles was a huge thing growing up.
The girl's mother is also an actress. Maggie Baird is credited as an actress in 52 movies, TV series, and video games including Life Inside Out (2013), Mass Effect 3 (2012), Bones (2009), and Eragon (2006).
Additionally, she is a co-producer of Life Inside Out (2013). The woman also wrote and performed the soundtracks to the same movie. She even won seven awards for her contribution to the Life Inside Out including the Blue Glass Award for the Best Music – Original Score and Songs (Blue Whiskey Independent Film Festival), Reel Rose Award for Best Feature Length Screenplay and The Peoples Festival Award (John Paul II International Film Festival, and Audience Award for the Best Feature (Lighthouse International Film Festival).
READ ALSO: Justin Timberlake net worth, bio, full name, age, height, wife
With such a talented mother and father, especially in terms of music, it is no wonder that Billie has developed a fondness for songwriting and performance. However, her brother was the one who contributed the most to the development of her career.
Finneas O'Connell, Billie Eilish brother, is also an actor, as his parents, and a singer. He was seen in such films and TV series as Glee (2015), Aquarius (2015), Bad Teacher (2011), Modern Family (2013). The man wrote and performed songs in his own band called Slightly's. However, the true popularity came for him after the success of his sister.
It was him who wrote Ocean Eyes, the song that brought fame to Billie after she performed it and uploaded the track on SoundCloud in 2015. After such success, Finneas became a producer of his sister and a co-writer of the songs she performs. In the interview for Harper's Bazaar, the girl says:
My brother and I always write together pretty much, and we write so much that it's never like we don't have new songs.
Thus, having a family of musicians does have many pros for a rising pop star. Such a background, support and help of the family were crucial for her success.
Billie Eilish boyfriend: does he exist?
The topic of romantic relationships is among the first ones that every fan wants to know about their idol. Billie Eilish is not an exception. Unfortunately, there are neither official information nor rumours about the romantic life of the star. Her official social media accounts also do not contain any hints on the matter.
However, she once mentioned in her interview for Marie Clair that her first love was Justin Bieber. She was hopelessly in love with him for some time. As for now, her feelings for him might have passed as she jokingly says:
I don't even want to meet him. I don't want to cry in front of him.
Billie Eilish music
Billie Eilish genre is mainly pop music; however, rateyourmusic.com distinguishes a number of sub-genres that appear throughout the singer's tracks. They are electropop, alternative R&B, art pop, contemporary R&B, and chamber pop. No matter what genre her songs belong to, they are still hypnotising and addictive.
Billie Eilish songs: main milestones
When we talk about the celebrity, the first song that comes to mind is her Ocean Eyes. The debut track was recorded at the end of 2015 and released on SoundCloud at the beginning of 2016. Neither the girl nor her brother expected the success that the track brought them. It became literally viral with over 10 million hits. Taking into account the song's popularity, the singer created four remixes of it that were included in her first EP Ocean Eyes. Ocean Eyes still remains among Billie Eilish best songs so far.
Another milestone for the celebrity was a song called Bellyache, which was released in 2017. The music video for the track has gathered over 172 million views on YouTube so far.
READ ALSO: Natalie Krill bio: age, movies, relationship, lesbian rumors
With her next song Bored, the celebrity reached a completely new level in her music career. The track became an official soundtrack for the TV series 13 Reasons Why created by Netflix. She subsequently recorded a number of other songs including the track created in collaboration with Vince Staples called &Burn. This work was included into Billie Eilish album release known as Don't Smile at Me (2017). The EP consists of nine tracks:
COPYCAT
Idontwannabeyouanymore
My Boy
Watch
Party Favor
Bellyache
Ocean Eyes
Hostage
&Burn
Another collaborative work has brought the singer a huge success. It is a track called Lovely, and it was created by the girl together with the renowned artist Khalid. The song became a true banger immediately, gathering over 290 million views on Billie's official YouTube channel. The track was so popular that it was made a soundtrack for the second season of 13 Reasons Why, as well.
Billie Eilish 2018 songs also received a fair share of popularity. However, a true bomb was released in March 2019, when the first real album of the singer saw the world. It has a conversational name When We All Fall Asleep, Where Do We Go?, and it has already made so much noise. The album has taken the #1 place on the Billboard 200 chart. Considering that it is the debut album of the artist, such result is really impressive.
When We All Fall Asleep, Where Do We Go? has a total number of 14 tracks:
!!!!!!!
Bad Guy
Xanny
You Should See Me in a Crown
All the Good Girls Go to Hell
Wish You Were Gay
When the Party's Over
8
My Strange Addiction
Bury a Friend
Ilomilo
Listen Before I Go
I love You
Goodbye
Billie Eilish new song called Bad Guy is included in the aforementioned album. The music video for the track was released on March 29, 2019, and over 61 million people have already watched it. You should definitely check out this hypnotising track. It seems that the popularity of the singer increases with every song released.
Billie Eilish tour dates 2019
After such a successful release of a debut album, all fans of the pop star are waiting for her tour to begin. A new Billie Eilish tour starts on April 13 in Indio, California, USA (Coachella Valley Music and Arts Festival) and ends on September 21 in Las Vegas, Nevada, USA. From August 15 (Austria) to September 7, the singer will be giving concerts in Europe. Check out her official web site for the detailed tour schedule.
Billie Eilish aesthetic: style or madness?
Billie Eilish style is partially responsible for her popularity. It makes her stand out from in a crowd of other teenage singers, especially if you take girls, who like to dress like pretty princesses. In her young age, the singer has developed a unique aesthetic. Moreover, she uses the same style on a stage as well as off it. Maybe, this sincerity that comes through her appearance is what attracts people to her and her music.
Billie Eilish outfits style
Billie Eilish clothes are always somewhat baggy and bright. You will not see her wearing tight leggings or a fancy evening dress. Oversized sweatshirts and trench coats, colourful hoodies and shorts, designer sweats and windbreakers – these clothing items are common for the star. Billie Eilish shoes are usually sneakers; sometimes, they are even mismatched. Sprinkle it all with a generous amount of jewellery (necklaces and diamond rings), and you will get the right idea of her style. Do not forget that Billie Eilish hair colour is blue of various shades. This creates a perfect combination with her bright outfits.
READ ALSO: Margo Harshman bio: measurements, net worth, movies and TV shows
Some might think that such a style is too weird and a young girl like her should stick to some commonly accepted conventions when it comes to clothes. However, the pop star has her own opinion that she articulated in her interview for SSence:
Blending in, I have never understood that at all. Why would you want to be in a room of people that look exactly like you? I don't know. What's the point of dressing like someone else? They're already dressing that way. Do your own stuff.
In her interview for Harper's Bazaar, she continues on the topic:
I am not comfortable when I'm wearing just some jeans and a shirt. I just feel wrong and I feel like very not me and out of my place and just weird.
Thus, her style originates not from the desire to stand out but rather from a wish to feel at ease. For many, such a reason may seem a little contradictory; however, all people are different. As a bonus, it is always interesting to look at this bright celebrity.
The star's exquisite style inspires her fans to create really beautiful things. You can find many Billie Eilish art items on Etsy, for example. These could be posters, clothes items, paintings, etc. You can even find a Billie Eilish phone case on the web site.
Billie Eilish makeup hype
In her music videos and, sometimes, in real life, the singer demonstrates quite captivating makeup ideas. This created a wave of YouTube videos with tutorials on how to look like the star. Each of these videos has thousands of views on YouTube. However, the girl prefers to look as natural as possible in her everyday life.
Billie Eilish: miscellaneous
Being a peculiar girl with a unique worldview, the singer has a lot of interesting tidbits to share with us.
Is Billie Eilish vegan?
The celebrity is positively vegan. She decided to switch to this rather popular diet around 2014. The pop star claims that she had several reasons for it, health benefits and animal protection being among them. She also mentioned that she is lactose intolerant, so dairy products were never an option for her.
Billie Eilish smiling: has anyone seen it?
If you look through Billie Eilish photos, you probably will not find her smiling face there. Indeed, the celebrity seems to be always gloomy and dissatisfied. As she puts it in an interview for Harper's Bazaar:
If you look at my Instagram, I have a resting bitch face and I guess I just look sad all the time.
In the same interview, she says that she hates smiling, that smiling makes her "feel weak and powerless and small." In another interview for SSense, she mentions:
Girls are. 'Look happy, look like you're having fun!' I'm not gonna look like anybody except what I am. I want to impress myself.
Well, we will respect her choice and enjoy the facial expressions she is eager to demonstrate. However, in the latest Billie Eilish video for a song Bad Guy, the girl smiles and laughs quite a lot for a person who does not like it. Do not forget to check it out!
Billie Eilish and her relationships with fans
Billie Eilish fans should be the luckiest and the happiest among all other fans. As the girl has been in a fan's shoes herself not so long ago, she understands what it is like to admire someone without a chance to be noticed. As she confessed to Marie Claire:
I grew up being such a fan of so many people, and I never got any sort of connection with them.
Therefore, she does her best to make her fans happy. As she says in her interview for Harper's Bazaar:
I love my fans. I talk to each and every one of them as much as I can, and I respond to all of their DM's—or at least I try to—and I comment on and like all their stuff.
We hope that the girl stays such an open person despite her growing popularity.
Billie Eilish net worth 2019
Currently, the net worth of the singer is estimated at $6 million. The sum is quite impressive onto itself; however, if you take into account Billie Eilish age (17) and the period that she has been popular (around 3 years), such amount of money becomes utterly shocking. Considering that she has just released a new album and is on her way to begin a grand tour, the pop star's net worth may increase significantly by the end of the year.
The young age was not an obstacle for Billie Eilish to establishing herself as a unique personality in the modern music industry. Her hypnotising songs and unique style quickly won her an army of loyal fans. Being only 17 years old, the girl has already accumulated the net worth of $6 million. With a new album just released and a tour coming, her popularity will only continue to grow.
READ ALSO: Marshmello net worth, bio, age, height, real name, face
Source: Legit.ng