Hallie Biden bio: age, children, relationships with Beau and Hunter Biden
"Love knows no boundary," is a statement that we often say without giving much thought to it's deep meaning. Even so, society often frowns upon atypical love. Unusual love is what brought Hallie Biden into the minds and mouths of numerous people recently. Plenty of rumours and confirmed truths related to her current relationship continue to be a source of endless debate. Her love and loyalty have been questioned especially because her family is in the public eye. Regardless of it all, love seems to conquer all, and she is now a happy woman in a blended family.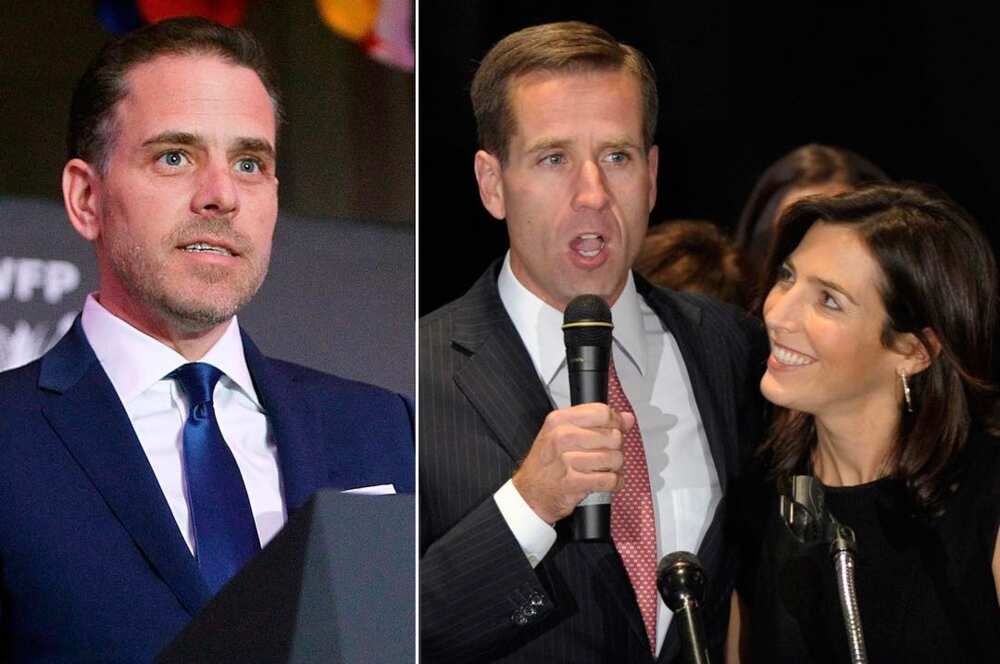 Hallie Biden is currently in a relationship with Hunter Biden who is the second son of Joe Biden, the former vice president of the United States of America.
How old is Hallie Biden? Hallie was born on the 30th of November, 1974 and was given the name Hallie Olivere. Her parents are Ron Olivere and Joan Olivere. The Hallie Biden age is, therefore, 44 years. She will be turning 45 in November 2019. Her ethnicity is White, and she is an American citizen by birth.
Hallie Biden profile summary
Full name: Hallie Biden (Born Hallie K. Olivere)
Date of birth: 30th November 1974
Place of birth: United States of America
Nationality: American
Ethnicity: White
Husband: Beau Biden (Died in 2015)
Children: 5 (2 biological-Natalie and Hunter; Naomi, Finnegan, and Maisy belonging to Hunter)
Current relationship: Hunter Biden
Personal net worth: Approximately $100,000
Education background and early life
Hallie grew up together with her siblings in a close-knit family. She attended The Tatnall School. Not much about her childhood has been disclosed to the public. From the way the Olivere family supports her through rough times, it is evident that she was brought up by loving parents. Details about her higher education are also not known.
READ ALSO: Who is Alahna Ly: bio, age, height and hot photos
Hallie Biden body measurements
Hallie has never disclosed her body size and measurements. From her pictures, it is apparent that she is relatively tall and has a model-like height and size. She has maintained an attractive body since she first came into the public eye.
Career
Hallie Olivere Biden currently serves as an admissions counsellor in The Tatnall School that is located in Greenville, Delaware. She is an alumnus of this private pre-college school that is known for providing high-quality education. Previously, she worked at the Archmere Academy as a guidance counsellor. Hallie led a quiet and secluded life before marriage, so not much about her private life before marriage has been disclosed.
Hallie Biden net worth
Hallie's net worth is hard to establish because she often appears under the shadow of her family's fame and resources. Even so, it is known that she leads a lavish lifestyle. She has been a career and family woman for years, so she has acquired some resources from her effort. Her family's net worth is set at about $900,000.
Hallie Biden relationships and marriage
Hallie was in a loving relationship with Beau Biden, the first son of Joe Biden. The couple got married in a lavish ceremony in 2002 after being engaged for a year. Their engagement ceremony took place in the former vice president's family home in Massachusetts during a Thanksgiving dinner. The husband was a qualified attorney who served in the Army Judge Advocate General's Corps. He was also a politician from Delaware. His ambitions as a career person also earned him the position of Attorney General of Delaware. He was a committed member of the Democratic Party.
Beau and Hallie Biden gave birth to their first child, Natalie, on the 4th of August 2004. On the 10th of March 2006, the couple gave birth to their son, Hunter Biden. In 2010, Beau developed severe headaches and was later diagnosed with cancer of the brain. He spent long periods in hospital under the care of qualified and seasoned physicians and caregivers. After rounds of radiotherapy and chemotherapy, Beau lost the fight on the 30th of May 2015. He was only 46 at his time of death.
Hallie and her children were devastated by the loss of their spouse and father. Being a widow at 41 and with young children left her with a deep wound, but she had to gather strength to continue loving and supporting her young children. Throughout the grieving period, Beau's family, the Olivere family and many friends and close associations supported Hallie. Beau's funeral was held at the St. Anthony of Padua Roma Catholic Church in Delaware.
One of the consequences of Beau's passing was his younger brother, Hunter, becoming a reckless adult. He spent a lot of money on addictive substances and alcohol and was often seen in the company of prostitutes. He and his brother had lost their biological mother when they were still young boys. The loss of his brother must have made Hunter slip into harmful habits as a way of coping with the pain. At the time of Beau's passing, Hunter was married to his now ex-wife, Kathleen Buhle. From this union, the Hunter Biden children are 3 daughters: Naomi, Finnegan, and Maisy.
His uncontrolled behaviour caused a strain in the marriage, and separation occurred just 5 months after Beau's demise. The couple ultimately filed for divorce that was granted in 2017. After the separation, it was speculated that Hunter sought solace in the closest person who was deeply affected by his brother's death, Hallie.
In the process of grieving together, Hunter and Hallie Biden started a relationship in 2016 before his marriage was officially annulled. This new relationship elicited plenty of mixed feelings among Americans and the world at large. In some cultures, people have argued that it is perfectly normal for a woman to enter into a relationship with her spouse's brother after his demise. Others oppose this relationship. Joe Biden, the patriarch of the family, has openly expressed support for this relationship.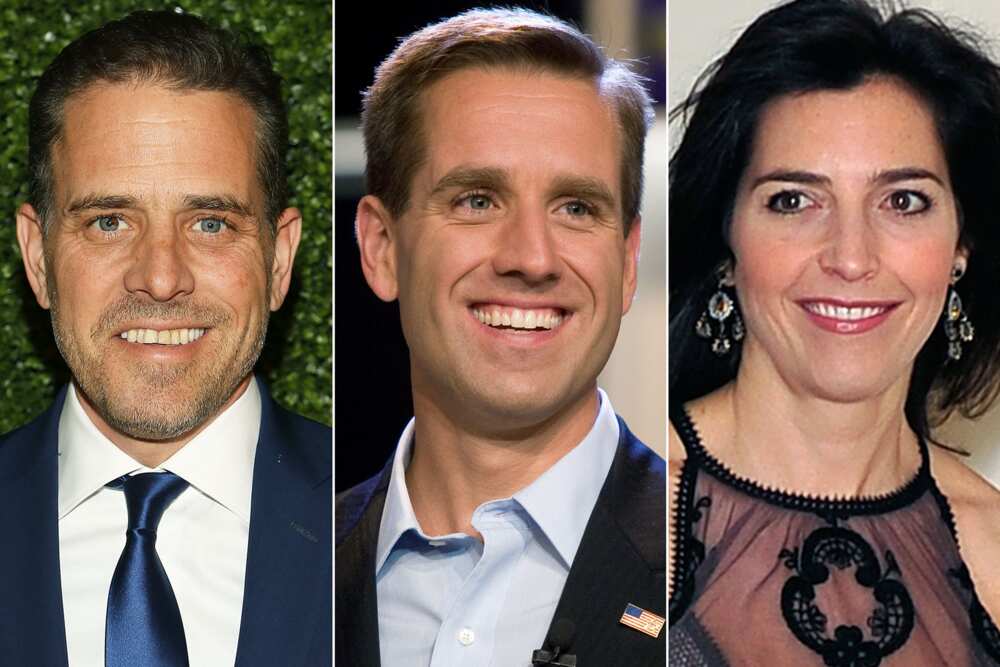 In their relationship, Hunter and Hallie are bringing up their 5 children together. These are the 2 children from her marriage to Beau and the 3 daughters that Hunter bore with Kathleen. The family has on several occasions been spotted happily enjoying their family excursions. The 4 girls and 1 boy seemingly have a good relationship. Hunter, who is also a lawyer at Rosemont Seneca Partners, LLC, works hard to ensure that his large family is happy. While there are speculations that the couple may have had an affair before Beau's passing, this information has not been confirmed by the Biden family.
Presence on social media
Hallie does not have any approved Twitter, Facebook or Instagram pages. She continues to live a private life except for the special moments that she has to make public appearances alongside her family.
The Hallie Biden bio above shows that the American elite is not exempt from love-related drama. Hallie who was formerly married to Beau Biden is now in a relationship with his younger brother Hunter Biden. Before being married into the Joe Biden family, little was known about her. Regardless of the debate that has arisen from her most current relationship, Hallie continues to live happily. She indeed is proof that love does not recognise boundaries.
READ ALSO:
Billie Eilish bio: age, family, songs, style, boyfriend
Ricky Berwick bio: age, condition, mom, girlfriend, net worth
Source: Legit.ng