Billie Eilish net worth: How wealthy is the musician?
Billie Eilish is one millennial taking the world by storm. Just this year, the 18-year-old Ocean Eyes singer was nominated for six significant Grammys, managing to win five of them – a feat that myriads can only dream of achieving. The singer-songwriter is giving the likes of Taylor Swift a run for their money, and we are all for it. Check out what Billie Eilish net worth is and what she spends her money on.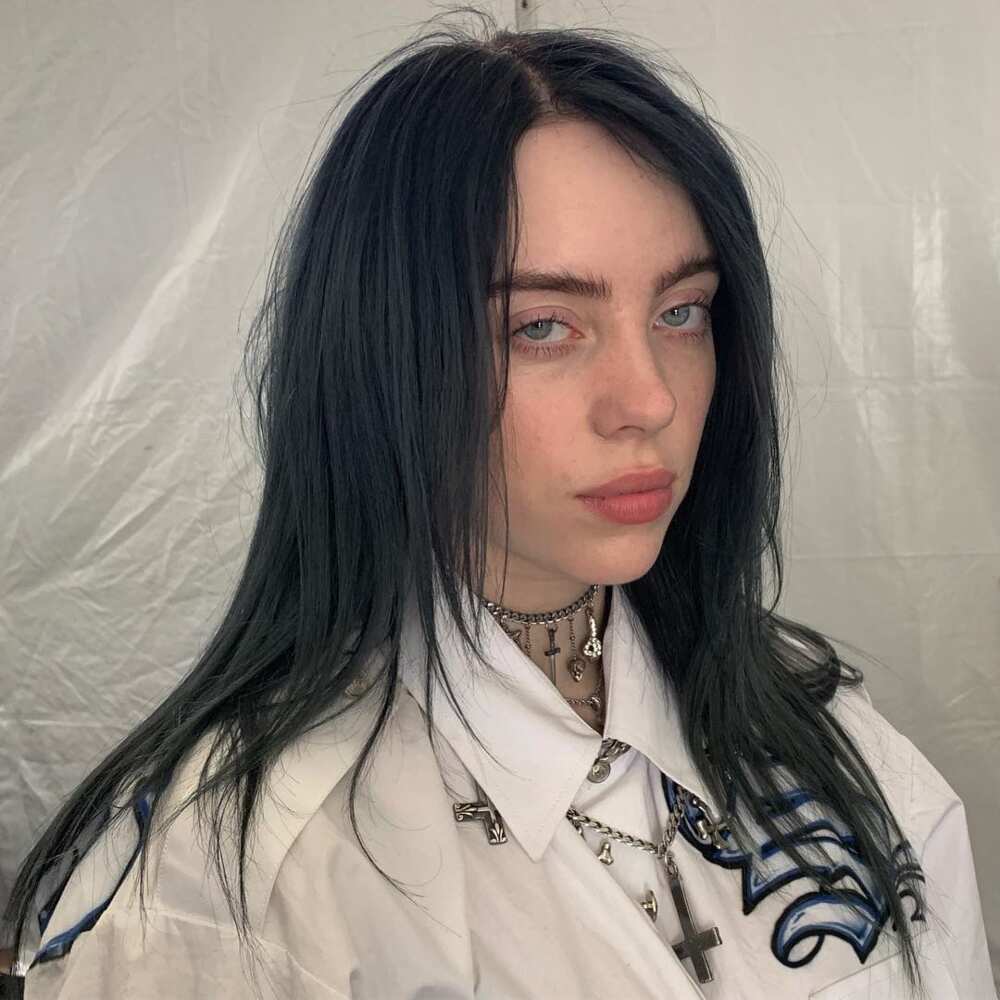 Billie Eilish is not just a singer; she is an icon, and a phenomenal one at that. The 18-year-old is making headlines left, right, and centre, and there is no denying the fact that indeed, the lady is talented.
Billie Eilish net worth: How much is Billie Eilish worth?
Believe it or not, this young lady's net worth is much higher than that of many who are deemed to be 'industry heavyweights.'
As reported by Celebrity Net Worth, Billie Eilish net worth 2019 was a whopping $8 million, quite an impressive figure.
Billie Eilish's sources of income
As she is just but a teenager, many may wonder, "How did she get so rich?"
From brand endorsements, album sales, tours, and the sale of her merchandise, this star has many income streams, which we will discuss below.
Billie Eilish merch
Apart from album sales, Eilish has earned quite an amount from the sale of her merch.
In April 2019, she launched a clothing line in collaboration with Japanese artist Takashi Murakami, who has directed some of her videos.
The limited-edition merch was inspired by her You Should See Me in a Crown video. Every item sold came with a digital copy of her When We All Fall Asleep, Where Do We Go? album.
The all-neon clothing line consisted of oversized hoodies, graphic t-shirts, and beanies with graphics from the song's music video. Nothing was over $60.
The star also owns a merch line titled Blohsh. The clothing line contains apparel (such as t-shirts, hoodies, beanies, shorts) and accessories (such as stickers and pillowcases) with the Billie Eilish logo. She also has a kid's clothing line under Blohsh.
It is also reported that in 2018, Billie opened a pop-up shop in Camden, London.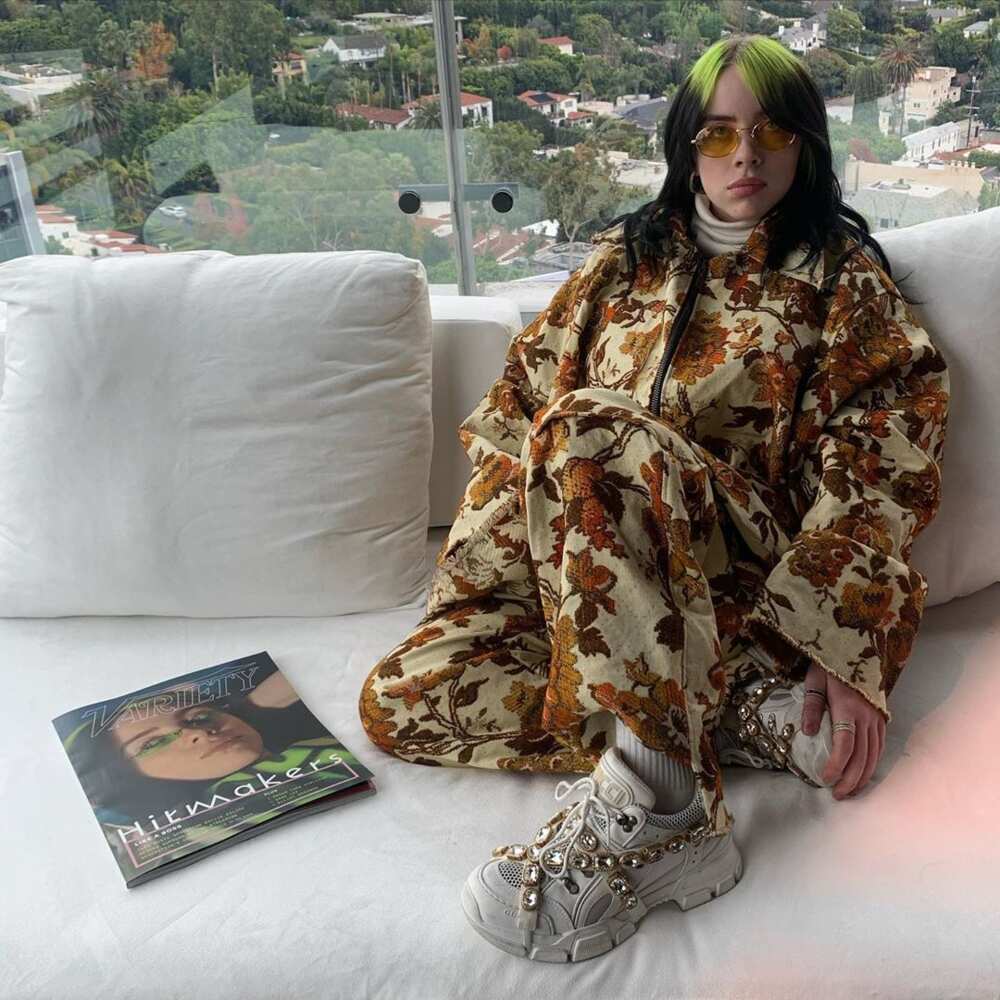 How else does she earn her money?
Her other sources of income are listed below:
In 2019, Eilish appeared in a series of adverts for Adobe Creative Cloud.
In May 2019, she also appeared in some ads for Calvin Klein.
In July that same year, Eilish partnered with Freak City on a new clothing line.
That same year, in August, she partnered with Apple in a campaign to promote the Music Lab app.
Billie Eilish sold the rights to a documentary about her life to AppleTV+. The deal was reportedly worth a staggering $25 million. The documentary, which has already finished filming, was directed by R.J. Cutler and was shot in March 2019. Her label, Interscope Records, collaborated on the production of the documentary.
What does she spend her money on?
As a teenager, there are many things one may desire - designer bags, shoes, jewellery, you name them. Luckily for Eilish, she can afford all these things as she is a millionaire. Here is what Eilish spends her cash on:
1. Cars
The artist once posted a picture of a blue McLaren on Instagram.
2. Jewellery
It is no secret that Billie loves her bling. She is always seen adorning numerous rings and chains that have slowly become her trademark. When it comes to jewellery, her favourite brands are Gucci, Bvlgari, Chanel, and Chopard.
3. Designer watches
She is often seen wearing not one, but even two watches. Her favorite brands of watches include Rado, Cartier, IWC Schaffhausen, and Hermès. The minimum price for these brands is a whopping $8,000.
4. Glasses and hats
In this category, she prefers brands such as Tommy Hilfiger, Aero, MINIMA, Bolle Cary, and of course, Versace.
She also spends a considerable amount of money on shoes and vintage clothes and bags.
How did Billie Eilish become famous?
On December 18th, 2001, Billie Eilish Pirate Baird O'Connell was born. She was born in Los Angeles, California, to parents Maggie and Patrick.
As fate would have it, Eilish was born into quite a musical family, as her mother wrote songs while her father played the ukulele and the piano. Growing up, Eilish also got to witness her brother Finneas O'Connell (a singer, songwriter, actor, and producer) falling in love with music.
The young girl was home-schooled, and when she was eight years old, she joined the Los Angeles Children's Choir. She then wrote her first song when she was just 11 years old.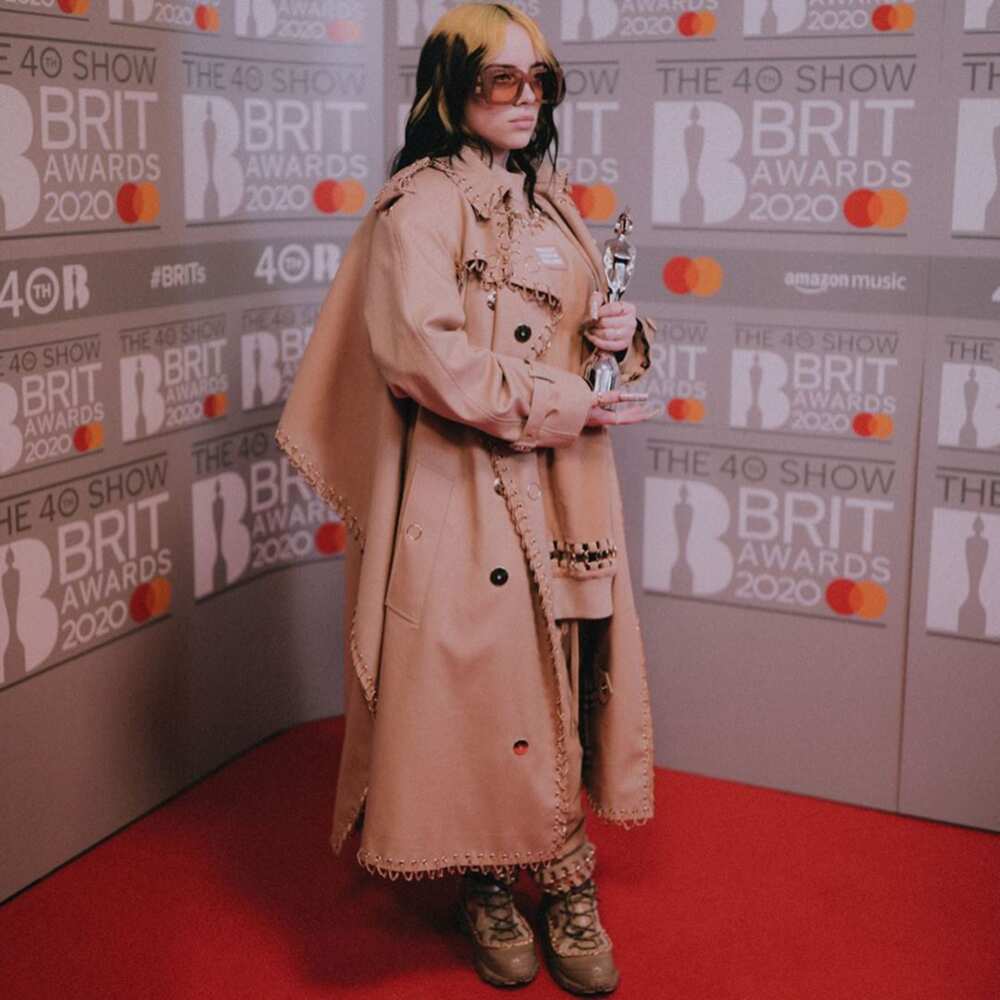 It was in 2015 when Billie's career really took off. In October that year, she recorded her debut song, Ocean Eyes. The song was written by her brother, Finneas, who meant for it to be used for his band.
Originally, Eilish had intended that the song be used for her dance classes. She gave the song to her dance teacher with the intention of having it featured in her dance routine.
In early 2016, Eilish uploaded the song to SoundCloud, where her career officially gained momentum. The video for the song was released in March 2016. In a short while, Ocean Eyes received more than 10 million hits on the music streaming platform, catapulting Eilish into fame.
Soon enough, record labels expressed their desire to buy the rights to the song. Ocean Eyes was eventually released worldwide by Darkroom and Interscope Records.
On August 12th, 2017, Eilish released her debut EP, Don't Smile at Me. The EP got to number 3 on the United States Alternative Chart, #7 in Norway, and #8 in Sweden. That same year, 2017, she released a live EP titled Up Next Session: Billie Eilish.
In 2018, she released the singles titled B*tches Broken Hearts and You Should See Me in a Crown.
She released her debut studio album, When We All Fall Asleep, Where Do We Go? on March 29th, 2019. This album got to #1 in Australia, Canada, UK, and the USA.
When We All Fall Asleep, Where Do We Go? broke the record for most songs simultaneously on the Billboard Hot 100 for a female artist.
The album was certified 2X Platinum in the United States of America and Platinum in 12 more countries.
When We All Fall Asleep, Where Do We Go? was certified Gold in the United Kingdom after selling approximately 200,000 copies.
By the end of 2019, the album had a stream count equivalent to 25 million albums sold. It is approximated that 113,000 vinyl records of the same had been sold at the time.
Her hit single, Bad Guy, recorded immense success. The song even became the number-one single on the Billboard Hot 100. This feat made her the first and only artist born in the 2000s to have a song recorded in the USA to achieve this.
Bad Guy also spent 42 weeks on Billboard's Hot 100 Chart and nine weeks at number 2 on the same chart.
As it stands, Eilish has 4 Certified Platinum singles and 8 Certified Gold ones.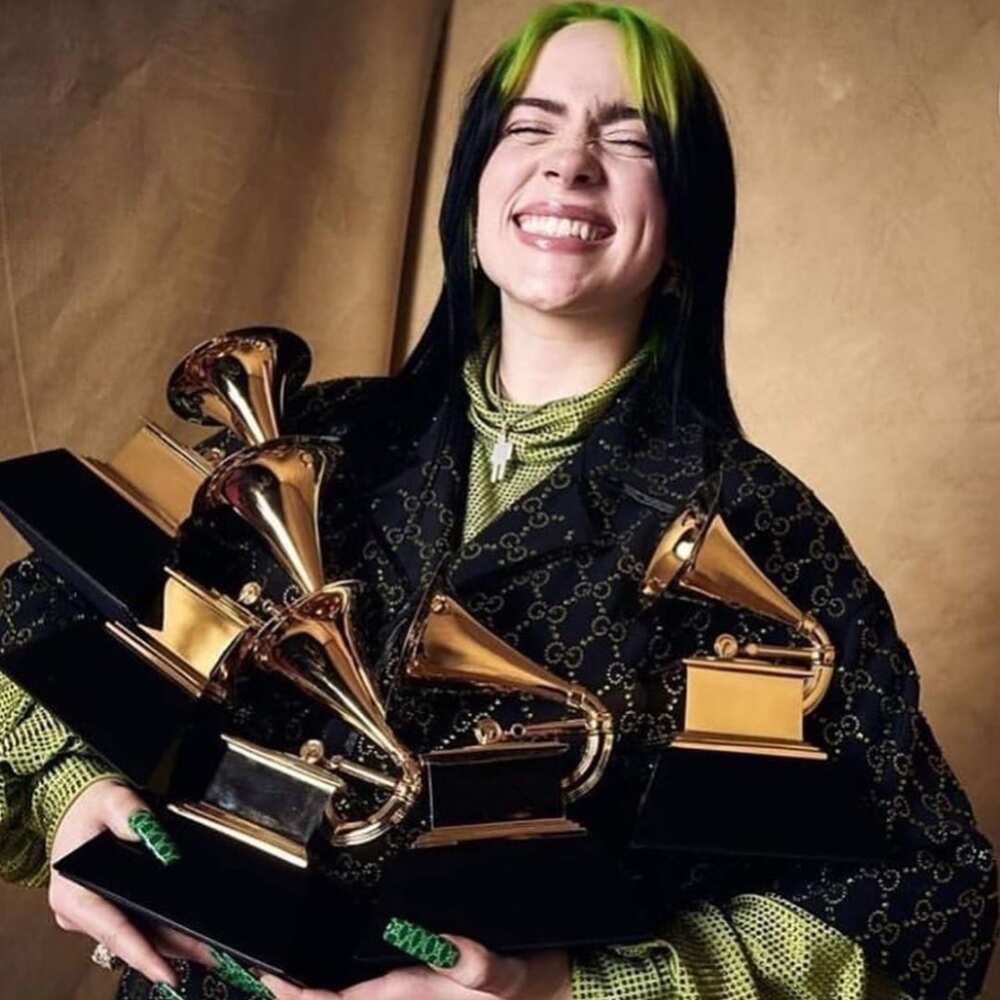 Grammy wins
On January 26th, 2020, Billie Eilish bagged five major Grammys:
Record of the Year - Bad Guy
Album of the Year - When We All Fall Asleep, Where Do We Go?
Song of the Year - Bad Guy
Best New Artist
Best Pop Vocal Album - When We All Fall Asleep, Where Do We Go?
She was also nominated for the Best Pop Solo Performance award.
Who is Billie Eilish producer?
This title belongs to her elder brother, Finneas O'Connell.
Finneas is Billie's co-writer and producer as well. Besides that, he is also known as an actor who has appeared in the following TV shows:
Glee as Alistair in 2015
Modern Family as Ronnie Jr. in 2013 - 2014
Aquarius as Earnest Boy in 2015
He has also acted in films such as Bad Teacher and Life Inside Out.
Finneas was born in 1997, and just like Billie, his birthplace is Los Angeles. Currently, Finneas Eilish net worth is approximately $5 million.
Finneas won the Producer of the Year award during this year's Grammys.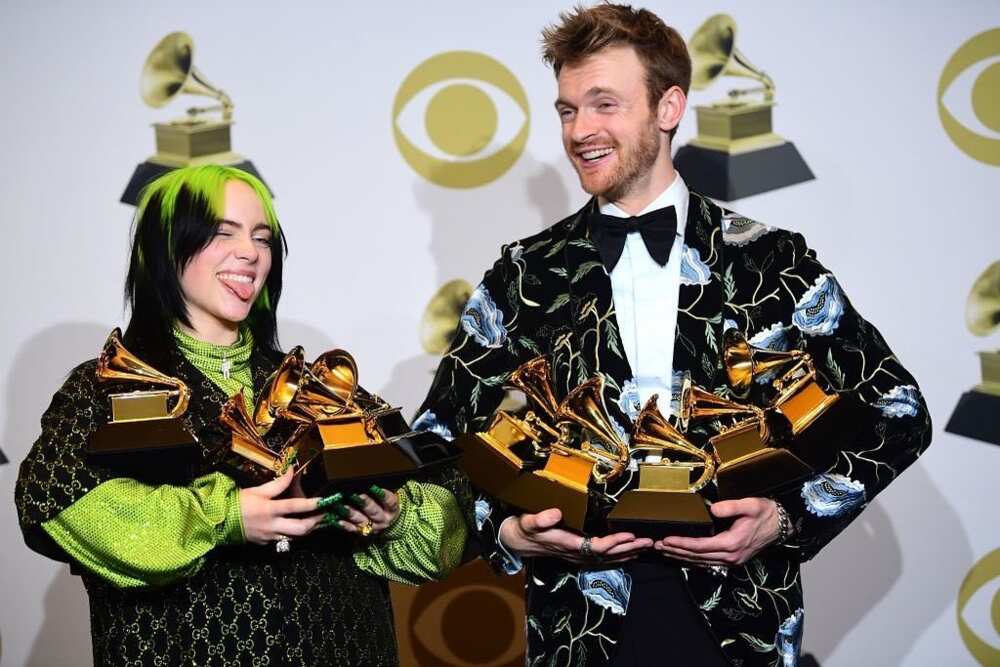 Billie Eilish events
If you thought that I was exaggerating when I said that Billie is an icon, then I think this new piece of information will blow your mind. As it stands, all tickets for Billie Eilish events set for March 9th all through April 17th are sold out.
Apart from her net worth, there are many other things that the star makes headlines for. At the moment, she is set to be the youngest artist to ever record the theme for a James Bond film.
As someone who has suffered depression, Tourette Syndrome, and synesthesia, Billie Eilish is definitely a role model for many. Inasmuch as Billie Eilish net worth is quite impressive, what endears her the most to people is her personality and the strength she embodies while dealing with the aforementioned mental health issues. If anyone deserves multiple Grammys, it is Eilish.
Source: Legit.ng