Kat Timpf's bio: age, height, salary, net worth, husband, assault
Kat Timpf is a household name in the American media industry. She is a revered journalist, political commentator, comedian, and libertarian columnist. Fans love her satirical pieces about the effects of cultural oversensitivity and government overreach on contemporary society.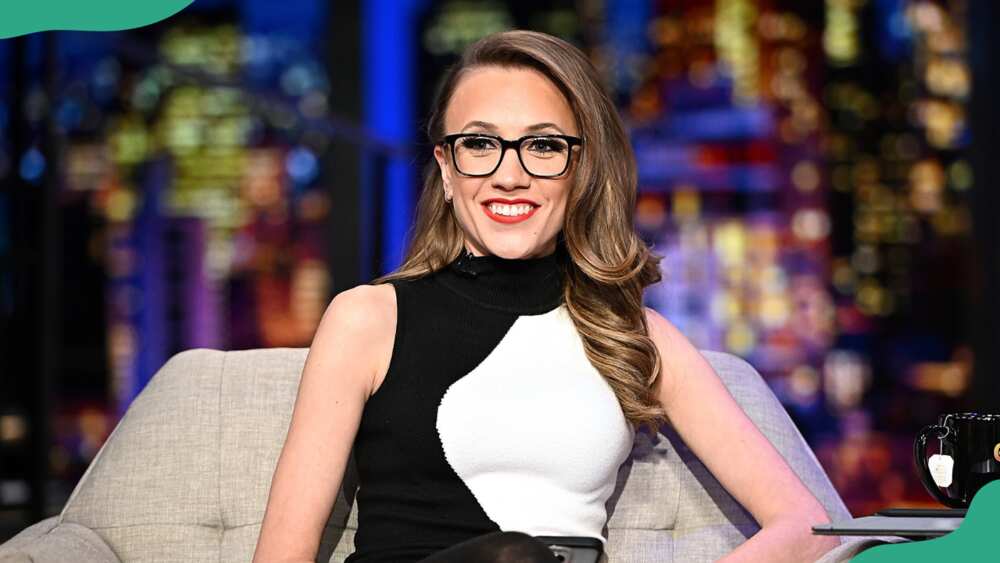 Kat Timpf is mainly known for her roles in Gutfeld! (formerly The Greg Gutfeld Show) and Sincerely, Kat. She has had an illustrious career in various radio and television stations.
Profile summary
| | |
| --- | --- |
| Full name | Katherine Clare Timpf |
| Nickname | Kat |
| Gender | Female |
| Date of birth | 29th October 1988 |
| Age | 35 years (as of 2023) |
| Place of birth | Detroit, Michigan, United States America |
| Current residence | Brooklyn, New York, United States America |
| Nationality | American |
| Zodiac sign | Pisces |
| Ethnicity | White |
| Sexuality | Straight |
| Religion | Christianity |
| Height | 5'6" (168 cm) |
| Weight | 119 lbs (54 kgs) |
| Body measurements | 34-24-35 inches (86-60-88 cm) |
| Eye colour | Hazel |
| Hair colour | Blonde |
| Marital status | Married |
| Spouse | Cameron Friscia |
| Father | Daniel Timpf |
| Mother | Ann Marie Timpf |
| Siblings | 2 |
| Alma mater | Hillsdale College |
| Profession | Journalist, political commentator, comedienne, and libertarian columnist |
| Net worth | $2 million |
| Facebook | Kat Timpf |
| Kat Timpf's Instagram | @kattimpf |
| X (formerly Twitter) | @KatTimpf |
Who is Kat Timpf?
Katherine Clare Timpf is a well-known journalist, political commentator, comedian, and libertarian columnist. She has worked for different media stations in the United States of America.
How old is Kat Timpf?
Kat Timpf's age is 35 years as of 2023. She was born on 29th October 1988, and her Zodiac sign is Pisces.
Who are Kat Timpf's parents?
The journalist's father is Daniel Timpf, and her mother is Ann Marie. Katherine has two siblings named Julia and Elliot.
Where is Kat Timpf from?
The journalist is from America, and her nationality is American. She was born in Detroit, Michigan, and resides in Brooklyn, New York.
Where did Kat Timpf go to high school?
The journalist attended Lutheran High School North. She later joined Hillsdale College, where she pursued a Bachelor of Arts Degree in English. She graduated in 2010.
What does Kat Timpf do for a living?
Katherine is a seasoned journalist, political commentator, comedian, and libertarian columnist. Soon after graduating college, she joined CampusReform.org, a website focused on evaluating and reporting cases of misconduct in colleges.
Since then, she has worked and made appearances in numerous radio programs and television shows, the most notable ones being the following:
| | |
| --- | --- |
| Year | Show |
| 2022-2023 | Jesse Watters Primetime |
| 2021-2023 | The Five |
| 2023 | The Big Weekend Show |
| 2023 | The Big Sunday Show |
| 2023 | The Big Saturday Show |
| 2023 | Club Random with Bill Maher |
| 2021-2023 | The Faulkner Focus |
| 2021 | One Nation |
| 2023 | Subcutaneous |
| 2013-2023 | Fox and Friends |
In 2012, the journalist received the prestigious Robert Novak Journalism Fellowship Program Grant. The grant allowed her to conduct the project As California Goes, So Goes the Nation: The Consequences of Following Golden State Policy.
Her big break in the American media industry came after making an appearance on The Greg Gutfeld Show on Fox. She was later named the co-host of Fox News Specialists. Her co-hosts were Eric Bolling and Eboni Williams.
In 2019, she started hosting Fox Nation's Sincerely, Kat. Timpf has also worked as a reporter for the Washington Times and an anchor for NASA's radio show called Third Rock Radio.
She has also worked as a producer for Total Traffic Network in California. Besides the above, she has also served as a political commentator for reputable news channels, including the International Business Times, Investor's Business Daily, Orange County Register, and Pittsburgh Post-Gazette.
As a comedian, Timpf has worked on the morning drive radio show on Baltimore's 98 Rock. She has also written columns and satire pieces at National Review Online.
At some point in her career, the journalist hosted a weekly podcast called The Kat Timpf Show. She talked to guests about random subjects.
Currently, Timpf co-hosts the weekly Fox News Radio podcast called Tyrus and Timpf. She also hosts Fox Nation's Sincerely, Kat. She answers questions submitted by fans on the show. Timpf also serves as a regular host of weekend comedy show Fox News Saturday Night.
Kat Timpf's new memoir
The political communalist recently published a memoir titled You Can't Joke About That: Why Everything Is Funny, Nothing Is Sacred, and We're All in This Together. Her memoir aims to both entertain and enlighten people from diverse backgrounds, regardless of their political affiliations.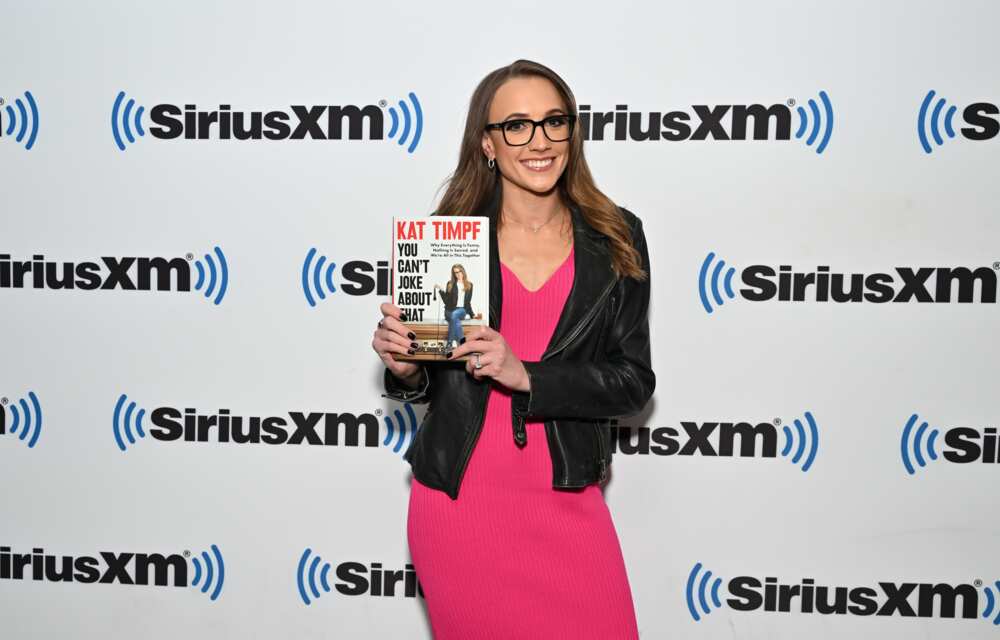 She emphasized that at its core, You Can't Joke About That provides a personal and sincere exploration of the influence of words and humor, as well as the varying ways individuals interpret and respond to them.
She also delves into the cultural perspectives on grief and comedy, as well as the boundaries of what is considered appropriate material for humor. She provides numerous examples from both her personal experiences and others.
What is Kat Timpf's net worth?
The journalist rakes a significant amount of money from her career in media. According to Celebrity Net Worth, Kat Timpf's net worth is alleged to be $2 million.
Engagement
The seasoned journalist had always kept her dating life away from the cameras. In August 2020, she broke the news of her engagement to Cameron Friscia during an appearance on The Greg Gutfeld Show.
Fans spotted Kat Timpf's engagement ring during her appearance on the show. After the brief announcement, she quickly moved on to the next topic and did not give additional details.
Who is Kat Timpf married to?
The journalist is married to Cameron Friscia. Friscia and Kat Timpf's wedding happened on 1st May 2021. The lovebirds exchanged vows in a ceremony officiated by Lisa Kennedy, the host of Fox's The Kennedy Show.
On her big day, Timpf wore a dress from Kleinfeld's and her hair and makeup were done by Roman K. Salon. The lovebirds' rings came from Greene & Co.
What does Kat Timpf's husband do for a living?
Kat Timpf's husband currently works at Coatue Management, an investment management company based in New York. Before joining the firm, he worked as a broker at Merill Lynch Peirce Penner & Smith Inc.
Friscia is also a former military personnel. He graduated from the United States Military School with a Bachelor's degree in Science.
He then enlisted in the military and served in different positions, including Executive Assistant to Brigade Commander and Assistant Operations Officer. He left the military in 2014.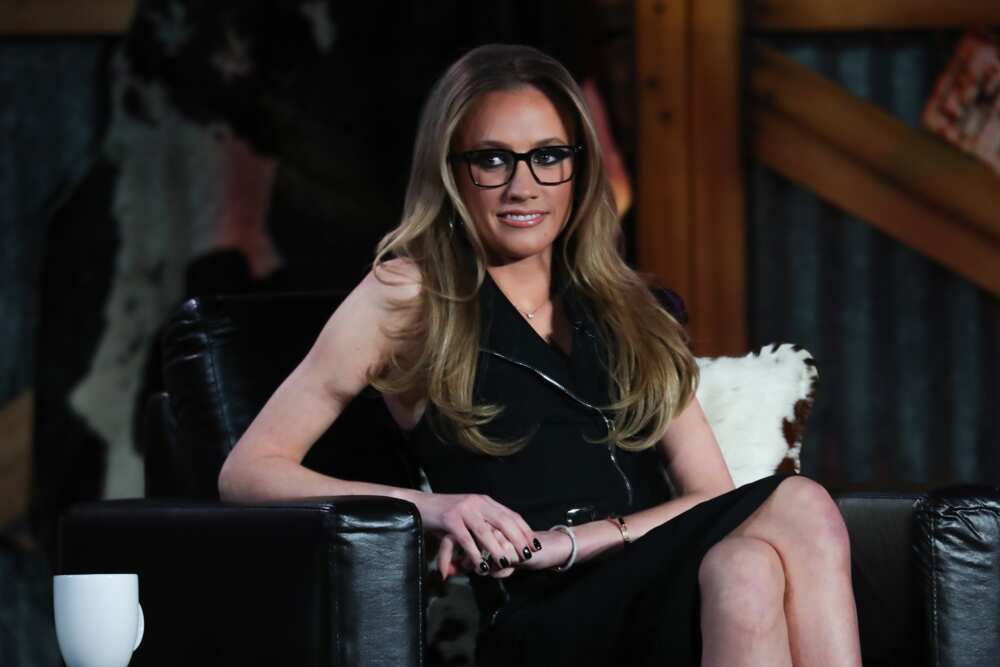 What happened to Kat Timpf?
In July 2017, the journalist was assaulted by an unidentified man. She was set to speak at a campaign event held at the Union Pool in Brooklyn.
Her friend Ben Kissel had planned the event. At the time, Kissel was running for the President of the Brooklyn Borough in New York.
An unknown man walked by her and dumped a bottle of water on her just as she was about to make her address. Timpf tweeted about the incident.
The controversy between Kat Timpf and Jimmy Kimmel
In June 2020, Kat rubbed many people the wrong way after joking about Jimmy Kimmel's decision to take some time off to be with his family.
She said
It's a lot harder to hold down a cat than a kid
implying that it was more challenging to take care of her cat than it was for Jimmy to take care of his child. The comment attracted a lot of criticism.
Jimmy responded by reminding her that his child had been diagnosed with a heart problem. Timpf apologised to Kimmel and Americans at large. She said she commented lightheartedly and was unaware the child had a heart condition.
Kat Timpf on Representative Nancy Mace
Recently, Nancy Mace, the representative for South Carolina's 1st congressional district, had a confrontation with a trans activist on social media. The journalist commented about the matter on Gutfeld!
She claimed Mace blocked anyone she disagreed with on social media. She further stated the habit of blocking people was how a person becomes stupid and starts unnecessary fights with other people without realising it. She expressed concern about the habit.
What does Kat Timpf's necklace say?
For years the journalist has received multiple queries regarding the necklace she wears daily. She said that the necklace is the chemical compound dopamine. Dopamine is a hormone released when the human brain is expecting a reward.
How tall is Kat Timpf?
Kat Timpf's height is 5' 6" or 168 centimetres. She weighs about 119 pounds or 54 kilograms. Her body measures 34-24-35 inches at the bust, waist, and hips. She has hazel eyes and blonde hair.
Fast facts
Here are interesting facts about Kat Timpf.
In 2019, she was a keynote speaker at the Young Americans for Liberty's YALCON in Silicon Valley.
She has spoken up against bullying.
Her big black-rimmed glasses are her trademark.
She lost her mom in 2014 to a rare disease called amyloidosis.
She is a dog lover.
She nearly died from a perforated bowel.
Her mother, grandmother, and family dog died within a span of few months.
Kat Timpf is one of the most decorated young journalists in the United States of America. She has amassed a wealth of experience by working in various networks and stations.
Legit.ng recently published Rain Brown's biography. Brown is best known for featuring in Alaskan Bush People, a reality-documentary series on Discovery Channel.
She starred in the show alongside her family. She is the youngest sibling in the Wolf Pack. She was brought up in the bush of Alaska without modern technology and recently started using social media.
Source: Legit.ng