Best MTN tariff plans for calls and their migration codes
Have you heard of the best MTN tariff plans for calls in 2021? MTN is considered one of the most popular mobile networks in Nigeria. It provides its clients not only with advantageous options but a range of monthly bonuses. By choosing the right variant for your gadget, you can spend hours and hours talking to a beloved person or friends.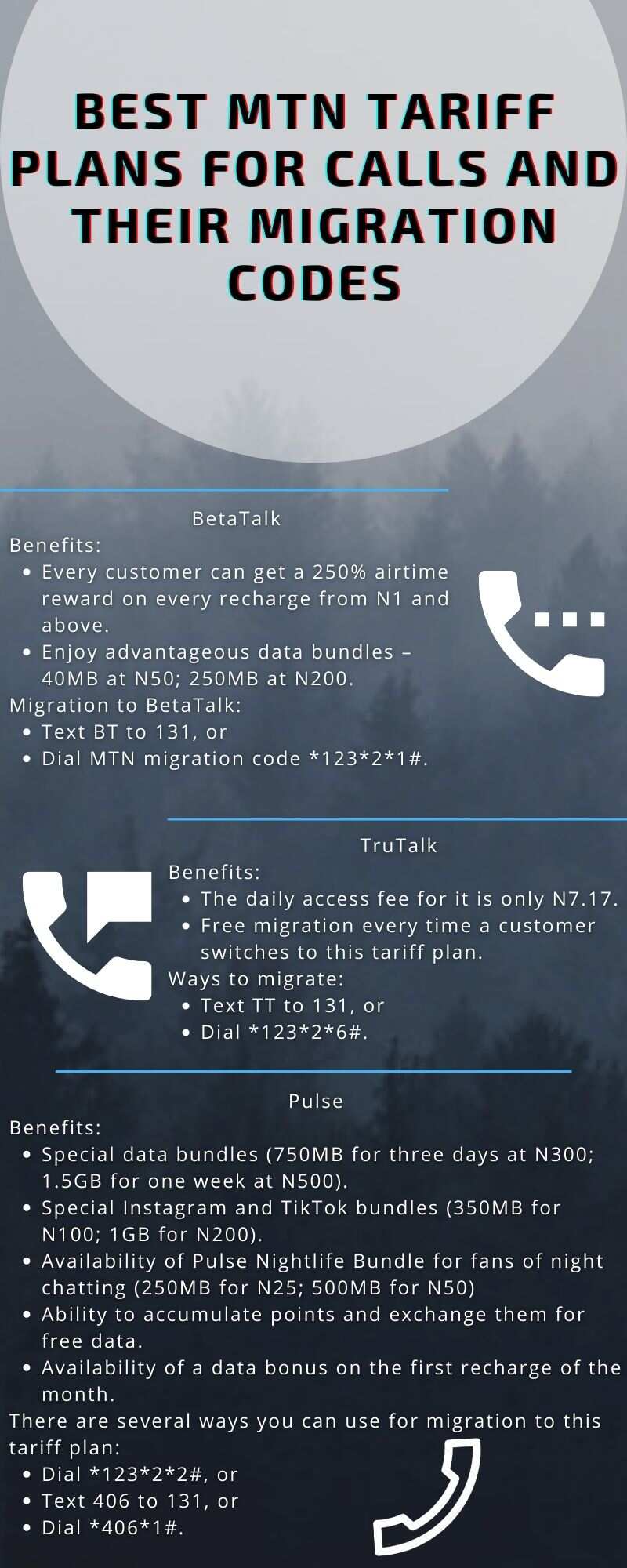 MTN is one of the biggest telecommunication networks in Nigeria. It features a great number of tariff plans for tastes and budgets.
Every day, millions of people surf the net for the best MTN tariff plan that will have both the lowest call rates and extra bonuses. Here are the most important details on MTN plans and code combinations that will help you make the right choice.
MTN tariff plans review
Are you looking for the MTN cheapest tariff plan? Well, you have come to the right place! Let's take a look at the most affordable tariffs and MTN migration codes.
What is the code for MTN tariff plan?
To learn your current MTN tariff plan, you need to know the USSD command to do that. If your card is active, you need to dial *123*1*2# or just dial *123# and then follow the instructions to learn which plan you are using at the moment.
Top 7 MTN tariff plans and benefits
Once you have learned how to check your MTN plan, you will also need to know how to get the best call tariff plan. Here are your options.
1. BetaTalk
It is a good variant that provides a range of benefits to its subscribers.
Benefits:
Every customer can get a 250% airtime reward on every recharge from N1 and above.
Enjoy advantageous data bundles – 40MB at N50; 250MB at N200.
Migration to BetaTalk:
Text BT to 131, or
Dial MTN migration code *123*2*1#.
2. TruTalk
TruTalk is one of the best options, which allows you to call at lower rates. A subscriber can use this tariff option to call any network at a flat rate of 11.26 kobo/sec.
Benefits:
The daily access fee for it is only N7.17.
Free migration every time a customer switches to this tariff plan.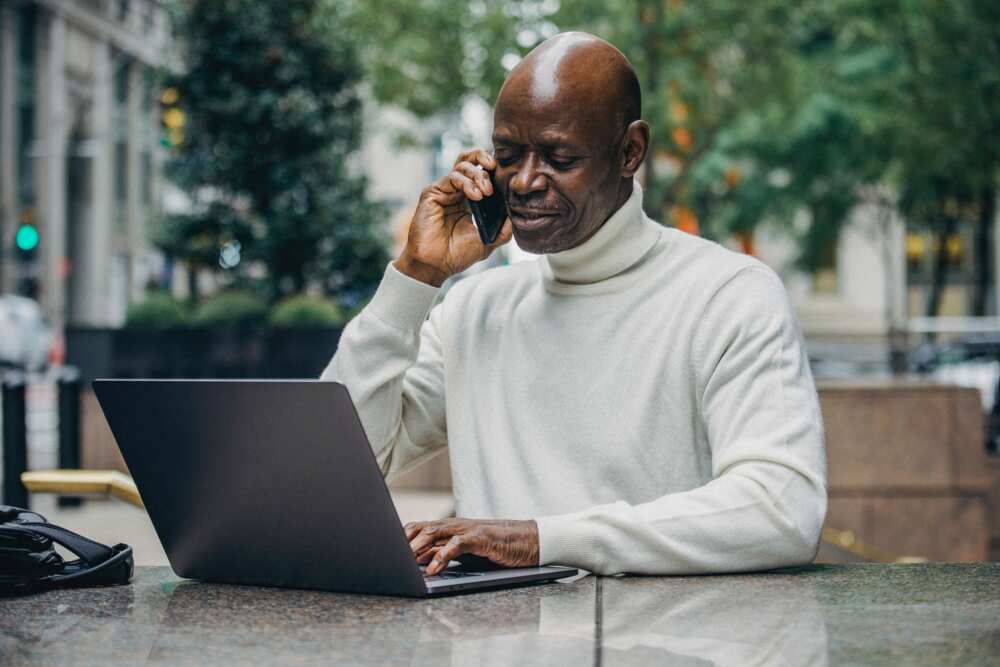 Ways to migrate:
Text TT to 131, or
Dial *123*2*6#.
Migration to TruTalk is always free. That is, you will not be charged for migrating to it, even if you do so several times a day.
3. Pulse
The prepaid Pulse plan offers its subscribers a flat rate of 11.26 kobo/sec for calls to all local Nigerian networks after the first 60-seconds call at 25.6 kobo/sec.
Benefits:
Special data bundles (750MB for three days at N300; 1.5GB for one week at N500).
Special Instagram and TikTok bundles (350MB for N100; 1GB for N200).
Availability of Pulse Nightlife Bundle for fans of night chatting (250MB for N25; 500MB for N50)
Ability to accumulate points and exchange them for free data.
Availability of a data bonus on the first recharge of the month.
There are several ways you can use for migration to this tariff plan:
Dial *123*2*2#, or
Text 406 to 131, or
Dial *406*1#.
Migration into Pulse is free. However, if it is your subsequent migration within 30 days, you will be charged N102.
4. XtraValue Carte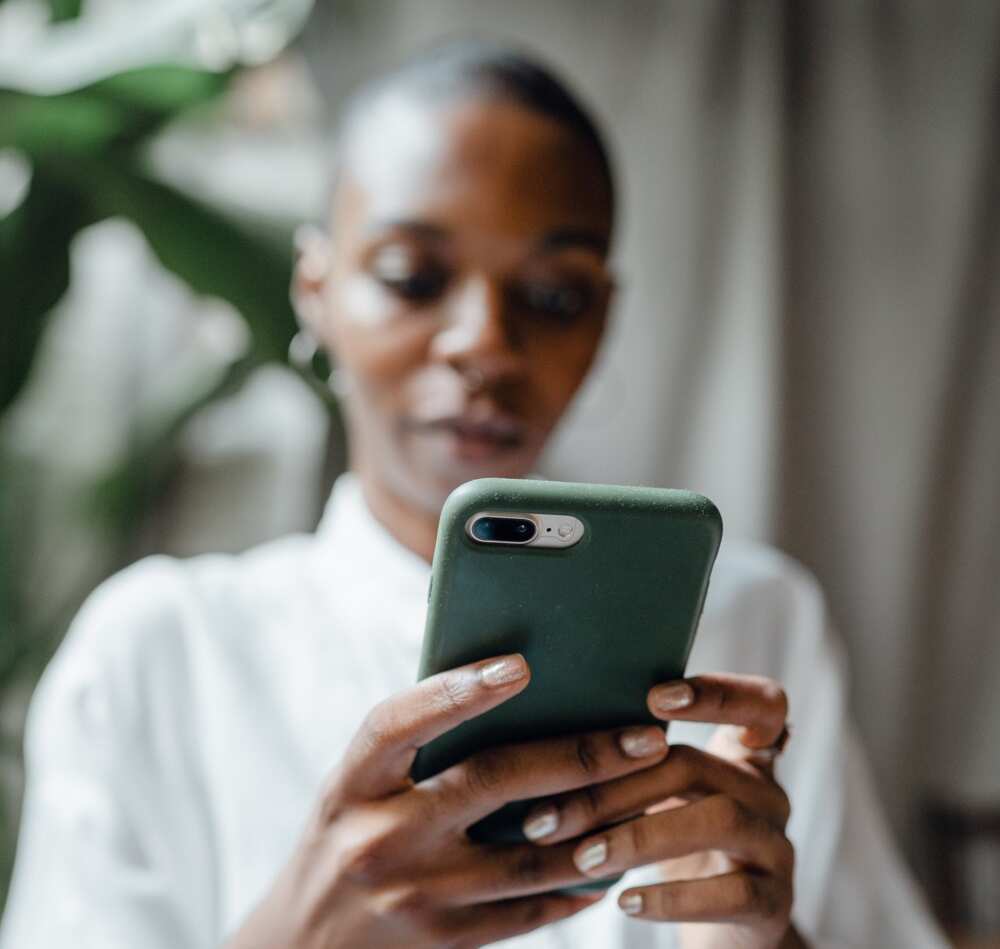 This option is great for people who make a lot of national and international calls. It is available to both prepaid and postpaid customers.
Benefits:
IDD bundle.
Roaming data & voice bundles.
Special data bundle.
Voice bundle.
How to subscribe:
Log in to your myMTN profile.
Choose the "Bundle" variant.
Click on "Build Your Bundles."
Select from a variety of bundles.
5. mPulse
mPulse is an exciting service that provides students aged 9 to 15 with the resources they need to maximize their potential.
Benefits:
Calls throughout Nigeria for only 15.36 kobo/sec.
Data bonus on recharge.
N200 airtime reward on a birthday.
Possibility of data transfer from parents to children.
Possibility to send SMS to all networks in Nigeria at low prices.
Use one of the following ways to migrate to mPulse:
Dial *344*1#, or
Download MyMTNApp, go to Tariff Plan, and select mPulse, or
Send "mPulse" to 131.
6. XtraSpecial Prepaid/Postpaid
It is an excellent tariff option that helps you call all Nigeria networks for a flat rate of 15.36kobo/sec.
Benefits:
Call to twelve international countries at a flat rate.
Enjoy special data bundles (6GB at N2000; 3.75GB at N1500; 1.5GB for 14 days at N750).
Availability of 10MB data bonus on the first recharge of the month.
The list of international countries includes:
Canada
China
Denmark
Norway
India
Ireland
Malaysia
Romania
Singapore
South Korea
United Kingdom
United States
How to migrate:
Dial *123*2*4#, or
Send "408" to 131, or
Dial *408*1#, or
Download myMTN app, log in, select "Other plans," and click on "MTN Xtra Special."
Postpaid clients can also enjoy the advantages of XtraSpecial Postpaid. It provides subscribers with the possibility to enjoy a flat rate of 15.36 kobo/sec for in- and out-of-networks calls, as well as calls to twelve international destinations from the first second.
Ways to migrate:
If you are a postpaid customer, you will automatically begin enjoying the mentioned flat rate. If you are a prepaid customer, you will need to visit a service centre.
To get this tariff, you must bring a valid international passport/driver's license/national ID card and one passport photograph. The rest of the steps will be clarified by the service centre consultant.
7. XtraValue
XtraValue bundles offers a rich choice of options ranging from N300 to N20.000. It makes it easier for customers to choose what they want.
Advantages:
It offers subscribers the possibility to select one of the most beneficial variants, depending on their personal requirements – more data (XtraData) or more airtime (XtraTalk).
How to migrate to the XtraValue tariff plan?
Dial *131*2# and select the bundle that fits your criteria.
Send the keyword of the plan you want (XtraData/XtraTalk) to 131. You can find the full list on the official MTN website.
Download myMTN App and select "XtraValue plan."
MTN tariff plans offer a variety of options for making calls to relatives and friends in Nigeria and abroad. All you have to do is select the one that best meets your needs.
READ ALSO: How to transfer data on MTN: a step-by-step guideline (2021)
Legit.ng recently published a detailed guide on how to transfer data on MTN in 2021. If you have an excessive amount of data, you can share it with friends or family members.
It will take you only a few minutes to transfer data if you follow a detailed guide. You will also learn how to request data from your friends and how much this service costs.
Source: Legit.ng