BBN All Stars: Uriel Reacts to Doyin Calling Her Mentally Unstable, Housemates Kissing Up to Mercy and More
BBNaija star Uriel, was the latest housemate to get evicted from the All Stars show and she has now explained some things that happened on the show
During a chat with Legit.ng, Uriel spoke on her relationship with Mercy, her take on Princess' accent, Whitemoney's kitchen dynamics and more
Uriel was also surprised to discover that Doyin had called her mentally unstable after her fight with Whitemoney and the evicted housemate shared her thought on that
The BBNaija All Stars journey ended for Uriel after only three weeks and now that she is out of the house, she has explained some things to Legit.ng.
The reality show star got evicted by the jury despite not having the lowest vote percentage and she has shared her thoughts on that.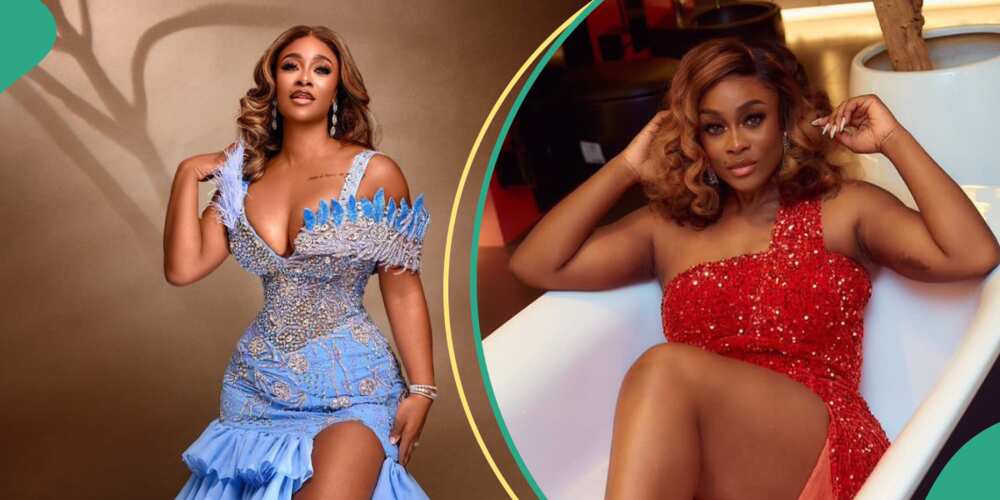 According to Uriel, it doesn't sit well with her that her time on the show was cut short but she doesn't want to spend the rest of her life focusing on what could have been.
She said:
PAY ATTENTION: Share your outstanding story with our editors! Please reach us through info@corp.legit.ng!
"My time on the show was cut short, it still doesn't sit well with me, but I understand that in everything you do, in every show there's a format which means it has to be followed but I just wish it wasn't these set of people that had the last votes for me to stay or go, maybe it could have been different, but I don't want to spend my time and my life wishing what could have been. I'm here now and the narrative I want to have is 'what is new for Uriel? What is she going to be doing and how am I going to follow my life through?'"
Uriel also revealed that she was very shocked to find out about the jury method of eviction. According to her, the housemates were not made aware of it before the show.
Uriel explains her BBNaija All Stars strategy
The BBNaija show usually trends online over fans trying to decipher the strategies of the housemates. After Uriel's eviction, she has explained that her strategy was to be herself because she has so many interesting sides to herself.
According to Uriel, she did not go on the reality show to try to be somebody else and all she had was her self-awareness.
In her words:
"When they asked me severally if I had a strategy and the only strategy I had the first time on the show was being myself. I feel like this time around, that was my strategy too, be Uriel. If you don't understand the meaning of my name, my name means Angel of Light so no matter where I am, there's always a light shining upon me, there's always a clear direction and I think the whole entity of being myself, Uriel, I am fully packaged. I have talents when it comes to cooking, singing, acting, I have talents when it comes to voice projection, so for me I didn't need to have a strategy because I'm being myself already, that's a strategy. I didn't go there to be somebody else, the only thing I could be in my life is myself and that is what has carried me through. Did I have a strategy? No. All I had was self-awareness."
Not stopping there, Uriel also addressed the topic of viewers thinking cooking can be used as a strategy on the show. According to her, she never needed to use cooking as a strategy because she has a lot of sides to her.
She said:
"I never used cooking as a strategy because I feel like I did so much more besides my cooking and I had so much love to show besides my cooking. It just depends on the individual, as for myself, I can only speak for myself, no it wasn't a strategy. I feel like I got the chance to show that cooking alone wasn't my strategy, I did so much more."
Uriel explains reason for always talking about Princess' accent
One of the many highlights BBNaija fans had from Uriel on the show was how she always boldly called out the 'foreign' accent of her co-star, Princess. According to her, there are people she sees as friends and people she sees as acquaintances and she cannot describe Princess as her friend even though they have talked over the phone a few times. She also explained that because she had spoken with Princess over the phone before the show and knew the voice she had heard, she found it surprising that she had a totally different accent in the BBNaija All Stars house. Uriel however said that she is not one to police how people want to live and she fully supports it if people want to reinvent themselves.
She said:
"There are certain people I call friends and there are certain people I call acquaintances, like we touch base, especially when you're a family of Big Brother, immediately, no matter the year you were on the show, you become a family. So I wouldn't label everybody my friend because I think me as Uriel I'm not trustworthy of people. It's very hard to get close to me because I always second-guess everybody and their intentions. So we had met a couple of times and we had spoken over the phone but I wouldn't classify Princess as a friend. The initial comment about her accent came from a place of shock. I had spoken to her previously and obviously the accent which I heard was different from the accent I was given in the house. So if you know me and you've watched me, you know that I speak my mind, so I spoke my mind, I was like 'omo, I don't know where it came from' but I'm also a strong believer in if you want to reinvent yourself, who am I to tell you otherwise? If you want to dress or talk in a certain way, that is you and what you want to do. If she wants to have an accent, so be it, let her enjoy it."
I didn't gravitate towards Mercy's energy - Uriel
When Uriel was asked to comment on if the narrative about the housemates kissing up to Mercy and trying to be in her favour was true, she explained that people naturally gravitate towards winners and if people flocking around another housemate will make it easier to win the N120 million prize money, then it's fine. She however explained that she was not one of those who gravitated towards Mercy's energy in the house. According to her, she always stands alone and believes that she is enough.
She said:
"I agree on the narrative of being a winner and when being a winner, you have people that naturally flock to you that make the path of you winning the N120 million easier, then so be it. If I have that energy that people naturally gravitate towards, and it's going to help me on the journey, then I think it's a beautiful thing but if you ask me if I gravitated towards that energy, I say no, because like I said, I always stand alone and I always believe that I am enough and I don't need anybody in order for me to get far."
Uriel explains getting into fights in the house
During her three-week stay in the BBNaija house, Uriel got into fights that made major highlights for fans of the show. She explained if it was a means to be trending or if the fights were how she was feeling at the time.
According to the BBN star, everything she showed on the show was herself and she sometimes had moments she got angry because she is only human.
In her words:
"Everything I showed on that show was myself, I do sometimes have my moments where I get angry but I feel like everything I showcased was myself. I'm a human being and you do get upset, you go through the emotions and that is that."
I think Doyin is also mentally unstable - Uriel says
During the chat with Legit.ng, Uriel was asked if she had any problems with Doyin on the show considering that her co-star had called her mentally unstable to Whitemoney after their kitchen fight. Doyin had also said that she feels Uriel can hurt Whitemoney.
The evicted housemate seemed taken aback by the question and seemed surprised that Doyin would describe her that way. After trying to get herself to calm down, Uriel stated that Doyin is the mentally unstable one and that even though she might give someone who offends her a mouthful, she would never hurt them.
She said:
"Doyin said I'm mentally unstable? Wow that's fantastic. I think Doyin is definitely also mentally unstable. Obviously you all know that I'm not mentally unstable, I reject that, I would never hurt anybody, I might talk a lot, I might give you a mouthful but I definitely wouldn't hurt anybody."
Not stopping there, Uriel then went ahead to explain what caused her kitchen rift with Whitemoney. She said:
"The altercation stemmed from we had a friendship outside of the house and I felt like if you're friends with somebody outside the house, certain things should have been swept under the rug, certain things should not have come about, i.e from Whitemoney, from myself, I should have acted in a different manner, he should have acted in a different manner because we had a relationship outside of the house and that is it. That is my story and I'm sticking by it."
I will be part of Ilebaye's life after the show - Uriel
Also during the interview, Uriel was asked to comment on the friendship between Doyin and Ilebaye. While declining to speak on Doyin, Uriel however had glowing words for Ilebaye. According to her, she would be part of Baye's life when she's out of the house because she feels Ilebaye needs someone to be genuinely there for her.
Uriel described Ilebaye as an amazing young woman who has so much more to her apart from the shouting and fighting she was known for. The evicted housemate also said she's willing to be like a big sister to her.
She said:
"I can't speak on Doyin's friendship to Ilebaye but I will say this, when Baye comes out of the house, I'm absolutely going to be engrossed in her life, I think she needs someone who can genuinely be there for her. She's an amazing young woman and I feel like in my interactions with her, I got to see so much more than the shouting and fighting, she has so much more to offer but I can't speak on her friendship with Doyin, I can only speak on my friendship with Baye and I will say that she has a big sister."
Uriel shares thoughts on if Ilebaye getting bullied narrative was a strategy
The BBNaija All Stars star disagreed with the narrative that Ilebaye used being bullied as a strategy on the show. According to her, Ilebaye is just young and free and young people sometimes need something to make them sit up which the strikes did.
She said:
"I feel like Baye was just being Baye and I feel like sometimes when you're that young, you need something to sit you up and definitely the strike did that , the strike had pushed her to sit up and show her talent, to show that she's a wonderful actress, so I don't think it was a strategy, I just think she was being young and free. You know you're 22, why not? You're in the Big Brother house. I was young and free at her age so let alone a girl that is 22."
Venita has a strong personality and might be used to things going her way
Uriel was also asked to comment on her fellow housemate, Venita, who has gotten into different clashes on the show. According to Uriel, she sees Venita as an alpha woman and a very good mother who might also be used to things going her way. Uriel admitted that they both also had a tiff on the show and she told her not to speak to her like she was a child.
Uriel said:
"I think Venita definitely has a strong personality, she's an alpha woman and I feel like she's also a mother, a very good mother, so I feel she's probably used to having things done her way and we also had a little argument and I told her not to speak to me that way, I'm not a child, but Venita is overall a wonderful woman, she's strong, she inspires me too."
On a final note, Uriel also spoke on who she believes will win the reality show. According to her, she has no idea who the possible winner would be but she is supporting every housemate to win.
Source: Legit.ng