Pasuma, Wizkid: Meet Top Nigerian Celebrities Who Lost Their Mums, Sons & Others in 2023
To lose a loved one isn't something anybody prays for, but almost every human has had to endure this pain at one point or another in life, especially the loss of parents.
In 2023, we've witnessed many of our faves endure this pain.
Legit.ng, in this piece, has compiled a list of Nigerian celebrities who have lost a loved one in 2023, be it their mums, fathers, siblings or even a child.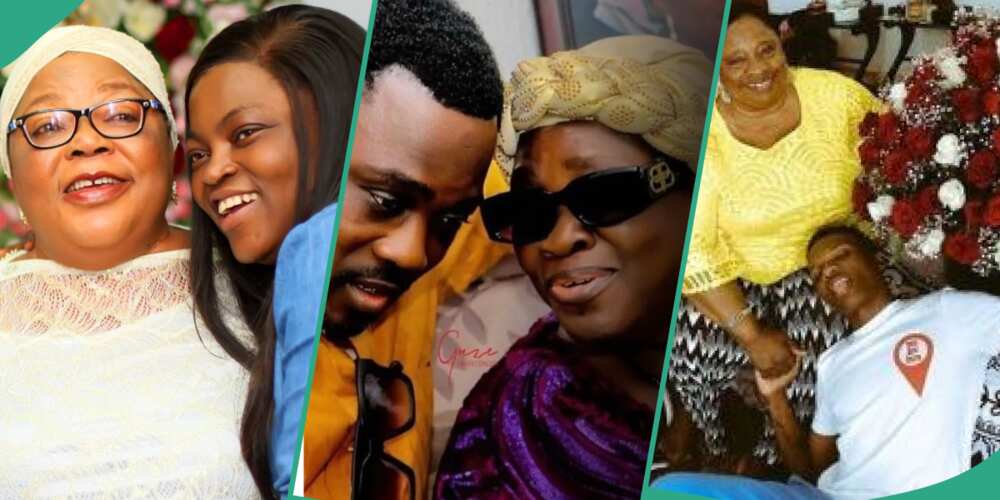 1. Pasuma lost his mum
Nigerian Fuji singer Alhaji Alabi Pasuma, earlier in 2023, lost his mum, and scenes from the burial ceremony of the veteran crying controllable left many emotional online.
Pasuma had always had a famous relationship with his mother. There are many stories of how people who wanted to curry favour with Alhaji would go through his mum.
The Fuji artist has also shared many times during performances that he owes his mum his life because she was the one who saved him when he was going astray and ensured he pursued his passion as a musician.
2. Seyi Vibez loses his mum and sister
Another celebrity who lost a loved one is fast-rising singer Seyi Vibez. The Afro-fusion musician, in March of 2023, had gone online to announce the passing of his mother.
He described the loss as the darkest day of his life. The passing of Seyi's mum came barely a year after his older sister's demise.
After the passing of his mother, Seyi left social media for over a month and returned with two banging albums.
3. Funke Akindele's mum passes at age 70
Nollywood actress turn-politician Funke Akindele is another fave who lost someone very dear to her in 2023.
During the 2023 elections in Nigeria, in which Funke Akindele was a candidate for the Peoples Democratic Party as the deputy governorship candidate for Lagos, Mrs Adebanjo passed on.
Funke Akindele couldn't mourn her mum as well as she might have wanted, as she was busy with the Lagos gubernatorial campaign of her party.
Mrs Adebanjo was 72 when she died.
4. Yul Edochie loses second son, Kambilichukwu
Ace Nollywood actor Yul Edochie is another Nigerian superstar who lost a loved one and was left distraught by the loss.
Kambilichukwu, Yul's second son, died earlier in the year. On March 30, news broke that the boy died after returning from school.
Yul and his estranged wife, May, went off social media for months to honour their son as they mourned.
5. Wizkid's mum dies at 64
One of the biggest shocks that hit the Nigerian music industry was the sudden announcement of the passing of Wizkid's mum.
The Afrobeat superstar, who was in Europe at the time on a tour of his album, More Love Less Ego, received one of the most brutal news any human could get as his mum departed the world of the living.
Madam Jane Balogun was announced to be no more on August 18, 2023. Of all the stars who have lost a loved one in 2023, Wizzy's mum is the most recent as we send him our deepest condolences.
Celebs storm Fidau prayers of Pasuma's Late Mum
Meanwhile, Legit.ng recalls reporting how the burial of Alhaja Adija Kuburat Ashabi Adeola, Pasuma's mum, went down earlier in the year.
The veteran entertainer was recently joined by friends, family members, industry colleagues and fans for the eight-day Fidau prayers according to Islamic rites.
The singer, who had been seen in videos before the Fidau prayer crying like a baby, was seen to have regained his composure as he arrived at the venue of the event for his late mum.
Source: Legit.ng