Davido and Chioma, Banky W and Adesua and 6 other Nigerian celebrities Inter-Tribal Marriages we love
Nigeria lately has been tipping on the edge of ethnic hate and bigotry. It makes one wonder what happened to all of the love exchanged through Inter-tribal marriages that we've come to love, including that of our celebrities.
Where there's love, hate, and intolerance, die a natural death, just like Davido and Chioma's relationship proves, the same as Banky W and Adesua Etomi's marriage.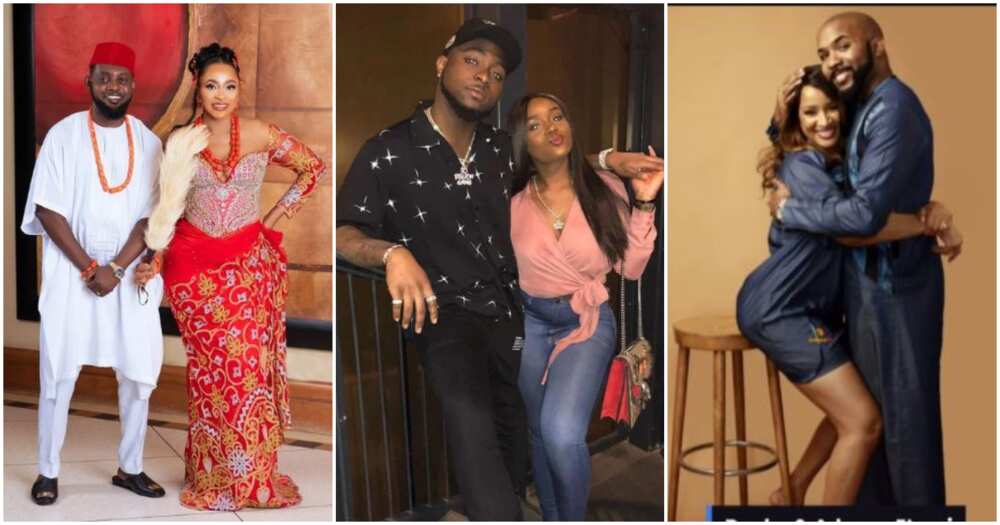 Learning to accept, respect and understand our differences should be a binding force for the great good of the country instead of the constant spotlight shorn upon them.
Legit.ng in this article would be celebrating the eight Nigerian celebrities who are married to people from other Nigerian tribes that we love and want to emulate.
1. Davido and Chioma:
This one Nigerian celebrity couple has stolen the heart of many with their genuine portrayal of what love should be.
Davido is a Yoruba man from Osun state, and his woman, Chioma Rowland, is from Imo state. They shared an offspring, Ifeanyi, who was roundly loved and celebrated. The little boy's first name isn't from his father's culture as it should be; instead, it is an Igbo name.
What's there not to love? That's the height of celebrating our differences and accepting them as a strength and thing to exalt and not shut down.
These are some of the beauty of inter-tribal marriage as it is rife in the average Nigerian society.
2. Mercy Aigbe and Kazim Adeoti (Adekaz):
The marriage of ace Nollywood actress Mercy Aigbe and her husband, movie producer Kazim Adeoti is a prime example of another celebrity inter-tribal marriage that should be emulated.
The couple has stood firm together since going public with their relationship despite the public's criticisms and persecution of their love. They have, on the contrary, waxed stronger and show the beautiful side of genuine love and how Inter-tribal marriage is a thing of joy.
Mercy Aigbe is from Edo state, and her husband Adekaz is from Kwara state.
3. Peter P-Square and Lola Omotayo:
Peter Okoye of the P-Square was one of the loudest voices throughout the 2023 election season campaigning for the Labour Party presidential candidate, Peter Obi.
Despite being married to a Yoruba woman, Lola Omotayo, he is one of the voices pushing a nasty narrative about other tribes and regions in the country.
Even though his marriage has enjoyed public support from both sides of the divide, one would expect that he would be a calming voice to all of the ethnic rhetorics and tribal bigotry that has gripped the Nigerian public discussions of late. More is expected of Peter, considering the platform he has as a Nigerian.
Peter Okoye is from Anambra state, and his wife is a Lagosian.
4. Banky W and Adesua Etomi:
Another celebrity marriage hugely admired by the Nigerian public is the love between singer Banky W and his actress wife, Adesua Etomi.
Bankole Wellington is a Yoruba man from Lagos state, and his wife Adesua is from Edo state. The pair's wedding is probably one of the most publicly celebrated celebrity events since 2017.
It was in the headlines for two weeks straight, and both cultures shorn through it all with pure admiration. They gave us strong reasons to celebrate the Nigerian culture, and our love for each is more vital than our differences.
5. Mercy Johnson and Prince Okojie:
Since getting hitched to Prince Odi Okojie, Ace Nollywood actress Mercy Johnson has never looked back on her commitment to the Esan culture of the Edo people.
PrinceOdi Okojie recently contested for a House of Representative position in the Esan southeast Local government area of Edo state. Prince Odi's wife, Mercy, was his biggest fan and supporter as she went all out to help her hubby achieve his political ambition.
Mercy Johnson is from Kogi state but went as far as to learn her husband's language to converse with Prince Odi's constituents. Now that embracing our differences and culture. That's true love and commitment at its height.
6. Toyin Abraham and Kola Ajeyemi:
Another Nigerian celebrity inter-tribal marriage that we admire for their strength and respect for each other and their differences is Toyin Abraham and Kola Ajeyemi.
Toyin Abraham is from Edo state, and Kola Ajeyemi is from Oyo state. The pair have a son together, and they are a loving couple hugely admired for their love by an adoring public.
7. Ay Makun and Mabel Makun:
Ace comic and actor Ayo Makun and his wife Mabel are another inter-tribal couple showing that love trumps ethnic and tribal lines.
AY Makun is from Ondo state, and his wife is from Delta state. The pair had difficulty bearing their second child, and through those challenges, they showed how true love isn't dependent upon tribal differences, but humanity comes first.
8. Stephanie and Linus Idahosa:
They might not be the most popular or public personalities for the marriage, but Stephanie and her hubby Linus Idahosa is another inter-tribal marriage that we genuinely love.
The way this pair carries themselves and protects each other is true love. Stephanie Linus, formerly Okereke, is from Imo state and an outstanding actress whose marriage is admired and worthy of celebrating.
Fans react to sweet moment Banky W's son pushed his dad and mom to kiss
Meanwhile, Legit.ng recalls reporting that Nigerians have responded to a viral clip of ace singer-turn-politician Banky W, his wife Adesua Etomi and their little son sharing a cute family moment as they celebrate Christmas.
The Wellington's sweet clip got people talking online as many netizens, in reaction to the video, declared them the cutest and classiest celebrity family within the Nigerian entertainment space.
The real highlight of Wellington's Christmas Day clip was when Zaiah, the power couple's first son, pulled his parent's head together and held it in place as they kissed.
Source: Legit.ng