Ezra Miller bio: age, height, ethnicity, sexuality, pronouns
Ezra Miller is an American actor whose name is perhaps most synonymous with cult-classic movie roles and jaw-dropping red carpet fashion appearances. Not one to shy away from women's clothing, bright makeup, glitter, and high heels, he makes a statement everywhere he goes.
Apart from his bold fashion choices, he is also an accomplished actor and upcoming musician. Here is all you need to know about the eccentric actor.
Profile summary
Full name: Ezra Matthew Miller
Date of birth: 30 September 1992
Age: 27 years old
Place of birth: Wyckoff, Bergen County, New Jersey, USA
Zodiac sign: Libra
Nationality: American
Ethnicity: Caucasian
Siblings: Saiya & Caitlin
Sexual Identity: Queer
Height: 5 feet 11 inches
Weight: 72 kgs
Eye colour: Dark brown
Hair colour: Black
Profession: Actor
Net worth: $3 million
Family and background
Where is Ezra Miller from? The actor was born in Wyckoff, New Jersey, USA, to parents, Marta Koch and Robert S. Miller. His mother was a modern dancer while his father made a career at Workman Publishing and later, as a senior vice president for Hyperion Books.
The actor is the youngest child in his family, having two older sisters. Since he was a child, Ezra has always been a performer and entertainer.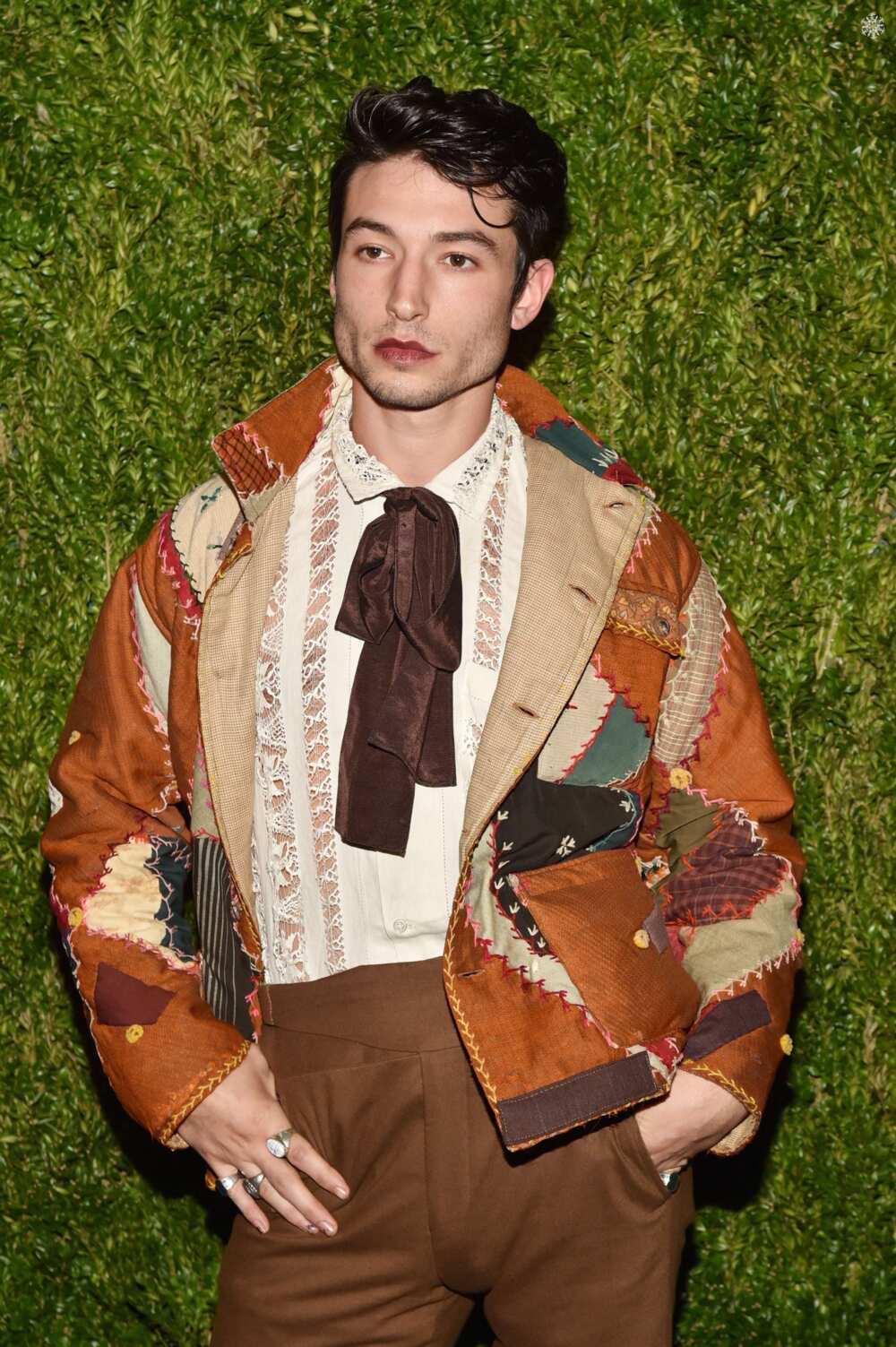 At six years old, he landed a role in the United States premiere of Philip Glass' contemporary opera White Raven. He was also a member of New York's Metropolitan Opera Children's Chorus.
At 16 years old, a young Ezra Miller was attending the Hudson School in Hoboken, New Jersey, when he decided to drop out. According to him, a dream featuring the legendary composer Beethoven convinced him to do so.
As for Ezra Miller ethnicity, the star is Caucasian. He has Ashkenazi Jewish and German-Dutch roots, thanks to his father and mother, respectively.
Is Ezra Miller related to Joji Miller?
In 2018, YouTuber PewDiePie made fun of Ezra's fashion on the Fanstatic Beasts movie premier. In his video, PewDiePie compared the actor to former YouTube star, Joji, referring to him as 'Filthy Frank's cousin.'
This sparked discussions where fans agreed that the Ezra and Joji shared a resemblance, and they wondered if they were indeed related. Irrespective of their resemblance, the two are not related.
Joji was born in Osaka, Japan, to an Australian mother, and his father is believed to have Japanese roots. Ezra, on the other hand, has Jewish and German ancestry.
Ezra Miller age
The star was born in 1992 and is currently 27 years old. He will turn 28 on 30th September 2020.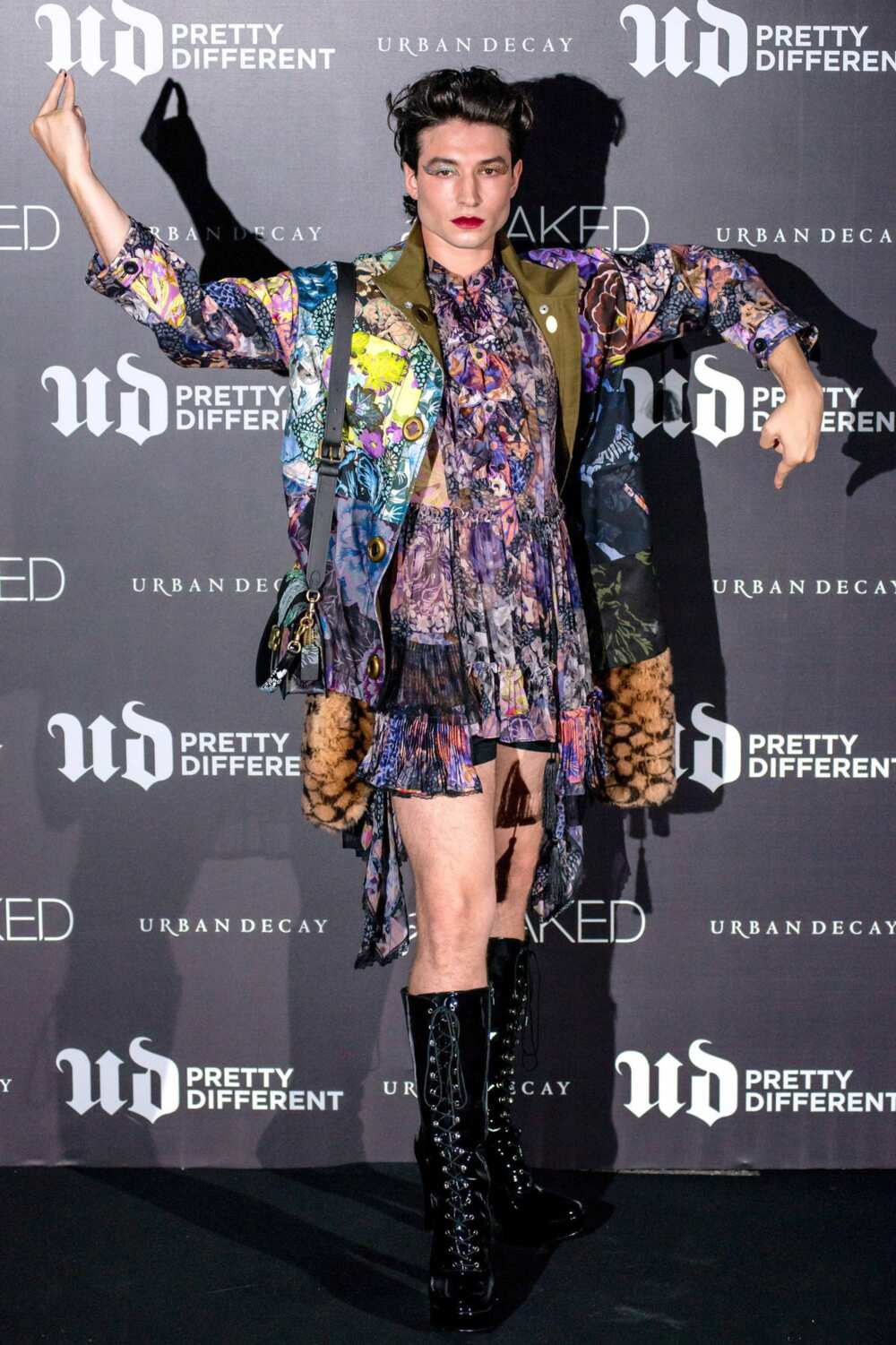 Ezra Miller height
The actor is quite tall. He stands at 5 feet 11 inches.
What is Ezra Miller sexuality? Is Ezra Miller gay?
The actor has never been shy about wearing makeup, including bright coloured lipsticks. He also proudly walks on to red carpets in towering heels, mini dresses, and glitter all over his clothes.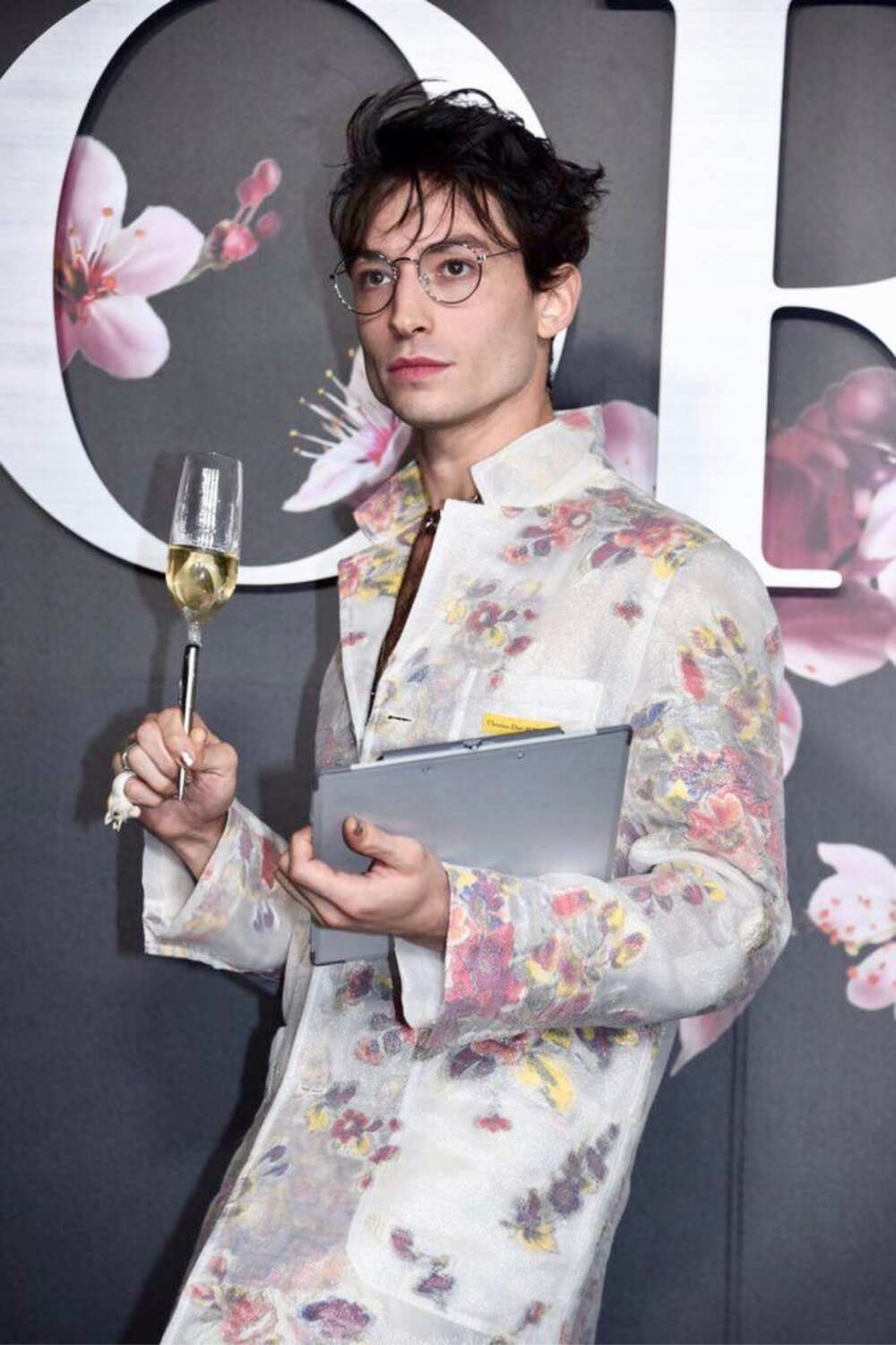 In 2012, the star, in an interview with Out Magazine, he set the record straight about his sexual identity.
I am queer. I have a lot of really wonderful friends who are of very different sexes and genders. I am very much in love with no one in particular. That is where I am at in the boyfriend/girlfriend/zefriend type of question.
What is Ezra Miller gender identity?
The actor has a fluid vision of love and an even more fluid fashion sense. He prides himself in bending societal gender roles, and it is no surprise that he says that his gender identity is fluid.
As for Ezra Miller pronouns, the star also has no problem with either of them. In a 2018 interview with GQ Magazine, he stated that,
I am comfortable with all the pronouns. I let he/his/him ride, and that is fine.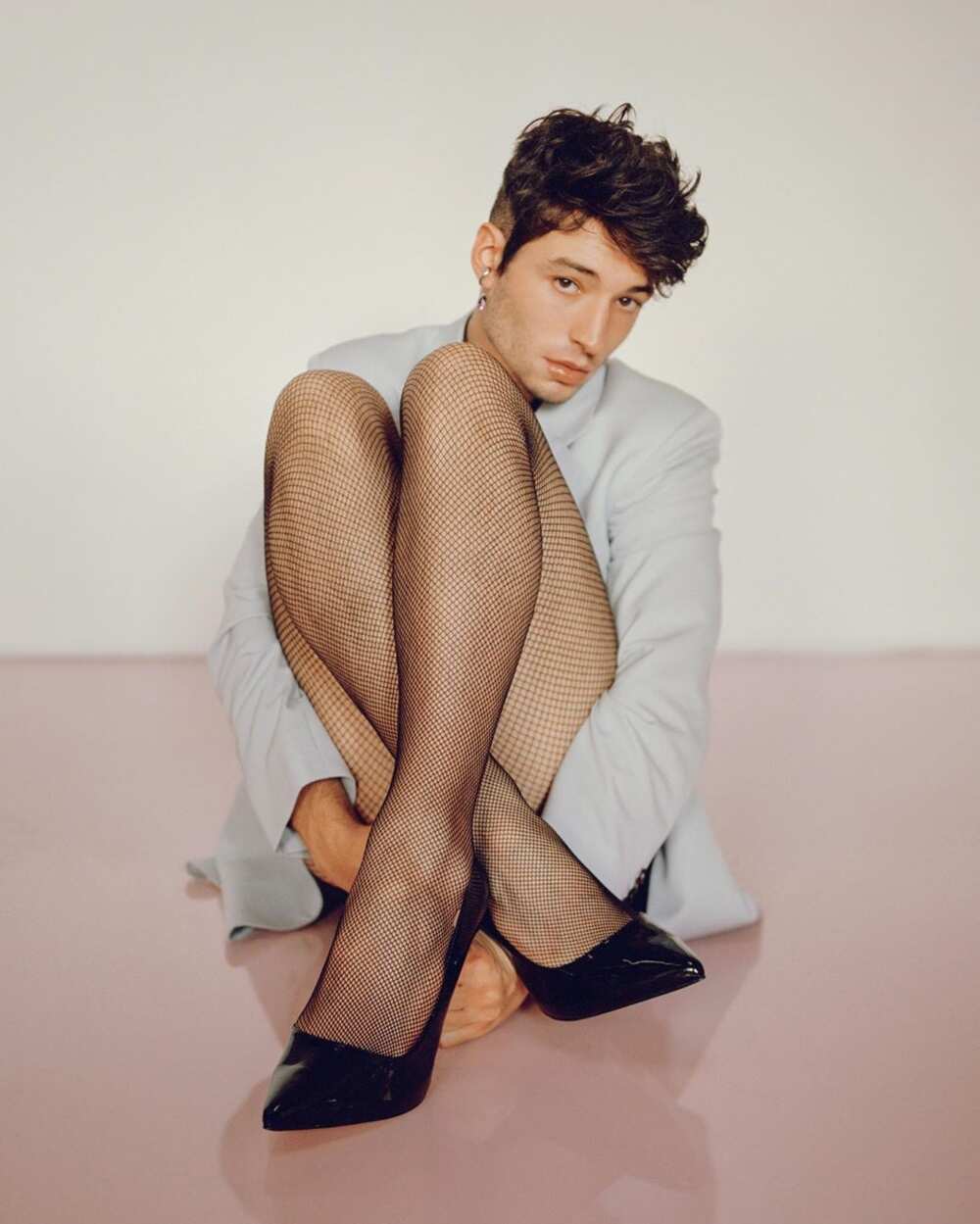 However, the star has not always been confident in his gender identity or sexuality. While still in school, he and his then-best friend fooled around a bit only for his friend to later turn on him.
This led to a lot of bullying, and him going from having a speech impediment to him being a confused queer adolescent.
Ezra Miller movies and TV shows
Before becoming simultaneous with The Flash, Miller was just a young man trying to pursue his artistic side. His first role was a small part in the TV series Cakey! The Cake from Outer Space in 2006.
Here is a list of Ezra Miller movies and the characters he played in them
Critical Hit! (2007) - Jack
Afterschool (2008) - Robert
City Island (2009) - Vince Jr.
Beware the Gonzo (2010) - Eddie 'Gonzo' Gilman
Every Day (2010) - Jonah
Another Happy Day (2011) - Elliot
We Need to Talk About Kevin (2011) - Teenage Kevin
The Perks of Being a Wallflower (2012) - Patrick
Madame Bovary (2014) - Léon Dupuis
The Stanford Prison Experiment (2015) - Daniel Culp / 8612
Fantastic Beasts: The Crimes of Grindelwald (2018) - Credence Barebone
Some of the TV series that he has appeared in include:
Californication (2008) - He played Damien for eight episodes in the second season of this show
Law & Order: Special Victims Unit (2009) - He prtrayed Ethan Morse in season ten episode 20
Royal Pains (2009 - 2010) - He played Tucker Bryant for five episodes in the first and second seasons.
Ezra Miller Flash
Superhero movies are an ever-growing franchise. Both Marvel and DC comics have huge fan bases, and their movies are, more often than not, blockbusters.
Ezra Miller first donned the Flash costume in 2016 in the film Batman v Superman: Dawn of Justice. Since then, he has reprised the role several times in movies such as
Suicide Squad (2016)
Justice League (2017)
Arrow -In the season eight episode, Crisis on Infinite Earths: Part Four.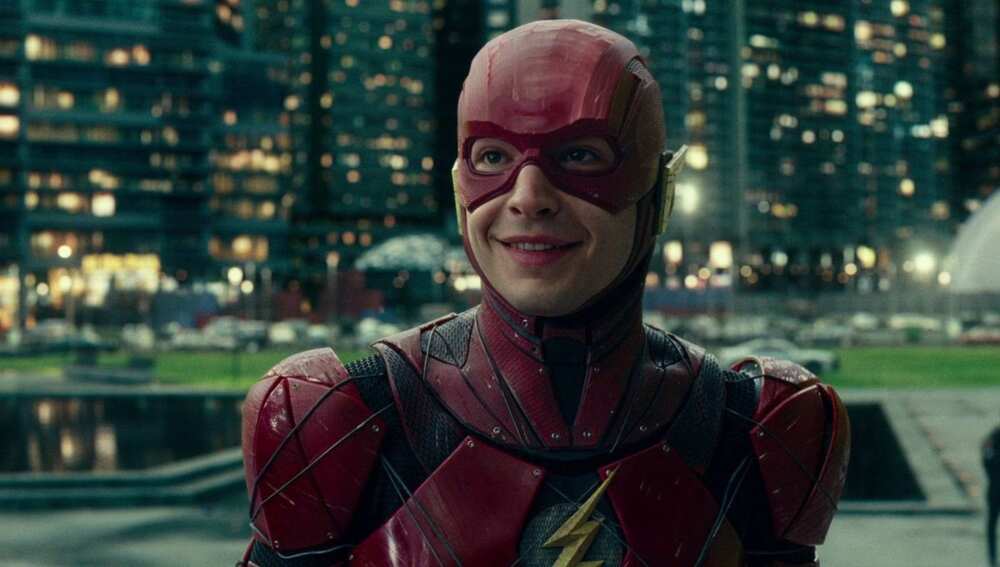 It should be noted that while Miller plays Barry Allen/ The Flash in DC movies and series, he is not the same actor who plays the superhero in the Emmy nominated series, The Flash. Grant Gustin has the honour of bringing that role to life.
Ezra Miller net worth
In spite of his young age, the star is quite successful. His current net worth is estimated to be about $3 million
Ezra Miller fashion
We believe that the star's closet would be a dream for many. His love for dresses is one of the reasons why many Ezra Miller gay rumours keep spreading.
Regardless of his sexuality, we cannot deny that he manages to pull off his outrageous outfits perfectly.
This insane puffer dress that the actor wore to the Fantastic Beasts: The Crimes of Grindelwald red carpet was a hit among his fans.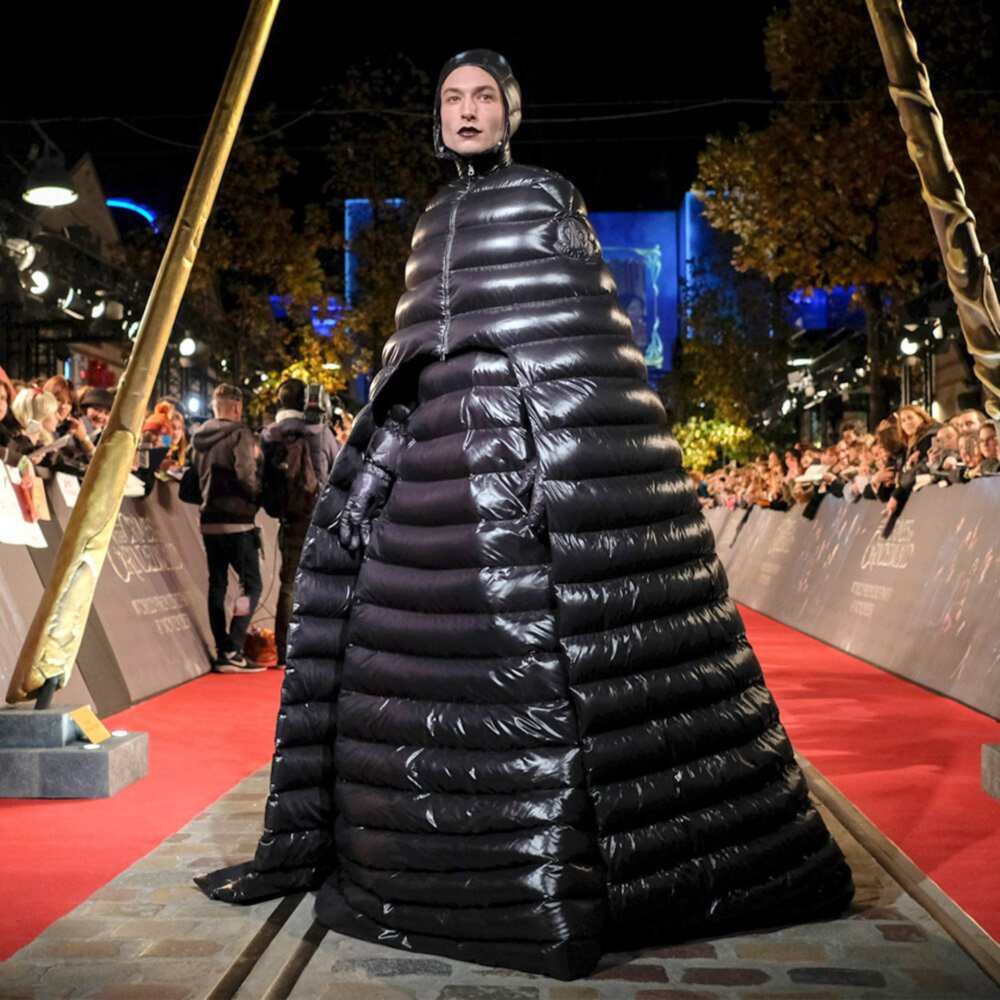 His Met Gala 2019 outfit and makeup made him a standout among other celebrities on the carpet.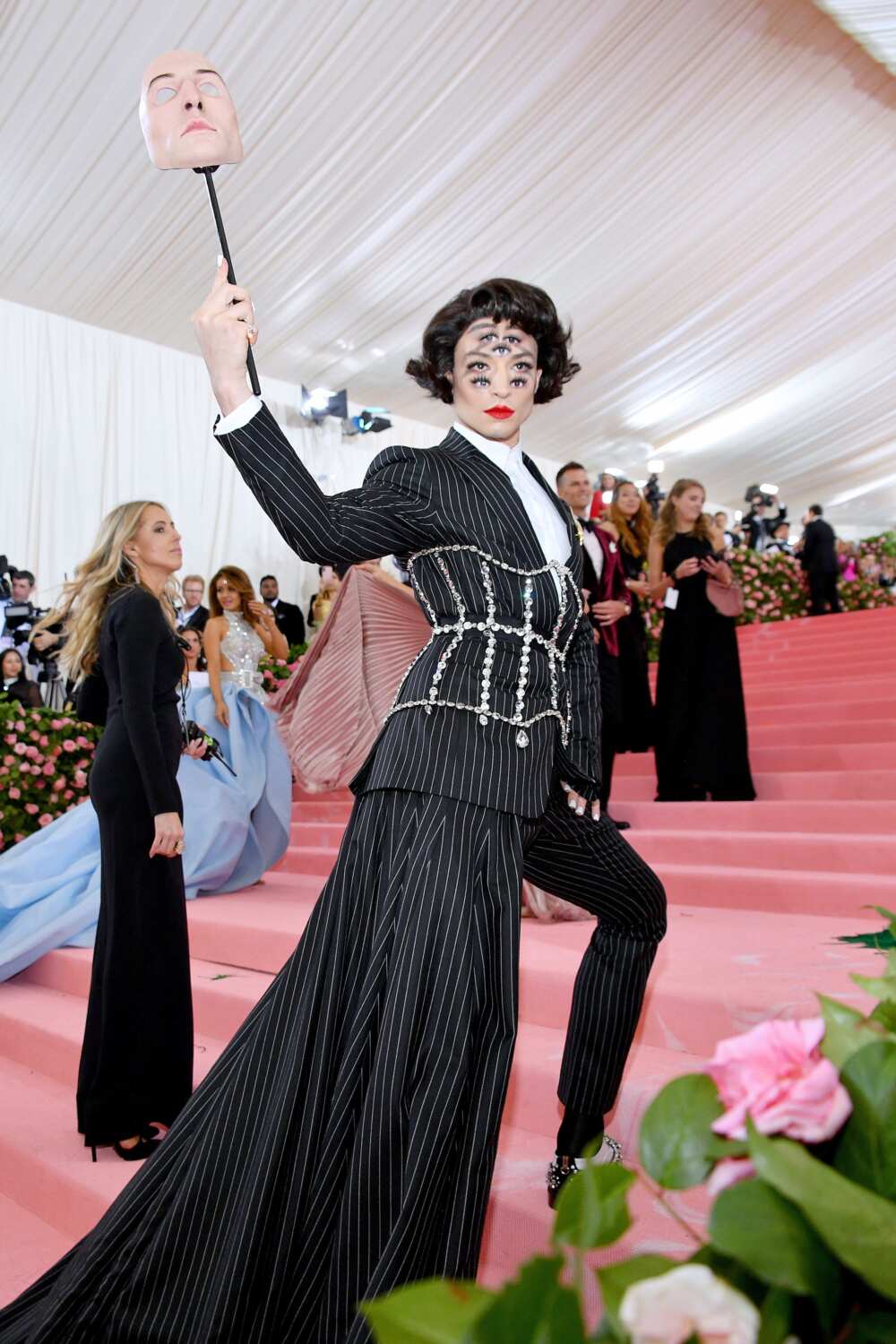 Not afraid to break fashion and gender stereotypes, he donned a crop top and a skirt for his GQ cover photoshoot.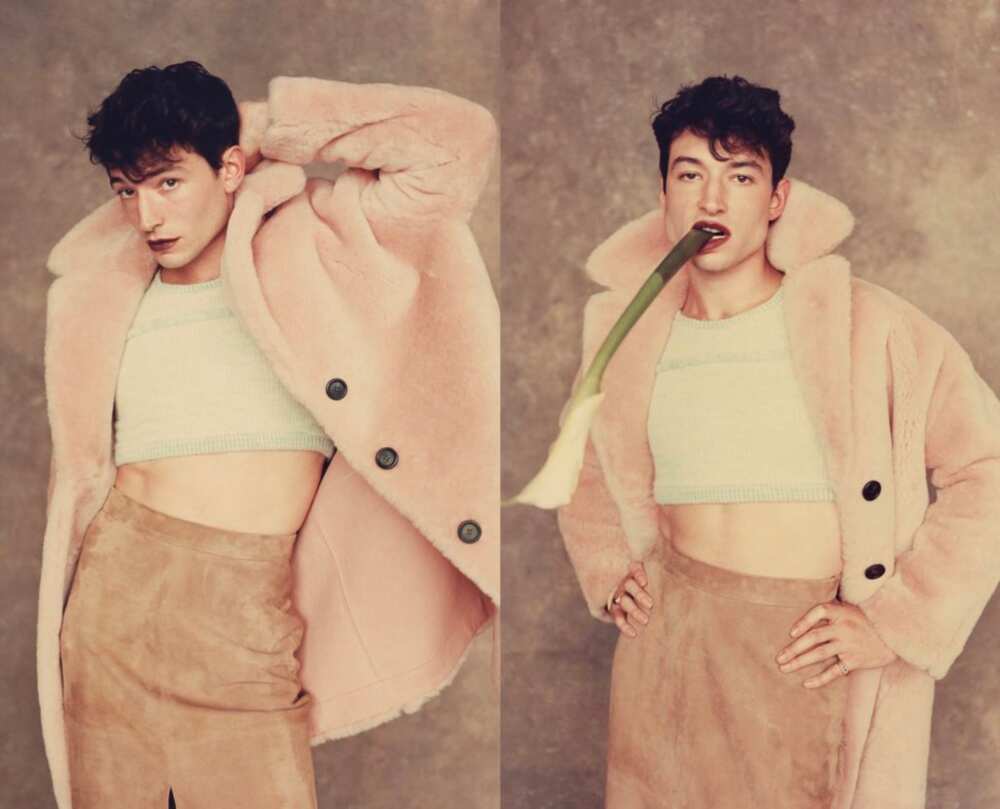 Ezra Miller dating history
The actor has so far only been romantically linked to women. Here are the women Ezra has dated
Esther Walt - There is not much information about the couple other than that they dated for a while in 2006.
Zoë Kravitz - The actress became Ezra Miller girlfriend after the two met in 2010 while filming Beware The Gonzo. Their romance eventually ended, and the two went their separate ways.
Since then, the two actors have featured in two movies together, Fantastic Beasts and Where to Find Them and Fantastic Beasts: The Crimes of Grindelwald in 2016 and 2018, respectively.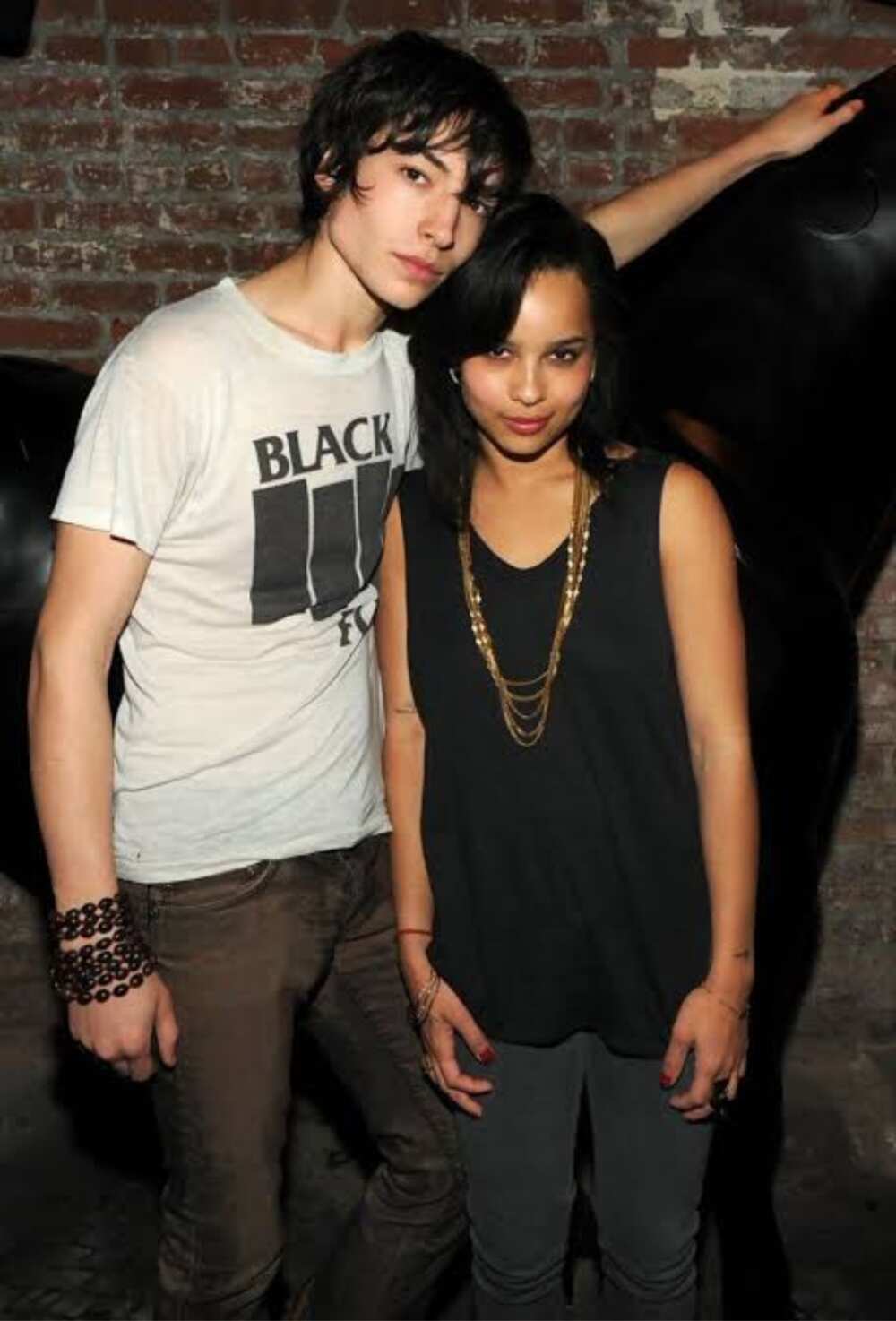 Lauren Nolting - After breaking up with Zoe, he and photographer Lauren started dating in 2011. She was 23 years old, five years older than him. They broke up after about a year in 2012.
Erin Urb - The star's relationship with fellow actor Erin is his longest one. The two started dating in 2013 and got engaged a year later in May 2014.
They were engaged for two years before eventually breaking up in February 2016.
Shailene Woodley - Rumours about a possible romance between the Divergent actress and Miller surfaced in 2016. Neither of the stars commented on these reports.
Despite there not being a record of Ezra Miller boyfriend, the actor is not opposed to the idea. He told GQ that he was looking for 'a rooster type man,' meaning someone who would put himself in harm's way to protect him.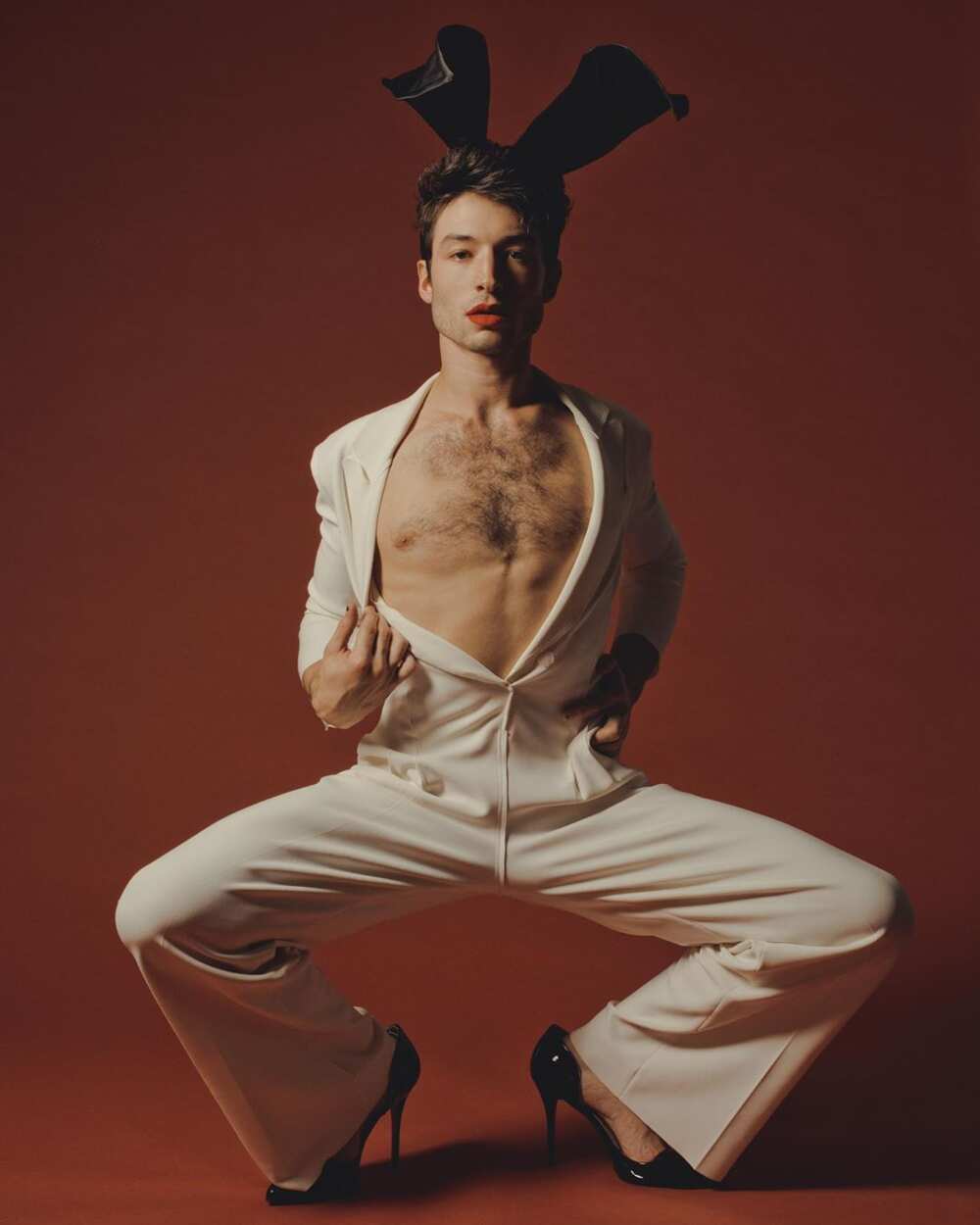 After experiencing a lot of breakups, the Fantastic Beasts star is no longer a fan or believer in monogamous relationships. In a Playboy interview, he said that he prefers to be in polycule relationships.
I am trying to find queer beings who understand me as a queer being off the bat, who I make almost a familial connection with. And then they are in the squad—the polycule. And I know they are going to love everyone else in the polycule because we are in the polycule, and we love each other so much.
His gender, sexuality, and views on relationships are just as multilayered as the man himself.
Ezra Miller hot news
On 6th April 2020, an Ezra Miller choke video surfaced on Twitter. In the video, the actor was shown holding a woman by the throat before slamming her on the ground.
According to reports, the incident happened on 1st April 2020 at Prikið Kaffihús, a popular bar in Reykjavík, Iceland. It is further said that a group of rather 'pushy fans' accosted the actor leading him to lose his temper, more so at the woman in the video.
Since then, some DC Comics fans have been calling for the actor's immediate removal from the upcoming solo The Flash film. They feel that Grant Gustin would be a better fit for this role.
Social media
Is Ezra Miller on Instagram? No, he is not, and neither does he have a Twitter account. However, he occasionally features on his band's Instagram account.
The band, Sons of an Illustrious Father, is made up of Josh Aubin, Lilah Larson, and Miller.
Ezra Miller has been acting consistently since he was a teenager. Now, years later, he is still going strong with no signs of slowing down. He is a beacon of hope for all young aspiring actors.
Source: Legit.ng