"I've Mapped Out Free Land For You": Ooni tells Afro-Brazilians, inducts President Lula as Oduduwa Descendant
The Ooni of Ife Adeyeye Ogunwusi travelled to Brazil on a five-day visit and met with the Brazilian president, Luiz Inacio Lula Da Silva
During his stay, Ooni got the support of the Brazilian government as they inaugurated traditional worship day called Isese day
Ooni told the Afro-Brazilians that they are welcomed back in Nigeria and that he has prepared a portion of land for them to invest and reside in
His Imperial Majesty, Ooni Adeyeye Ogunwusi, and his royal entourage, on the invitation of the president of Brazil, Luiz Inacio Lula Da Silva, and the Brazilian National Assembly parliament; received a resounding welcome as they reiterated their continuous commitment, recognition and support for Yoruba culture and national Orisa Day which was backed by the Brazilian constitutional law signed by the president.
The law gives freedom of religion to Brazilian and Terreiro people and the open practice of Isese by Brazilians.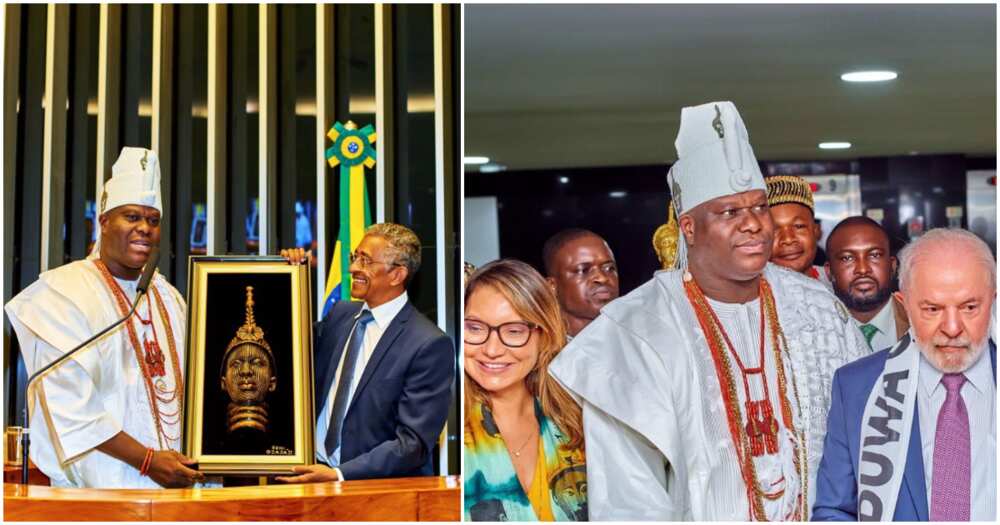 The parliament's deputy speaker, Deputado Vicentinho Requerente, who led other lawmakers to receive the foremost African monarch in the parliament, described the Ooni as a caring father whom the Afro-Brazilian community holds in very high esteem. The lawmaker who expressed his heartfelt joy in Portuguese said:
"Your presence here today has added to the dignity of people of African origin in Brazil, and this day will remain a history-making day for life."
Ooni Ogunwusi, in his speech, called for the unity of African descendants across the world, urging the legislative arm of the Brazilian government to support President Lula with necessary pro-Afro-Brazilian legislation.
"We cannot afford to be divided again. We are one, irrespective of colour and race. President Lula is our pride, he remains determined to do well for Africa, and you must support him with legislation helpful to his mission for Africa.
Speaking further on the similarities between Brazilians and Africans, Ooni said:
"Look at the good-looking Afro-Brazilians in this chamber, they all look like my first cousins back home in Nigeria and Africa. We are one people, and the earlier we recognise the strength in our unity, the better for us all."
"I vow never to forget you, you are a major part of us in my kingdom of Ile-Ife, and we hope to receive you home as soon as possible. I have deliberately mapped out free land for you all to come and live, invest and reside."
In his response, the Brazilian president mentioned:
"My wife calls you "my father". Your love for us and the country is indeed well appreciated, and I promise you my continued love for Africa. I have visited 44 countries in Africa and opened 19 embassies. Brazil, under my administration, has a historic pact with Africa. My wife and I are extremely fulfilled as your presence here today assures that this ISESE DAY has come to stay," President Lula added.
Ooni, in his unending quest to harness and promote Yoruba culture beyond the shores of Africa through religion, cultural values and heritage tourism exchange, travelled on a five-day working visit to Brazil.
Nollywood actor and cultural ambassador, Dotun Taylor, shared a video of Ooni at the Brazil parliamentary
Osun state government declares August 22 as Isese Day
For the Isese Day celebration, former Osun state governor, Adegboyega Oyetola, on Friday, August 19, 2022, declared Monday, August 22, a public holiday.
Oyetola's directive in commemorating the annual celebration is contained in a statement signed by Olalekan Badmus, the state commissioner for special duties.
The statement noted that Oyetola's approval was in recognition of the day set aside each year by the traditional religious worshipers to celebrate Isese festival in Osun.
Source: Legit.ng