Toke Makinwa biography: age, net worth, bleaching, surgery
Toke Makinwa is a Nigerian media personality, television host, vlogger, lifestyle entrepreneur, and author. She is known for hosting The Morning Drive on Rhythm 93.7 FM and for her YouTube vlog series, Toke Moments. She has also been crowned severally as the Most Influential Young Nigerian and style influencer. Her growing success in various fields has set her apart from the rest.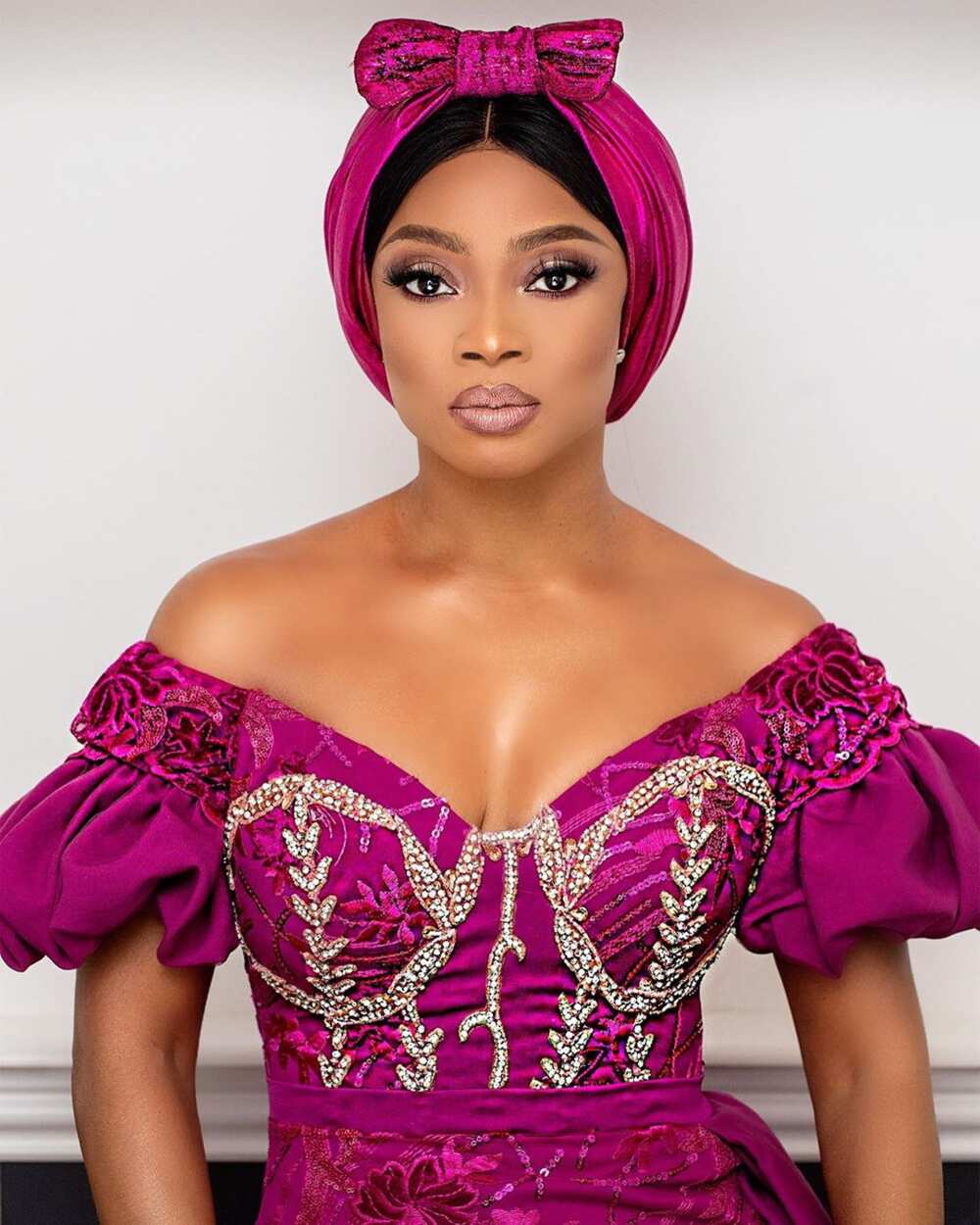 The host has been honored with several award nominations and titles in the entertainment industry. Some of the TV shows she has hosted include Live Chicks, Trending, and Moments. Learn more about Toke Makinwa biography, which has been a topic of interest to many.
Profile summary
Name: Toke Makinwa
Date of birth: November 3, 1984
Age: 36 years (as of 2020)
Place of birth: Lagos State, Nigeria
Zodiac sign: Scorpio
Alma mater: University of Lagos
Net worth: $2 million
Occupation: Media personality, TV host, entrepreneur, author
Early life
Born on 3 November 1984, in Lagos state, Toke Makinwa age is currently 36 years (as of 2020). She is the second of four children. The radio queen lost both of her parents to a fire accident when she was eight years old and was raised by Mr. and Mrs. Akinyelure.
She attended the Federal Government Girls' College, Oyo State. Later she enrolled at the prestigious University of Lagos and graduated with a degree in English and literature.
Career timeline
Here is a breakdown of the media personality's career timeline
2010- Her career in the media started with her co-hosting The Morning Drive show on 93.7FM. The same year, she launched her late-night talk show, Rhythms of the Night.
2012- She premiered her YouTube vlog series, Toke Moments, which won the hearts of Nigerians and gained her an even bigger following. The show allowed her fans to see new sides of her, and this increased her success as an entertainer. She was also nominated for 'On-Air Personality of the Year' at the 2012 Future Awards.
2013- She won the Nigeria Broadcasters Award for Outstanding Female Presenter of the Year. She was nominated for 'Radio OAP of the Year' in the Nigeria Entertainment Awards. The same year, she became an ambassador of the United Africa Company of Nigeria.
2014- The TV host signed a multi-million Naira contract with Nestlé Nigeria to become the new face of Maggi.
2016- She became the brand ambassador and face of Mecran Cosmetics. She was also an ambassador for Payporte and Ciroc.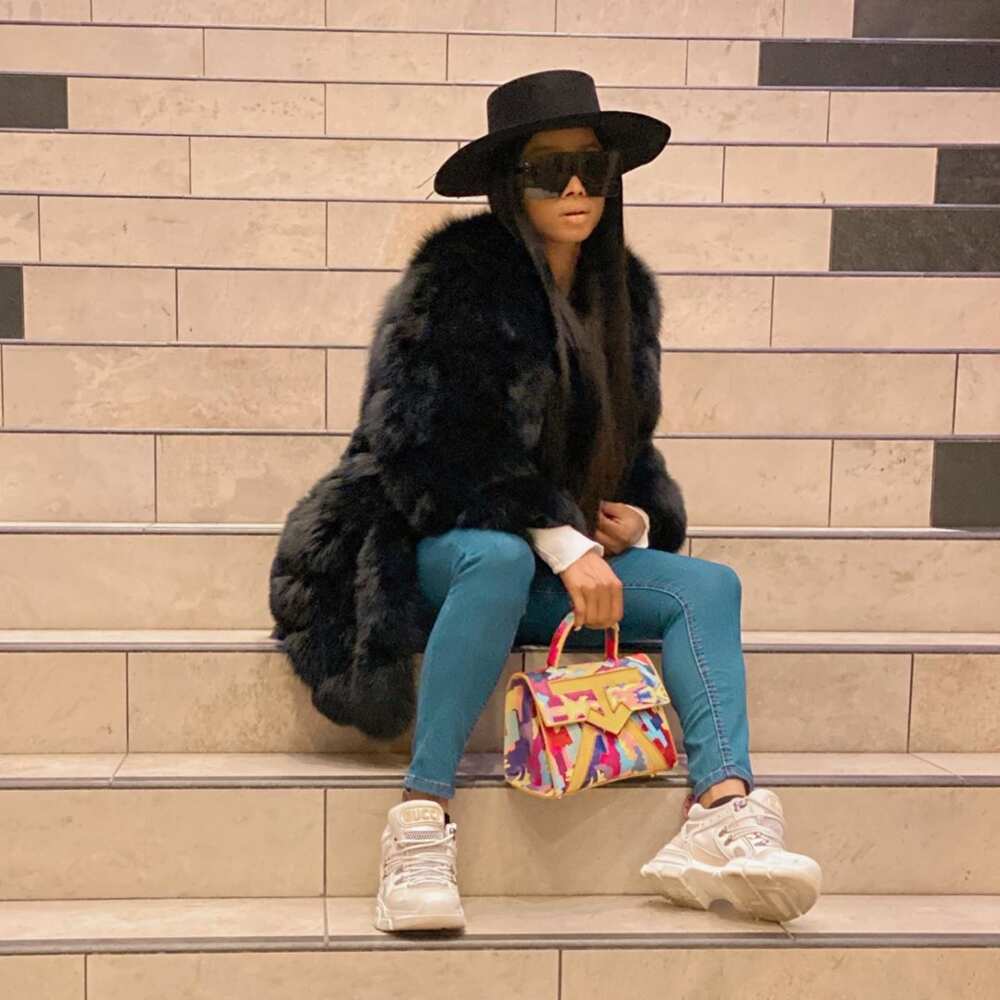 Toke Makinwa net worth
The radio host and vlogger has several sources of income. She has had numerous endorsements deals under her belt as well as other businesses. As of 2019, Toke Makinwa's net worth is estimated at $2 million.
Toke Makinwa bleaching
Skin lightening is still a controversial topic in Africa. It is a path that some celebrities have taken in an effort to become more appealing. Toke Makinwa has openly discussed her bleaching journey in her book On Becoming. Shortly after revealing her story, Toke Makinwa before and after photos became a trending topic among her curious fans.
Toke Makinwa bleaching before and after garnered numerous reactions and the immense backlash from those who held a different opinion. The media personality stated that her reason for bleaching was to bring light to her journey. The radio host cited that her ex-husband Maje Adiya had a preference for light-skinned girls, so she bleached to impress him.
Not a stranger to controversy, Toke took it in stride and has gone on to start a business out of it. In 2018, she partnered with Buluwa Inc. to launch a skin lightening product line called 'Glow by TM.' In an interview with BN Style about her product, she said that;
"...Glow by TM is a skincare line targeted at every woman of color and women who seem to struggle with dark spots, melasma, uneven skin tone and are looking for the perfect shade for their skin…. Personally, I don't think self-betterment equals self-hate. There are a lot of light-skinned women who tan all day, looking to get a shade or two darker too. Why don't we have the same conversations when the case is the reverse."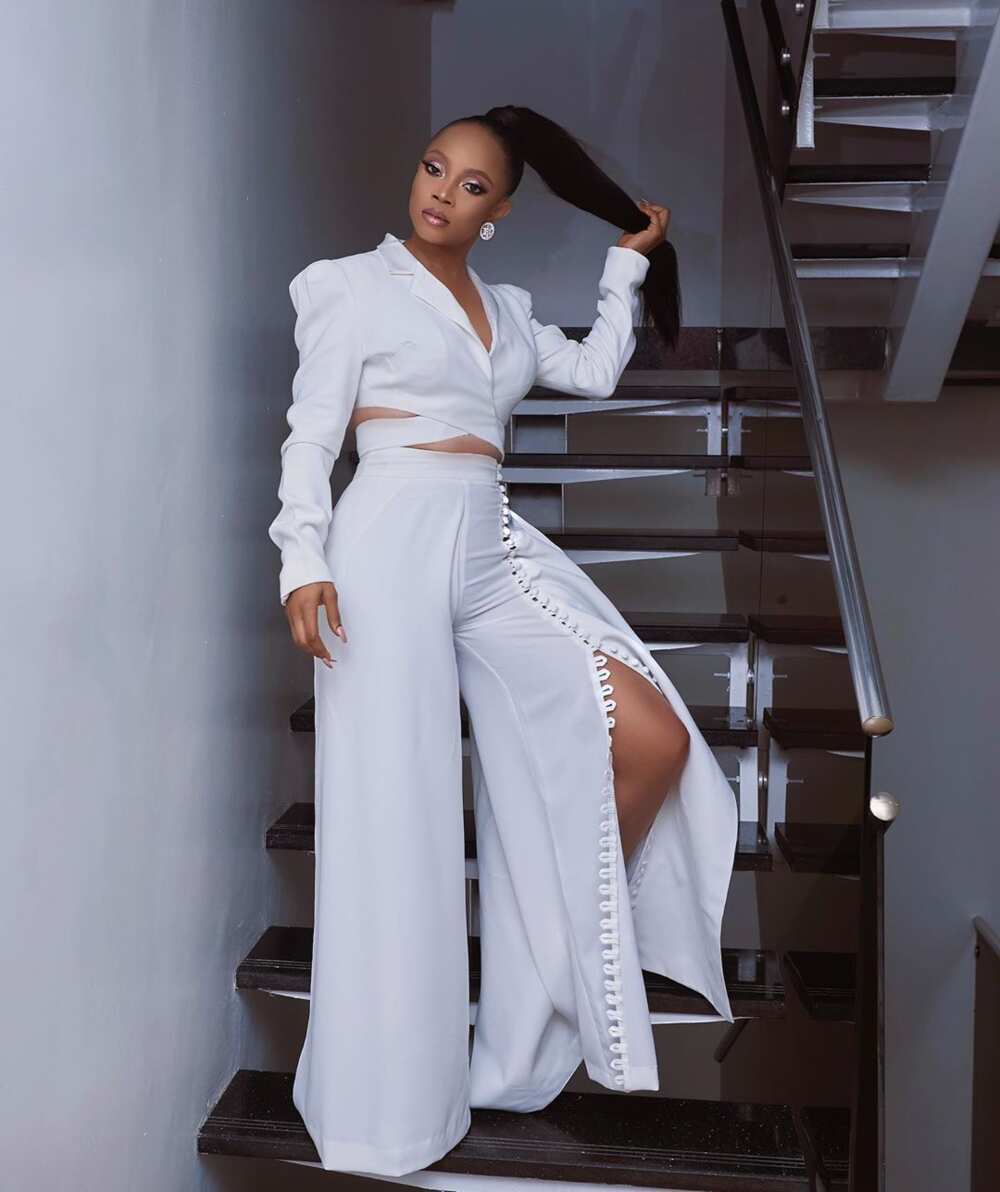 Toke Makinwa surgery
Going under the knife to change something you don't like about your body is increasingly common, and Toke Makinwa is on the long celebrity list of people who opted for plastic surgery. Speculation about her more voluptuous figure raged in 2018 after she admitted to having undergone fibroid surgery. She first revealed that she had plastic surgery in a Tweet when she was talking about her lessons for the year in review.
She has since encouraged other women who want to fix their bodies through surgery to go for it. She has also called out the double standard of accepting technological advancements while looking down on medical advancements.
The body enhancement has been criticized and embraced by her fans in varying degrees. The media personality is, however, never shy to flaunt her new body in various photos on her social media pages.
Toke Makinwa Sugar Daddy
It seems that the radio queen has a reason to keep everyone talking, especially about her love life. After a failed marriage, she has not been associated with anyone publicly. Her lifestyle involves shopping sprees in Paris, New York, and London, and this has raised questions about a possible financier. Early in 2017, rumors emerged about her having an affair with a 70-year-old billionaire, Dr. Festus Fadeyi.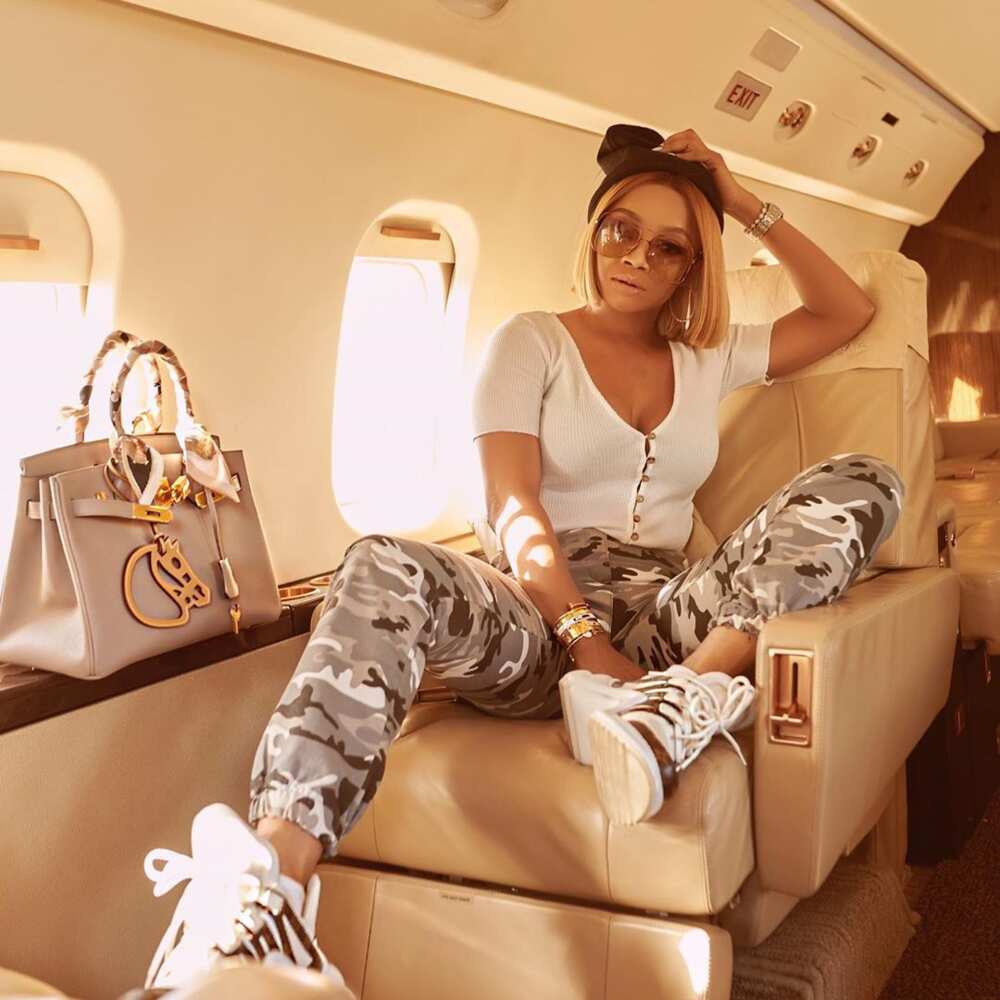 The billionaire, said to be married with five grown boys from his wife of many years, allegedly bought Toke a brand-new Range Rover 2016 model worth over N50 million. He was also reportedly responsible for her costly purchases and designer bags and shoes from Louboutin, Bottega, and other high-end brands. Neither party denied nor confirmed the rumors of the affair.
Since then, there have been questions about how she can her finance lavish lifestyle as an on-air personality. She has responded by drawing attention to her personal brand and business as her source of money.
Toke Makinwa personal life
On 15 January 2014, Makinwa married her long-time partner, Maje Ayida. She wedded the fitness entrepreneur at a private wedding. Barely a year later, the two split after Toke discovered that Ayida had an affair with his ex-girlfriend, Anita Solomon. In 2017, Maje Ayida Toke Makinwa marriage was officially dissolved.
Her memoir On Becoming was released in November 2016. The radio personality talks about her struggles, the loss of her parents, and addresses the betrayal by her now ex-husband, Maje Ayida. Toke went on a book tour in Nigeria, South Africa, the U.S, the U.K, and parts of East Africa.
In 2017, Makinwa launched a handbag line under her eponymous label, Toke Makinwa Luxury. She also launched a skincare product called Glow by TM in 2018
Toke is seemingly close to Bonang Matheba, a South African TV presenter. The two live in different countries but make time to see each other. They served goals in 2018 by promising each other high-end gifts of a Birkin and Messika jewelry via Twitter. People were shocked given the price tag, which neither flinched at.
Toke Makinwa is a popular Nigerian media personality. The radio host and entrepreneur has an active Instagram account where she flaunts her lifestyle. Her YouTube vlogs, Toke Moments, keep her fans updated on what she is up to.
READ ALSO: Regina Daniels: Nigerian actress biography
Legit.ng recently reported about the life of Regina Daniels, a Nigerian actress well known for her roles in Broken Chakkels, Hand of Fate 2, and Brave Mind. The actress, who is just 20-years-old (as of 2020), is one of the biggest icons in the Nigerian entertainment industry.
At just 20 years old, Regina Daniels has managed to become one of the biggest and most popular actresses, not only in Nigeria but also all over the world.
Source: Legit.ng