50 tattoo cover-up ideas to hide the mistakes of your youth
A tattoo cover-up is a technique many tattoo lovers use to cover up any previous mistake, such as any poorly done artwork or to hide a name of an ex or a memory they now dislike. This technique is one of the two methods for removing an unwanted design, the other option being laser removal. Here are some tattoo cover-up ideas you can use to hide the mistakes of your youth.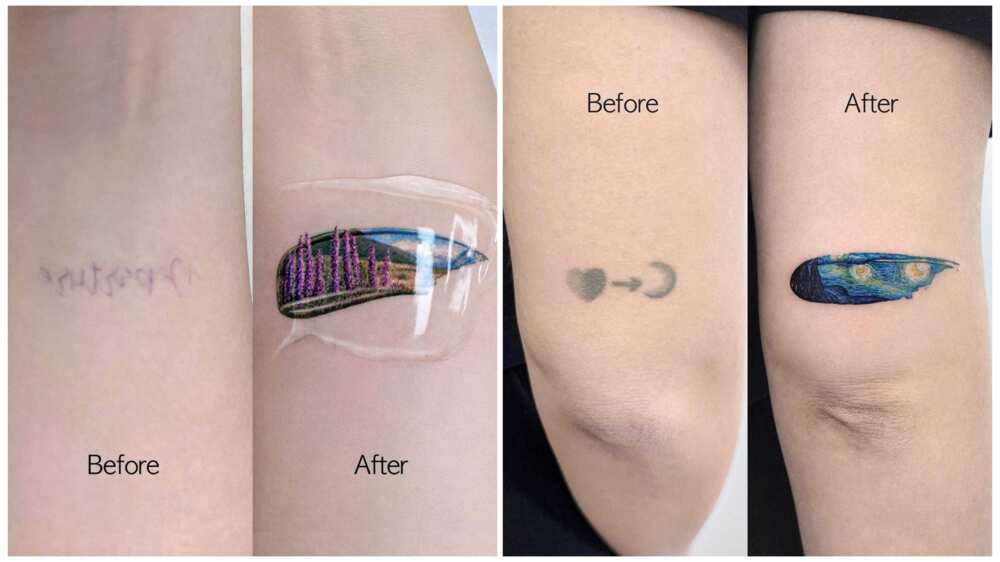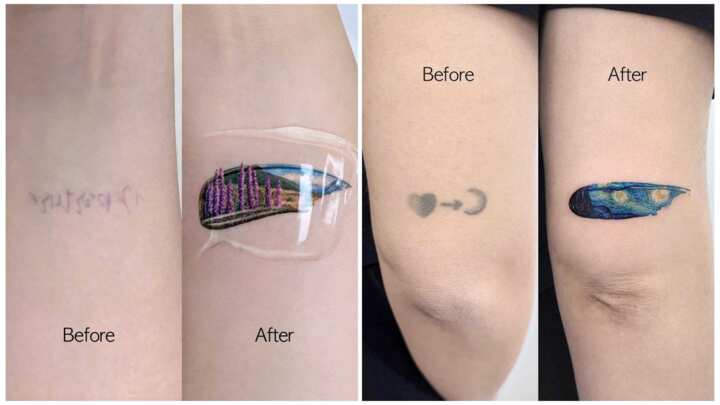 Tattoos are not easy to remove once they are inked on your body. Therefore, a tattoo cover-up can be an excellent solution to dealing with an old or unwanted design. However, you should look for an artist that will incorporate the hard lines of the old tattoo into the new design so that it appears like the old design never existed.
50 tattoo cover-up ideas
If you are considering modifying an unwanted tatt and looking for some inspiration, below is a list of some tattoo cover-up ideas to inspire you.
1. Wings and heart tattoo cover-up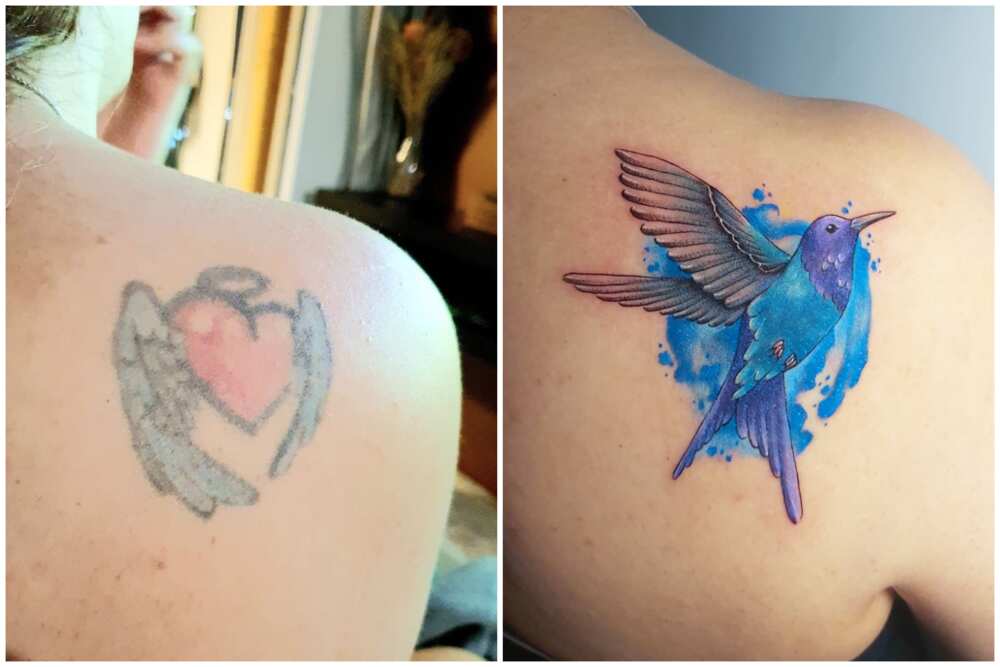 The old design has a heart shape in the middle and two wings. It has become unidentifiable because of the faded colour. To cover it, the artist has used the wings' blue colours as the background to come up with a beautiful bird on top.
2. Butterfly tattoo cover-up
Flowers and butterflies are, in many cases, used together in most female tattoos. In this case, the shoulder tattoo is a bit different. It was originally a single butterfly that faded over time. It has, however, been redesigned to create a flower and a butterfly.
3 Upper arm cover-up idea
You can use the above technique to keep the elements of the original design you like but revamp the parts you don't. It is a huge improvement that adds more depth and shade to your design.
4. Lion tattoo cover-up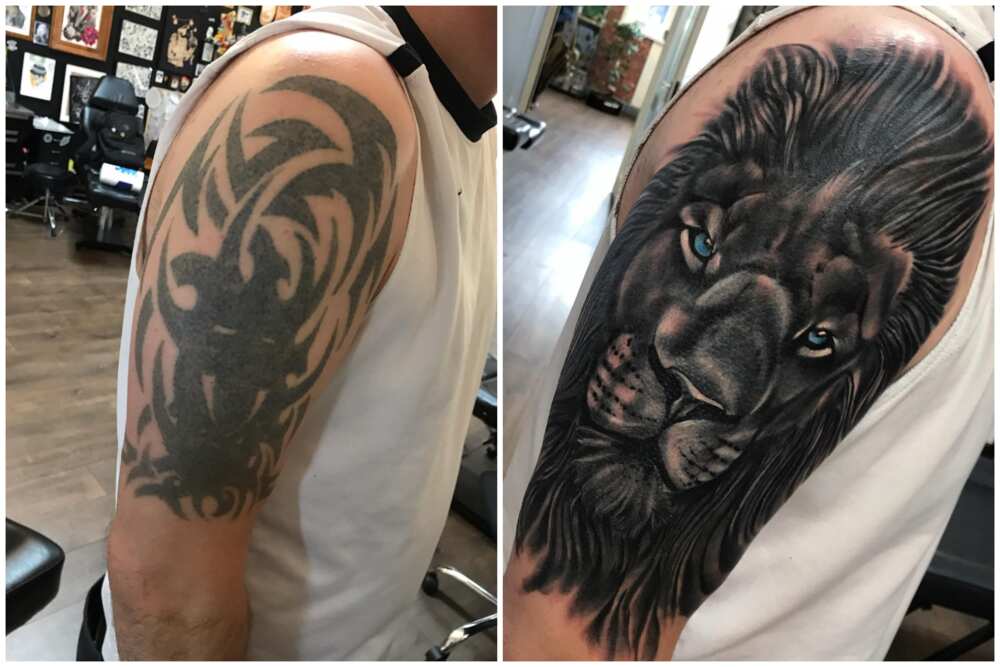 Here is another idea to entirely cover a tattoo with a much bigger one. In most cases, the cover-up designs take up more space than the original ones. The design was initially a simple image on the upper arm but was covered to create a much bigger portrait of a lion.
5. Ouroboros to wreath cover-up
Ouroboros is an ancient symbol depicting a snake eating its own tail to signify unity and infinity. This original design can be covered by turning it into a beautiful wreath.
6. Leaves cover-up on the shoulder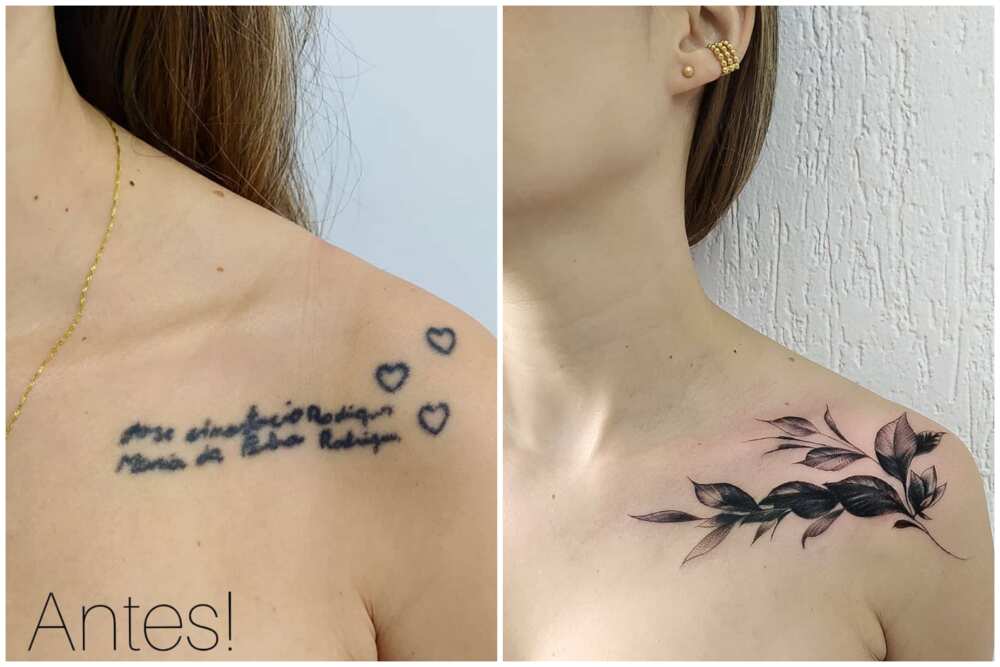 This design is one of the cover-up tattoo ideas for females, especially those who love to get their boyfriends' names inked on their bodies. The original design has some love heart symbols and words. The artist has used leaves to cover the initial image.
7. Beautiful landscape cover-up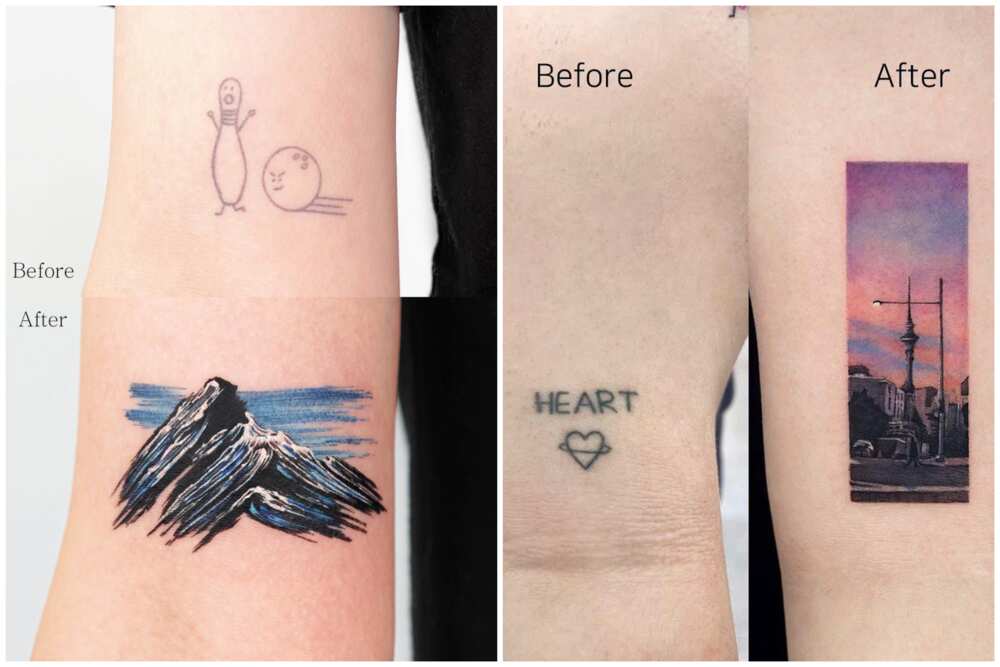 Landscape is a great cover-up idea, especially for those who feel inspired by nature. While it may not be the first approach that comes to your mind when considering a cover-up tattoo, it can work well, depending on your preferred design.
8. Stars tattoo retouch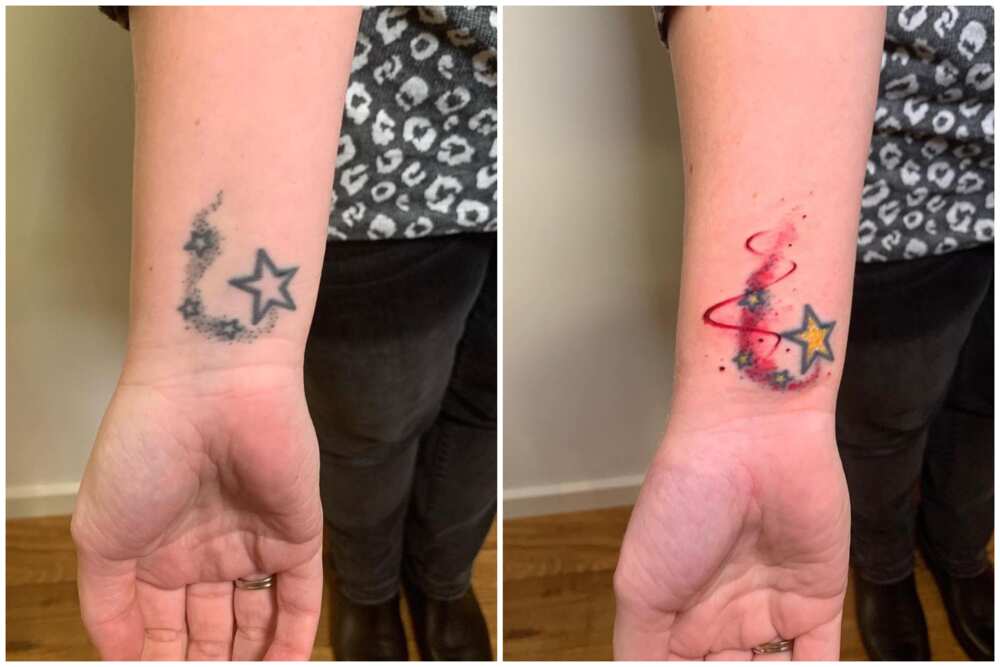 This small wrist tattoo perfectly shows how small changes can bring a difference to a design. The artist has just incorporated a red colour and a curvy line to change the original design.
9. Quote to art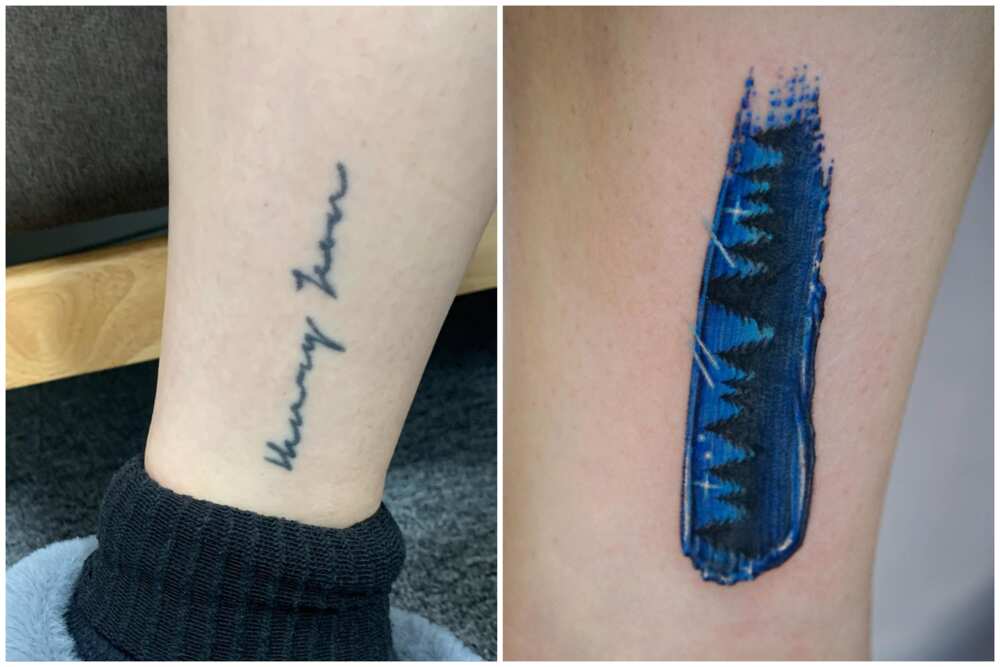 While quote tattoos may be meaningful at the beginning, you might outgrow them over time. To make the design appear artistic and creative, your artist can incorporate a tree line under a starry night.
10. Beautiful cover-up tattoo on the waist with flowers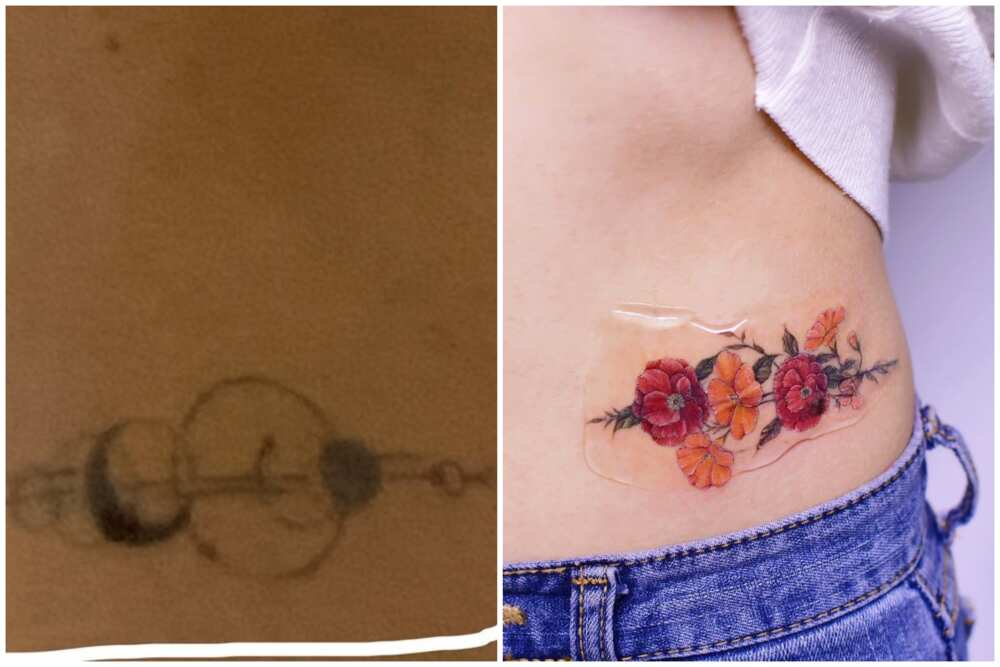 Flowers are often considered one of the best tattoo cover-up ideas. A talented artist can use them to create a stunning design that effectively conceals any existing work.
11. Small wrist cover-up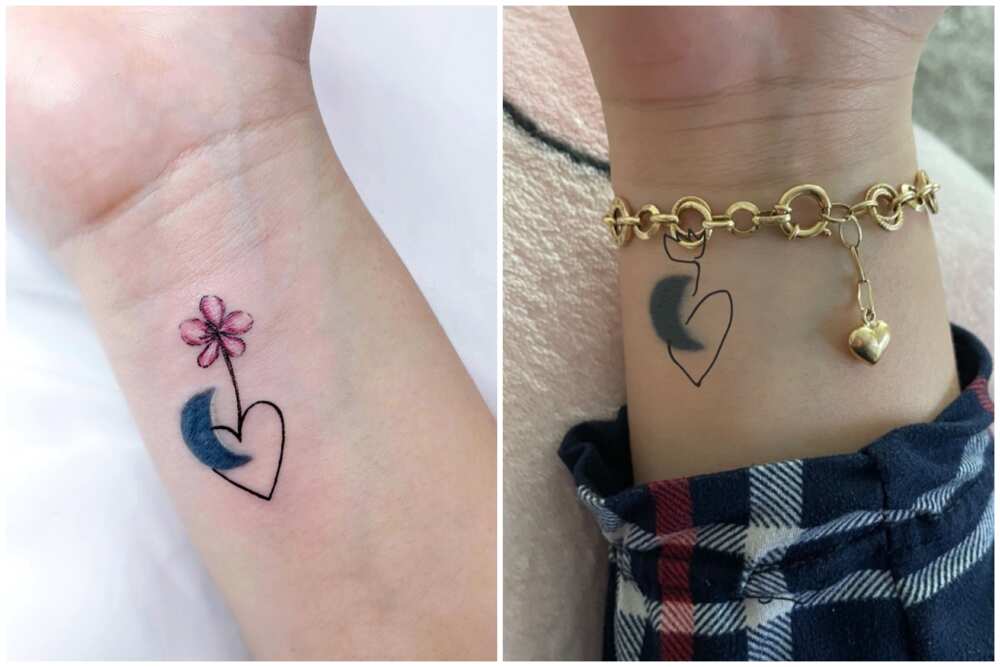 Some artists prefer using the previous design as part of their new creation. For instance, in this image, the fading colours of the moon have been used as a background for the new design.
12. Pear into grapes arm cover-up
Cover-up tattoos can be similar to the old ones, with only a slight difference. You may still love part of the old tattoo, whether it is the style, colour, or design. The above grape design has been used to create a different piece on top of the old one.
13. Coloured full-sleeve cover-up tattoo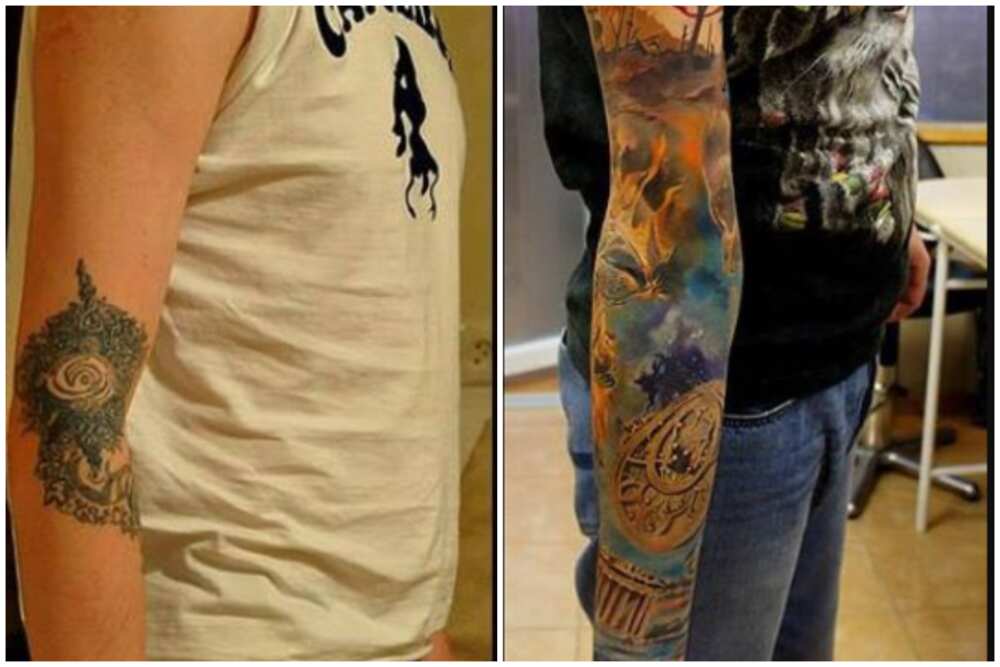 Some prefer tattoos that cover the whole sleeve. In the image above, the old tattoo was inked in the middle of the arm in the elbow section. However, the artist replaced it with a design covering the entire sleeve to give it a beautiful scene.
14. Small to large wrist cover-up
The above old wrist tattoo was relatively small. However, the cover-up has been extended along the forearm to hide the ink to create a more detailed design.
15. Letter tattoos into landscapes
Consider landscape tattoos if you are still struggling to get good cover-up tattoo ideas. The new design has been made of trees and mountains to give it a natural look.
16. Footprints into glassware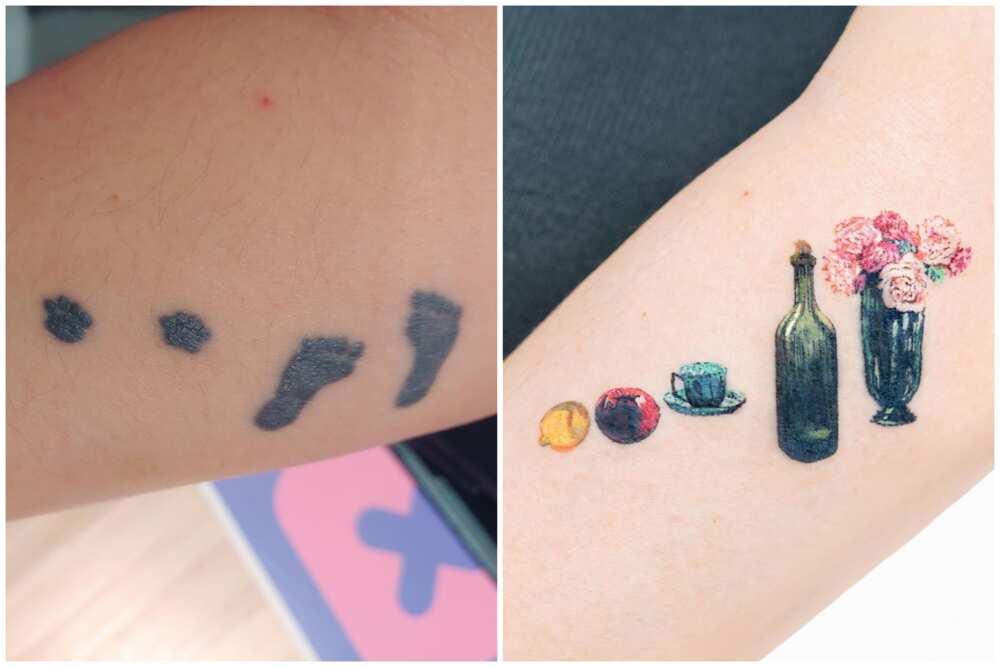 There are several tattoo artists that can apply a variety of images, including glassware, to create compelling designs that perfectly hide the existing ink, like in the image above.
17. Tiger tattoo cover-up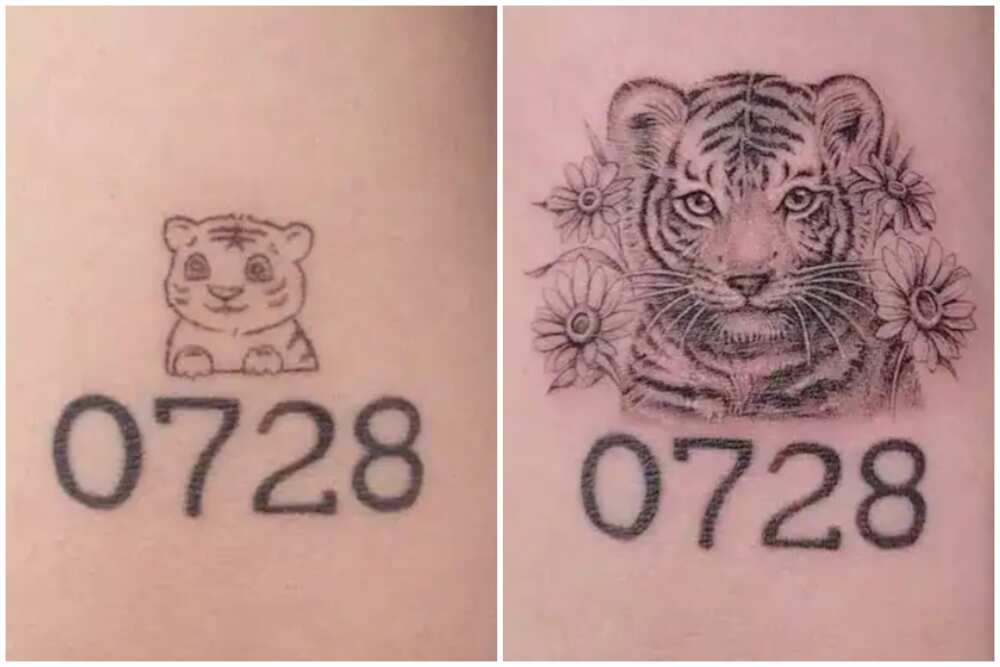 Tigers have been a significant source of motivation for tattoo designers. In the image above, a simple baby tiger has been transformed into a fully grown one.
18. Ex-name tattoo cover-up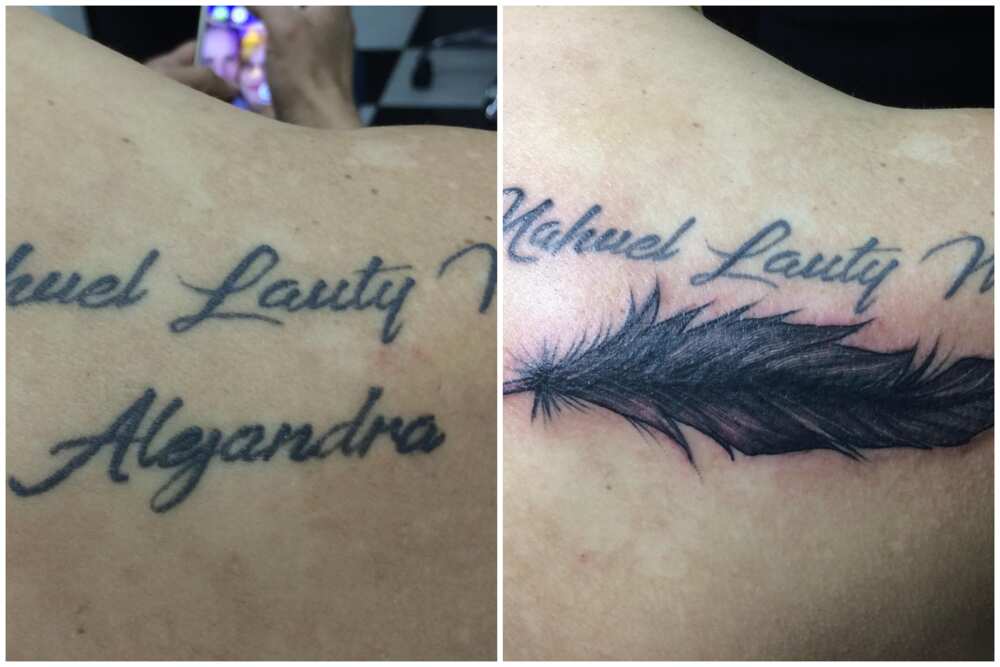 Instead of your ex-name, you can have a beautiful feather tattoo with part of those wings flapping to get the name away from your design.
19. Clever number cover-up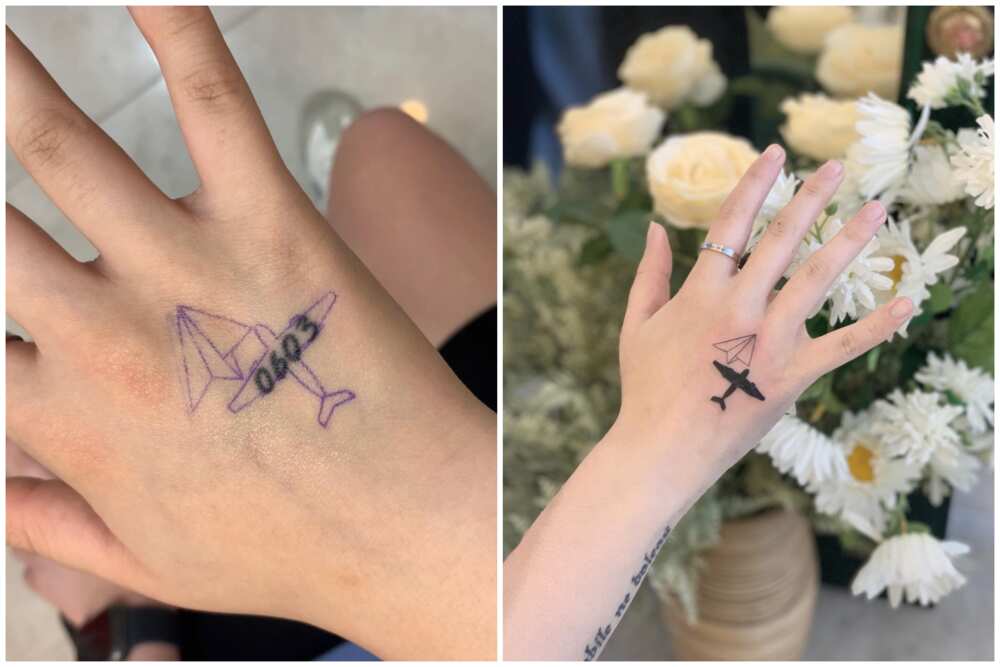 The artist has done a good work of creating a unique design by shading the old design to hide the numbers. It is hard to tell what was once underneath that detailed shading.
20. Diamond cover-up
Diamonds can be used as a tattoo cover-up for a bad old design or one that has faded away. Some people use the element as a cover-up after a heartbreak because they represent strength.
21. Detailed shape idea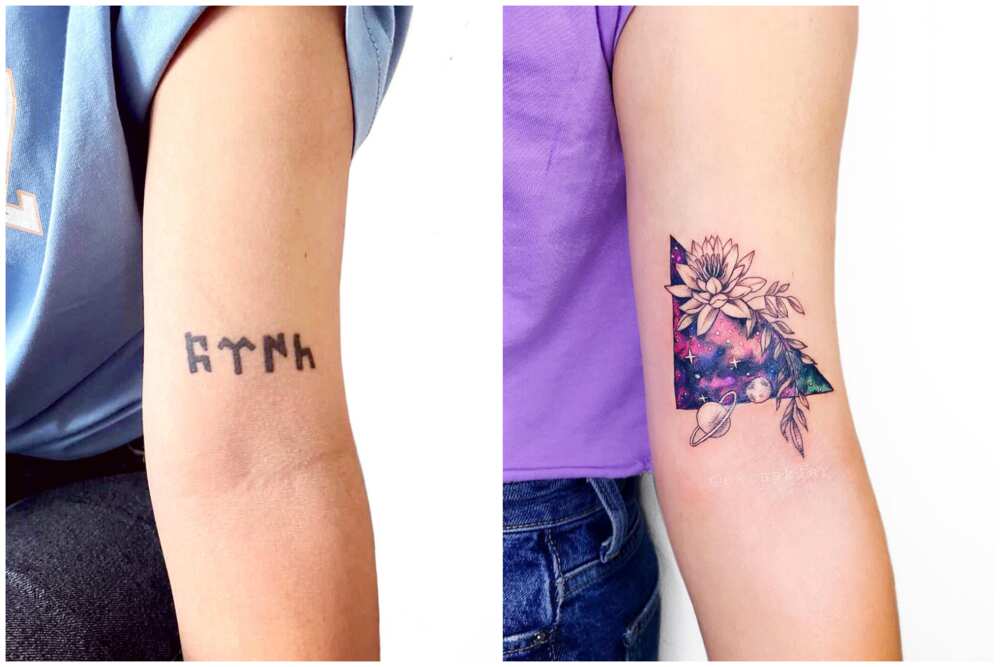 Are you looking for easy cover-up tattoo designs ideas? The triangle showing the galaxy, with some floral detail, has been used to cover up the text tattoo just above the elbow. It has been done in such a way that one can never guess a word was hiding beneath.
22. Feminine lion sleeve cover-up tattoo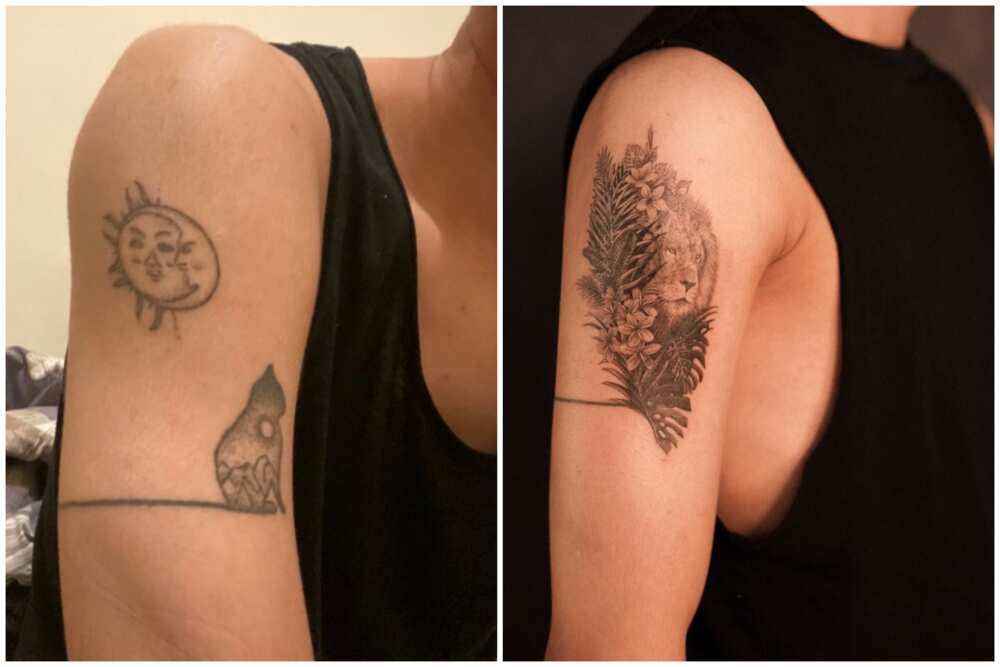 Many people get cat tattoos inked on their bodies for the love of the animal. However, their love may fade over time, creating the desire to hide it. In the case above, the tattoo artist has combined the cat and the sun to form a beautiful feminine lion.
23. Faded black ankle tatt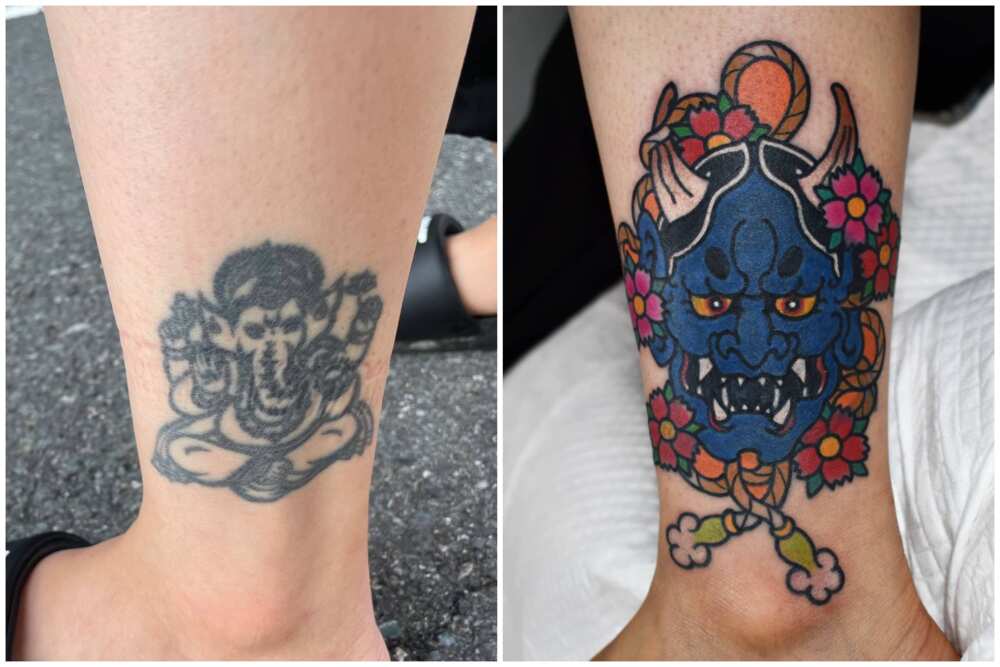 The above image shows that dark blue is a great cover-up colour as it perfectly covers the faded ink beneath it. This is not just a successful cover-up design but also an artistic one.
24. Well-placed leaves cove up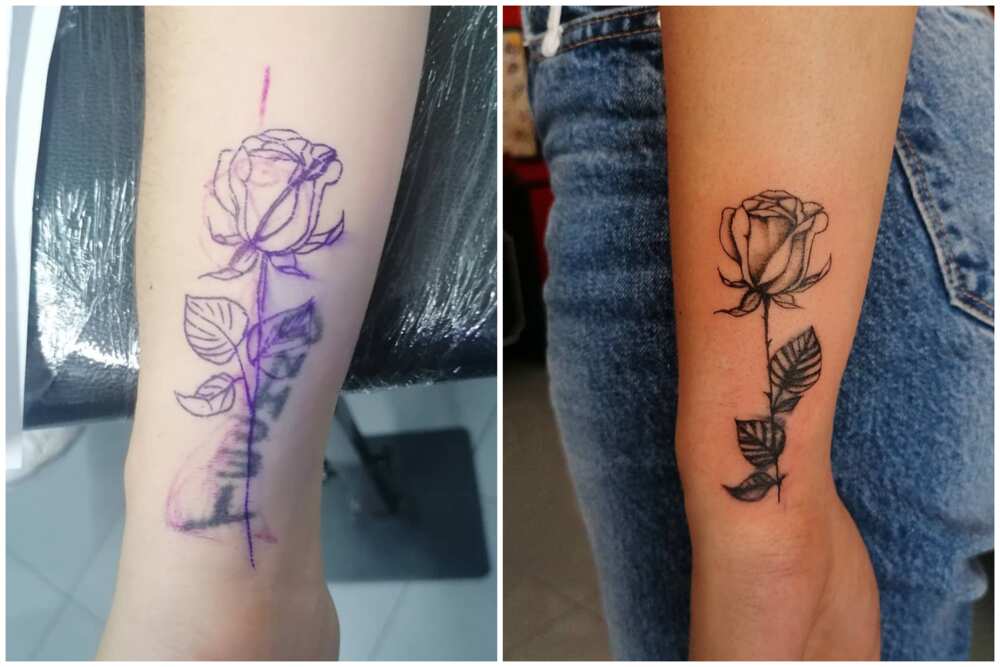 In the above image, the name in the old design has been covered by delicate leaves that complement the body's curves, turning a mistake into something beautiful.
25. Flower tattoo cover-up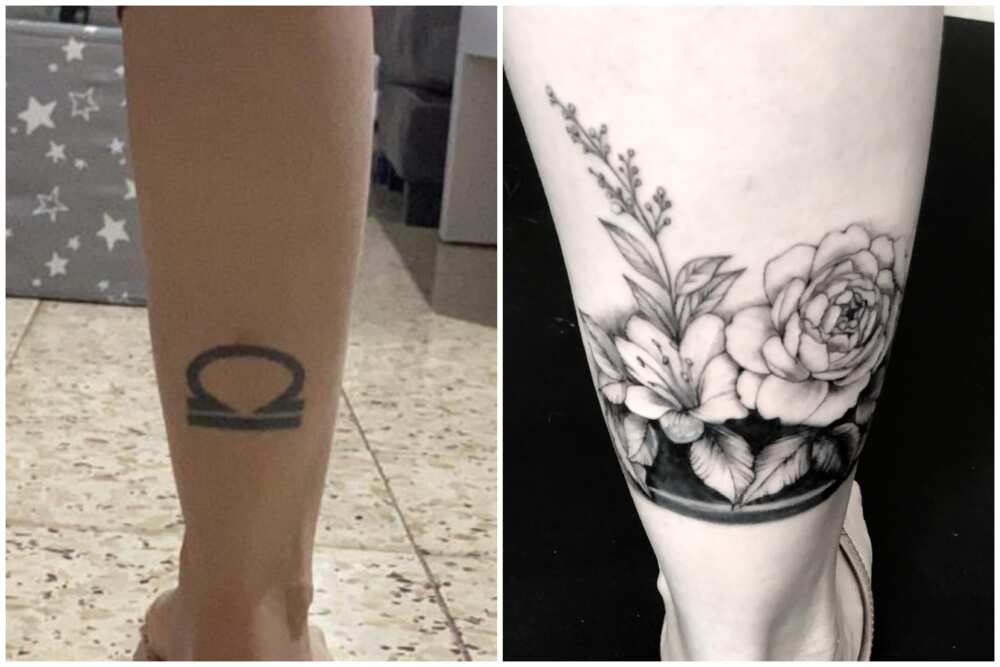 The back of your leg is always a good place for a tattoo. You also have plenty of space to expand or cover up a small design with a large one, like in the case above.
26. Leg side tattoo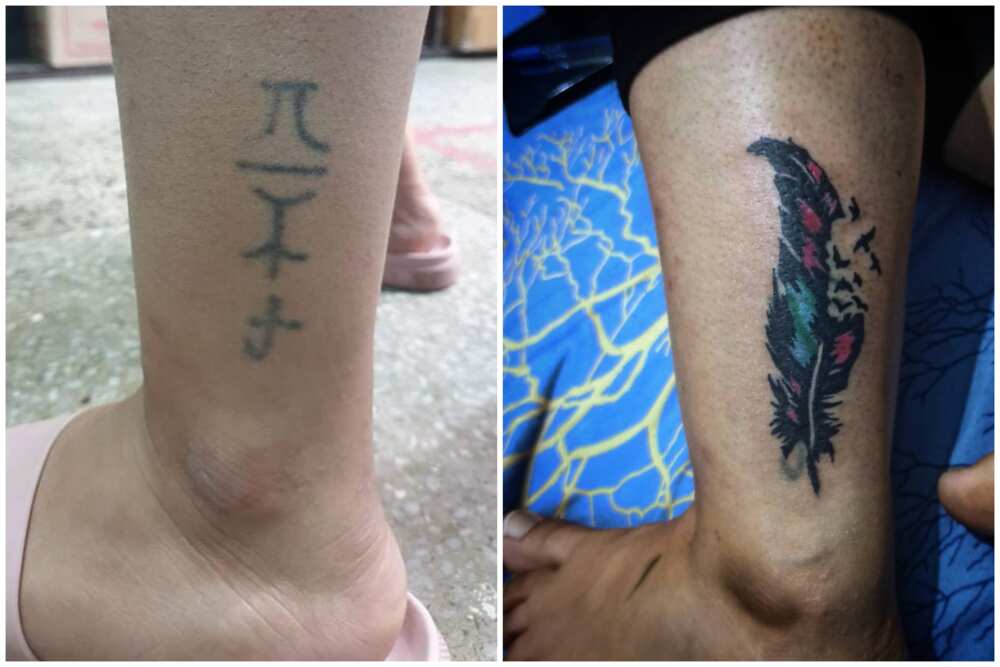 Feathers are almost as popular as flowers for covering tattoos. A feather's long and detailed shape is ideal for covering quote designs.
27. Watercolour abstract tattoo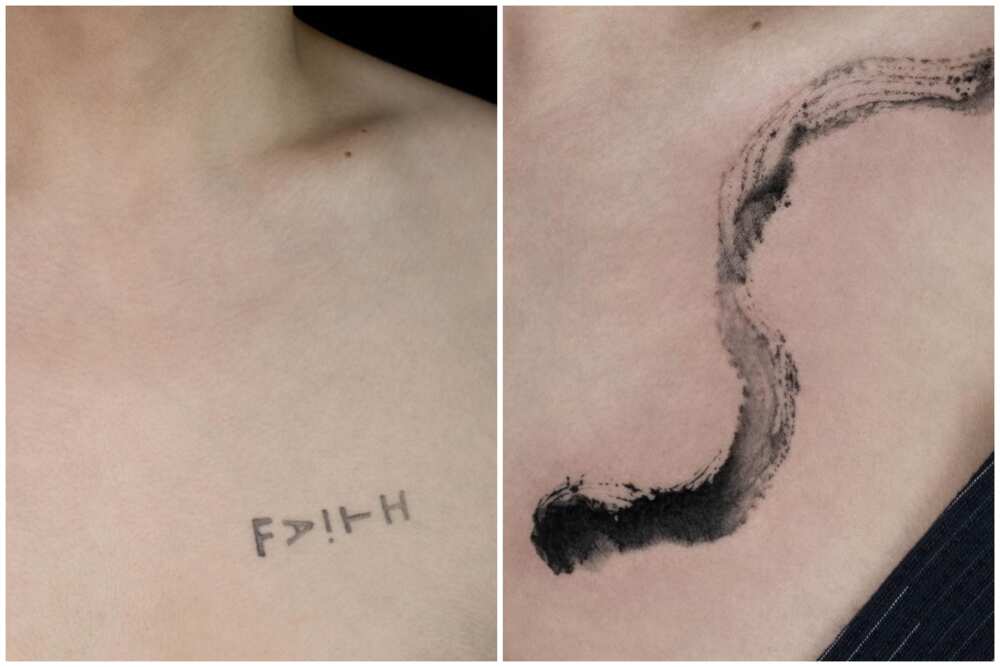 The word in the old design above has been covered up with a black watercolour stroke creating a new stunning ink artwork. This is an elegant way to cover any word or quote tattoos.
28. Chinese character to sunflower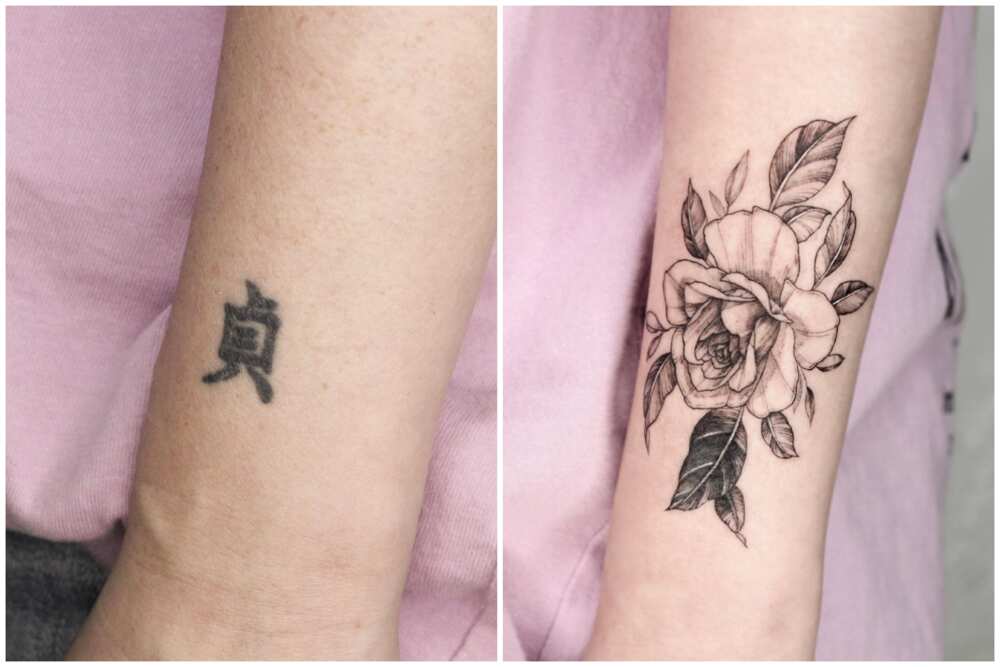 Like any other tattoo cover-up, a Chinese character can be changed into a beautiful sunflower image like in the case above.
29. Old tattoo with portrait cover-up
It is possible to recreate your old tattoo by adding several other components. In this design, the old tattoo has been covered with a pretty portrait making the old design barely visible.
30. Faded tattoo with flowers on the wrist
There are several cover-up tattoo ideas you can go for in case you want to hide the mistake of your youth. Beautiful dark-coloured flowers can be used to cover a faded bird in the old design.
31. Bow cover-up tattoo
The bow is almost exclusively a female motif, as women mostly wear it. It can be used to cover finger tattoos, provided you keep them simple, like in the case above.
32. Back-of-neck tattoo cover-up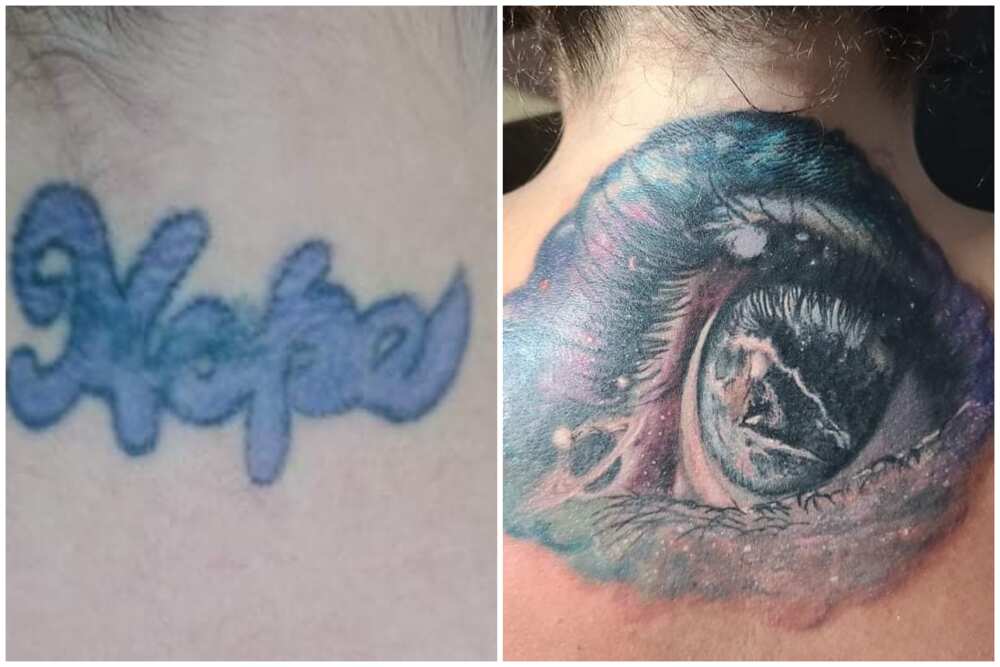 The good thing about covering a back tattoo is that you would have more space to occupy so that the old tattoo can be covered well. The small tattoo was easily covered with a stunning galaxy eye design in the case above.
33. Colourful frog design cover-up
Here is one of the best designs you should consider if you are in the market for some inspiring cover-up tattoo ideas. This quirky frog on a log scene covers the old design with added colour to create a beautiful scene.
34. Shoulder wing tattoo cover-up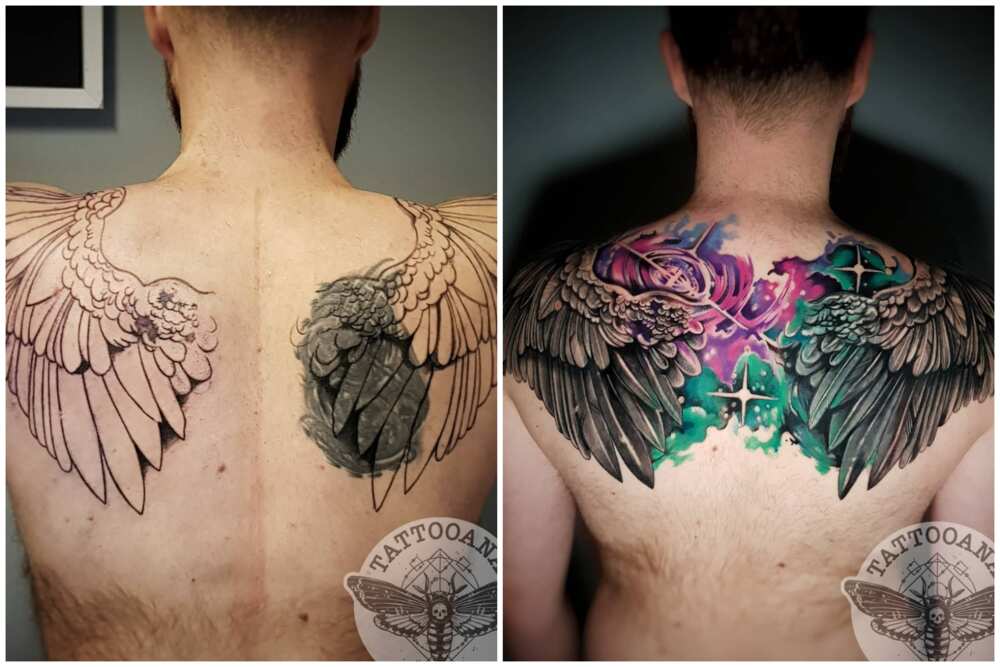 Wings are one of the favourite objects for tattoo cover-ups. The large scope of a winged tattoo is great for covering old mistakes, particularly around the shoulder area.
35. Expanded forearm cover-up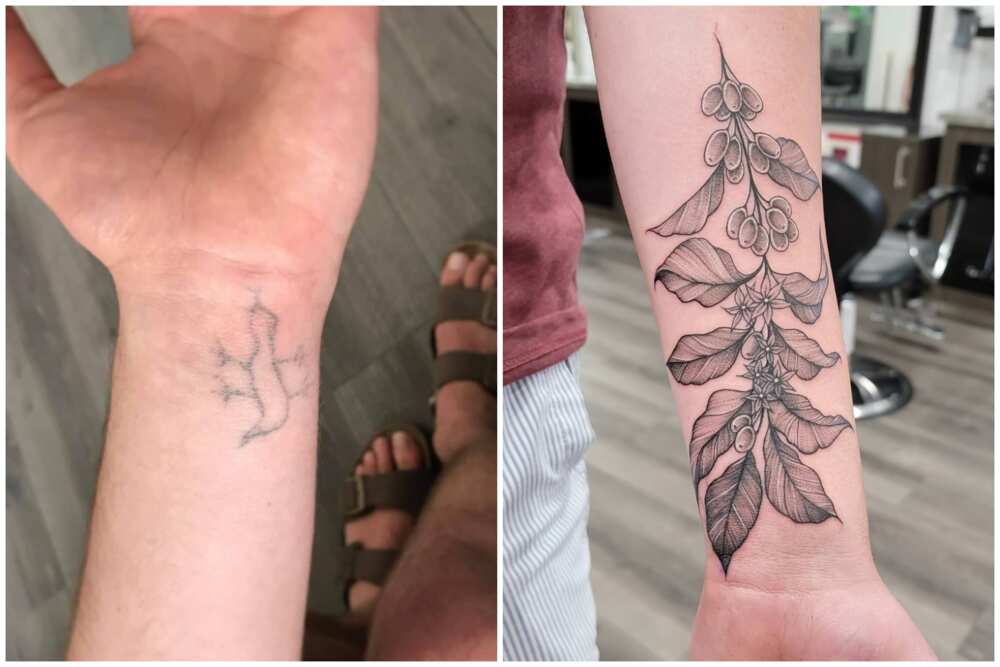 Most cover-up tattoos take up more space than the original ones. Like in the case above, the artist created a much bigger image of foliage ink to hide a small lizard tattoo.
36. Initial cover-up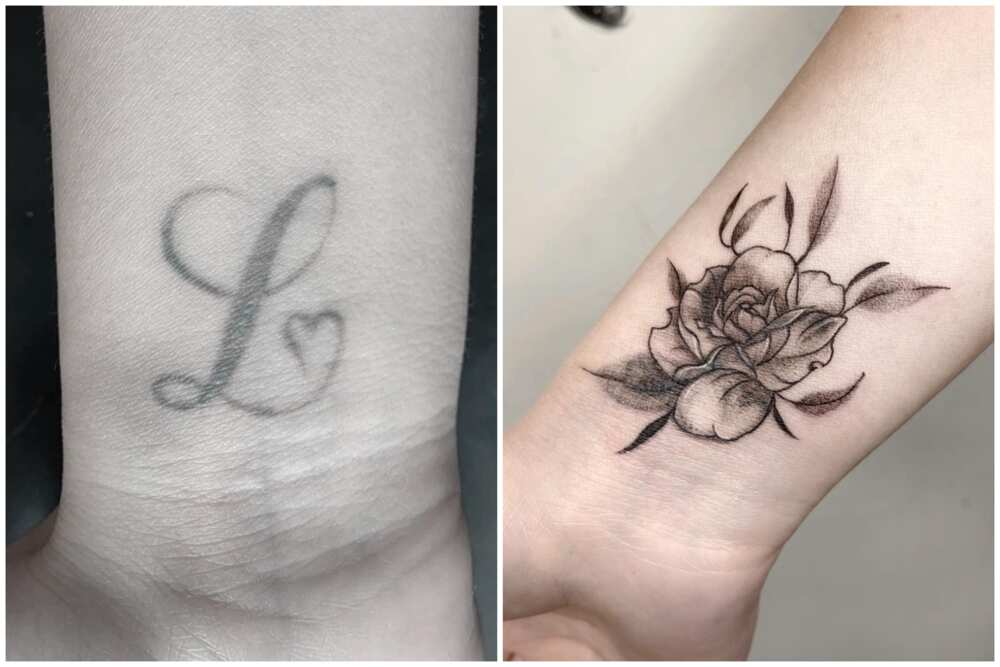 If you have not found the perfect cover-up tattoo idea, consider the initial cover-up idea. This tattoo shows how an elegant rose can be used to cover up an old design.
37. Symbol tattoo cover-up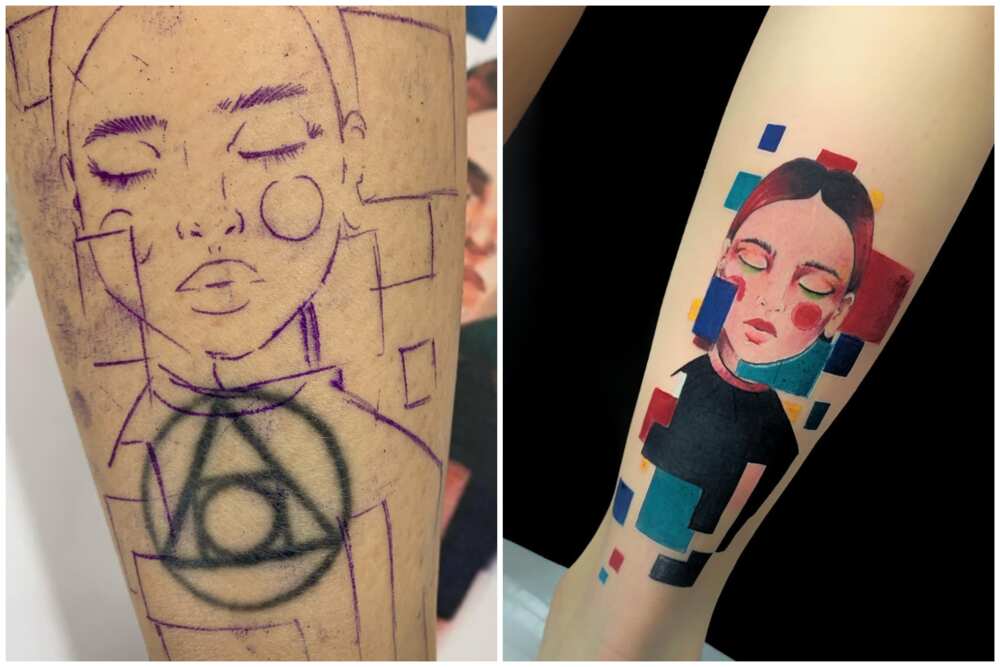 Symbols mostly have relevant significance for the people who get them inked on their bodies. However, that doesn't mean they cannot be covered up with something pertinent to your life.
38. Girly wrist snowflakes tattoo cover-up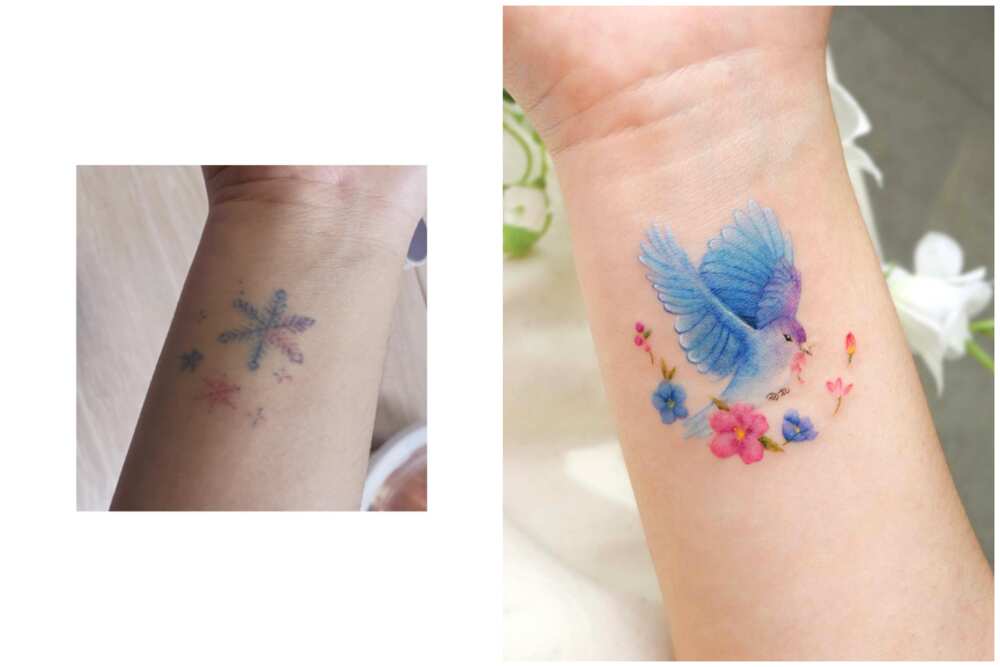 Birds are a beautiful symbol of freedom and dreams. They are one of the favourite objects of tattooist Eunyu. Covering up an old tattoo with an image of a bird can make you stand out among your peers.
39. Black sleeve tattoo cover-up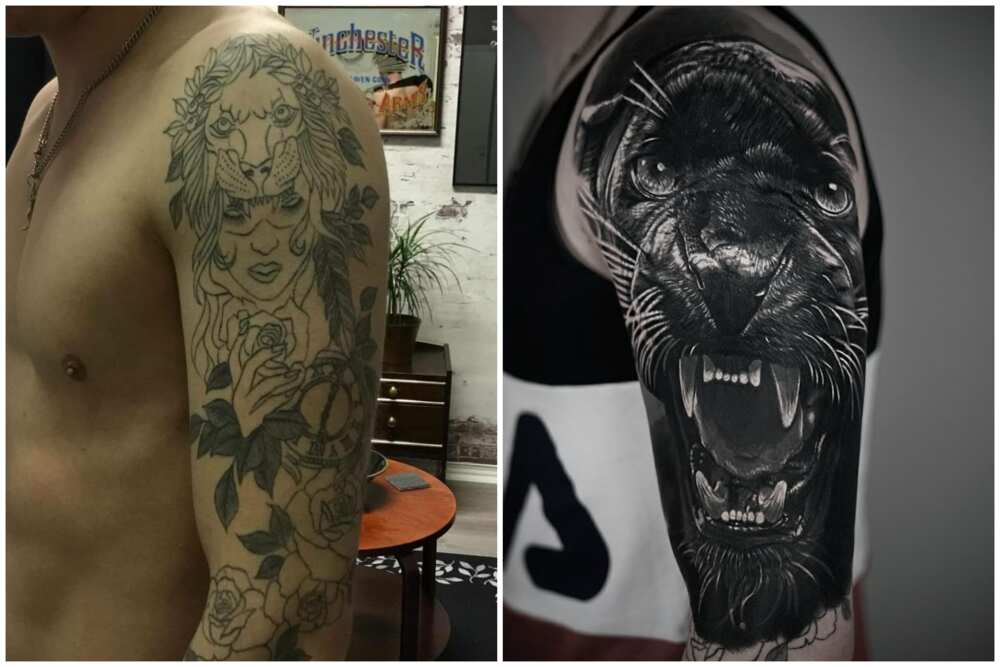 The black ink enabled the artist to cover up the previous design. The good thing about the new design is that it's way much cooler than the previous one. This is one of the best cover-up tattoo ideas for men.
40. Black text cover-up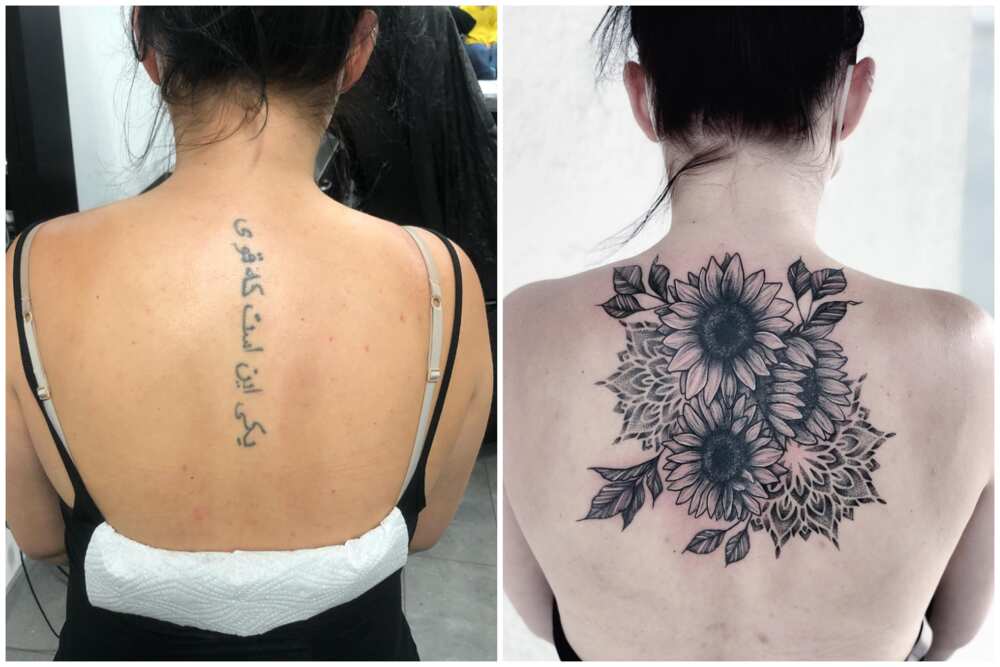 Mandala tattoo design is a symbol of balance, eternity, and perfection. In this case, the artist has used a mandala featuring sunflowers to cover up a woman's vertical text back tattoo.
41. Hummingbird cover-up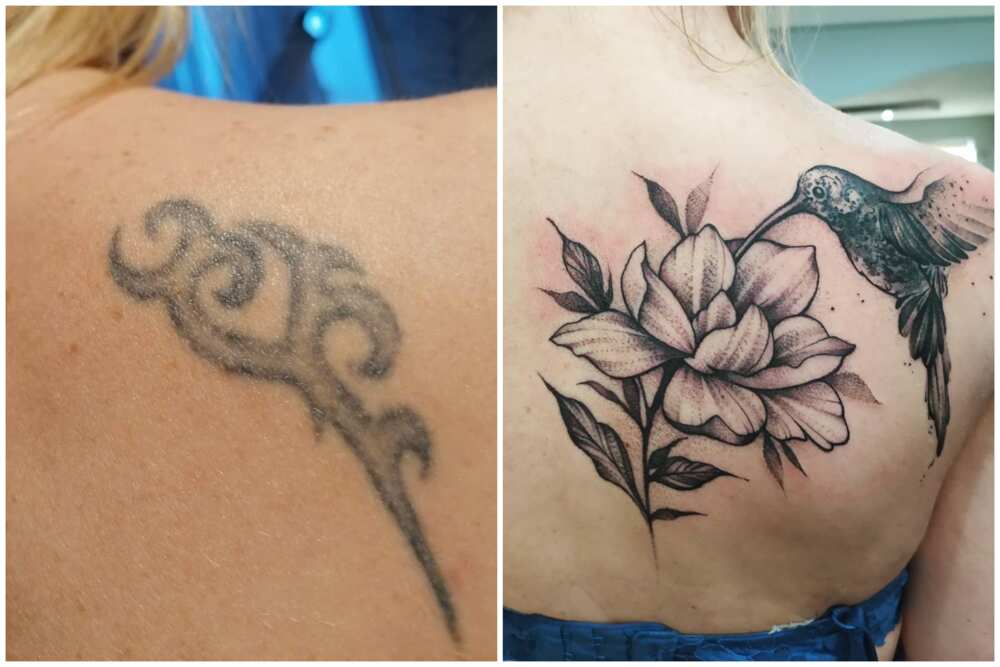 Hummingbirds are some of the best and most common cover-up tattoo designs. You can see how the existing curves and lines of the tribal tattoo have easily been transformed into a hummingbird shape.
42. Forearm tattoo cover-up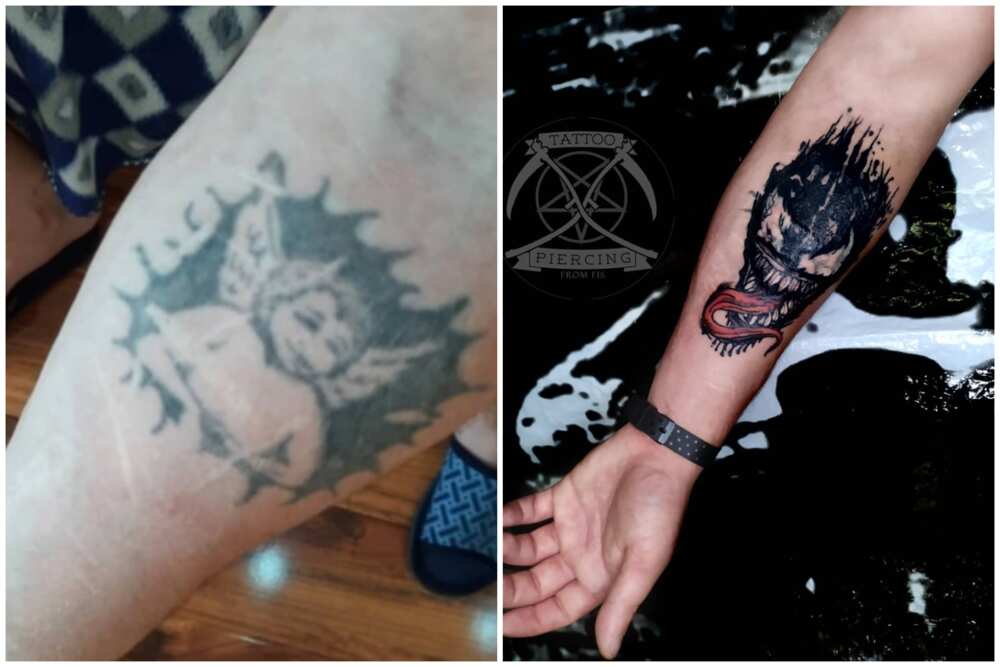 Forearm tattoos are popular among people who want to express themselves through body art. The old and new tattoos can work well in the forearm space.
43. Beautiful coloured feather tattoo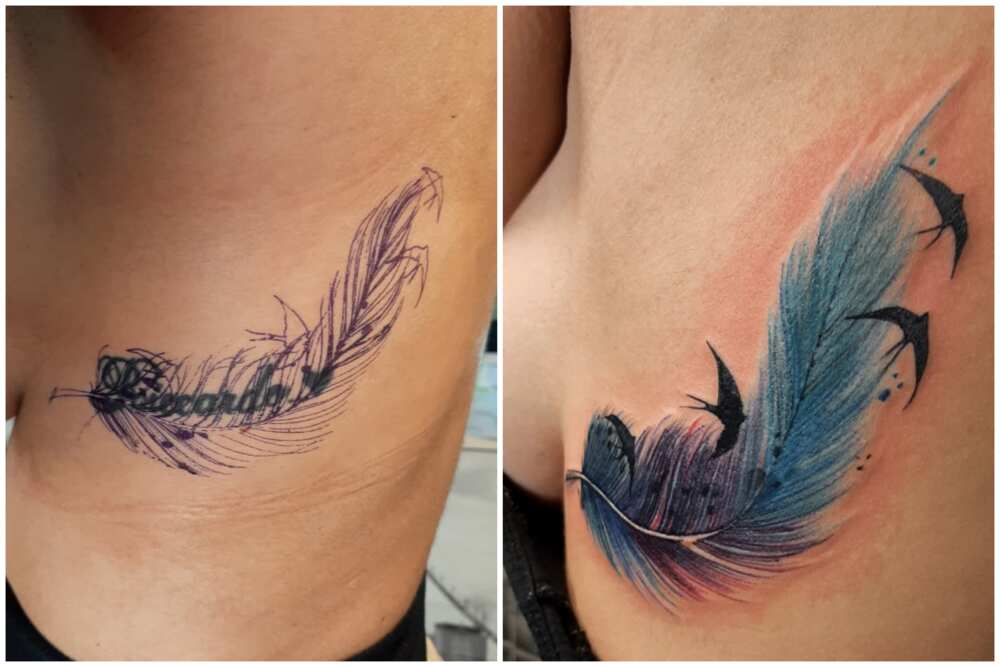 Feathers are almost as popular as flowers for covering tattoos. Apart from hiding the old design, the feather tattoo also compliments the body's curves, making it realistic, as seen above.
44. Moth cover-up neck tattoo
The neck tattoos are generally smaller than those placed on other body parts because of the small space within the neck region. In this case, the cross tattoo has been perfectly covered with a moth making it invisible.
45. Cartoon into butterfly cover-up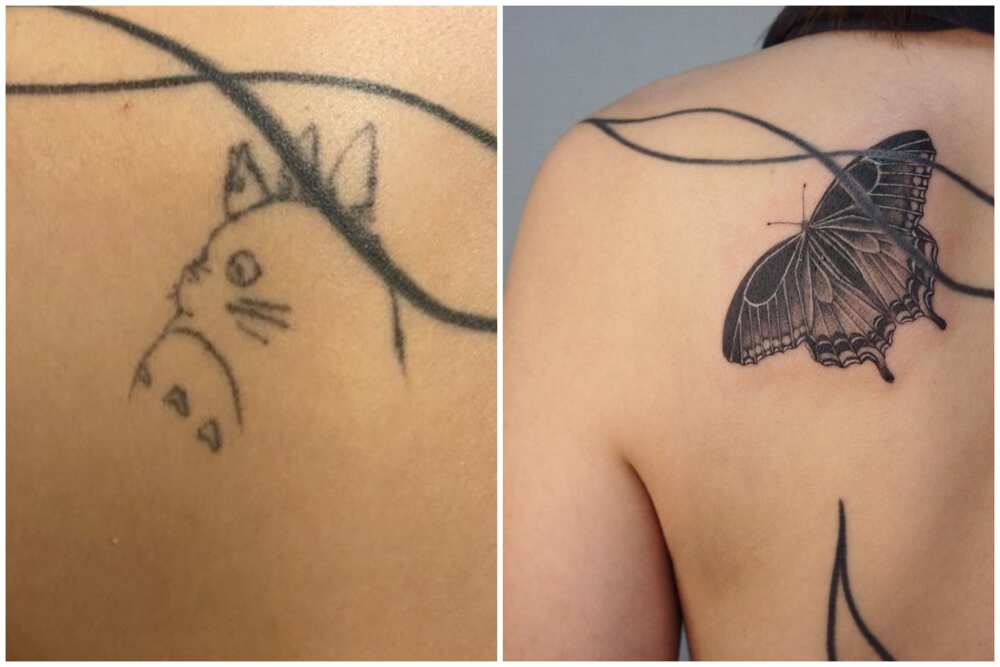 There are those who get cartoon tattoos inked on their bodies to honour their childhood heroes or for the love of animations. However, the design can be perfectly covered with a butterfly, as shown in the image above.
46. Raven cover-up tattoo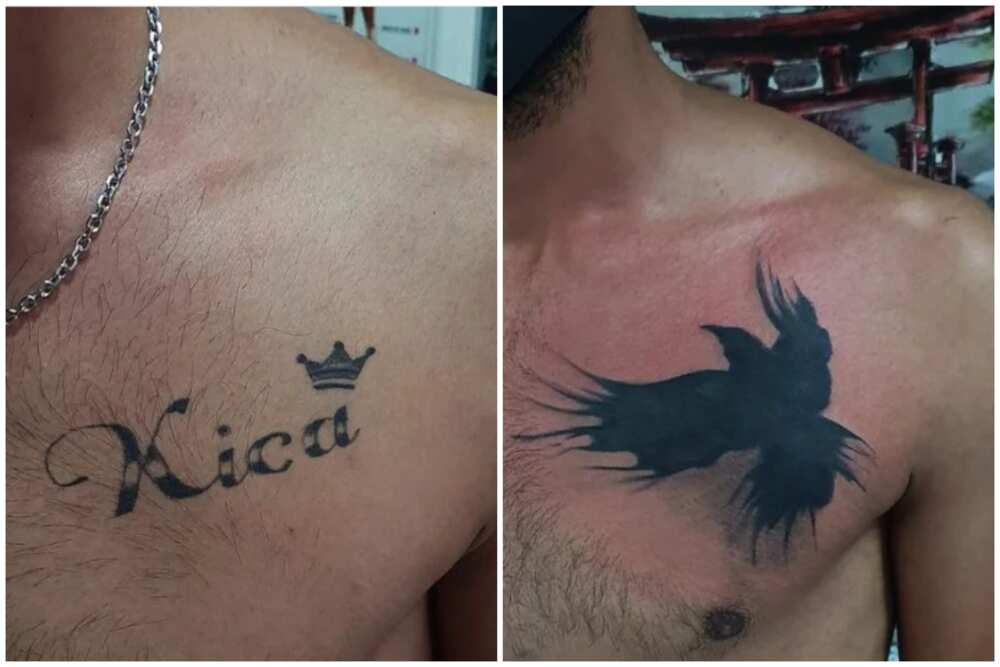 A raven is one of the best options for a tattoo cover-up. Its black colour usually symbolises prophecy and insight. The bird has been part of communication since ancient times.
47. Elephant mandala
If you want to give more characteristics about yourself through body decoration, you may use an image of an elephant for your tattoo cover-up.
48. Cross tattoo cover-up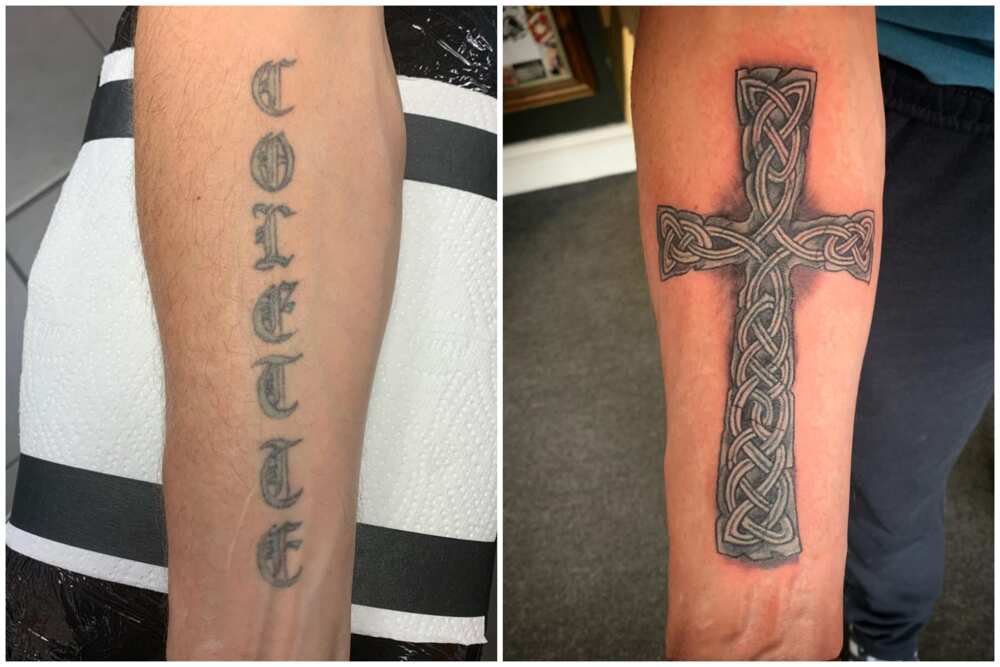 Covering up a single letter or a short word under a cross tattoo cover-up is a common trend among many people, especially among youngsters.
49. Skull cover-up tattoos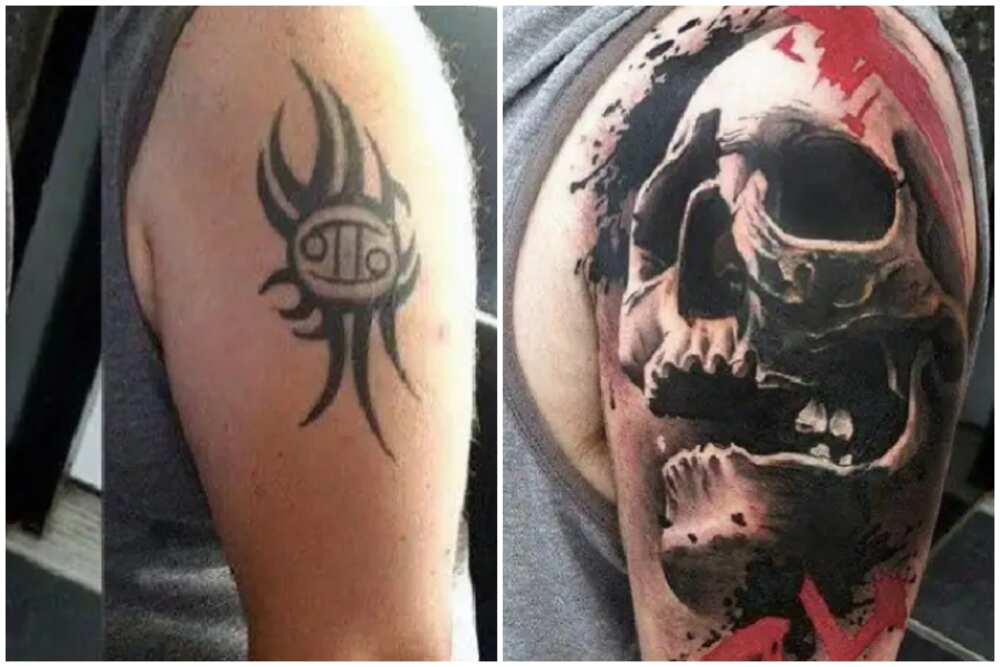 Skulls are an excellent choice for tattoo cover-ups due to their ability to incorporate several other elements. In the above image, the shadows across the skulls made it possible to hide the previous design.
50. Tribal cover-up tattoo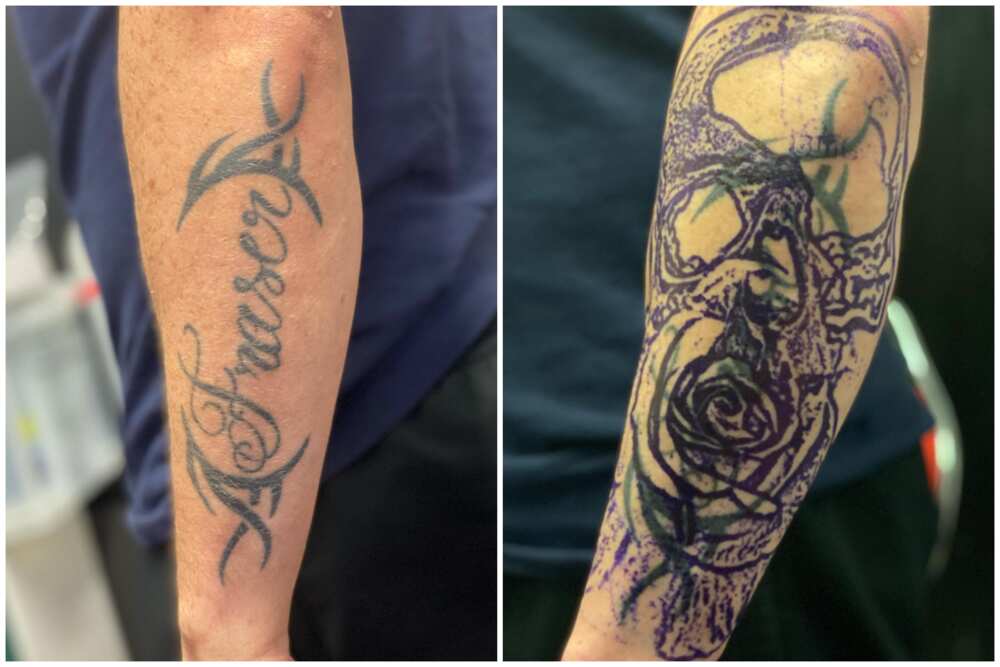 A modified tribal design is a good option that can be used to do away with the old design. Even though some parts of the old design were not entirely covered, they were designed to look like part of the new design.
The above are some tattoo cover-up ideas that offer plenty of inspiration to help you find the perfect option to hide your previous designs. You can pick on one, depending on your preference.
Legit.ng published an article about 20+ meaningful Harry Potter tattoo ideas for die-hard Potterheads. Harry Potter is a legendary story that has captured the hearts of millions of people worldwide.
The attention to detail and creativity that has gone into creating the book series and movies provides you with many unique and meaningful Harry Potter tattoo ideas, such as iconic symbols.
Source: Legit.ng