70+ Best Ankara designs for gowns to wear this year (pictures)
There are numerous Ankara designs to choose from in the contemporary world. African designers have become extremely creative in their work. They can create pieces that become show stunners and stoppers at various functions. You will definitely get inspired by the designs explored here.
The latest Ankara designs have spectacular details, styles, and prints. African fashion designers blend traditional designs from different cultures with Western styles to make unique and beautiful clothes.
Top Ankara designs for you
The African fashion industry has made international headlines ever since local designers embraced universal styles. As a result, the demand for Ankara clothes has increased significantly. Check out these designs to inspire your next African-themed outfit.
Straight-cut peplum design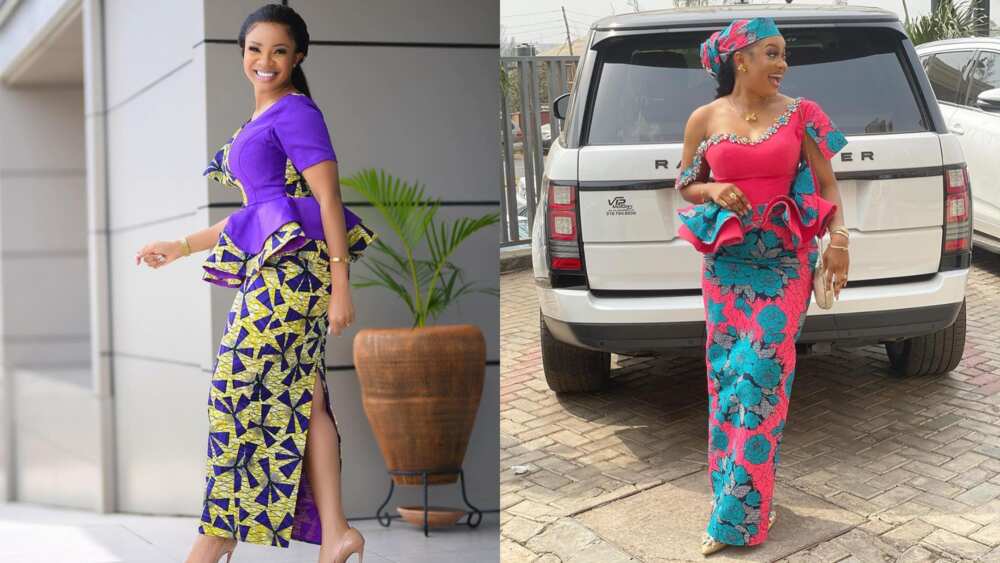 One of the trending Ankara designs for women is the mermaid style. It is popular because it flatters a woman's silhouette and gives them an hourglass figure. It pairs perfectly with straight cut maxi skirts with cuts at the back to allow easy movement.
Spaghetti strap mermaid design
The fish-cut or mermaid design is timeless. On the other hand, wearing a spaghetti strap dress perfectly balances the need for a strap for comfort and the appeal of having your shoulders open and uncovered.
Ankara tassels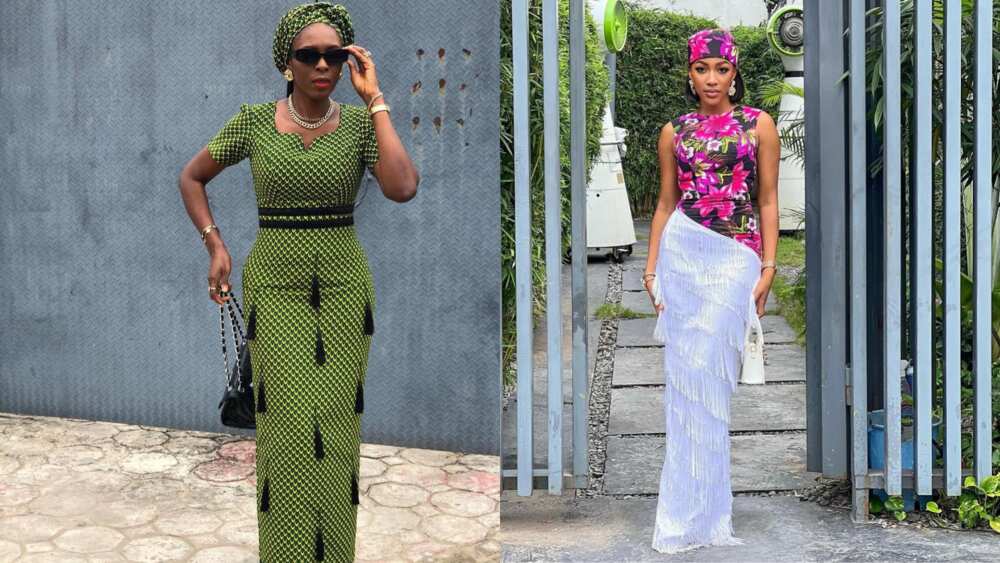 Female Ankara designs featuring tassels give a swirl and swoosh feeling. They are all the rage currently. The ruffles and frills are sleek, feminine and glamorous.
Triangle neck midi bodycon
If you are looking for classic female Ankara designs, the triangle-cut neck midi bodycon is one of the top options for you. The triangular neckline with lace is exquisite. The lacy slesves add oomph to the overall design.
Cute midi skater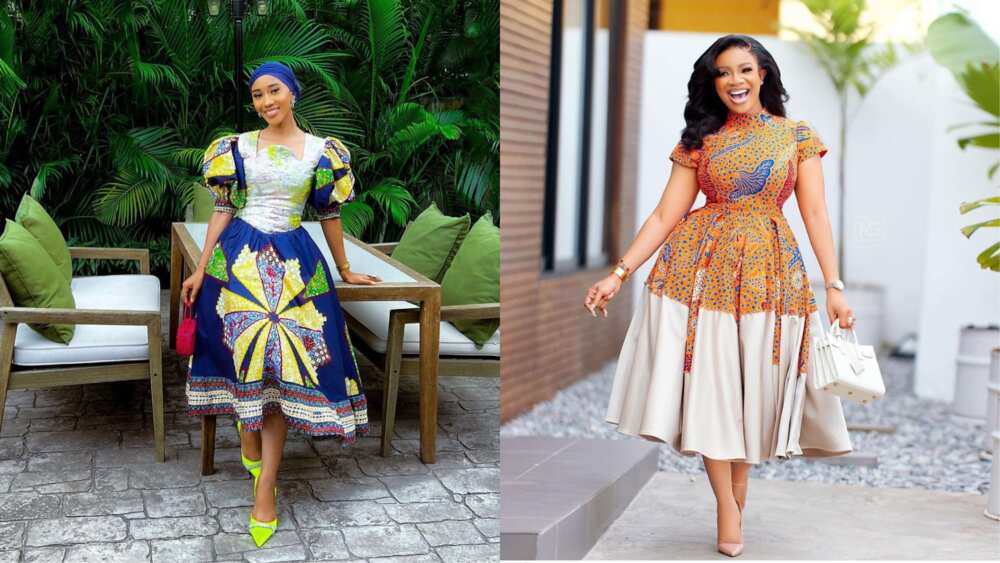 Designed to hug you in at the waist and flare out at the hips, skater dresses are ideal for creating that sought-after hourglass figure. If you are looking for a simple Ankara gown for a function, try an Ankara midi skater.
Kente mermaid
If you are an African designer or tailor, you know that mermaid Ankara styles for female clients are in high demand. The Kente fabric draws its name from the term kenten which means basket. Kente fabrics make colourful mermaid designs.
Amazing office wear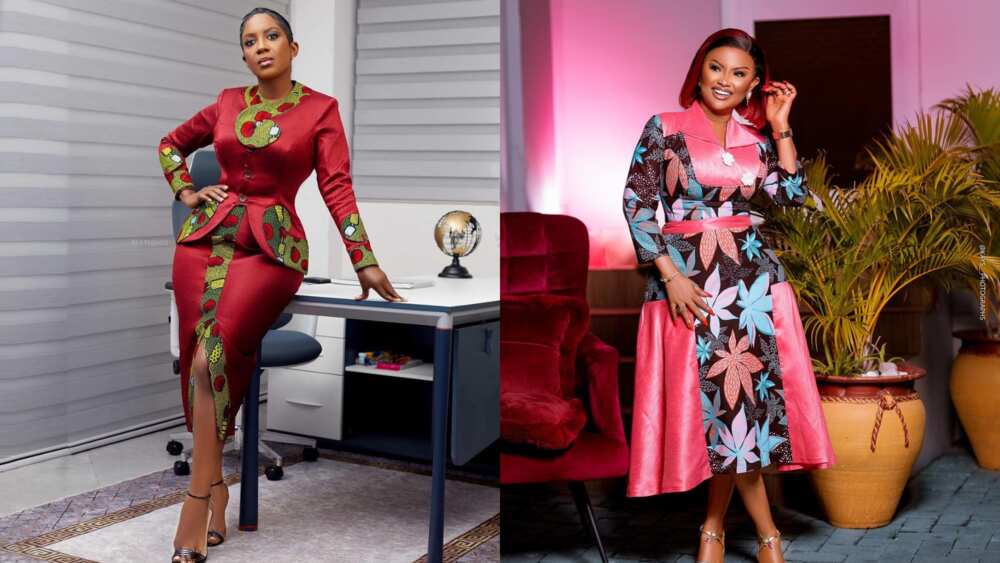 Ankara is not only stylish but fits right into the workplace. Always remember to button carefully so you do not look inappropriate for work.
Colourful iro and buba
The Iro is a wrapper made with Ankara fabric tied around the waist while the Buba is a long-sleeved blouse. The look above is perfect for social occasions.
Long-sleeved lace-Ankara designs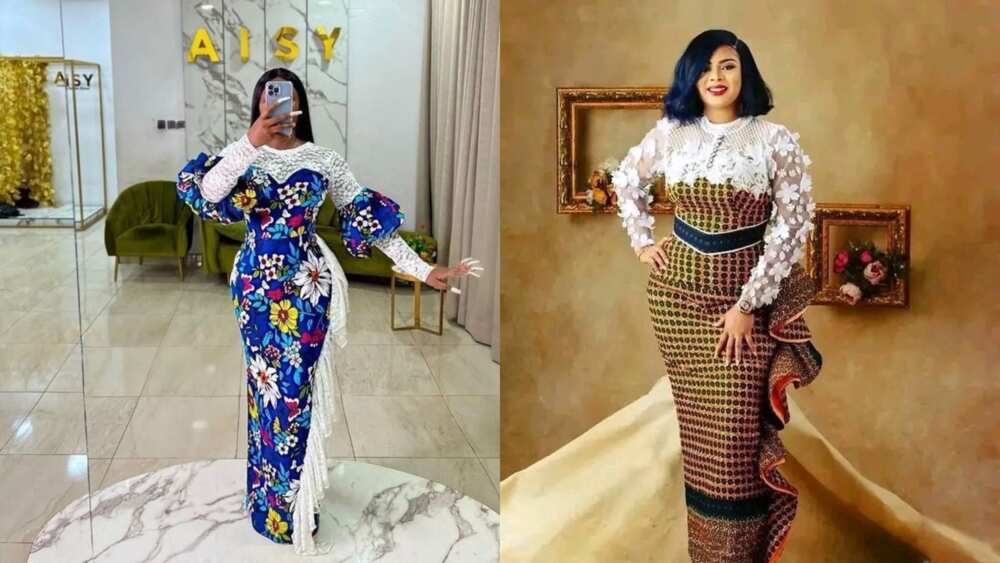 Are you looking for the latest straight and long Ankara gown styles? We have you covered. The designs blend lace and Ankara perfectly. You can have the sleeves running all the way down to your wrists or slightly above to allow room for accessories.
Rich auntie kaftan with side cuts
Did you know the kaftan originated in Asia? A kaftan is a variant of a robe or tunic. This design is one of the latest long Ankara gown styles, especially for rich aunties.
Fancy high-low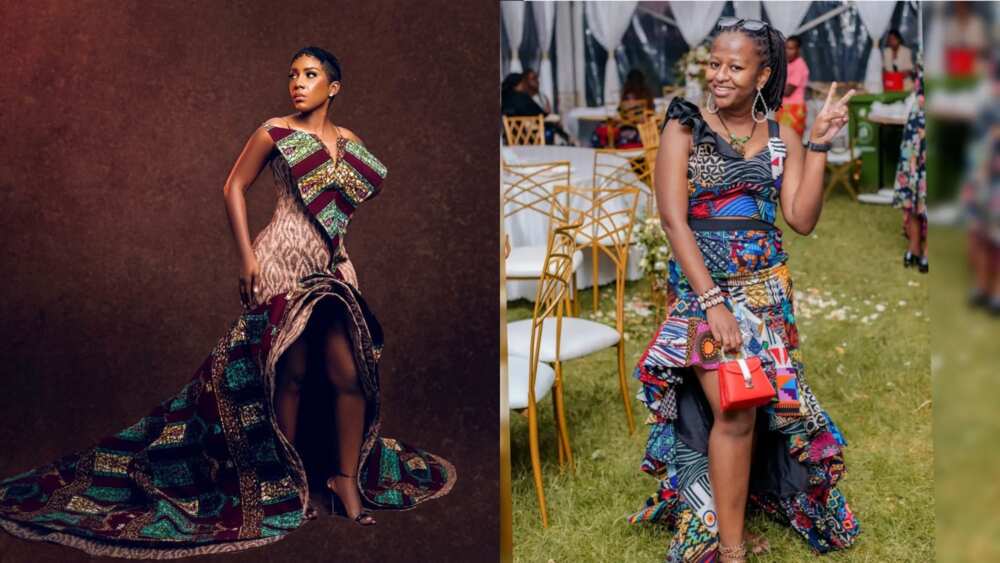 Black and white Ankara goddess
One shoulder gown
Balloon-sleeved design
Square-neck bodycon maxi
Off-shoulder bodycon maxi
Lace-Ankara high tea look
Conservative lace-Ankara boubou
Frilly-gown
Akan-inspired gold design
Lacy striped mermaid design
Satin-lace-Ankara mermaid
Lacy-Ankara midi design
Peplum with a side cape design
High-low with bow-tie deign
Halter high-low
High thigh cut design
Spaghetti-cut tank maxi
Spaghetti-cut gathered maxi
Source: Legit.ng