50 simple things to draw on your hand with a pen when bored
There are times when you just want to sit around and consider your options. In such situations, most people discover themselves drawing things down with their hands. Boredom can be relieved with simple things to draw on your hand. This will spark your imagination and have you drawing things you never imagined you could.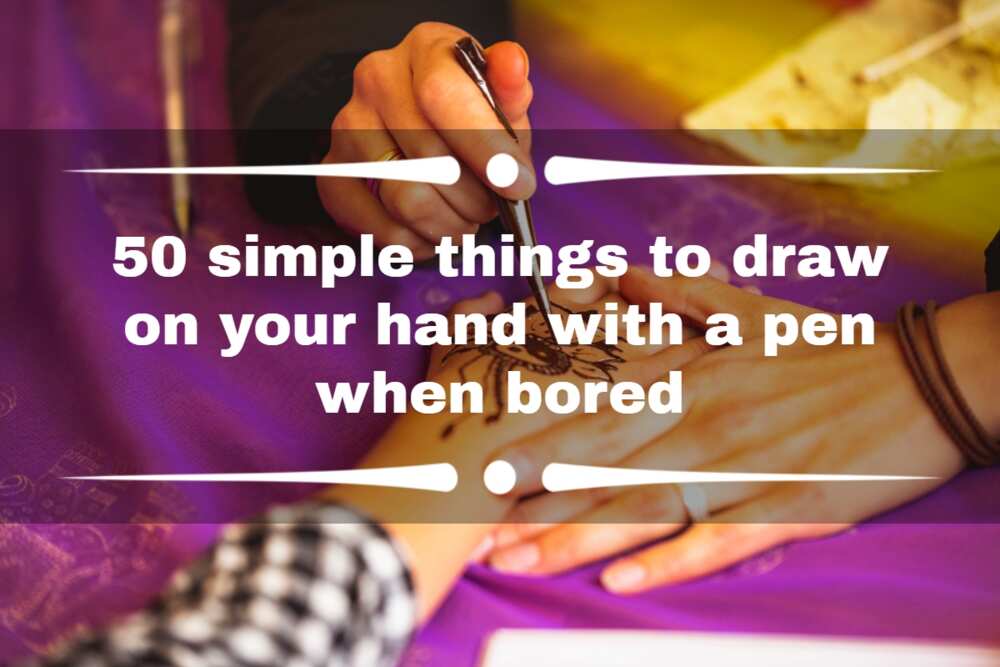 Drawing allows you to experiment with a variety of materials. It gives you the ability to imagine and create something fantastic. If you find yourself bored, try being creative with the ideas for things to draw with a pen listed below.
Adorable simple things to draw on your hand
You can keep yourself entertained while sitting idol by drawing cute things on your hands. Here are some fun things to draw on your hand at any time.
Tiny, smiling sun: This is one of the fun things you can do to kill your boredom. You can use a blue pen to draw the sun and colour it with a red one.
Cute little puppy: If you love puppies, then you can take your time to draw your favourite little friend.
Cartoon heart with a face: Cartoons are cute, especially if you draw one of your favourites. The image may not necessarily resemble the exact cartoon, but at least it can try to bring out its features.
A simple flower with petals and a stem: Flowers are beautiful, and they symbolize love. You can opt to go for a more popular rose flower.
Little ladybug: These much-loved critters are also known as ladybeetles or ladybird beetles. Most people like ladybugs because they are pretty, graceful, and harmless to humans.
Bird or birdhouse: Birds have always been symbols of peace, freedom, wisdom or, sometimes, power. People have commonly included birds in their living premises.
A cartoon unicorn with a mane and horn: Unicorns are frequently depicted with a mane and tail of long, flowing hair in various colours, such as rainbow or pink.
Smiling bumblebee: This can be an enjoyable approach to show off your originality. Drawing this can demonstrate your appreciation for the movie Maya the Bee.
Happy butterfly: Butterflies are widely used as a metaphor for change and transformation. You might be reminded of the possibilities for change and progress in your life by drawing a cheerful butterfly on your palm.
A cartoon panda with a cute face: Pandas are a well-liked topic for cartoons and graphics because of their reputation for being cute and cuddly looks.
Aesthetic thing to draw on your hand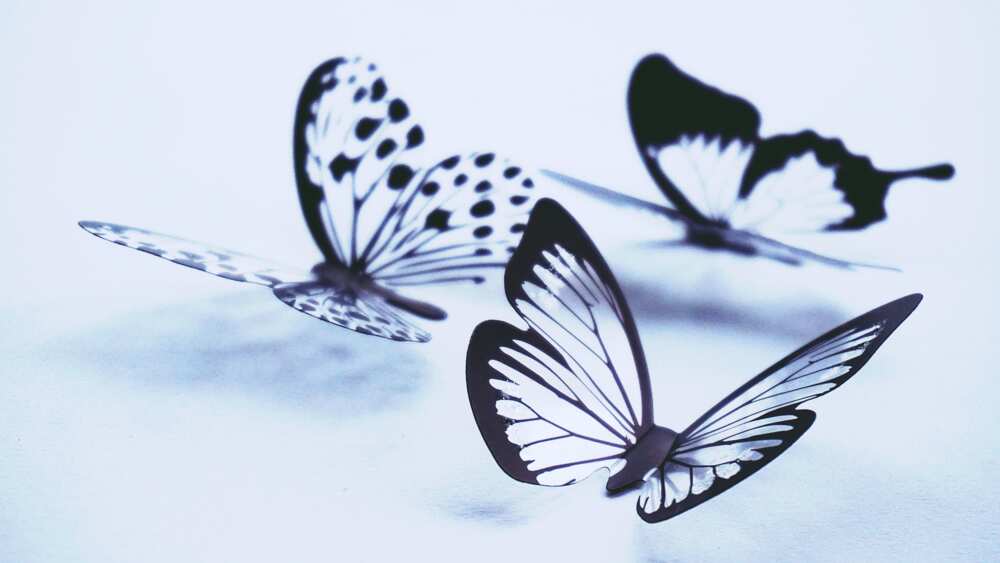 Are you a big fan of aesthetic concepts? If so, use your spare time to create different designs and art. Below are things to draw on hands with a pen.
Polaroid clouds: Clouds represent life's tenuous, ever-changing nature.
Shooting stars: They are a sign of good luck; if you are experiencing anything great in your life, you can draw this.
Geometric pattern: You can sketch designs like henna or mehndi. This kind of self-expression can be lovely and profound.
Jellyfish: They stand for simplicity, movement, instinct, flow, and survival. They instruct you to follow life's natural course rather than trying to control it.
Feathers and beads: Feathers are associated with freedom and liberation, while beads symbolize unity or togetherness.
Mountains: If you love nature, you can use mountains to symbolize constancy and permanence and signify the state of absolute consciousness at its peak.
Abstract shapes: A great example of an abstract shape is a stick figure representing a person.
Latte: Are you fun of drinking a latte? Latte art can symbolize a celebration of these small pleasures and a desire to savour the moment.
Moon phases: Moon is often depicted as a symbol of the feminine.
House: Another creative and easy thing to draw is a house. This gives you ideas and imaginations of what you would love your house to look like.
Cute things to draw on your hand
Drawing on your hand allows you to express your creativity and imagination physically. Here are some suggestions to get you started.
Hearts: You can draw a bunch of small or big hearts.
Quotes: Write a short quote or phrase that inspires or makes you happy.
Animals: You can draw a small animal like a cat or dog or even a bigger one like an elephant.
Music notes: If you love music, the music notes can be a good deal to help you kill boredom.
Names: Write the names of your favourite person or thing tagged along with some love words.
Wave illustration: Waves are often associated with the ocean, which is a powerful force of nature. Drawing a wave on your hand can represent your connection to the sea or your love for water-based activities like surfing or swimming.
All-seeing eye: This is a very simple design to draw on your hand. It features the all-seeing eye with an elaborate border and some sharpie detailing.
Birds: A sweet little bird perched on your hand is an easy thing and a lot of fun to draw. Use different colours to make your bird pop!
Circle drawing: You can create circles of anything. You can have ideas like a ball, rings, or anything that is circular.
Cactus: Cute cactus drawing on your hand is fun for anyone who loves prickly things; they also make cool drawings and help you practice your drawing skills.
Easy things to draw on your hand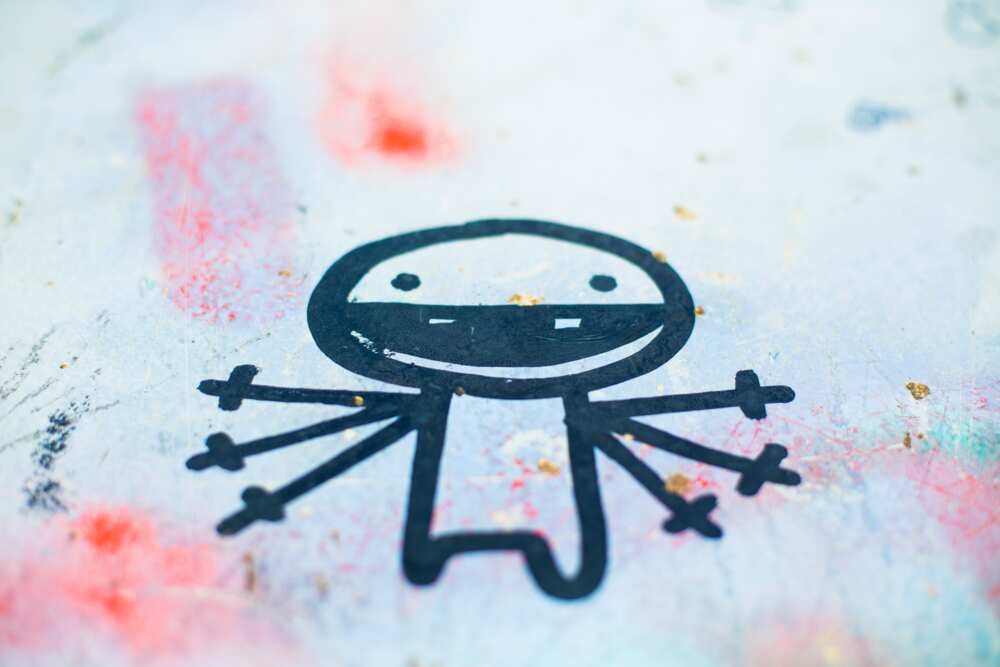 You can easily draw a lot of things on your hand. You can exercise your creativity by attempting some of the suggestions listed below. This is a great method to keep yourself busy and prevent boredom.
Arrows: They have come to represent protection and defense from any evil that can come to you.
Pawprints: They expresses affection about our pet dogs and cats, and sometimes other critters
Cats: This can act as a temporary tattoo and give your style an intriguing aesthetic component.
Dolphin: You can use it to express your affection for nature or to remember how much you adore these magnificent creatures.
Doughnuts: If you enjoy eating doughnuts, you can create various shapes just to help you be creative with your ideas for your next cooking
Fish: These water creatures are associated with prosperity and fortune. Fish is also a symbol of fertility.
Flamingos: Some features related to flamingos include beauty, balance, potential, and romance.
Fruits: They serve as a representation of the transient nature of your existence.
Mermaids: Are you a fan of mermaids? They signify life and fertility within the ocean.
Planets: You can draw planets according to their appearance, from the smallest to the largest. This a great way to help you memorize the planets.
Things to draw on your hand with a pen
Unlike tattoos or permanent markers, drawings on your hand can be easily washed or rubbed away, allowing you to experiment with different designs without committing to anything long-term.
A small snail
A balloon.
A moon, sun and the stars.
A cartoon dinosaur.
A skull with blazing flames.
A love sign with music beats.
An arrow in a fist tail.
A tree with fruits.
A bowl with fruits.
A child sleeping on a bed.
There are numerous simple things to draw on your hand. All it takes is a little imagination and avoiding making your drawing too complicated. You can use different types and colours of pens to create a one-of-a-kind design that can be used as a temporary tattoo.
READ ALSO: 100+ funny shower thoughts to ponder while you shampoo your hair
Legit.ng recently published an article with 100+ funny shower thoughts to think about while shampooing your hair. It is normal to have ideas while in the shower. You may find yourself pondering amusing things and even asking entertaining questions to which you may not find answers.
These thoughts allow you to think more deeply, which is a good brain exercise, especially when relaxing in the shower. You might enjoy these amusing shower thoughts if you've never had this experience.
Source: Legit.ng