Best hairstyles for black girls
Every black girl wants to have a beautiful natural hairstyle that will make her stand out from the crowd and look different from her peers. If you think that girls with natural hair may experience struggles with originality and creativity of their hairstyle, you are definitely wrong. Here are some of the best hairstyles for black girls!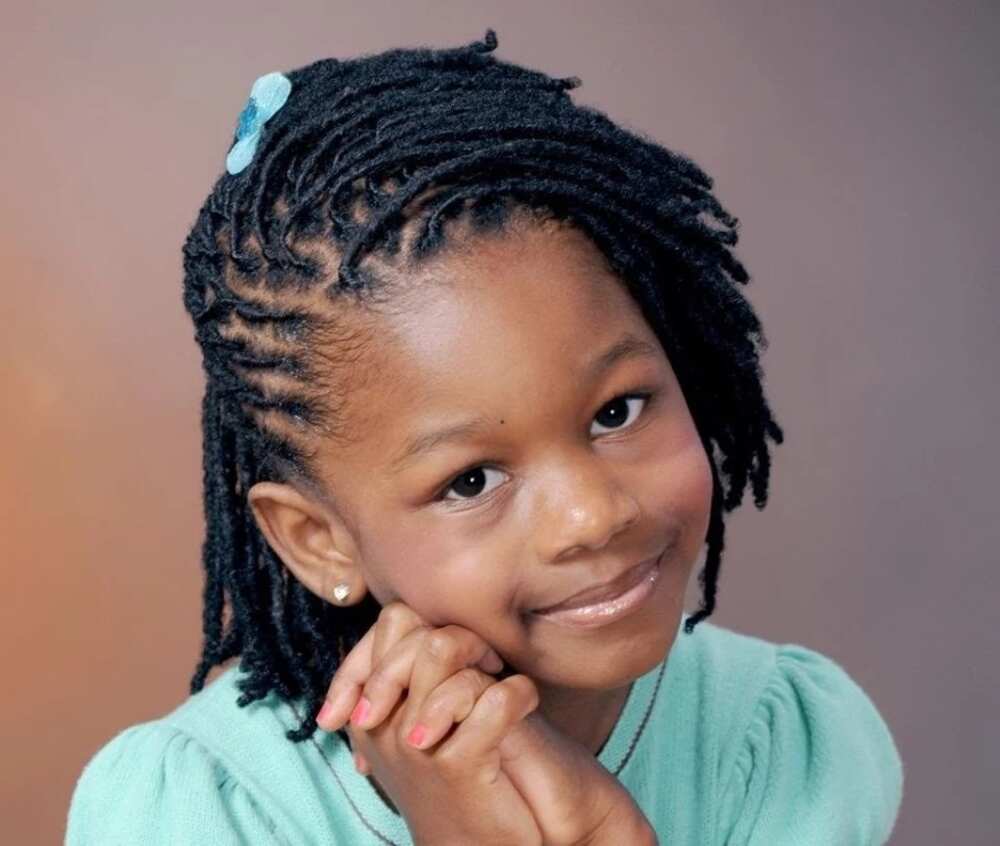 Natural hairstyles for young girls
Even though you may not realize it, every little girl needs a marvelous hairstyle more than anything because she wants to be a fashionista from the early age. So, you should help her out to make something more imaginative than simple braids, short haircut or a ponytail, which might look monotonous because every other child wears them. Besides, your daughter needs a protective hairstyle to prevent different environmental factors which could mess with her hair and ruin its health. There are a lot of hairstyles for girls, through which they can express their individuality and look cute.
Here you will see some of the most relevant and interesting hairstyles for kids. Spot out the one you and your little girl love the most, and help her create a masterpiece on her head. And never forget to ask her if she really likes this hairstyle – after all, she will be the one wearing it!
Braids for kids
Our first section will consist of Ghana weaving styles for kids. With these beautiful weaving styles, your child will always feel like a princess. Check out these trendy braided hairstyles that could be perfect for your daughter, niece or younger sister.
1. Twisted Mohawk
This hairstyle will not only give your little girl a modern and stylish vibe, and make her different from the girls who wear classic braids or twists. Above everything else, it is really practical, because the young girls with long hair often complain about their locks getting in their face a lot. It can be bothersome during studies or when the weather is windy.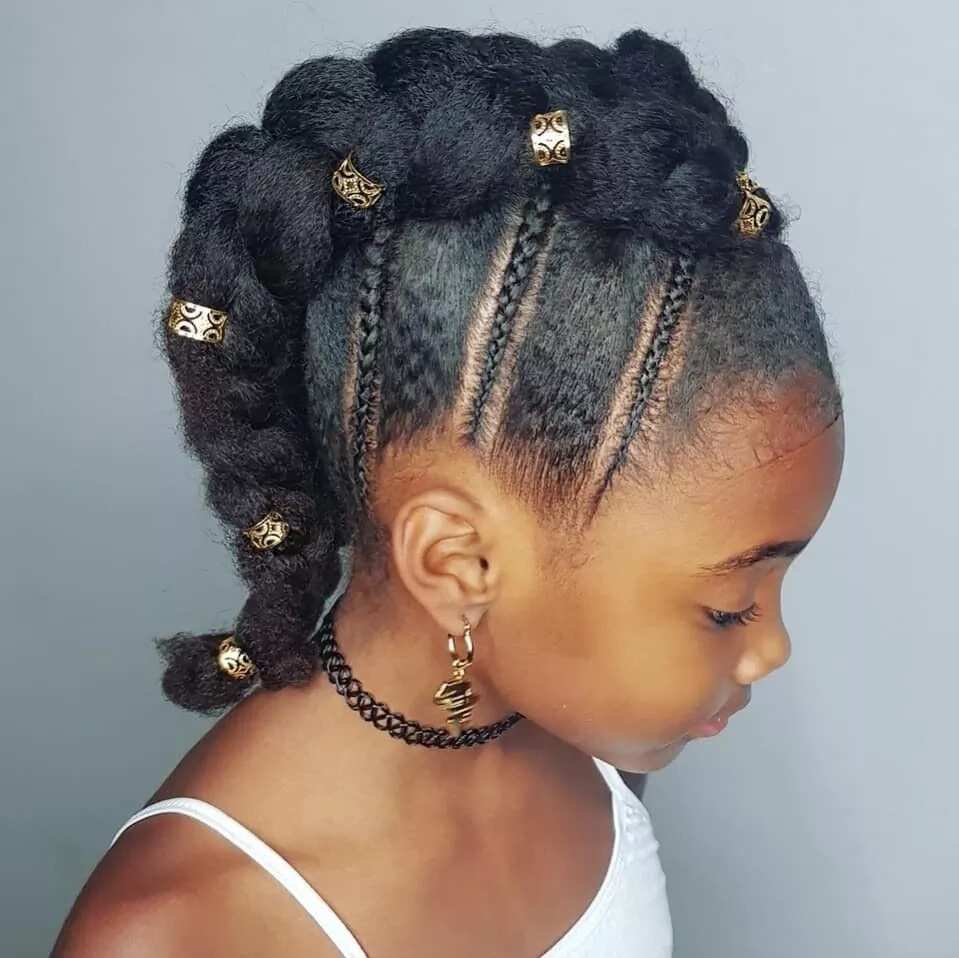 2. Cute natural pigtails
What is more youthful and sweet than two cute pigtails? They look even better on natural hair. Except that, they are known to do a good job protecting the young one's head from different detrimental factors. You can make her pigtails symmetrical, or you could also opt for originality and design them asymmetrically. It is up to you and your girl's preferences. By the way, another good thing about this hairdo is that you can wear different nice scrunchies every day, and match them to the outfits.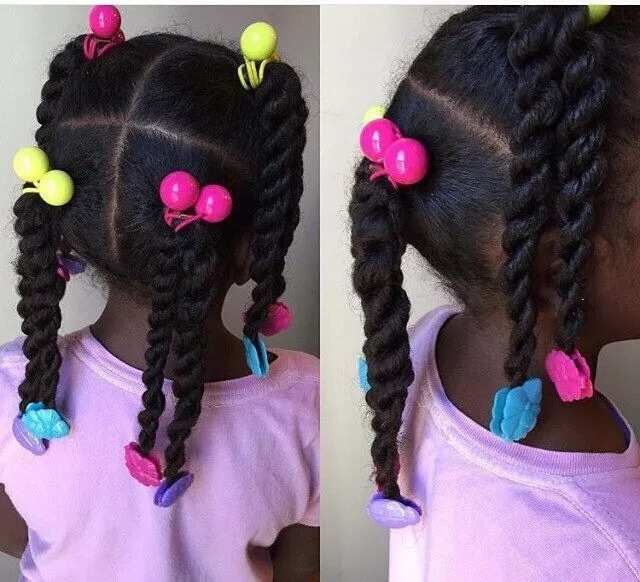 3. Braided buns
What about braiding your girl's hair into dozens of thin cornrows, and wrapping them into a bun? This look will definitely suit the serious girls who are determined and never give up on the way to their goals. Also, this is a nice style for those who want to become royalty at least for a day. The various cornrow patterns leave a lot of room for imagination, and the buns give a truly fun vibe, which is perfect for young children.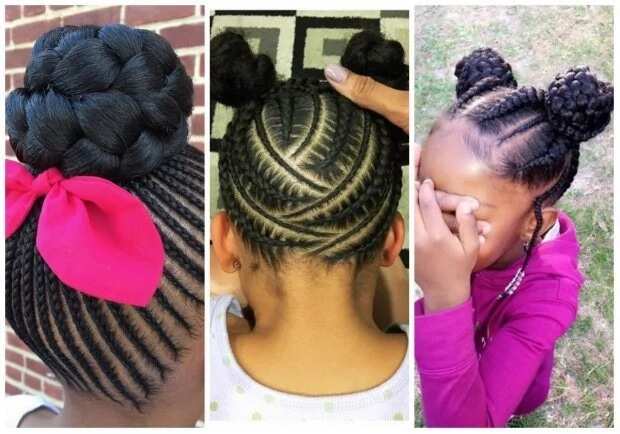 4. Ponytail with cornrows
The regular ponytails are good, but what about the ponytails with creative cornrow patterns? There are thousands of different options that you can design on your girl's head. Besides, the ponytail will look sweet on top of her head, decorated with interesting scrunchies. This is one of the most convenient hairstyles for girls, especially for those who have a lot of energy inside them and always need to let it out. With this hairstyle, the unnecessary locks in the face will never bother your little lady, and she will be able to wear the hairstyle for a long time, without ruining her look.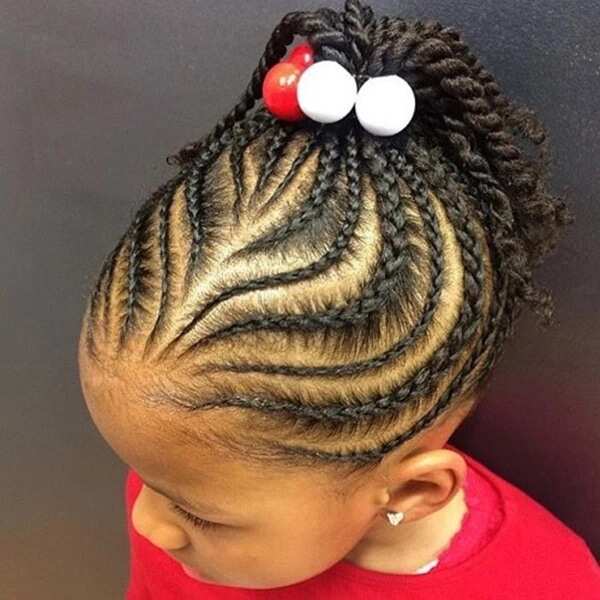 5. Braided Mohawk
We have already seen the twisted Mohawk style, but how about the memorable braided one? It will draw everyone's attention to your girl and inspire people for coming up with creative hairstyles. This hairstyle will also boost her confidence and make her feel like she is the most elegant girl in the world. For the better effect, you will have to blend the natural cornrows with the hair extensions, which will create beautiful Mohawk out of the buns. Your girl is guaranteed to blow everyone's mind with this lovely hairstyle.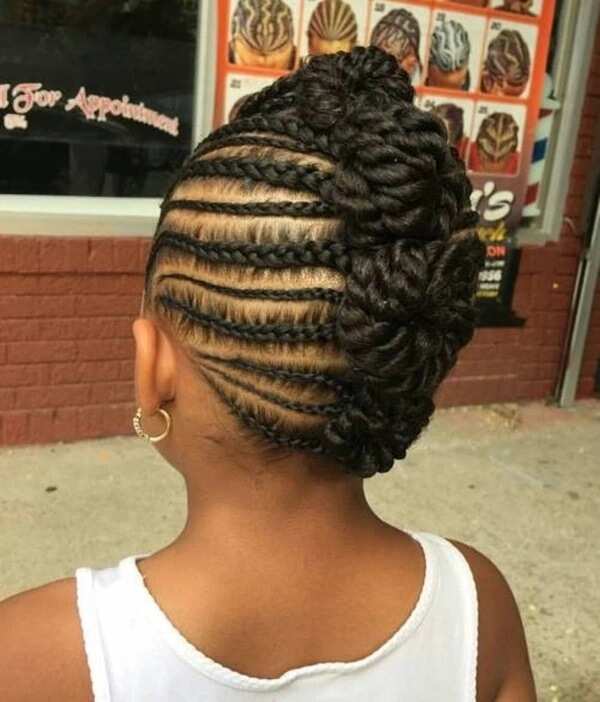 6. Sweet little bun
This is probably one of the easiest hairstyles, which you can create without the help of professional hair designers. You can just weave some lovely cornrows out of your girl's hair, and then make a bun out of them. It works best if she has long hair, but it would also work well with the short one. This is one of the most classic and cute hairstyles for girls of any age. Also, it will be perfect for teaching your daughter to sit through the cornrow braiding, before you take her to the professional hair stylist or attempt more complicated hairstyles.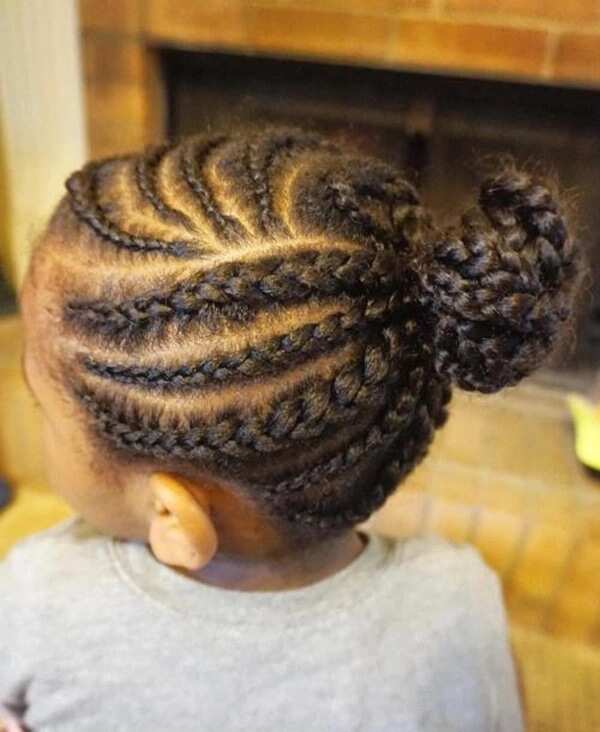 7. Smooth high bun
Does this hairstyle remind you of the watermelon? It is so smooth and neat, and it would probably earn the title of perfectionist's paradise. If you and your daughter are the lovers of neat classic, you can weave some parallel cornrows and then wrap them into a cute bun. Along with the general attractiveness and appeal of it, you can also add some accessories like colorful scrunchies and beads.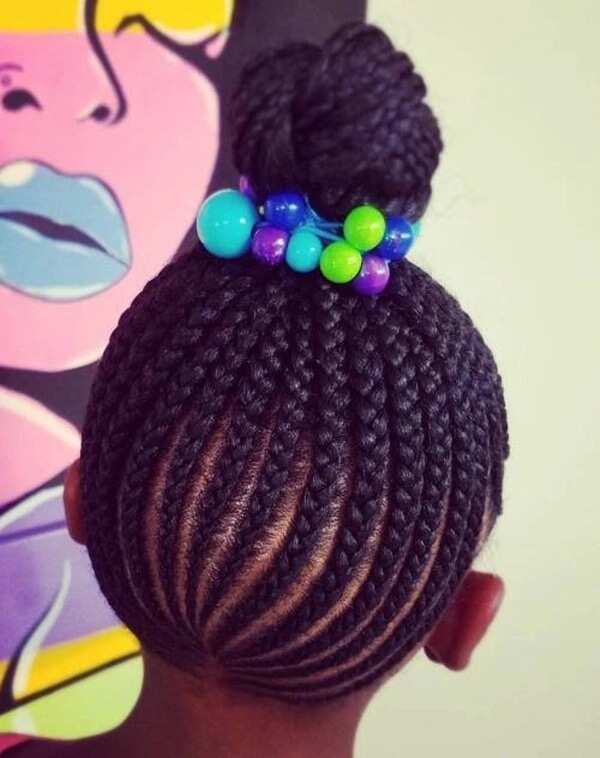 8. Dutch braids
Both adult women and young girls love Dutch braids, because they give a refreshing and positive vibe, and add the volume and extension to the hair. Braiding them is not that difficult, and you can do it on your own if your girl has long and thick hair. Be sure not to make the braids too tight, to avoid the uncomfortable effects and pain.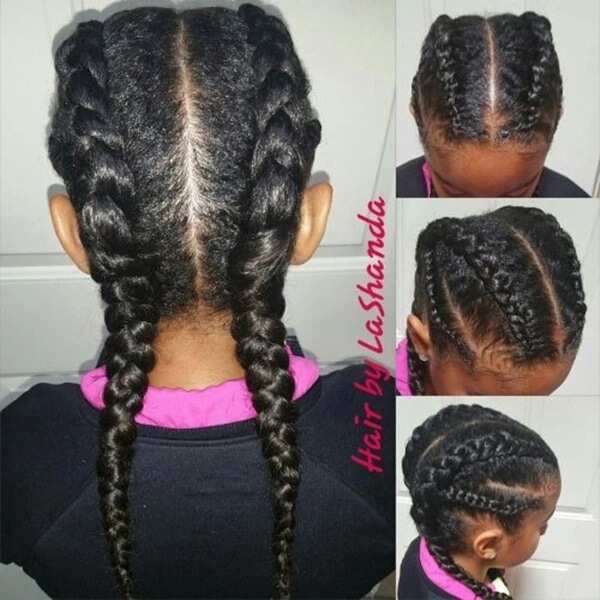 9. Cornrow crown braid
If you want to make your little girl feel like she is a princess, and enhance her confidence, you should definitely weave a Ghana cornrow crown braid on her head. Not only this is the unique hairstyle, but it is also protective and easy to wear. It will showcase the gorgeous face of your little beauty and make her look appealing to all the peers. Most importantly, she will look in the mirror and love her reflection.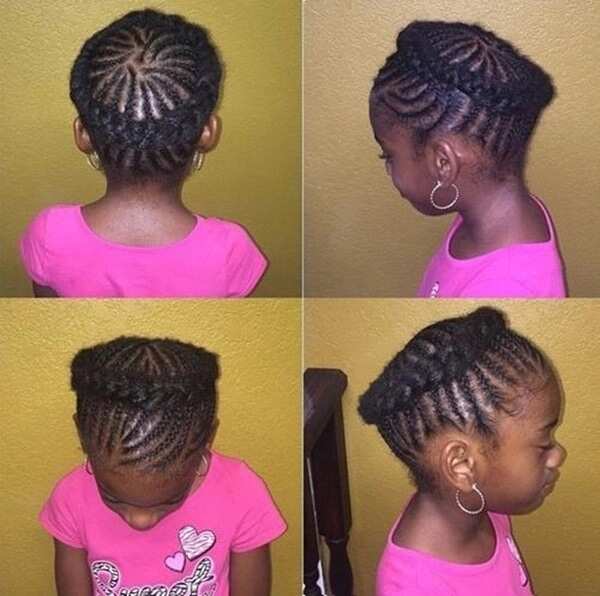 10. Thick box braids
Every girl probably dreams of beautiful thick box braids that can capture everyone's attention. They will add volume and texture to the hair, and give an opportunity for many different hairstyles that you can make out of the braids – ponytails, buns, pigtails and so on. Thick box braids is really a universal hairstyle, and you can do anything you want out of it.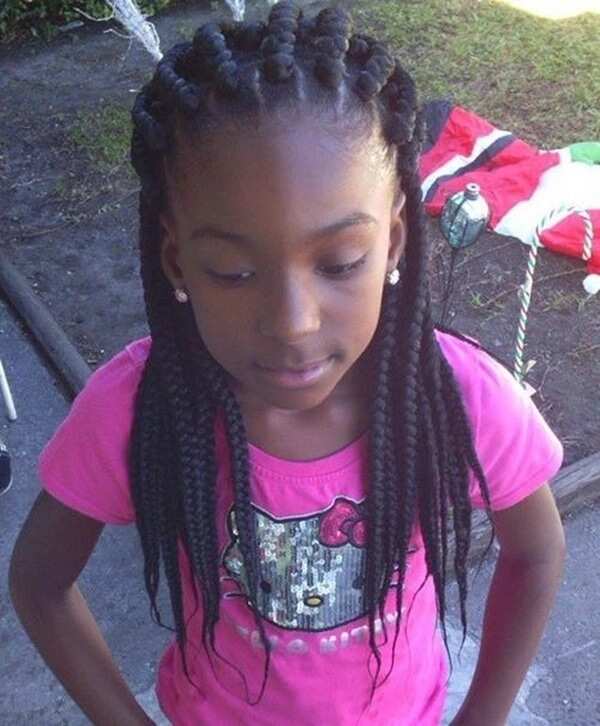 11. Chunky twists
If you are not up to creating a masterpiece on your child's head, you can leave it to the qualified hair stylist, who can truly do magic to the hair of your daughter. Chunky twisted braids look extremely attractive, and you have to be prepared for your child setting trends when she appears in public with this awesome hairstyle.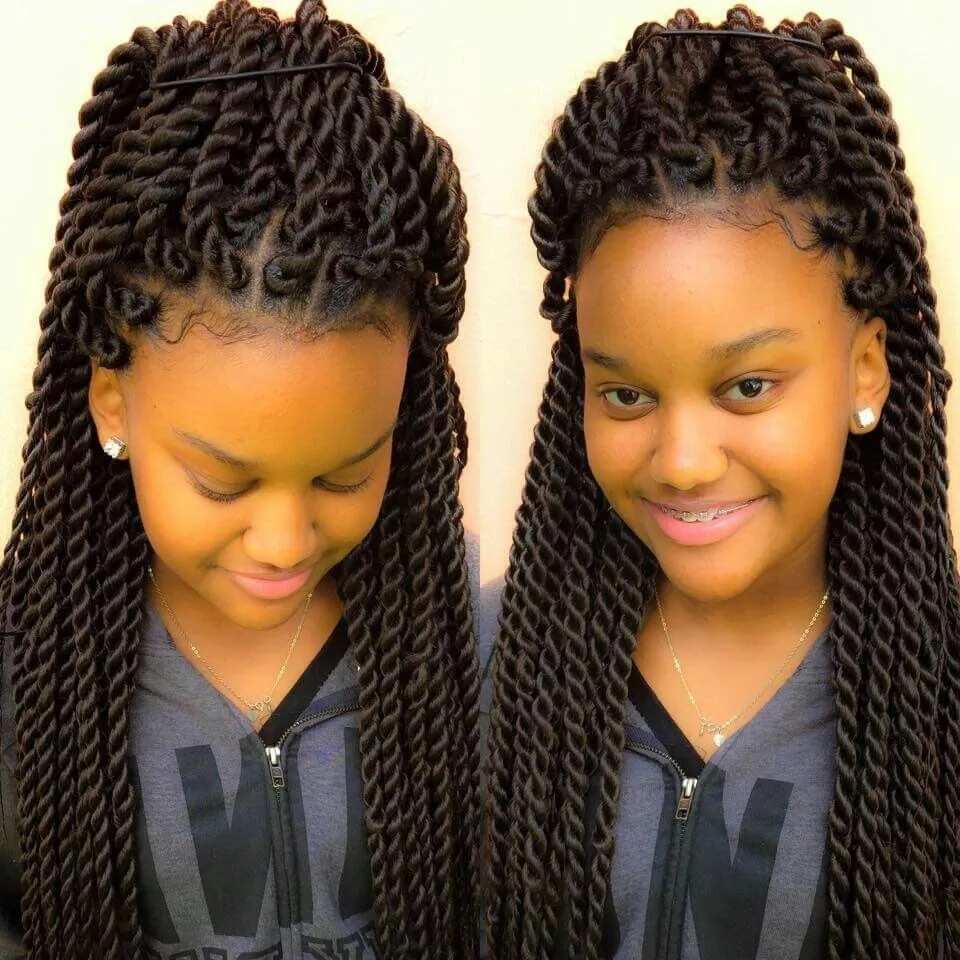 12. Black natural curls
Before, we have offered you braided hairstyles. However, some children have hair that would be better loose, without weaving it into braids. If your little girl has natural curls, you have no idea how lucky you are. This is the elegant and stylish choice, which is also timeless. You can wear it just how it is, or wrap it into a ponytail. Either way, there is no girl that would not look super cute with the curls.
READ ALSO: Kids braided hairstyles with beads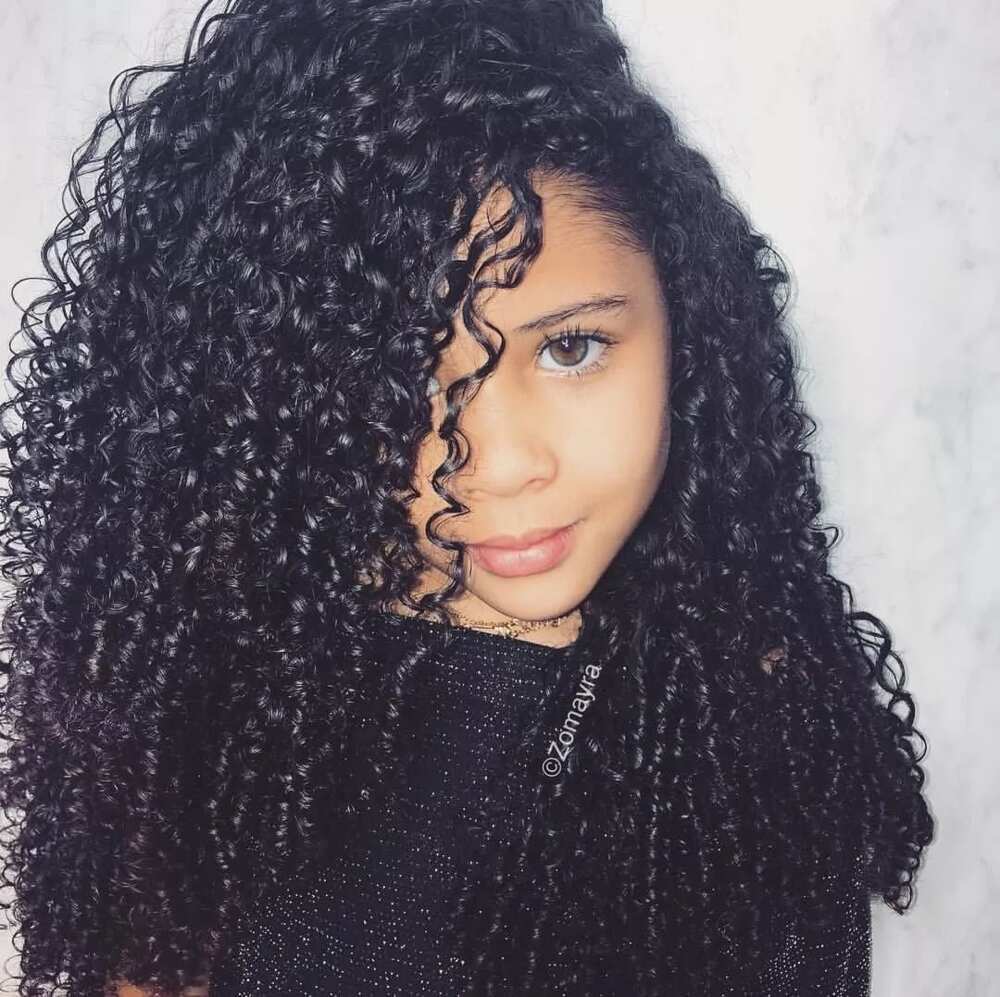 Black kids hairstyles with beads
Children adore beads, and these accessories can be used for creating the most imaginative and interesting hairstyles. Every single natural hairstyle with braids can be beautified with beads. Here, we will show you some uses of this material.
1. Beaded pigtails
The playful and innocent vibe of this hairstyle can not be left unnoticed. Every girl will love these little colorful beads on her spunky and messy pigtails. Except for beads, you can also use ribbons and colorful extensions if your girl wants to look really special.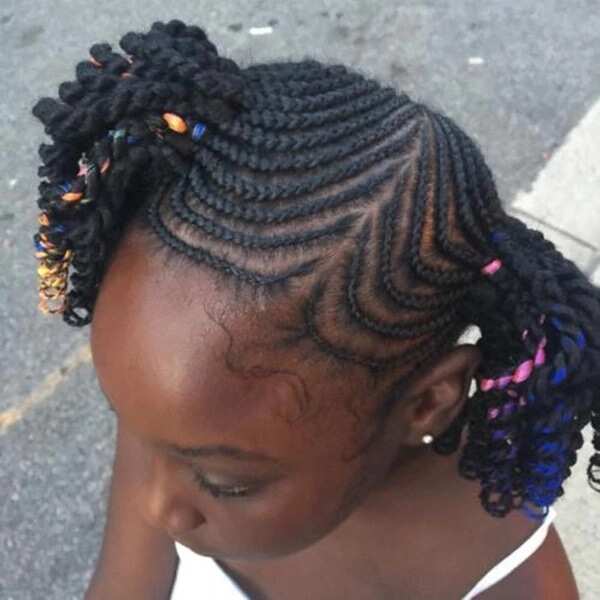 2. Ghana braids
If thick braids are your jam, you can choose some beads that can be adjusted to the large Ghana cornrows. They are one of the popular and loved hairstyles for all ages, and young girls are not an exception. With Ghana cornrows, your girl will look like she means business, even at the young age.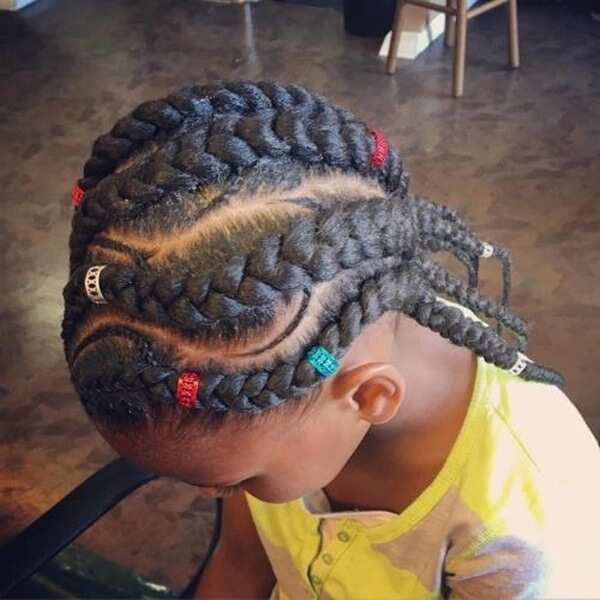 3. Criss-cross Mohawk with beads
This hairstyle has become a real revolution for young girls who would like to stand out among their friends. Maybe this hairstyle would be better for teenage girls than little ones, but it is still so unique and outstanding. You will need to find a great hairdresser who will be able to design your girl's hair in a criss-cross way. These designs definitely add dimension and make everyone unable to take their eyes off the hairstyle. Besides, the beads only emphasize on how creative and imaginative this style is.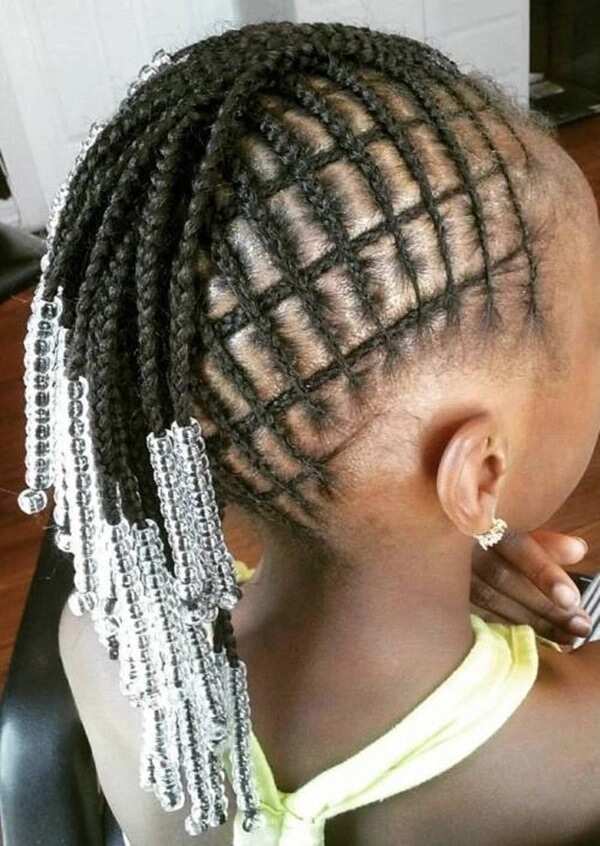 4. Short box braids with beads
In case your little lady used to wear the heavy and complicated hairstyles recently, you can allow her head to have a break by weaving some thin and short box braids. Even such a simple hairstyle can use some interesting twists. For example, you can add little colorful beads to each one of her braids. They can be of any color you want – it usually depends on the outfit. The beads are loved by all the children, so your girl will definitely become an apple of everyone's eye. You should only watch the heaviness and size of the beads, so they would not be too difficult for her to wear. It is better to wear the smaller-sized beaded decorations.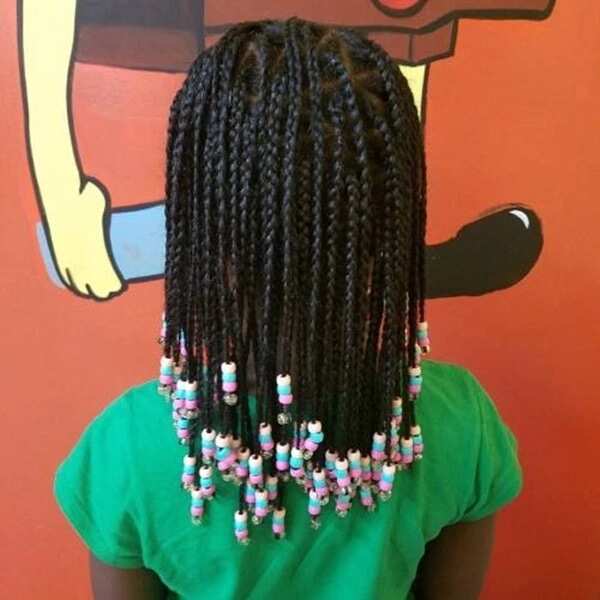 5. Beaded cornrows
You will not need much for this hairstyle, but it is still charming and lovely. All you will need is some transparent beads, or you can pick any color you want. The beads will add personality to your curvy cornrows, and make you unique. It is highly unlikely that you will find the exact same hairstyle among the other girls, so you should just go for it with no regrets.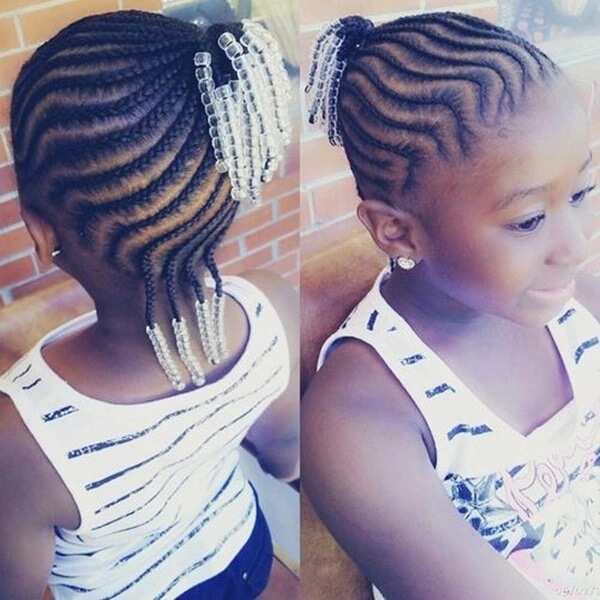 6. Heart-shaped braids with beads
Your child will be thrilled with the possibility of heart-shaped hairstyle, because kids love different designs. Heart is a sign of a good and sincere feeling, so it will definitely be perfect for your baby girl. It will indicate her loving and caring personality. You can insert some beads in this hairstyle to make it even more tasteful and exciting. Beads of different colors will add this special charm to the already cool hairstyle.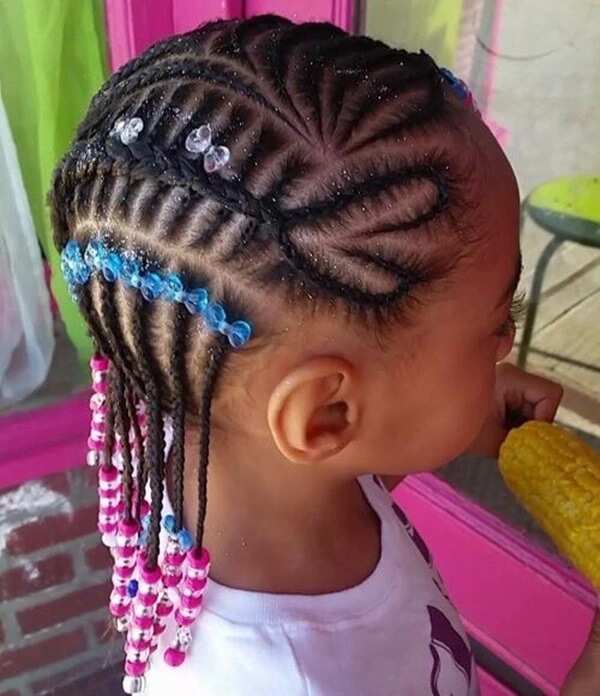 7. Braided crown with beads
We already discussed the braided crown hairstyle. But why not leave some strands of hair loose and add cute beads to them? It would be even more original and interesting than a regular crown made of braids. Just leave out some thin strands, and then fix beads to them.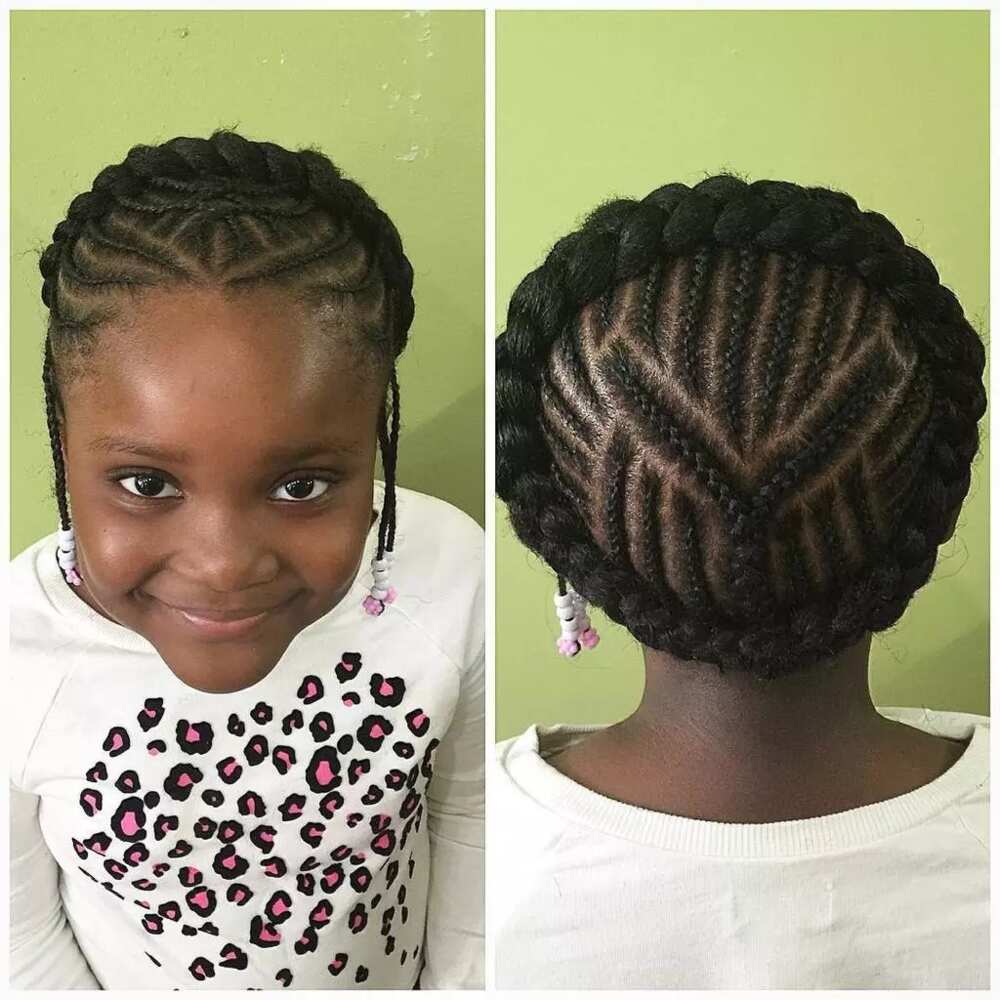 8. Beads on geometrically patterned hair
The Nigerian hairstyles are so interesting because you can basically create any pattern you want on your head. Some people go for the perfectly symmetrical ones, while others allow themselves a little madness. If you have got an interesting pattern on the back on your head, you can have some braids hanging and decorate them with beads. Everyone's attention and admiration will be impossible to avoid now!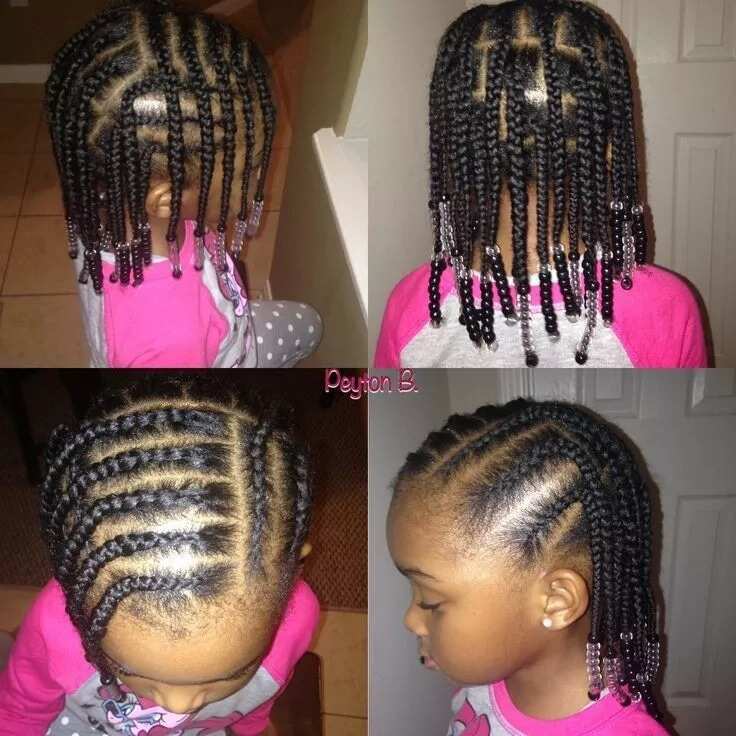 9. Spiral braids
Most people became fond of the spiral braids hairstyle recently, and children are not an exception. It is a pretty captivating hairstyle on its own; however, it can be made even better if you add some beaded little decorations. Everyone agrees that this hairstyle is born to express the youthful spirit of Africa.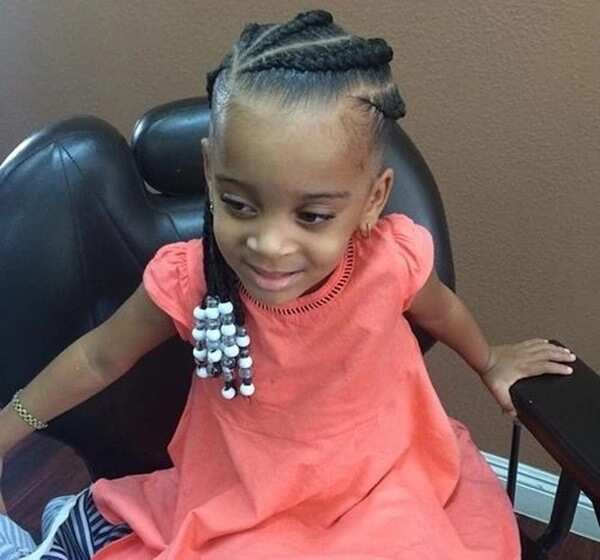 Every little princess absolutely deserves to be beautiful. Beauty can be defined in different ways, but with these hairstyles, there is no chance that your girl's charm will be left unnoticed. She will become a confident, lovely and enchanting young lady.
Have you enjoyed the compilation of the best hairstyles for young girls in Nigeria? Feel free to suggest your own ideas if you have found a new way to style your little girl's hair!
READ ALSO: Best natural hairstyles for kids
Source: Legit.ng