All back Ghana weaving hairstyles
All back Ghana weaving hairstyles is a long-standing type of hairdo which is deservedly popular. The classic braids can't surprise anyone today, but all back compositions are actively used both in everyday life and for special occasions.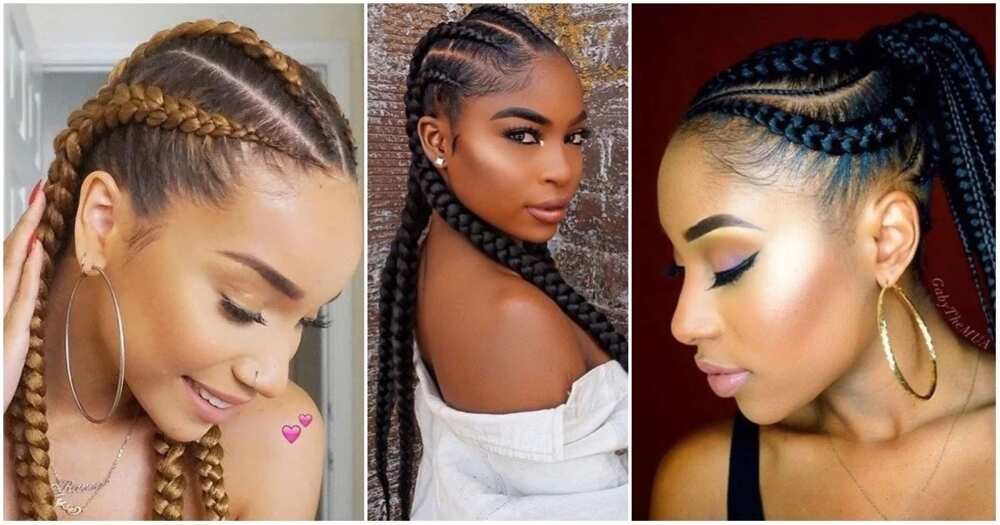 Ghana braids: a variety of styles
The Ghana weaving all back hairstyles caused increased interest among hairdressing professionals. They came up with different kinds of braiding and styles!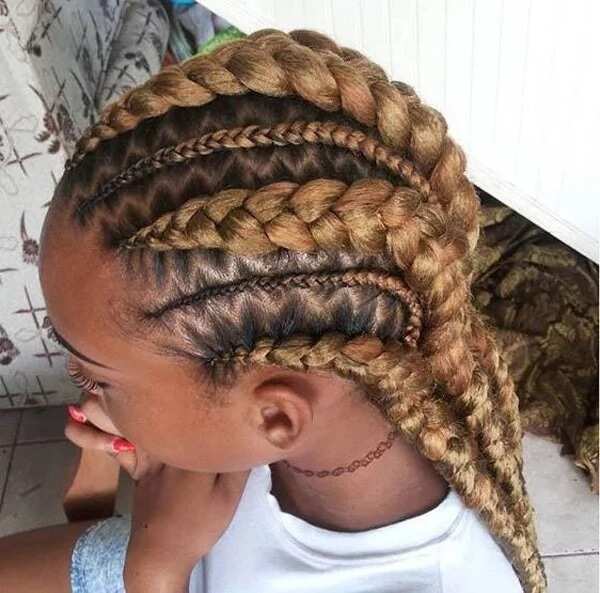 Even if your technique is far from professional level, you can start with the simplest traditional methods of weaving or just apply to a hairdresser who will create a real work of art on your head.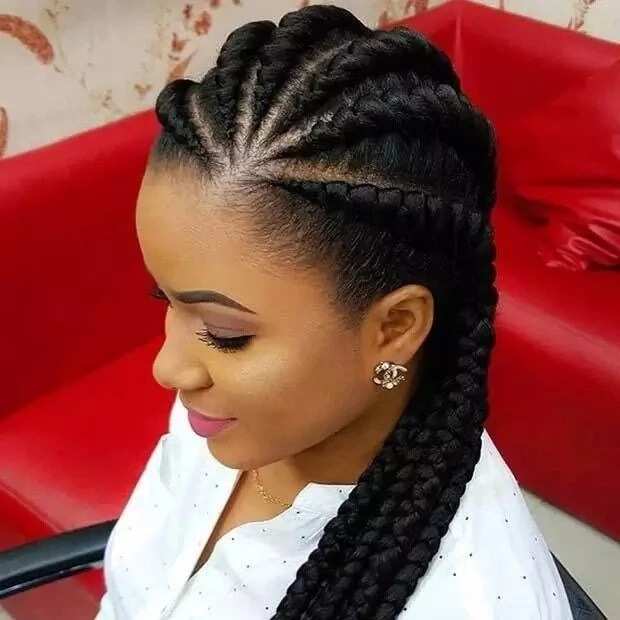 All back Ghana braids, as well as the majority of weaving hairstyles, are universal. They are suitable for any occasion, whether you have a romantic date or a morning shopping. Just one beautiful barrette or a few studs are able to turn the usual braids into an evening hairstyle.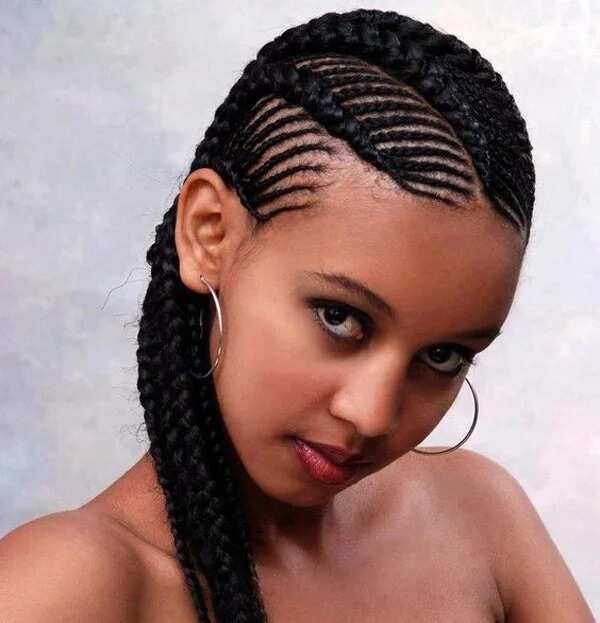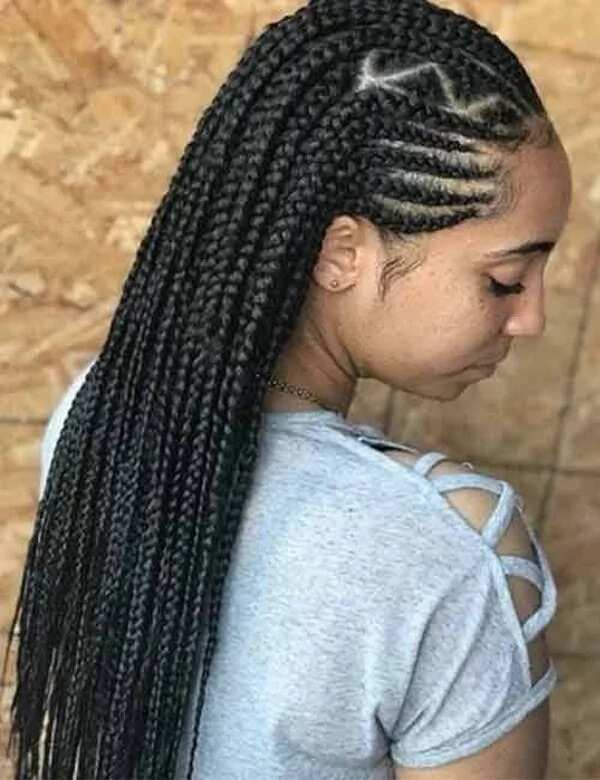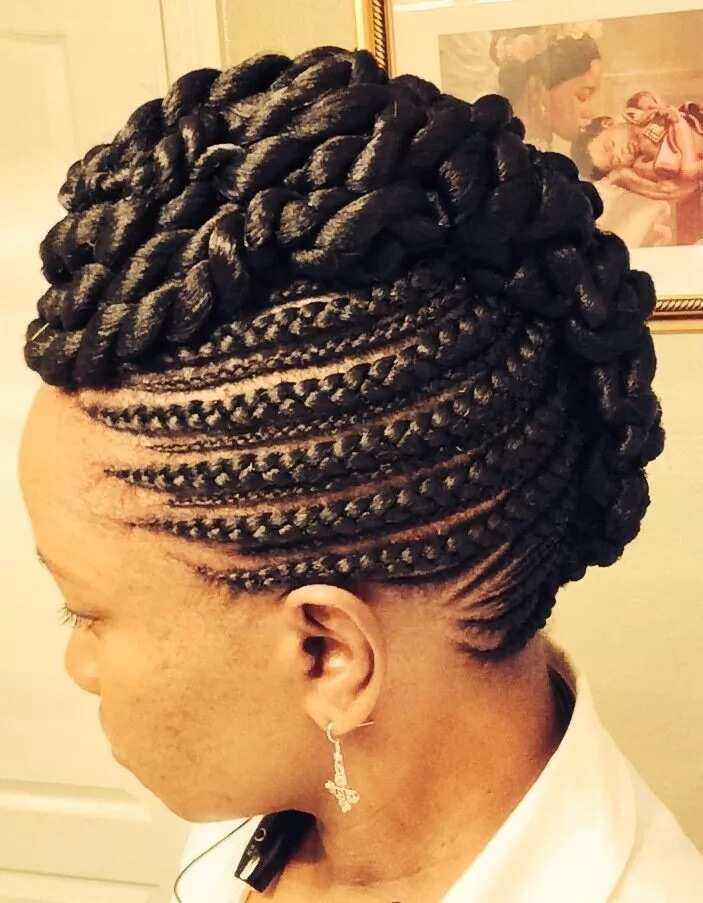 Ghana styles are chosen by people who have an active lifestyle because the braids fit tightly to the head and do not interfere with movements.
READ ALSO: Top short bob braids hairstyles for 2018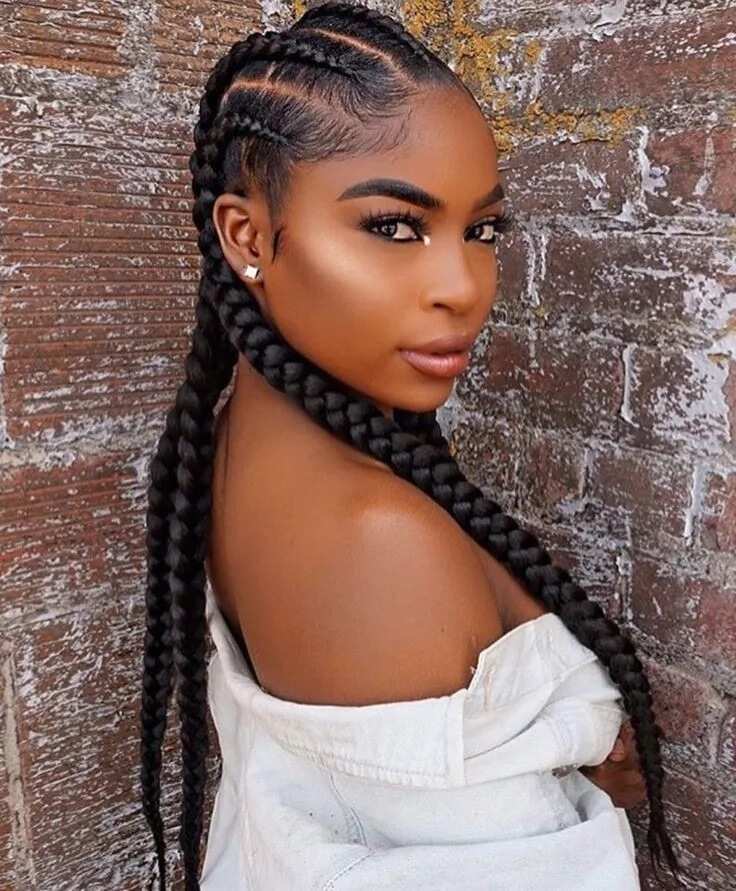 If you want to enjoy the maximum comfort using Ghana braids, gather them in the tail as you did with the usual hair. This is a good option for sports, a bright party where you will dance a lot, a hot day when loose hair causes discomfort.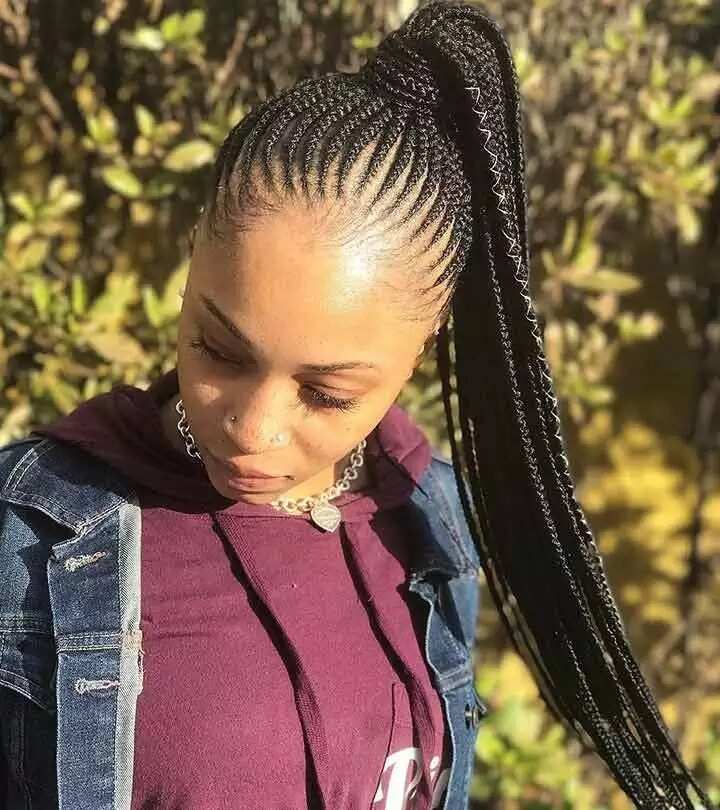 Also, you can make a stylish bow. It will look equally well with jeans and a T-shirt or with an evening gown. Choose the appropriate accessories and your image will be delicious.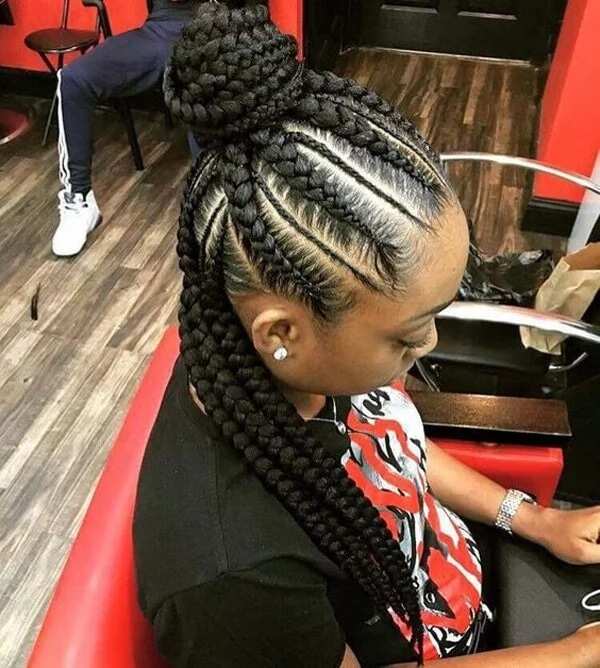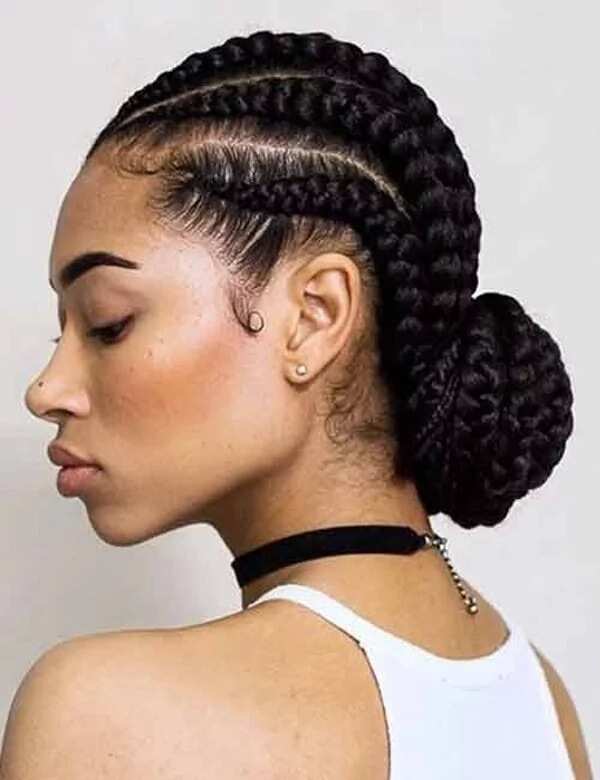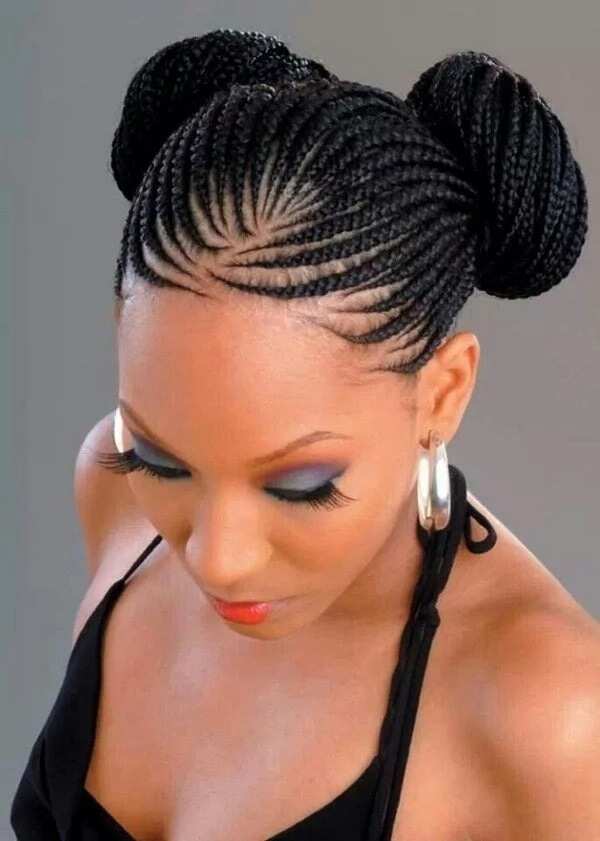 In fact, the choice is limited only by your imagination. If your fantasy works well or you'll get to a talented hairdresser, something truly unique can appear on your head. For example, such a halo from a large braid and small all back braids.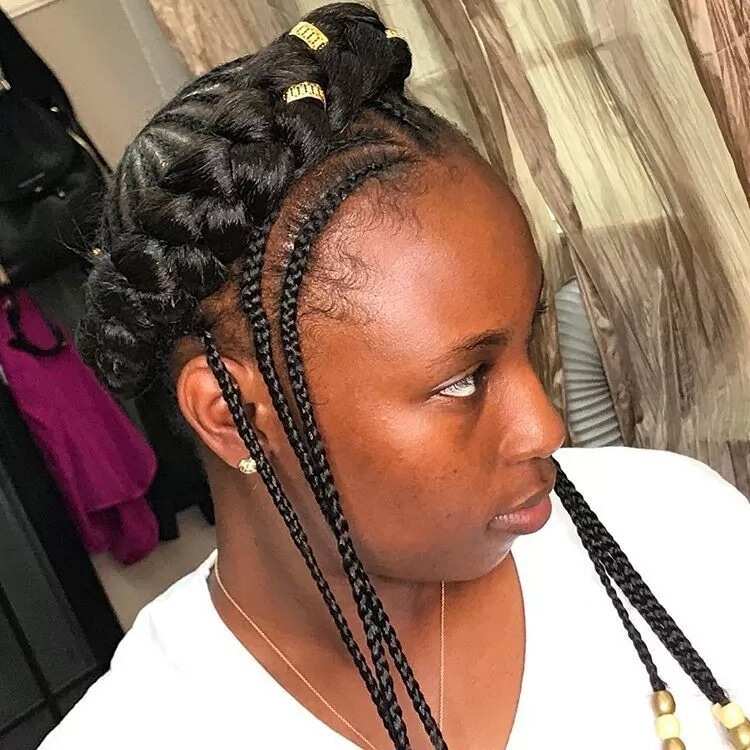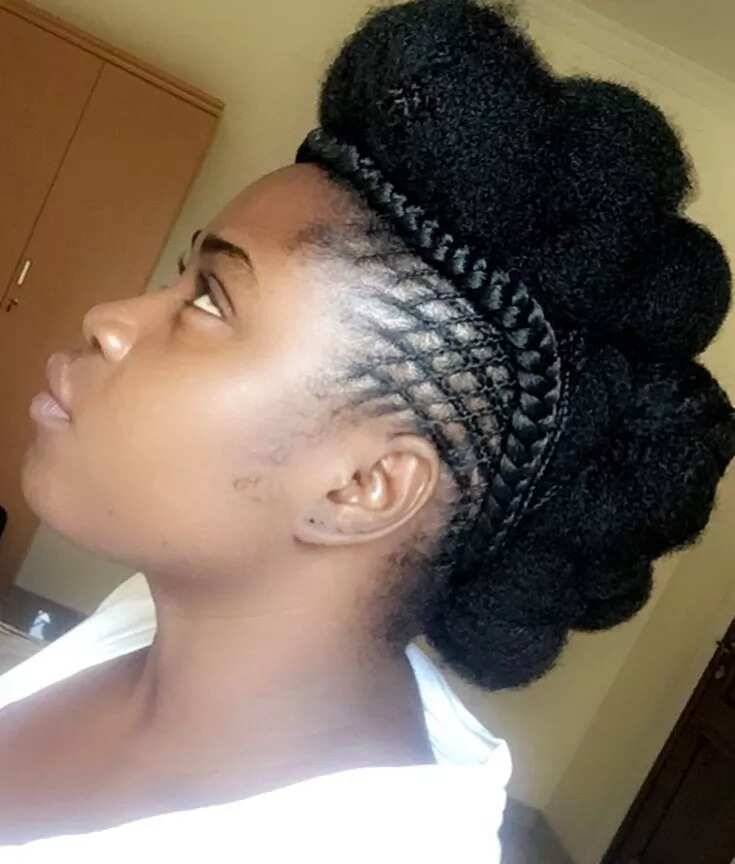 Even if you have short hair you should not worry and think that you have to wait a few more years before weaving chic Ghana braids. In fact, even a bob length is enough to create a beautiful hairstyle.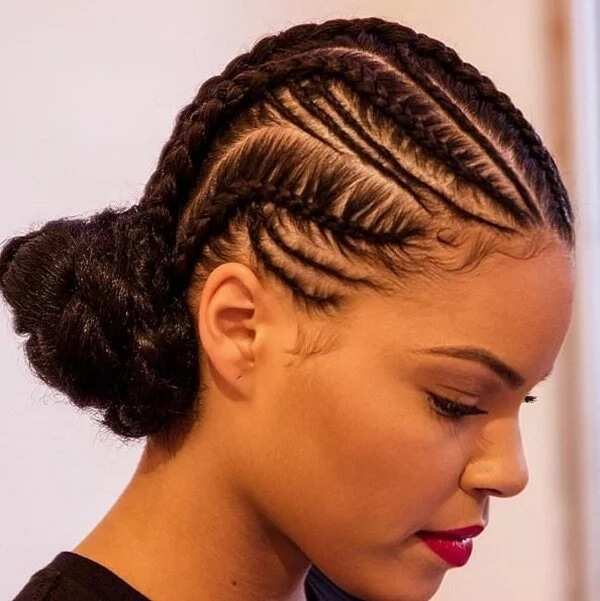 Ghana weaving hairstyles: all back technique
There is no need to deal with something too complicated. If you want to weave all back braids, it's enough to perform a few simple steps:
Comb your hair and select a small strand on the forehead.
The strand is divided into 3 parts.
Start the weaving as in the classical method. But a new strand should not cover the previous one but should hide under it.
Slowly continue the process gradually grabbing new side curls, proceed to the bottom of the braid.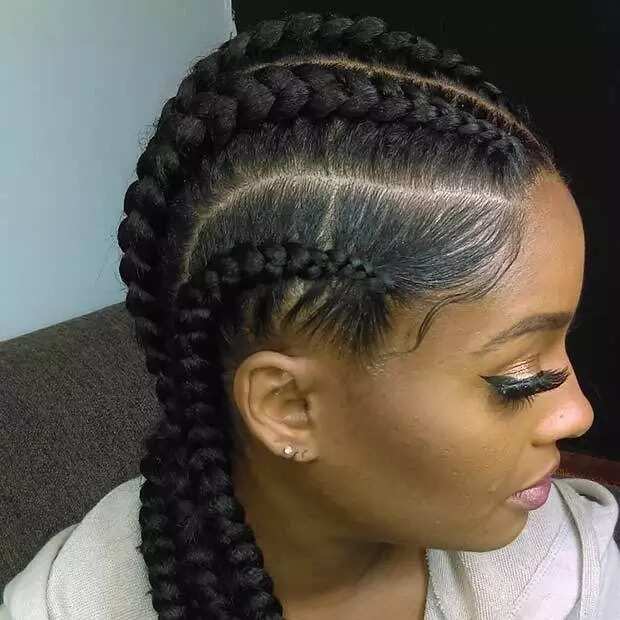 Secrets of beautiful hair to create the perfect Ghana braids
Braids are made on clean hair. It should be thoroughly washed. But don't overdo. A large amount of shampoo dries the curls very much, thereby making them brittle and dull. To avoid the negative effect, dilute a teaspoon of shampoo in a glass of water.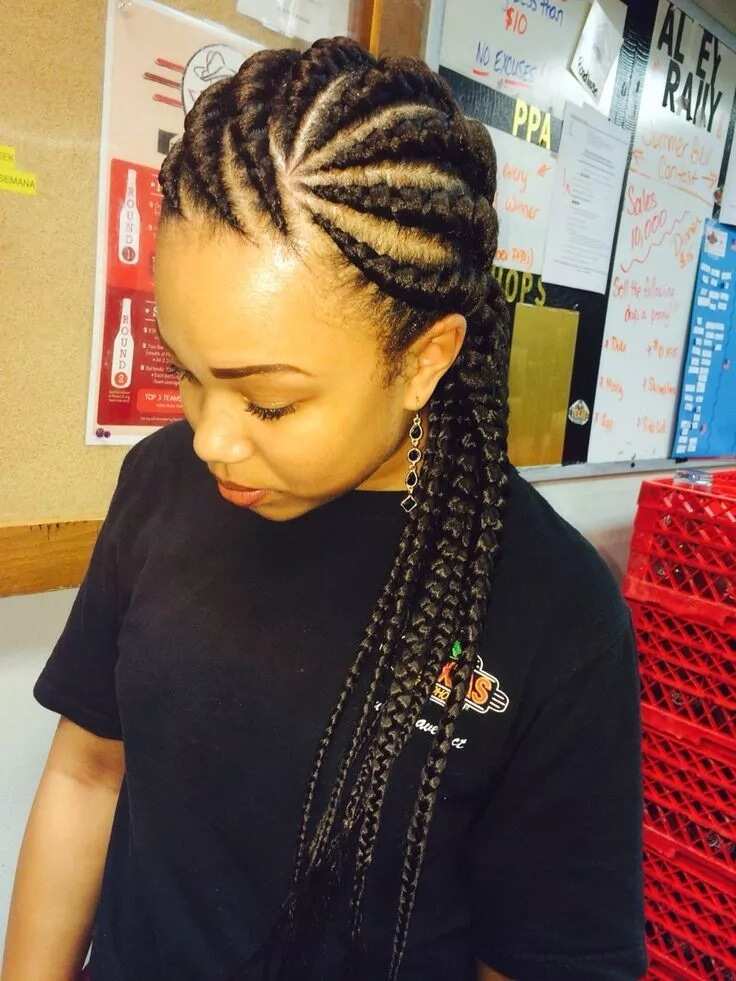 Be sure to rinse your hair: first with warm water, then with cool to close the microscopic cracks and give the curls smoothness.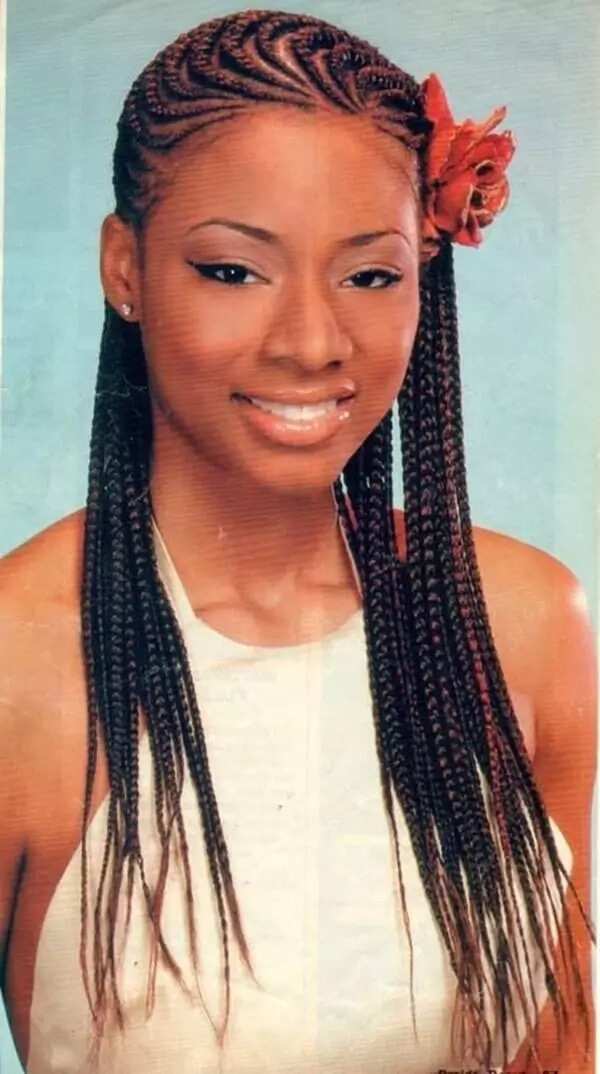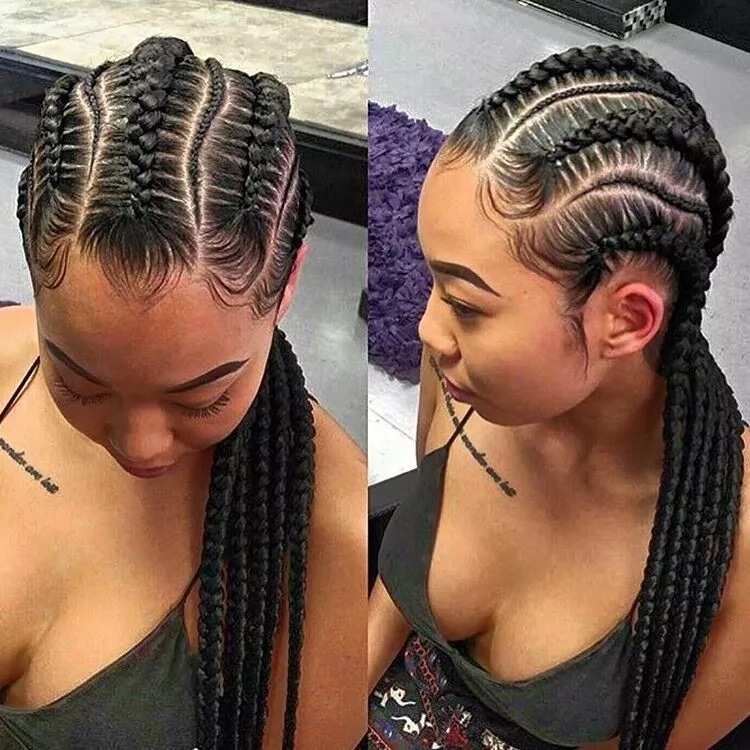 Do not brush your hair wet. If its length is more than 15 cm, then you need to start from the ends gradually moving to the roots. No matter how strong your desire to weave the braids is, wait until the strands dry up completely.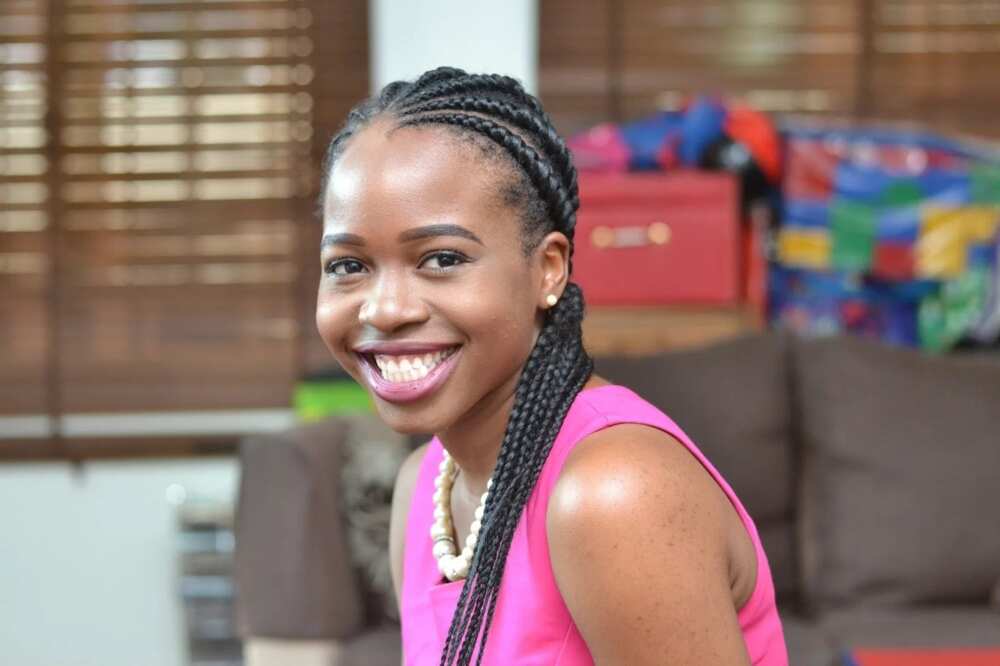 If the hair is too lush in process of braiding, use a drop of cosmetic oil. Rub it between the palms and apply along the curls. An alternative option is the use of moisturizing hand cream.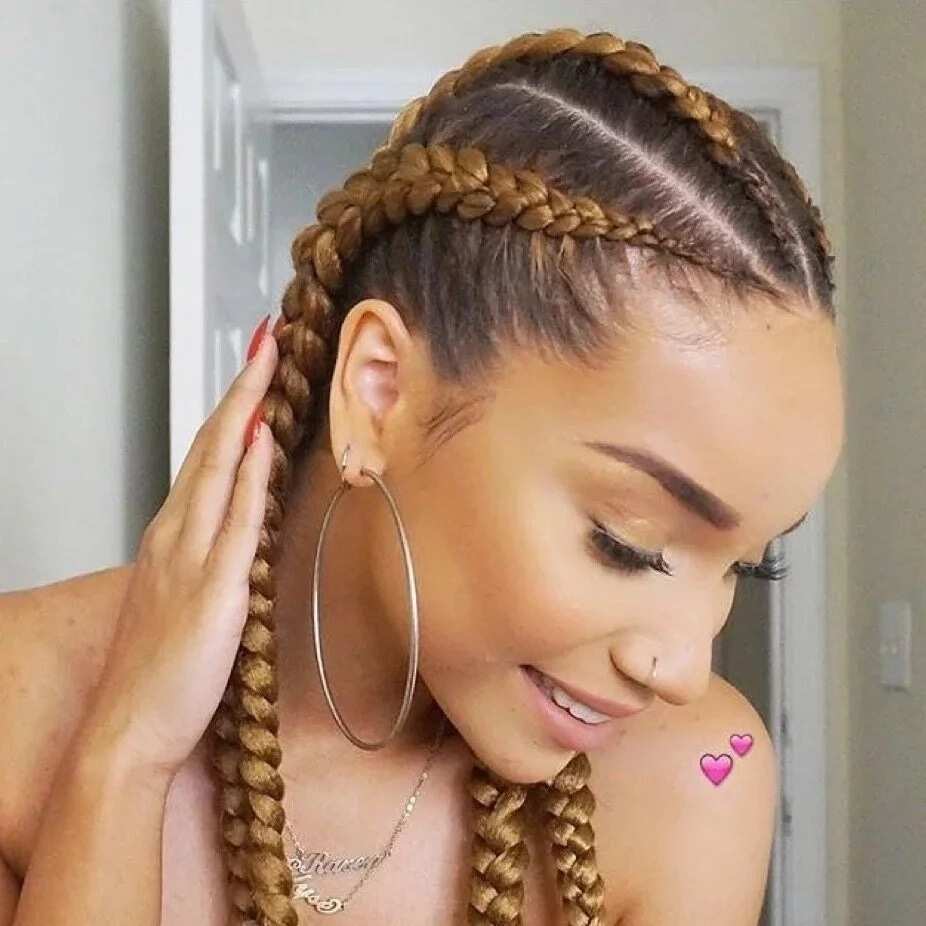 Following these tips, you can safely experiment with different Ghana braids and create neat hairstyles.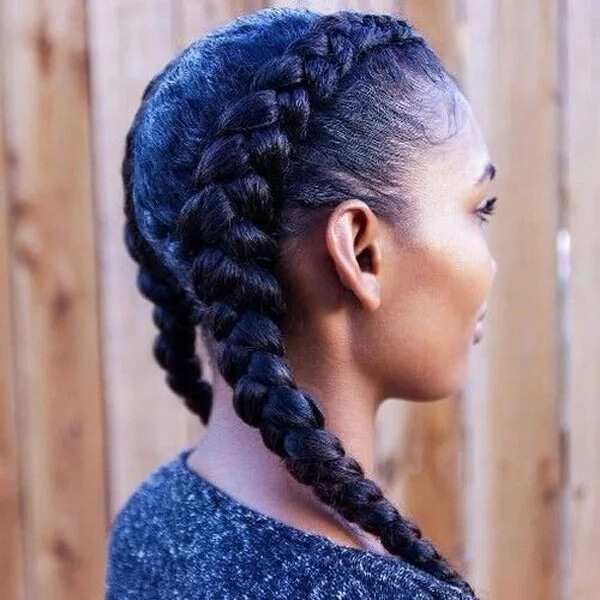 All back Ghana braids with artificial materials
As it was already mentioned above, it is a mistake to believe that beautiful Ghana braids are weaved only on medium length hair.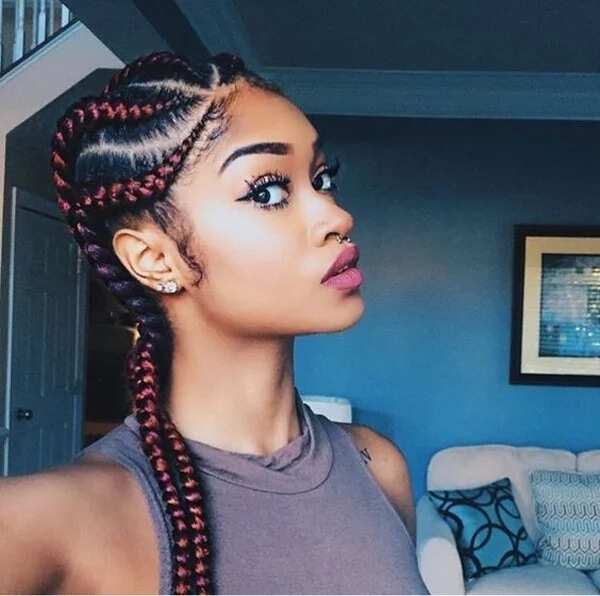 Artificial materials will help you to increase the length of the hair visually. The most popular of them is the kanekalon. Wool, ribbons, etc. are also often used.
In its structure, kanekalon is as close as possible to natural hair. It is harmless to the body. Most often kanekalon painted in bright colors but also there are natural shades.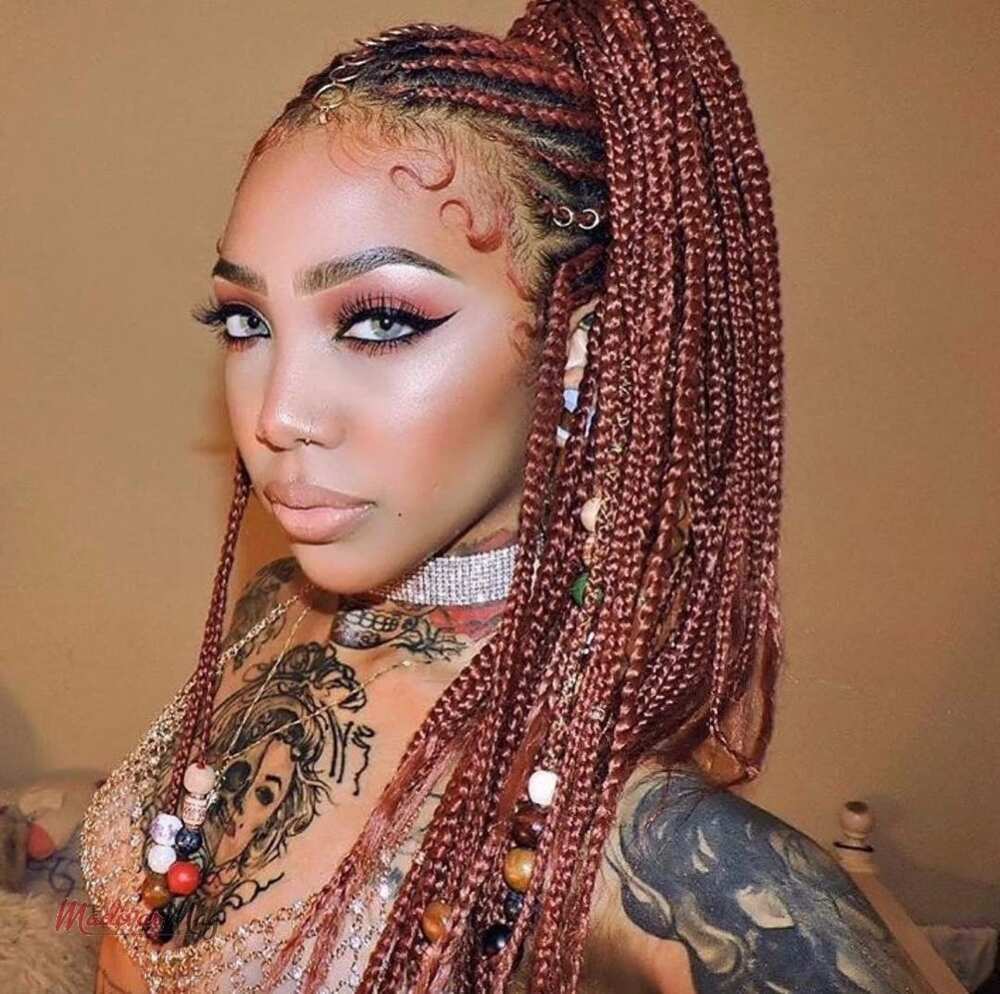 Kanekalon began to gain popularity in the hairdresser's art in Japan. From there, it was distributed almost all over the world. Today, Nigerian girls also enjoy its benefits. Artificial strands are made of quality material - seaweed. Organic substances that are included in their composition make the material natural.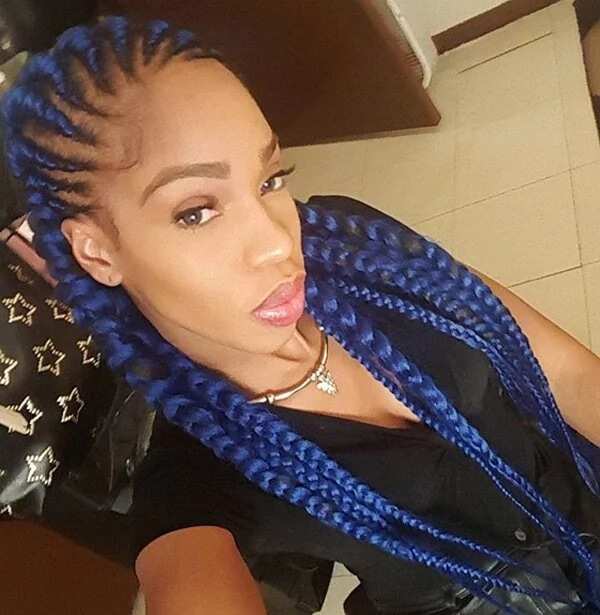 Do not confuse the natural kanekalon with its completely artificial counterparts, which are inferior on many indicators when it comes to weaving and ironing.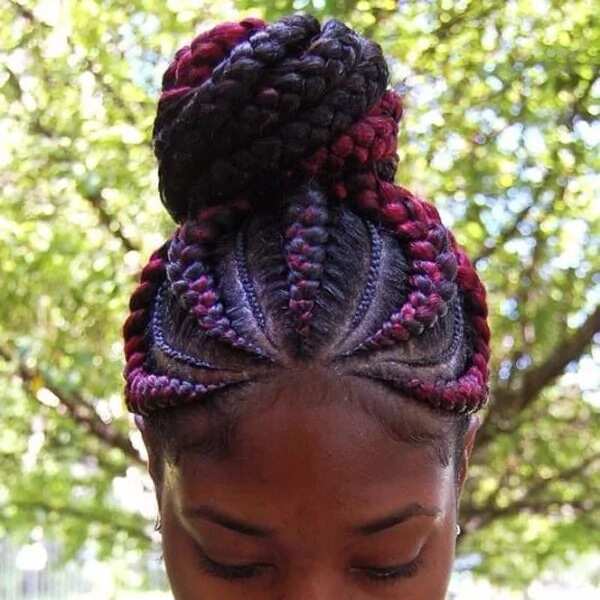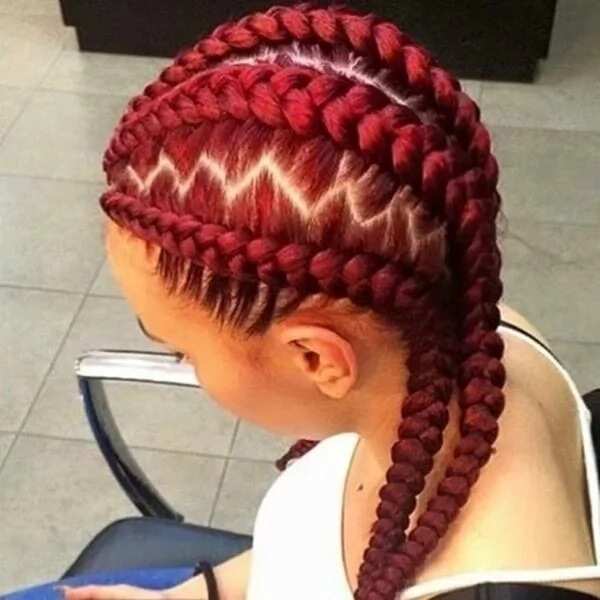 In this season the most popular trend is a colorful kanekalon with bright raspberry, yellow, turquoise, green shades and also with the effect of ambre. It looks particularly delightful with Ghana braids. Since natural hair does not need additional coloring with chemical remedies, it's possible to change the image daily. You can use not only one color but several shades alternating pastel and bright options.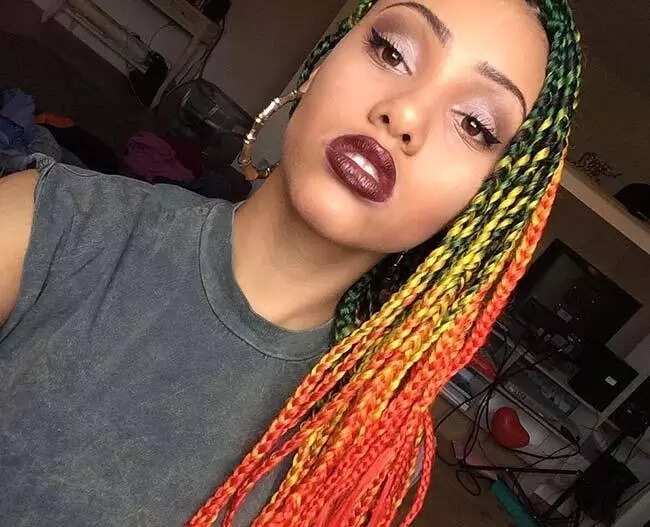 Weaving of Ghana braids with kanekalon
Kanekalon is weaved only on clean and dry hair. Divide the curls into several parts.
Fix the colored fiber at the base of the strand. This can be done with a knot around your natural hair.
Begin to weave the Ghana braids with the usual technique. Gradually add kanekalon as the braid is lengthened.
The end is fixed with piece of hair from the same braid.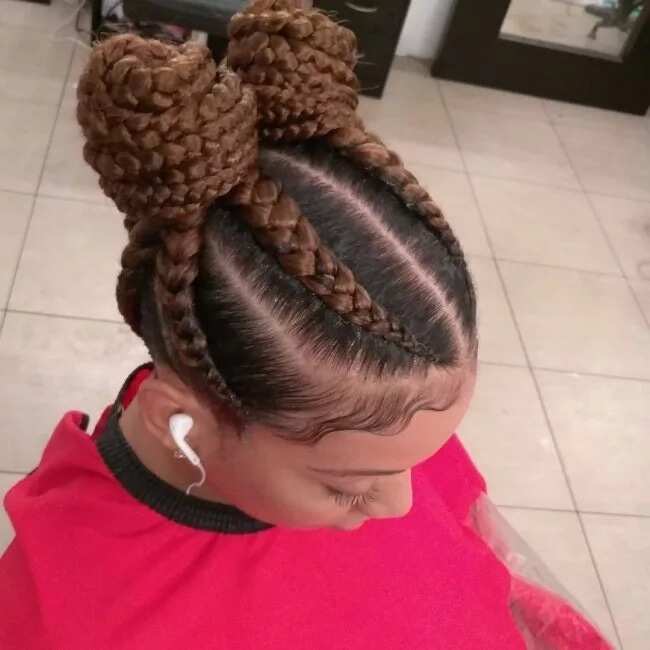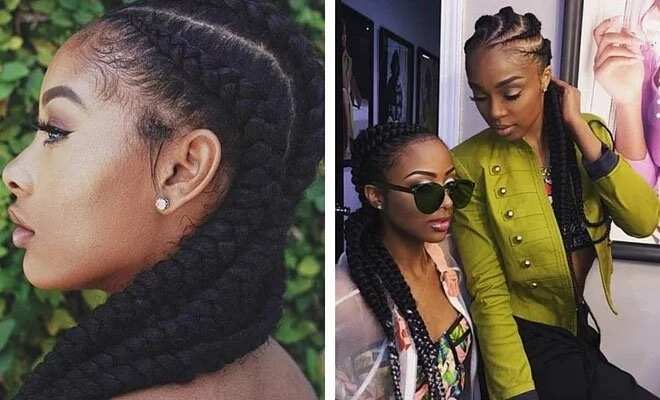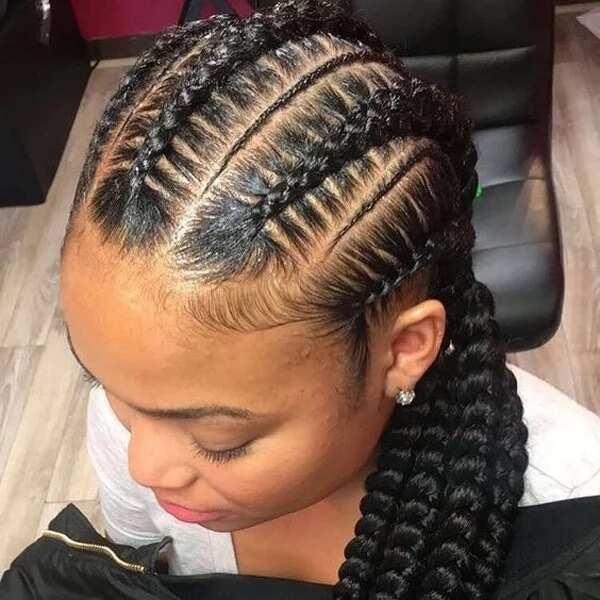 It is not necessary to weave the braid to the end. You can fix it on the occipital part of the head with elastic band or hairpins and leave the ends loose or treat them with the curling iron. The natural kanekalon is not afraid of heat treatment.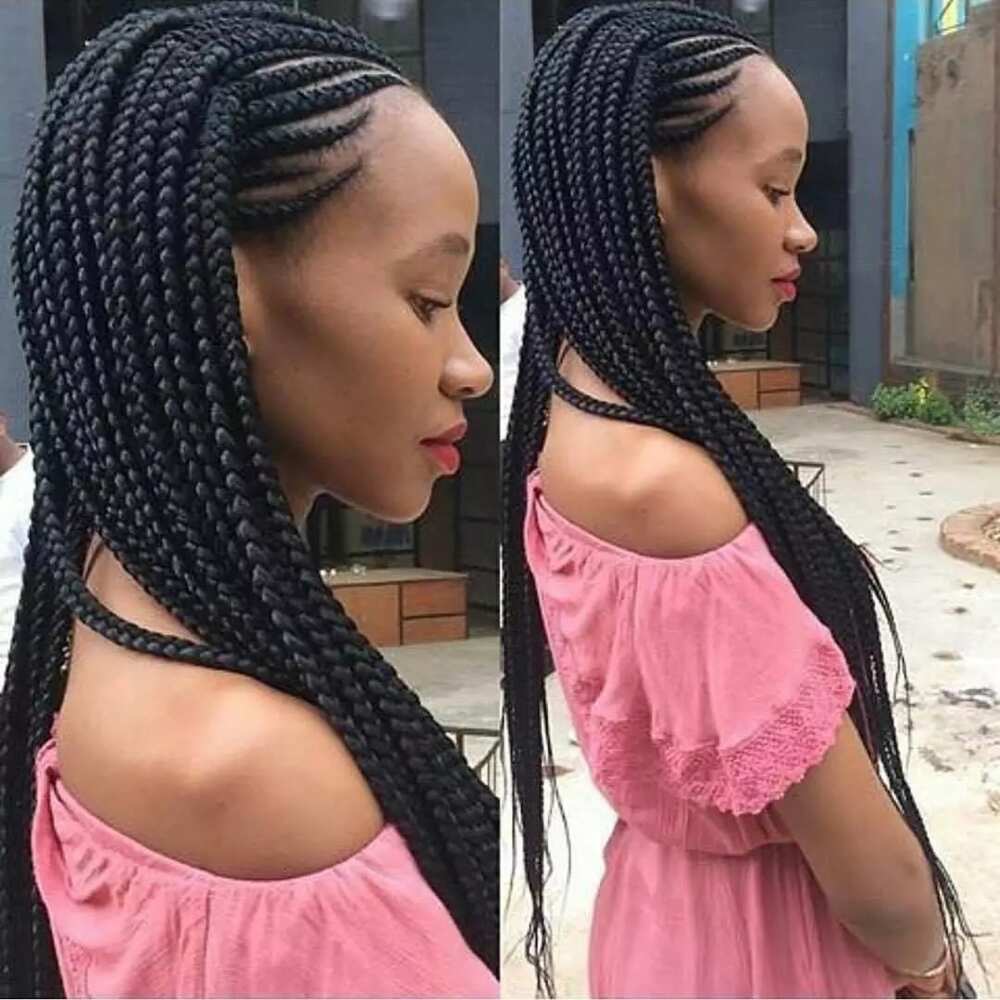 Also, increasingly popular are the braids on the temples. They are woven in any direction but only on one side and the rest of the hair mass is laid in the chic hairdo.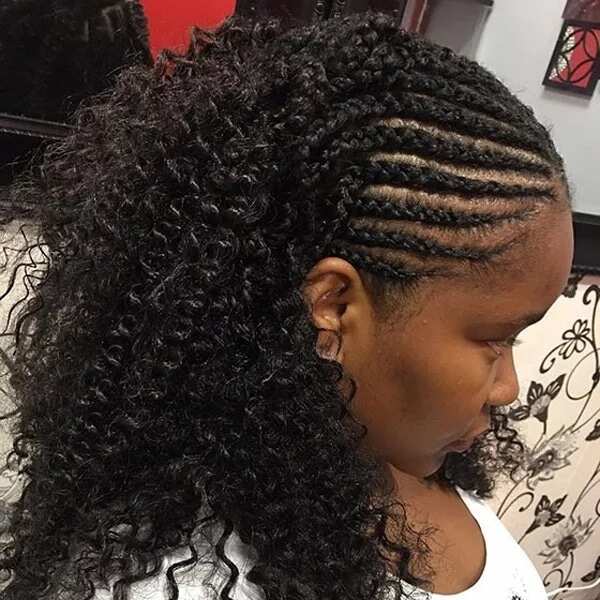 Care for braids with kanekalon
It is quite easy to care for braids with a kanekalon. Depending on the chosen style, the number of braids and their thickness, the term of using the hairdo varies from 2 days to 3 months.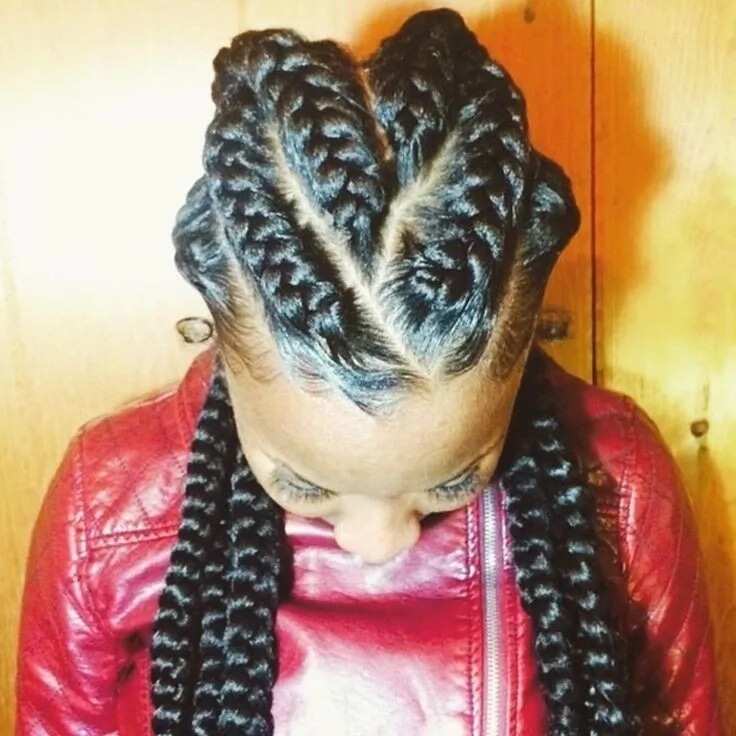 Please note! If the kanekalon is used longer than the specified time, the roots will become tangled, which will spoil the appearance and harm your hair.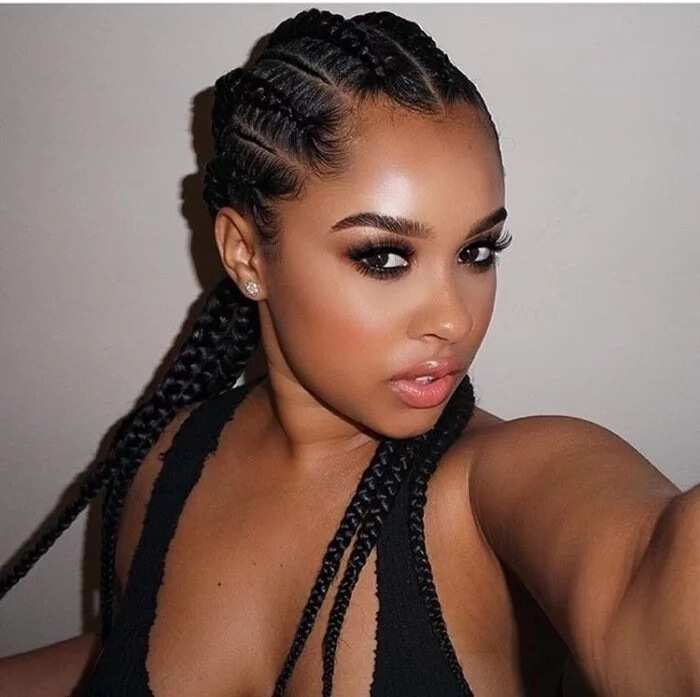 It is not recommended to wash the kanekalon along its entire length. It makes the hairstyle heavier when wet, gives an additional load to the scalp. So you have to wash only the roots of your hair. Do not use masks, balms, and conditioners. They are very poorly washed from artificial hair.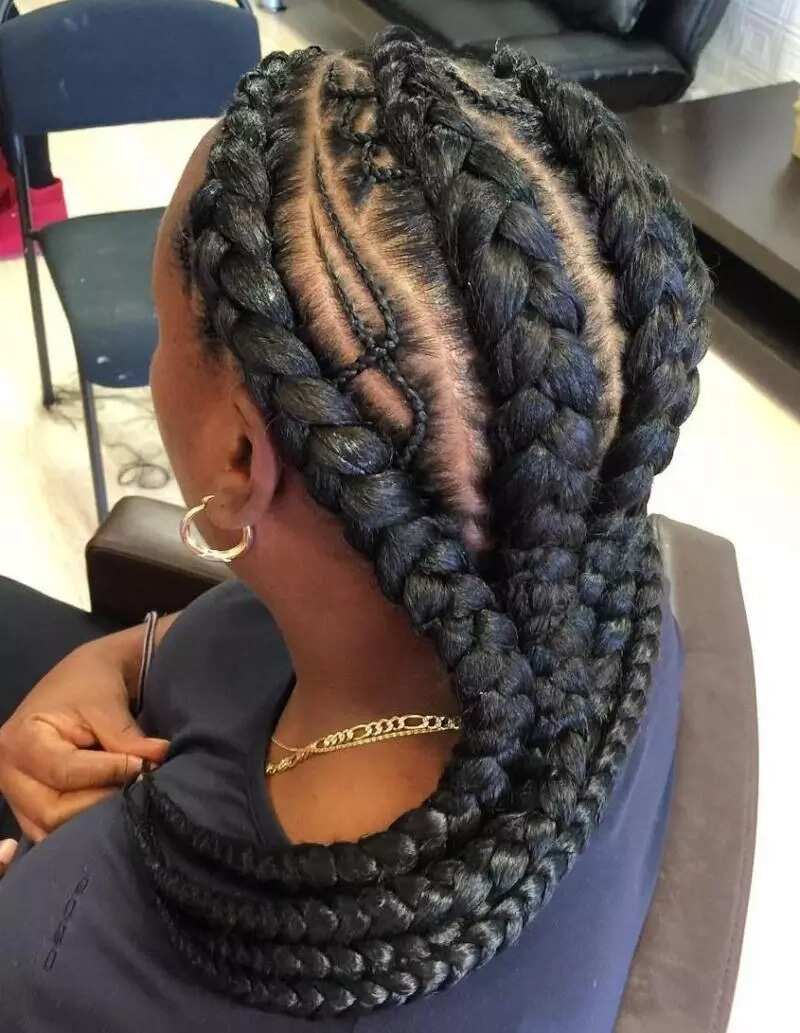 .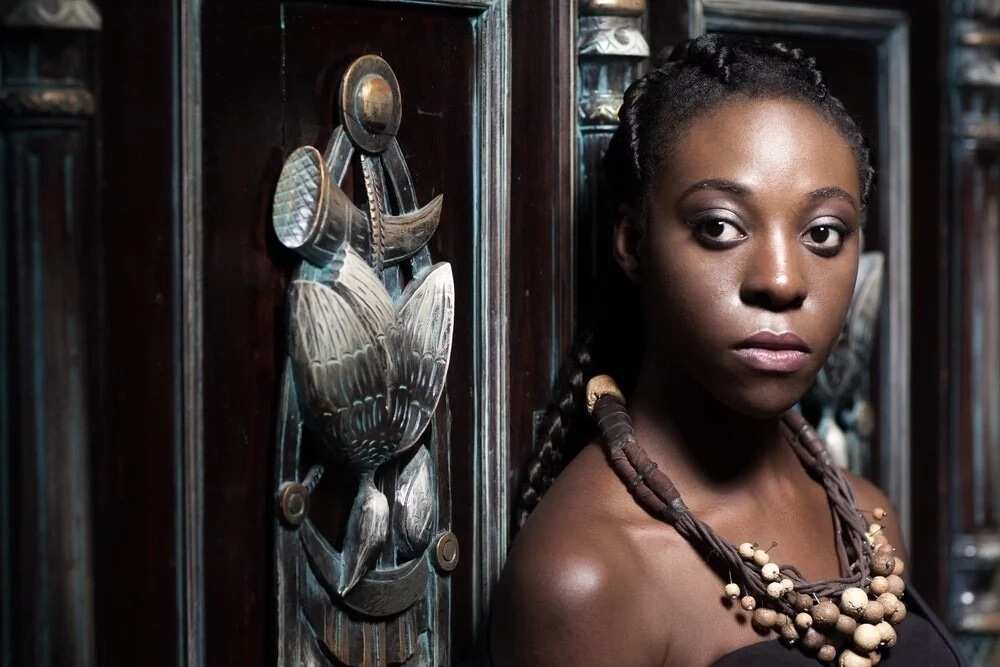 Ghana all back braids is a multifaceted and beautiful hairdo. Use the recommendations above to create your own original style. Good luck!
READ ALSO: Best Nigerian hairstyles with attachment to rock in 2018
Source: Legit.ng